Paleo Vegan Pumpkin Chocolate Chip Cookies (V, GF, Paleo): an easy recipe for super soft pumpkin chocolate chip cookies made with whole ingredients. Vegan, Paleo, Gluten Free, Dairy Free.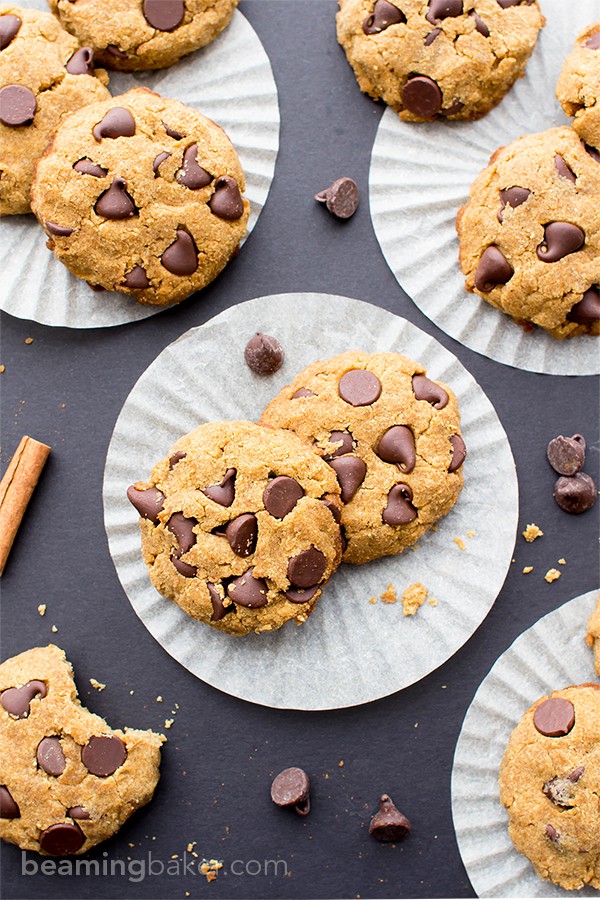 "Cookies are my copilot." This, Erik says to me while we're running. RUNNING this morning. Can you believe how evil, how inspired, he is? Okaaaaay, to be honest, I absolutely love talking about baking/food/eating/food/cooking/and more food any time of the day. Especially when we're exercising. Erik likes to say these things to help keep us motivated.
Consider me motivated.
Anywho, as I mentioned in the last post, Erik and I have finally for realsies absorbed the fact that we're officially in holiday season now. The weather's getting colder, we're already talking about what winter coats & accessories we might pick up when we go into town, and we've been baking & making all the breads/muffins/goodies that this season naturally calls for.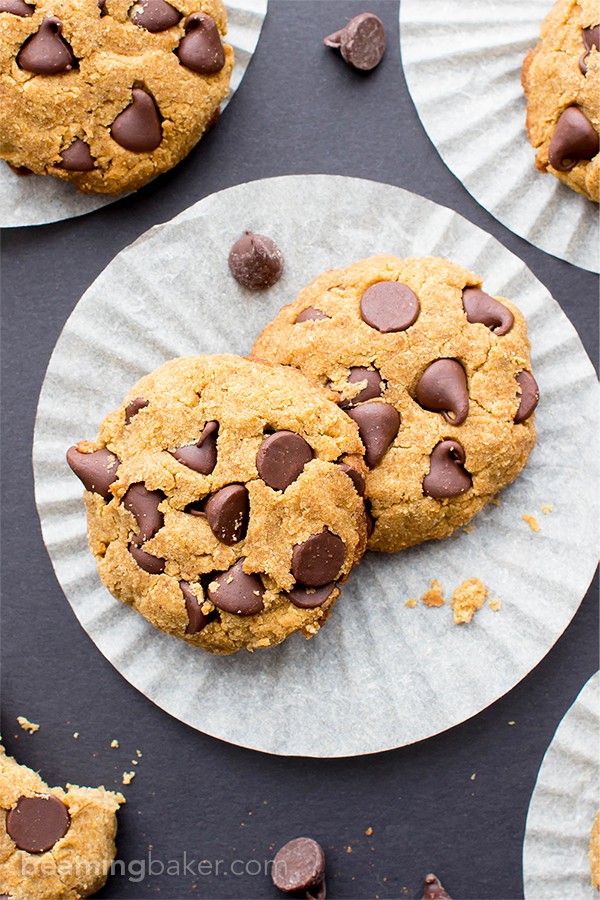 Meanwhile, how did this 'cookies are my copilot' wisdom even come up? Besides for key running motivation factors, that is? Well, every year Erik and I put together treat bags for our fam. In the past, there were green and red santa sacks full of white chocolate gummy bears, nut and chocolate coated pretzel sticks and chocolate haystacks. Yep, chocolate haystacks. 😍 Sensing a theme here?
We get super into it and always end up pretty much starting a candy factory in our very own home. 😉 Cuz, that's how we roll. There's actually a few pics (which I won't share because they're just too embarrassing) of every surface imaginable covered in chocolate-candy everything. Let me tell you, there are few scents that are better than the scent of melting chocolate (and gummy bears, which apparently turn into gum when you mix them with white chocolate—fun fact!!).
Sometimes we like to mix things up by including a few different kinds of cookies and brownies. One year, Erik thought it would be an AWESOME idea to dip spoons in chocolate. I thought, that's no big deal—I've seen it before, we can totally do it! He was especially excited at the thought of us dipping these teeny tiny spoons in chocolate.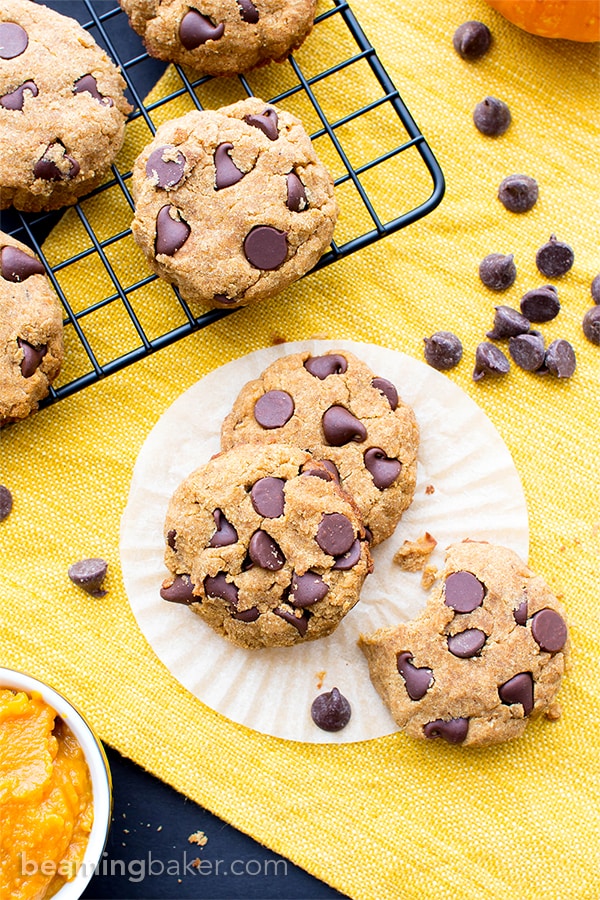 So that we did.
And guess what? When we handed out the annual holiday treat bags, everyone did their usual oohing and aahing. My sister Jenny immediately squirreled away her chocolate covered gummy bears (her fave). Grams asked repeatedly if she could seriously—are you sure sure—eat all of the glorious treats in her bag (diet restrictions that I'm already a boss at working around, okay, Mommy??). 😉 And Monica plus Penny swapping treats to get more of the ones they wanted.
Well, Jenny was the first to ask what the chocolate spoon was all about. Erik excitedly told them about his idea. Monica said it was super cool and wanted to try it. Penny said she already had some freshly-brewed coffee that would be the perfect pairing with these spoons.
So Penny grabs her steaming cup of joe, settles in, and slowly unwraps her spoon with great flourish. She dips the spoon in and swirls it around. She swirls it some more to make sure the chocolate really melts and incorporates.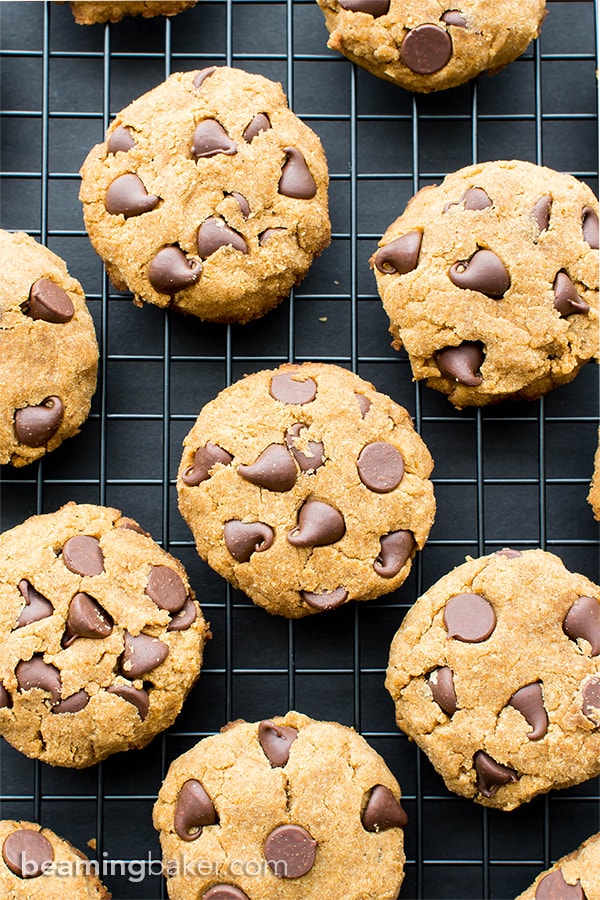 Then she gasps.
"Oh crap!!"
We all look up from our treat bags, Grams has this expression like… um, what could be important enough to take me away from my chocolate bliss right now, tho? Come on, now! I scoot over to Penny and notice something quite curious…
"The spoon—the spoon!! It's—um, well, you see, the thing is—IT'S MELTED!!!"
We all crowd around her cup, huddled like a group of rugby players getting ready for the kickoff, or whatever it's called. All of our eyes are trained on one thing: the warped plastic (yep, plastic) nub of what used to be a spoon, Salvador Dalí'd timelessly around a pool of black coffee.
Not one morsel of chocolate is in sight. It's like the chocolate got sucked into some kind of vortex. Well it was Dalí'd, after all. 🤔
We all look at Erik. Then we all look at each other. And we all say in unison, "oh, Erik!!!"
Grams says, "Can I eat my chocolate now? At least Penny didn't burn any toast!!" and "I'm sleepy, maybe I should take a nap before we go to the mall."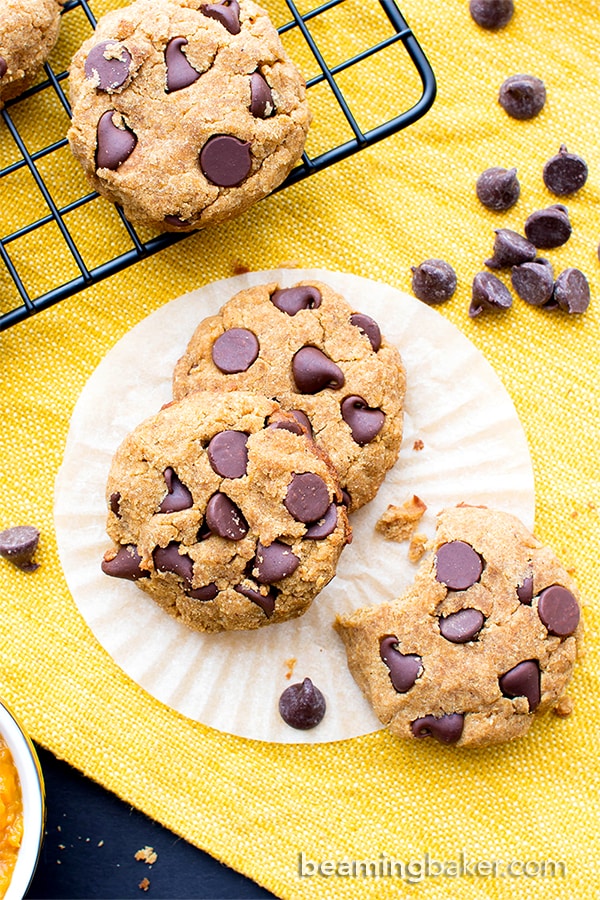 And we all laugh and start poking fun at both Erik and Grams. Grams says, "I love my son!!" completely oblivious to everything around her.
And that's why we always make a treat bag every year. And and, that's why I always invite Erik's ideas on new goodies to put in the treat bags. Ya never know what fine adventures it might lead to. 😉
This year, we're already starting to plan out the treat bags, sans mini plastic spoons, of course—unless we're feelin' frisky! It's always hard to pick which treats to include. I'm thinking about doing some of these cups, a few of these brownies and for sure a batch of these for my mom. We're gonna warm up by bringing these Paleo Vegan Pumpkin Chocolate Chip Cookies over to my mom and Jenny for Halloween celebrations.
I know you'll absolutely love these cookies. They're super, super soft, so easy to make and packed full of really great ingredients. Plus, they're just another awesome way to enjoy pumpkin and chocolate chips. We can always use another, right? 😏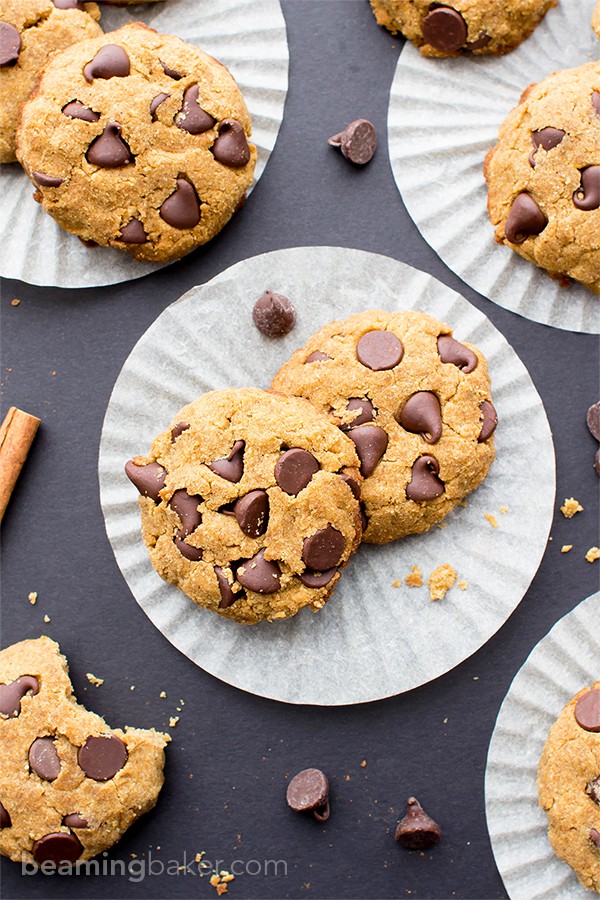 Let me tell you all about these wonderful fall treats. My Paleo Vegan Pumpkin Chocolate Chip Cookies are:
super soft and incredibly satisfying
paleo, vegan, gluten free, dairy free
full of pumpkin spice goodness
made with ingredients you can feel good about
bursting with chocolate chips
plant-based and allergy-friendly
super easy to make and even easier to eat
perfect for dessert or an afternoon snack
totally perfect if you think cookies are your copilot
Whip up a batch and enjoy the pumpkin fun. Yep, pumpkin fun is totally a thing now. And if you're a big fan of all things pumpkin chocolate chip, be sure to check out this and this. I'm so happy to spend the holidays with you. Let me know if there's a special recipe you'd love for me to create. In the mean time, tell me:
Do you have any annual holiday traditions you're looking forward to?
Sending you all my love and maybe even a dove, xo Demeter ❤️
☀︎ Click below to Pin ☀︎

☀︎ Did you make this recipe? Take a pic and share it on Instagram with the hashtag #beamingbaker and tag @beamingbaker. I would love to see it! ☀︎
Paleo Vegan Pumpkin Chocolate Chip Cookies (V, Gluten Free, Paleo)
Paleo Vegan Pumpkin Chocolate Chip Cookies (V, GF, Paleo): an easy recipe for super soft pumpkin chocolate chip cookies made with whole ingredients. Paleo, Vegan, Gluten Free, Dairy Free.
Author:
Demeter | Beaming Baker
Recipe type:
Cookies, Paleo, Gluten Free, Vegan, Dairy Free
Ingredients
Dry Ingredients
¾ cup coconut flour
½ teaspoon baking soda
¼ teaspoon baking powder
1 ½ teaspoon pumpkin pie spice
¼ teaspoon salt
Wet Ingredients
½ cup 100% pure pumpkin puree
¼ cup + 2 tablespoons melted coconut oil
⅓ cup coconut sugar
⅓ cup pure maple syrup
1 teaspoon pure vanilla extract
Add-ins
½ cup vegan chocolate chips
For topping: ¼ cup vegan chocolate chips
Instructions
Preheat oven to 350°F. Line a baking sheet with parchment paper or greased foil. Set aside.
In a medium bowl, whisk together the dry ingredients: flour, baking soda, baking powder, pumpkin pie spice, and salt.
In a large bowl, whisk together all the wet ingredients: pumpkin, coconut oil, coconut sugar, maple syrup and vanilla.
Add the dry mixture to the wet mixture. Whisk until thickened, with a dough-like texture. Fold in ½ cup chocolate chips.
Scoop 2 tablespoon-sized cookie dough balls onto the prepared baking sheet, spaced evenly apart. The dough is a bit crumbly--simply press together any crumbles. Using your hands, flatten and mold to desired thickness and shape, keeping some texture on top. Cookies won't spread during baking. Press ¼ cup chocolate chips into the tops of cookies.
Bake for 8-13 minutes. It's done when the bottoms are browned and the tops are soft and fragile. Transfer baking sheet to a cooling rack. Allow to cool for 10-20 minutes. Enjoy! Storing instructions below.
© beamingbaker.com. All content and images are protected by copyright. Please do not use my images or recipe without my permission. If you wish to republish this recipe, please re-write the entire recipe using your own words and include a link to this post for the recipe.
Thick, decadent slices of pumpkin perfection. Try my One Bowl Gluten Free Vegan Pumpkin Chocolate Chip Bread (Vegan, Gluten Free, Dairy Free). You'll just love this. ❤️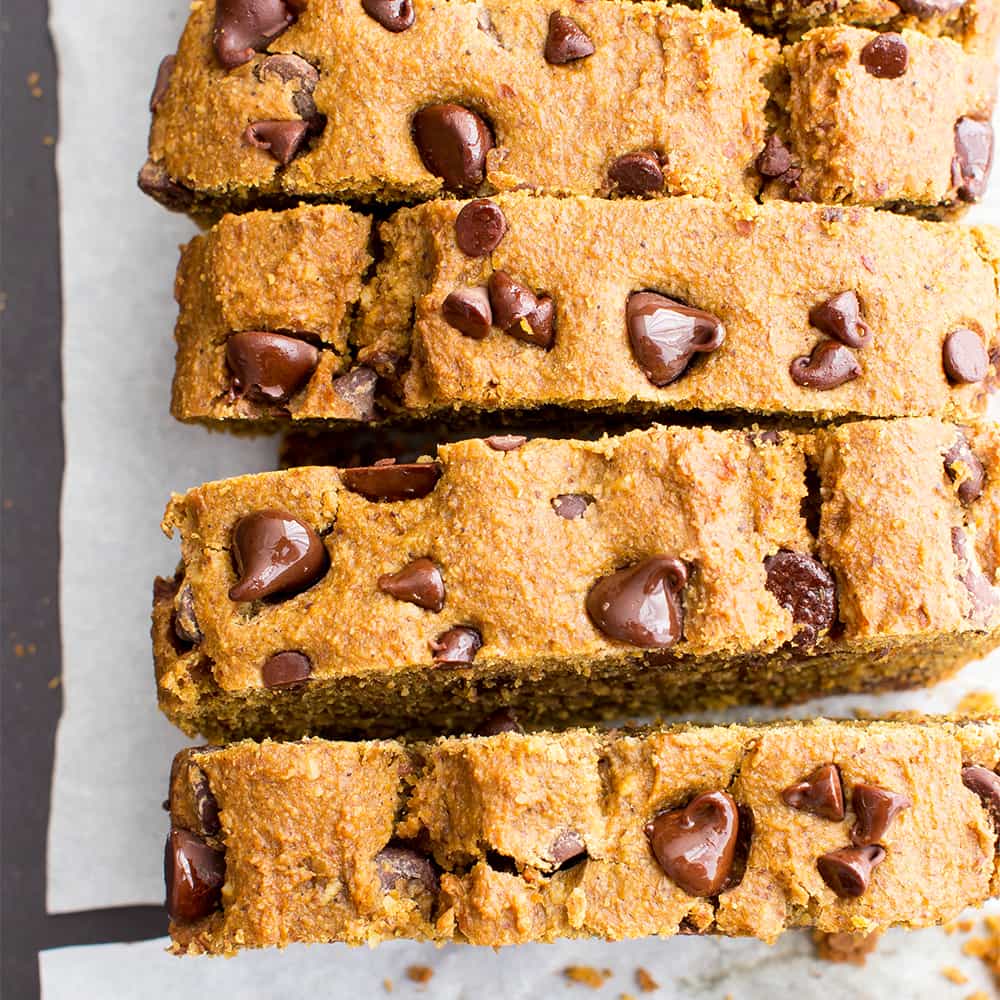 Domed tops, perfectly moist centers and just the right amount of chocolate: try my One Bowl Gluten Free Vegan Pumpkin Chocolate Chip Muffins (Vegan, Gluten Free, Dairy Free). What could be better than this?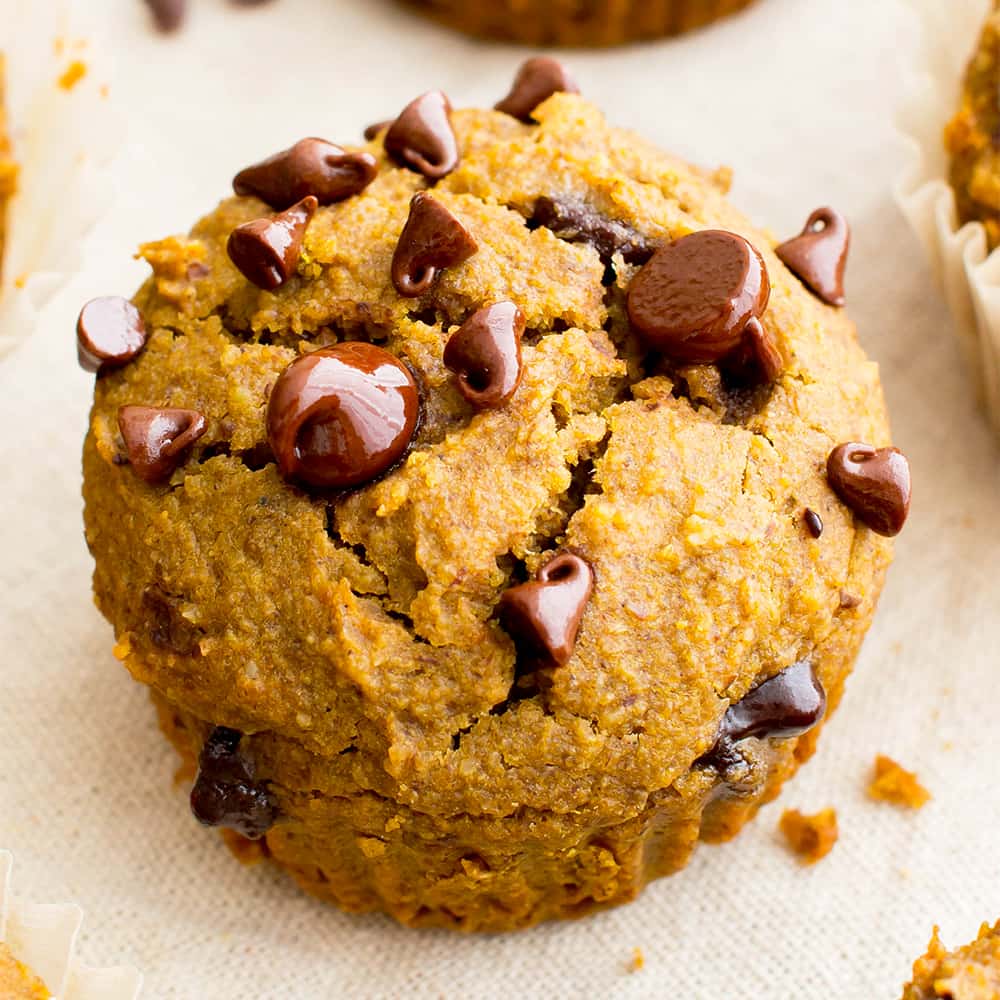 When you need All The Chocolate. Try my One Bowl Chocolate Banana Muffins (Vegan, Gluten Free, Dairy Free). Even better than chocolate cake.