4 Ingredient No Bake Peanut Butter Cookie Energy Bars (V, GF, DF): an easy recipe for simple salty 'n sweet energy bars that taste like peanut butter cookies! Vegan, Gluten Free, Protein-Packed, Dairy-Free, No Added Sugar.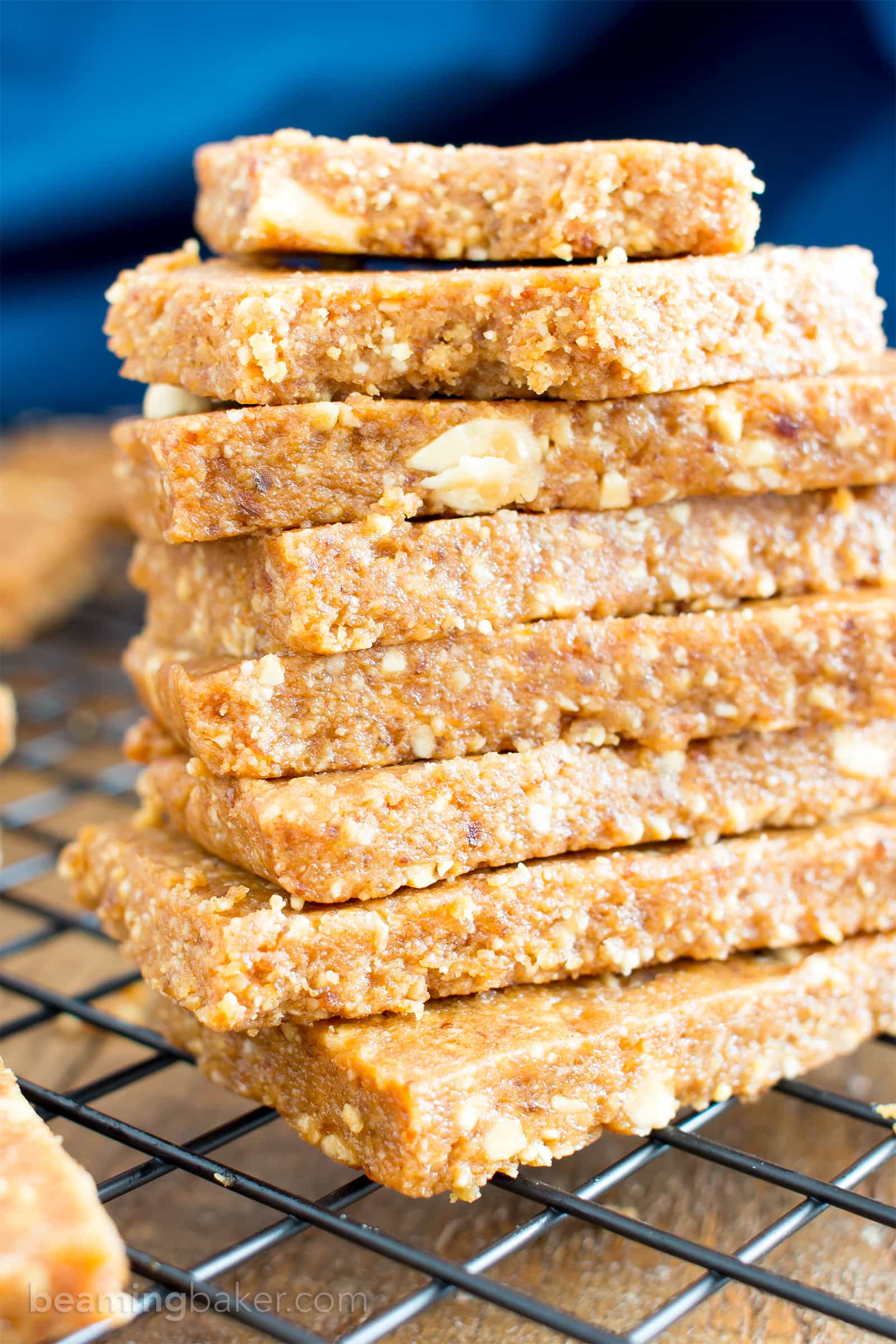 Happy Birthday PB, aka Dylan!!! It's that time of the year, when we all celebrate my little nephew's and my sister's (his mama's) birthdays. Oh, all right… not everyone is celebrating their birthdays. But why not?
Are you busy or something??? Imagine lil' four-year-old PB giving you the stinkeye right now. It's all at once adorable and menacing. But not. 😉
And if that doesn't work, he'll totally cry on cue. Not that he's learned to do that yet or anything… Okay, now Jenny's giving me the stinkeye. Quick, someone change the subject!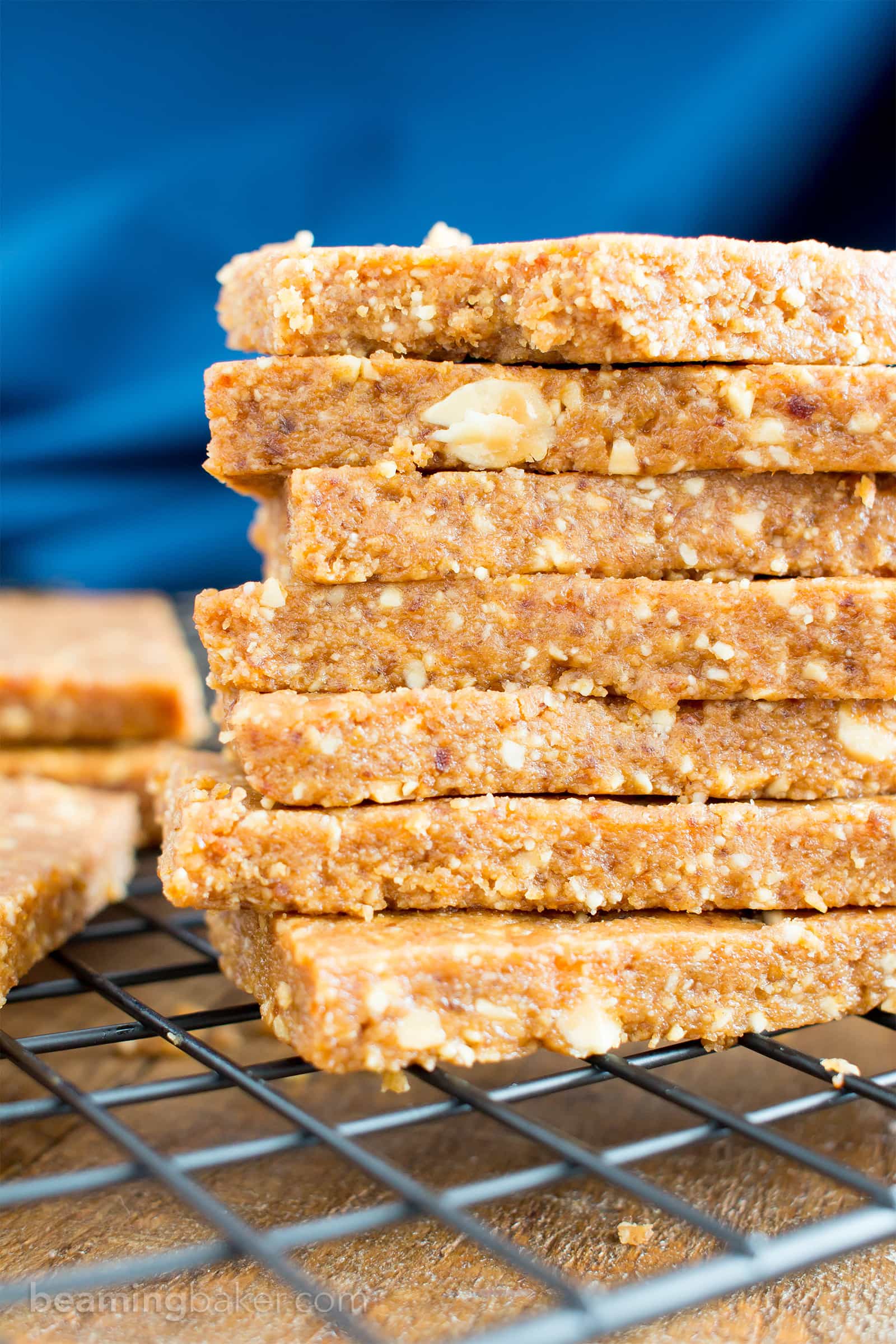 PEANUT BUTTER! 
There, it's all better now. 🙂 Why is it that peanut butter fixes all of life's problems? (As previously discussed in no bake peanut butter coconut bites, of course.) Or at least the most edible of life's problems? I don't even know what that means, but let's go with it. Let's just say we're working with 4-year-old logic today. No offense, PB.
Anywho, in keeping with our yearly tradition here at BB, I've whipped up the annual birthday recipe dedication to PB. Made with peanut butter, of course. Naturally, "PB" does not stand for "Peanut Butter," but in fact, "Pooh Bear." Even more naturally, Pooh Bear is not one of my sister's favorite cartoons. It just… happened that way. 😉
Yep, we're a family of logicians. Is that a real thing? Quick, someone look it up!
You might say that something has gotten into me today… or perhaps I'm always like this. Hard to say since I just got done eating like 3 of these 4 Ingredient No Bake Peanut Butter Cookie Energy Bars. They are called energy bars, after all. 😉 Something about that tasty combo of peanuts, dates, and even more peanuts… it's beyond invigorating.
And I figured I might as well whip up a recipe that'll give my sister Jenny all the energy she needs because… drumroll please… SHE'S HAVING ANOTHER BOY!!! 🙂 🙂
I'm SO happy for her, and, ya know… not to take away from PB's birthday or anything, but… another PB is on the way!!! PB, you've got to stop giving me that well-practiced side eye! Who taught him that anyway? Grams, probably. 😉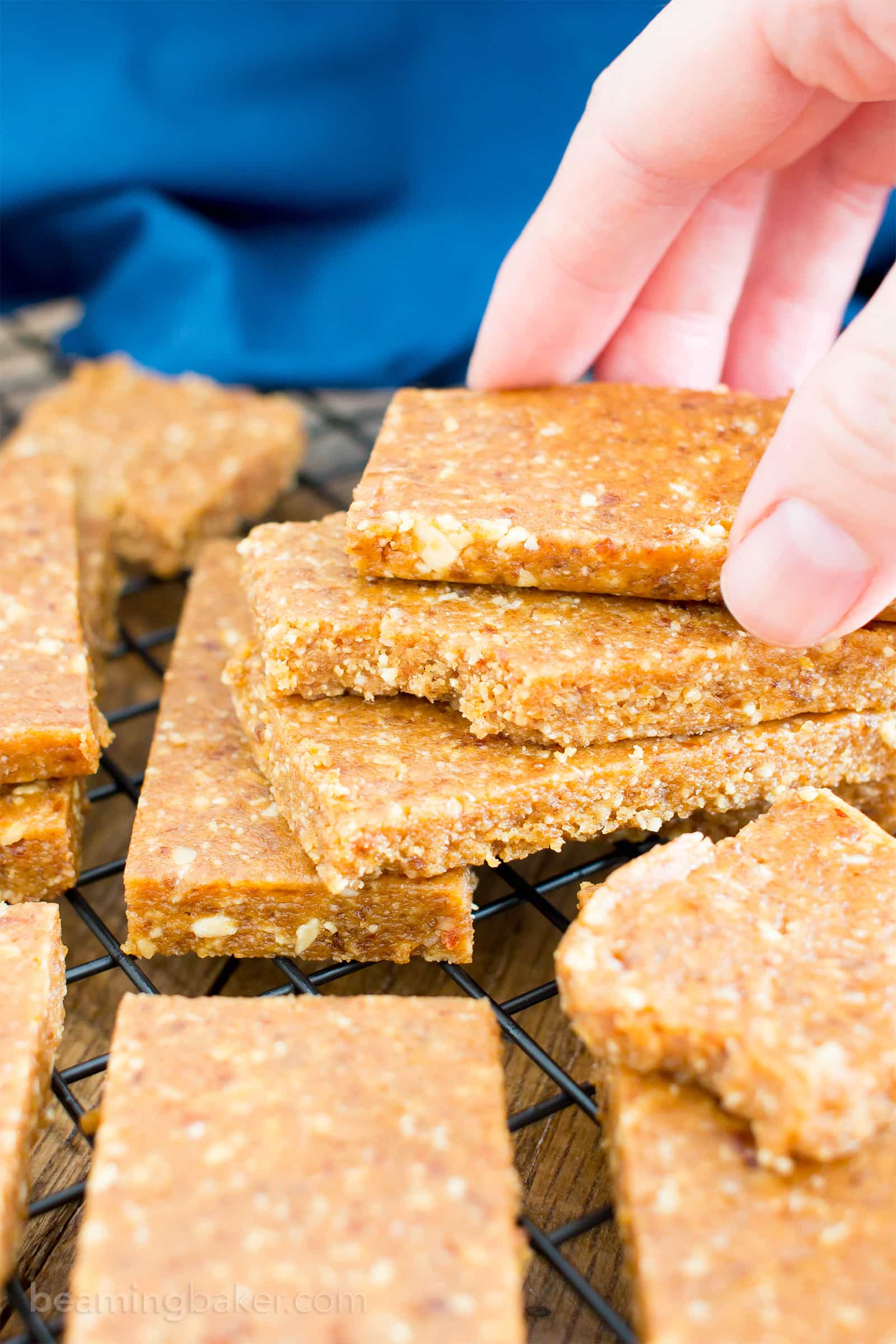 Anywho, for now, we'll just call the little guy PB2. That way folks who are reading this post can get really confused and ask if these 4 ingredient no bake peanut butter cookie energy bars can be made with PB2. The rest of us folks who actually read/wrote this post can quietly snicker about their ignorance. <– Alright, these energy bars apparently make me sassy, too!
Ahem. It feels like just yesterday that I was holding PB in my arms, right after he was born. He was no larger than a large burrito. Okay, fine, a "small" burrito in my family. So… he was no larger than a banh mi. He was so tiny and couldn't even open his eyes yet. He was bright red everywhere and could already wiggle his eyebrows to express every need (food, bathroom, nap, more food, more bathroom, longer nap).
The second he was born, Erik and I ran all over town, frantically looking for a store that would sew his name onto this miniscule knit cap so we could present it to his mama. She, of course, wouldn't give us the name until the little guy popped out. The teeny, tiny cap was even a bit baggy for his head. .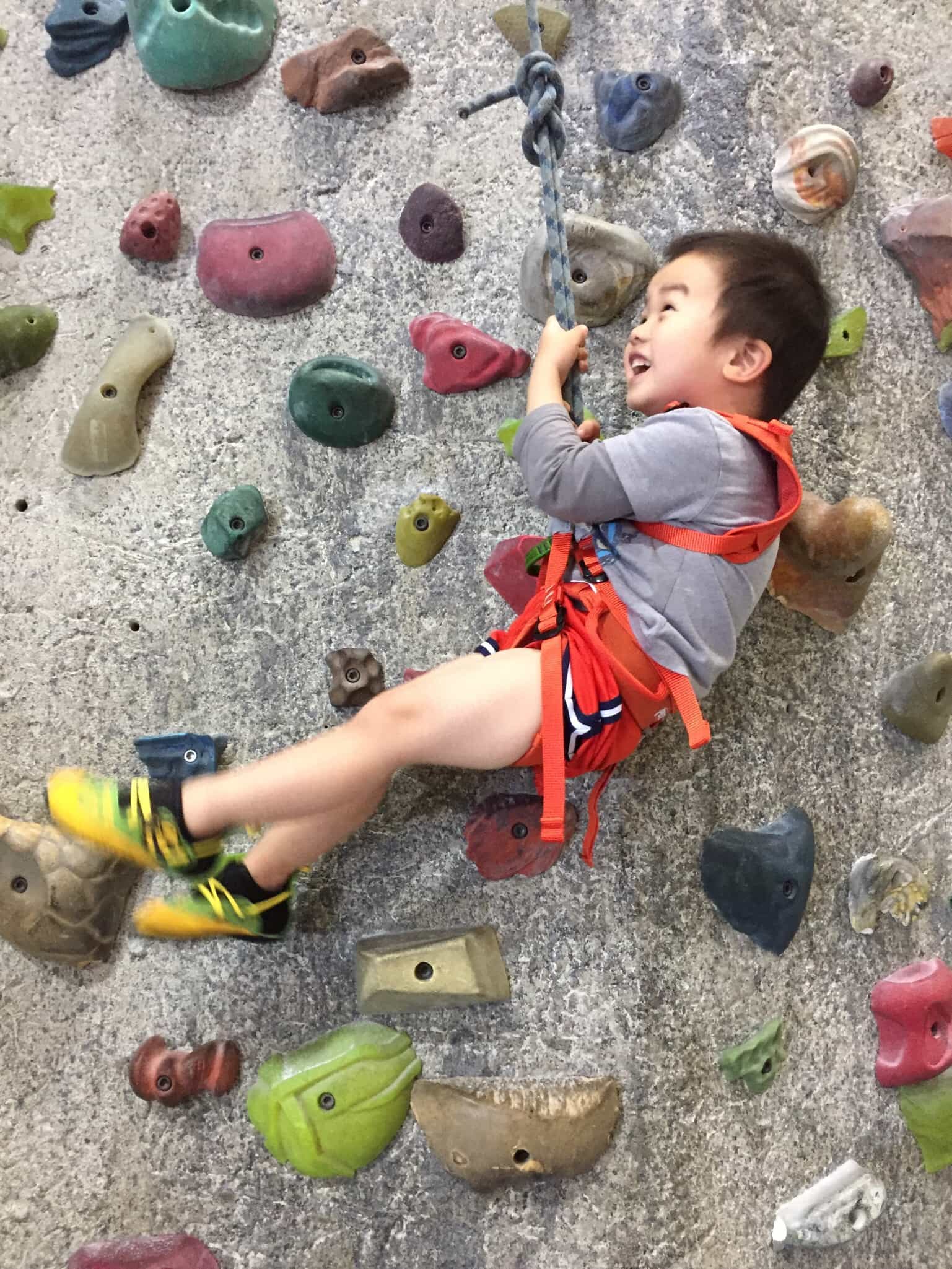 And today, he's much larger than a small burrito. In fact, he's even larger than 10 banh mi stacked up (see photo). . Gosh, I'm hungry. He runs around telling everyone that he's a big boy. He's got all kinds of sassy sayings like, "you're Mr. Tooty!!!!" And we'll say, "what's that, Mr. Tooty?" And he'll be like, "No, you're Mr. Tooty!!" And then we'll be like, "Stop saying Mr. Tooty, Mr. Tooty!!!" And then we'll all wonder where this Mr. Tooty even came from. He's got opinions and even a Spiderman watering can for his garden. Yep, he has a garden!!
It gets me all mushy thinking about how fast he's grown up. And, how life goes at warp speed. We've totally got to stop working so much and just make time to enjoy life, ya know? And, and it makes Erik and I think, we've got to look more into this Mr. Tooty business. Where did that fool come from?!?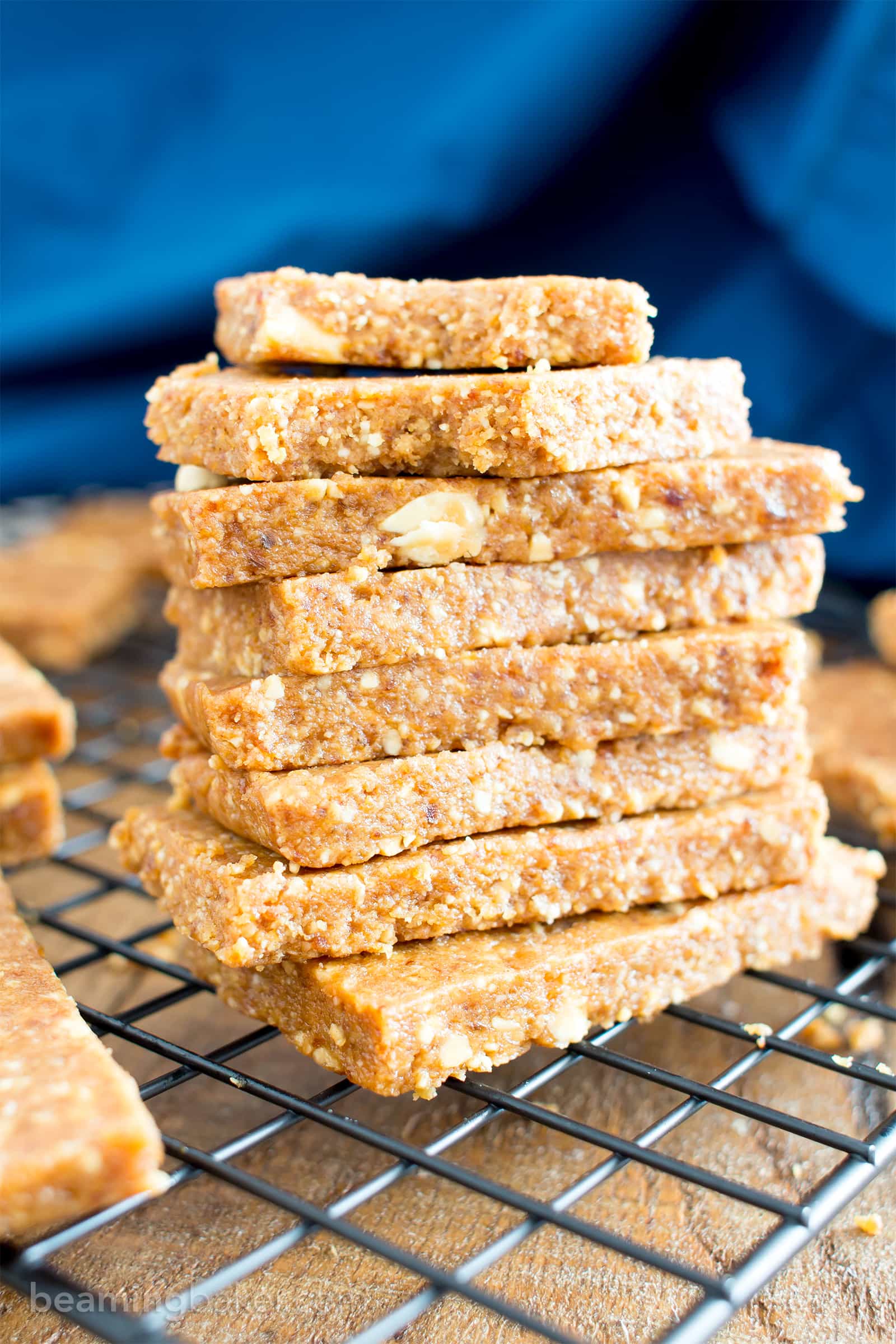 Anyway, just… Happy Birthday, PB. Thank you for reminding us what life's really about. We love you more than banh mi. And that's saying something. <3
We hereby dedicate all the 4 Ingredient No Bake Peanut Butter Cookie Energy Bars to you, little sir! Now, let's go over why we should all make these energy-tastic treats! They're:
seriously easy to make, in just one food processor/blender
(as if I'd make you use two) 😉
paleo, vegan, dairy-free, gluten free
made with just 4 ingredients
deliciously chewy, soft, firm
seriously no added sugar, no refined sugar!
packed with two type of peanuts
wonderfully protein-rich
the perfect combo of salty and sweet
made with the simple, healthy ingredients you love
plant-based and allergy-friendly
soon to be your favorite snack EVER
… or dessert
dedicated to a super special little sir, my sweet, but totally sassy 4 year old nephew, PB!
So what do you think? Are you loving the no added sugar vibes? Because our little PB doesn't need any added sugar to be sweet. Okay, that was too cheesy. Even I can admit that. Ahem. Blend up a batch of these 4 Ingredient No Bake Peanut Butter Cookie Energy Bars and let me know what you think! I'm thinking about making more treats that don't require any added sugar. In the meantime, tell me:
What no-added sugar treat would you like to see next?
Sending you all my love and maybe even a dove, xo Demeter ❤️
☀︎ Click below to Pin ☀︎

☀︎ Did you make this recipe? Take a pic and share it on Instagram with the hashtag #beamingbaker and tag @beamingbaker. I would love to see it! ☀︎
Print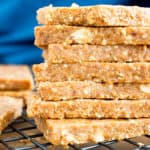 4 Ingredient No Bake Peanut Butter Cookie Energy Bars (Vegan, Gluten Free, Protein-Packed, Dairy Free, No Added Sugar)
---
Description
4 Ingredient No Bake Peanut Butter Cookie Energy Bars (V, GF, DF): an easy recipe for simple salty 'n sweet energy bars that taste like peanut butter cookies! Vegan, Gluten Free, Protein-Packed, Dairy-Free.
---
Scale
Ingredients
10

Medjool dates (

3/4 cup

+

2 tablespoons

dates, packed)

¾ cup

unsalted, natural creamy peanut butter

¾ cup

unsalted peanuts

1 ¼ teaspoon

pure vanilla extract

¼ teaspoon

salt (optional)
---
Instructions
Line a 9-inch square baking pan with parchment paper, greased foil or wax paper. Set aside.
Add dates and peanut butter to a food processor. Blend until you get a somewhat cohesive, sticky and crumbly mixture, like chunks of wet sand/dough. This will take about a minute. Scrape down the sides of the processor as needed.
Add in peanuts, vanilla and salt (if using). Blend until the peanuts are fully-incorporated and you get a soft, crumbly mixture, with a few small bits and pieces of peanuts still visible. It's ready when you can pinch the mixture between your fingers and it holds together.
Pour this mixture into the prepared baking pan. Press down and smooth into a tightly-packed, even layer.
Freeze for 20-30 minutes, until very firm. Remove from freezer and slice into 18 bars. Enjoy! Storing instructions below.
---
Category:

No Bake, Vegan, Gluten Free, Protein-Packed, No Added Sugar, Dairy-Free
© beamingbaker.com. All content and images are protected by copyright. Please do not use my images or recipe without my permission. If you wish to republish this recipe, please re-write the entire recipe using your own words and include a link to this post for the recipe.
If you enjoyed this 4 Ingredient No Bake Peanut Butter Cookie Energy Bars recipe, then you'll just love these plant-based, allergy-friendly recipes:
Gluten Free Vegan Protein-Rich Energy Bars & Bites Recipes
3 Ingredient No Bake Peanut Butter Oatmeal Cookies (V, GF, DF, Protein-Rich) | No Bake Double Chocolate Cherry Coconut Energy Bites (V, GF, DF, Protein-Packed) | No Bake Peanut Butter Cup Oatmeal Bars (Vegan, DF, GF, Whole Grain) | 4 Ingredient No Bake Peanut Butter Coconut Energy Bites (Refined Sugar-Free, Whole Grain, V, GF, DF)
Facebook ☀︎ Pinterest  ☀︎ Twitter ☀︎ Instagram