Dark Chocolate Almond Coconut Trail Mix Cookies (V, GF, DF): an easy recipe for deliciously textured chewy trail mix cookies bursting with chocolate, almond and coconut. Vegan, Gluten Free, Dairy-Free, Whole Grain.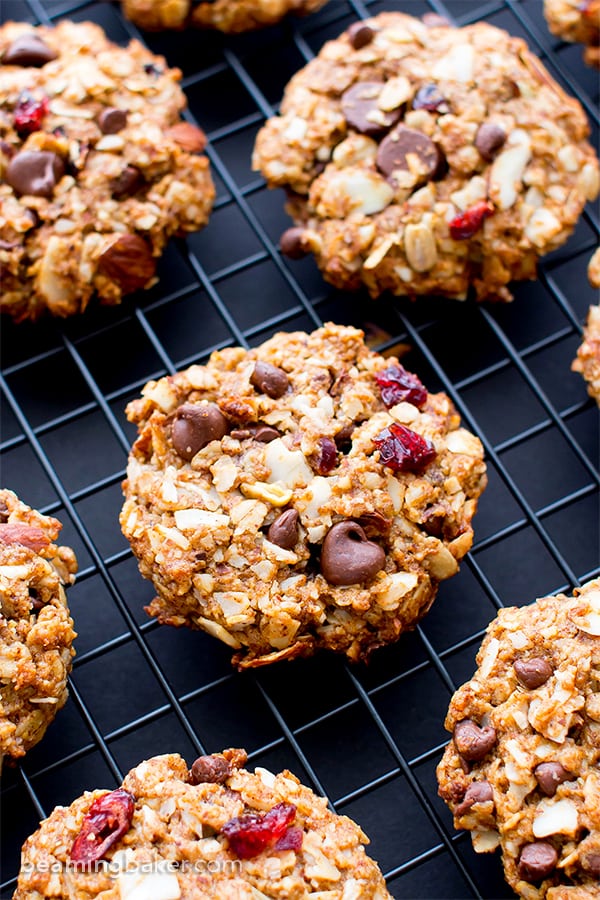 Every time I see the words "trail mix," I start to smile. And I magically become really energetic and start itching to slap on a pair of running shoes. My adrenaline starts flowing and I look around for some stretchy, yet form-fitting workout pants and start to call one of my sisters.
Does this happen to you? If need be, replace "sister" with workout buddy or other awesomely inspirational person in your life. 🙂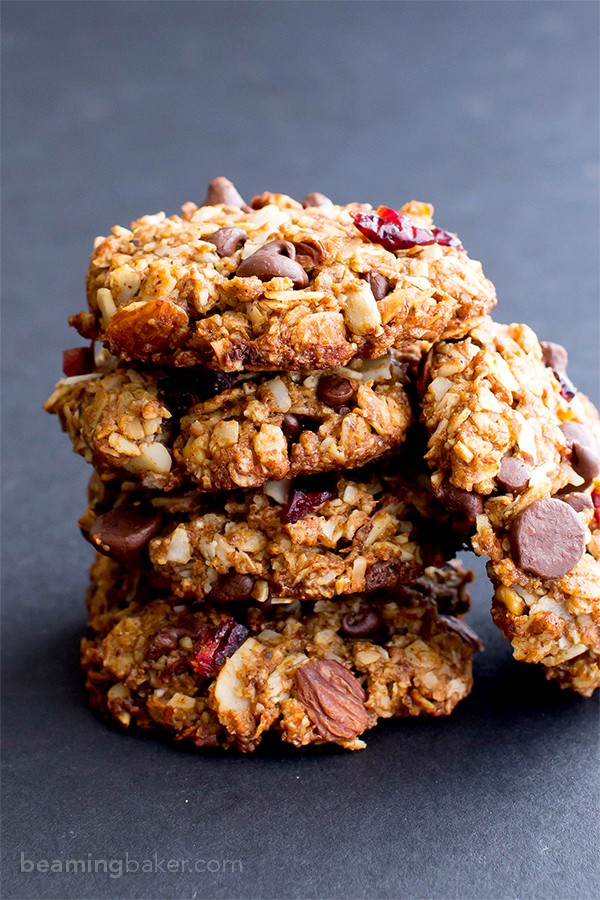 The thing with my sisters is that they've always been wonderfully into fitness, just about as long as I've known them. We don't like to count the years when all of us were painfully awkward (okay, I'm still like that, but why break what works right? ????), our main concern was finding the next four books to read, and how many different flavors of bubblegum we could get my mom to buy us at the store.
Nowadays, we get to read all the books we'd like (in between, ya know, work), buy all the bubblegum (even though some of us no longer even like it), and pick and choose which lovely friends get to enjoy our stunning social skills (ahem).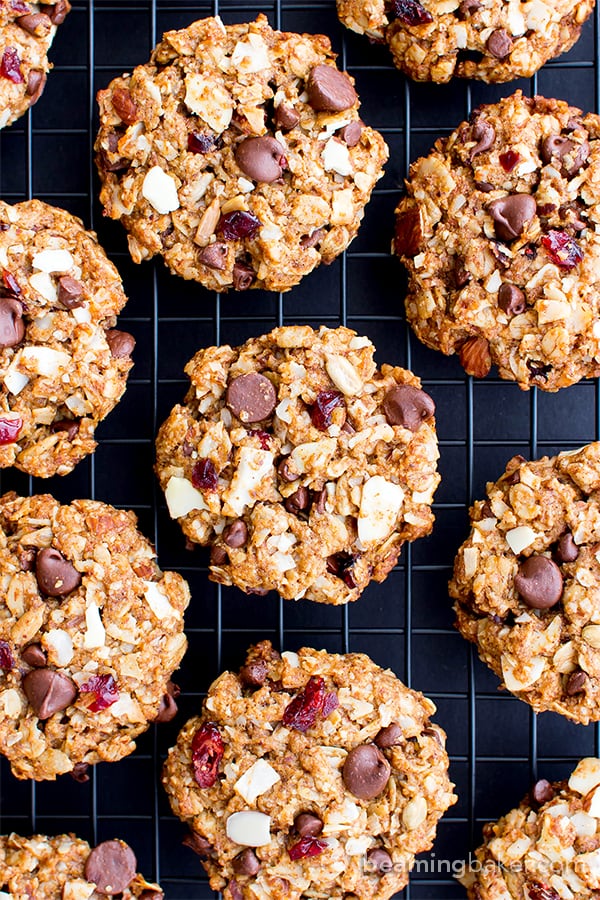 But one new, super positive, non-candy, non-reading, non-socializing development has grown quite a bit over the years: fitness. And let me tell you, it's been a long and windy road, full of hills, potholes, ravines, snakes and some actually positive things—cue the scenic view!
I've had wins, experienced beautiful views and found more strength than I even knew I possessed. And I have my sisters to thank for it all. My sister Penny is always telling me about a new workout class she's gone to—bootcamp, Bar Method, pilates. My sister Monica loves, loves, loves TRX (seriously such a cool workout) and runs like a… hmm, what runs a lot? And my other sister Jenny (yes, I am blessed with three, if you can believe) is such a boss at kickboxing and swimming. She also used to win actual medals doing Taekwondo. I know. And she's barely even 5 feet tall.
As for me, I've been all over the map. And then some. I have this soft spot and total admiration for yoga, but have never really gotten good at it. Pilates is always a treat. But running—something about running—it just gives me the most amazing high.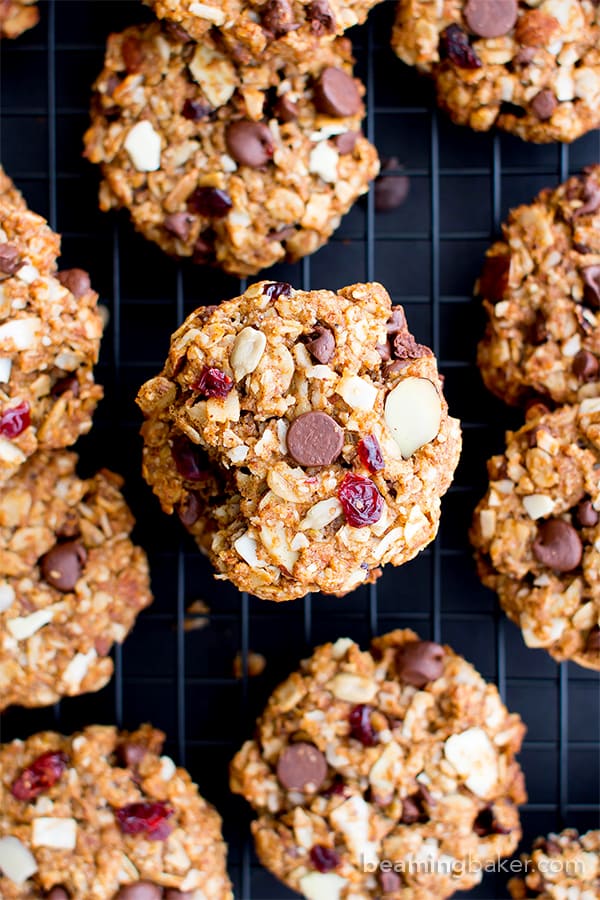 I could go on and on. But honestly though, it's been tough.
Does it sometimes feel like the second you nail down a good workout routine and get a great vibe going, ya turn around, and it's been three weeks since you last worked out? Or for some reason, the workout that used to make you sweat is actually solidly boring and barely above a waking nap?
Those are the kinds of ruts I get into. I know an age-old fitness adage lectures us about switching it up all the time… but, ugh, all the buts! Time is limited, work is endless and life moves at lightning speed. Amidst that blur of movement, I find myself getting kind of lost and letting what I know to be good for me just slip away.
I fall off the proverbial fitness horse. And then…
And then, I get back on. It's not just because someone whispered "­­Dark Chocolate Almond Coconut Trail Mix Cookies" in my ear (tee-hee),
or my mom called to promise me she's buying every single flavor of bubblegum for my birthday.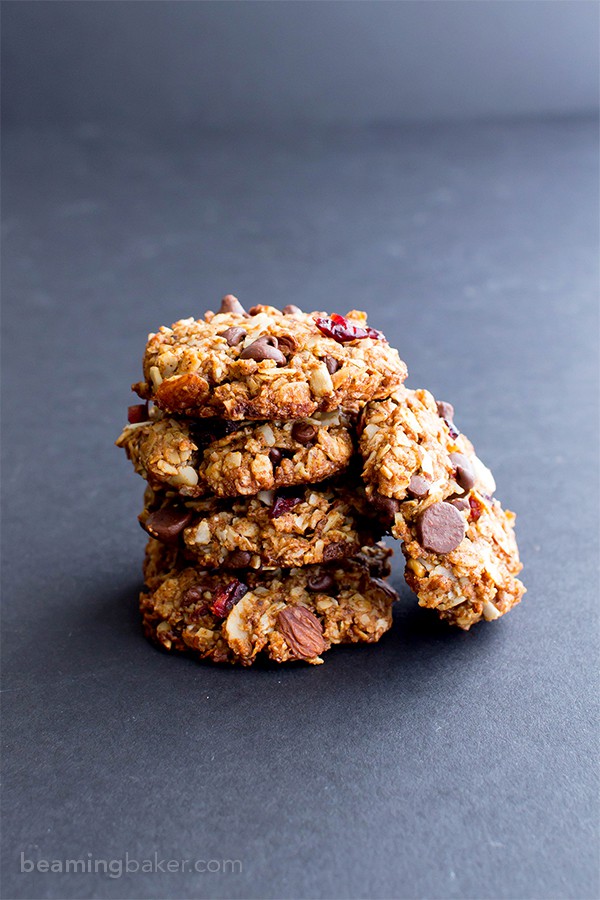 It's because we can't give up. Ever.
It's because my sisters have taught me that trying and failing is better than not trying at all. It's because they've taught me that perfection is meaningless. That effort and earnestness outweighs expectations and perception.
Getting fit is for me, not for the world. So if I fail, if I fall, if I slip again, it's okay.
This month, I'm making the time to better myself. To not put work first, to not put everything else above me. I'll be looking for new workout videos, cookin' up new healthy snack recipes in the kitchen, making time for outdoor fun with Erik, and just… trying.
I hope that you'll try with me.
I hope that you'll share your favorite workout videos, favorite indoor and outdoor activities, and your best inspirations to get moving. Doing this is so much better together, don't you think?
So here's to a month (and then some) full of gym-fueling recipes, inspo and more! Allow me to present to you my Dark Chocolate Almond Coconut Trail Mix Cookies. They're:
deliciously chewy
made with simple, feel-good ingredients
protein- and nutrition-packed for the ultimate energy boost
vegan, gluten-free, dairy free, whole grain
so easy to make
scrumptiously textured
bursting with almond butter, chocolate chips and coconut
perfect for on-the-go snacking or an afternoon pick-me-up
just the snack you need to get moving
When you hear the words Dark Chocolate Almond Coconut Trail Mix Cookies, I hope you get all tingly and prickly all over. Because it's time to get active! I'm looking forward to getting healthy with you this year. Here's to a fantastic month filled with new adventures, new recipes, and a new you. You ready? Let's do this!
Tell me, what inspires you to move?
Sending you all my love and maybe even a dove, xo Demeter ❤️ ????
☀︎ Click below to Pin ☀︎

☀︎ Did you make this recipe? Take a pic and share it on Instagram with the hashtag #beamingbaker and tag @beamingbaker. I would love to see it! ☀︎
Dark Chocolate Almond Coconut Trail Mix Cookies (Vegan, Gluten Free, Dairy-Free)
Dark Chocolate Almond Coconut Trail Mix Cookies (V, GF, DF): an easy recipe for deliciously textured chewy trail mix cookies bursting with chocolate, almond and coconut. Vegan, Gluten Free, Dairy Free, Whole Grain.
Author:
Demeter | Beaming Baker
Recipe type:
Cookies, Healthy Snacks, Vegan, Gluten Free, Dairy Free, Whole Grain
Ingredients
Dry Ingredients
1 cup gluten-free rolled oats
1 cup unsweetened coconut flakes
½ cup almond meal
1 teaspoon ground cinnamon
½ teaspoon baking powder
½ teaspoon baking soda
¼ teaspoon salt
Wet Ingredients
2 flax eggs (whisk together 2 tablespoons ground flax + 6 tablespoons warm water, let set for 10 mins)
¼ cup melted coconut oil
½ cup natural, unsalted creamy almond butter
¼ cup + 2 tablespoons coconut sugar
1 teaspoon pure vanilla extract
Add-in Ingredients
½ cup sliced almonds, finely chopped
½ cup vegan dark chocolate chips (mini and regular)
2 tablespoons dried cranberries, finely chopped
2 tablespoons sunflower seeds
optional topping: 2 tablespoons add-ins of your choice
Instructions
Preheat oven to 350°F. Line a cookie sheet with parchment paper or greased foil. Set aside.
In a large bowl, whisk together all of the dry ingredients: oats, coconut, almond meal, cinnamon, baking powder, baking soda and salt.
In a medium bowl, whisk together all of the wet ingredients: flax eggs, coconut oil, almond butter, coconut sugar and vanilla. Whisk until smooth.
Pour the wet mixture over the dry mixture. Use a rubber spatula or wooden spoon to fold the ingredients together until well combined. Fold in almonds, chocolate chips, cranberries and sunflower seeds.
Using a cookie scoop, scoop 2 tablespoons of cookie dough onto the prepared baking sheet, spaced evenly apart. Using a fork, gently flatten cookies to desired thickness. Cookie dough is a bit crumbly--press together any loose crumbles. Cookies won't spread during baking. Bake for 8-12 minutes.
Using a flat, heatproof spatula, gently transfer cookies to a cooling rack. Allow to cool completely before storing. Enjoy! Storing instructions below.
Nutrition Information
Serving size:
1 cookie
Calories:
132
Fat:
12
Carbohydrates:
9
Sugar:
5
Sodium:
2
Protein:
2
© beamingbaker.com. All content and images are protected by copyright. Please do not use my images or recipe without my permission. If you wish to republish this recipe, please re-write the entire recipe using your own words and include a link to this post for the recipe.

☀︎ More Healthy Snack Recipes ☀︎
Homemade Dark Chocolate Sea Salt KIND Nut Bars (Gluten Free, Vegan, Dairy-Free, Protein-Packed)
Almond Butter Chocolate Chip Oatmeal Cookies (Vegan, Gluten Free, Dairy Free, Whole Grain)
No Bake Peanut Butter Coconut Bites (Vegan, Gluten Free, Dairy Free, Whole Grain)
Peanut Butter Oatmeal Chocolate Chip Breakfast Bars (Vegan, Gluten Free, Dairy Free, Whole Grain)
No Bake Chewy Chocolate Chip Granola Bars (Vegan, Gluten Free, Dairy Free, Whole Grain)
In case you still want more Healthy Snacks… ???? ????
No Bake Oatmeal Raisin Bites (V, GF, DF, Whole Grain)
1 Bowl Quinoa Crunch Snack Bars (GF, Whole Grain) by Sally's Baking Addiction
No Bake Almond Butter Cookie Dough Granola Bars (V, GF, DF, Whole Grain)
No Bake Sweet and Salty Trail Mix Granola Bars (GF, V) by Running with Spoons
Gluten Free Vegan Trail Mix Cookies (V, GF, DF, Whole Grain)
Facebook ☀︎ Pinterest  ☀︎ Twitter ☀︎ Instagram