Gingerbread Oatmeal Homemade Breakfast Bars (Vegan, Gluten-Free, Dairy-Free, Refined Sugar-Free)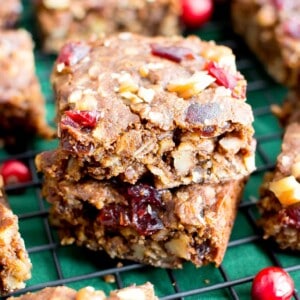 Author:
Demeter | Beaming Baker
Recipe type:
Breakfast, Vegan, Gluten-Free, Dairy-Free, Holiday
2 flax eggs (whisk together 2 tablespoons ground flax + 6 tablespoons water, set for 15 mins)
2 tablespoons melted coconut oil
¼ cup + 2 tablespoons natural, unsalted creamy almond butter
2 tablespoons coconut sugar
2 tablespoons molasses
¾ cup gluten free rolled oats
¼ cup gluten free oat flour
1 ½ teaspoons ground ginger
¾ teaspoon ground cinnamon
¼ teaspoon ground cloves
¼ teaspoon ground nutmeg
¼ teaspoon baking powder
¼ teaspoon baking soda
¼ teaspoon salt
¼ cup dried cranberries, roughly chopped
½ cup pecans, chopped
¼ cup walnuts, chopped
1 tablespoon dried cranberries, chopped
1 tablespoon pecans, chopped
Preheat oven to 350°F. Line an 8-inch square baking pan with parchment paper or greased foil. Set aside.
In a large bowl, whisk together all of the wet ingredients: flax eggs, coconut oil, almond butter, coconut sugar and molasses. Whisk until smooth.
Add dry ingredients: oats, flour, spices, baking powder, baking soda and salt. Whisk until it becomes difficult to stir. Switch to using a rubber spatula, folding until well combined. Fold in cranberries, pecans and walnuts.
Pour into the prepared baking pan. Using the rubber spatula, spread into an even layer. Optionally, press cranberries and pecans onto the top of the bars.
Bake for 22-28 minutes. Mine took 25 minutes. You'll know it's done when the edges turn a dark, golden brown.
Place on a cooling rack for 1 hour, or until completely cool. Slice into 16 bars. Enjoy!
Recipe by
Beaming Baker
at https://beamingbaker.com/gingerbread-oatmeal-homemade-breakfast-bars-vegan-gluten-free-dairy-free-refined-sugar-free/