Skillet-Roasted Maple Cinnamon Pecans (Vegan, Paleo, Gluten Free, Dairy Free)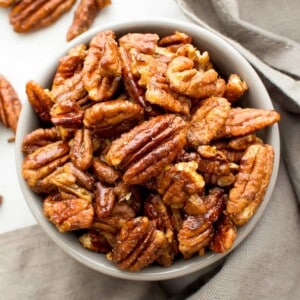 Author:
Demeter | Beaming Baker
2 tablespoons coconut sugar
2 tablespoons pure maple syrup
½ teaspoon ground cinnamon
¼ teaspoon salt
2 teaspoons coconut oil
2 cups unsalted pecan halves
Line a cookie sheet with parchment paper or greased foil. Set aside.
In a small bowl, whisk together coconut sugar, maple syrup, cinnamon and salt.
In a large, nonstick skillet over medium-low heat, add coconut oil and sugar mixture. Stir until melted and smooth.
Add pecans and increase heat to medium, stirring until pecans are thoroughly coated. Switch to stirring occasionally, allowing pecans to soak in the sugar mixture. Watch the pecans closely, being careful not to burn them. Stir until the sugar mixture is almost completely soaked up and the pecans are sticky like taffy. This will take about 3-5 minutes.
Pour pecans onto the prepared baking sheet, creating an even layer. Set baking sheet on a cooling rack. Allow to cool for 1 hour, or until completely cool. Enjoy! Storing instructions below.
Recipe by
Beaming Baker
at https://beamingbaker.com/skillet-roasted-maple-cinnamon-pecans-vegan-paleo-gluten-free-dairy-free/