Peanut Butter Hot Chocolate Smoothie (Vegan, Gluten Free, Protein-Packed, Dairy-Free, No Sugar Added)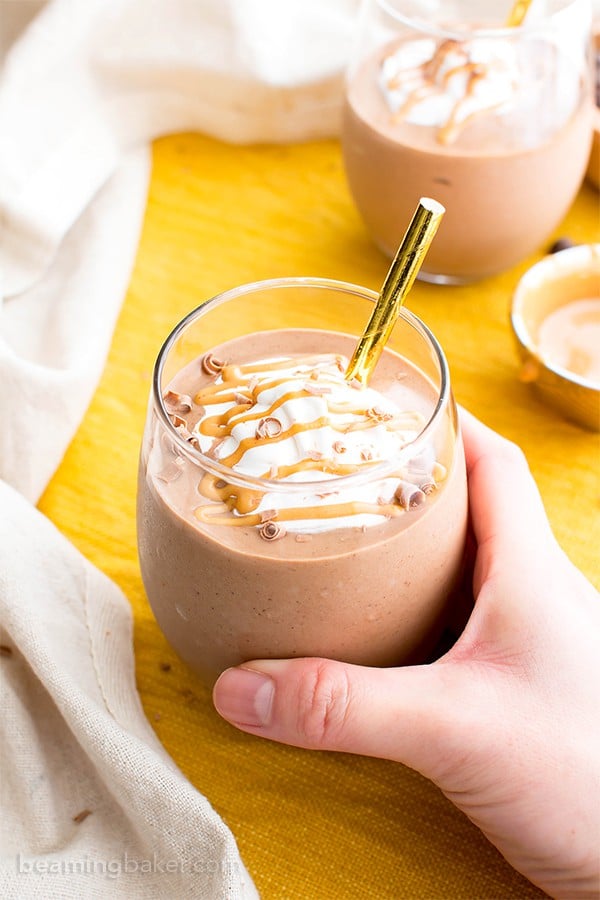 Author:
Demeter | Beaming Baker
Serves:
2 smoothies (about 4 cups)
4 medium bananas, sliced and frozen
½ cup unsweetened almond milk*
¼ cup unsalted, natural peanut butter
2 tablespoons unsweetened cocoa powder
½ teaspoon ground cinnamon
- Ground cinnamon, chocolate shavings, coconut whip, unsalted, natural creamy peanut butter (for drizzle)
Add bananas into the blender, blending until crumbly. Add almond milk. Blend until smooth and creamy, scraping down the sides of the blender as needed.
Add peanut butter. Blend until smooth. Add cocoa powder and cinnamon, blending until well-incorporated. Scrape down the sides of the blender periodically, as needed.
Pour into two cups and enjoy! Optionally, top with cinnamon, chocolate, coconut whip, and peanut butter.
- Adapted from my
Chocolate Peanut Butter Banana Smoothie (V, GF, DF)
,
Vegan Strawberry Peanut Butter Smoothie
and my
Peanut Butter Banana Ice Cream Smoothie
.
- *I like my smoothies super thick, but if you prefer a more liquidy version, add up to an extra ½ cup of almond milk (for a total of 1 cup almond milk).
- More smoothie recipes (all vegan + gluten free):
mango chia seed smoothie
,
chocolate peanut butter banana smoothie
,
strawberry chia seed smoothie
.
- High protein treats to go with your smoothie (all V, GF, and DF):
cranberry coconut bites
,
chocolate peanut butter rice crispy treats
,
peanut butter chocolate chip oatmeal cookies
.
Recipe by
Beaming Baker
at https://beamingbaker.com/peanut-butter-hot-chocolate-smoothie-vegan-gluten-free-protein-packed-dairy-free/