Gluten Free Vegan Peanut Butter Cup Brownies (V+GF): rich, fudgy, decadent brownies stuffed with delicious peanut butter cups. Vegan, Gluten Free, Dairy Free.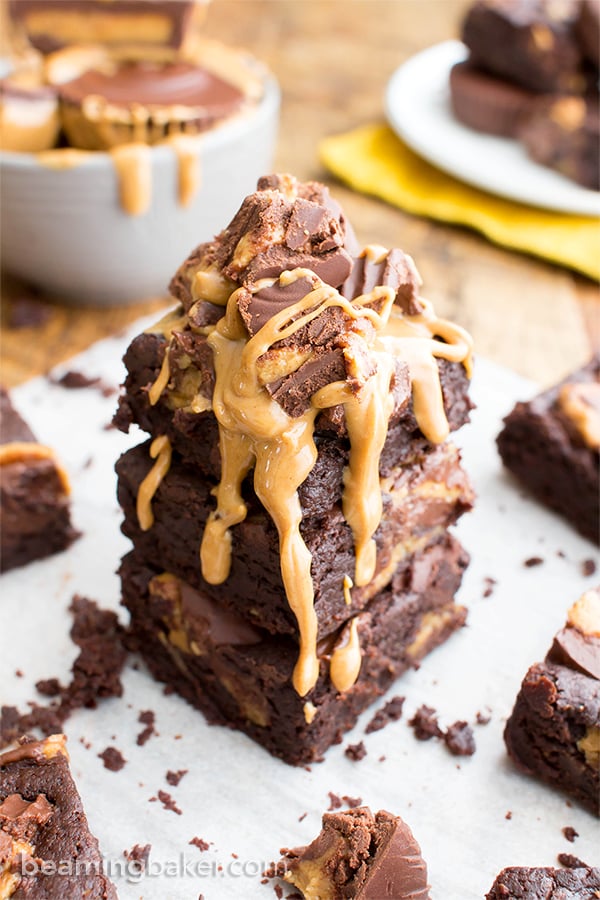 Hiya friends!! How's your week been? Long, short, middle-ish? I don't know what middle-ish means either, but let's just go with it. After all, who cares since the week's almost over? Wooohoooo!!!
There's just something about the end of summer that makes focusing that much harder, ya know? Like, maybe we should all sneak in a last minute trip to Vegas, or book that cruise that's been discounted for end-of-summer salesy reasons, or call off the rest of the week and treat ourselves to a long weekend at the amazing B&B we went to once, ages ago. Yes, WE. I can live vicariously through you, right?
Riiiiight?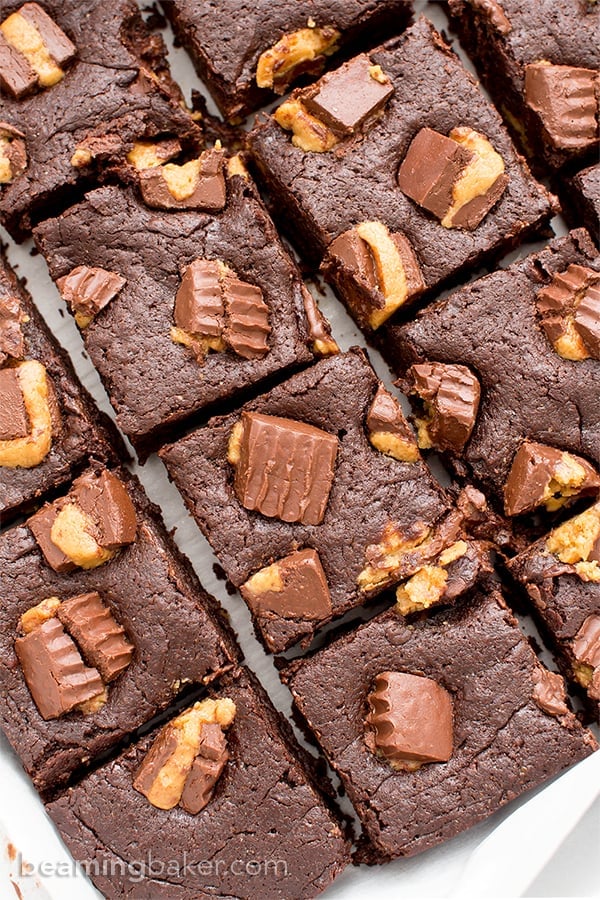 Anyway, while you and I wistfully dream about doing something fun and spontaneous, I figured I might as well give you some for-realsies, totally doable self-indulgence for this week. No trip planning, no end-of-summer discounting or even middle-ish reasons necessary.
Because. Who doesn't want/need/love a good gluten free vegan peanut butter cup brownie? Who?
Ladies and gents, you know how much everyone loves my Best Vegan Brownies recipe. You might even know how much my entire family loves their specially-requested Gluten Free Vegan Brownies. You may have even heard, from the Beaming Baker Family Grapevine that the Gluten Free Vegan Peanut Butter Cups from Monday's post are all anyone can request.
It's care package central up in here. Ya feel me?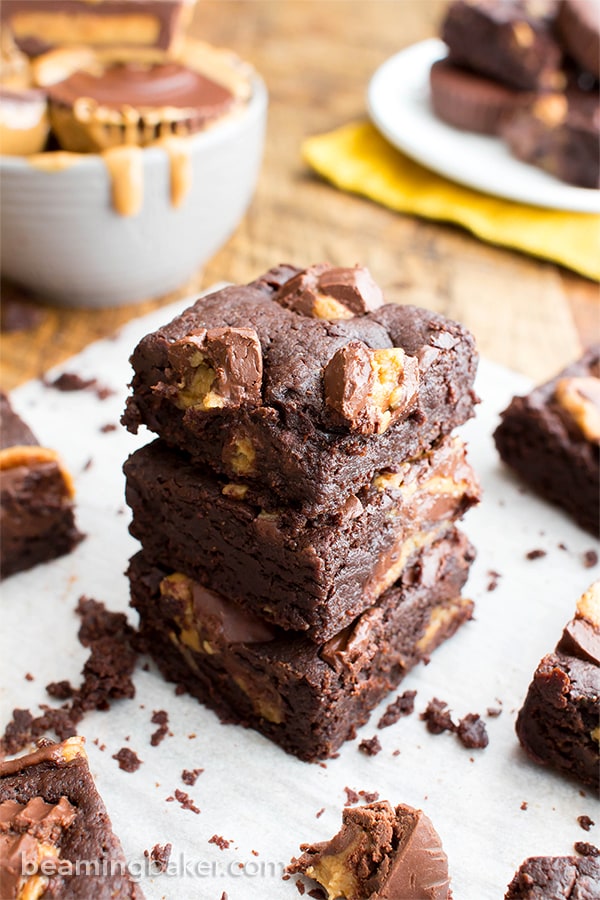 Well, since it's almost the weekend, almost Halloween (oh come on, any Halloween Lovers out there?), and it's almost certainly high time to treat yourself to something ridiculously awesome for the ultra-awesome things you did this week, I thought: let's upgrade these BEST vegan brownies like it's nobody's business.
Peanut Butter Cup-style.
How's that for a happy rest of the week? How's that for kicking off a soon-to-be super fantastic, Hocus Pocus, The Nightmare Before Christmas, Eight Legged Freaks, Halloween-themed Roseanne and Home Improvement episodes marathon for The Big Day sound? The Big Day = Halloween. YES, it does.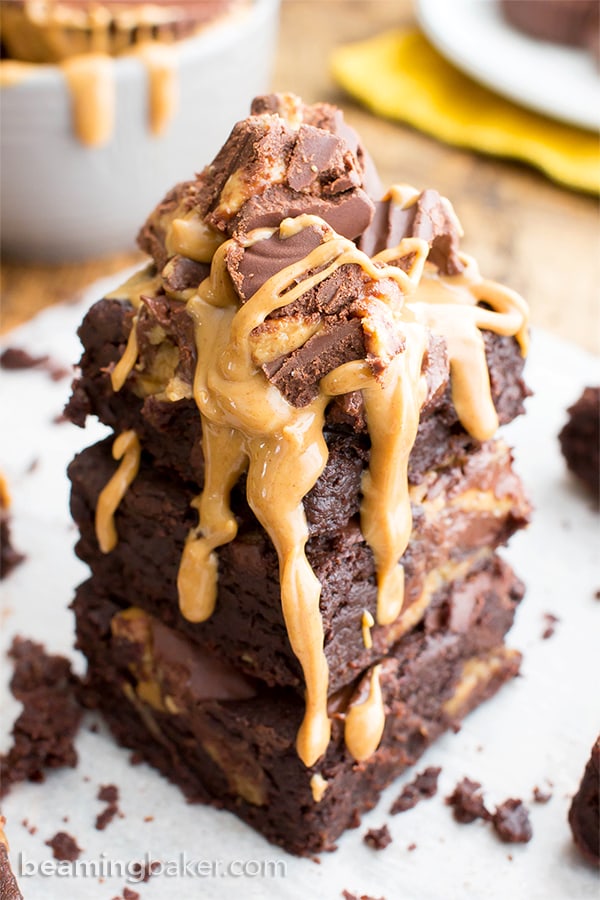 Too soon? Dang it! But I sat out Christmas in July!! Doesn't that count for anything? Anything at all??? No?
*Shuffles away*
*Costume tiger tail between my legs*
Anyway, I can't hold back my enthusiasm for Halloween. Because. HALLOWEEN. I'm so not gonna lie, the second I was packing away my Christmas decorations (yes, last year), I was already thinking, "Yeah!! We are THAT much closer to Halloween again!!!"
And while I try to chat with you about the end of the summer and blah blah blah, all I can think is… is there a way to make these brownies into pumpkin shapes? Or ghost shapes? Or Jack Skellington shapes?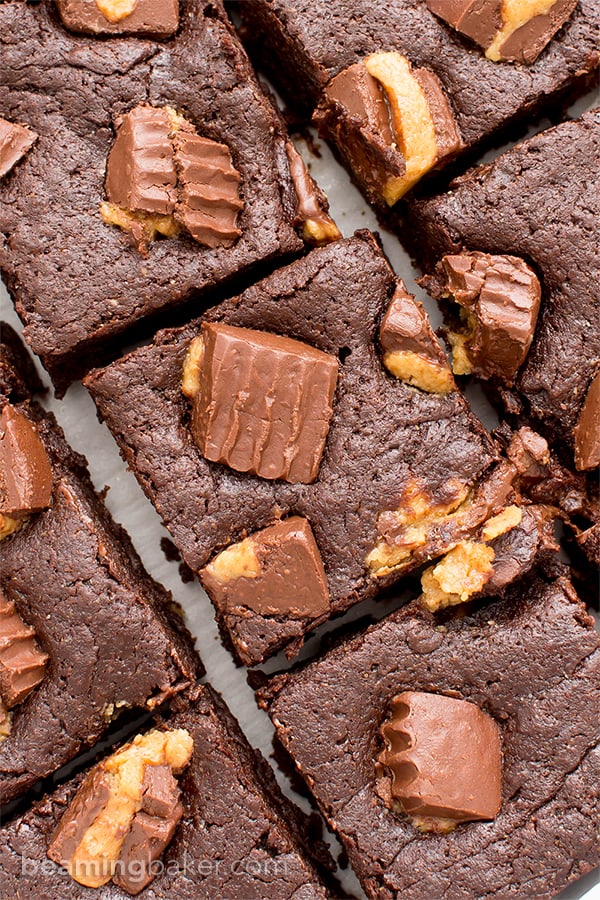 How about arranging the PB cups into the Gryffindor symbol, all atop these decadent, Halloween-worthy, chocolate-level brownies? While we're at it, why don't we also whip up a batch of these totally perfect-for-Halloween gluten free peanut butter brownies by my sweet friend Brianna at Flippin' Delicious? Then, turn this whole thang (that's right, thang) into a full-blown brownie bake-a-thon and make these incredible gluten free olive oil brownies from This Mess Is Ours! 🙂 To make vegan, simply use the following swaps: vegan chocolate for all chocolate listed, organic sugar for both sugars listed and flax eggs instead of eggs. Yum!! Oh… alright, I'll make one more: Gluten Free Vegan Brownies. That is all. 😉
Anyone with me? 🙂 Just, give me some points for not releasing Halloween-stuff this early. Eh… right? But, beware: *spooky Winifred Sanderson voice* the creepiest, most fun, and most chocolate-worthy holiday is coming. And we're gonna be doing it big time!
In the mean (boring) time, let's talk about the end of the summer and back to school. Aw, man!!! Let's liven up these trick-or-treat boxes and Halloween party platters lunch boxes and last-minute picnic baskets with some wonderfully decadent Gluten Free Vegan Peanut Butter Cup Brownies.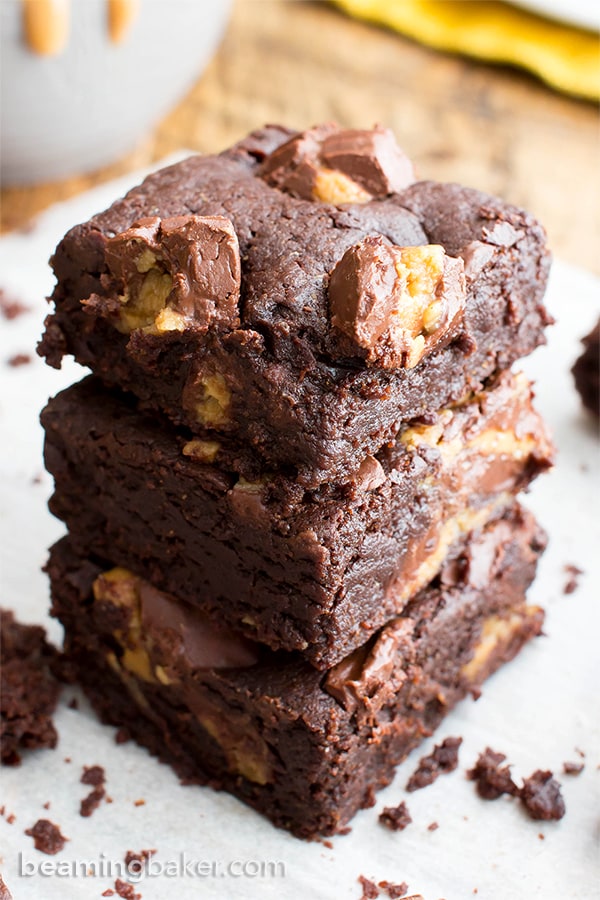 You game? Alright, let's do this! These Gluten Free Vegan Peanut Butter Cup Brownies are:
made with simple ingredients, that come together almost magically (ahem)
vegan, gluten free, dairy free
made in just one bowl, not counting the pb cups of course!
a Chocolate Peanut Butter Lover's DREAM
thick, fudgy and blissfully chocolatey
plant-based and allergy-friendly
stuffed with peanut butter in TWO ways
topped with lotsa PB cups
so insanely good, you'll have to give some away to stop eating them
but you won't, because who would share these???
soft on the inside, crispy on the edges
just the BEST brownie you'll ever have
just waiting to be made into all manner of Halloween shapes
Need you hear more? Because, honestly, I'm quite rambly and I've just eaten two of these brownies, so I could go on until this Halloween (and the next). But I'll spare you because—FRIENDS!! 😉 Try your ghoulish, glow-in-the-dark skeleton claw hand at these brownies. You'll love them even more than I love Halloween. Like, woah.
Tell me, are you excited about Halloween? Or are you more excited about a pumpkin spice latte? Tell me what gets you going in the Fall and Winter.
Sending you all my love and maybe even a dove, xo Demeter. ❤
☀︎ Click below to Pin ☀︎

☀︎ Did you make this recipe? Take a pic and share it on Instagram with the hashtag #beamingbaker and tag @beamingbaker. I would love to see it! ☀︎
Just in case you're in the mood for a little sumthin' else, perhaps some of these peanut butter treats will do:
Print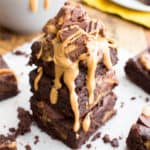 Gluten Free Vegan Peanut Butter Cup Brownies (V, GF, DF)
---
Description
Gluten Free Vegan Peanut Butter Cup Brownies (V+GF): rich, fudgy, decadent brownies stuffed with delicious peanut butter cups. Vegan, Gluten Free, Dairy Free.
---
Scale
Ingredients
Brownies
½ cup

Gluten Free Vegan Peanut Butter Cups, heaping, roughly chopped* (more required for topping, listed below)

¼ cup

natural, unsalted peanut butter**

½ cup

coconut sugar

1/3 cup

pure maple syrup

¼ cup

+

2 tablespoons

melted coconut oil

¾ cup

unsweetened cocoa powder

1 teaspoon

pure vanilla extract

¼ teaspoon

salt

2

flax eggs (

2 tablespoons

ground flax +

6 tablespoons

water, whisk together, set for 5 mins)

¼ cup

+

2 tablespoons

gluten free oat flour
Topping
---
Instructions
Make a batch of Gluten Free Vegan Peanut Butter Cups.
Preheat oven to 325°F. Line an 8-inch square baking pan with parchment paper or greased foil. Set aside.
In a medium bowl, whisk together peanut butter, coconut sugar, maple syrup and melted coconut oil. Whisk until it resembles caramel.
Add cocoa powder in ¼ cup increments, whisking until shiny and smooth. Scrape down the sides of the bowl as necessary. Whisk in vanilla and salt. Add flax eggs in, whisking until well incorporated. In thirds, whisk in the oat flour. As the batter gets harder to whisk, switch to stirring with a rubber spatula.
Fold in the first ½ cup of peanut butter cups. Pour batter into pan. Using a rubber spatula, smooth batter into an even layer. Top with remaining ½ cup of peanut butter cups. Press gently into the batter.
Bake for 28-32 mins. Mine took about 30 minutes. Cool for 1 hour, or until completely cool. Slice into 16 brownies. Enjoy!
---
Notes
– *1/2 cup of roughly chopped peanut butter cups equals 2-3 Gluten Free Vegan Peanut Butter Cups.
– **Make sure you use peanut butter that only has one ingredient: peanuts. Your PB should be naturally drippy and liquidy to work in this recipe.
– Adapted from my Gluten Free Vegan Brownies and my Best Vegan Brownies.
– Store in an airtight container for up to a week.
– These brownies freeze well. Wrap in parchment or wax paper. Store in a freezer-friendly, airtight container for up to a month. Thaw at room temperature for 30 minutes before enjoying. Or, heat in the microwave for 15-20 seconds.
– Related: Chocolate recipes, Peanut Butter recipes.
Category:

Brownies, Dessert, Vegan, Gluten Free, Dairy Free
© beamingbaker.com. All content and images are protected by copyright. Please do not use my images without my permission. If you wish to republish this recipe, please re-write the entire recipe using your own words and include a link to this post for the recipe.
Oh YES. This is happening. Gluten Free Vegan Peanut Butter Cups (V, GF, Dairy Free).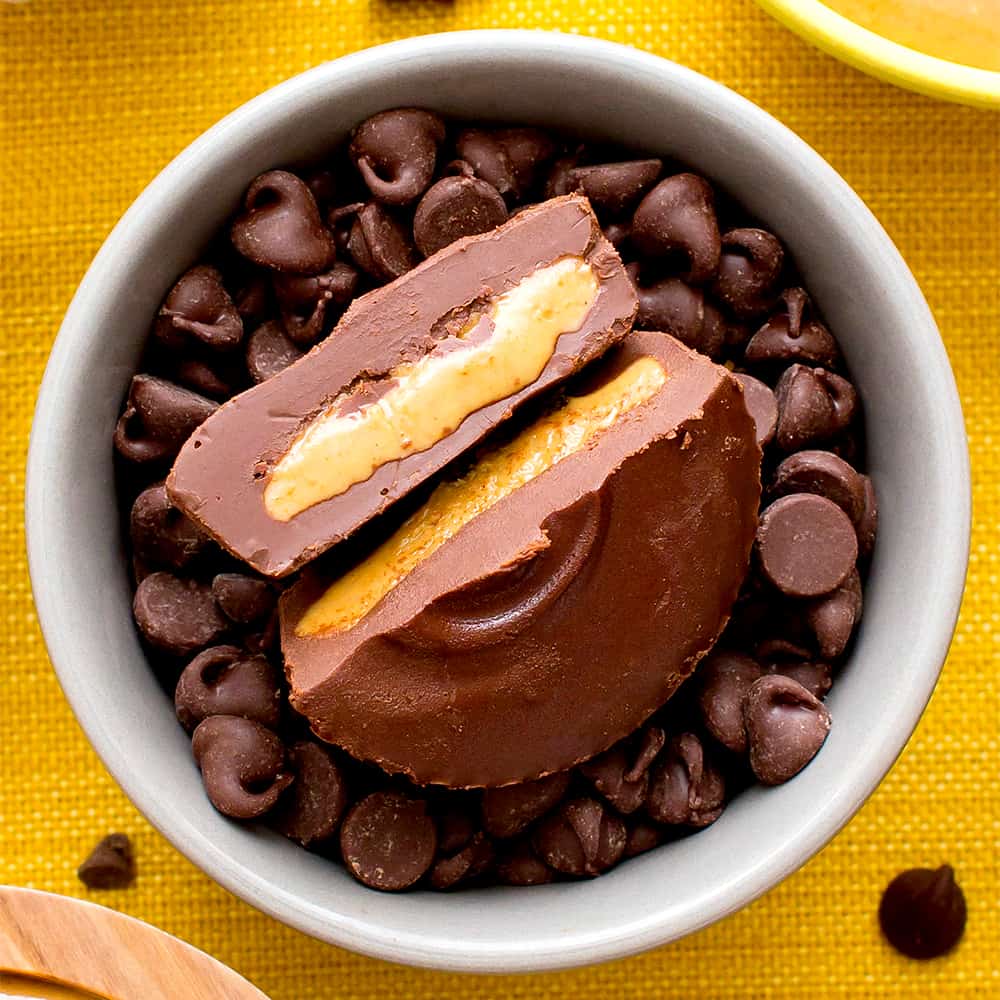 Peanut Butter = EVERYTHING. If you agree, you'll love my Peanut Butter Chocolate Chip Oatmeal Cookies (Vegan, Gluten Free, Dairy Free). Clean eating never tasted THIS good.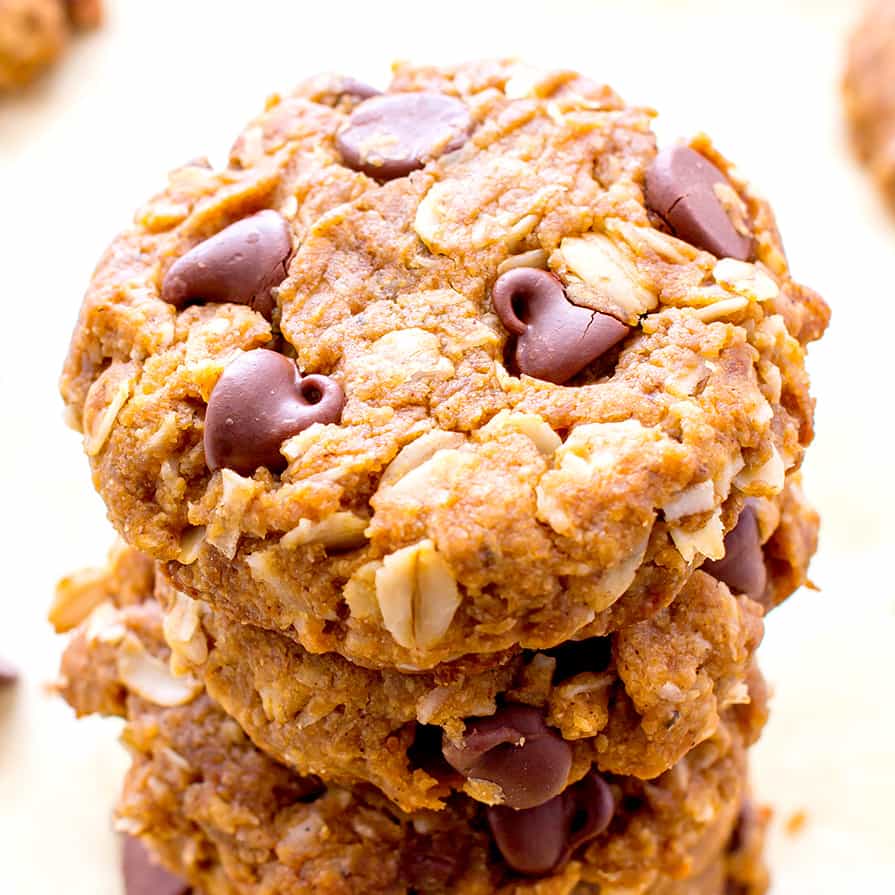 Just in case you love chocolate and bananas together, too. 😉 Try my One Bowl Double Chocolate Banana Muffins (Vegan, Gluten Free, Dairy Free). Better than chocolate cake. For real.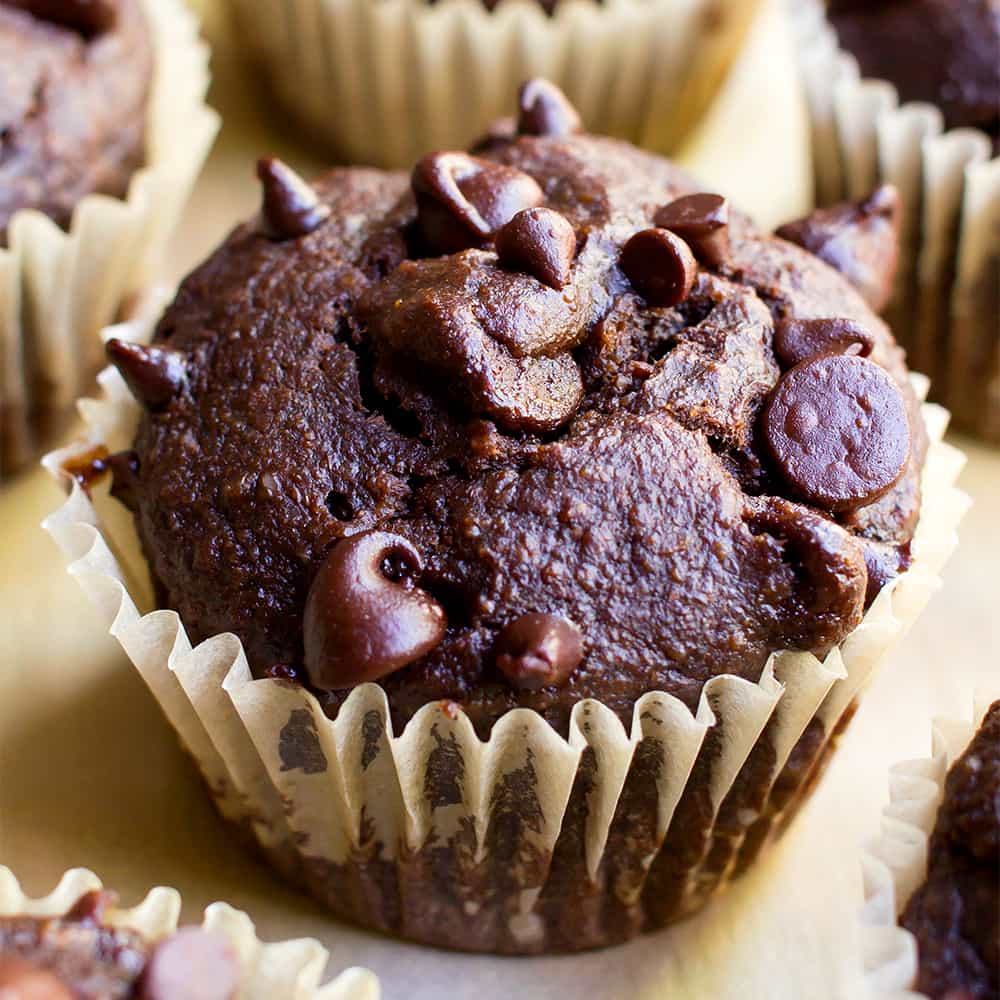 If you could add any candy to brownies, what would it be?
I can't wait to hear your responses.
☀︎ More chocolatey + fudgy recipes…
4 Ingredient Paleo Chocolate Coconut Cups (V, GF, Paleo)
Paleo Almond Butter Fudge Cups (V, GF, Paleo)
2 Ingredient Chocolate Peanut Butter Freezer Fudge (V, GF, DF)
Vegan Chocolate Brownie Cookies (V, GF, DF)
Facebook ☀︎ Pinterest  ☀︎ Twitter ☀︎ Instagram