Paleo Chocolate Chip Cookie Dough Truffles (Vegan, GF) – This rich 'n satisfying vegan cookie dough truffle recipe is perfect for gift-giving! It's the ultimate edible paleo cookie dough dessert – easy to make and healthy!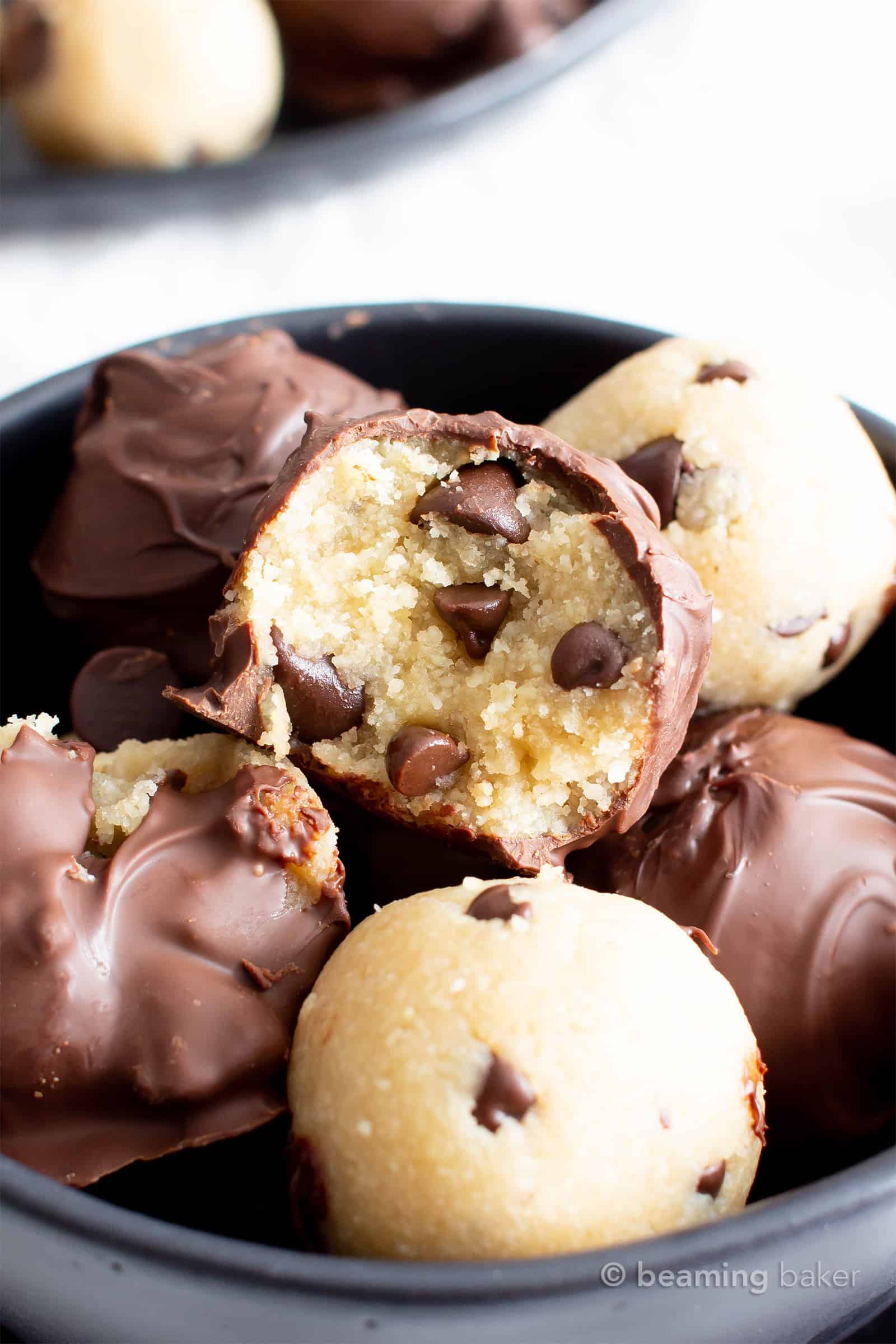 Happy Valentine's Day!! Finally, V-Day actually falls on a day that's not awkwardly jammed in the middle of the week–like, way too early to be celebrating at the beginning of the week. This time, it's basically the weekend aka Thursday! (Wishful thinking here.) Woohoo!
This totally means we can call off the rest of the week and lose ourselves in complete and utter chocolate bliss meaningful declarations of love, gratitude and so on and so forth. Right?
I mean, if these paleo cookie dough truffles don't pique your interest, may I interest you in the other Chocolate Week entries for the month of February? See: dark chocolate chili nut clusters, soft baked chocolate vegan donuts, & decadent raw vegan brownies.
No, of course I don't mind wiping off a bit of drool on your face, mine's and Erik's. 😉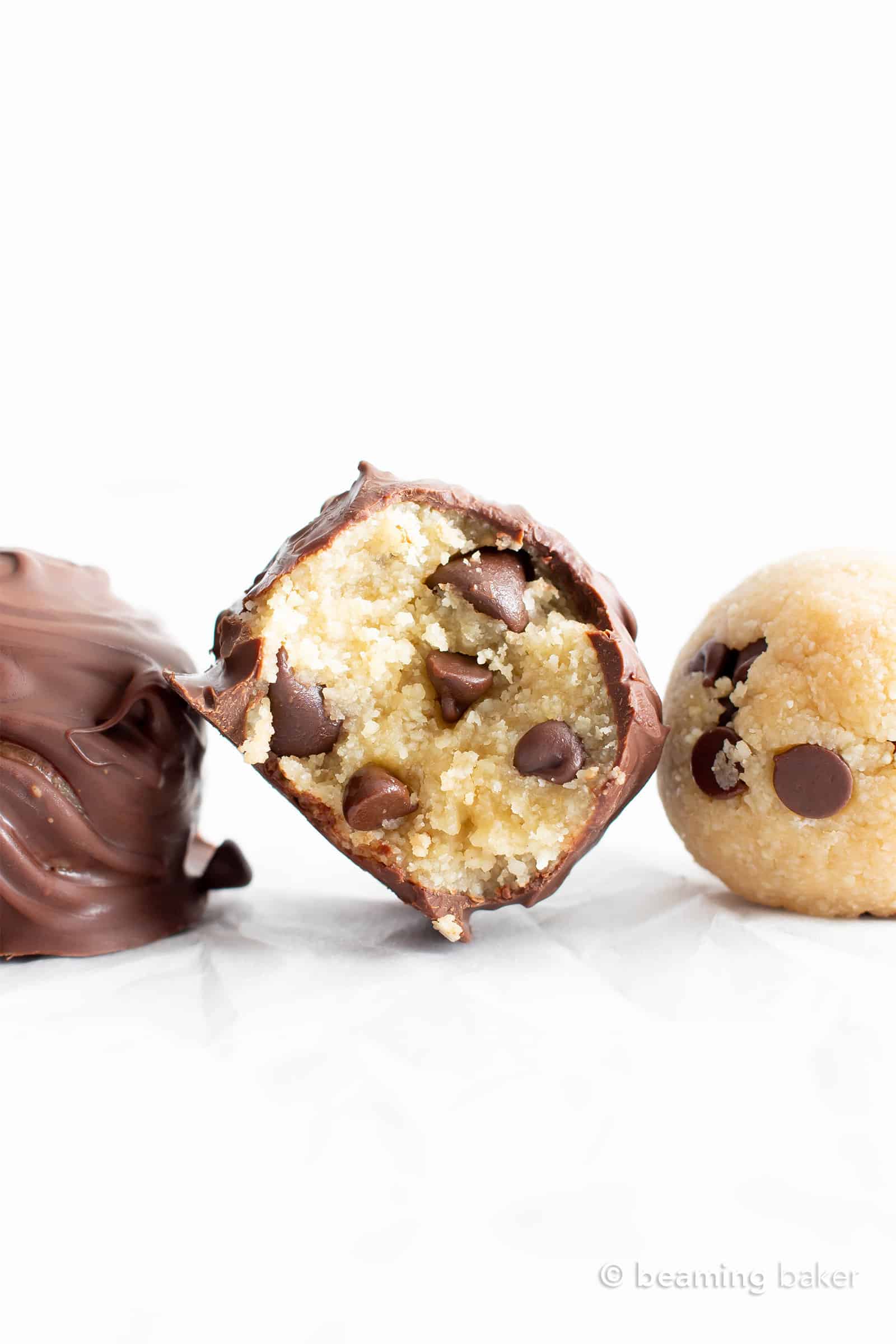 Last month, when we all desperately needed it, I shared my favorite edible paleo cookie dough bites with you. And my, how much y'all have loved it. Perhaps even more than my 5 ingredient cookie dough bites from last year! Say what?!?
I dare say that being paleo gave this year's edible cookie dough recipe an edge over last year's. 😉 They're so soft and deliciously dense.
Anywho, more than anything, Erik and I love celebrating our love for chocolate, er, each other with homemade chocolate vegan treats that we can make together, swap, and feed each other. Alright, we really need to cool down the cringe factor here, guys!! 😉 TMI, much?
But seriously, every time Erik tries to feed me, I'm like, what the frack are you doing?! I'm not a baby! Lol. More power to those of you who like feeding each other. I'm cool with feeding Erik, but not the other way around. Must be a power/control issue. Uh… enough of this deep psychological stuff that truly need not be examined! Moving on…
Who's ready to learn, sharpen and lengthen (or something) their skills on the topic of edible paleo cookie dough truffles? Yay!!! I'm almost 99.9% positive all of you raised your hands. At the screen. 😉 Alright, let's do this!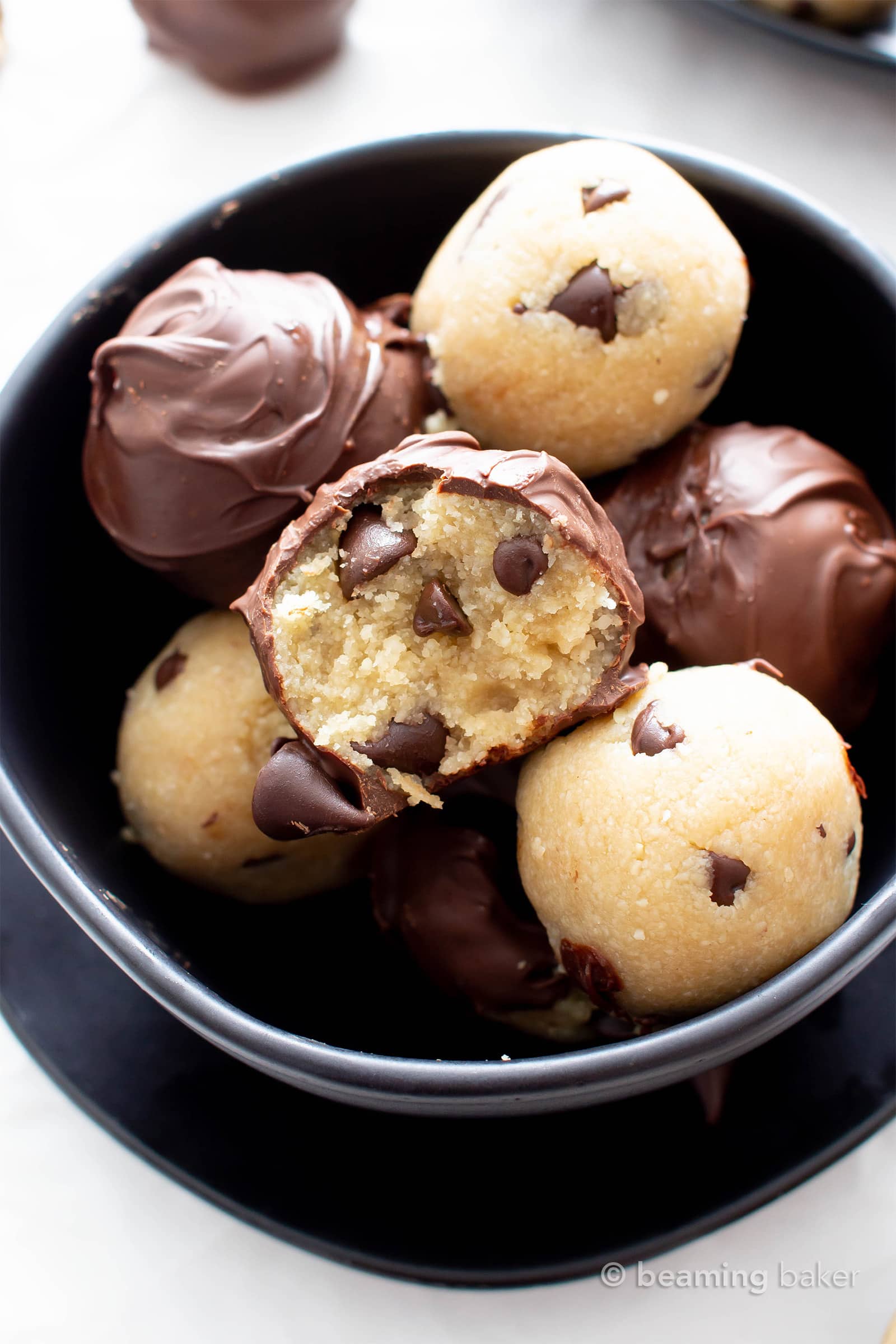 How to Make Paleo Chocolate Chip Cookie Dough Truffles
First, make these → incredible paleo cookie dough balls. Then, melt the chocolate, dip those yummy paleo cookie dough balls in said chocolate, add a bit of swirly flair (if desired hehe), and wait for the chocolate to set. Enjoy! Super easy, right? 🙂
How to Store Healthy Paleo Cookie Dough Truffles
Store your paleo vegan cookie dough truffles in an airtight container at room temperature or in the fridge. You can even store them in the freezer! Allow to thaw for about 10-20 minutes before enjoying.
Substitution Notes for this Healthy Almond Flour Paleo Cookie Dough Truffles Recipe
Check out my Paleo Cookie Dough Bites recipe post for extensive notes on ingredient substitution. 😉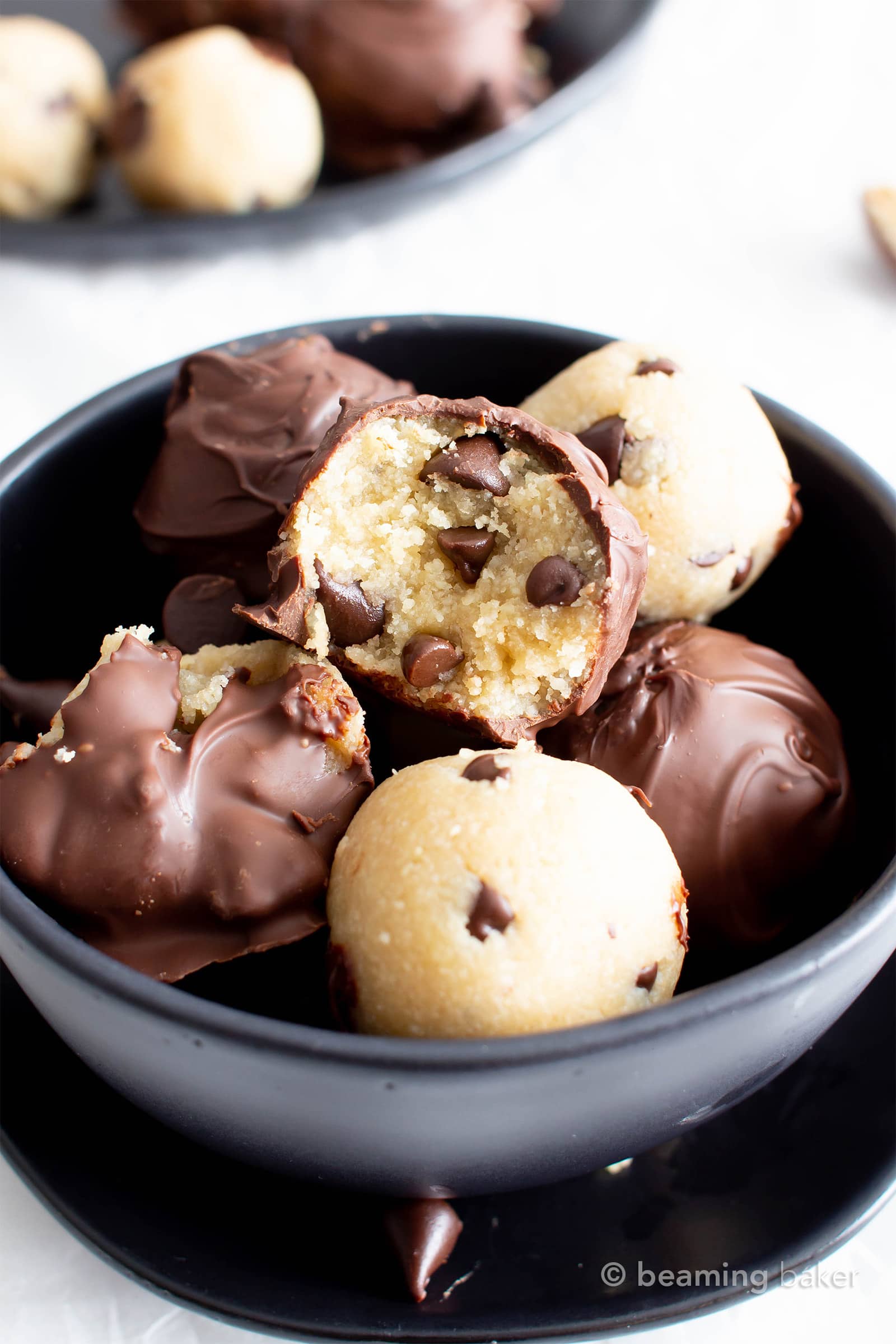 Erik and I wish you the happiest, sweetest Valentine's Day Ever!! I hope you had a ton of fun whipping up these chocolate treats with me for the last two weeks. By no means is the chocolate fun soon to end, we're just gonna take a teensy break so you don't get sick of it. As if there were such a thing… 😉 As usual, I can't wait to hear what you and your loved ones think. In the meantime…
Sending you all my love and maybe even a dove, xo Demeter ❤️
. Click below to Pin .

. Did you make this recipe? Take a pic and share it on Instagram with the hashtag #beamingbaker and tag @beamingbaker. I would love to see it! .
More Gluten Free Cookie Dough & Paleo Dessert Recipes
Print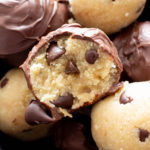 Paleo Chocolate Chip Cookie Dough Truffles (Vegan, GF)
---
Description
Paleo Chocolate Chip Cookie Dough Truffles (V, GF): this rich 'n satisfying vegan cookie dough truffle recipe is perfect for gift-giving! It's the ultimate edible paleo cookie dough dessert – easy to make and healthy! Refined Sugar-free, Dairy-Free.
---
Paleo Cookie Dough Bites
Chocolate Dip
---
Instructions
Make Paleo Cookie Dough Bites. Set aside.
Line a baking sheet with parchment paper, wax paper or a silicone baking sheet. Set aside.
Melt the chocolate: Use the double boiler method or do the following. Add chocolate and coconut oil to a microwave-safe bowl. Heat for 20 seconds, remove and stir. Repeat until chocolate is just softened. Stir in between each heating increment, until smooth.
Dip the cookie dough balls: Roll cookie dough balls in chocolate and drop onto prepared baking sheet. I like to use one spoon and two forks for this step (or you could use a candy dipper). Use the spoon to roll the ball, and the two forks to pick up the truffle and roll off excess chocolate.
Allow to set at room temperature, until firm. Or, place baking sheet into the freezer for 15-20 minutes. Remove from freezer. Enjoy! Storing instructions below.

Adapted from my 5 Ingredient Chocolate Chip Cookie Dough Bites.

You'll also love my Healthy Gluten Free Cookie Dough Bars and my Vegan Chocolate Chip Cookies!
Notes
– Store for in an airtight container at room temperature or in the refrigerator for 1-2 weeks.
Category:

Dessert, Candy, No Bake, Paleo, Vegan, Gluten-Free, Dairy-Free
© beamingbaker.com. All content and images are protected by copyright. Please do not use my images or recipe without my permission. Please do not republish this recipe, instead, include a link to this post for the recipe.
SHOP THE RECIPE
Tools to Make Edible Paleo Chocolate Chip Cookie Dough Truffles
Click the links below to check out my favorite tools & ingredients used to make this recipe.
Paleo Vegan Chocolate – SUCH an amazing chocolate! Bar none. Hehe. 😉 It's made with coconut sugar, paleo, dairy-free, vegan, and gluten-free. Woohoo!
Cookie Scoop – an absolute baker's essential. Great for uniform scooping and greater control over ball size and shape. Teehee.
Almond Flour – my favorite almond flour brand. Super finely ground, great quality and taste.
Coconut Flour – another vegan & paleo baking essential. All you need is one bag to last you all year, practically. A little goes a long way!
This post may contain affiliate links, which allow me to make a small commission for my referral, at no additional cost to you. Thank you for supporting Beaming Baker.
Facebook ☀︎ Pinterest  ☀︎ Twitter ☀︎ Instagram