Sweet and smoky skillet-roasted almonds glazed with a coat of honey and satisfying sesame seeds. Honey Sesame Almonds are the new go-to snack.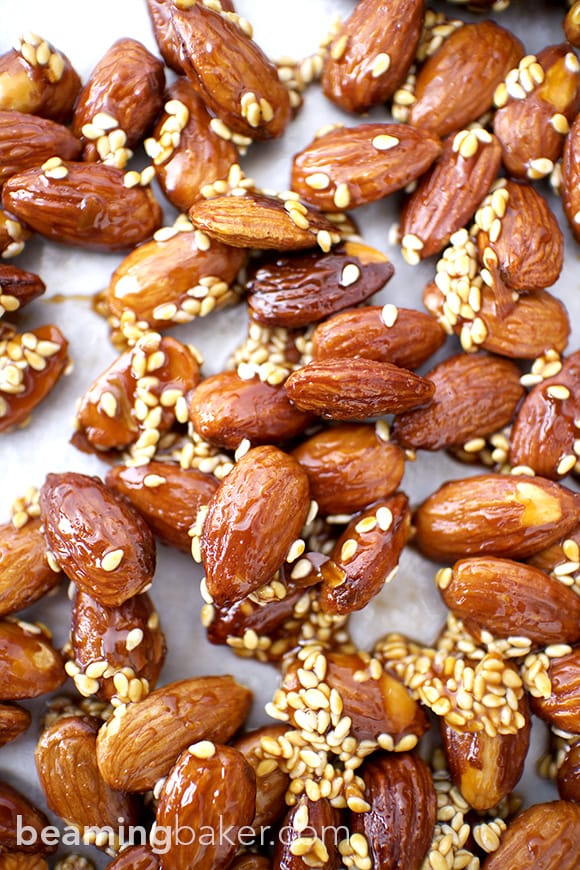 Once upon a time, there were two very hungry people. Okay, they were dangerously close to being hangry. Everywhere they looked, there was only bland, unoriginal, sass-less snacks. So they decided: it's time for something new, something better. One of these people, Demeter, said, "Why don't we make Honey Sesame Almonds???" And their hangriness immediately lessened.
Sometimes you just need a good snack.
Know what I mean? A snack that hits the spot just right. Something nutty and hearty, but also just a bit sweet with some texture to it. It also has to be something you can eat without a heavy dose of guilt dashed on top. Am I right?
This, friends, is that snack. In fact, it's The Snack.
After countless days and weeks of enjoying/savoring/being totally over plain almonds, everyone in our household just needed a break. Instead of reaching for chocolate (like we usually do), or digging through the emergency-not-to-be-touched-unless-something-serious-has-happened bad snacks drawer, we opted for a sweet little twist on our old friend, Almond.
Oh Almond, we still love you, but we wouldn't mind if you got dressed up once in awhile. Just sayin'.
So, in an effort to make an old friend, well, brassier, I got my recipe on.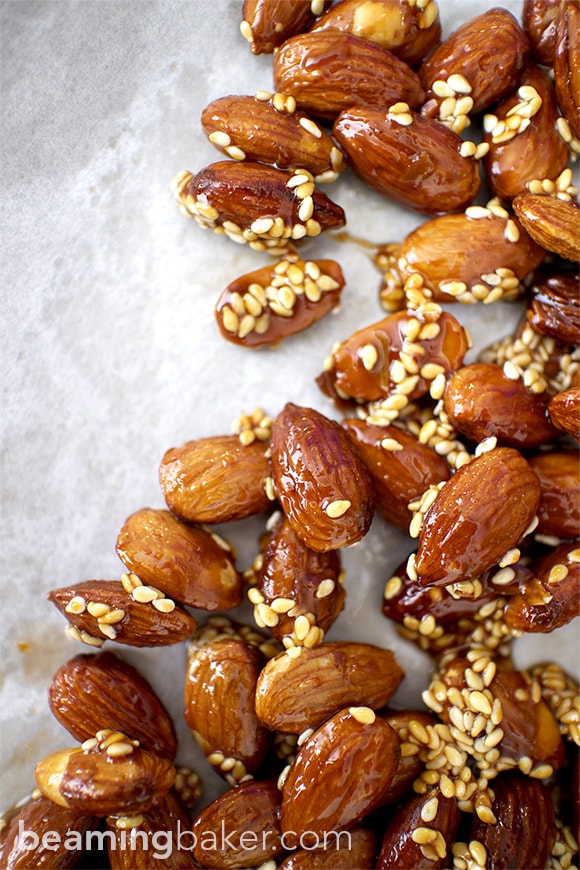 The awesome part about all of this? Said recipe came together so seamlessly and easily. First, I fired up my trusty large skillet to a low-key, medium-low heat. Then, I added a few of my favorite ingredients ever to the skillet: coconut oil, honey and brown sugar. For fun, I tossed in a pinch of salt. Seriously though, when does salt not just fix things? In moderation, of course. Ahem.
I added in my beloved almonds and stirred until all became harmonious. What does that mean exactly? Well, a beautiful, sensory-appeasing experience replete with bubbling honeyed glaze wafting through the air, the smell of roasting almonds floating gently through the room, and just that special happiness that comes from cooking.
And then- it was Time. The grand duchess of seeds, Sesame Seed, made its entry. Have you ever just taken a moment to appreciate sesame seeds? They're so tiny, and thus, easy to miss. But just try sprinkling sesame seeds on anything (okay, not your clothes or baby, cuz… messy and hazardous.).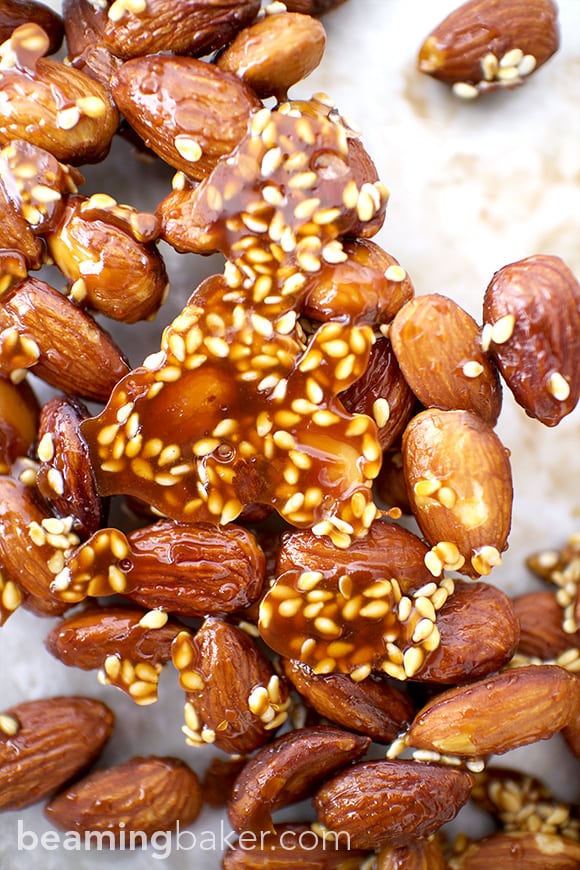 Sprinkle these royal seeds on a salad, and see them shine like twinkling lights on top of an dark chocolate sundae or instantly fancify your favorite hiking snack. That's right, fancify. I stirred all of this honeyed, roasted awesomeness together until the ingredients became one. Well, one perfect snack.
Lastly, I poured and savored the sight of these grand Honey Sesame Almonds into the welcoming arms of parchment paper. Then, I waited like a kid on Christmas morning. After about the longest hour ever, I greedily snapped apart the peanut brittle-like, candied glaze that held these almonds together. See said majestic glaze below. Then, salivate.
And we all enjoyed this snack, happily ever after.


Print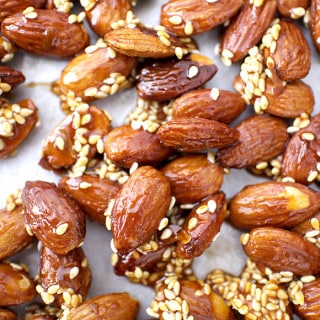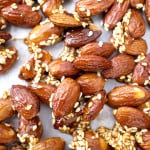 Honey Sesame Almonds
---
Description
Smoky and sweet, skillet-roasted almonds glazed with a generous coat of honey and satisfying sesame seeds. Honey Sesame Almonds are the new go-to snack.
---
1 tablespoon

+

2 teaspoons

coconut oil

2 tablespoons

honey

1 tablespoon

dark brown sugar

¼ teaspoon

salt

2 cups

toasted, unsalted almonds

3 tablespoons

sesame seeds, raw and untoasted
---
Instructions
Line a cookie sheet with parchment paper.. Set aside for later.
Place a large skillet over medium-low heat. Add coconut oil, honey, brown sugar and salt. Stir until melted and smooth.
Increase heat to medium, stir in almonds. Stir occasionally, allowing almonds to soak in the honey mixture. Watch the almonds closely. This will take 5-10 minutes, until the honey mixture is warm and bubbly.
Now, decrease the heat to low. Add in sesame seeds. Stir frequently, until the sesame seeds are well coated and there is just a bit of honey mixture left in the skillet. This will take 4-8 minutes.
Pour almonds onto the prepared baking sheet, creating an even layer. Set baking sheet on a cooling rack. Allow to cool for 1 hour.
Break apart by hand. Enjoy!
Notes
Store in an airtight container for up to 2 weeks.
Prep Time:

1 min

Cook Time:

10 mins

Category:

Snacks
© beamingbaker.com. All content and images are protected by copyright. Please do not use my images without my permission. If you wish to republish this recipe, please re-write the entire recipe using your own words and include a link to this post for the recipe.
You know what goes well with honey sesame almonds? Smoothies! Check out my Protein-Packed Strawberry Peanut Butter Smoothie. Instant happiness. ?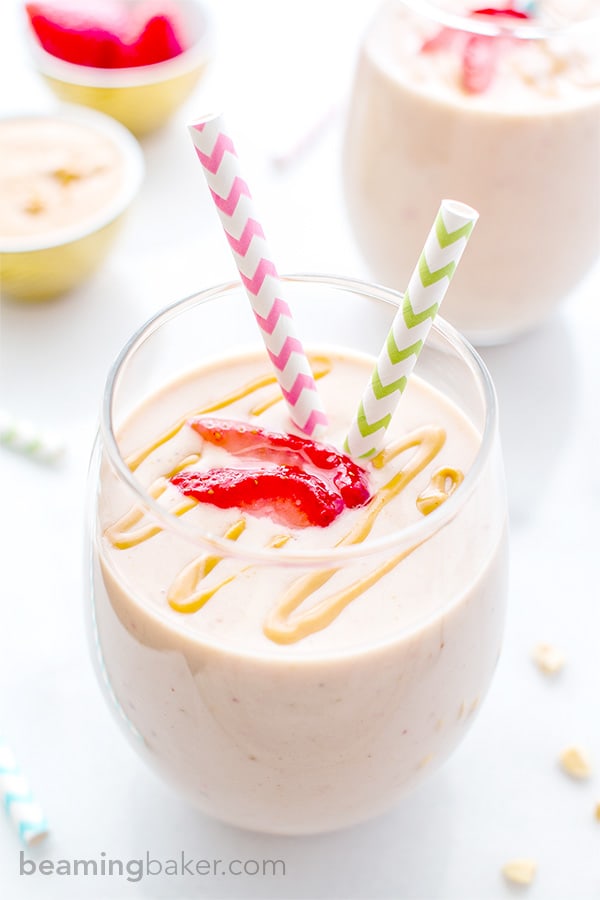 After snacks, you really do need dinner. No, really. Try my delicious Teriyaki Tofu Bowls with Quinoa and Kale.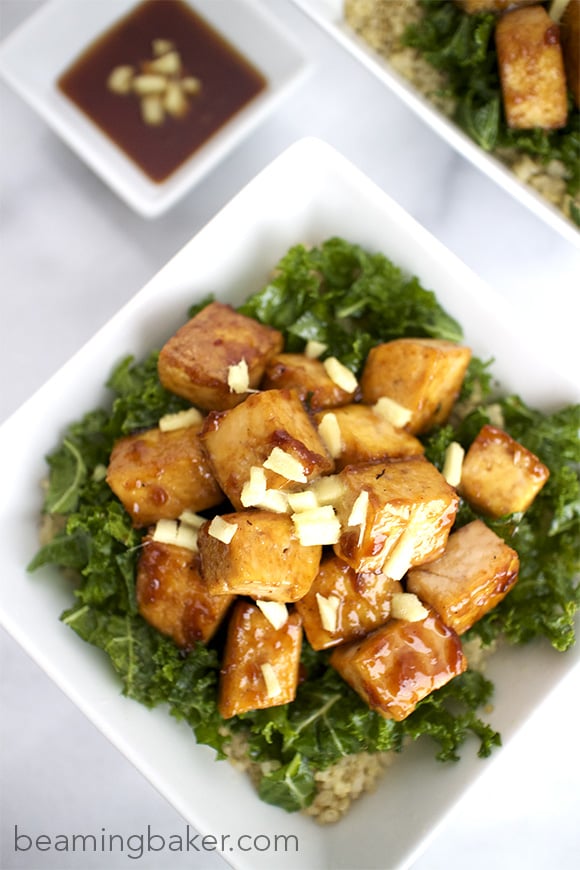 What's your favorite nutty snack?
I can't wait to hear your responses. ❤️ demeter