3 Ingredient Mango Coconut Vegan Ice Cream (V, DF, Paleo): an easy, no-churn recipe for deliciously creamy mango ice cream bursting with coconut flavor! Dairy-Free, Paleo, Vegan, Gluten-Free.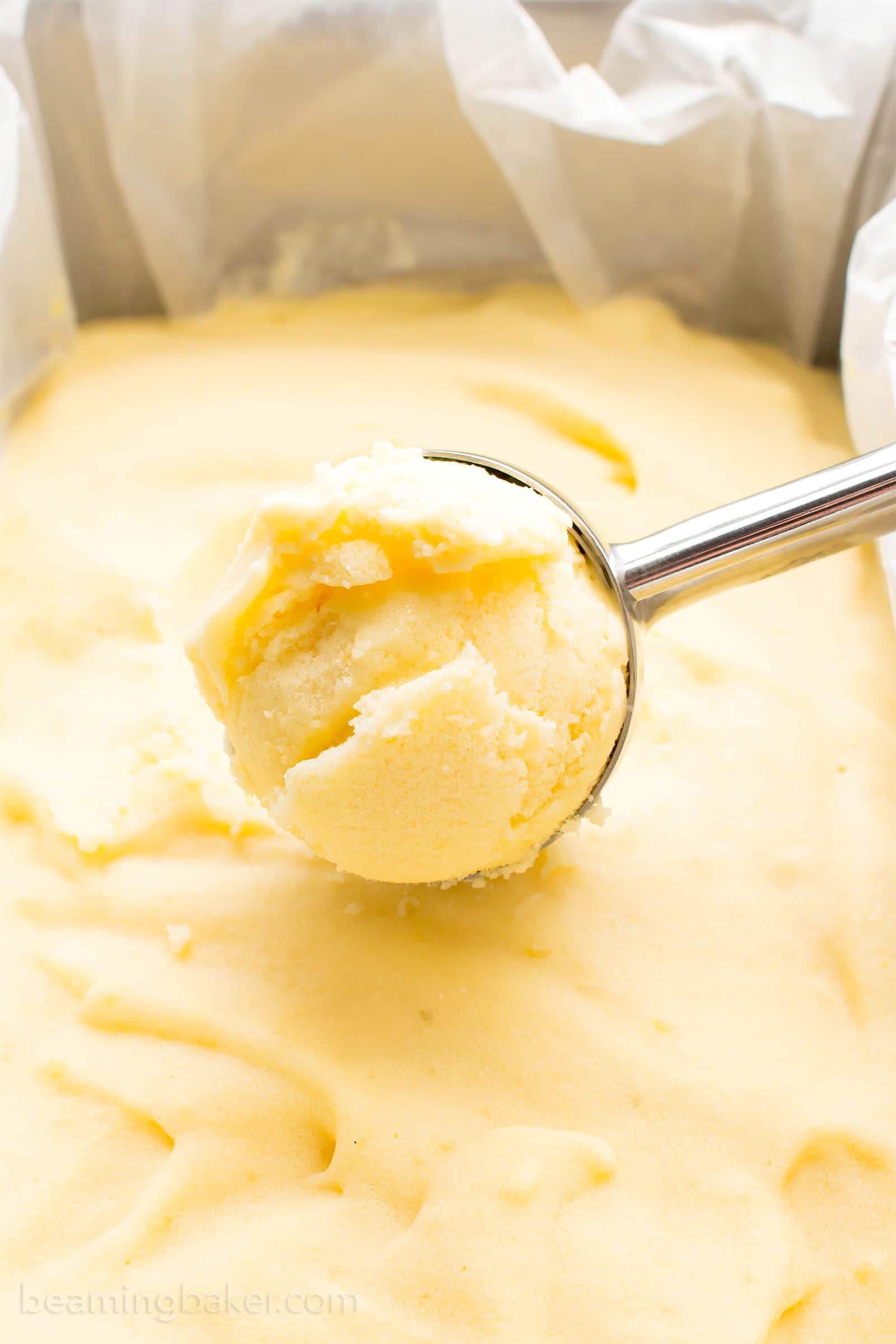 Hi there! So, how was your weekend? Did you get a chance to try my coconut chocolate chip vegan ice cream? Or perhaps whip up a few homemade vegan ice cream bars? <– Please say YES to that one!
Did you do anything mischievous, out of character, or just plain ol' fun? If you did, you must tell me all about it! I not only live vicariously through you, but I also like to look for a bit of inspo when letting loose during my summer adventures (and throughout the year, of course).
It's just… sometimes I feel like we're so focused all year-long. Focused on work. Focused on family. Focused on responsibility and etc. But what about the super important, completely necessary, but oft-ignored time to just CHILL? To just relax, unwind, and let the breeze run through your hair?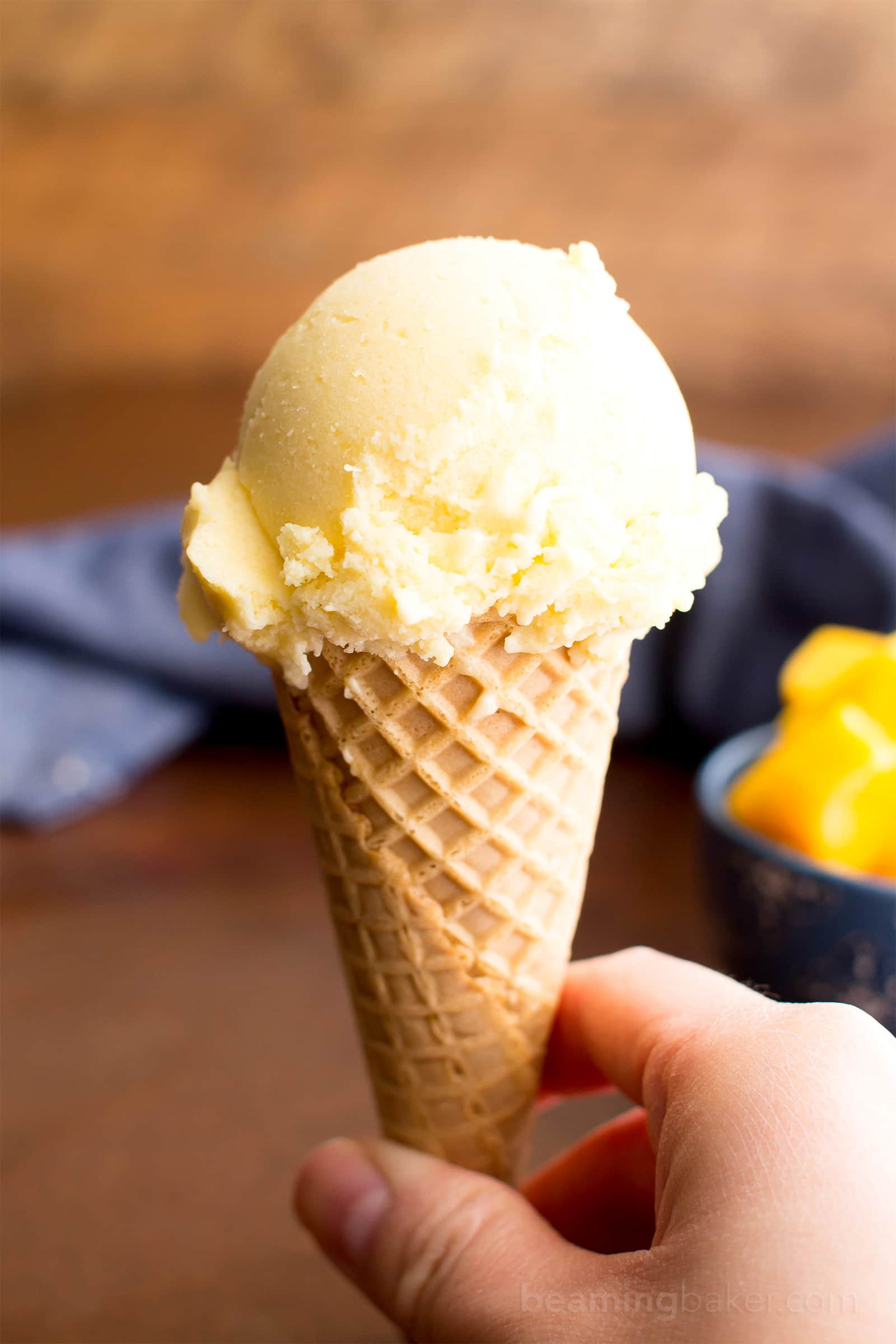 Alright, what could this possibly have to do with 3 Ingredient Mango Coconut Vegan Ice Cream, you might be asking yourself? Here's the thing: mangoes started turning into a symbol of relaxation for me years ago. Like, you know how pineapples represent hospitality and strawberries (or strawberry coconut sorbet, as the case may be) represent a cartoonish personality or something… 😉 Well, mangoes = CHILL time for me.
Every time I see a mango, I think about the tropics. I think about long, lazy days of swimming, napping in the sun and enjoying all things mango. Be it 3 Ingredient Mango Coconut Vegan Ice Cream or not. 😉 I think about full days without any screen time at all.
…Sleeping in and waking up to breakfast in bed, with the sounds of the ocean gently waking me up. I think about… just slowing down.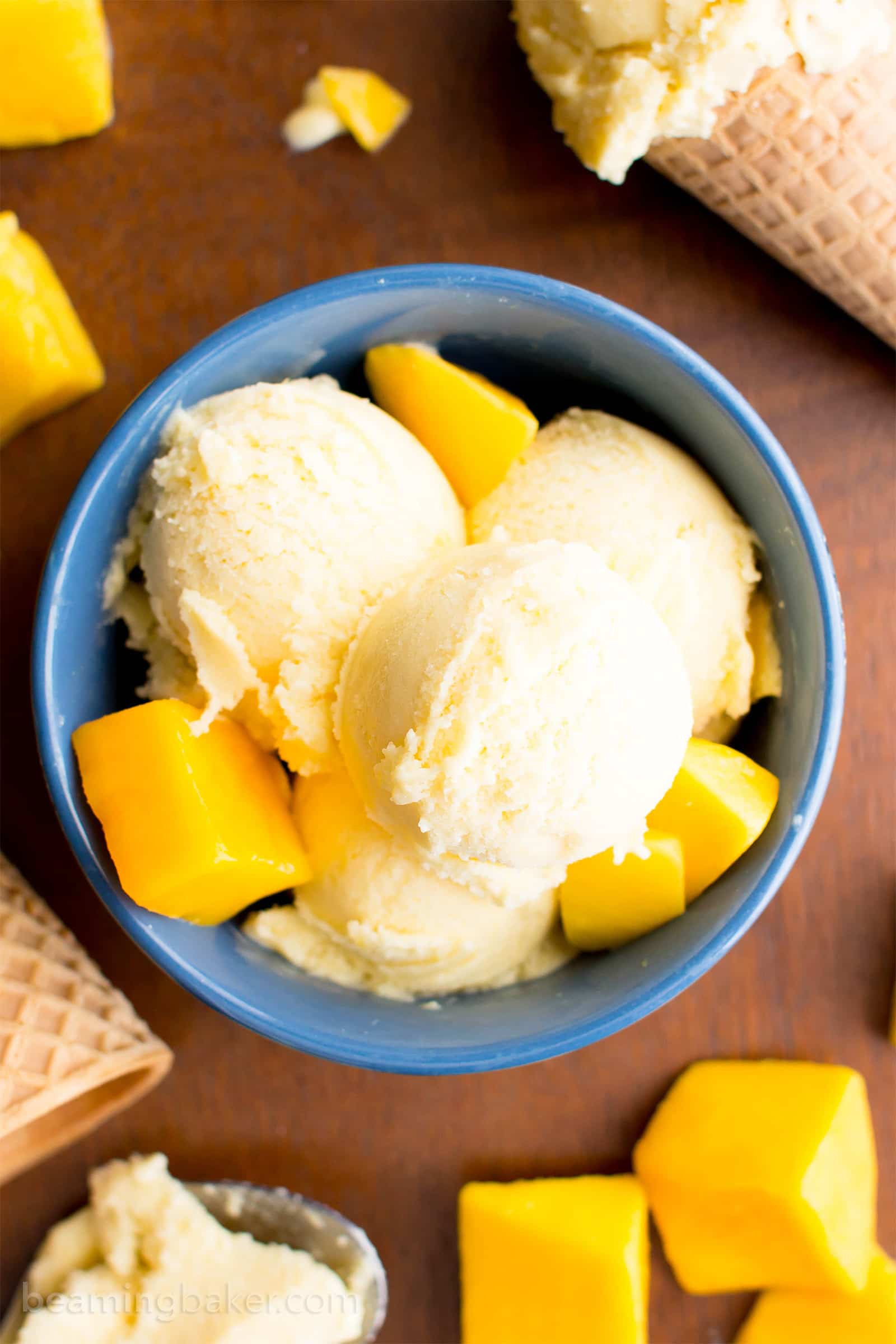 With the summer in full bloom, it seems like high time to give ourselves the break we've been craving, nay, needing all year long. Don't you agree?
This summer, I'm planning on taking a real and meaningful break from work. I'd like to step back a bit, stop obsessing about all the numbers, and just live life.
Will you join me?
Since mangoes = chillin' like a villain (but not evil at all), I'm dedicating this 3 Ingredient Mango Coconut Vegan Ice Cream to change–the good, relaxing kind. Here's to kicking off this newfound commitment to chillin'… and just plain breathing. To smelling the roses. Or mangoes. Whatever floats your cruise boat. 😉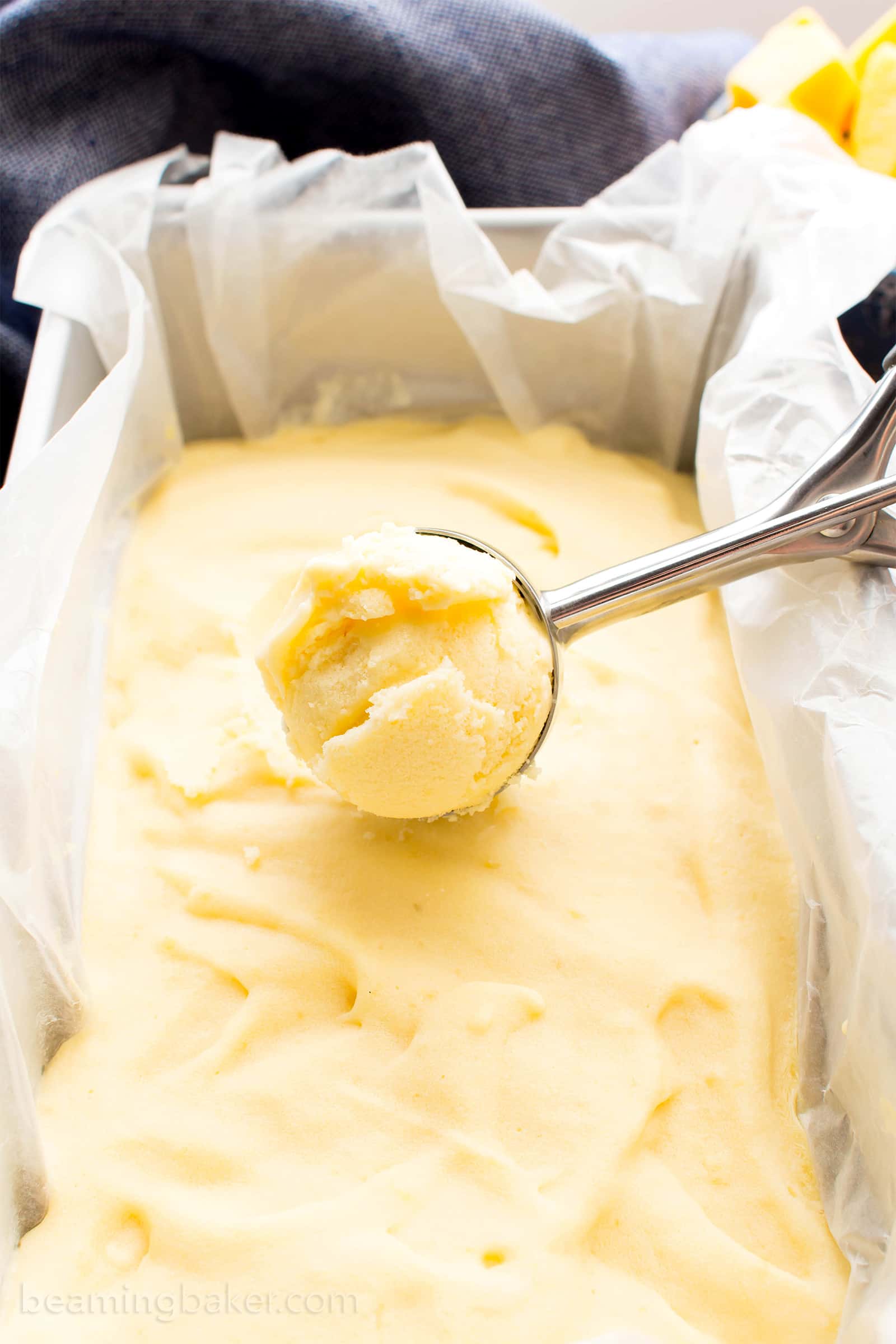 You'll see how easy it is to make your own frozen treats at home. In case you're not convinced, let me tell you all about this 3 Ingredient Mango Coconut Vegan Ice Cream. It's:
made with just 3 ingredients
… heck you can totally make it just 2 if you want 😉
wonderfully creamy, cool and refreshing
paleo, dairy-free, vegan and gluten-free
super easy to make, in just a few minutes (minus the chill time, of course)
deliciously scoopable after thawing
amazingly refined sugar-free
easy to make without any added sugar
plant-based and allergy-friendly
packed with the simple, whole and healthy ingredients you love
made with mangoes, so basically = Chill Time Express (in both the temperature and mood sense of the word)
Dust off your favorite food processor or blender and meet me in the kitchen. It's time to get our homemade BOSS on! Okay, does that sound like we're going to be making actual bosses at home? In a way, we are: YOU!! Alright, I'll stop being dairy-free cheesy. 😉 I'm just so unbelievably happy to be here with you, making all the wonderful treats we deserve—whole, delicious and so much better than the other stuff. I can't wait to hear what you think of this recipe! In the meantime, tell me:
What are your plans for the summer?
Sending you all my love and maybe even a dove, xo Demeter ❤
☀︎ Click below to Pin ☀︎

☀︎ Did you make this recipe? Take a pic and share it on Instagram with the hashtag #beamingbaker and tag @beamingbaker. I would love to see it! ☀︎
SHOP THE RECIPE
Here are a few items I used in today's recipe. 🙂
Food Processor | Ice Cream Scoop | Coconut Milk | Maple Syrup | Blender |
Print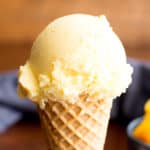 3 Ingredient Mango Coconut Vegan Ice Cream (Paleo, Dairy-Free, GF, Vegan)
---
Description
3 Ingredient Mango Coconut Vegan Ice Cream (V, DF, Paleo): an easy, no-churn recipe for deliciously creamy mango ice cream bursting with coconut flavor! Dairy-Free, Paleo, Vegan, Gluten Free.
---
---
Instructions
Add mangoes to a blender or food processor. Blend until crumbly.
Add coconut milk and maple syrup (if using), blending until smooth. Scrape down the sides of the blender as needed.
If you like super soft ice cream, enjoy immediately. If you want your ice cream firm and scoopable: pour into a freezer-friendly, airtight container. Freeze for 3-6 hours, or until completely frozen. Allow to thaw for 20-60 minutes before scooping—this treat can take awhile to thaw.** Enjoy!
Adapted from my Mango Coconut Milkshake.
More Paleo Vegan Ice Cream Recipes
---
Equipment
Notes
Here's the food processor that I used in today's recipe.
*Do not chill coconut milk. Use room temperature canned coconut milk. Shake well to mix. Best when completely liquidy.
**To quickly thaw, first ensure that ice cream is in a microwave-safe container. Microwave in 15-second increments until slightly soft and scoopable.
Store in an airtight container in the freezer for up to 1 week. Before serving, thaw for about 20-60 minutes.
Category:

Ice Cream, Frozen Desserts, Paleo, Dairy-Free, Vegan, Gluten-Free

Method:

Chill

Cuisine:

American
© beamingbaker.com. All content and images are protected by copyright. Please do not use my images or recipe without my permission. If you wish to republish this recipe, please re-write the entire recipe using your own words and include a link to this post for the recipe.
If you loved this 3 Ingredient Mango Coconut Vegan Ice Cream, then you'll truly enjoy these plant-based, allergy-friendly recipes:
☀︎ Paleo Vegan Dairy Free Frozen Dessert Recipes
Just in case you love coconut and chocolate… try one of my most popular recipes: Coconut Chocolate Chip Vegan Ice Cream (paleo, vegan, dairy-free, gluten-free).
If you'd rather sip than scoop up your mango coconut deliciousness, try my super easy to make 3 Ingredient Paleo Mango Coconut Milkshake. Yep, it's paleo, vegan, refined-sugar free and wonderfully allergy-friendly. 😉
When you can't get enough of making your own ice cream, give this decadent treat a spin: Dark Chocolate Nice Cream (Paleo, V, GF, DF).
Because everything Almond Joy is amazing: try my easy to make Paleo Vegan Almond Joy Ice Cream (V, GF, DF, Paleo)!
This post may contain affiliate links, which allow me to make a small commission for my referral, at no additional cost to you. Thank you for supporting Beaming Baker.
Facebook ☀︎ Pinterest ☀︎ Twitter ☀︎ Instagram