Lightly sweet healthy oatmeal cookies bursting with warm, cozy spices and buttery-rich flavor.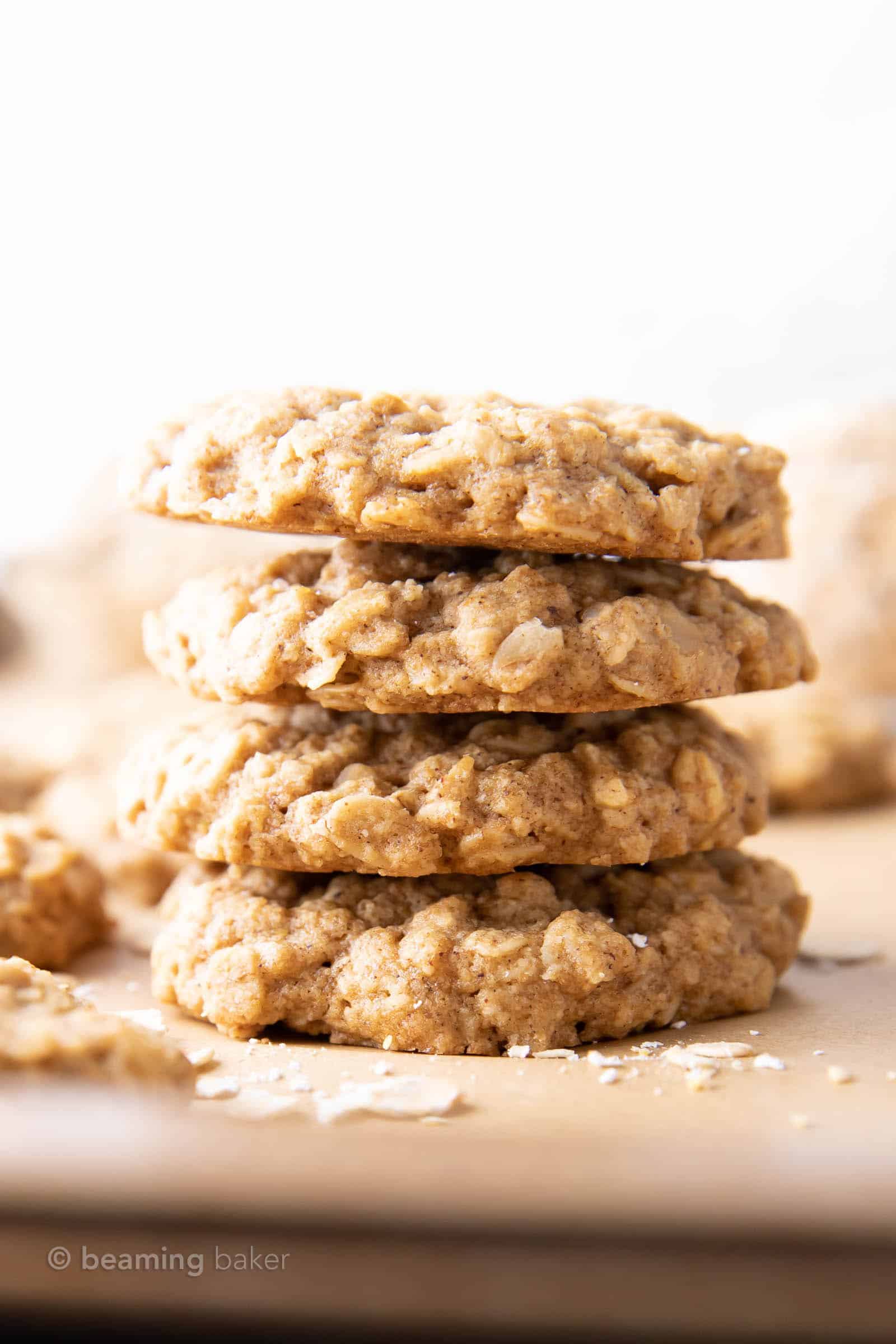 Healthy oatmeal cookies, for the win!! Honestly, any healthy cookies for the win! Because every day is a day that needs cookies. And winning. Ya know what I'm saying? 😉
Every day, when I hit a bump in the road with work, the kitchen, recipe testing, you name it, I tell Erik that I absolutely need ALL the COOOKIES!! And he responds with, "Me too!!"
And then we jump around, do the Cookie Dance, or, in today's case, the Oatmeal Cookie Dance, get all flushed and insist in doing more (actual) cardio later and break out the cookie sheets for some cookie comfort.
Do you have a work/crappy-bump-in-the-day ritual that you do to loosen up?
Either way, if you're looking for a new addition to that routine, perhaps give today's oatmeal cookies a try and see how much they can brighten your day. 🙂
Ready for all the healthy oatmeal cookies? Let's do this!
Simple, whole ingredients and just two bowls are needed to make the best ever healthy oatmeal cookies!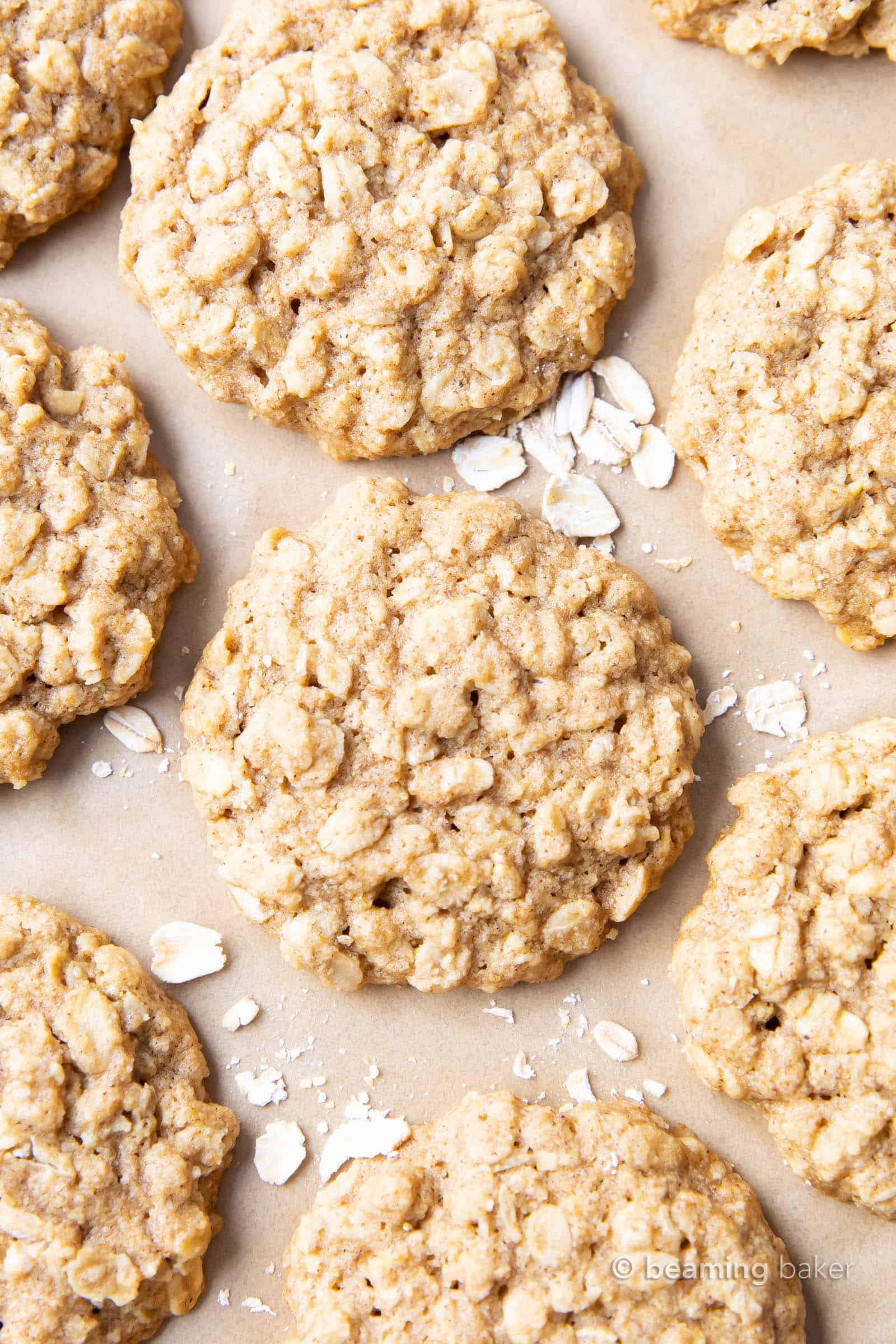 The Ingredients You Need
I created this deliciously simple oatmeal cookies recipe with two goals in mind: 1) satisfying cookies that highlighted the awesomeness of oats, 2) oatmeal cookies that were secretly easy to make and not-so secretly easy to eat. Here are the ingredients!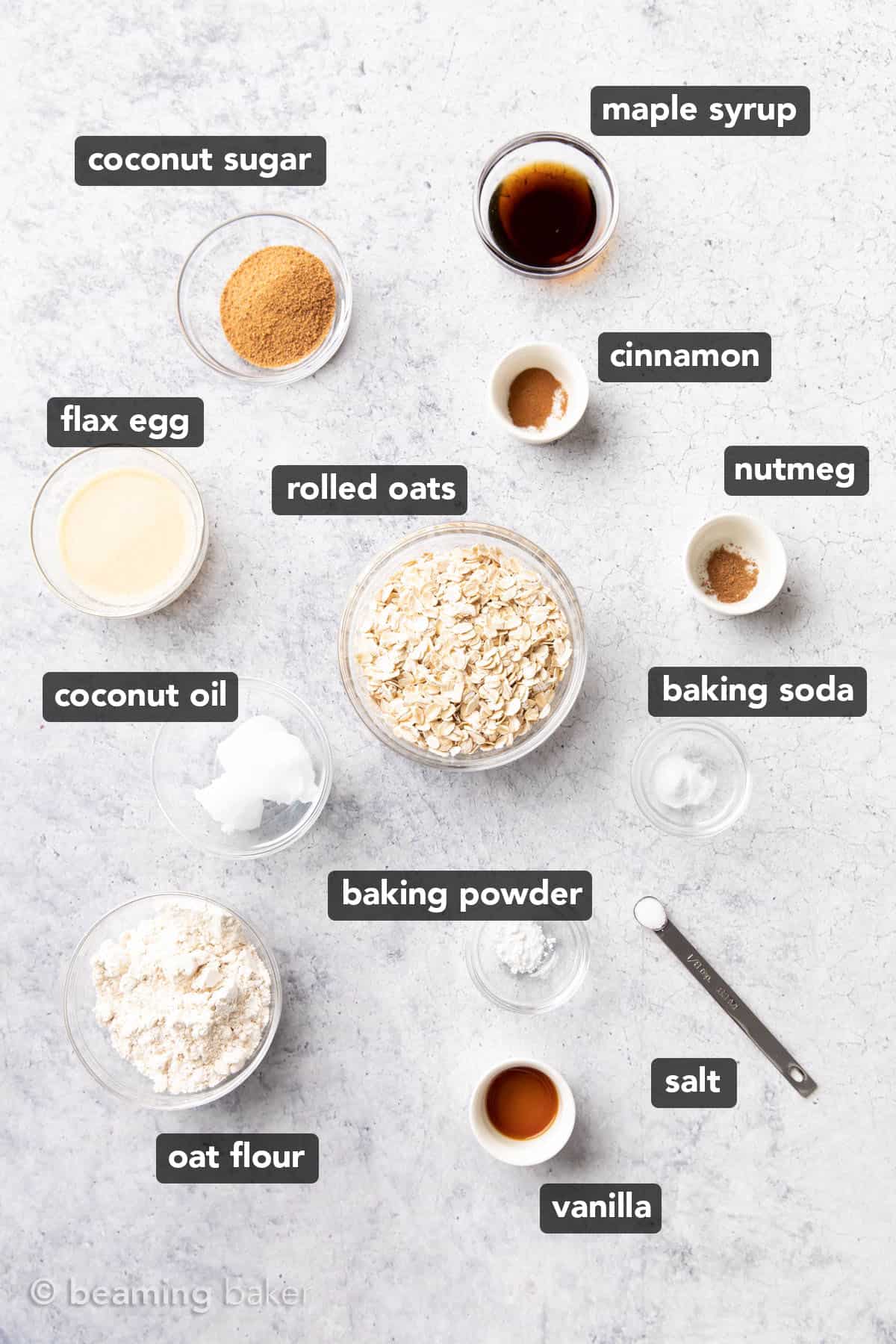 How to Make Healthy Oatmeal Cookies
This healthy oatmeal cookies recipe is a fan favorite because it's so simple to make, with healthy ingredients, and just two mixing bowls. What I love I about this recipe is that it's filled with heart healthy ingredients and leaves out all the junk without compromising on taste. Enjoy!
Today, we're learning how to make oatmeal cookies in just 6 simple steps.
Preheat
Preheat the oven to 350°F. Line a large cookie sheet with parchment paper.
Whisk the Dry Ingredients
In a medium mixing bowl, whisk together all of the dry ingredients: oats, oat flour, baking powder, baking soda, ground cinnamon, ground nutmeg and salt.
Whisk the Wet Ingredients
In a large bowl, whisk together coconut oil, coconut sugar, maple syrup, flax egg and vanilla extract. Whisk until well mixed.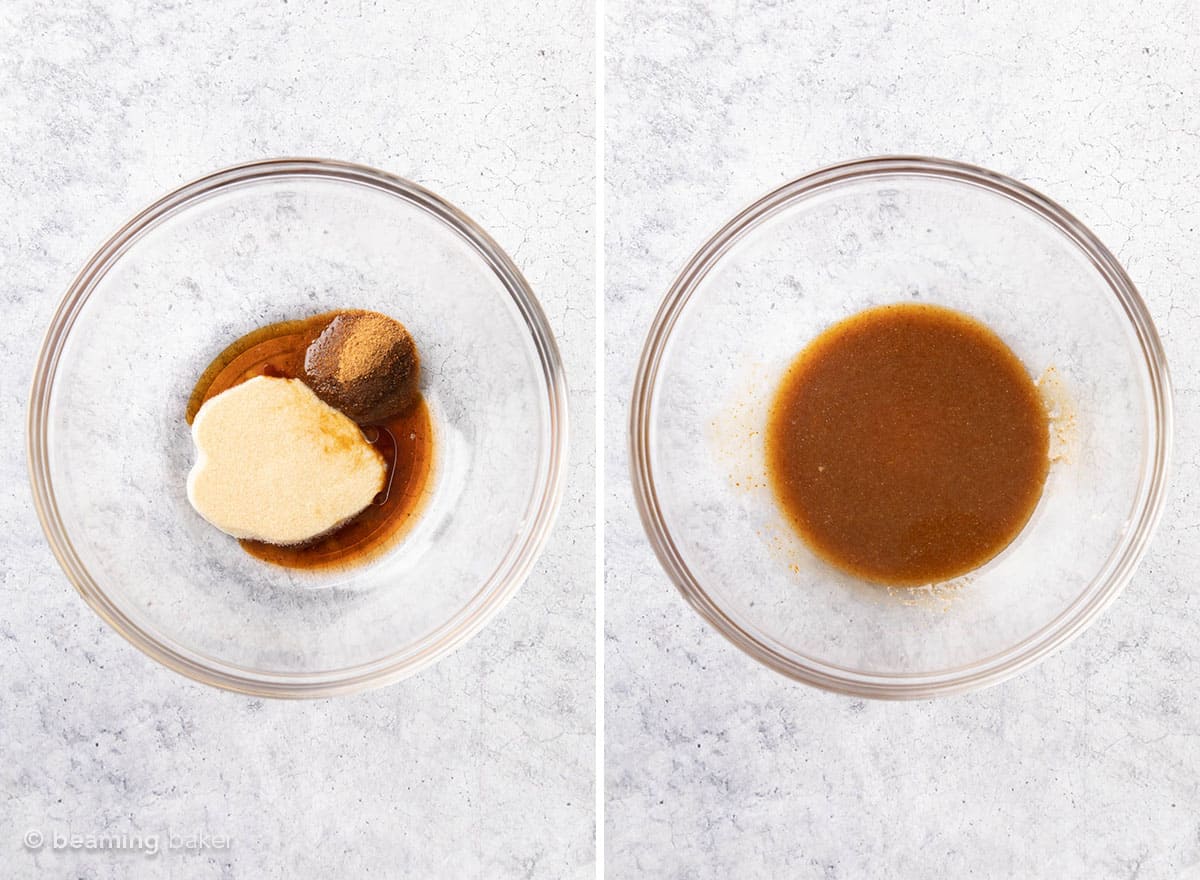 Combine
Pour the dry ingredients over the wet ingredients and whisk thoroughly to combine. If the dough is too sticky and sticking to the inside of the whisk, clean out the whisk. Then, switch to using a rubber or silicone spatula. Stir and fold the oatmeal cookie dough until cohesive with the spatula.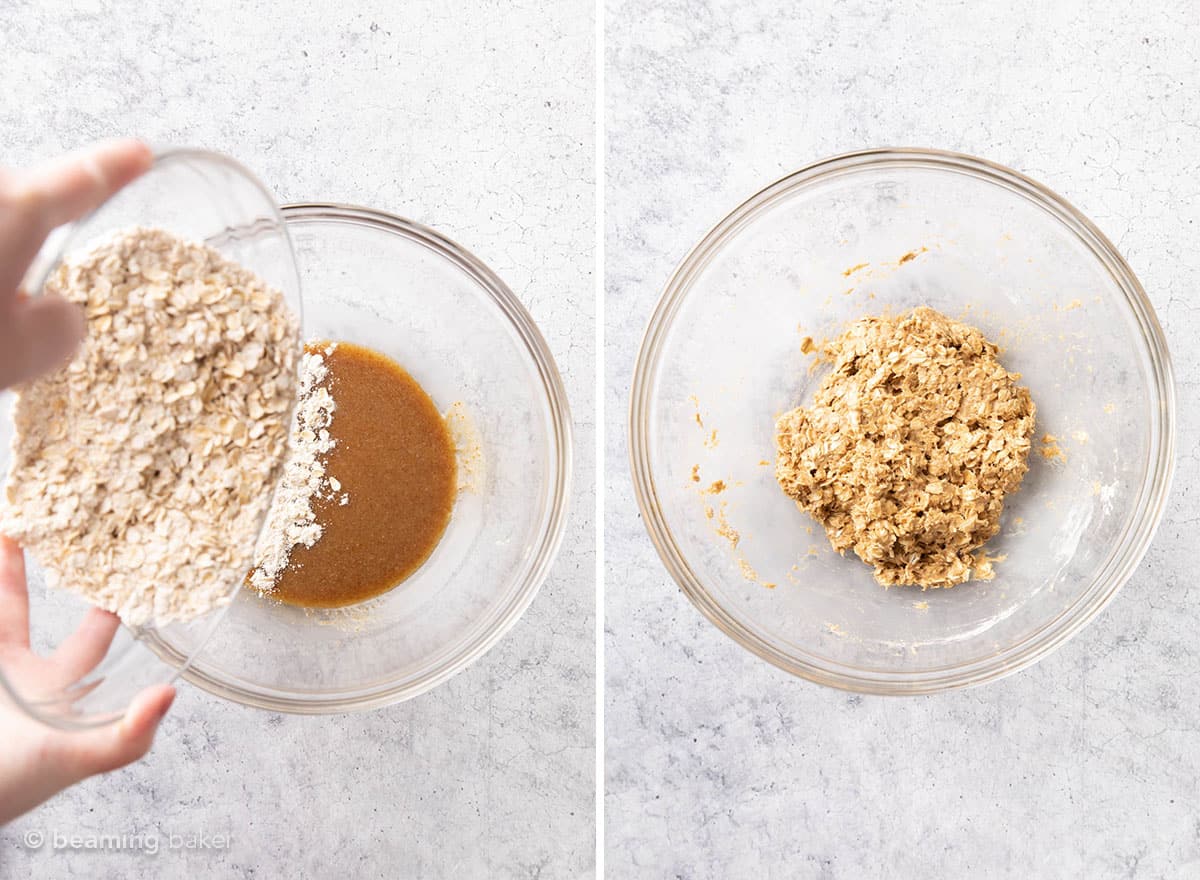 Scoop
Scoop and drop balls of cookie dough onto the prepared baking sheet. Flatten cookies.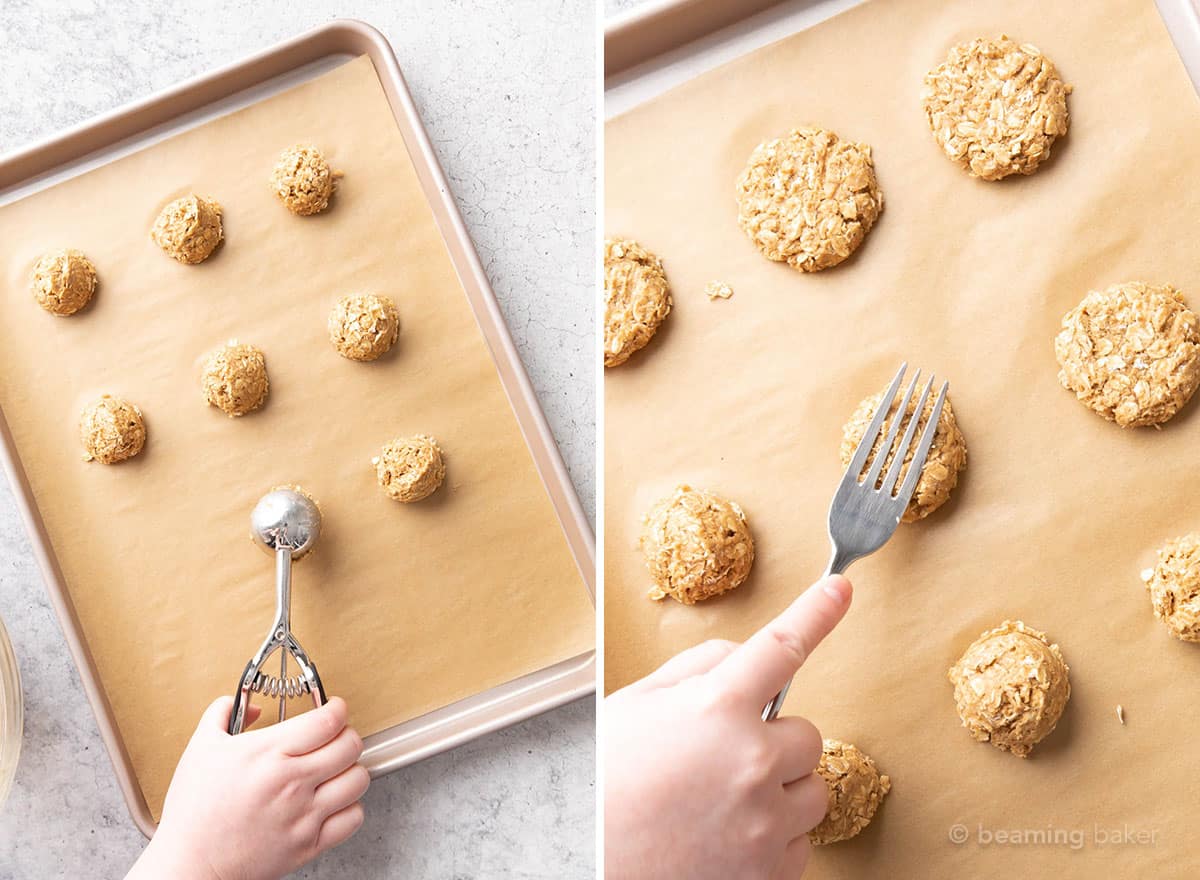 Bake, Cool and Enjoy
Bake for about 10 minutes, cool and enjoy the best oatmeal cookies!
How Are These Oatmeal Cookies Healthy?
I used the best healthy ingredients to develop this healthy oatmeal cookie recipe. You'll have so much to feel good about with this healthy cookie recipe! These oatmeal cookies are lower in sugar, packed with heart healthy ingredients, and fiber-rich. Check out the deets below to see:
Rolled Oats & Oat Flour: whole grain, heart-healthy, fiber-rich oats are one of my favorite healthy baking ingredients. They make for the perfect backdrop, soaking up flavors like no other.
Healthy Fats: coconut oil—one of my favorite healthy ingredients to use in many of my healthy cookie recipes. They add a richness to every cookie & a creamy, buttery flavor that takes these healthy oatmeal cookies to the next level.
Ground Flaxseed: I use ground flaxseed and water to create a vegan "egg." Flaxseeds are so great because they're a heart-healthy, whole ingredient that gives this healthy oatmeal cookie recipe a nice little boost of Omega-3s and dietary fiber. 😉
Warm Spices: ground cinnamon and nutmeg are the perfect duo of spice that warm you up and give you all the cozy feels without any added sodium or extra junk. Who says natural, healthy ingredients can't give you an extra oomph?
Refined Sugar Free Ingredients: coconut sugar, pure maple syrup—if you're keeping refined sugar out of your diet, you need not worry. These oatmeal cookies are refined sugar-free. For more refined sugar-free, healthy oatmeal cookies, try these Gluten Free Vegan Oatmeal Chocolate Chip Cookies or this Classic Gluten Free Oatmeal Raisin Cookies Recipe.
The Taste & Texture
The Taste
These oatmeal cookies are lightly sweet, with warm, cozy spices and a buttery-rich flavor—all without using butter!
The Texture
This healthy oatmeal cookie recipe yields cookies with lightly crispy edges and a mostly soft and buttery, tender and moist interior.
Refined sugar-free, heart-healthy and nutrient-rich ingredients come together in an easy recipe for healthy oatmeal cookies.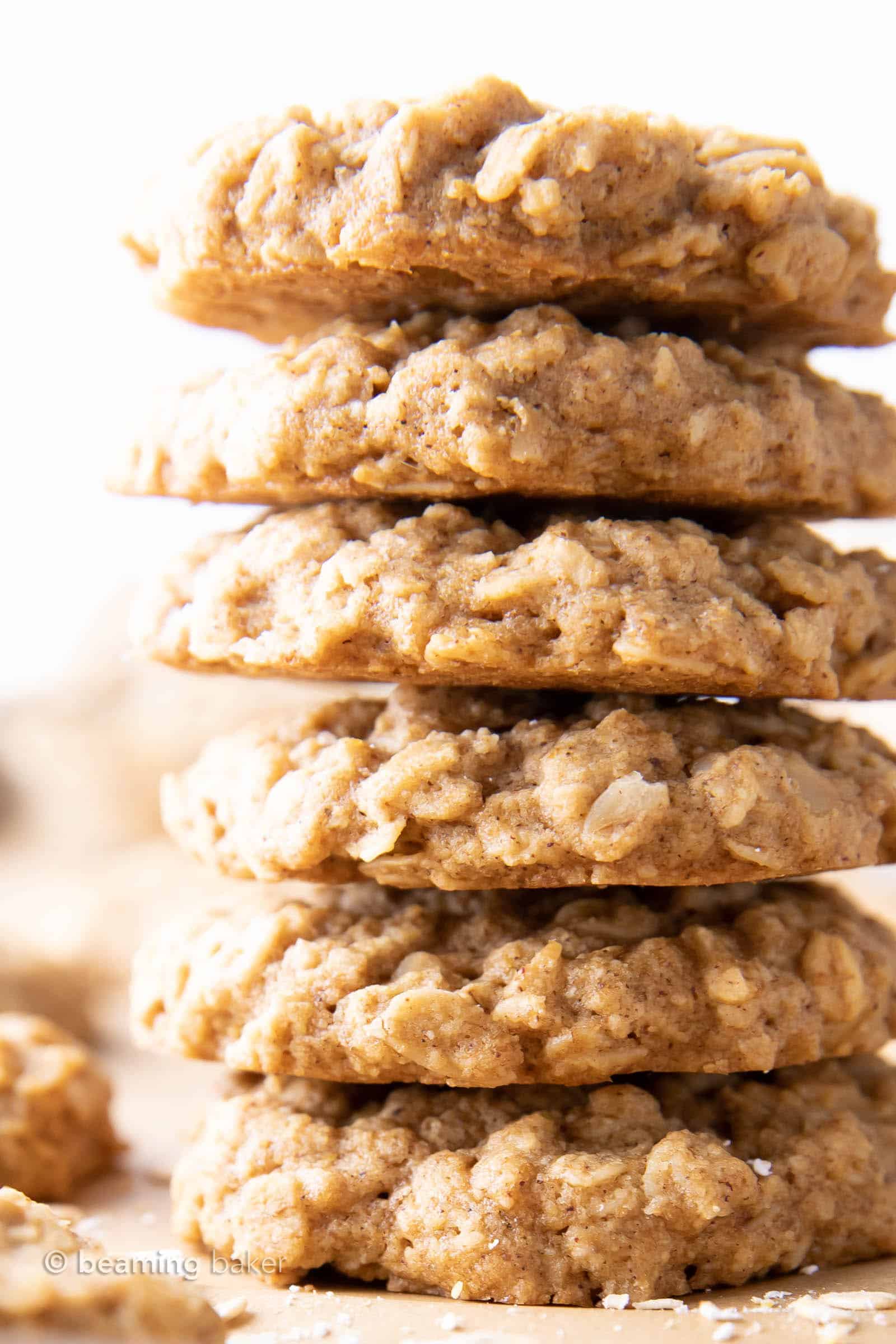 How Long Can I Keep My Oatmeal Cookies For?
Once baked, all is not done! Unless you heartily eat all said healthy oatmeal cookies in one sitting. I'm not here to judge! 😉 But here's what you do if you have any leftover:
Room Temperature: You can keep your oatmeal cookies for up to 1 week at room temperature, like say, in a cupboard. Just make sure that it's not near any heat sources, or in the way of direct sunlight. The hotter it is, the sooner your cookies will spoil.
Freezer: Go ahead and freeze your oatmeal cookies! Sometimes I like to bake up 2 batches and freeze one for later. For this, make sure to cool your cookies completely, then tuck them into a freezer-friendly container. Store your oatmeal cookies in the freezer for 1-2 months. Allow cookies to thaw for about 10-15 minutes at room temp before enjoying!
Great Tools
Did someone say it's Healthy Oatmeal Cookie Dance Party time? Hold on—lemme get my whisk and dancing shoes on! 😉 In case I ever forget to tell you, I truly appreciate you—stopping by, commenting, and trying my recipes. Can't wait to hear what you think. 'Til our next baking adventure…
Sending you all my love and maybe even a dove, xo Demeter ❤️
Delicious Cookie Recipes For The Best Cookie Jar! 🍪
Print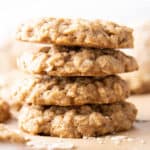 Healthy Oatmeal Cookies
---
Description
This oatmeal cookies recipe yields soft & lightly sweet healthy oatmeal cookies with spiced, buttery-rich flavor, lightly crispy edges and a tender moist, interior.
---
Dry Ingredients
1 cup

rolled oats

½ cup

all purpose flour or oat flour – if using homemade oat flour, make sure it's very finely ground (not coarse)*

¼ teaspoon

baking powder

¼ teaspoon

baking soda

¼ teaspoon

ground cinnamon

1/8 teaspoon

ground nutmeg

1/8 teaspoon

salt 
Wet Ingredients
3 tablespoons

melted coconut oil or butter

2 tablespoons

coconut sugar or cane sugar

2 tablespoons

pure maple syrup

1

egg of choice

½ teaspoon

pure vanilla extract
---
Instructions
Preheat oven to 350°F. Line a baking sheet with parchment paper or greased foil. Set aside for later.
In a medium bowl, whisk together all the dry ingredients: oats, flour, baking powder, baking soda, cinnamon, nutmeg, and salt.
In a large bowl, whisk together all the wet ingredients: oil or butter, sugar, maple syrup, egg and vanilla. Whisk until thoroughly combined and resembles caramel.
Add the dry ingredients to the wet ingredients. Whisk as long as you can, then switch to stirring and folding with a rubber or silicone spatula until thoroughly combined and thickened. The dough will be sticky.
Using a medium cookie scoop, scoop and drop balls of cookie dough onto the prepared baking sheet. Using a fork, flatten cookies into a round disc—they will not spread during baking.
Bake for 8-12 minutes. Mine took 10 minutes. Place baking sheet on a cooling rack, allowing cookies to firm up on the pan for 10 minutes. Using a flat, heatproof spatula, carefully lift cookies off the baking sheet and transfer to a cooling rack. Allow to cool completely. Enjoy! Storing instructions below.
Equipment
Prep Time:

25 mins

Cook Time:

10 mins

Category:

Dessert

Method:

Bake

Cuisine:

American
Keywords: healthy oatmeal cookies, healthy oatmeal cookie recipe
© beamingbaker.com. All content and images are protected by copyright. Please do not use my images or recipe without my permission. Please do not republish this recipe, instead, include a link to this post for the recipe.
Healthy Oatmeal Cookie Recipes You'll Love