the best vegan oatmeal cookies ever–crispy edges, chewy centers & perfectly spiced! an easy, simple vegan oatmeal cookies recipe.
Simple & Easy Vegan Oatmeal Cookies (GF): a simple recipe for the BEST Vegan Oatmeal Cookies! Chewy, moist centers with crispy, caramel-y edges & packed with comforting oatmeal. Gluten-Free, Dairy-Free, Vegan.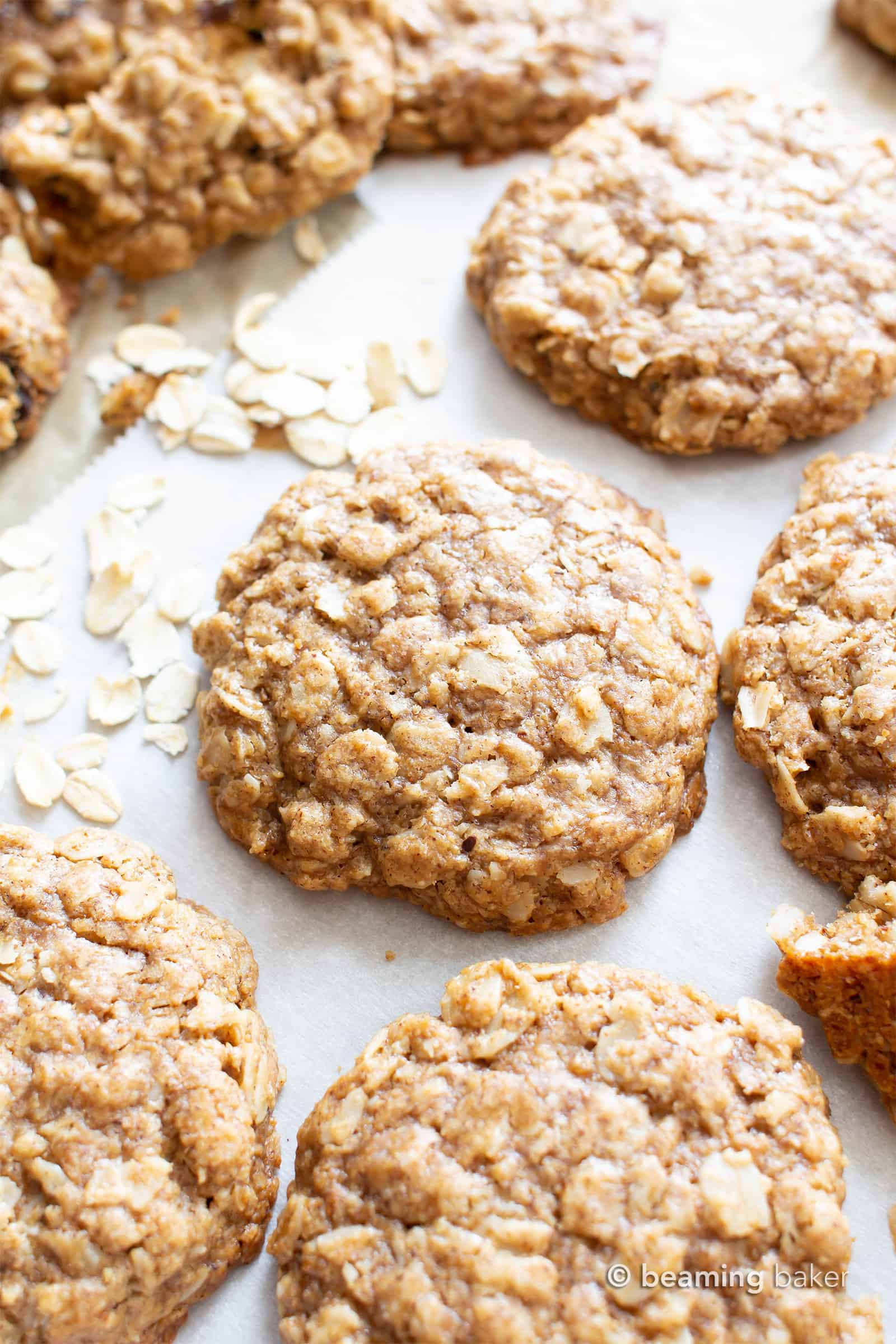 🍪 1st Annual Beaming Baker Vegan Cookie Countdown 🎄
Welcome to the 2nd recipe in the 1st Annual Beaming Baker Vegan Cookie Countdown! 🎄 We're starting a new tradition around these parts, and they involve all of the vegan gluten free Christmas cookies. This year, I'll be sharing 8 new vegan cookie recipes to help celebrate the holiday season with you. 🍪 We're gonna count down from vegan cookie #8 to #1, right before Christmas! Are you excited? Let's get started! Meanwhile, if ya missed it, #8 was: Sea Salt Thin Vegan Chocolate Chip Cookies.
Vegan Cookie #7: Easy & Simple Vegan Oatmeal Cookies
Chocolate is my crutch. So is peanut butter, coconut and even more chocolate.
Today, we're gonna throw away all the crutches and bring it back to basics. Like Christina Aguilera did so beautifully many years ago. (Something I like to bring up to Erik on occasion when I'm like, we've got to keep it simple!)
You see, sometimes I have my insecurities about a recipe doing well. I often feel like chocolate, peanut butter and/or coconut need to be involved for folks to feel something. But today, I'm gonna put all of that away and let this recipe stand strong, proud and plain.
Then, let's take the word "plain" and replace it with something so much better: Simple. And EASY.
Are you ready for …