How to Make Chia Pudding – 3 ingredient
Learn how to make chia pudding the easy way with just 3 ingredients and a few minutes of prep.
What's your favorite pudding recipe? How about your favorite chia pudding recipe? <– Truth time: did you just cringe when I said "chia pudding recipe"?
Thing is, chia seed pudding might be too weird of a thing for you. It might be too weird-looking, too mysterious, and a bit too extra.
But sometimes, just sometimes, the weirdest, most mysterious and extra-est things are the best things. Dontcha think? 🙂
Or, you might just be like, "Girlfriend, I've been eating chia seed pudding for more years than you've been alive, get on with it!" To which I would respond, "Okie!"
Either way, you will totally love my take on the classic chia seed pudding recipe—it's simple, easy, extra only in taste, mysterious as long as you love it, and weird as much as is possible for maximum fun to occur. 😉
So whaddya say? Are you ready to learn how to make the easiest 3 ingredient chia pudding recipe ever? Let's do it!
How to Make Chia Pudding
Learn how to make chia pudding the easiest possible way. Here are the simple steps:
Scoop
Scoop your full-fat coconut milk into a heatproof bowl and heat until completely liquidy.
Whisk
Whisk in maple syrup and chia seeds. Set for 5 minutes to allow chia seeds to thicken. Whisk out clumps that form.
Refrigerate & Enjoy
Refrigerate for a few hours, then enjoy the best chia pudding ever!
That's really, truly how easy it is to make chia pudding. Have more questions about how to make chia seed pudding? Read on below.
3 Ingredient Chia Pudding Recipe
One of the best things about chia seed pudding is that it's so friggin' easy to learn how to make. In today's recipe, I'm going to use just 3 ingredients and I'll only call for a few minutes of prep. Cool beans? Here are the ingredients you need:
Learn how to make rich 'n creamy chia pudding with only 3 ingredients and a few minutes of prep.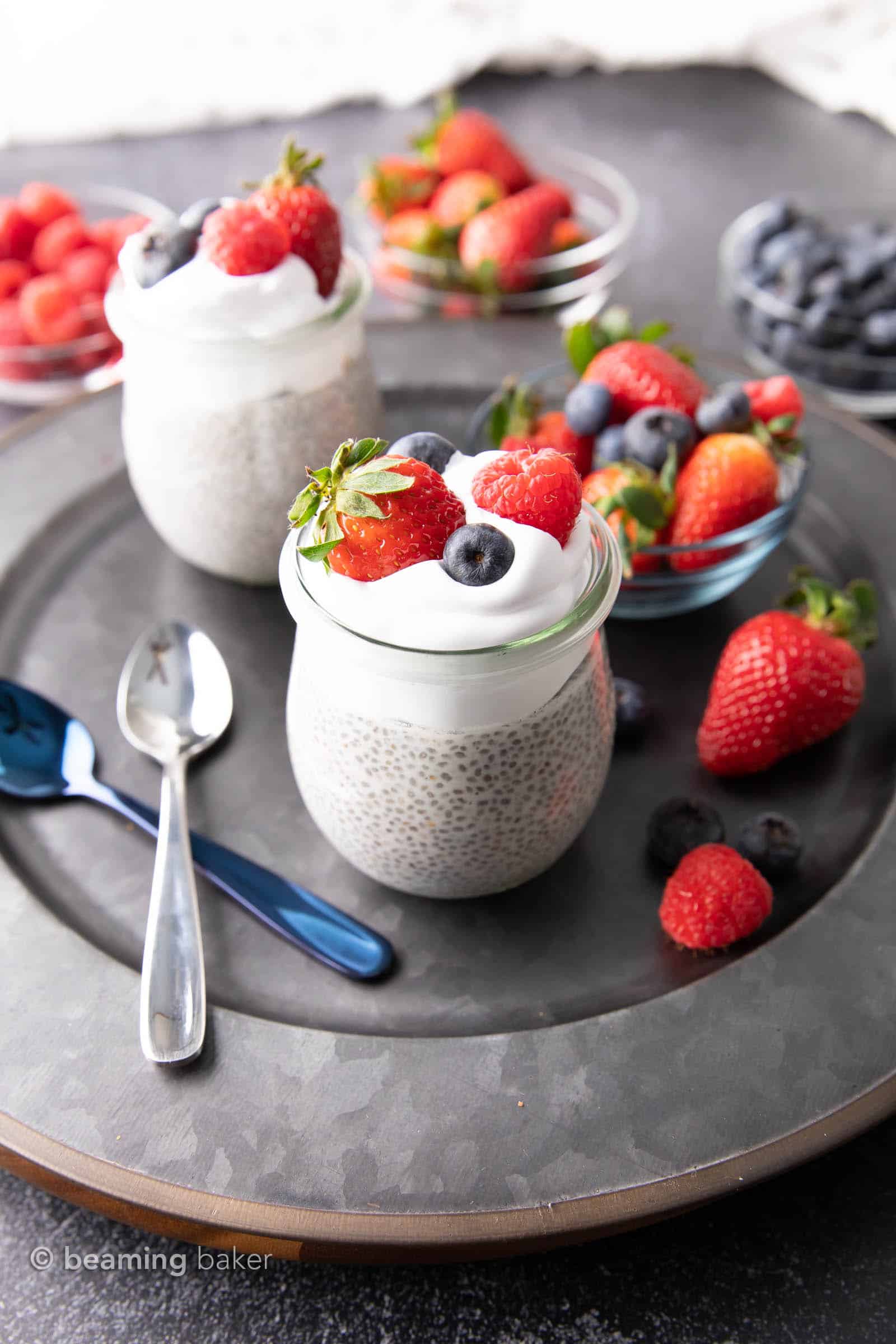 Chia Pudding Questions
Is Chia Pudding Healthy?
This chia seed pudding recipe is healthy because it's packed with healthy fats, antioxidant-rich superfood aka chia seeds, and it's only lightly sweetened.
How Long Does Chia Pudding Last?
This chia pudding recipe lasts for about 5-7 days. If you're using fresh, homemade almondmilk, your chia pudding will last 2-3 days.
Do I use Coconut Milk from a can or Coconut Milk beverage for my chia pudding?
I highly recommend using full-fat coconut milk to make your chia seed pudding. It lends a creamy, rich and thick texture to your chia pudding. If using drinkable milk, such as almond milk or cashew milk, know that you'll get a more gel-like, thinner texture in your chia pudding. However, you might prefer that. 😉
Is Chia Pudding Keto?
Most chia pudding recipes are not keto. However, if you're looking for a keto chia pudding that's low carb and sugar free, check out my Keto Chia Pudding Recipe (Low Carb).
How do I make Chocolate Chia Pudding?
To learn how to make chocolate chia pudding, check out My Favorite Chocolate Chia Pudding.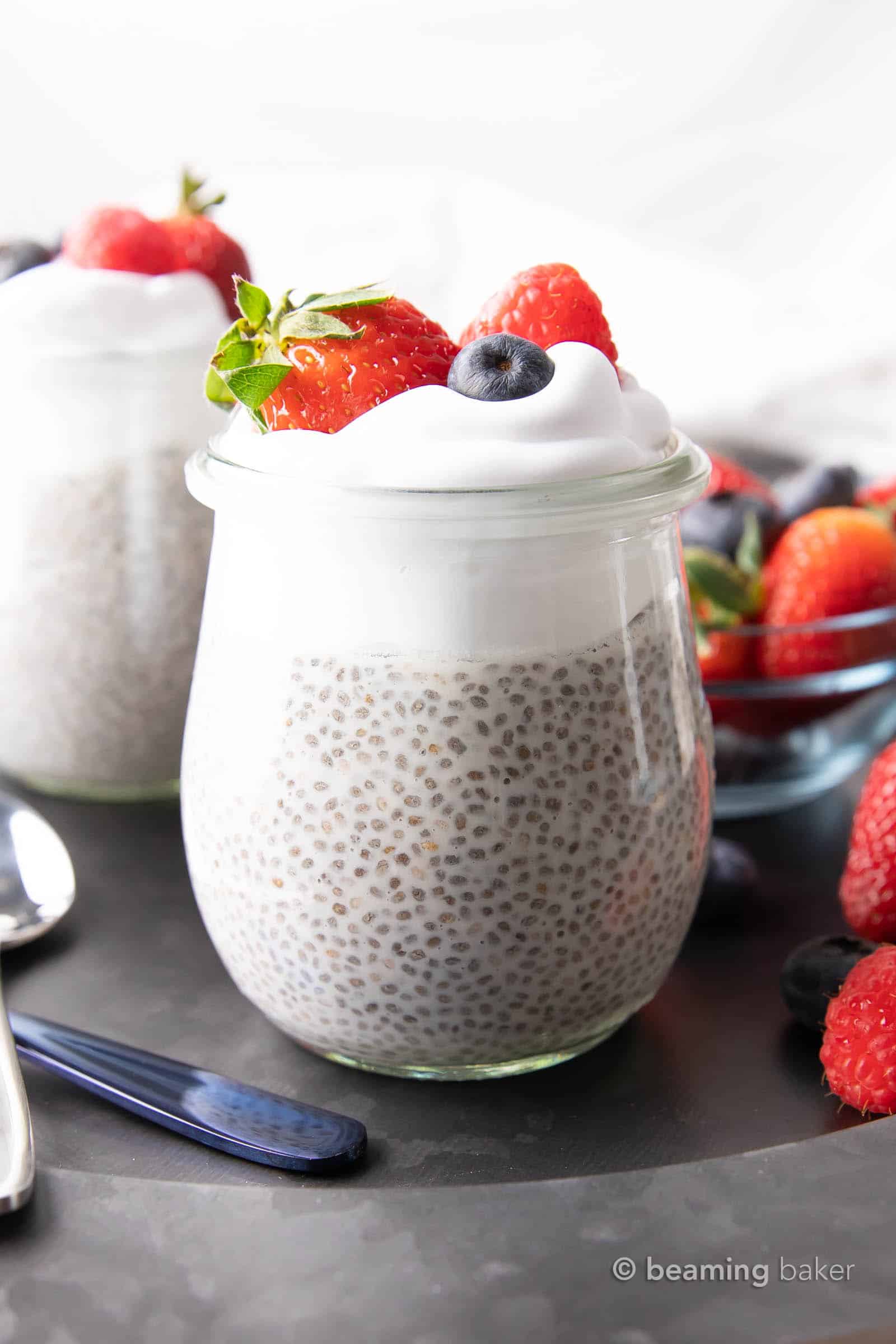 Recommended Tools for the Best Chia Seed Pudding Recipe
Chia Seeds: one of my favorite ingredients to make any recipe superfood-ed! 😉 I love buying these antioxidant-rich, fiber- and iron-rich seeds in bulk because they're so much more affordable! Any excuse to add in a tablespoon or two to your daily smoothie, ya know? 😉
Full-fat Coconut Milk: the #1 most important ingredient for making the best chia pudding! Some folks like using non-dairy drinking milk to make their chia pudding, but I highly recommend using full-fat coconut milk. You won't find a better ingredient to add rich creaminess to your chia pudding.
Mini Jars + Mini Spoons: you've probably seen these adorable mini jars + spoons all over Beaming Baker–and for good reason. They're my go-to jars for perfect-portions of overnight oats, chia pudding and more. Cute & useful–YES!
How'd you like learning how to make chia pudding? Was it the most thrilling thing that's happened to you in ages? Okay, fine… one could hope. 😉 Forgive my silliness, but just know what I live to make you laugh. Thank you so much for stopping by and sharing in these wonderful kitchen adventures with me. 'Til the next one…
Sending you all my love and maybe even a dove, xo Demeter ❤️
☀ Click below to Pin ☀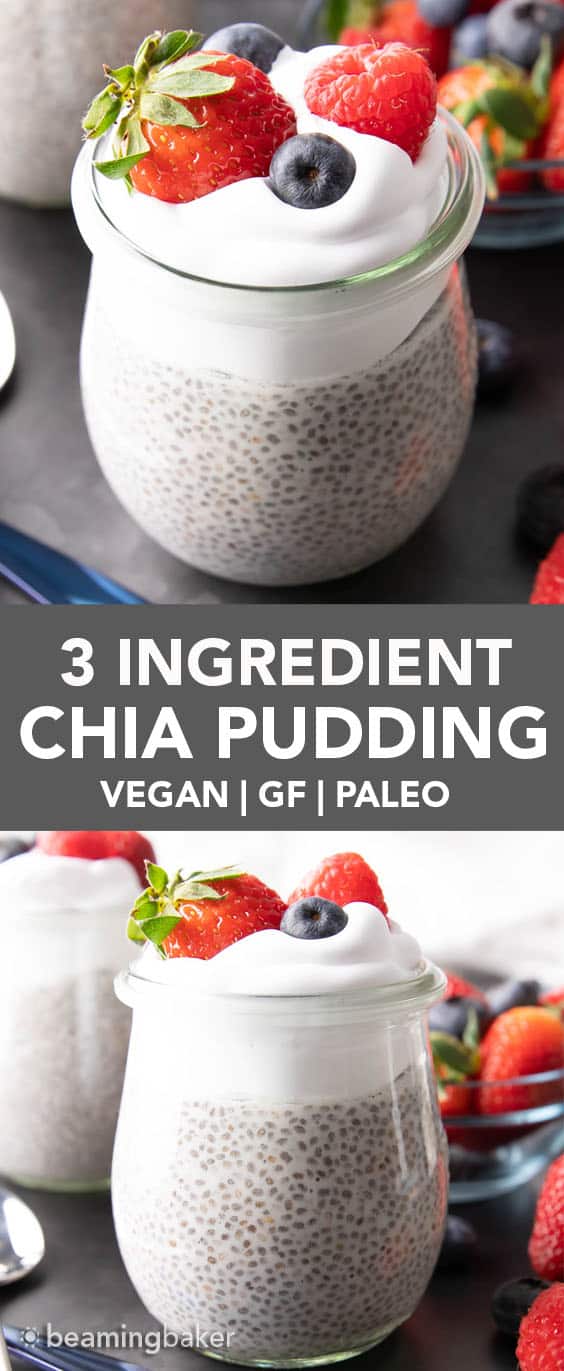 📸 Did you make this chia pudding recipe? Take a pic and share it on Instagram with the hashtag #beamingbaker & tag @beamingbaker. I'd love to see it! 📸
Chia Pudding Recipes We Love + More Healthy Desserts
Print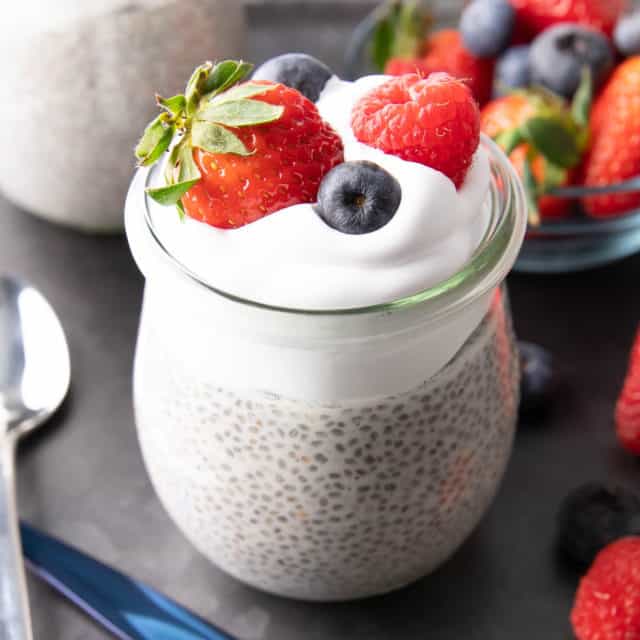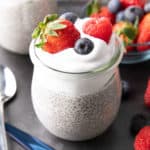 3 Ingredient Chia Pudding Recipe
---
Description
How to Make Chia Pudding: learn how to make chia pudding that's rich and creamy. The best 3 ingredient chia pudding!
---
Chia Pudding
1

can full-fat coconut milk (about

13.66oz

) or 1 2/3 cup milk of your choice.*

¼ cup

+

3 tablespoons

chia seeds**

1

–

3

tablespoons pure maple syrup (I used

2 tablespoons

)
Optional Topping
Fresh cut fruit
Coconut whip
---
Instructions
Set aside 3 mini jars. If using milk, add milk to a medium bowl and skip this step. Scoop entire can of coconut milk into a heatproof, microwave-safe bowl. Heat in 10-second increments in the microwave until fully melted. Whisk until thoroughly mixed. Or, set a medium saucepan over low heat and transfer the entire can of full-fat coconut milk into the pan. Heat and stir just until melted and completely smooth. Transfer to a heatproof bowl.
Add maple syrup and whisk until thoroughly mixed. Add more to taste, if needed.
Add chia seeds and whisk until well incorporated. Allow to set for 5 minutes.
Whisk a few more times to stir through clumps and evenly distribute chia seeds. Pour mixture into mini jars, filling each jar almost to the top. These are the resealable mini jars that I use.
Refrigerate for 2-4 hours (or overnight if desired) to allow chia pudding to thicken. The longer you refrigerate it, the thicker it'll be. Enjoy! Storing instructions below.
More Chia Pudding Recipes
Equipment
Notes
Where to Buy Ingredients: Full-Fat Coconut Milk | Pure Maple Syrup | Chia Seeds
*Use full-fat coconut milk for a creamier, thicker and more dessert-like texture. Or, use your favorite non-dairy milk for a lighter treat. I prefer coconut milk, or using unsweetened vanilla almondmilk.
**During testing, I used different amounts of chia seeds, but found that ¼ cup + 3 tablespoons created the best texture that was a balance of soft and firm. You can add 1 or 2 tablespoons more if you like very firm chia pudding. Or, you can remove 1 tablespoon if you like it softer.
Storing Instructions: Store in an airtight container, such as these mini jars, for up to 5-7 days. If using just-made homemade almondmilk, keep for up to 2-3 days.
Recommended Tools: Mini Jars + Mini Spoons | Glass Mixing Bowls
Prep Time:

7 mins

Category:

Dessert

Method:

Chill

Cuisine:

American
© beamingbaker.com. All content and images are protected by copyright. Please do not use my images or recipe without my permission. Please do not republish this recipe, instead, include a link to this post for the recipe.
This post may contain affiliate links, which allow me to make a small commission for my referral, at no additional cost to you.