Delicious coconut chia seed pudding that packs creamy, luscious texture and divinely sweet coconut flavor. This coconut chia pudding is made with just 5 ingredients, including coconut milk!
The Only Luscious & Creamy Coconut Chia Pudding You Need
Seriously. Stop all searches for an easy coconut chia pudding. Today's creamy and luscious coconut chia pudding is made with coconut milk, just a few minutes of prep, and a total of 5 ingredients. Coconut lovers, chia pudding lovers, and those who are just curious, gather 'round because we're making something beautiful, sweet, and satisfying. Grab your cutest jars, we're heading to the kitchen to whip up delicious coconut chia seed pudding!
What is Chia Pudding? How About Coconut Chia Pudding?
You may be intrigued by the idea of pudding made with chia seeds, or tickled by the idea of coconut-infused chia pudding… but you might not know what it is exactly. I'm here to explain!
What is Chia Pudding, Anywho?
Chia pudding is a delicious, non-baked, no-cook recipe for a dessert-worthy pudding that's made with chia seeds. The chia seeds are used to thicken the sweetened mixture to create a pudding-like texture.
Okay, so what is Coconut Chia Pudding?
So now that you know what chia pudding is all about, you're left wondering what the heck coconut chia pudding is. Well, I've taken classic chia pudding and amped up the coconut factor by three. As a result, today's chia coconut pudding is packed with coconut extract, shredded coconut, toasted coconut, and the base that already includes full-fat coconut milk. Coconut Lovers, you've come to the right place.
Psst… Coconut Lovers, I think you'll like these… Peanut Butter Coconut Balls • Chocolate Coconut Candy Clusters • Coconut Chocolate Bars • Breakfast Oatmeal Coconut Cookies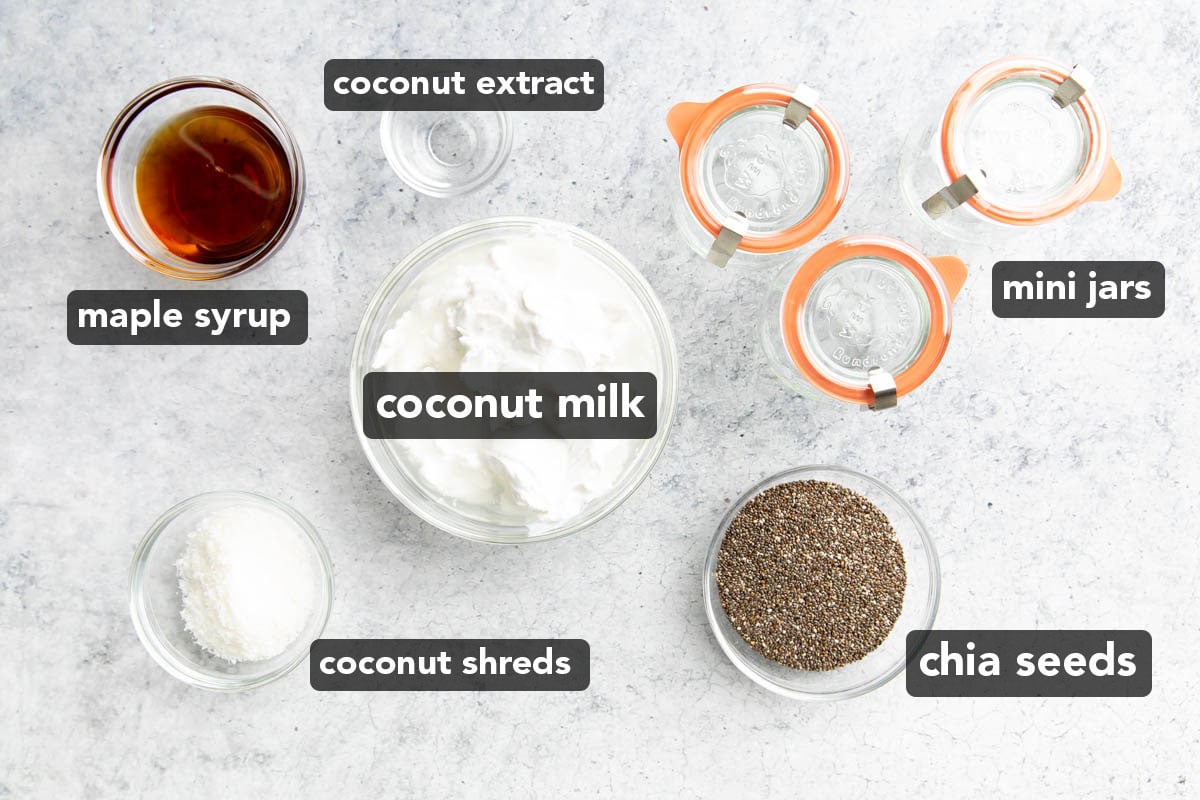 Creamy Coconut Chia Pudding in Just 5 Ingredients
If you've been around Beaming Baker long enough, you're probably accustomed to our 5 ingredient and 3 ingredient recipes. This coconut chia seed pudding is a reader favorite because it calls for so few ingredients. Check it out:
Full-fat coconut milk
Coconut extract
Pure maple syrup
Chia seeds
Shredded coconut
Optionally: coconut whip, toasted coconut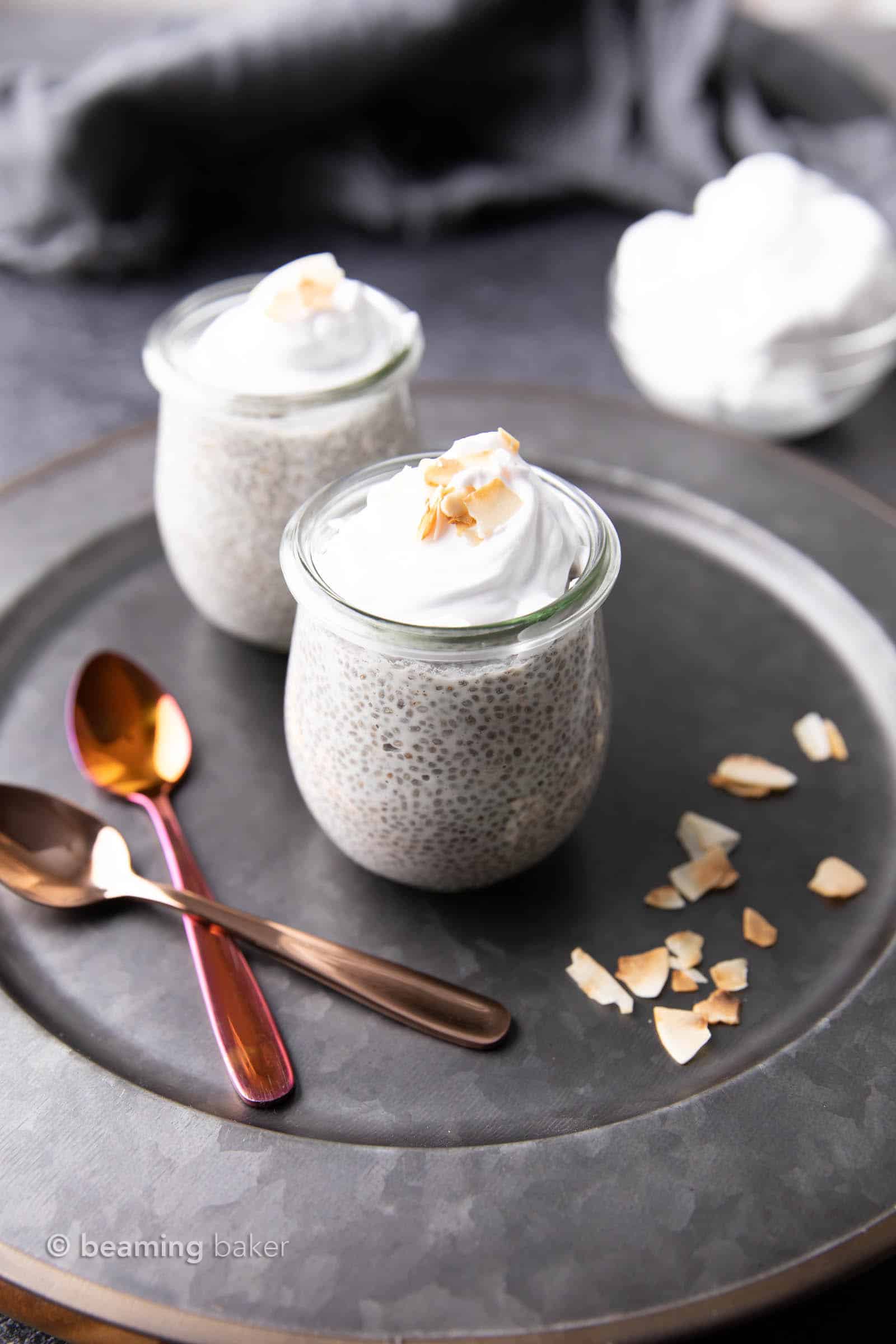 How to Make Coconut Chia Pudding with Coconut Milk
Today, we're going to learn how to make coconut chia pudding with coconut milk! Make sure to use full-fat coconut milk, since reduced fat coconut milk will be too liquidy for the right pudding texture and taste.
First, set aside 3 mini jars—these are the jars you will use to store your chia coconut pudding.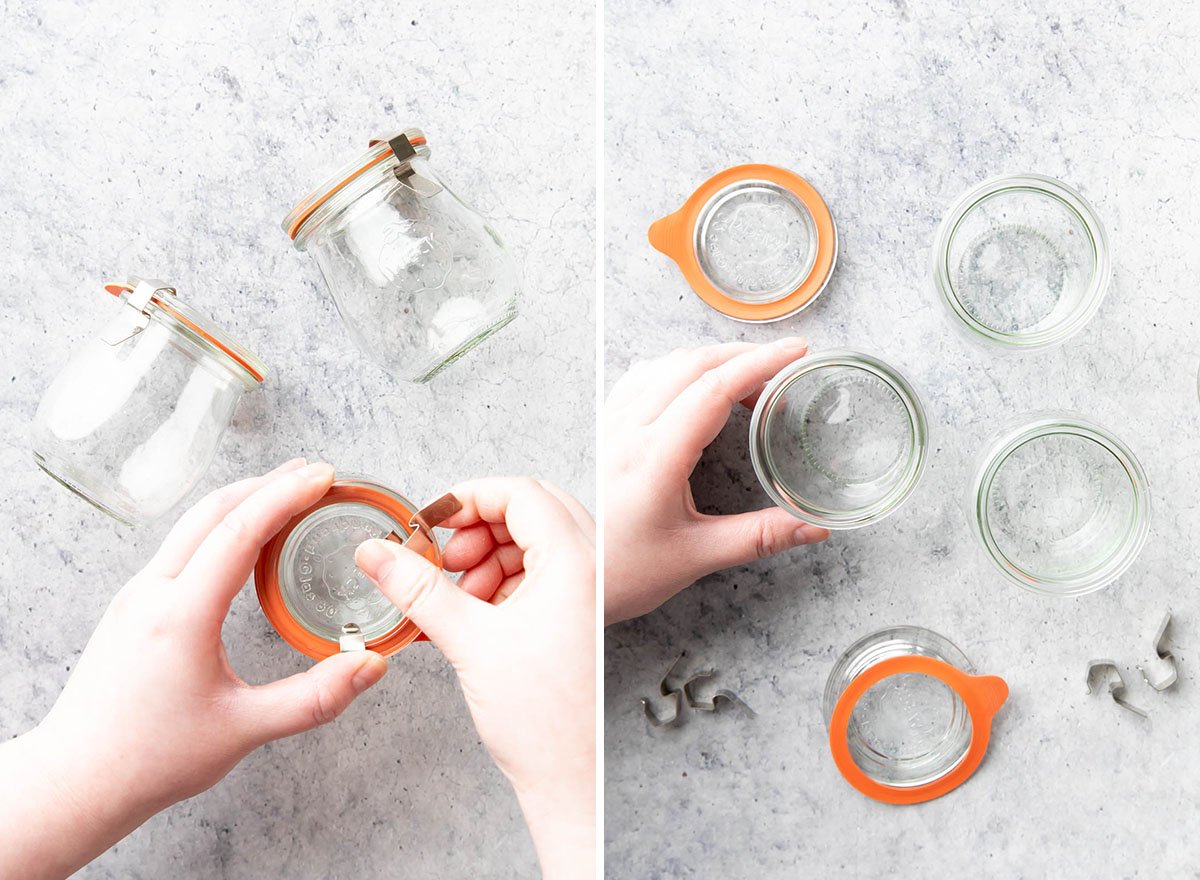 Second, scoop the contents of the full-fat coconut milk can into a bowl and melt it. Whisk until smooth and fully liquidy.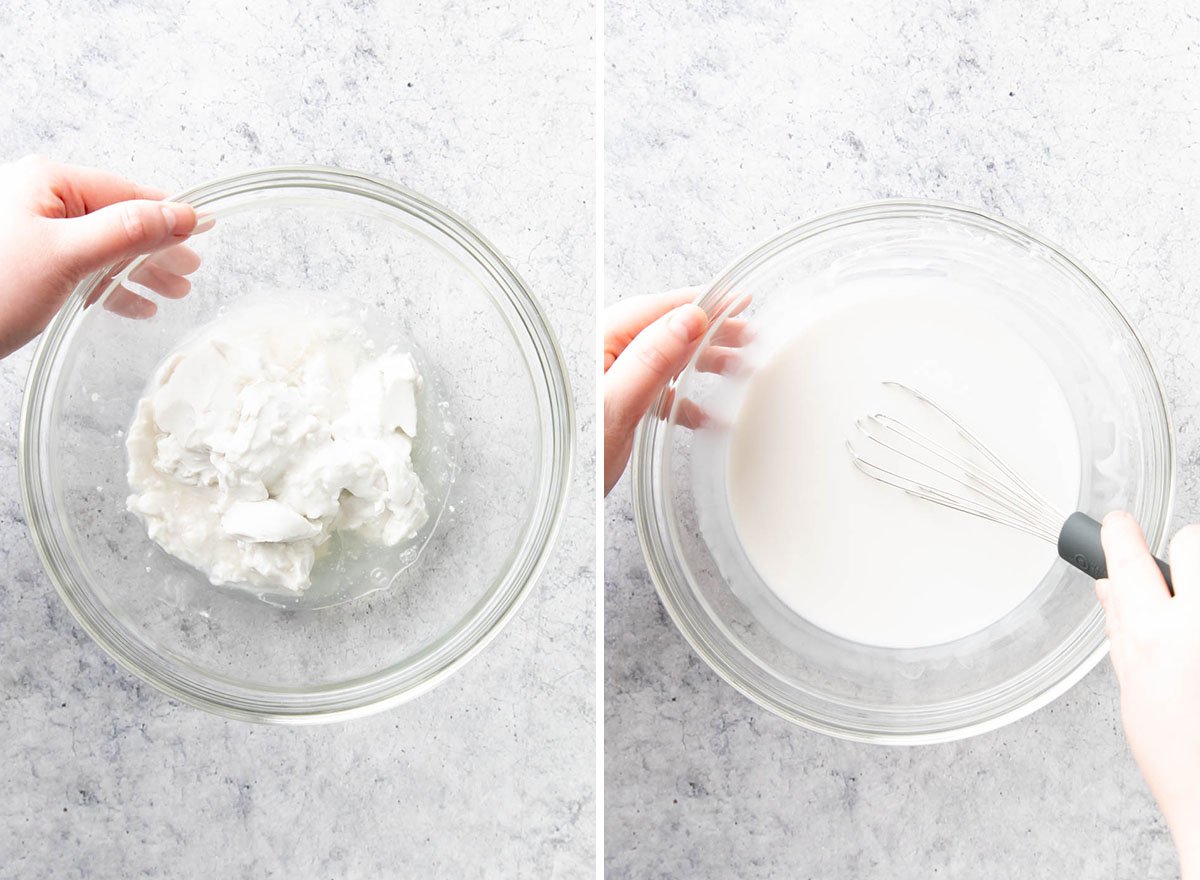 Next, whisk in coconut extract and maple syrup to taste. You'll want to add more for a sweeter taste, less for a less sweet pudding.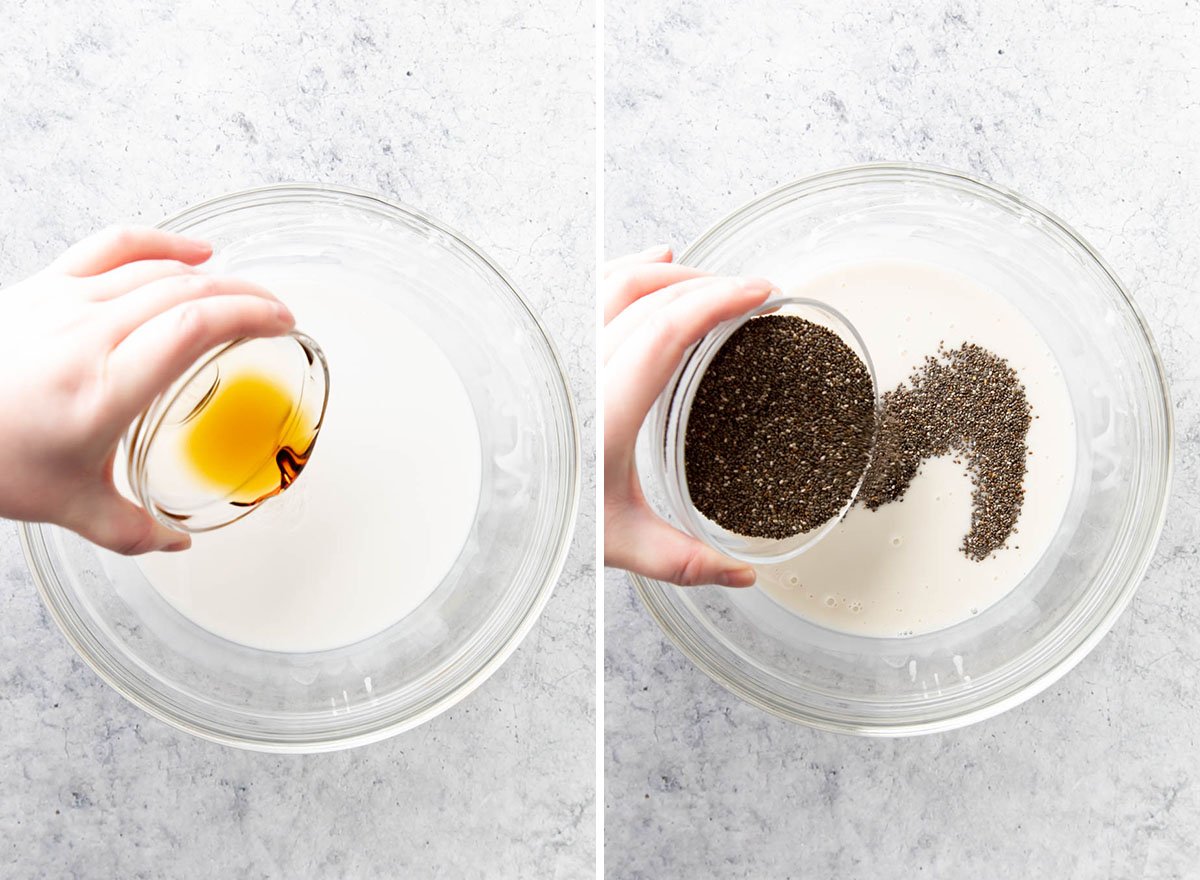 After, add the chia seeds and coconut shreds into the same bowl. Whisk all the ingredients together until thoroughly mixed.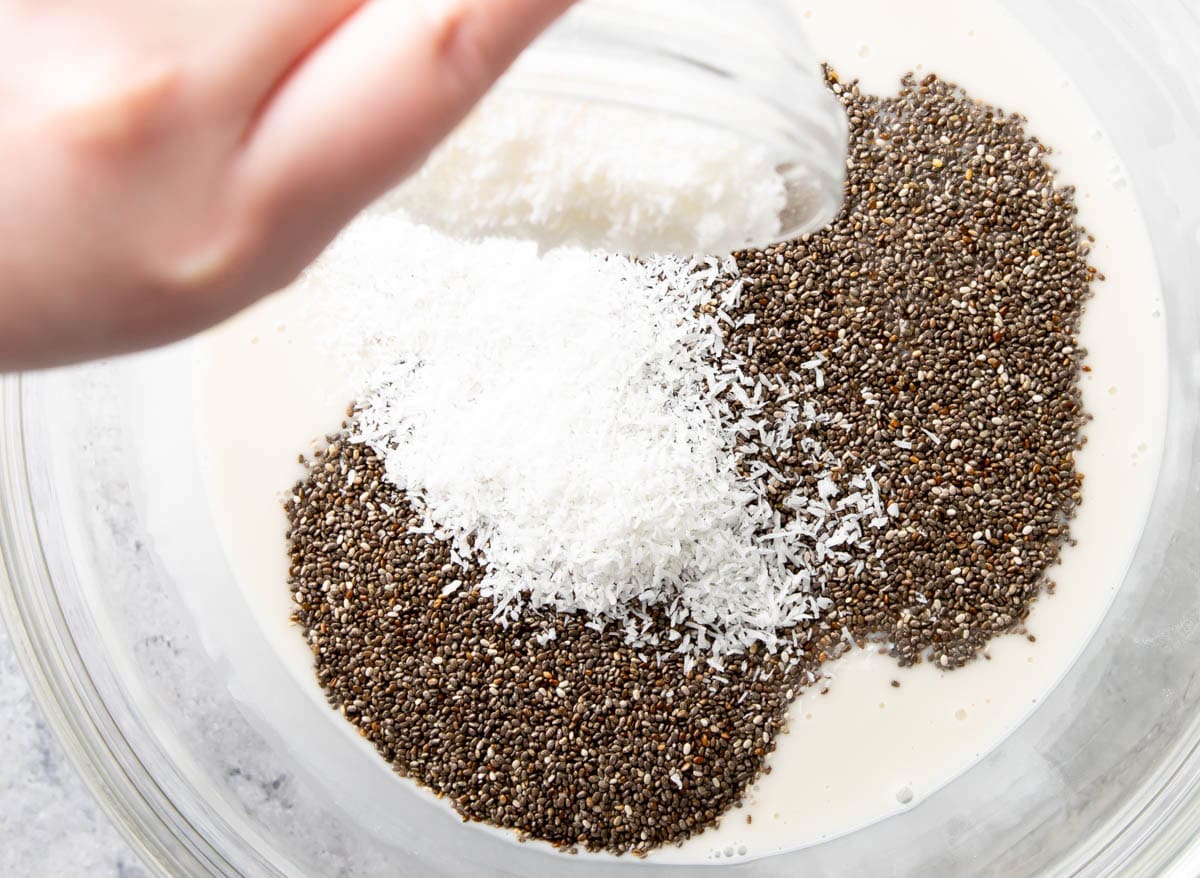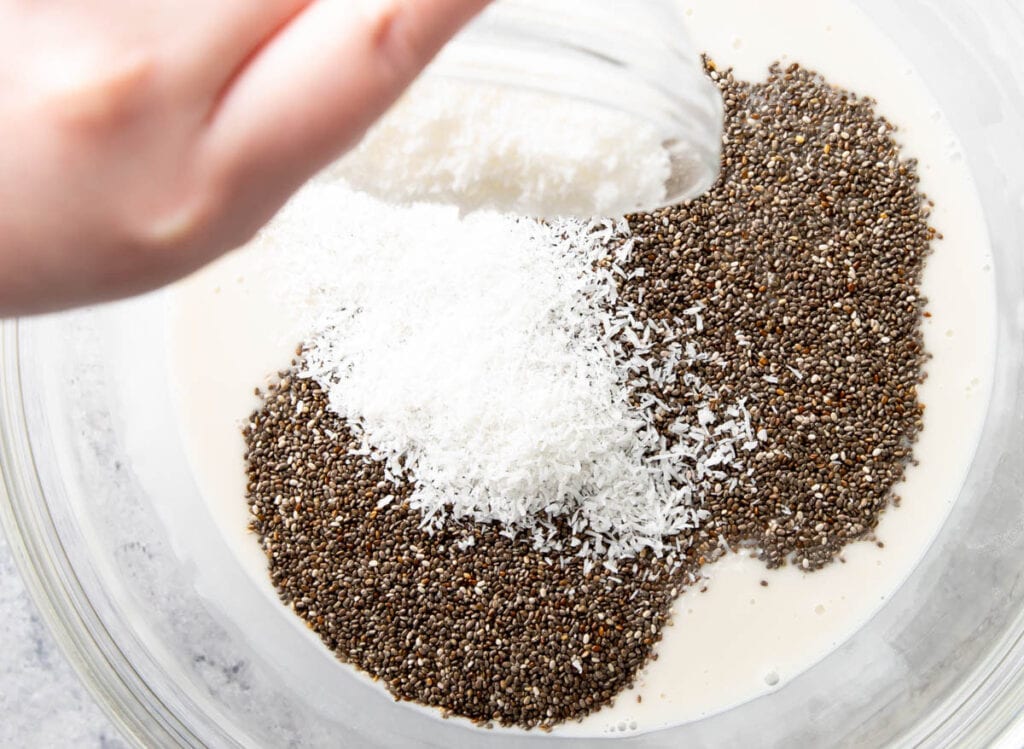 Then, allow the chia seed pudding mixture to thicken for about 5 minutes.
Once thickened, whisk to evenly distribute the chia seeds and work through any clumps that remained. You've just created your chia pudding with coconut milk mixture!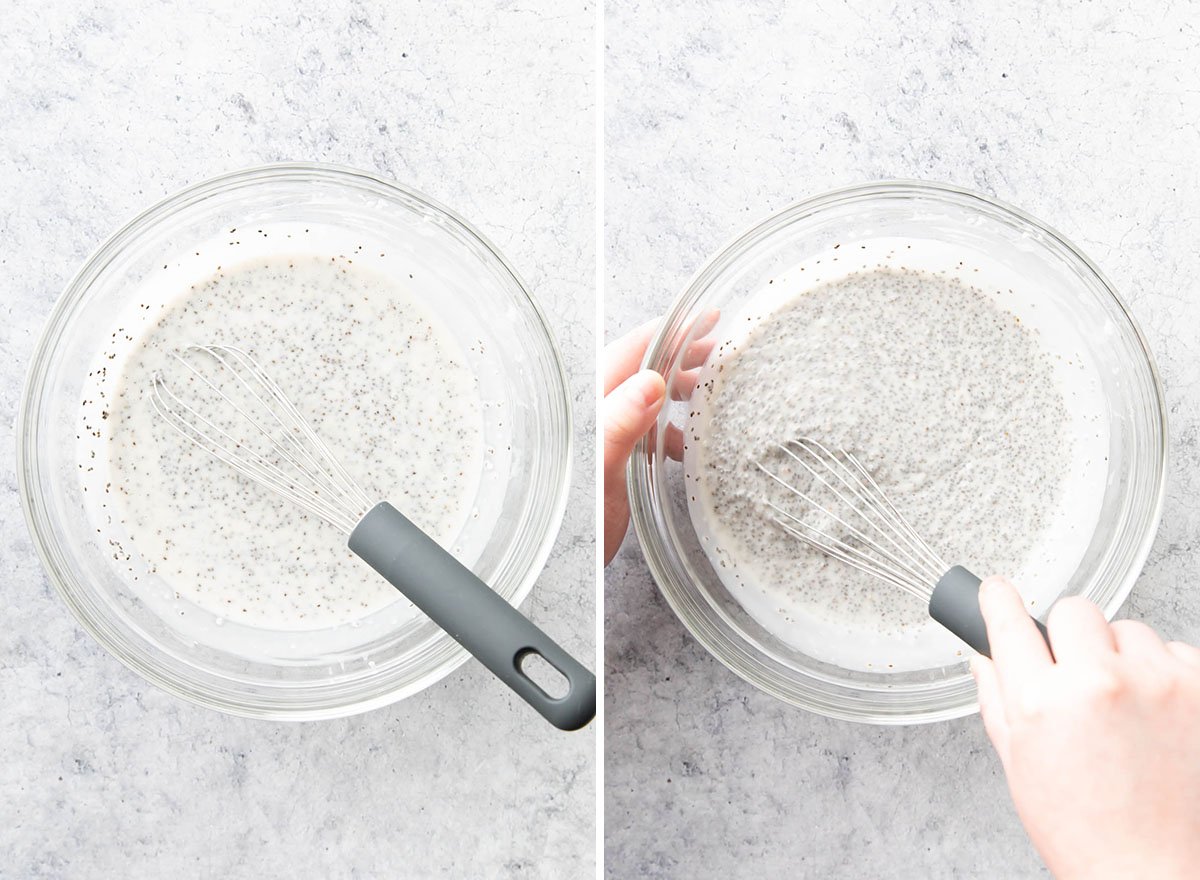 Now, pour the mixture into the jars from earlier. You can use a measuring cup with a lip for easier pouring (mine is 1/4 cup), or a spoon that will fit into the jar.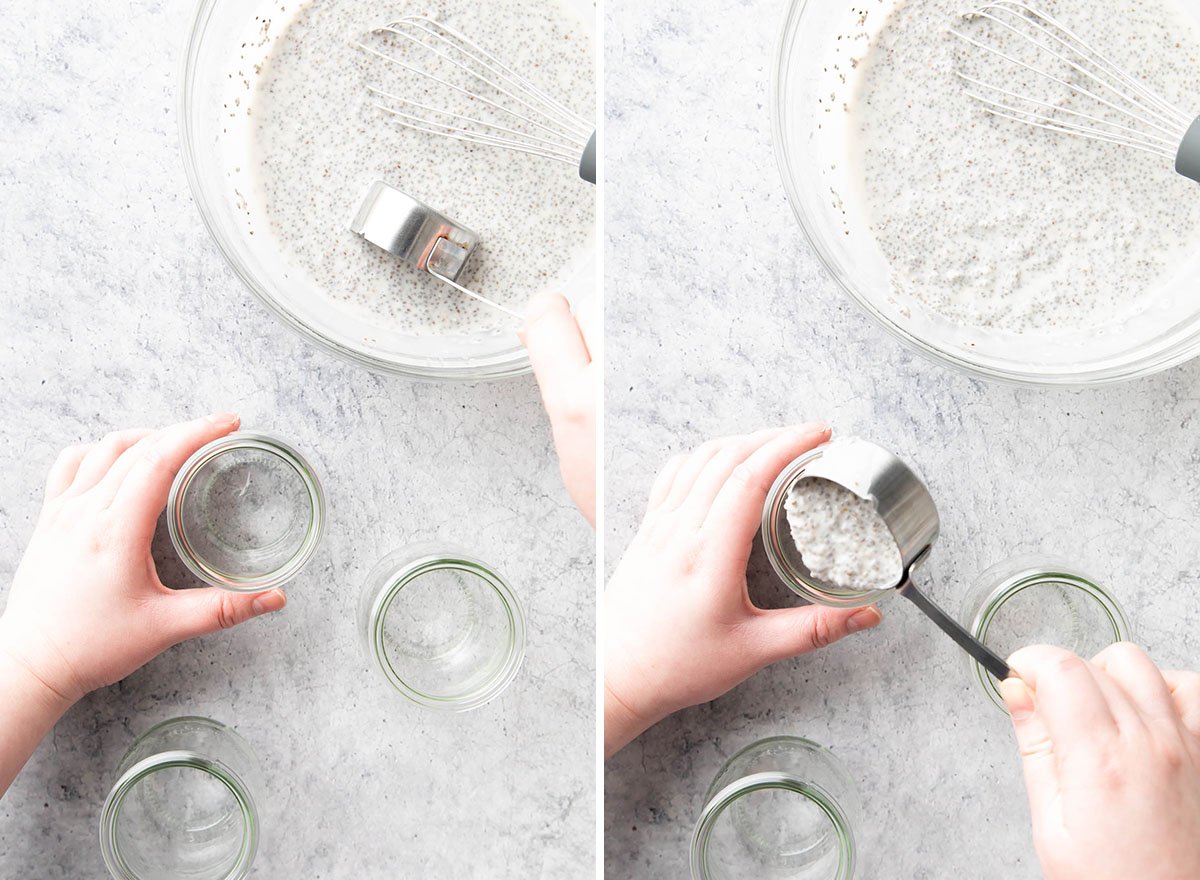 Lastly, cover and refrigerate the jars for 2-4 hours, or overnight. Serve with coconut whip or toasted coconut and enjoy!
How Long Can I Keep This Coconut Chia Seed Pudding For?
If you use fresh ingredients, you can keep your coconut chia seed pudding for 5-7 days. Remember, the less fresh the ingredients, the fewer days you can keep your pudding. Same applies for Chocolate Chia Pudding (Coconut Milk).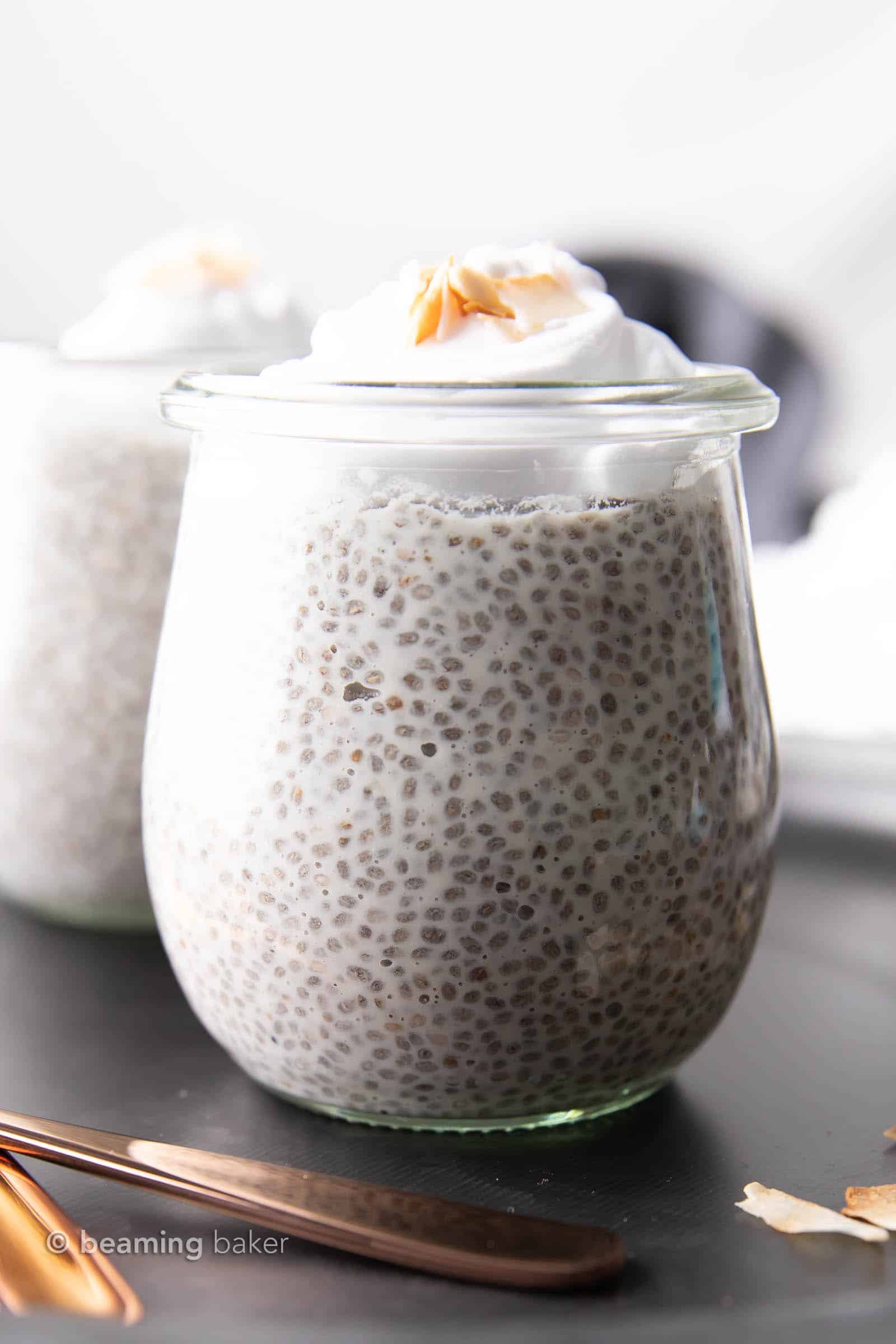 Coconut Recipes
Tools You Need
Pudding in More Time for Self Care
Yeah, I heard myself. And I'm stickin' to it! I hope you get to pudd (or put) more time into self care… starting with this chia pudding. There's something about making a sweet treat for yourself that starts those self care juices going, ya know? Either way, I hope you enjoy a moment for yourself. Stop by and chat, if you're free. 'Til our next sweet adventure…
Sending you all my love and maybe even a dove, xo Demeter ❤️
🥥 📸 🌴
📸 Did you make this chia pudding coconut recipe? Take a pic and share it on Instagram with the hashtag #beamingbaker & tag @beamingbaker. I'd love to see it! 📸
Print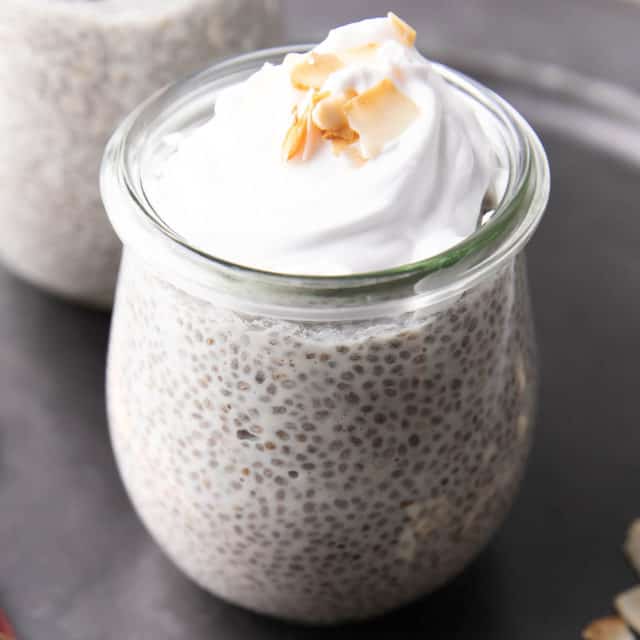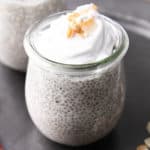 Easy Coconut Chia Pudding Recipe
---
Description
Thick 'n creamy coconut chia seed pudding packed with creamy, luscious texture and divinely sweet coconut flavor. Made with just 5 ingredients!
---
Coconut Chia Pudding
Optional Topping
---
Instructions
Set aside 3 mini jars. These are the mini jars that I use.
Scoop entire can of coconut milk into a heatproof, microwave-safe bowl. Heat in 10-second increments in the microwave until fully melted. Whisk until thoroughly mixed. Stovetop Instructions in Notes.
Add coconut extract and maple syrup to taste. Whisk until thoroughly mixed.
Add chia seeds and coconut shreds, whisking until well incorporated. Allow to set for 5 minutes.
Whisk a few more times to stir through clumps and evenly distribute chia seeds. Pour mixture into mini jars, filling each jar almost to the top.
Refrigerate for 2-4 hours (or overnight if desired) to allow chia pudding to thicken. The longer you refrigerate it, the thicker it'll be. Optionally, top with coconut whip and toasted coconut chips. Enjoy! Storing instructions below.
Coconut Milk Chia Pudding Recipes
Prep Time:

5 mins

Cook Time:

0 mins

Category:

Dessert, Snacks

Method:

Chill

Cuisine:

American
Wanna help grow the Beaming Baker community? ☀️
You play such an important part in the livelihood of Beaming Baker–and just know that Erik and I truly appreciate it. 🧡 If you want to help grow the BB community, you can do the following:
📝 Leave a comment & rating. When you try a recipe, leave a comment and star rating to let us know how you liked the recipe. It truly helps all of our readers discover which recipe works best–and keeps us going in the right direction.
📸 Instagram. Made a recipe? Take a photo and share it on Instagram with the tag #beamingbaker and tag us at @beamingbaker. It makes our day to see how the recipe turned out for you!
👭 Tell a friend. You know when you love something, you can't help but tell others about it? If you love any of the recipes on Beaming Baker, tell a friend. 🙂 It truly helps to grow the BB community. ☀️
This post may contain affiliate links, which allow me to make a small commission for my referral, at no additional cost to you.