coconut chia pudding recipe: this chia pudding recipe is thick & creamy, with luscious texture and sweet coconut flavor. 5 ingredient, vegan, dairy-free, healthy, gf.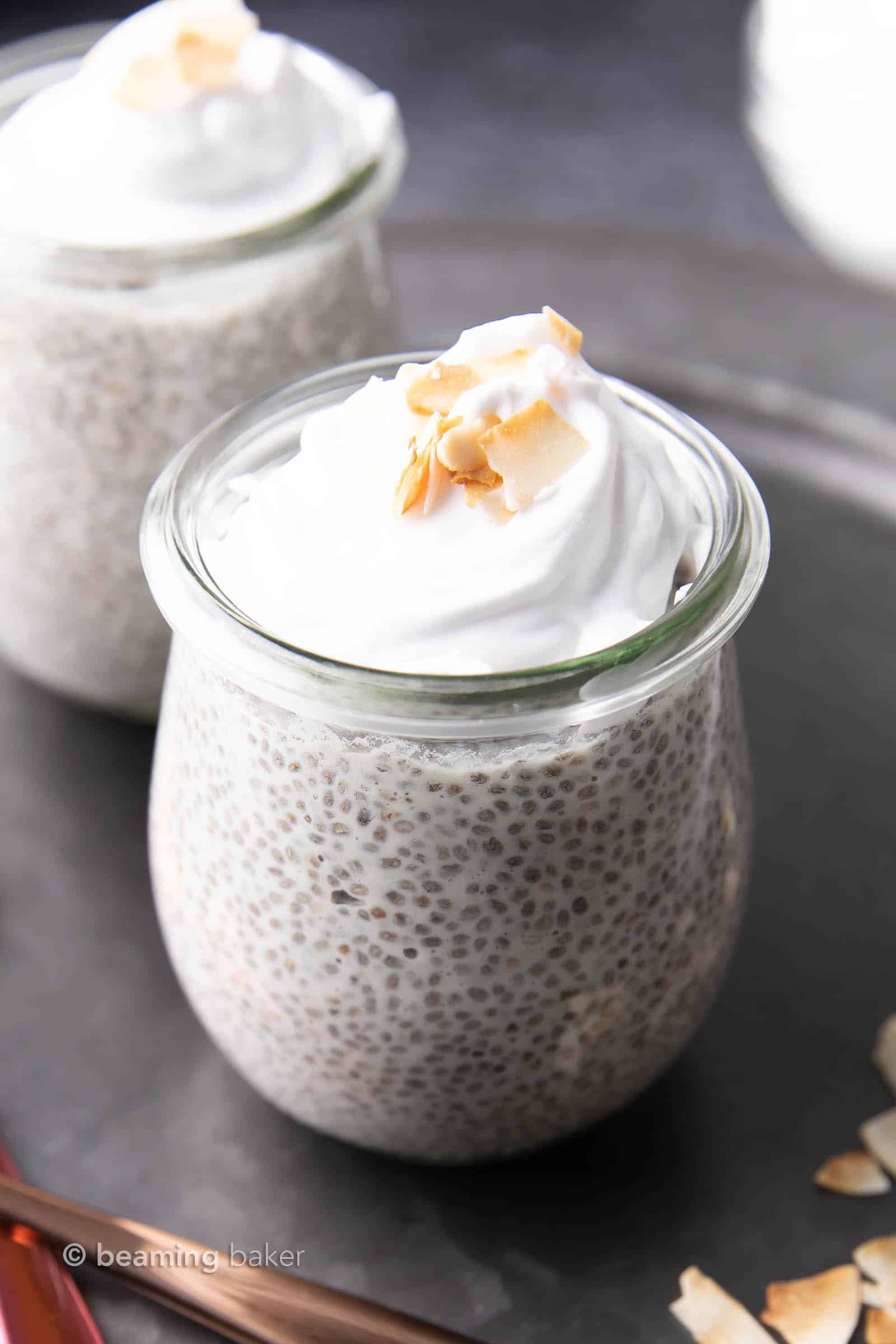 Are you a fan of chia pudding? You might recall a chia pudding recipe that I shared last month. You might choose to not recall said chia pudding recipe due to…a lack of desire to do so.
Because: you're not into chia pudding. You're not into a vegan-friendly recipe. Or, could it be that you're not into chia pudding because you've never tried it before?
A-ha! Lol. You know how I like to play detective from time to time. 😉 Well, it's just that I feel you. Or, rather, I felt you. Before my BB chia pudding recipes, people would frequently mention chia pudding and I'd be like, "No, thanks! Next!" Or I'd sing it. Or whip my long-ass ponytail at it.
But now, things are different. Things are yummier. Things are friggin' good! So if you're sitting there, being like, "I do not and will not even entertain the idea of making coconut chia pudding." Allow me to convince you otherwise.
Or, simply move onto Coconut Milk Ice Cream. Or the Best Vegan Chocolate Ice Cream Recipe. And call it a day. You do you, ya know?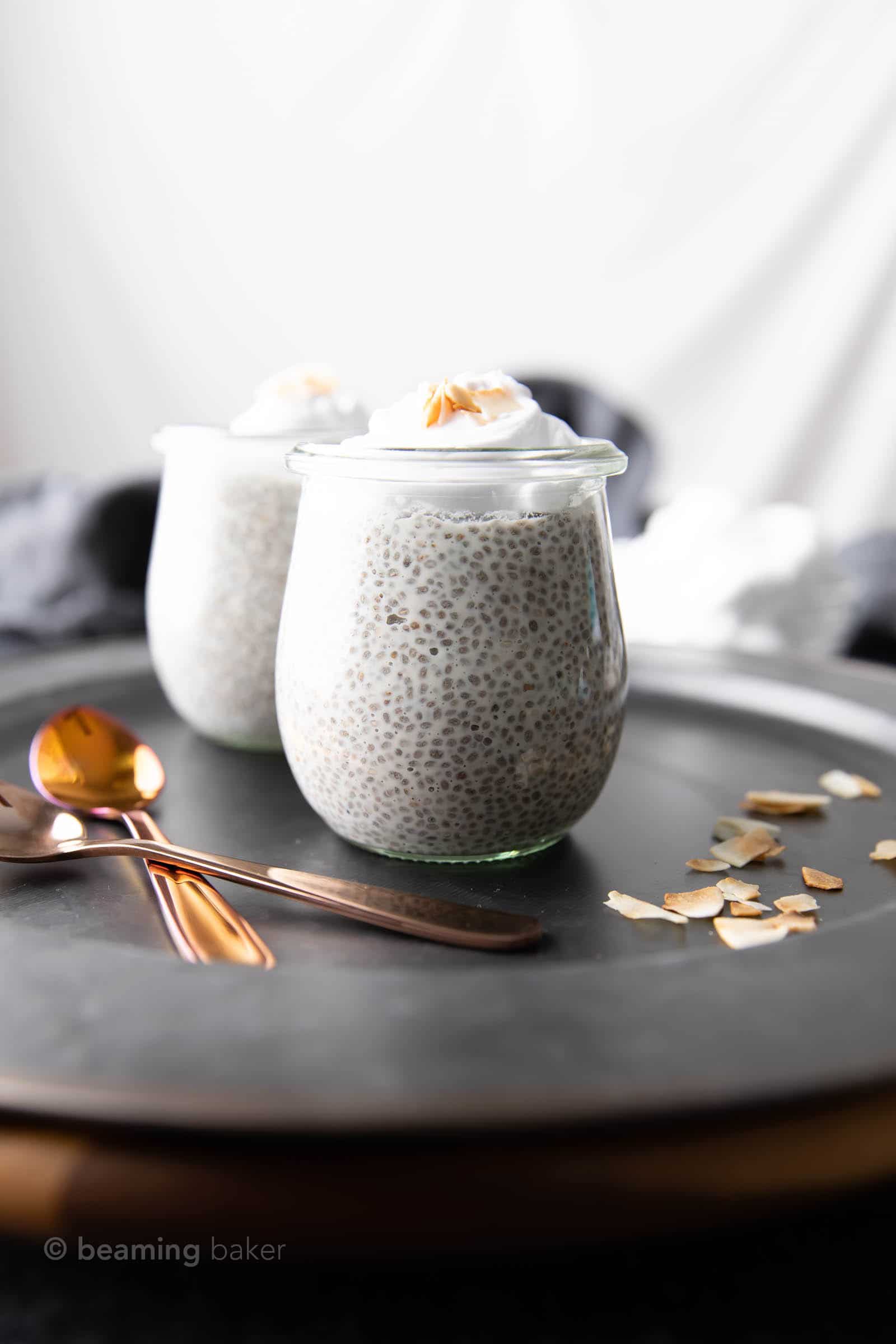 Coconut Chia Pudding Recipe
If you're still with me, you're undeniably intrigued by coconut chia pudding. Or, you were all in to begin with and I just wasted like 5 minutes of your screen time on Those Who Shall Not Be Named. So let's do this!
Today's recipe is for coconut-infused chia pudding. It's low carb, ridiculously easy to make, takes coconut flavors to the Next Level, and is deliciously/nutritiously filling and good for you. What more do ya need? Well, how about knowing it's made with just a few ingredients?
Just 5 Ingredients for Coconut Chia Pudding
This coconut milk chia pudding is made with just 5 simple ingredients. Check it out: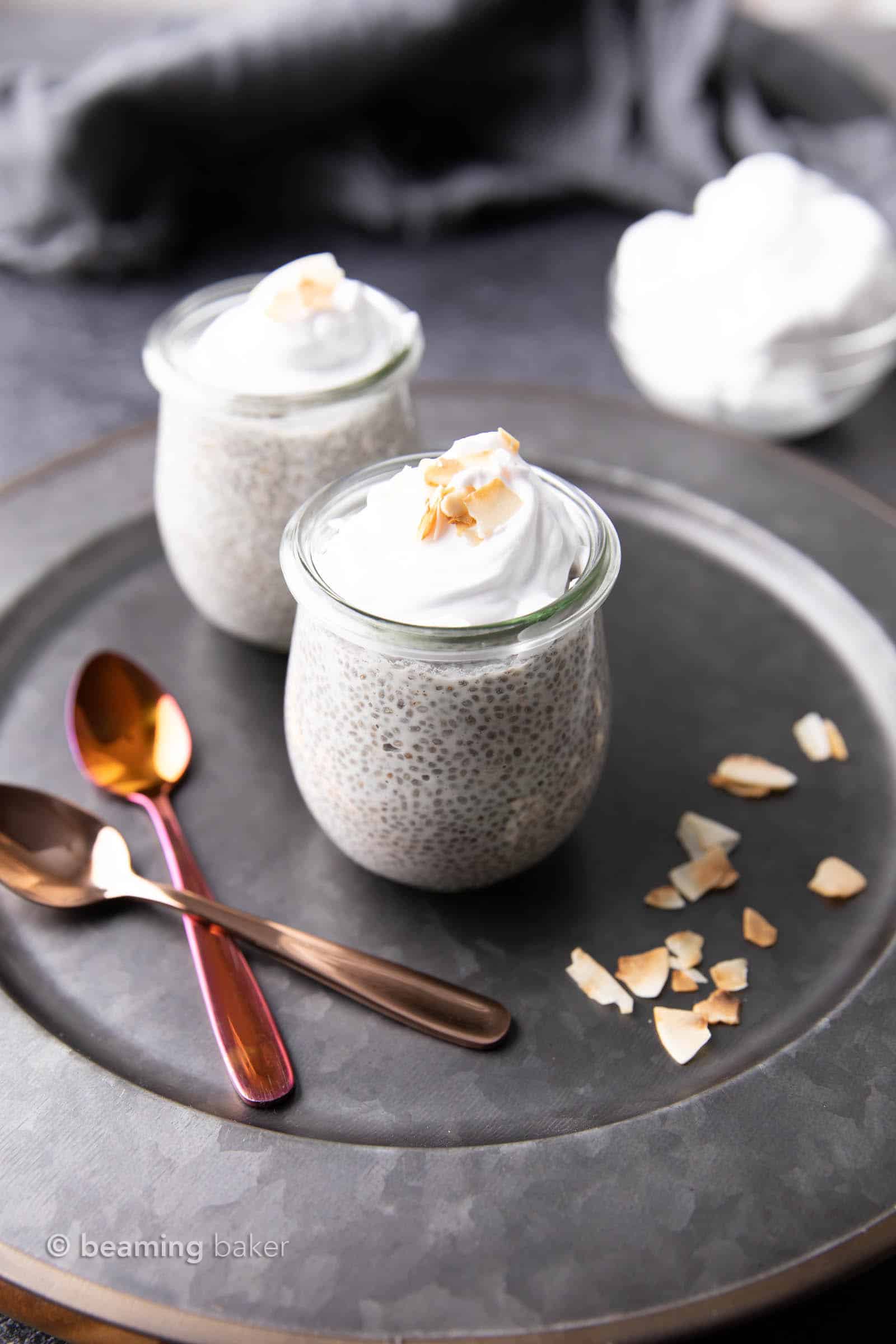 Is Chia Pudding Vegan? Dairy-Free? Healthy?
Yes and yes! In fact, why don't I give you the complete breakdown of all the boxes this chia pudding checks:
Vegan: Yes
Gluten Free: Yes
Dairy-Free: Yes
Healthy: Heck Yes!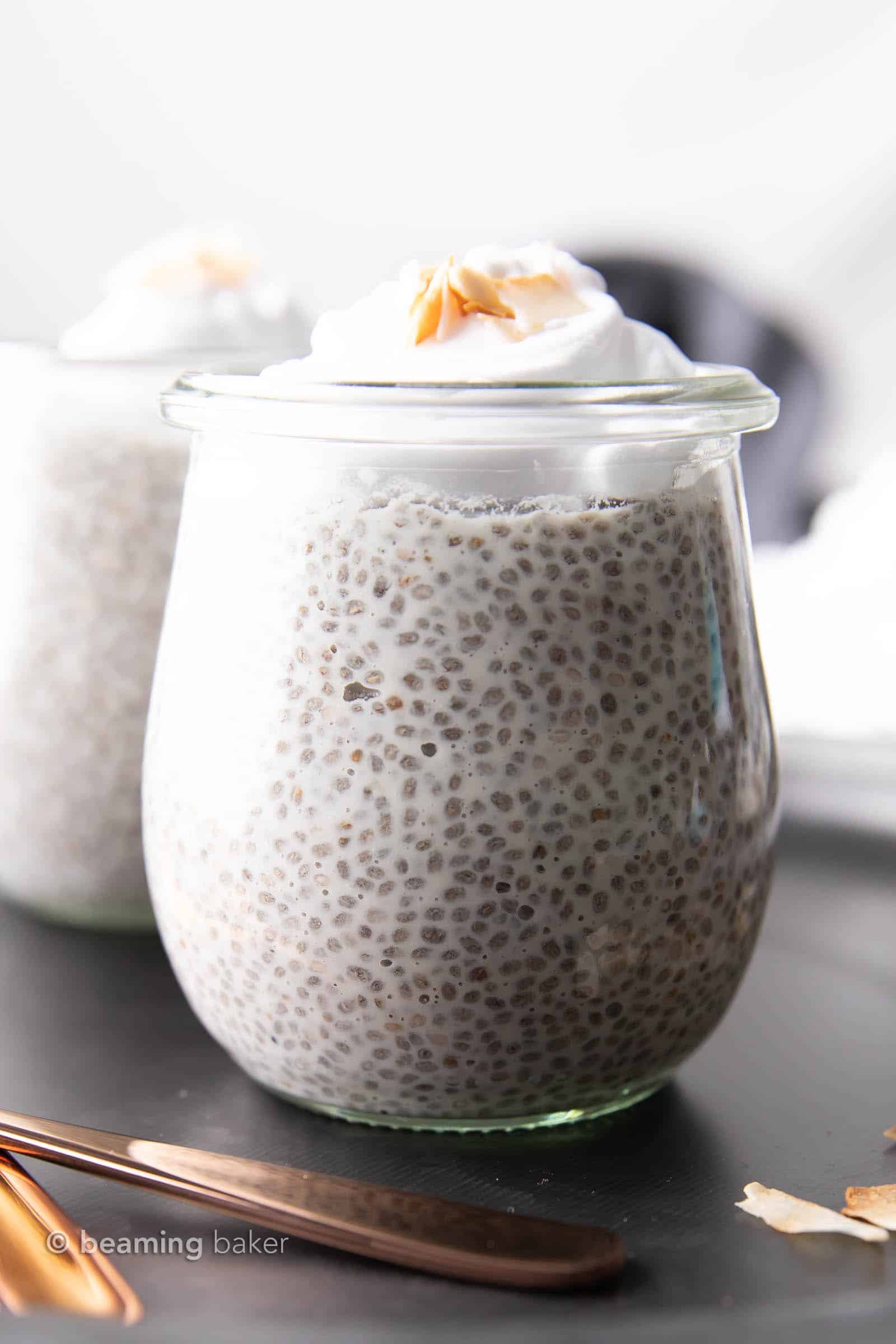 Recommended Tools for the Best Coconut Chia Pudding Recipe
Today's the day, I can feel it! You're gonna try coconut chia pudding for the first time. Or you're at least gonna entertain the thought of it. I hope. 😉 Or you've made regular ol' chia pudding and are so pumped to try it coconut-style. Yeah!! Let me know what you think in the comments below. I truly look forward to hearing from you. 'Til the next kitchen adventure…
Sending you all my love and maybe even a dove, xo Demeter ❤️
☀ Click below to Pin ☀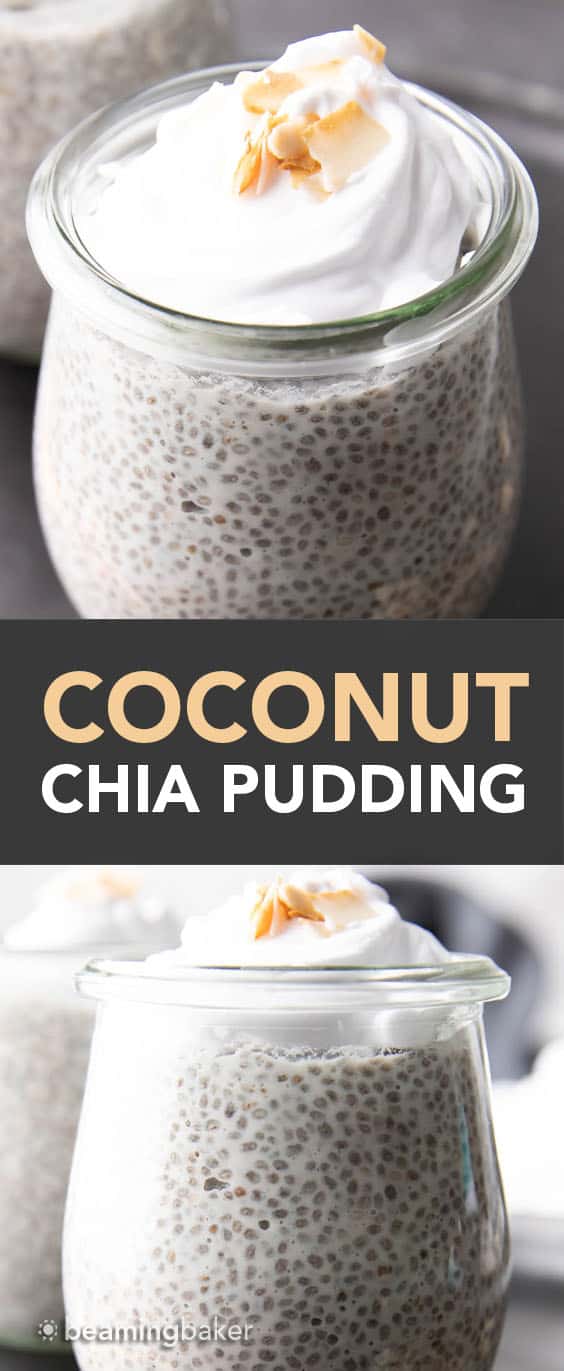 📸 Did you make this coconut chia pudding recipe? Take a pic and share it on Instagram with the hashtag #beamingbaker & tag @beamingbaker. I'd love to see it! 📸
Coconut Milk Chia Pudding Recipes & More
Print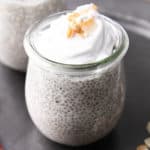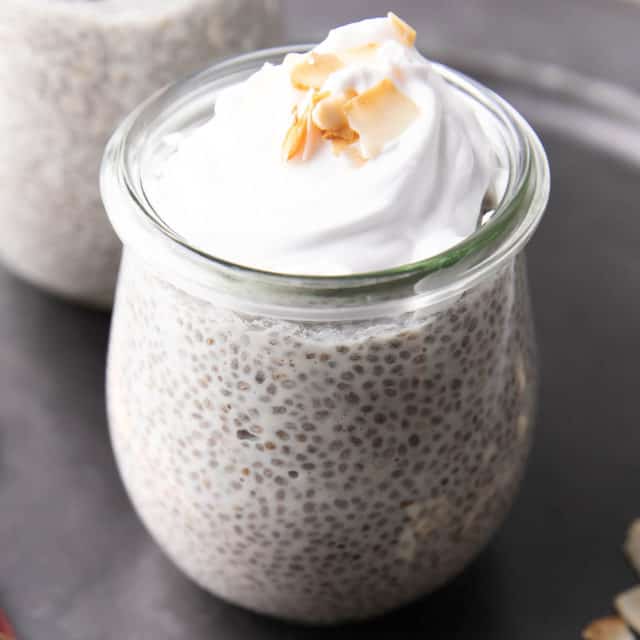 Easy Coconut Chia Pudding Recipe
---
Description
Thick 'n creamy coconut chia seed pudding packed with creamy, luscious texture and divinely sweet coconut flavor. Made with just 5 ingredients!
---
Coconut Chia Pudding
Optional Topping
---
Instructions
Set aside 3 mini jars. These are the mini jars that I use.
Scoop entire can of coconut milk into a heatproof, microwave-safe bowl. Heat in 10-second increments in the microwave until fully melted. Whisk until thoroughly mixed. Stovetop Instructions in Notes.
Add coconut extract and maple syrup to taste. Whisk until thoroughly mixed.
Add chia seeds and coconut shreds, whisking until well incorporated. Allow to set for 5 minutes.
Whisk a few more times to stir through clumps and evenly distribute chia seeds. Pour mixture into mini jars, filling each jar almost to the top.
Refrigerate for 2-4 hours (or overnight if desired) to allow chia pudding to thicken. The longer you refrigerate it, the thicker it'll be. Optionally, top with coconut whip and toasted coconut chips. Enjoy! Storing instructions below.
Coconut Milk Chia Pudding Recipes
Equipment
Prep Time:

5 mins

Cook Time:

0 mins

Category:

Dessert, Snacks

Method:

Chill

Cuisine:

American
© beamingbaker.com. All content and images are protected by copyright. Please do not use my images or recipe without my permission. Please do not republish this recipe, instead, include a link to this post for the recipe.
This post may contain affiliate links, which allow me to make a small commission for my referral, at no additional cost to you. Thank you for supporting Beaming Baker.