Sharp cheddar cheese, creamy dressing, salty bacon and crisp vegetables make for the delicious & beautiful 7 Layer Salad. Delicious as a side or main, it goes well with soup and bread!
The Best 7 Layer Salad
Welcome to the delightfully tasty and surprisingly filling 7 Layer Salad!
This seven layer salad recipe boasts 7 beautiful layers topped with mouthwatering, easy homemade dressing that makes for a gorgeous, eye-catching centerpiece at any holiday gathering.
Let's find out what the seven layers look like, and how they add to this salad's overall greatness!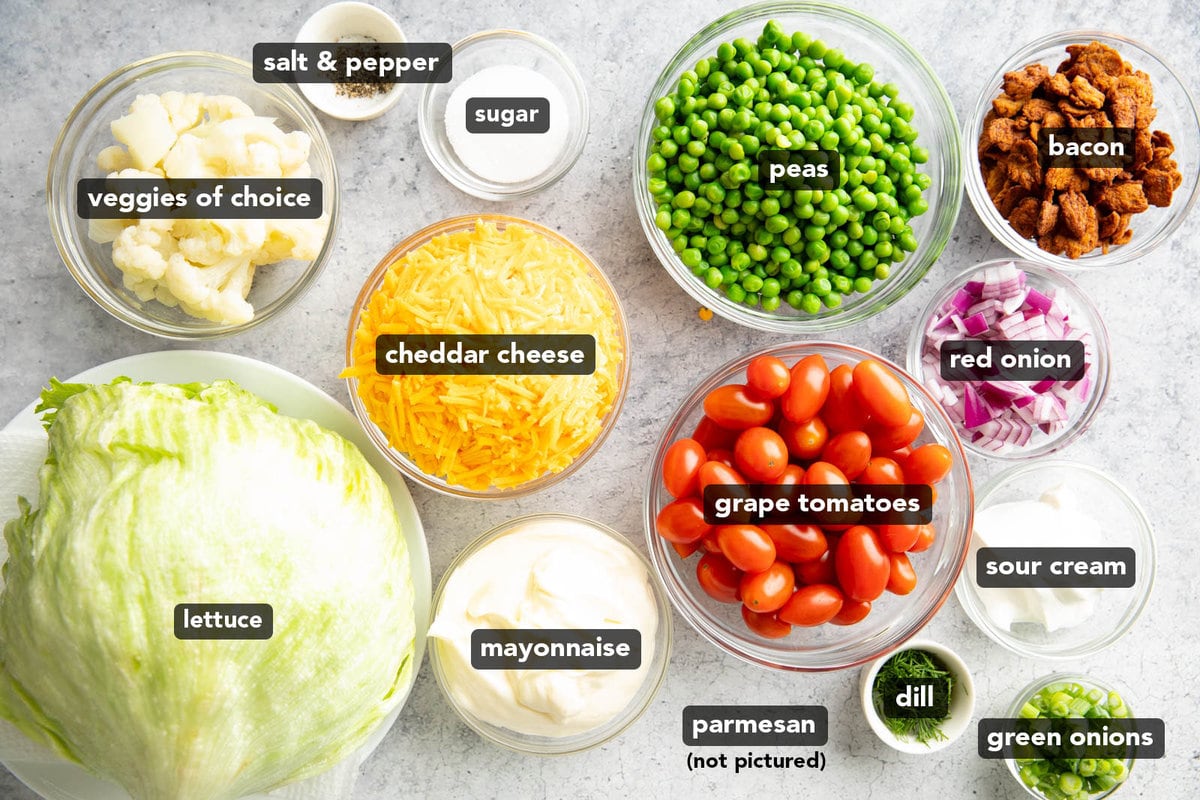 What Are the Ingredients in a Seven Layer Salad?
So, what's in a 7-layer salad, anyway? You'll find that the seven layer salad consists of 7 layers, including: 5 layers of veggies, 1 layer of dressing, and 1 layer of toppings. (And let's face it, pizzazz!).
A typical seven layer salad includes bacon, mayo with sugar, lettuce, cheese, and peas, with the remaining vegetable ingredients being easily swapped according to preference.
What is a 7 Layer Salad?
A 7 Layer Salad is a salad that is made with 7 key ingredients that are typically layered in a transparent serving dish, such as a trifle dish.
The clear dish showcases every beautiful layer in the 7 Layer Salad, which includes a creamy homemade dressing to seal in the freshness of the veggies, then a topping of bacon, etc.
When serving, you can elect to keep the layers somewhat intact with dressing atop, or my preferred method: mixing the entire salad before serving.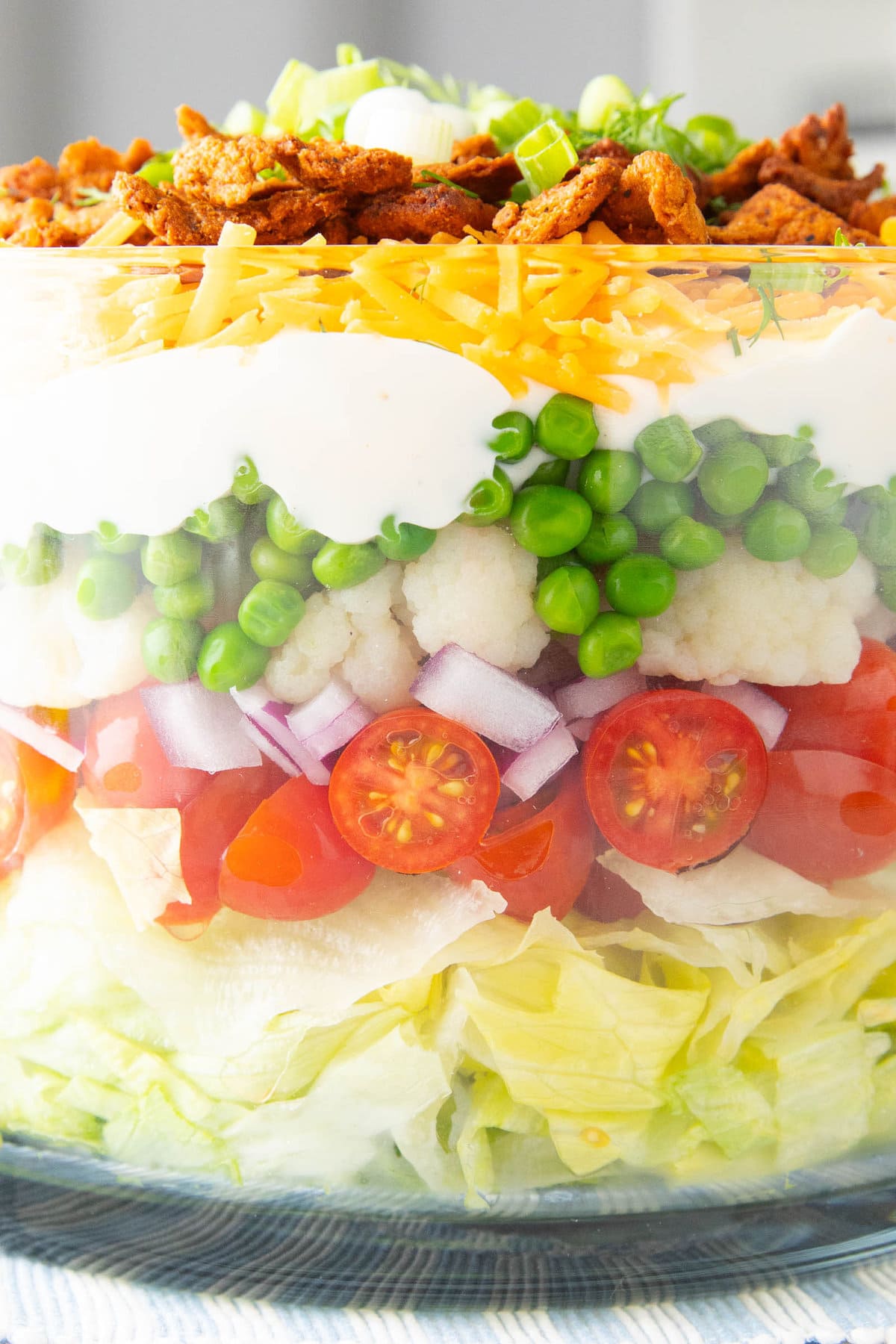 How to Make a 7 Layer Salad
To make a 7 layer salad, you'll first do a good bit of washing and chopping, then layering and topping. Easy, right? Let's begin.
First, make sure you have a glass trifle bowl. Clean and set aside.
Wash and Chop
First, make sure to wash and chop all vegetables as needed. This way, you'll be ready for each layer as we place them.
Prepare the 7 Layer Salad Dressing
Next, prepare the dressing. Add mayonnaise, sour cream, parmesan cheese, sugar, salt and pepper to a small bowl.
Whisk together until well mixed. Then, cover and refrigerate until needed.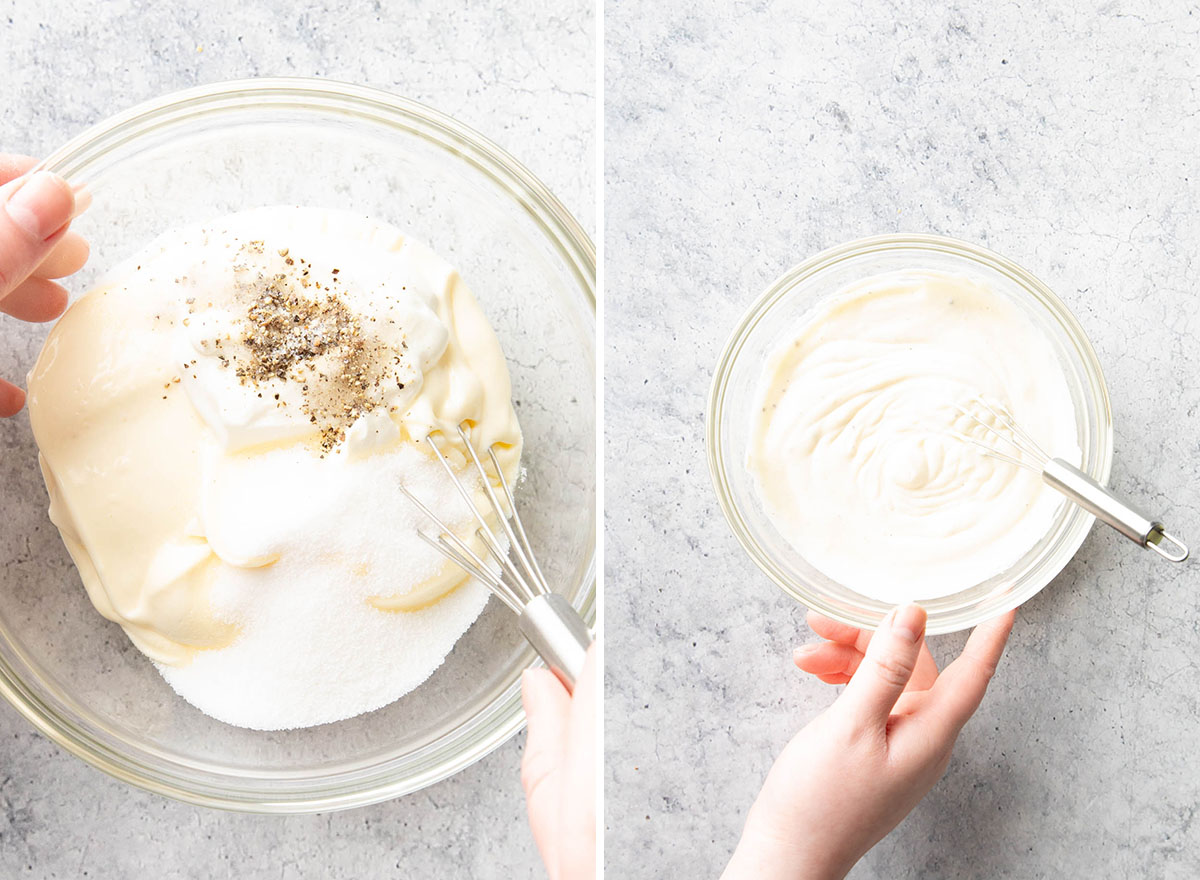 Create the 7 Layers
Now, we'll start placing each of the layers of this beautiful 7 Layer Salad.
Layer 1: Lettuce
Use shredded or chopped lettuce—about 1 head of lettuce worth for the first layer. You may need to add or subtract from that head depending on its size.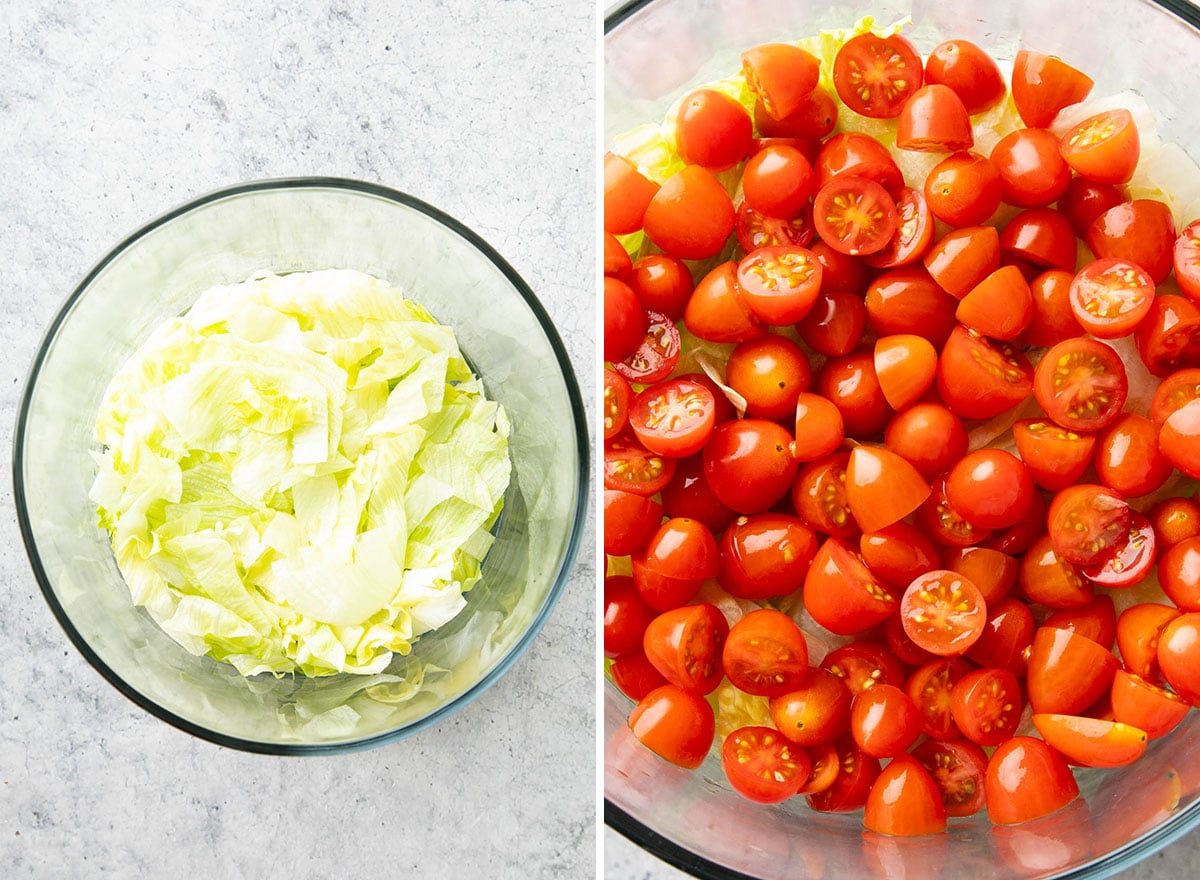 Layer 2: Tomatoes
For the second layer of the salad, we'll use grape tomatoes that have been halved. These are juicy and delicious.
Layer 3: Red Onions
I've use about 1 onion's worth of chopped onion to add a little crunch and crispness to the salad.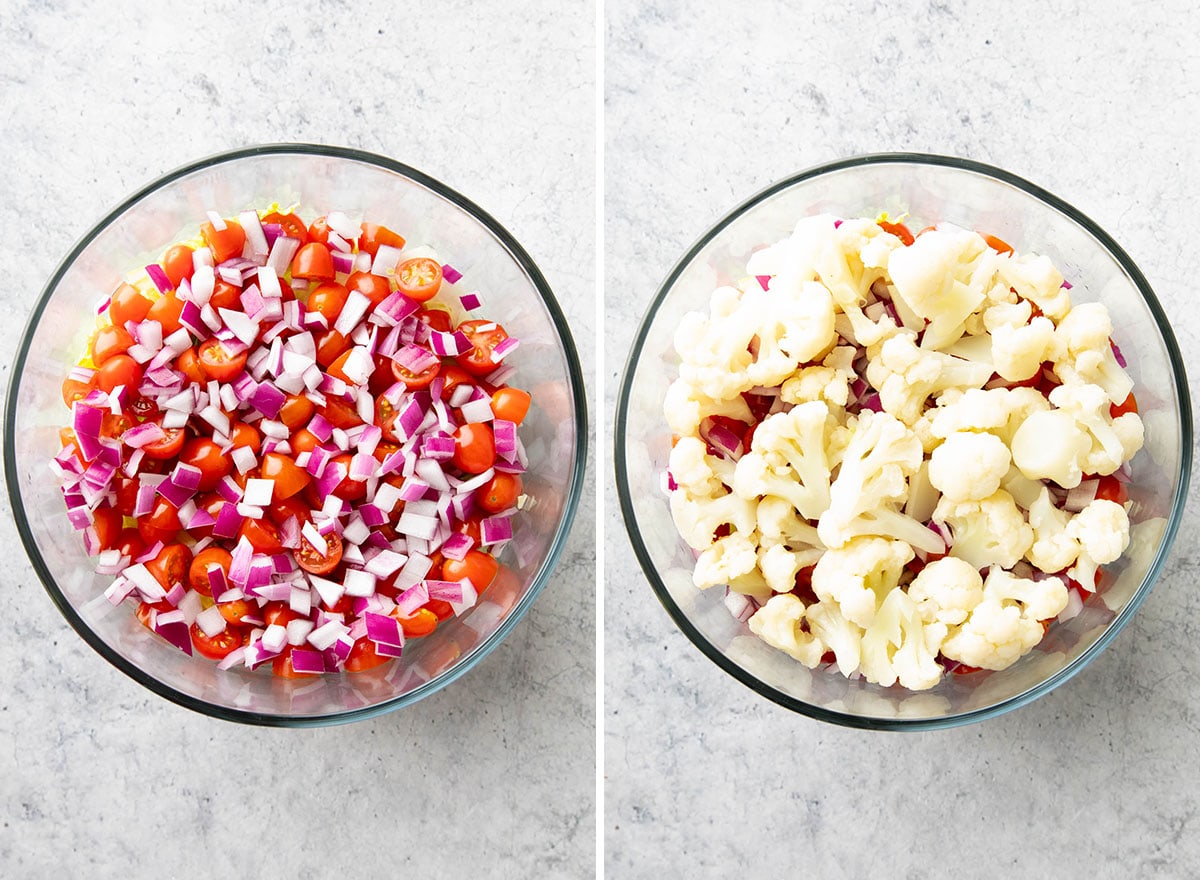 Layer 4: Cauliflower
For the fourth layer, you can use cauliflower or broccoli, but I find that cauliflower compliments the creamy dressing so well.
Layer 5: Peas
Simply thaw a bag of frozen peas for the fifth layer of vegetables. Make sure to pat the peas dry so the salad isn't too soft or mushy.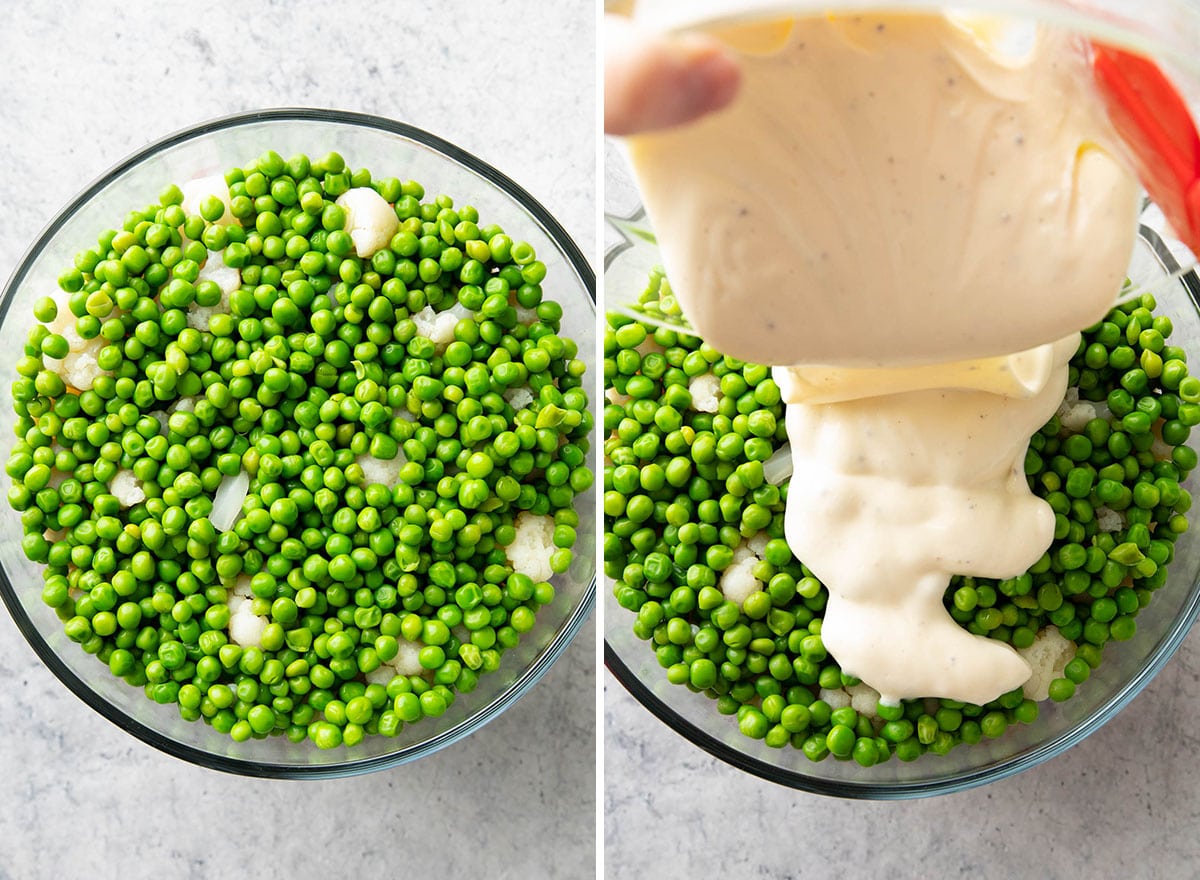 Layer 6: Salad Dressing
Now, grab the homemade dressing you just made for this 7 layer salad. Spread the dressing into an even layer.
Layer 7: Toppings
The seventh layer includes a tangy layer of shredded cheddar cheese and bacon.
This is garnished with fresh dill and green onions for bright color.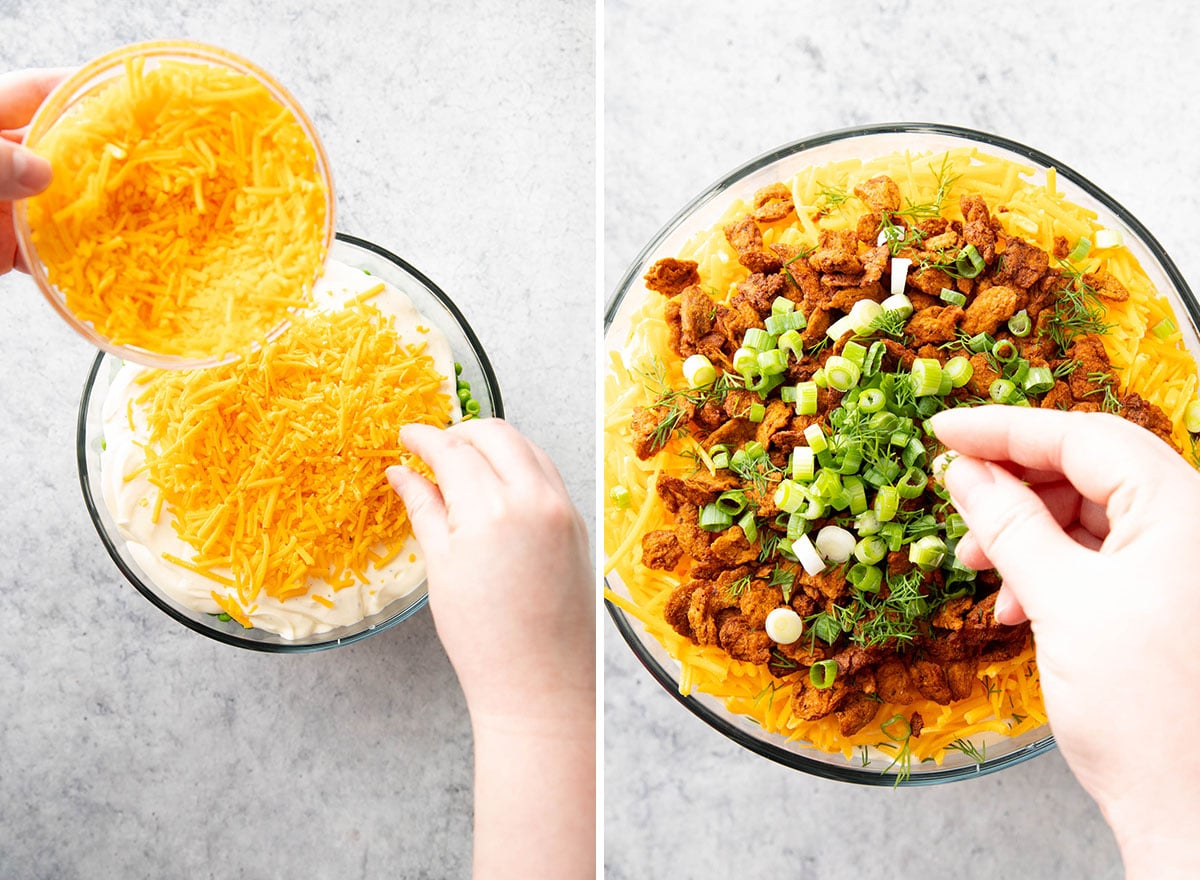 Enjoy the tastiest and most gorgeous seven layer salad!
Q&A
Can you make 7 layer salad the night before?
Yes, you can, but I recommend keeping the dressing and toppings layers separate and adding only before serving for best results.
This salad is best served within 1 day of assembling.
How Long Does 7 Layer Salad Last in the Fridge?
The 7 Layer Salad lasts about 2-3 days in the fridge. However, serving the first day or two is best.
Can I change any of the ingredients in this salad recipe?
Yes, you can! In fact, I'd encourage it after trying this recipe as is. If you still want to make changes, feel free.
But this recipe is best as-is. I always encourage changes after you try the original. 😉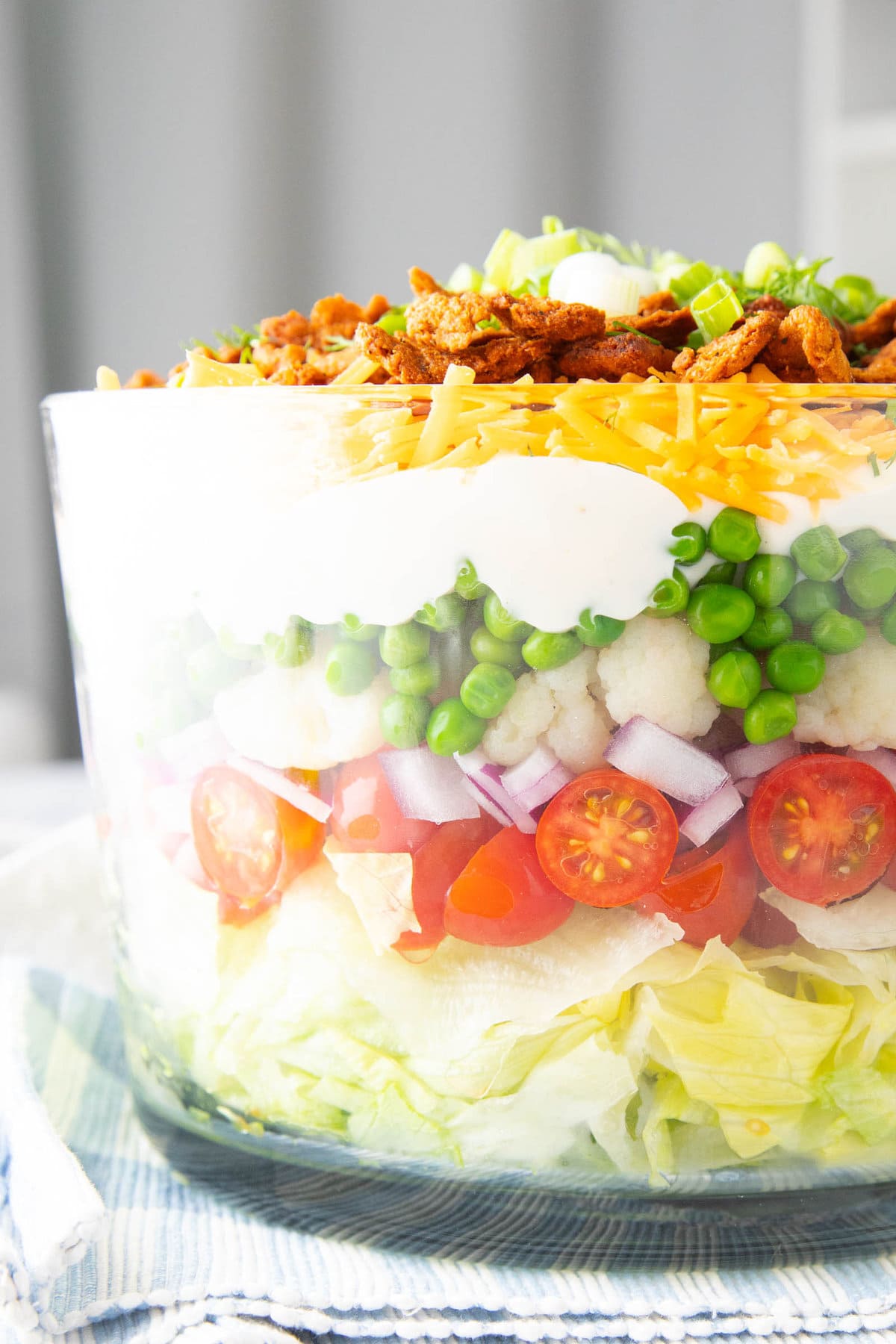 Tools You Need
Our Favorite
Amazing Salad Recipes
Do you love it?
This recipe was so fun to make! I hope you have as much fun as Erik and I did. Remember to take a pic of your creation and tag us @beamingbaker and #beamingbaker on Instagram, Facebook, and Pinterest! 'Til next time…
Sending you all my love and maybe even a dove, xo Demeter ❤️
Print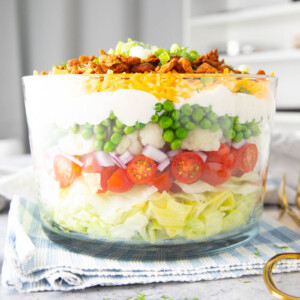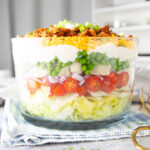 7 Layer Salad
---
Description
Sharp cheddar cheese, creamy dressing, salty bacon and crisp vegetables make for the delicious & beautiful 7 Layer Salad. Delicious as a side or main, goes well with soup and bread!
---
Tools Needed
Dressing 
1 cup

mayonnaise

¼ cup

sour cream

2 tablespoons

grated parmesan cheese (optional)

1 ½ tablespoons

sugar
Salt and pepper, to taste
Salad
1

head lettuce – rinsed, dried, and shredded or chopped

2 cups

grape tomatoes, halved

½ cup

red onion (about

1

onion), chopped

2 cups

chopped vegetables of choice (cauliflower, artichoke hearts, celery, etc.) – I used cauliflower florets – some folks prefer hard boiled eggs instead for this layer.

1

(10 ounce) package frozen peas, thawed
Topping
8

–

10

oz shredded cheddar cheese

¾ cup

ready to eat bacon of choice (I used vegan bacon)
Fresh dill and green onions, chopped
---
Instructions
Set aside a glass bowl such as this glass trifle bowl. 
Add Dressing ingredients to a medium bowl: mayonnaise, sour cream, parmesan cheese, sugar, salt and pepper. Whisk until well mixed. Keep covered in refrigerator until needed.
Layer each Salad ingredient in a single, even layer in the bowl: lettuce, grape tomatoes, red onion, vegetables of choice, and peas.
Retrieve Dressing from the fridge. Spread evenly over the salad.
Sprinkle Topping ingredients over the dressing: cheddar cheese, bacon, fresh dill and green onions.
Cover and store in the refrigerator until chilled. Enjoy!
Prep Time:

20 minutes

Cook Time:

0 minutes

Category:

Side Dishes, Salads, Dinner

Method:

No Cook

Cuisine:

American
More Recipes
Like this recipe? Share it with friends!
Did you make this recipe? Take a pic and share it on Instagram with the hashtag #beamingbaker & tag @beamingbaker. I'd love to see it!
This post may contain affiliate links, which allow me to make a small commission for my referral, at no additional cost to you.