Chickpea Salad Recipe w/ Cucumbers & Avocado
Surprisingly good & easy to make! Creamy avocado, refreshing lemon, and a delightful red vinaigrette coat the BEST Chickpea Salad!
A Simple & Fresh Chickpea Salad Recipe
When I was a kid, I absolutely hated eating salads. I would do anything to avoid them—like hide or pretend I wasn't hungry (yeah, right).
Now, I know the real trick that adults employ is actually making a tasty salad. Whoda thunk it? Haha.
Welcome to my simple, easy and beautifully fresh chickpea salad!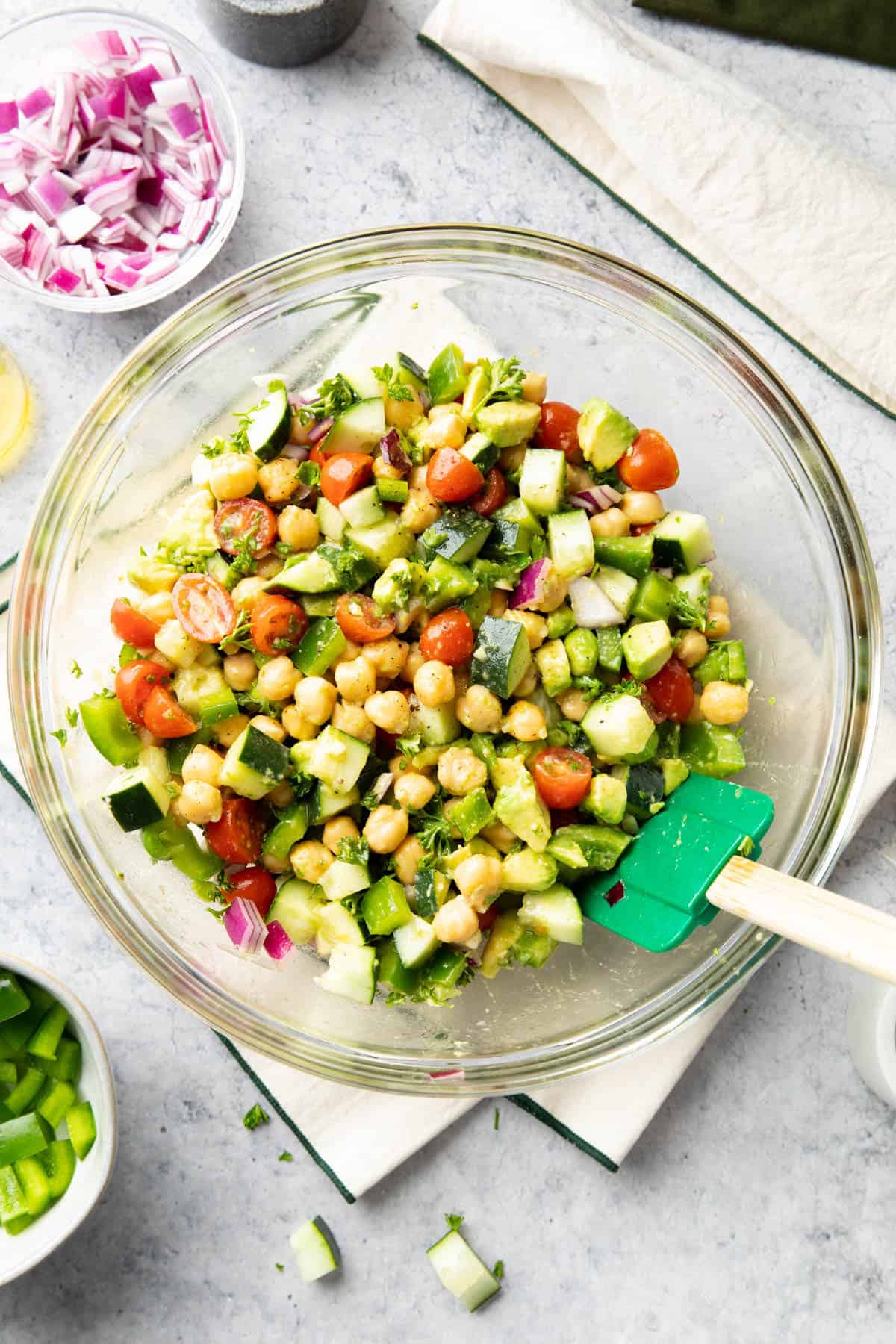 With this Chickpea Salad, you can expect…
Juicy grape tomatoes, creamy avocado bites, crunchy cucumbers—all to enhance lemon-y delicious chickpeas!
This chickpea salad is a texture party in your mouth: soft, creamy avocado plus crunchy, crisp bell peppers and cucumber combine with tender chickpeas and juicy tomatoes for the best Chickpea Salad!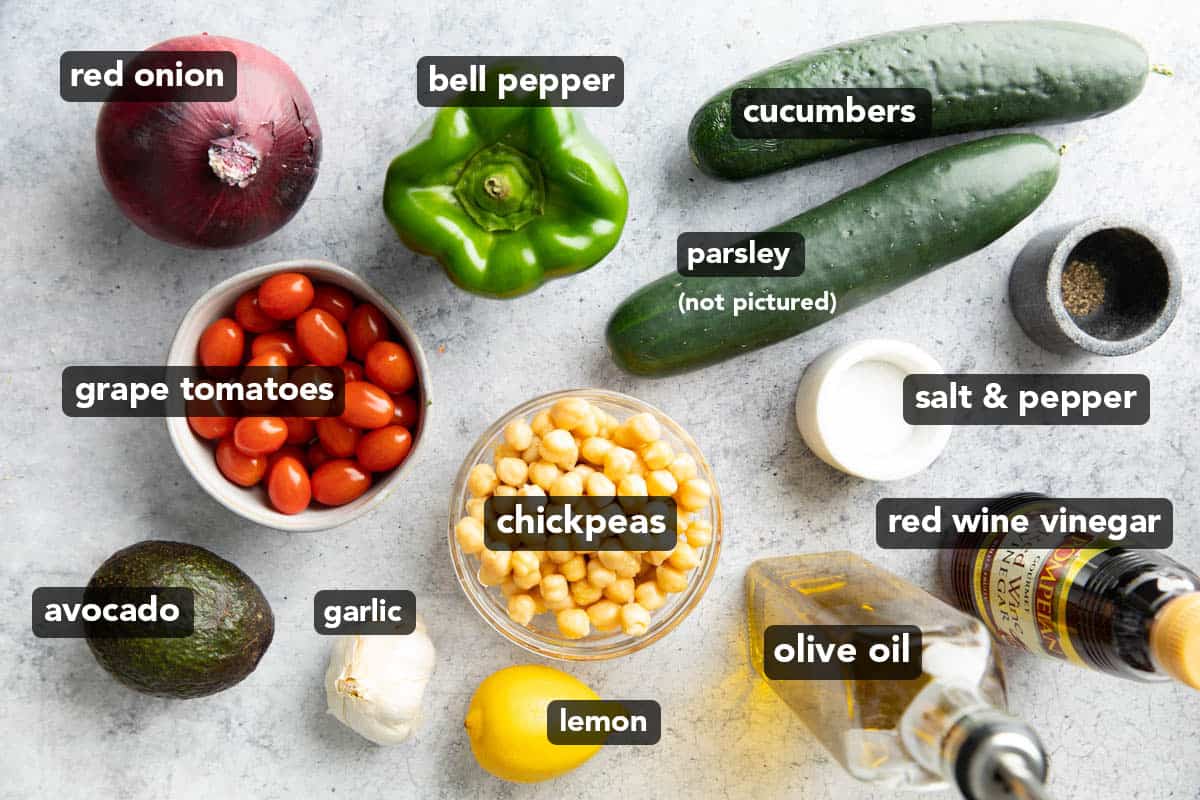 Chickpea Salad Ingredients
To make this chickpea salad, you'll need these fresh ingredients. Don't worry, once you try it, you can customize it exactly to your liking!
Chickpea Salad Dressing
Extra virgin olive oil
Fresh-squeezed lemon juice
Red wine vinegar
Garlic
Salt & pepper
Paprika – for a nice pop of flavor and beautiful color
Chickpea Salad
Avocado
Chickpeas
Red or green bell peppers
Cucumbers
Grape tomatoes
Red onions
Fresh parsley
With a little bit of tossing and chopping, you'll be well on your way to a fresh and delicious salad!
How to Make Chickpea Salad
I'm going to show you exactly how to make a chickpea salad. Follow along with me step by step with clear photos.
Then, check out the recipe card further below in the post for exact amounts for each ingredient.
First, grab a large salad bowl. Here, you'll be whisking together all of the chickpea salad dressing ingredients.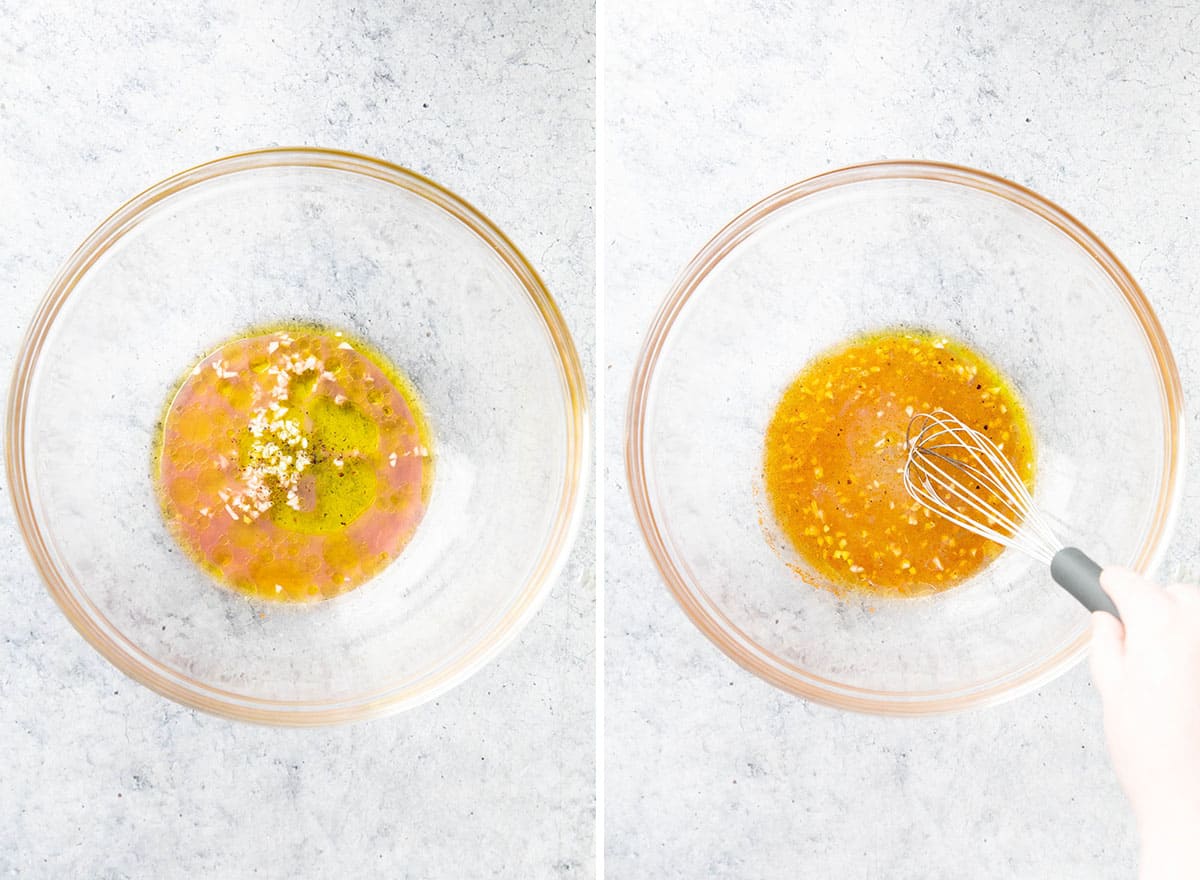 Second, dice up the avocado and add it to the large salad bowl.
Carefully stir and flip the avocado gently to coat it completely—this will keep the avocado from browning during storage.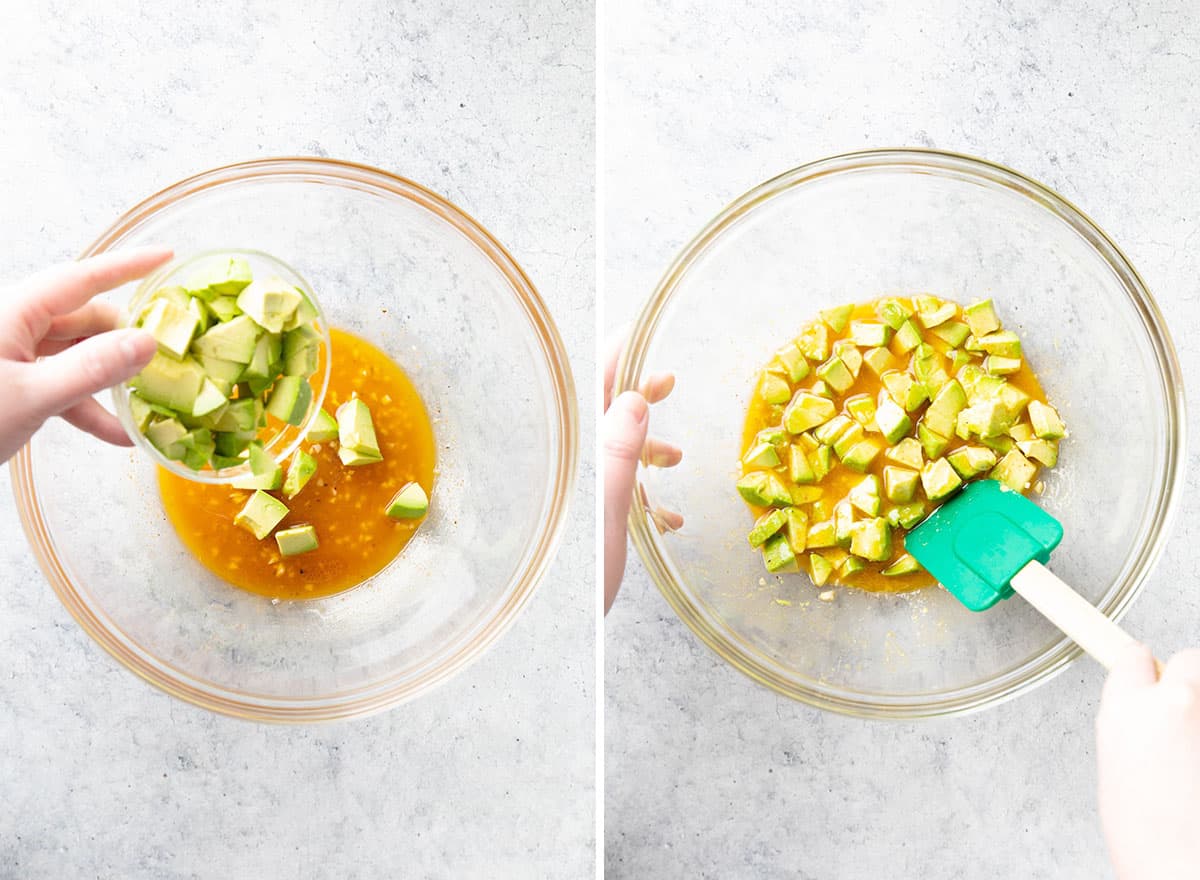 Third, add all Chickpea Salad ingredients to the bowl: chickpeas, bell peppers, cucumbers, grape tomatoes, onions, and parsley.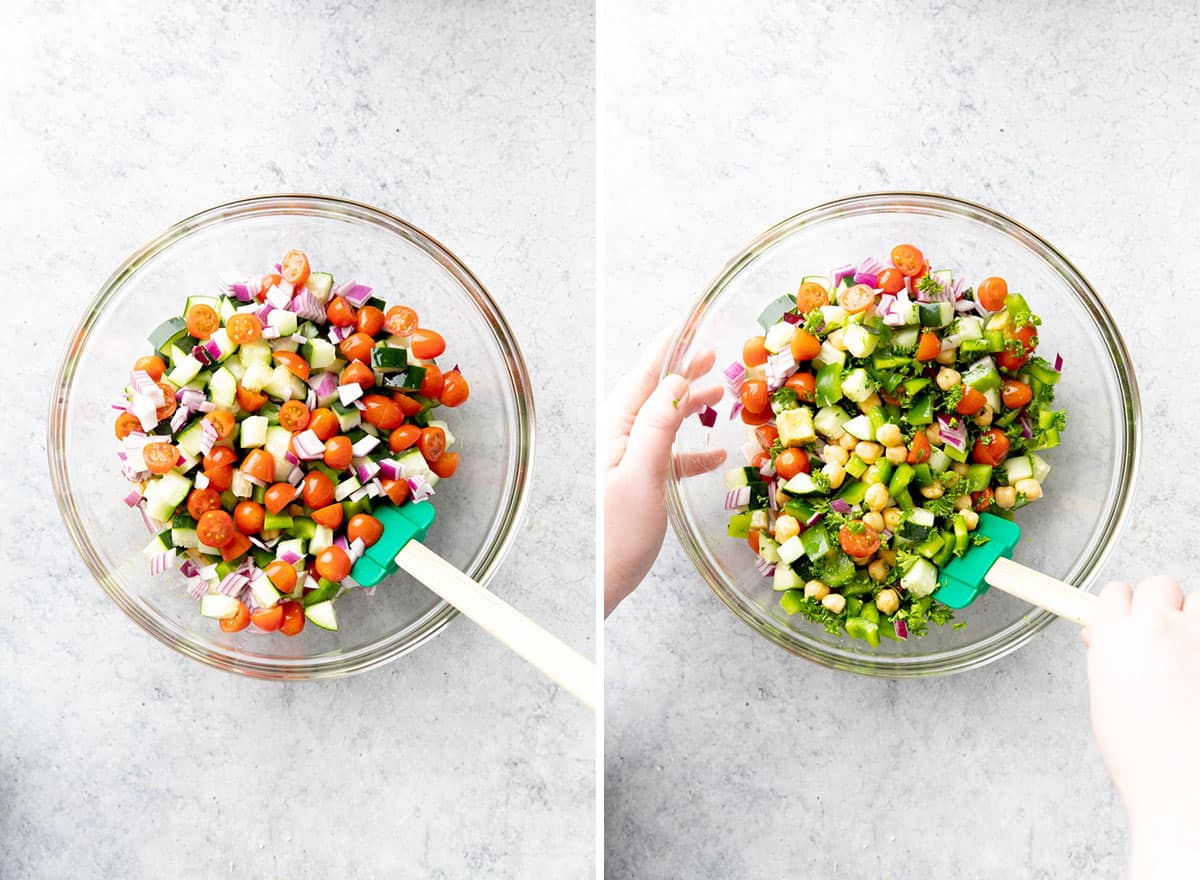 Fourth, stir and fold all ingredients together until the dressing fully coats every bit.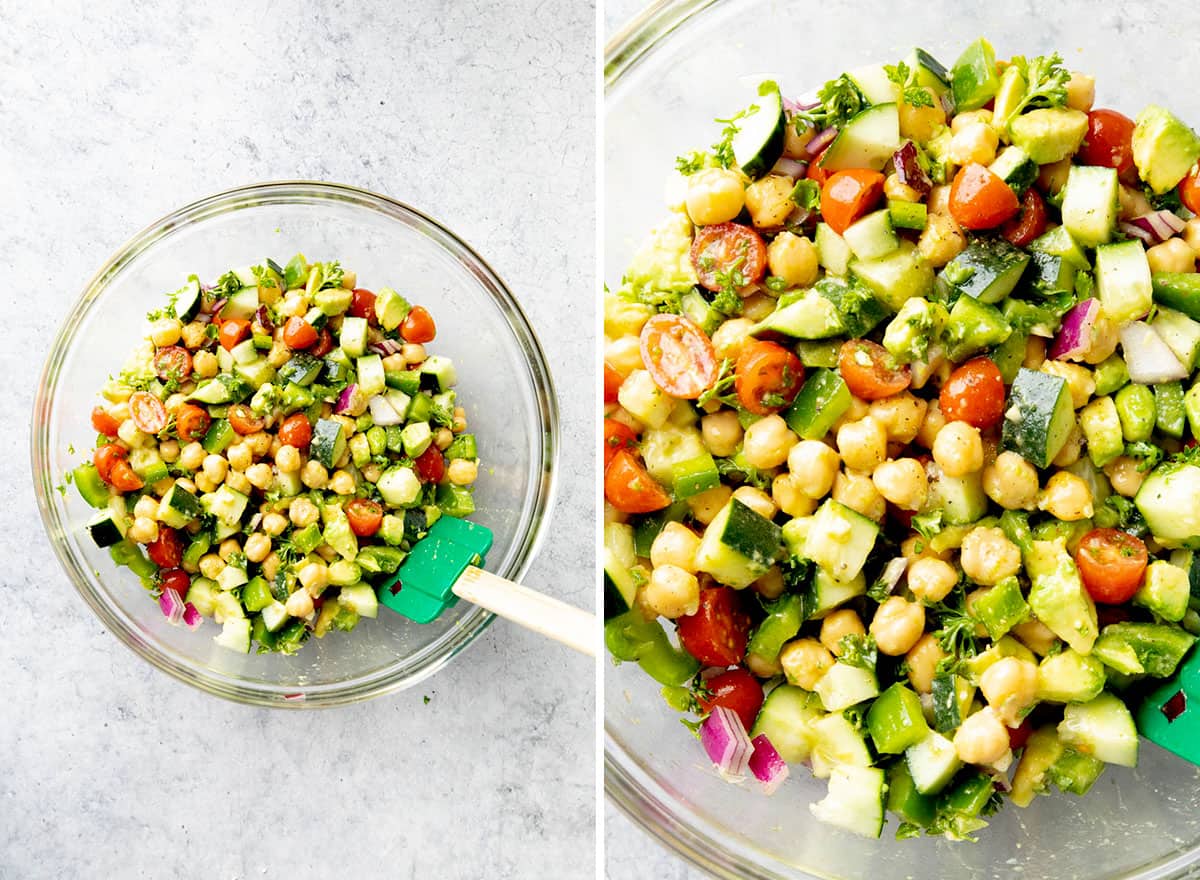 Lastly, take a taste and add any salt, pepper, and more lemon juice if you prefer.
Then, enjoy the best ever Chickpea Salad!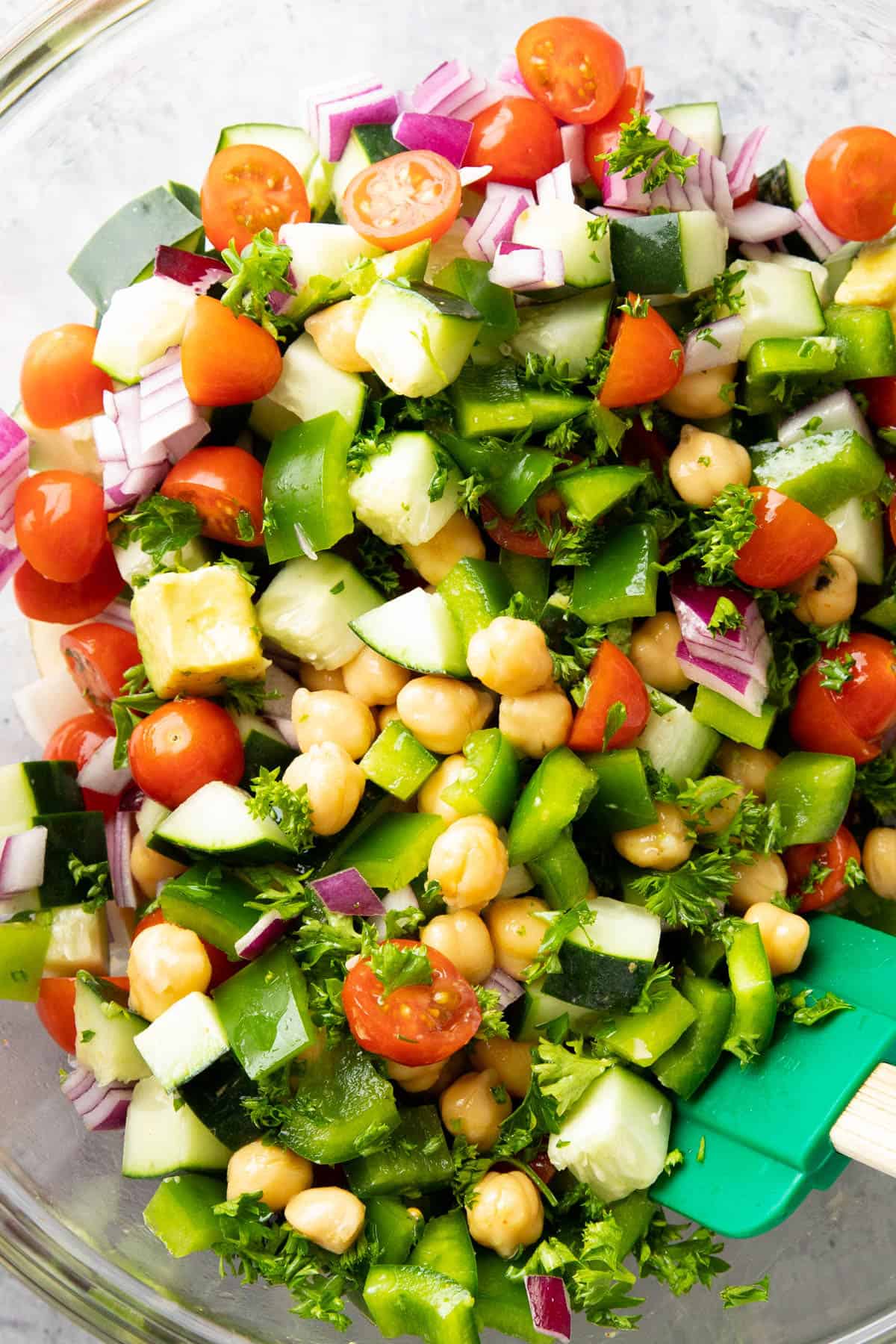 Chickpea Salad Q&A
How long does chickpea salad last in the fridge?
This chickpea salad will last 1-3 days in the fridge. Make sure to seal it in an airtight container and place it in the fridge as soon as possible to make it last.
Can you freeze chickpea salad?
Yes, you can freeze this chickpea salad for 1-3 months. The less it stays frozen, the better it will taste. Just keep in mind, the texture won't be nearly as good once frozen.
Is chickpea salad healthy?
This chickpea salad recipe is on the healthier side, as it's packed with healthy fats like omega-3 fatty acids and vitamins such as vitamin C, E, and K from the avocado and olive oil.
Meanwhile, fiber-rich chickpeas aid with better digestive health and are packed with vitamins and minerals.
This entire recipe is made with just 2 tablespoons of olive oil for 4 main course-sized salads or 8 side salads!
The bounty of vegetables in this salad alone will keep you rich in vitamins and minerals: Vitamin C-packed bell peppers, antioxidant-rich tomatoes, hydrating cucumbers, nutrient-rich onions, and Vitamin K-packed fresh parsley!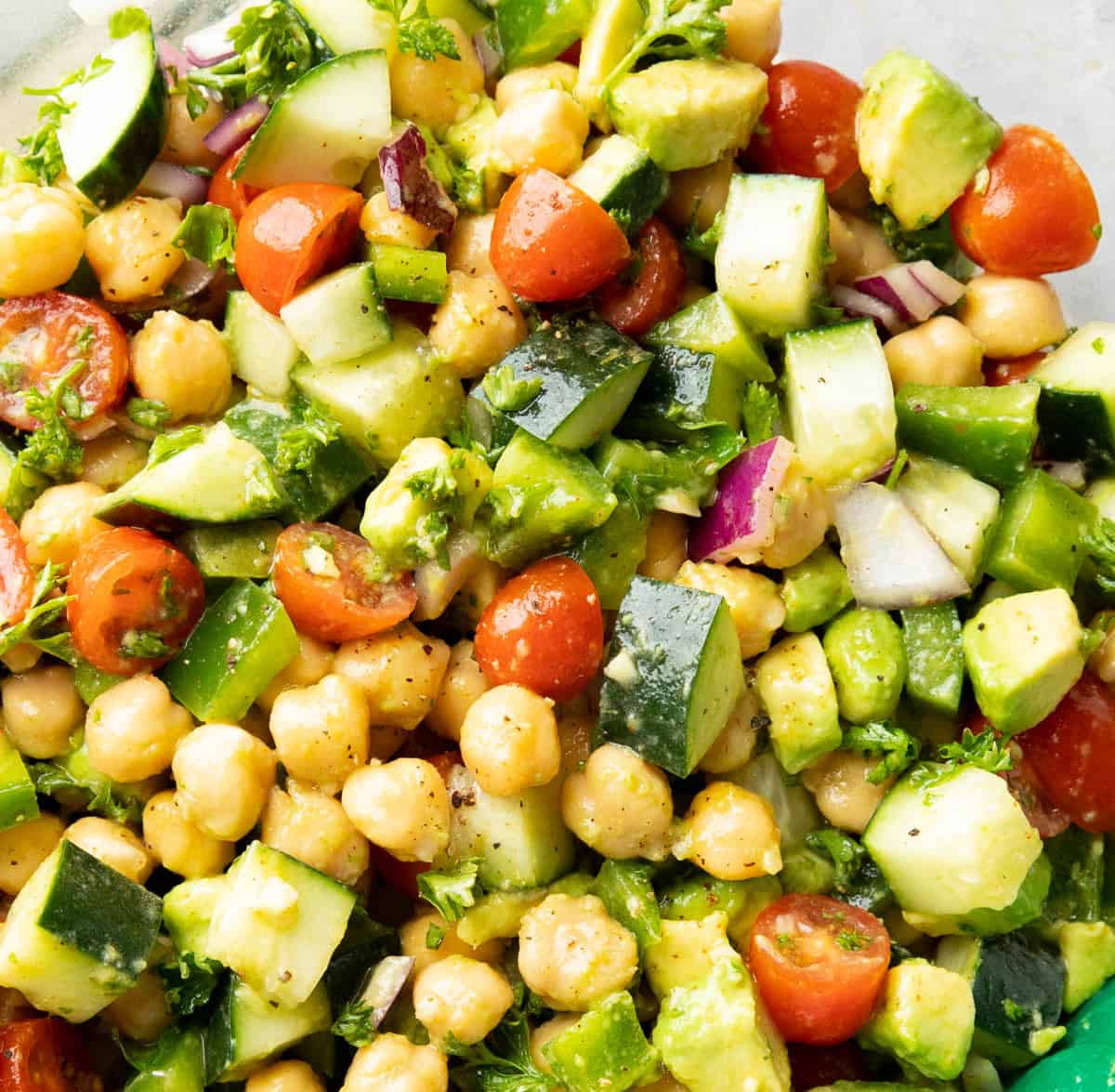 What to Serve With Chickpea Salad
Add Protein for a Full Meal
You can add about 4 oz of your favorite protein either cooked and folded in (once cooled) or on the side. I like tofu and feta crumbles.
Serve with fancy bread & sides for a lighter meal
I love making my garlic toast and roasted bell peppers to serve with this recipe. They both add a flavorful oomph to the meal that keeps it light, yet filling.
As a delicious side to a main dish…
Erik always asks me to make these mushroom quesadillas to go with this recipe.
The next night, he'll whip up a batch of this incredible pesto pasta and serve it with leftover chickpea salad.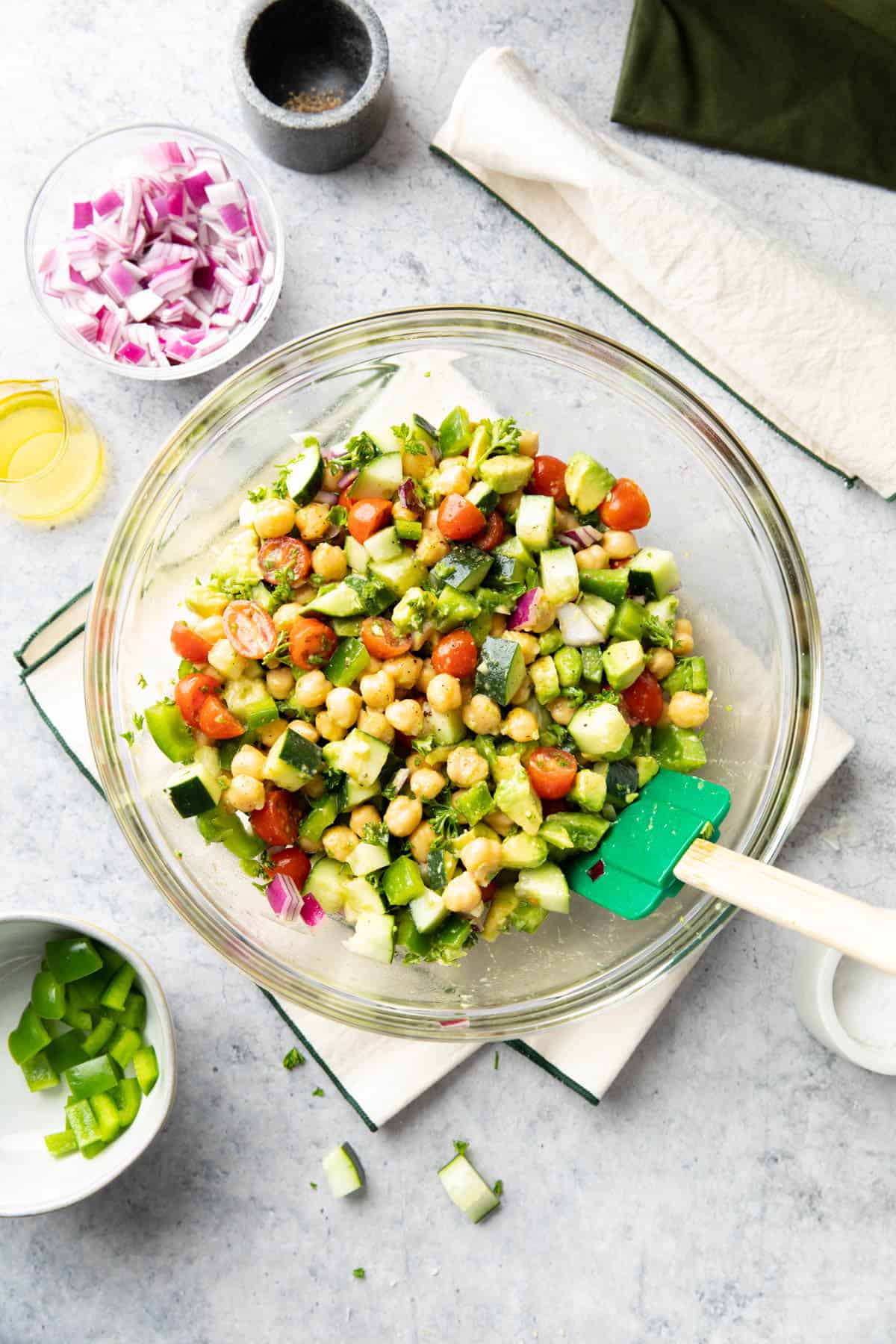 More Plant-Based Recipes
Tools You Need
Two ChickPeas in a Pod
I hope you and your loved ones feel like two chickpeas in a pod with this easy salad recipe! Comment below & leave a rating to let me know what you think—it makes a big impact on whether or not we do more recipes like this. 'Til our next tasty kitchen adventure…
Sending you all my love and maybe even a dove, xo Demeter ❤️
Print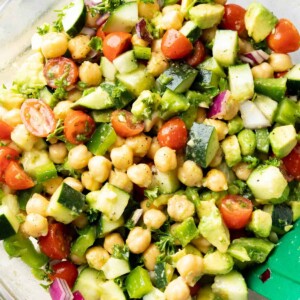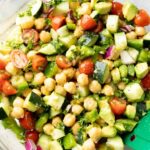 Chickpea Salad Recipe w/ Cucumbers & Avocado
---
Description
Surprisingly good & easy to make! Creamy avocado, refreshing lemon, and a delightful red vinaigrette coat the BEST Chickpea Salad!
---
Salad Dressing
2 tablespoons

extra virgin olive oil

1 ½ tablespoons

fresh-squeezed lemon juice

1 tablespoon

red wine vinegar (optional, or use more lemon juice)

1

garlic clove, minced (or

1 teaspoon

minced garlic)

½ teaspoon

salt, adjust to taste
A big pinch of freshly ground pepper

¼ teaspoon

paprika (optional, but recommended) 
Chickpea Salad
1

medium avocado, diced

1

(15-oz) can chickpeas, drained and rinsed

1

medium red or green bell pepper, diced

1 ½ cups

cucumber, diced

1 cup

grape tomatoes, halved

1/3 cup

red onion, chopped

½ cup

fresh parsley, chopped
Optional Add-ins
For add-ins, make sure to increase the salad dressing amount.

4 oz

protein of choice, such as diced tofu, etc.

1 oz

cheese of choice, such as feta, etc.
---
Instructions
In a large bowl, whisk together Salad Dressing ingredients.
Add diced avocado, then stir and flip gently to completely coat.
Add all Chickpea Salad ingredients to the bowl.
Stir and fold gently until evenly coated and well mixed.
If needed, add salt, pepper, and more lemon juice to taste.
Notes
Storing Instructions: Store chickpea salad in an airtight container in the refrigerator for 1-3 days.
Freezing Instructions: Store in an airtight, hard container in the freezer for 1-3 months. Allow to thaw overnight in the refrigerator before enjoying.
How to make Vegan: Keep recipe as-is.
How to make Gluten Free: Keep recipe as-is.
Prep Time:

10 minutes

Cook Time:

0 minutes

Category:

Salads, Main Dishes

Method:

No Cook

Cuisine:

Mediterranean
More Vegetable-Rich Recipes
LIKE THIS RECIPE? SHARE IT WITH FRIENDS!
Did you make this recipe? Take a pic and share it on Instagram with the hashtag #beamingbaker & tag @beamingbaker. I'd love to see it!