Sweet, buttery rolls envelop mouthwatering layers of melted cheese and zesty pepperoni topped with garlic parmesan butter for the best Pizza Sliders!
With crispy edges and soft, pillowy layers, these pizza sliders will make dinner no problem with the tastiest ever solution.
Think: gooey layers of cheese and loads of your favorite pizza toppings all nestled in soft, sweet Hawaiian rolls and topped with buttery garlic parmesan topping. *Happy sigh*
Did I tell you Erik and I made these and literally had to freeze the leftovers so we could resist eating them all at once?
Psst… freezing these pizza sliders still couldn't keep us away for long. That's how good this recipe is, folks.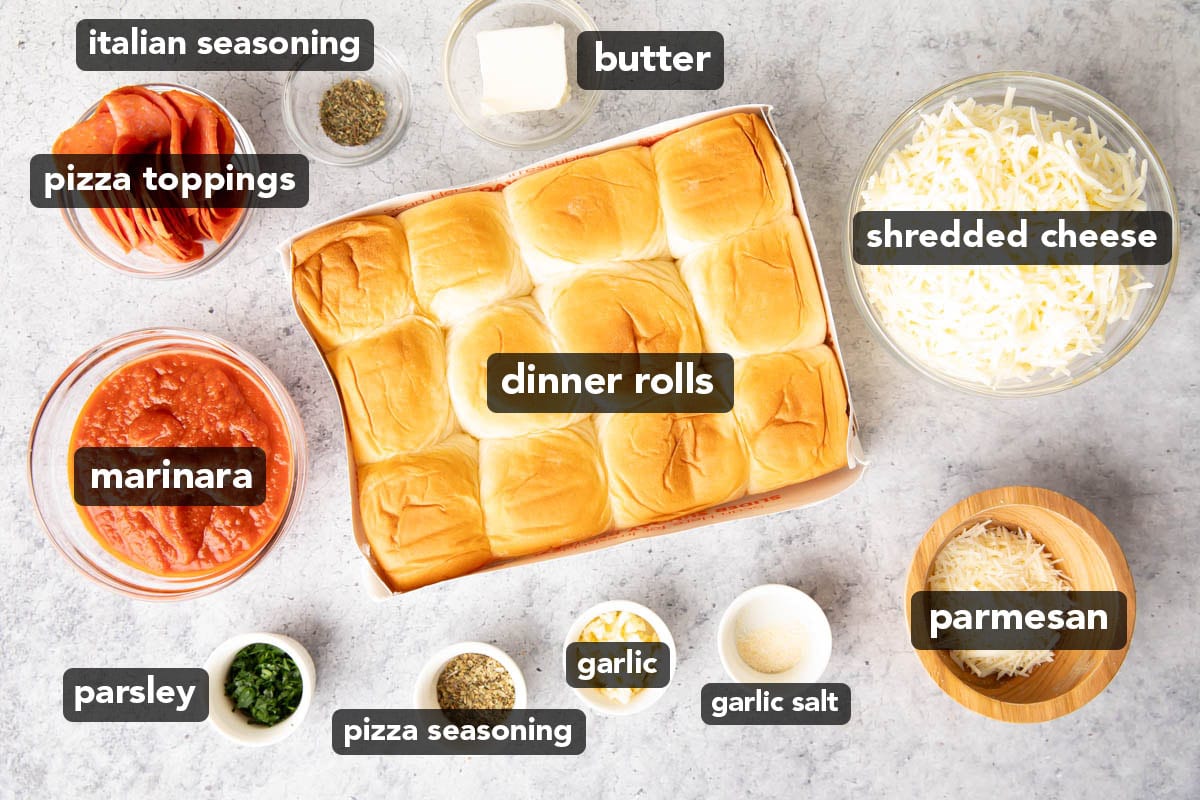 What You'll Need to Make Pizza Sliders
With simple and easy ingredients that you can swap to your liking, this pizza sliders recipe will satisfy the whole family. Here's what you'll need to make them:
Rolls: you've got to make these pizza sliders with Hawaiian rolls at least once—the sweetness and plush texture is amazingly good
Marinara or pizza sauce
Cheese: you can use shredded cheese or sliced cheese, but I love how shredded cheese melts and spreads
Pizza toppings: choose your favorites and see customization ideas below!
Pizza seasoning & Italian seasoning
Butter
Garlic
Salt: or use garlic salt for an extra tasty treat
Parmesan: use freshly grated parmesan
How to Make Pizza Sliders
Let's learn how to make pizza sliders together with the step by step photos below.
Feel free to leave any questions you have by commenting at the bottom of the post. 😉
First, preheat the oven to 350°F and coat a 9×13 baking dish in oil or nonstick spray.
Start the pizza sliders by carefully setting the sheet of dinner rolls on a cutting board, being careful not to separate any rolls.
Slice off the top of the rolls.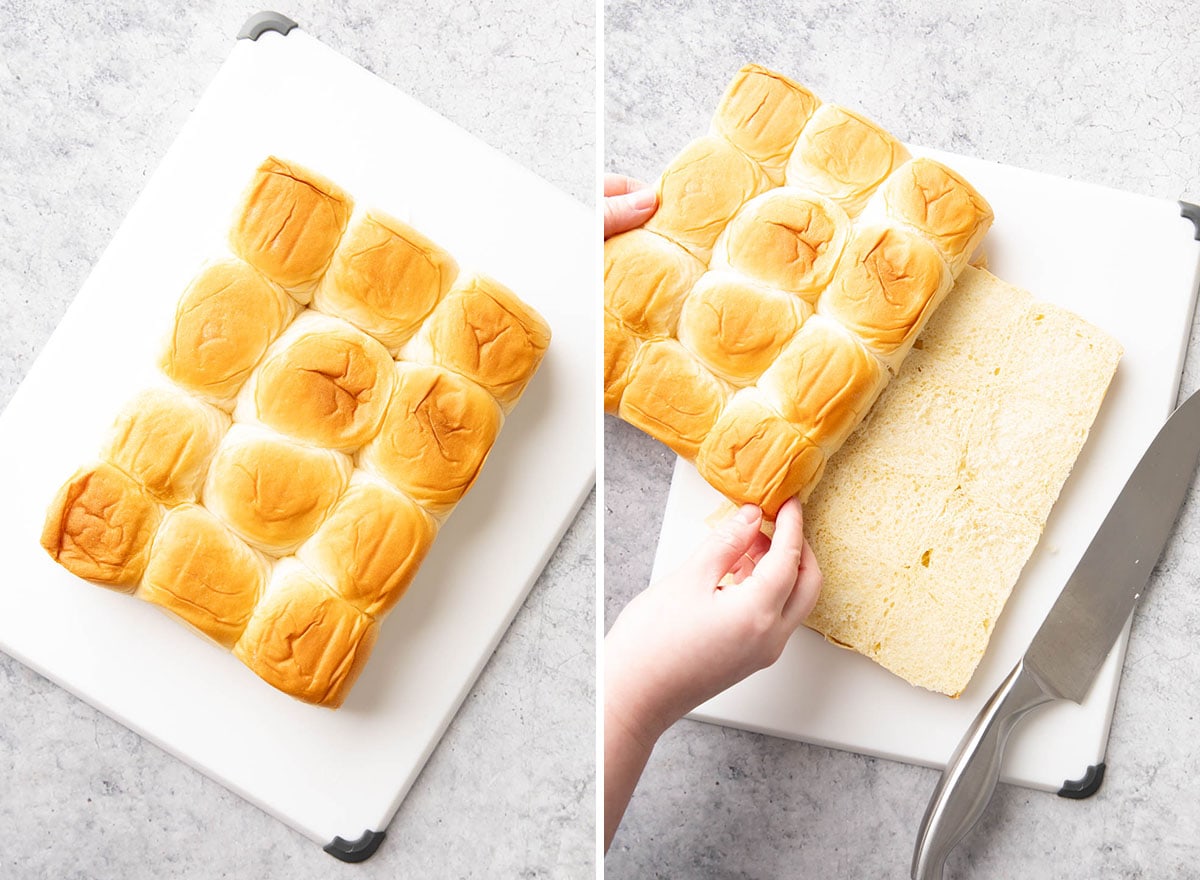 Set the bottom layer of rolls into the coated baking dish.
Using a large spoon, spread the marinara across the rolls.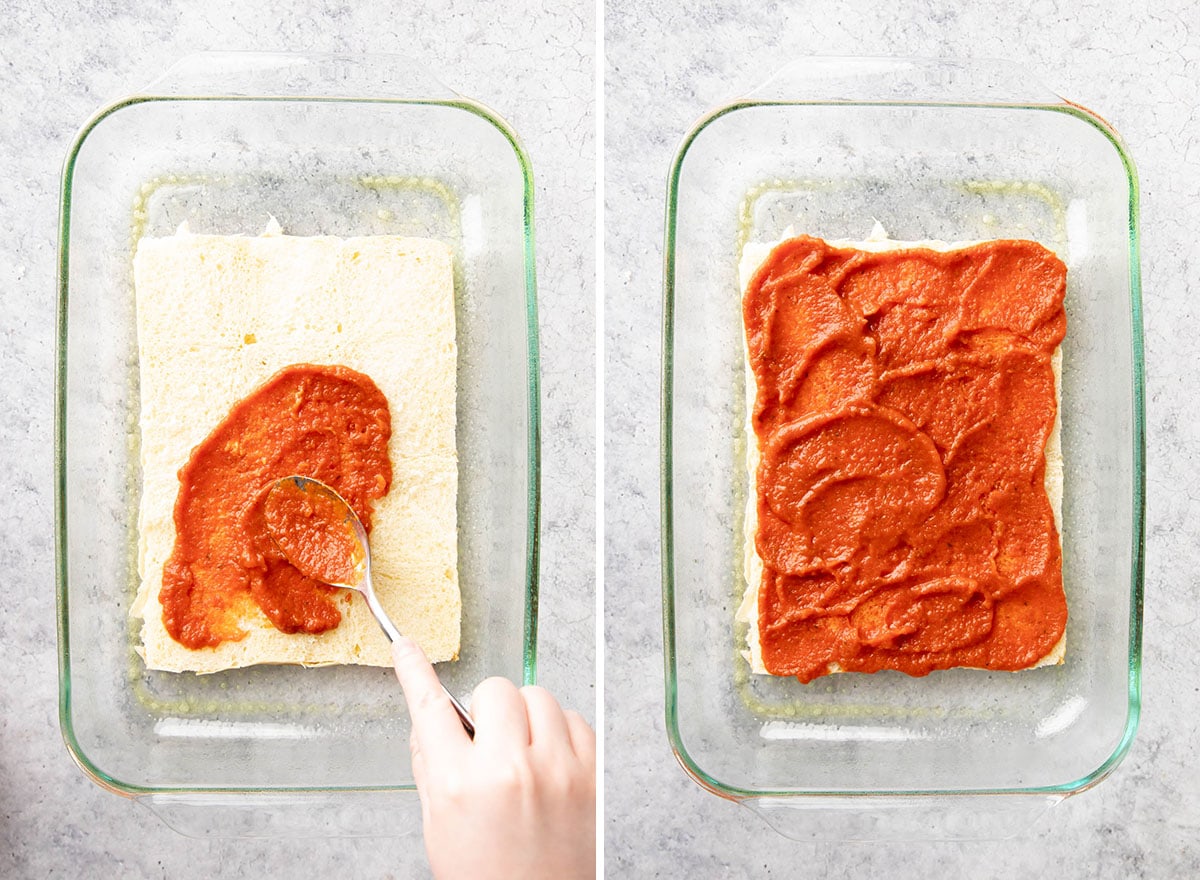 Now, sprinkle half of the cheese over the marinara.
Then, top the cheese with your favorite pizza toppings.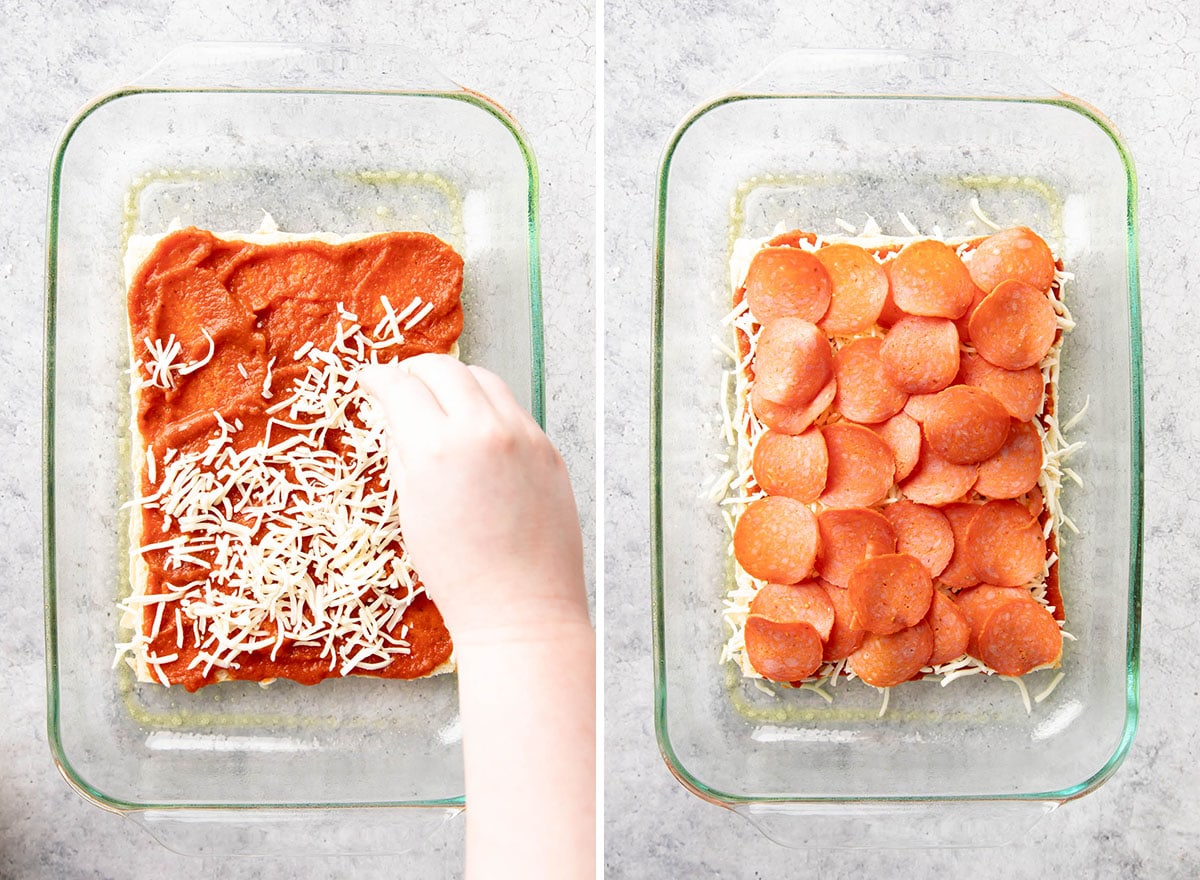 Sprinkle the remaining cheese over the pizza toppings.
Next, evenly sprinkle the pizza seasoning over the cheese and top with the top layer of Hawaiian rolls.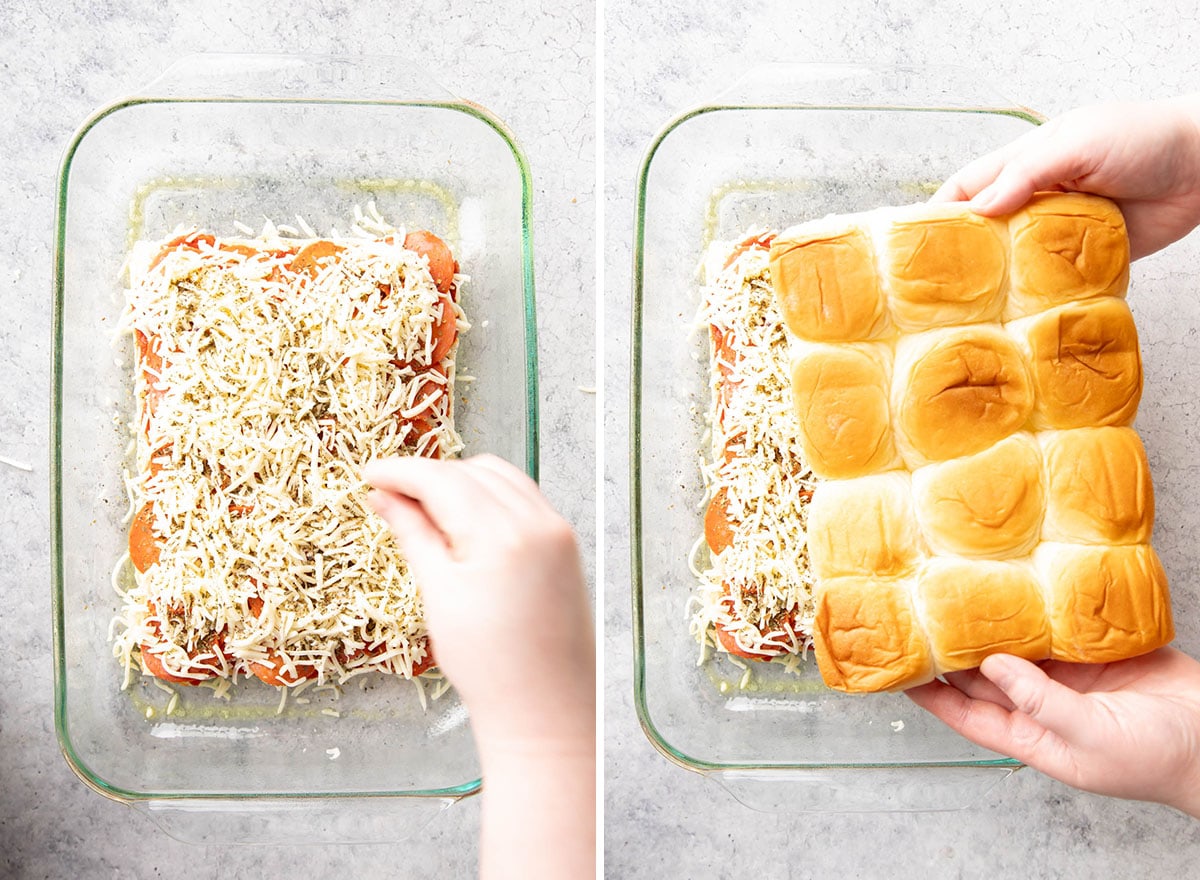 Make the garlic parmesan topping by whisking together melted butter, garlic, Italian seasoning and salt.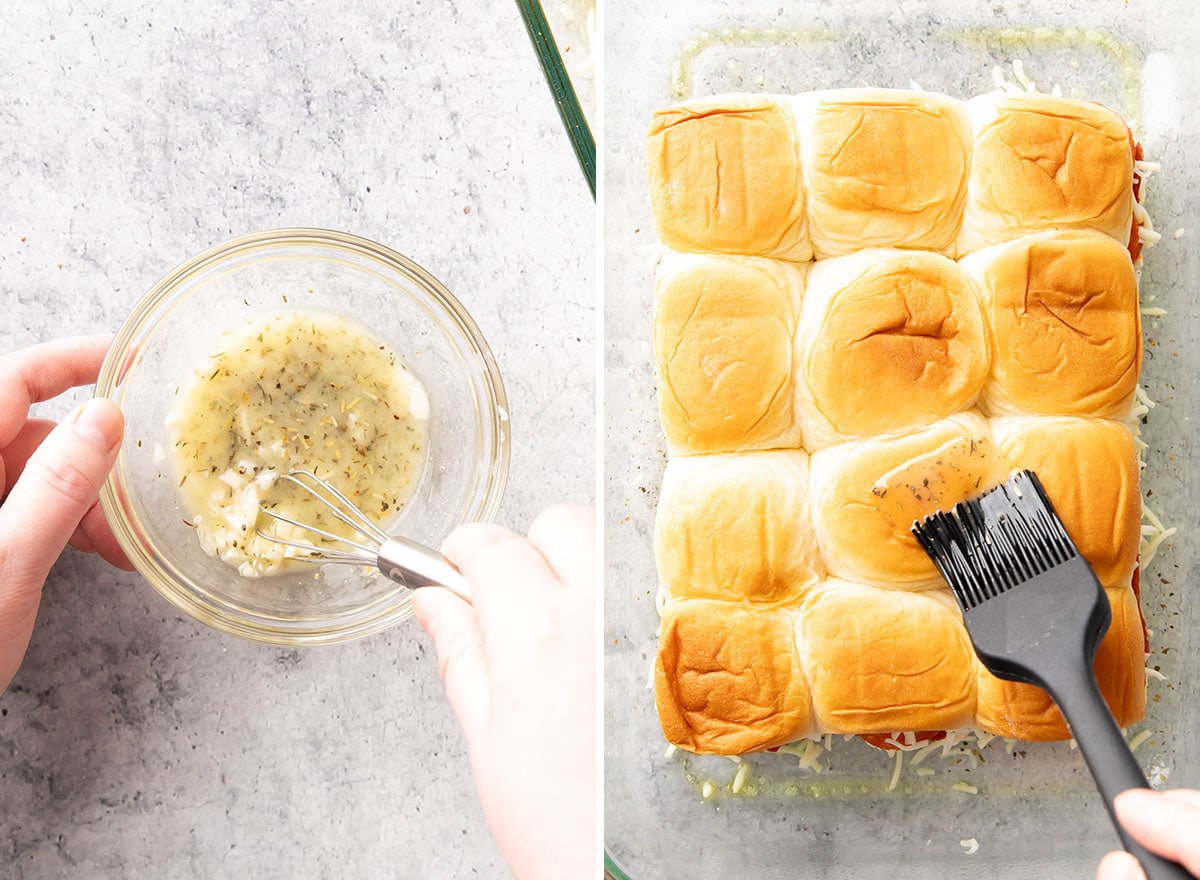 Grabbing a silicone cooking brush, brush the butter topping over the rolls. You can use the brush to scoop up minced garlic bits.
Then, top with parmesan.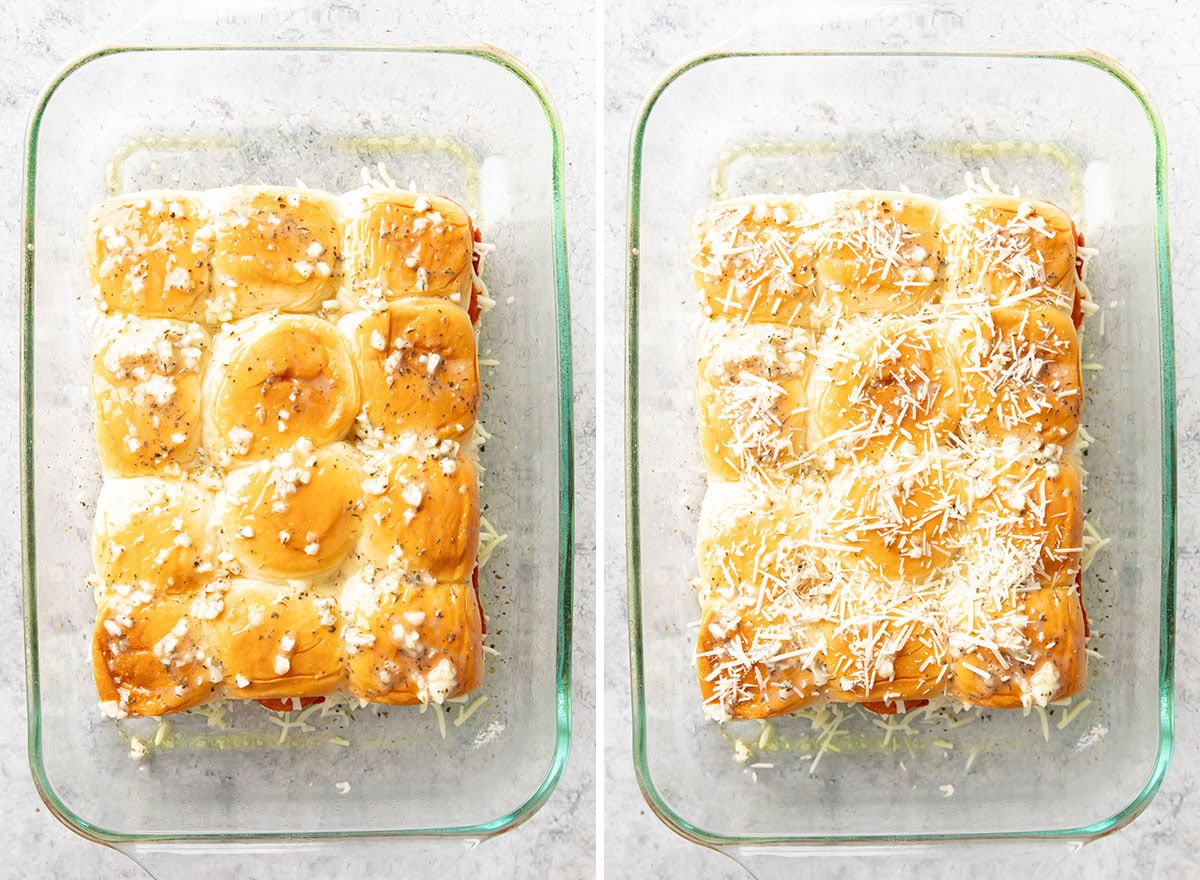 Cover with foil and bake for around 12 minutes.
Next, remove the foil and bake for 3-5 more minutes to crisp up the top.
Carefully slice and enjoy the best pizza sliders ever!
Flavor Variations
How do you customize this pizza sliders recipe? What kind of flavor variations can I try? I'll answer these questions and more!
For flavor variations, try…
Spicy Honey BBQ Sliders
Swap the marinara sauce with your favorite honey barbecue sauce
Add in a few dashes of your favorite hot sauce over the layer of honey barbecue. Try: sriracha, Cholula, Tapatio, and more!
Sprinkle lots of crushed red pepper over the garlic parm topping – but not more than you can handle! 😉
Vegetarian Delight
Keep the marinara the same
For the pizza toppings, use: ¾ cup total sliced black olives, chopped red onions, and sauteed, sliced mushrooms
Garlic Lovers' Sliders
For the pizza toppings, reserve ¼ cup of the toppings for roasted garlic, make sure to evenly disperse amongst the layers.
For the pizza seasoning, add in ¼ teaspoon garlic powder
Serve with garlic confit for an extra garlicky treat
And a side of this heavenly roasted garlic bread
Pineapple Jalapeno
For the sauce, swap to your favorite barbecue sauce (or keep marinara if you prefer)
For the pizza toppings, use ½ cup chopped fresh pineapple (or drained and patted canned pineapple tidbits) and 3-4 tablespoons deseeded, chopped jalapeños (or canned jalapeno slices)
For the garlic parmesan topping, add in 1 tablespoon deseeded, finely chopped jalapeño
Serve with pineapple salsa!
This one's spicy, so make sure you adjust it to your liking.
Generally speaking you can swap the sauce, cheese, toppings, and bread for this pizza sliders recipe.
Feel free to adjust the amounts after you've tried my pizza sliders recipe—then, you can play around with it!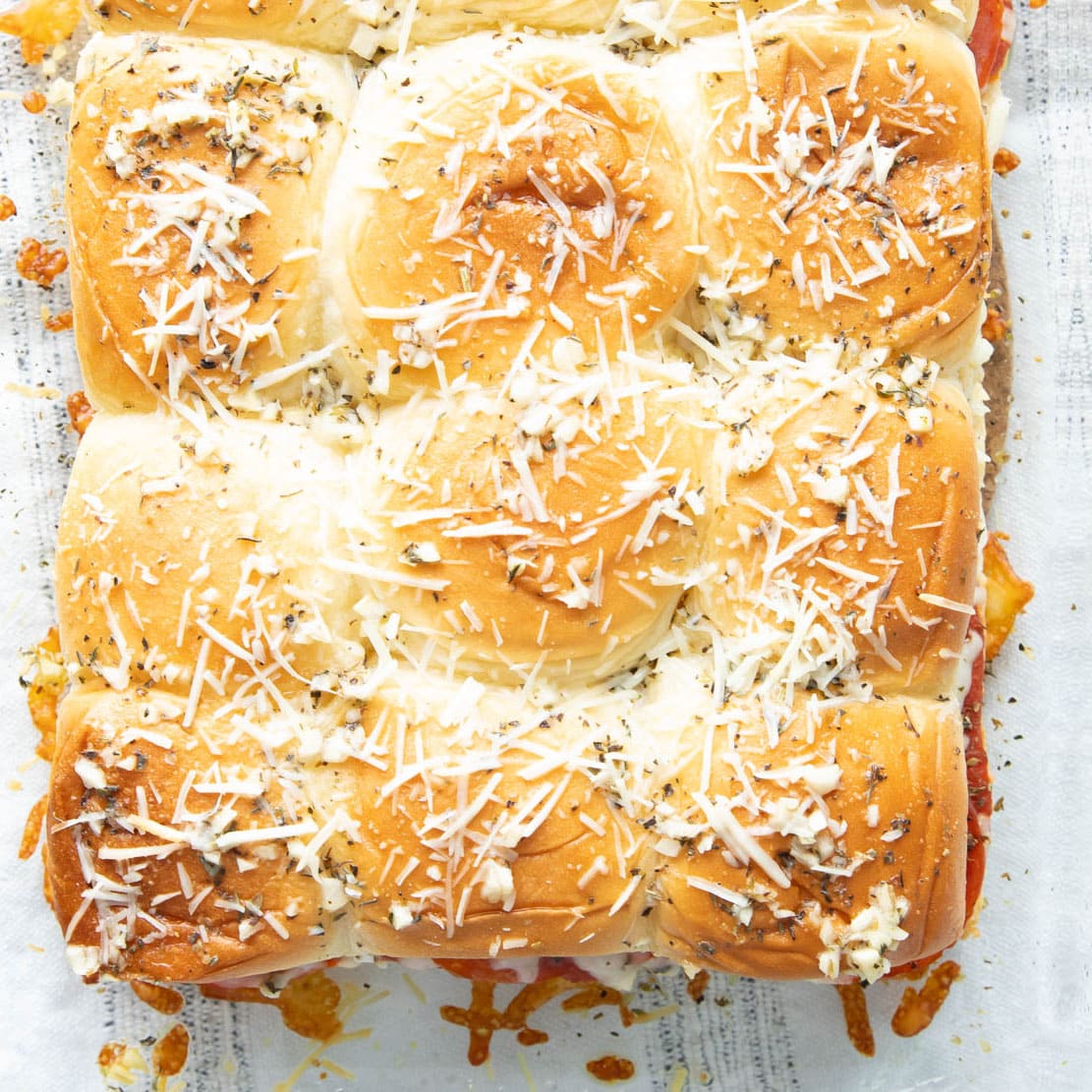 Can You Make Pizza Sliders Ahead of Time?
Yes, you can make pizza sliders ahead of time—if you bake them fully.
Once sliders are cool enough to touch, slice into individual sliders, then store in an open freezer-friendly container.
Freeze until completely chilled throughout and firm. Then, seal or close the containers and keep for 1-3 months.
To reheat: microwave individual sliders in 20-second increments until warm throughout, or thaw, then toast in the toaster or oven until hot throughout, being careful not to burn.
Unfortunately, I wouldn't recommend making these pizza sliders ahead of time without baking them—the marinara will soak into the bread and make it soggy.
What to Serve with Pizza Sliders
Garlic Bread
One of my family's favorite side dishes to serve with pizza, this roasted garlic bread is so unbelievably good—it's made with freshly roasted garlic and loads of butter and perfectly crisped bread. Also try my favorite garlic toast!
Fresh Salads
We've recently been on a salad kick with delicious recipes like Asian Salad with amazing Asian Salad Dressing, fresh pesto pasta, and this satisfying chickpea salad.
Vegetable Sides
I like lightening up this pizza sliders meal with veggies like roasted bell peppers served with creamy roasted garlic aioli, yummy roasted potatoes and carrots, or garlic parmesan potatoes to match the tasty slider topping!
Pasta & More
Why does pizza go so well with pasta?!? Try serving your sliders with this simply delish Tomato Basil Pasta, creamy Pesto Pasta Salad!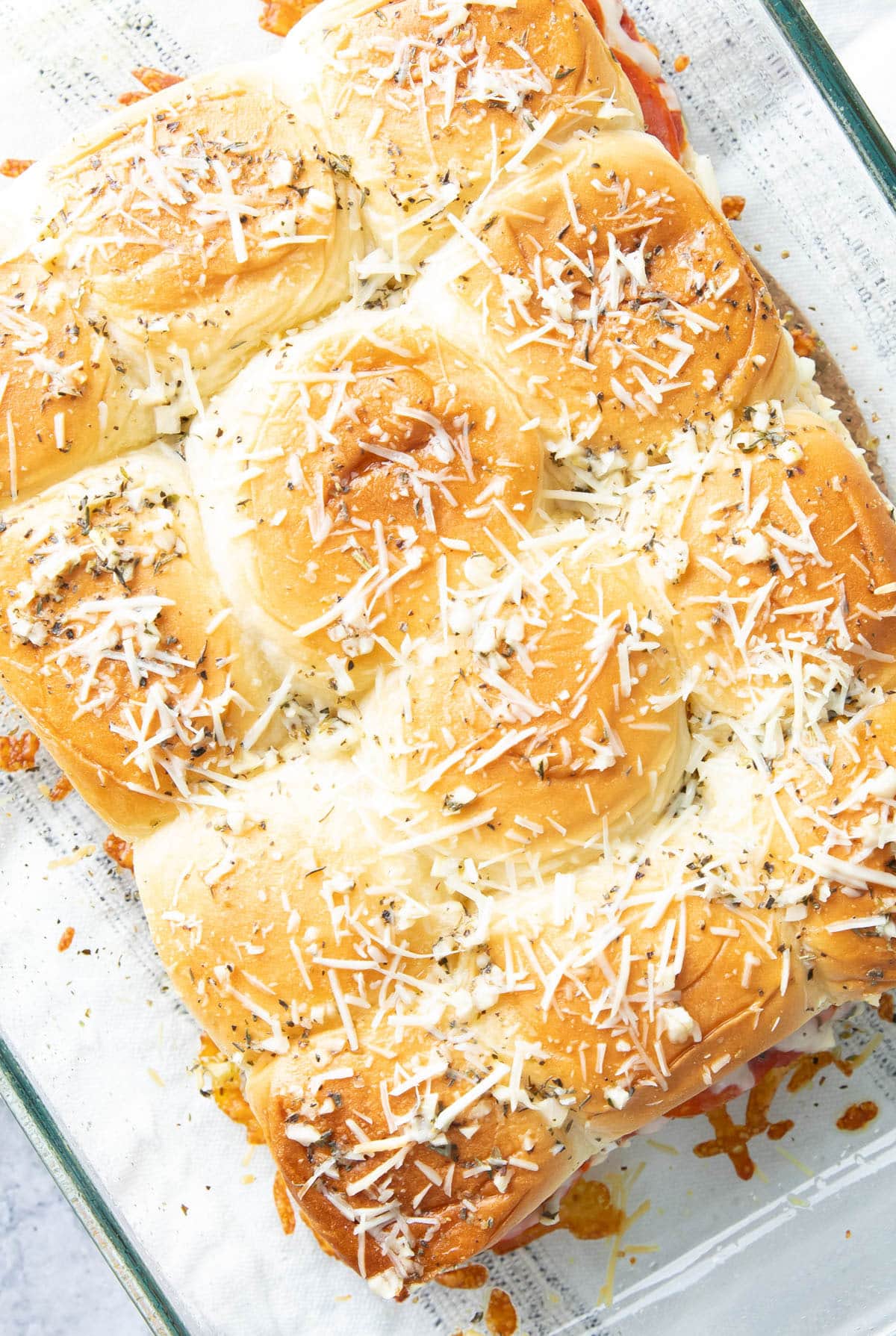 Join Us!
For more delicious recipe ideas, follow us on Instagram, Facebook, and Pinterest. If you've tried this recipe, take a pic and tag us on Instagram using #beamingbaker. We can't wait to see it!
Sending you all our love and maybe even a dove, Demeter & Erik ❤️
Also try… Tomato Sandwich • Cheese Quesadillas • Mushroom Quesadillas
Print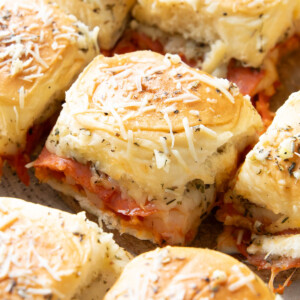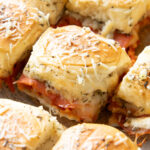 Pizza Sliders
---
Description
Sweet, buttery rolls envelop mouthwatering layers of melted cheese and zesty pepperoni topped with garlic parmesan butter for the best Pizza Sliders!
---
Pizza Slider Ingredients
1

package dinner or Hawaiian sweet rolls (

12

rolls)

½ cup

marinara or pizza sauce

16 oz

shredded cheese

½ cup

to ¾ cup pizza toppings (chopped bell peppers, pepperoni, black olives)

1 teaspoon

pizza seasoning
 Garlic Parmesan Topping
2 tablespoons

butter

2 teaspoons

garlic, minced

½ teaspoon

Italian seasoning

¼ teaspoon

garlic salt or salt, adjust to taste

1 ½ tablespoons

freshly grated parmesan
Garnish
1 tablespoon

fresh parsley, chopped
---
Instructions
Preheat oven to 350°F. Coat a 9×13 baking dish with oil or nonstick spray. Set aside for later.
Make the Pizza Sliders: Using a knife, slice horizontally through the sheet of rolls, keeping all the tops in one sheet and all the bottoms in one sheet.
Lay the sheet of roll bottoms onto the prepared baking dish. Spread marinara sauce into an even layer over the rolls.
Sprinkle half of the cheese over the pizza sauce.
Top evenly with pizza toppings.
Sprinkle the remaining cheese over the pizza toppings.
Sprinkle pizza seasoning over the cheese.
Carefully place the sheet of roll tops over the cheese. Press down.
Prepare the Garlic Parmesan Topping: Melt the butter in a small mixing bowl. Add garlic, Italian seasoning, and garlic salt. Whisk until well mixed.
Using a pastry brush, brush the Garlic Butter Topping over the rolls. Use a spoon to spoon the garlic evenly over the rolls. Then, sprinkle parmesan over the butter.
Cover the baking dish with foil and bake for about 12 minutes, taking care to not allow the foil to stick to the tops of the buns.
Then, remove the foil and bake for another 3-5 minutes to crisp the tops.
Carefully slice the sliders, using the individual rolls as a guide.
Serve with fresh parsley, a side of roasted garlic bread and tomato basil pasta. Enjoy!
Notes
Storing Instructions: Cool completely, then store in an airtight container for 1-3 days. Heat before serving.
Freezing Instructions: Cool completely, then store in a freezer-friendly container in the freezer for 1-2 months. Thaw and heat before serving.
Prep Time:

10 minutes

Cook Time:

15 minutes

Category:

Main Dishes

Method:

Oven, Cook

Cuisine:

Italian, American
Like this recipe? Share it with friends!
Did you make this recipe? Take a pic and share it on Instagram with the hashtag #beamingbaker & tag @beamingbaker. I'd love to see it!
This post may contain affiliate links, which allow me to make a small commission for my referral, at no additional cost to you.