Crispy and crumbly on the outside, rich and decadent on the inside: the perfect vegan peanut butter coconut cookies to bring you back to the days of Chick-o-sticks and your grandma's baking.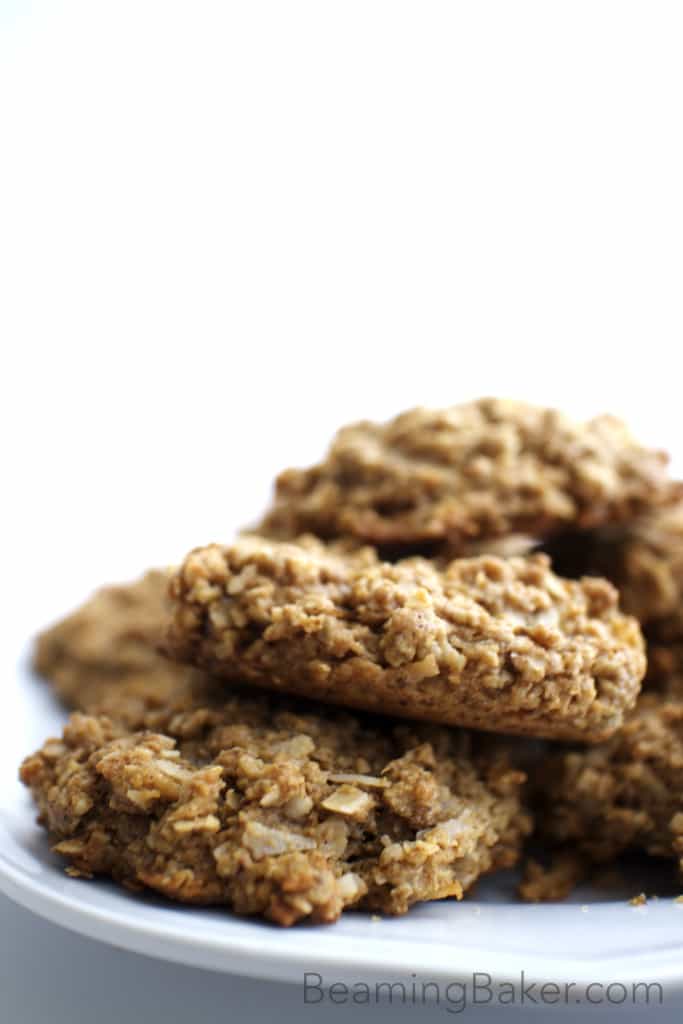 How did you come to be… my beloved, best vegan peanut butter coconut cookies? Well, the answer to that question is: not easily.
Many moons ago, I embarked and failed on my journey to peanut butter cookie nirvana. Then, a few moons after that, I tried. Again. And failed. Again. Like, with a Captial F. The tricky thing about traditional peanut butter cookie recipes is that they're deceivingly simple. I mean, how could some peanut butter, an egg, and sugar go bust? Well, many, many ways actually.
I am now an official expert in how to make a simple, small amount of ingredients go bust.
Hoo-ray.
Those gosh darn, dagnabit, insufferable, simple three-ingredient peanut butter cookies seemed to mock me. And with zest no less! Plus, it probably didn't help that I was trying to make a sugar-free version for my mom. Don't even get me started on sugar free recipes. Just, don't.
Then, I decided to scrap the whole Traditional Peanut Butter "Easy" Not Really Easy Cookie project and just go on living my life. In peace, thank you very much.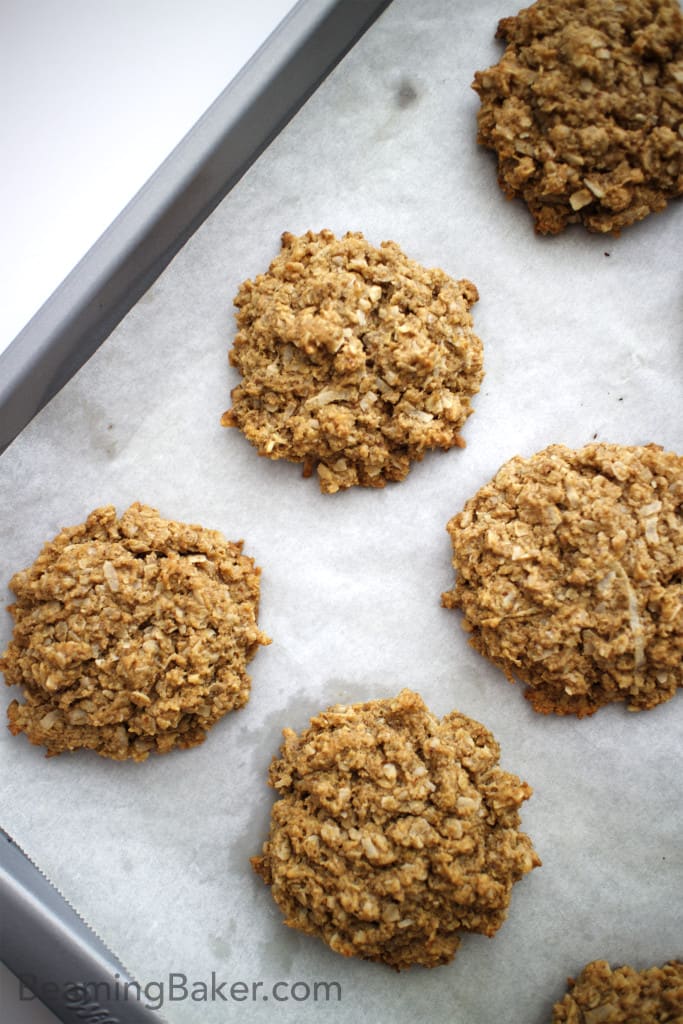 But just today, the clouds parted and the sun beamed so many beautiful things across the universe. And one of those things was these vegan peanut butter coconut cookies.
Oh, man.
I was fiddling around with my Peanut Butter Coconut Walnut Raisin Chocolate Chip Cookies (I could add more ingredients in the title, but then it might become wordy. Ahem.) This recipe has just about everything but the kitchen sink in it. Heck, that sink probably did make at least a cameo. Hi Drain! How's Sponge?
Okay, this is starting to become unappetizing.
Back to the point: I made that recipe specifically for my mom. It's a longstanding joke between us that when I bake her anything, she will ask if "next time, you can add walnuts, raisins, strawberries, cranberries, almonds…" and just a million other ingredients.
Anyway, I finished writing up my changes for the Kitchen Sink Cookies recipe and headed to the kitchen (funnily enough). As happens often in my kitchen, I go in with a recipe, fully intending to stick to the darn thing, and then…
And then I get SASSY.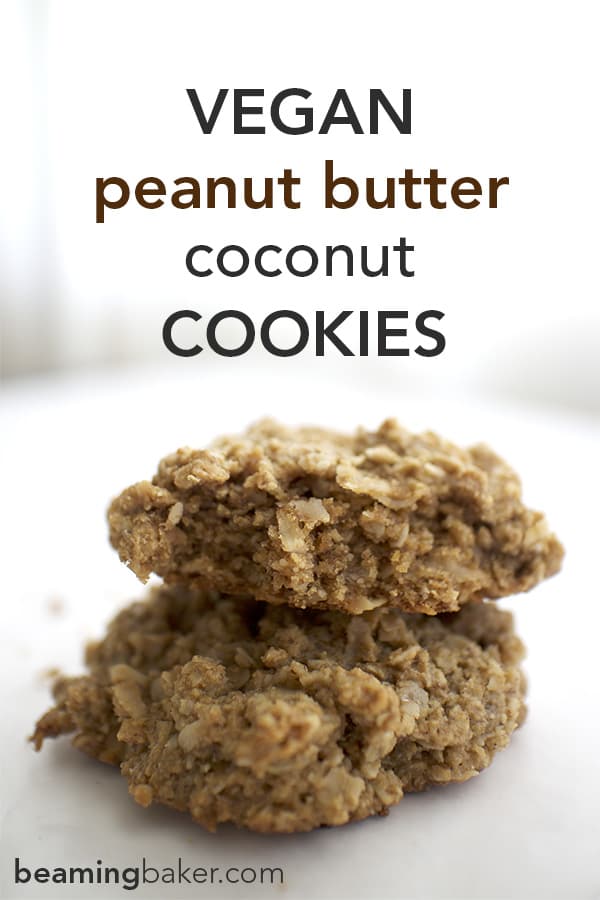 I tripled, yep tripled, the peanut butter factor. Then, I said "good day, sir!" to the walnuts. And with exceedingly unnecessary amounts of flourish, I quadrupled the coconut. YUM. Now, with the wind in my sails, I dropped numerous superfluous ingredients like they were hot. Which… they weren't because they hadn't even reached the oven yet. No matter! I have wind! Uh… in my sails!
Better yet, I figured I might as well make them vegan. Why not? I've always wanted to make the healthiest food possible and veganizing recipes (properly) helps me to sleep better at night. I mean, my family eats this stuff. I want to do right by them, you know? Okay, after-school special done, soapbox stashed.
What emerged was a glorious ode to cookies: golden-brown hills of crispy peanut butter love on the outside, and super-soft, nearly illegal levels of moist coconutty goodness on the inside.
Is this what love tastes like? YES. Is that what happiness tastes like? ABSOLUTELY. And wait, what is love's name? Vegan Peanut Butter Coconut Cookies. YAAAAS.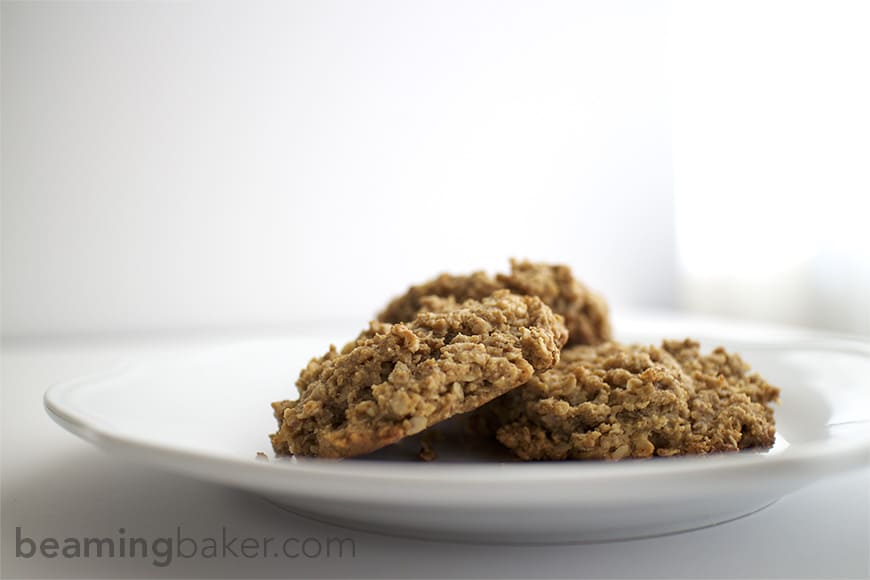 In the famous words of Erik, "DUDE, these cookies taste like they're made completely out of STREUSEL!!! You should call these Streusel Cookies!!!! Um, can I have more?" Oh Erik, so wise beyond his years. And so pithy! Boy do I like saying the word "pithy."
Afterward, we engaged in an intellectual (but not) debate about whether or not our two readers would get confused if I called these Streusel Cookies instead of Peanut Butter Coconut cookies. Then, we realized: oh geez, we'd only have to call Mom and Penny to tell them what we really meant. Ahem.
But as you can see from the title of this post: I am the winner. Score! Now go win everything too by making these vegan peanut butter coconut cookies.
Print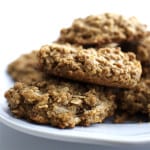 Best Vegan Peanut Butter Coconut Cookies
---
Description
Crispy and crumbly on the outside, rich and decadent on the inside: the perfect vegan peanut butter coconut cookies to bring you back to the days of Chick-o-sticks and your grandma's baking.
---
Scale
Ingredients
dry ingredients
1 ½ cup

s quick oats

½ cup

oat flour

½ cup

almond meal

1 cup

shredded, unsweetened coconut

¾ teaspoon

baking soda

¾ teaspoon

baking powder

1 teaspoon

ground cinnamon

¼ teaspoon

of salt
wet ingredients
¼ cup

melted coconut oil

1 cup

natural, unsalted peanut butter

½ cup

packed dark brown sugar

¼ cup

maple syrup

2

flax eggs: 2 tablespoons ground flax +

6 tablespoon

s warm water, stirred together and left to set for 5 mins

1 teaspoon

vanilla extract
---
Instructions
Preheat oven to 350°F. Line a cookie sheet with parchment paper or foil. Set aside.
In a medium bowl, whisk together all of the dry ingredients.
In a large bowl, whisk together all the wet ingredients.
Add the dry mixture to wet mixture. Use a rubber spatula to thoroughly fold the dry ingredients into the wet ingredients.
Scoop 2 tablespoon-sized cookie dough balls onto the cookie sheet, spaced evenly apart. You should be able to fit 8-12 cookies onto the sheet, depending on the size of sheet you're using.
Press cookie dough balls down slightly. Cookies will not spread while baking.
Bake cookies for 10-12 minutes. Check for doneness by gently lifting one cookie with a fork. If the cookie is crispy and a caramel color on the bottom, it's done. These cookies will be very soft when they're done.
Cool on the cookie sheet for 10-15 minutes, this will allow the cookie bottoms to harden up a bit. Then, if you prefer, you can move these cookies to a cooling rack to finish completely cooling.
---
Notes
Store in an airtight container for 1-2 weeks. Enjoy!
Category:

Cookies

Cuisine:

Dessert, Vegan
© beamingbaker.com. All content and images are protected by copyright. Please do not use my images without my permission. If you wish to republish this recipe, please re-write the entire recipe using your own words and include a link to this post for the recipe.
If you just love chocolate shell and ice cream sandwiches, try my Vegan Chocolate Shell Ice Cream Sandwiches!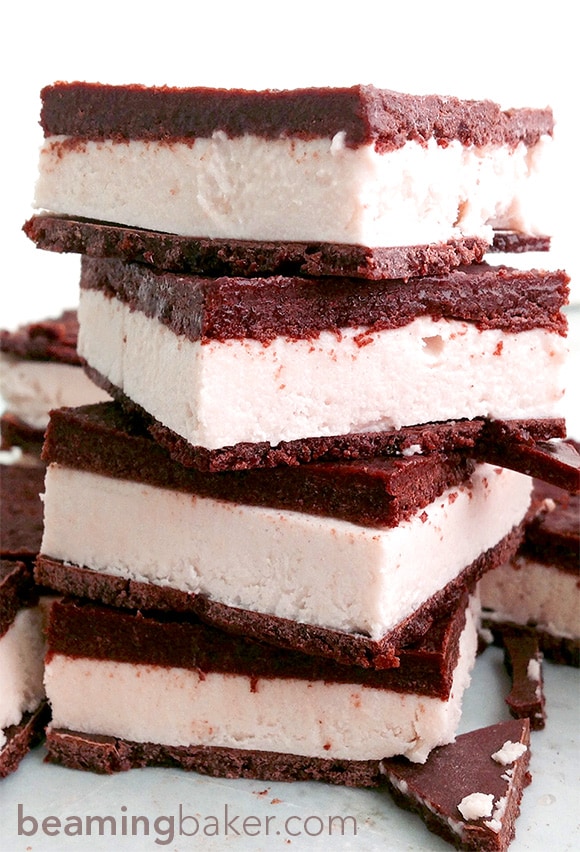 What's your favorite peanut butter treat?
Which of your grandma's cookie recipes is your favorite?
<3, demeter