Chocolate Shell Vegan Ice Cream Sandwiches: A chocolate shell twist on a classic frozen dessert. A thick layer of raw cashew ice cream sandwiched between two layers of homemade chocolate shell.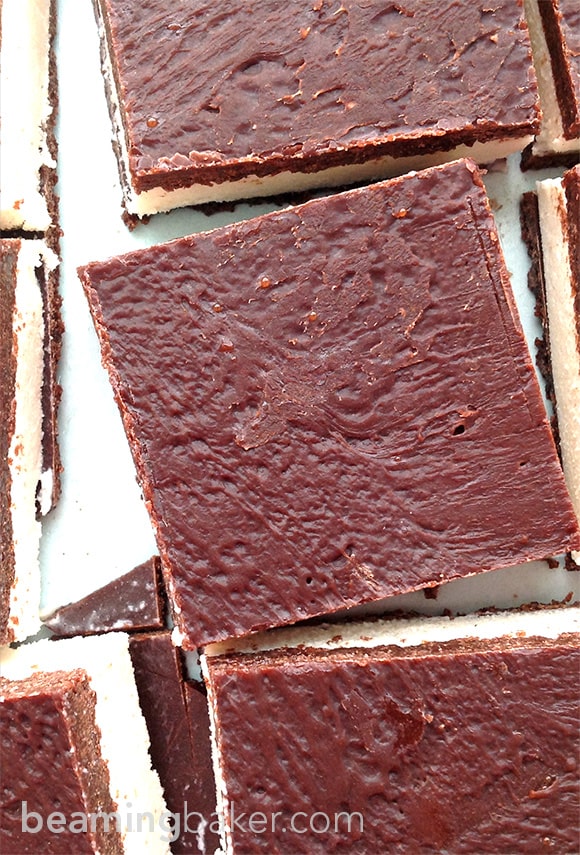 "Oh man!!! Are these really vegan ice cream sandwiches???"
"Made with CHOCOLATE SHELL?????"
"Dude. No way!"
That's what Erik said when I beamingly presented these to him, chest-puffed out and everything. Yes, there comes a time in every adult woman's life when her chest needs to be puffed out for pride purposes. That time is today.
Because. Vegan ice cream sandwiches. With CHOCOLATE SHELL. Dudette.
So it all started when I had a HUGE craving for ice cream, chocolate, frozen-awesomeness and all that good stuff. BUT. That craving was immediately met with the Stern Look from my inner health guru (that jerk). So I did what any sane person would do: eat all the ice cream novelties hidden in the back of our freezer in The Box I consulted The Internet.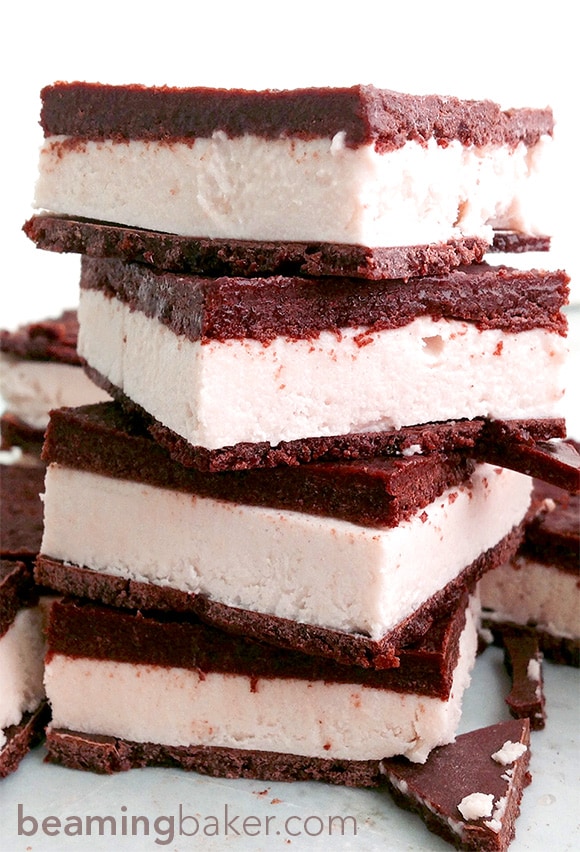 Oh Internet, what do you have to help me quell my sweet-toothed, sugar-addicted, tantrum-throwing inner child?
Enter: Detoxinista. That lady can cook. Dude. If anyone can understand The Need for sweets, but also has The Jerk yelling about healthy New Year's resolutions, it's her. I found this awesome recipe on her website for klondike bars.
Okay, so here's the thing. Dipping a quickly-melting raw cashew ice cream bar completely in chocolate shell is HARD. No joke. You gotta move like the wind. But then. The Wind freezes up your chocolate shell faster than you can say "what the hamburger" and boom! You've just got a sloppy mess of would-be chocolate goop sitting on a melty pile of earnest cashew milk (by now it's milk).
Alright. So what did I do to fix this personality deficit/obvious cooking skills-inability? Create layers, baby! Yep, baby. Hey, I have cashew milk now… so why not?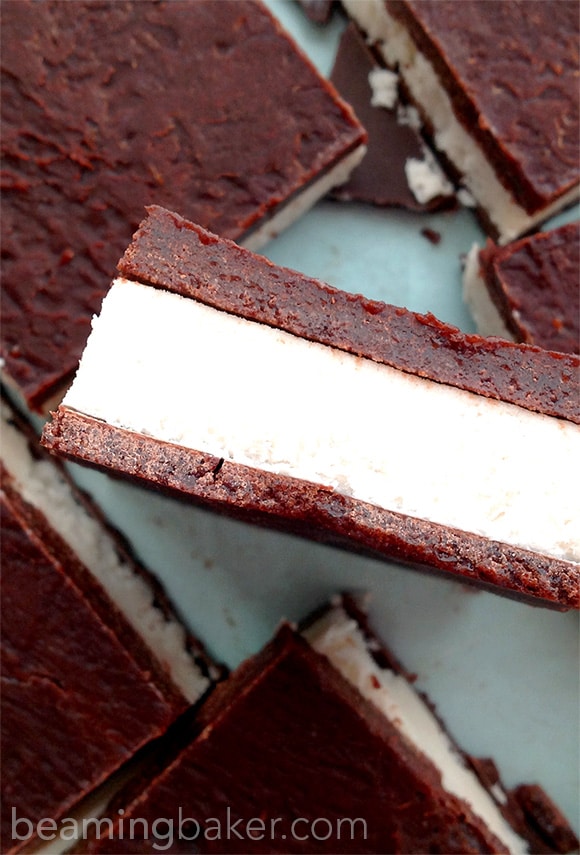 You see, my version of the chocolate shell hardened up so fast that I couldn't keep up. But if we split the recipe up into three separate stages, with ample time sandwiched (tee-hee) in between, we're good to go.
So here's how the chocolate shell vegan ice cream sandwiches are made: lovingly and calmly line an 8×8 pan with wax paper, parchment or foil. Then, stir up all of the homemade chocolate shell ingredients. Pour this shell mixture into the pan. No sweat, it's not like The Wind is gonna get you like- well, you know. Smugly pop your pan into the freezer.
Then, you toss your soaked and drained raw cashews into a food processor with flair. Obviously. Add in maple syrup, coconut oil, salt and vanilla extract. Blend until you can no longer hear negativity smooth. Take your pan (again, smugly) out of the freezer. Pour the cashew ice cream mixture over your now hardened chocolate shell. Place it back in the freezer for a time. Put your stunner shades on and wait. Like a boss.
Once you're totally sure that the tricky cashew ice cream layer is fully hardened, go ahead and make the last layer of chocolate shell. Perhaps some gentle finger poking in the general direction of your ice cream layer can help your "is it hard" cause.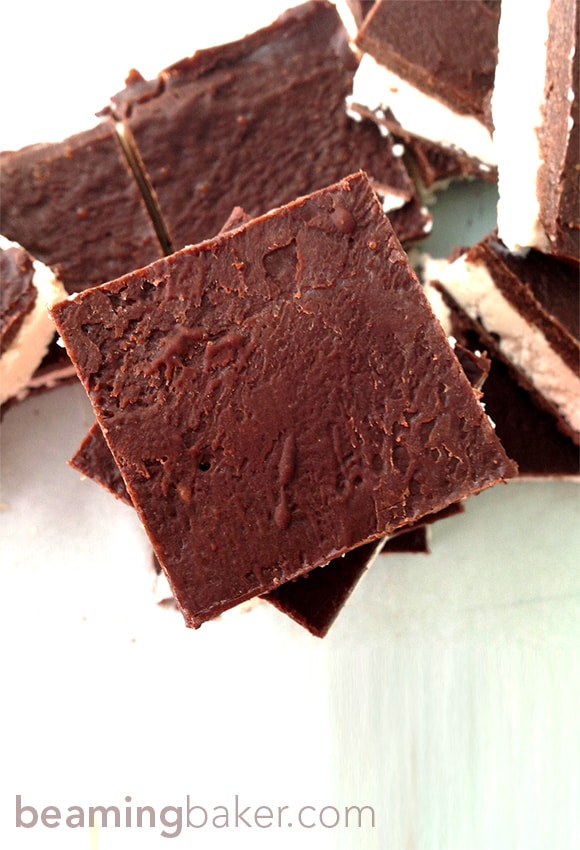 Now, whip up your last batch of chocolate shell and pour it over the ice cream layer. Refreeze. Then slice it like it's hot. But it's not.
Then, tell me about all of your wildest dreams and favorite childhood desserts below, with several chocolate shell vegan ice cream sandwiches in hand, of course.

Chocolate Shell Vegan Ice Cream Sandwiches
Vegan ice cream sandwiches: A chocolate shell twist on the frozen classic. A thick layer of raw cashew ice cream sandwiched between two layers of homemade chocolate shell. Mouthwateringly good for dessert or breakfast.
Author:
Demeter | Beaming Baker
Serves:
16 ice cream sandwiches
Ingredients
Chocolate Coating
¼ cup cocoa powder, divided
¼ cup melted coconut oil, divided
¼ cup maple syrup, divided


Vanilla Ice Cream
¾ cup raw cashew pieces
½ cup nut milk (almond, cashew, or whatever you prefer)
⅓ cup coconut oil
2 tablespoons maple syrup
2 teaspoons vanilla extract
Instructions
Soak raw cashews for 3 hours.
Line an 8x8 pan with wax paper or parchment paper. Set aside.
Make the first chocolate shell layer: In a medium-sized bowl, whisk together 2 tablespoons of each of the following: cocoa powder, melted coconut oil and maple syrup. Whisk until smooth. Pour this mixture onto the lined pan. You need to work quickly as this chocolate shell sets very fast. Set this pan in the freezer for 15 minutes.
Make the vanilla ice cream: In a small saucepan over low heat, warm up nut milk and coconut oil until smooth. Remove from heat. Allow to reach room temperature.
Drain and rinse the soaked cashews. Place the cashews into a small to medium-sized food processor or blender.
Add coconut oil, milk, maple syrup and vanilla extract into processor or blender. Blend until smooth.
Take the baking pan out of the freezer. Pour the cashew mixture over the chocolate layer, making sure to create an even layer. Carefully place the pan back into the freezer for 1-2 hours.
When the cashew layer is completely frozen, make the last chocolate layer.
Make the last chocolate shell layer: In the same medium-sized bowl from earlier, whisk together the remaining 2 tablespoons each of cocoa powder, melted coconut oil and maple syrup. Whisk together until smooth. Take your pan out of the freezer and quickly pour and smooth the chocolate mixture over the frozen cashew layer. Place back into the freezer for 30 minutes.
Slice into ice cream sandwiches: Remove the pan from the freezer. Lift the bars out by pinching two ends of the wax or parchment paper. Set onto an even surface. Slice into 16 pieces. Enjoy immediately.
Notes
- These store very well in an airtight container in the freezer for up to 2-4 weeks. Separate layers of ice cream sandwiches with wax paper or foil.
- Adapted from
this recipe
.
© beamingbaker.com. All content and images are protected by copyright. Please do not use my images without my permission. If you wish to republish this recipe, please re-write the entire recipe using your own words and include a link to this post for the recipe.
If you're in the mood for a peanut butter fix, try my Chocolate Peanut Butter Banana Popsicles (Vegan, Gluten Free).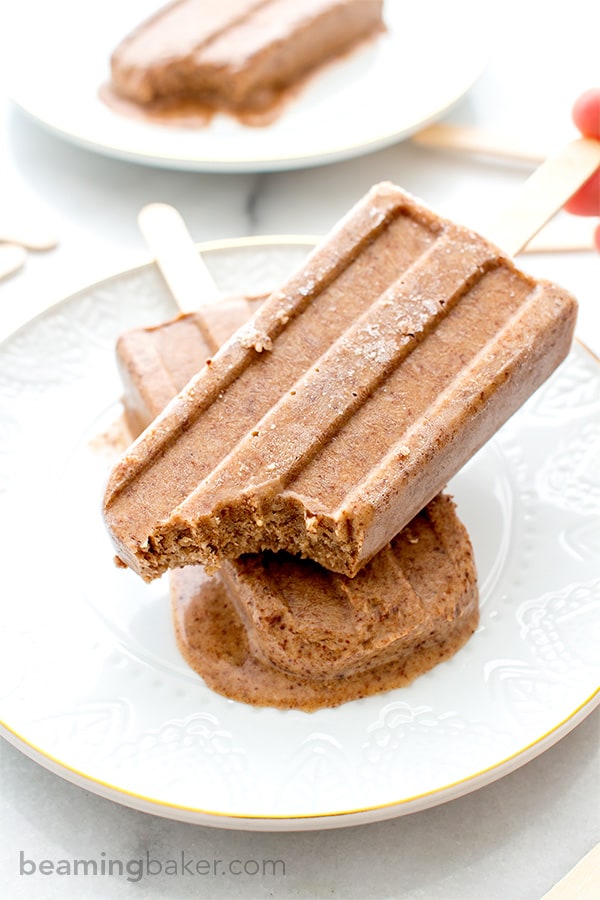 Beat the heat with my light and refreshing Vegan Blueberry Coconut Popsicles (Gluten Free, Dairy Free).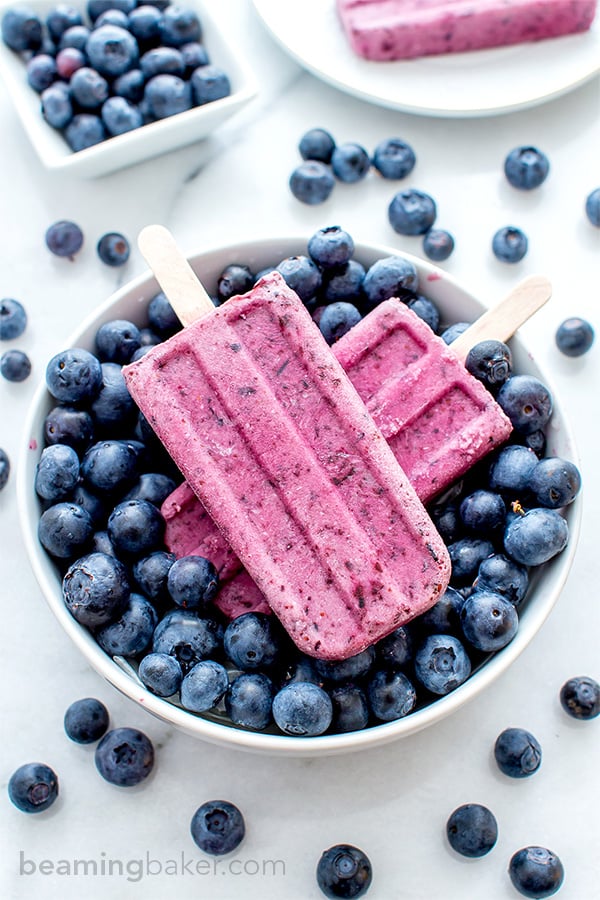 What do you enjoy eating ice cream sandwiches with?