Gorgeous, glistening blistered green beans with just the right amount of char, salty umami and not-too-tender texture. Deliciously smoked flavor with lightly crisp exteriors.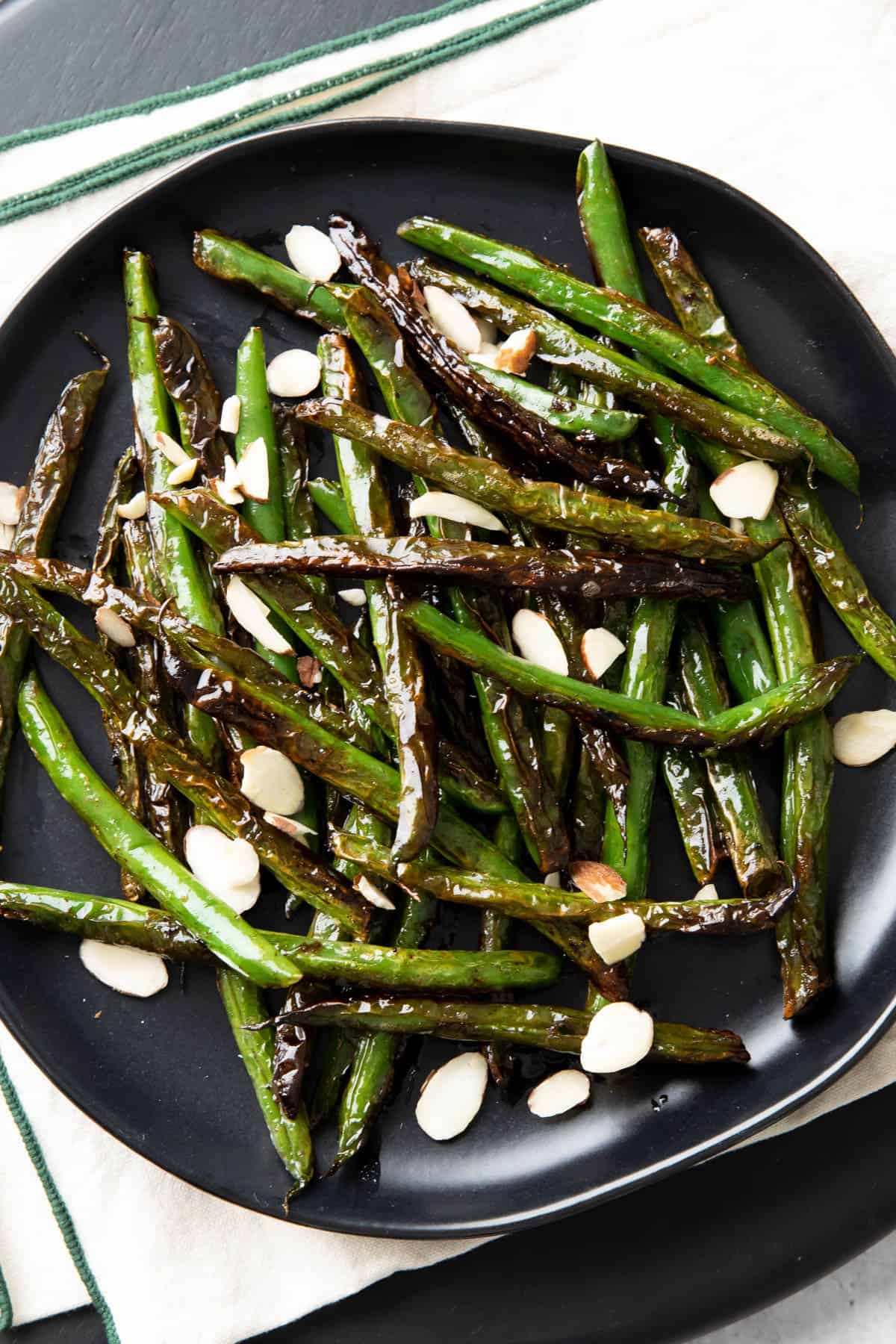 Glistening, Gorgeous, Emerald Green: The Best Ever Blistered Green Beans Recipe!
What is it about glistening green beans that just brings an added element of elegance to your dining table? Today's amazing blistered green beans recipe is one of my favorite vegetable side dishes because of the glisten and so much more!
Think: satisfying smoked flavor, the perfect balance between crisp edges and tender chew. Welcome to the best ever blistered green beans. Ready? Let's make this!
The Ingredients You Need
Blistered green beans are one of my favorite vegetable forward recipes to make because they're simple and elegant. The smoky char, salty goodness, and just right balance of tender bits & crispy bits is amazing.
This recipe includes:
Green beans
Butter – a combination of butter and olive oil make for a deliciously interesting and tasty flavor profile.
Olive oil – you can also use avocado oil or your favorite high-heat cooking oil.
Soy sauce – you may recall me adding a dash of this ingredient to my roasted potatoes and green beans – it's the secret ingredient & really takes your blistered green beans to the Next Level.
Salt & pepper – use as much or as little as you'd like.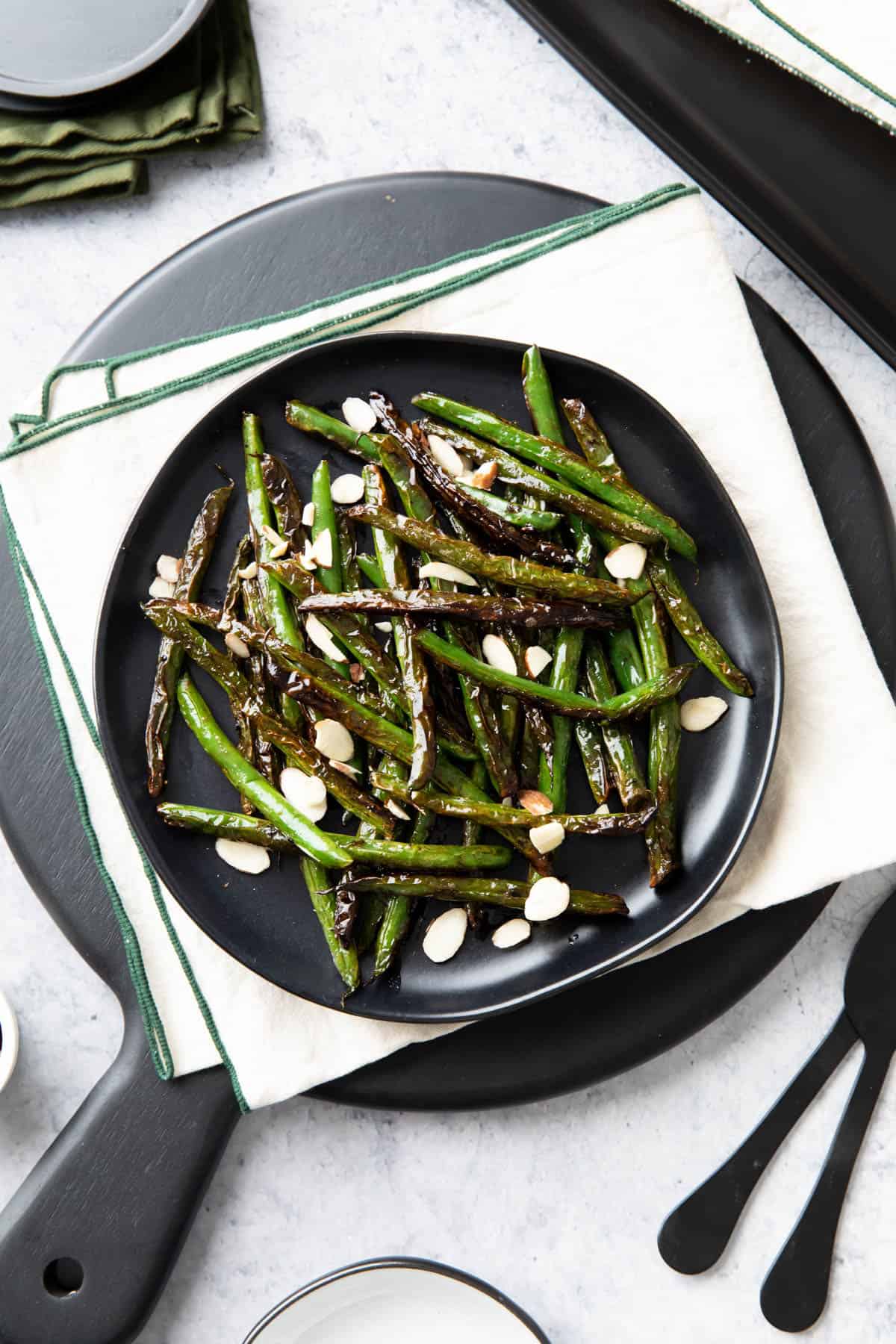 What Are Blistered Green Beans?
Blistered green beans are green beans that are prepared with very high heat until tender and charred (or blistered). If you've ever had Sichuan dry fried green beans or 干煸四季豆(ganbian sijidou), then you might have an idea of what we're going for.
Today's blistered green beans aren't spicy or made with ground pork like ganbian sijidou is, but it follows a similar idea of searing/blistering green beans until just a touch crispy, with tender bits and a blistered surface that holds seasoning very well.
How to Make Blistered Green Beans
Prep the green beans
Prepare the green beans: wash, dry, then trim off the ends of the green beans.
Now, heat a sauté pan over medium high heat. Add butter and swirl to coat the pan. Add olive oil.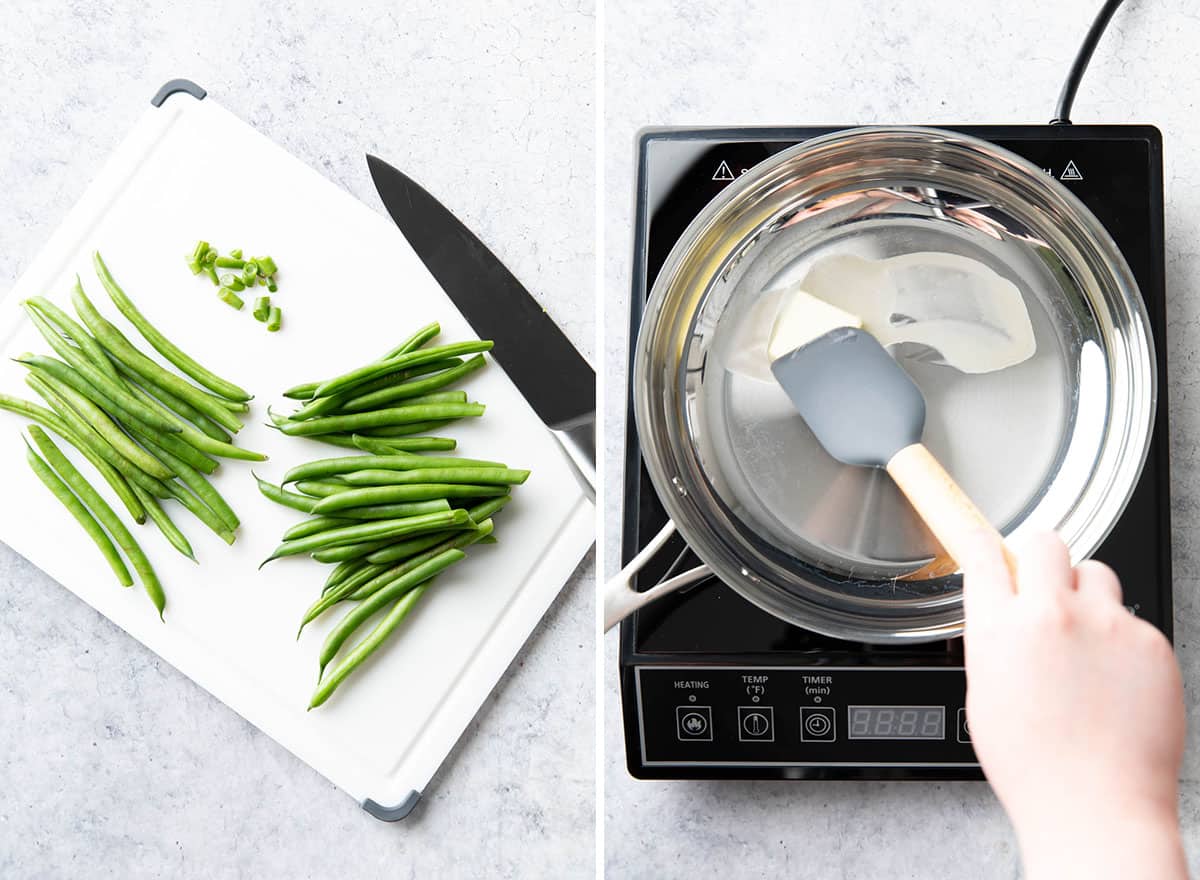 Turn up the heat
Turn the heat up to the high setting.
Next, grab some protective eyewear and add in the green beans. Yep, the beans are gonna sizzle and pop! (Drying them as much as possible helps, but bits of water always get in there. Green beans are packed with water, and the high heat is a bit tricky, so use caution to be safe).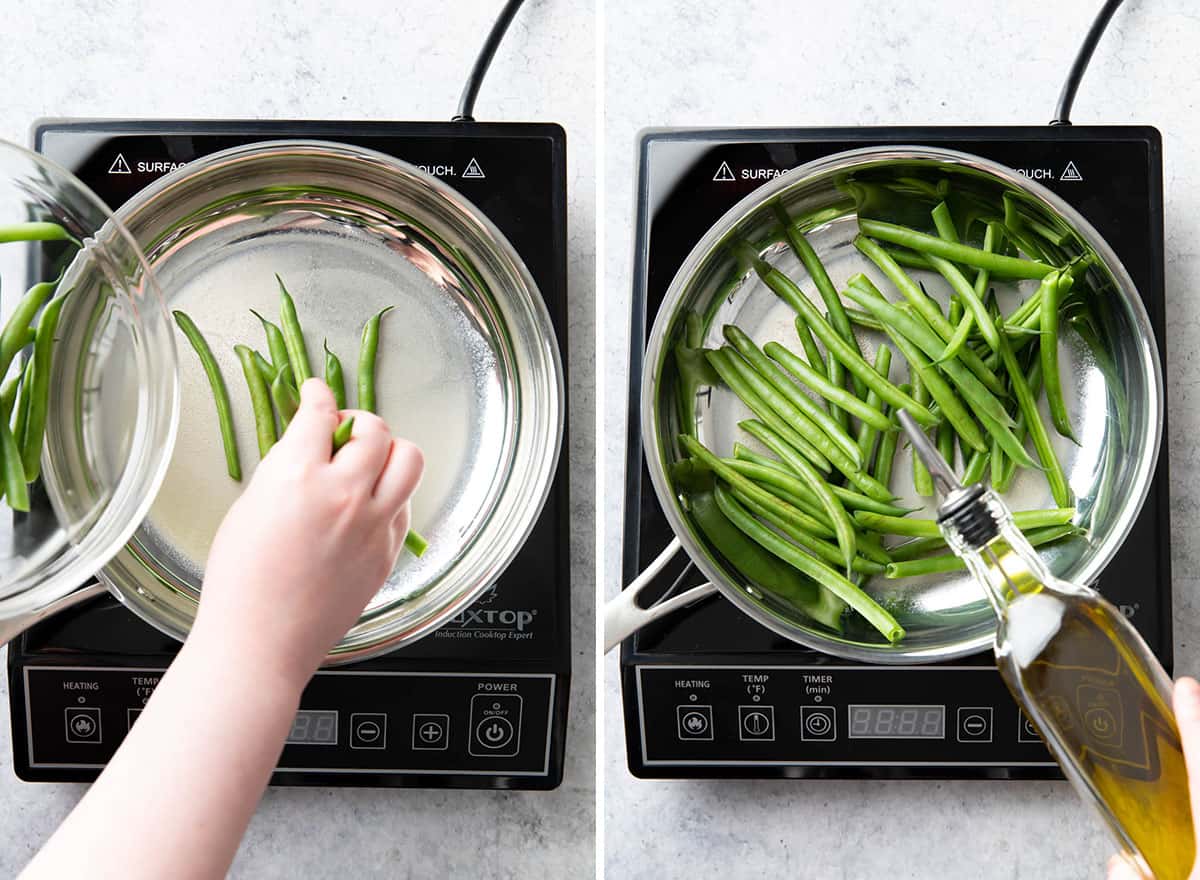 Blister green beans
Allow the green beans to blister in the pan for about 3 minutes. You'll know it's ready when dark brown sear marks appear on the underside of the beans.
Flip half-blistered green beans, then cook the opposite side for 1-2 minutes.
Then, sprinkle in salt and pepper. Toss to coat.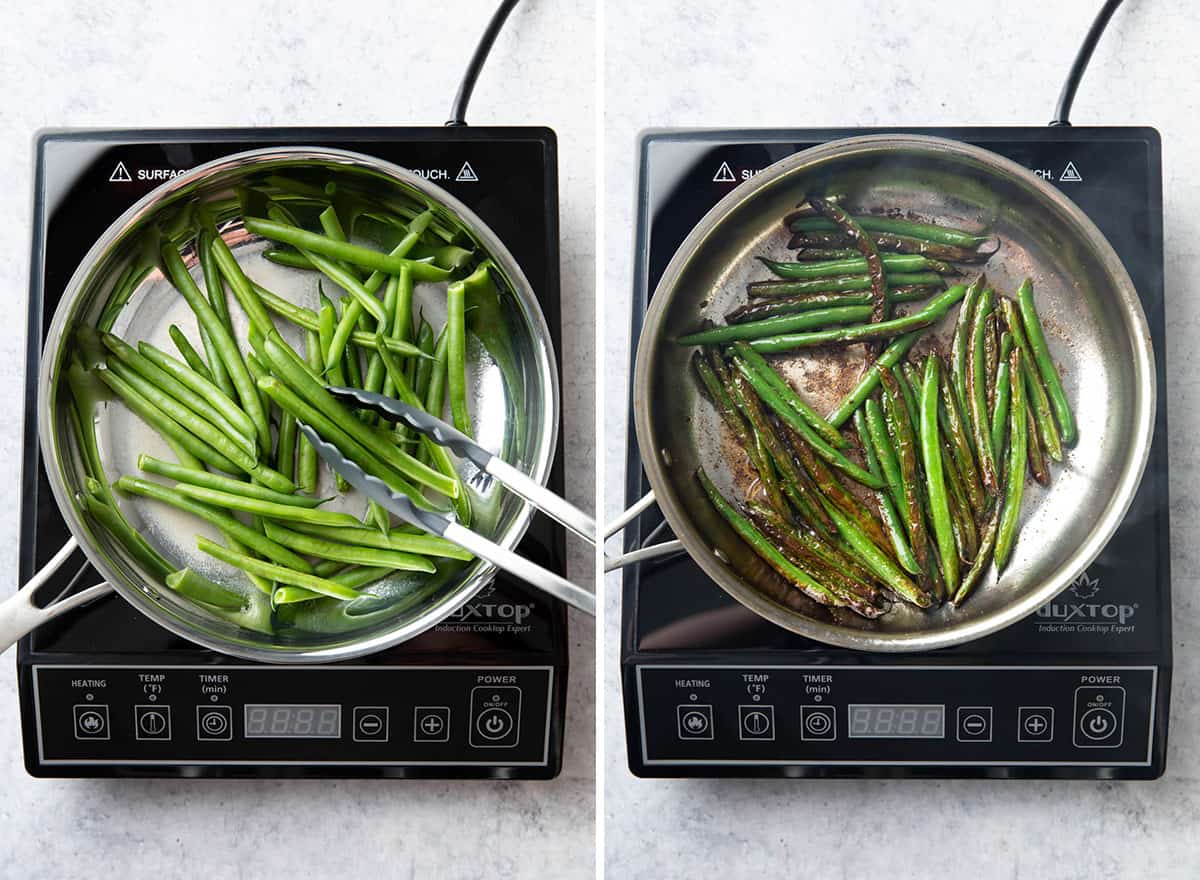 Add the sauce
Now, for the fun part! Pour in the soy sauce. There's going to be a bit of a flambé-eqsue situation—so again, make sure to wear your protective eyewear. Toss to coat, and cook for only 30 seconds.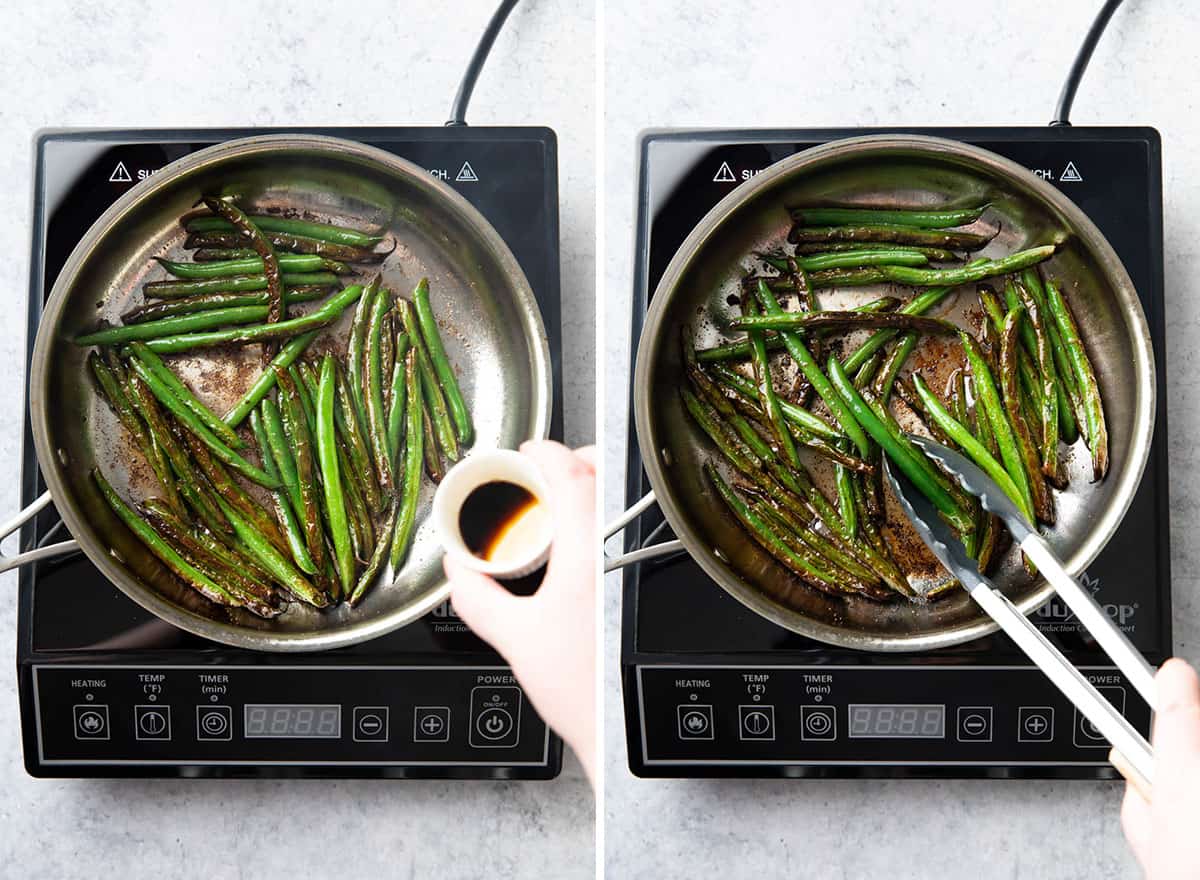 Drip off excess oil & enjoy the best Blistered Green Beans!
Finally, grab a pair of tongs and drip off excess oil. Then, transfer to a dish and enjoy the best blistered green beans!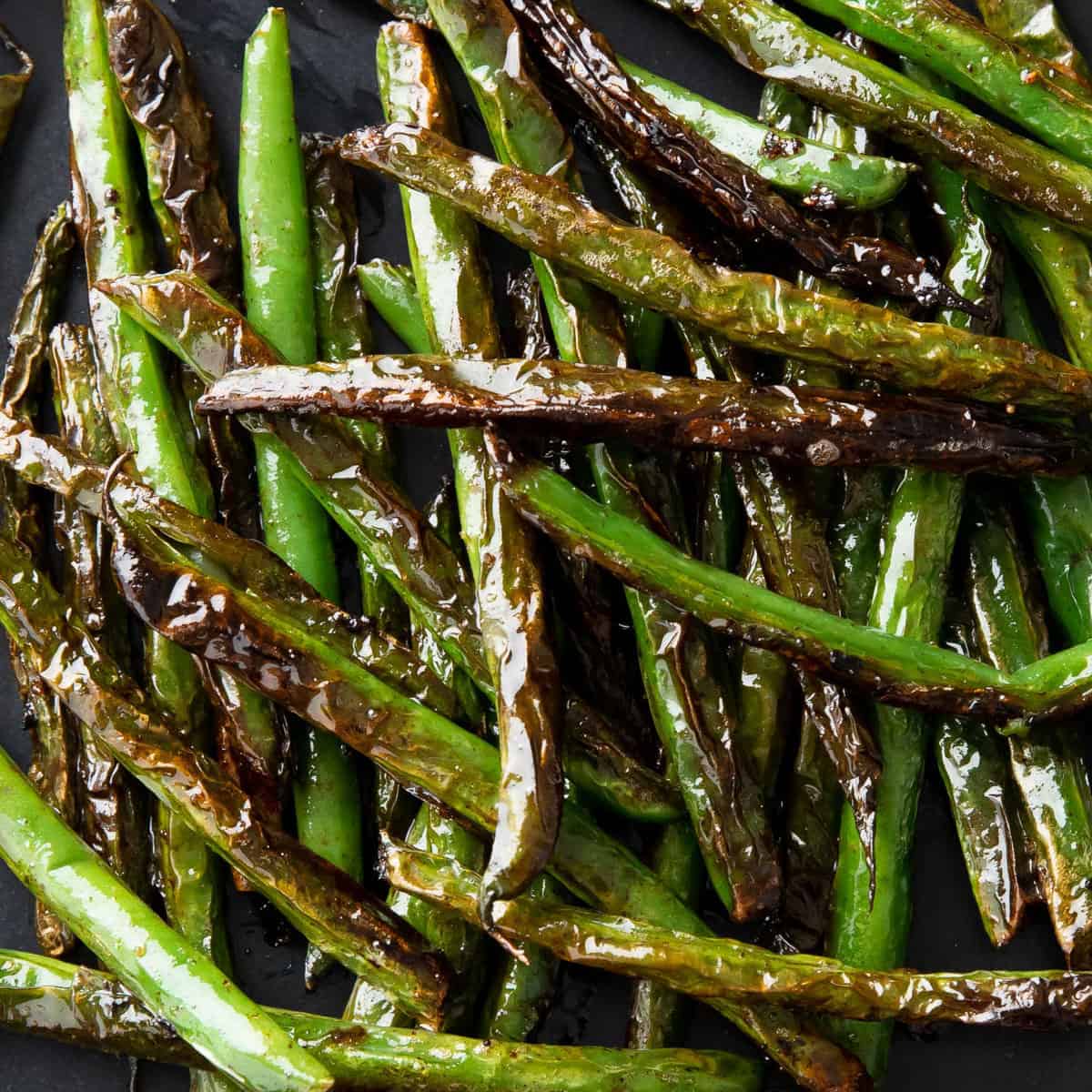 The Key to Perfectly Blistering Green Beans
The key to making perfectly blistering green beans is cooking the green beans enough, but not too much. Remember, making these blistered green beans are about a short cook time, with high heat. Fast cooking, here we come!
We're going to begin by turning the heat up to high to quickly sear the green beans, then adding in a dash of soy sauce to help sorta-kinda flambé or almost wok hei the green beans. That flash of heat blisters your green beans and leaves them with a delicious smoky flavor.


More Vegetable Side Dish Recipes
and… more to come! Check back soon. 😉
Tools You Need
Thankful as Cluck… 🦃
For you. Can you feel our gratitude from over there? Erik and I are always grateful that you've stopped by and are making & sharing these kitchen adventures with us. Please be sure to let us know your thoughts on today's recipe—we look forward to it! Til our next kitchen adventure…
Sending you all my love and maybe even a dove, xo Demeter ❤️
🧑‍🍳 📸 🍚
📸 Did you make this recipe? Take a pic and share it on Instagram with the hashtag #beamingbaker & tag @beamingbaker. I'd love to see it! 📸
Print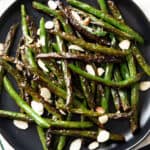 Blistered Green Beans
---
Description
Gorgeous, glistening blistered green beans with just the right amount of char, salty umami and not-too-tender texture. Deliciously smoked flavor with lightly crisp exteriors.
---
Tools Needed
Ingredients
1 tablespoon

butter*

1 tablespoon

olive oil*

2 cups

green beans, stringless preferred
Salt and pepper to taste – I used a heaping 1/8 teaspoon of salt and a generous pinch of pepper

1 teaspoon

soy sauce
Optional Topping
1

–

2

teaspoons sliced almonds, to make it pretty!
---
Instructions
Wash and dry green beans. Trim off the ends and remove strings, if needed.
Heat a medium or large sauté pan over medium high heat.
Place butter into pan. Swirl the butter around until melted and fully coating the pan.
Add olive oil.
Turn heat up to high.
Add green beans. Use protective eyewear if needed (for real), it's gonna sizzle and pop! (Think wok hei.)
Allow green beans to cook and blister in the pan for about 1-3 minutes. Mine took 3 minutes. Be patient—don't flip the green beans until dark brown marks appear on one side. You can check by flipping just one bean with a tong.
Using heatproof tongs, flip the green beans. Allow to blister on the opposite side, about 1-2 additional minutes. Mine took 1.5 minutes.
Add salt and pepper. Toss to coat.
Pour in soy sauce—this will cause the beans to almost flambé! Use caution. Toss to coat. Cook for about 30 seconds, but no more to avoid burning. Remove from heat.
Using tongs, grab green beans and gently drip off excess oil. Pour into a serving dish. Enjoy!
Notes
*Note: You can use less oil if using a nonstick pan.
Storing Instructions: Blistered green beans are best served immediately. If needed, cool completely and store green beans in an airtight container in the refrigerator. Keep for 1-2 days max.
How to make Vegan: Use vegan butter.
How to make Gluten Free: Use gluten free soy sauce.
Prep Time:

5 minutes

Cook Time:

7 minutes

Category:

Side Dishes

Method:

Cook

Cuisine:

American
This post may contain affiliate links, which allow me to make a small commission for my referral, at no additional cost to you.