Banana Bread Bars with Streusel Topping (Vegan)
Banana bread bars with streusel: cozy, moist and comforting banana bars topped with a sweet, crunchy oat streusel. Made with oat flour, almond meal and maple syrup, these bars are the perfect start to your morning.
This morning was a bit… prickly? Abrasive? Um, cranky? Erik and I clearly woke up on the wrong side of the bed today. Maybe we woke up on a bed covered in pokey springs and other annoying things.
Whatever the reason, we were both irritable, to put it nicely. Sometimes you get up in the morning, expecting some kind of Folgers coffee-type wake-up montage. You know what I mean: golden sunlight streaming into the windows, everyone walking around cutely in their pajamas, smiling for no good reason and coffee brewing up the aroma of a good day.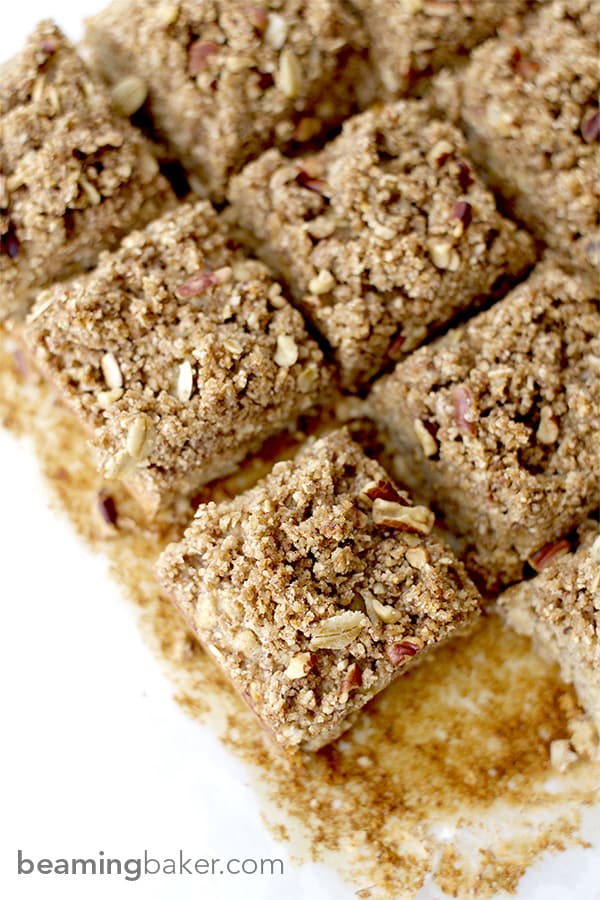 But then, you actually wake up and there's no golden sunlight. There's just gray skies and mopey clouds hanging in the air. Geez. And there are no cute pajamas. No sir. It's just bedraggled clothes and morning breath.
Sheesh. And… ew.
Yep, it was one of those mornings.
So what choice did I really have but to bake banana bread bars with streusel. You know it was that kind of day. I had to call in the streusel troops. What can I say?
So I began baking. As I started to mash up the bananas (good for aggression, I hear), pour in almond milk and whisk in maple syrup (the nectar of happy morning gods), I just felt better. And so did Erik.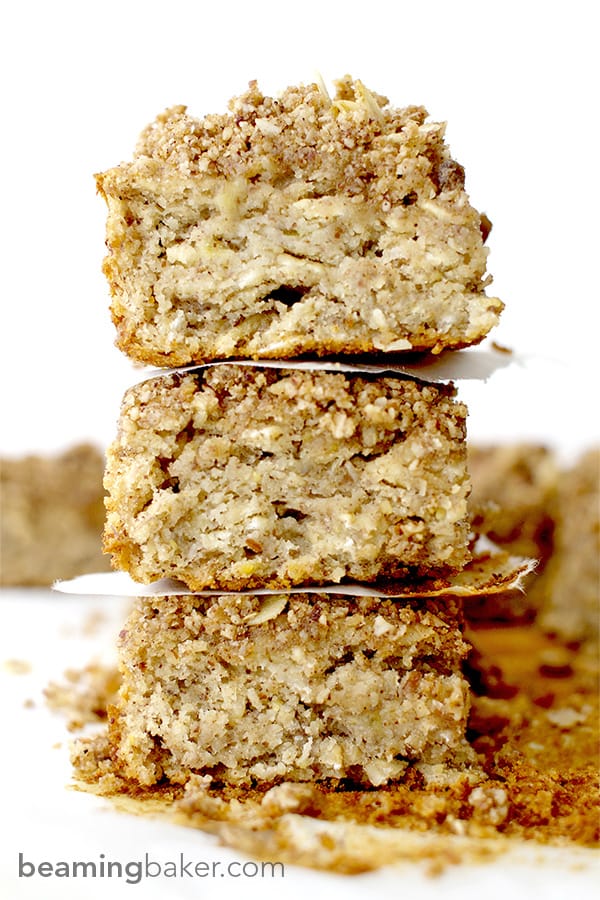 The thing about these banana bread bars with streusel is that they make everything better. Who cares if you missed a deadline? Who cares if your neighbor's giving you attitude over your robe-encased body as you sneakily go get the paper? Who cares that your cat picked this morning to breathe her uncomely morning breath on your face?
Banana bread bars with streusel don't care. And neither should you.
The scent of warm cinnamon, the comforting sweetness of baked bananas, the energizing and bolstering sight of almond meal and rolled oats… that's the Saves the Day aroma. That's the My Morning Sucked But I'm Turning It Around aroma. You know?
When you take a bite of these bars, you'll know that there is something better than the Saves the Day aroma (I'm shocked, too), and it's the taste. My goodness. These bars are soft—so soft, with banana wholesomeness just bursting out of every molecule, plus a crumbly, crispy streusel right on top.
Just take a bite, and everything bad will fade away.
You'll instantly feel warmer, happier and more pleased with life. And if you're looking for a delicious banana treat infused with something a bit sweeter, try Healthy Seasonal Recipes' banana bread with dates and walnuts. .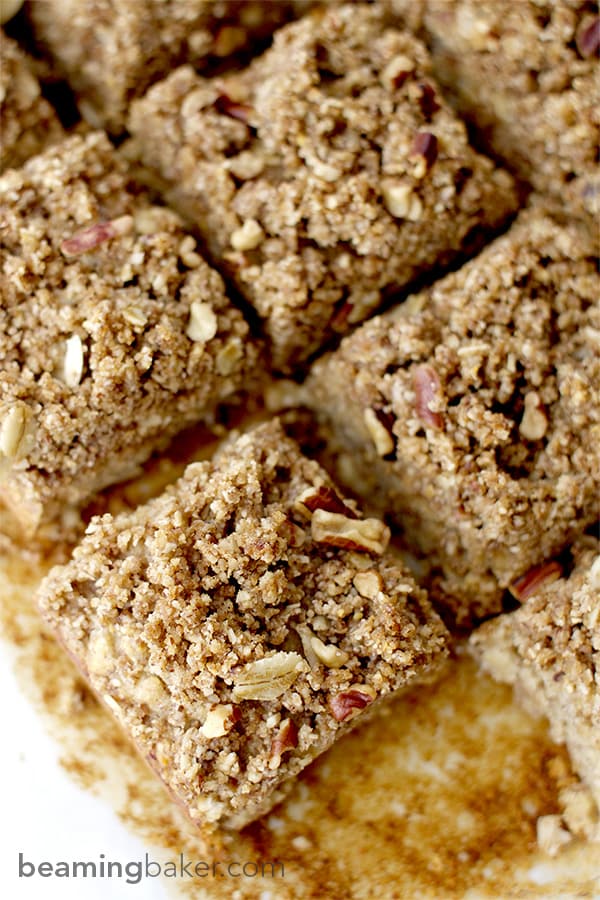 The best part? These banana bread bars with streusel are very straightforward to make. No special equipment needed, just the baking basics. Why not save your day by making these warm goodies?
The rest of your day, nay, the rest of your week, will thank you.
Print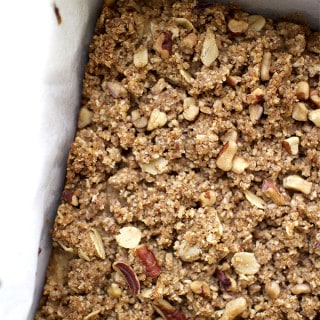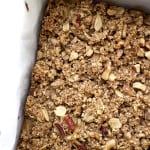 Banana Bread Bars with Streusel Topping (Vegan)
---
Description
Cozy, moist and comforting banana bread bars topped with a sweet, crunchy oat streusel. Made with oat flour, almond meal and maple syrup, these bars are the perfect start to your morning.
---
STREUSEL INGREDIENTS
½ cup

rolled oats

3 tablespoons

oat flour

¼ cup

+

2 tablespoons

dark brown sugar

½ cup

pecan pieces or chopped pecans

1 teaspoon

ground cinnamon

3 tablespoons

solid coconut oil
BANANA BREAD INGREDIENTS
Wet Ingredients
3

medium, very ripe bananas

2 tablespoons

unsweetened applesauce

1 teaspoon

vanilla extract

1

flax egg (

1 tablespoon

ground flax +

3 tablespoons

water whisked together, left to set for 5 mins)

1 tablespoon

melted coconut oil

¼ cup

maple syrup

¼ cup

dark brown sugar

¾ cup

unsweetened almond milk
Dry Ingredients
¾ cup

oat flour

½ cup

white whole wheat flour

1 ¼ cups

almond meal

1 ¼ cups

rolled oats

3 ½ teaspoons

baking powder

1 ½ teaspoons

ground cinnamon
---
Instructions
Preheat the oven to 350°F. Line two 8×8 baking pans with parchment or greased foil.
Make the streusel: In a medium bowl, mix all streusel ingredients until well incorporated. Set aside for later.
Make the banana bread bars: Add peeled bananas to a large mixing bowl. Using a sturdy whisk or fork, mash bananas until smooth. Add the applesauce, vanilla, flax egg, coconut oil, maple syrup, brown sugar and almond milk. Whisk until well incorporated.
Add oat flour, wheat flour, almond meal, rolled oats, baking powder and cinnamon. Whisk together until no white patches of flour remain. Do not overmix.
Pour half of the batter into each of the baking pans. Use a rubber spatula to smooth batter into an even layer. Sprinkle generously with streusel.
Bake for 20-25 minutes.
Allow to cool in the pans on a cooling rack for 1 hour. Slice and enjoy!
Notes
– Store in an airtight container, away from direct sunlight and heat for up to 2 weeks.
– These bars also freeze well for 4-6 weeks. Allow to defrost in the fridge overnight, or set out on the counter for a few hours.
– If you don't care about making this vegan, you may replace the flax egg with a chicken egg, the applesauce with yogurt, the coconut oil with butter and the nut milk with any milk.
– You can also make this recipe in one 9×9 pan. The bake time will be 35-45 mins.
– Banana bread recipe adapted from Minimalist Baker, which is adapted from Takeamegabite.
Prep Time:

5 mins

Cook Time:

20 mins

Category:

breakfast, vegan, bread
© beamingbaker.com. All content and images are protected by copyright. Please do not use my images without my permission. If you wish to republish this recipe, please re-write the entire recipe using your own words and include a link to this post for the recipe.
If it's a banana bread bars with streusel day, it's also gonna be a Chocolate Almond Coconut Granola day. Trust me.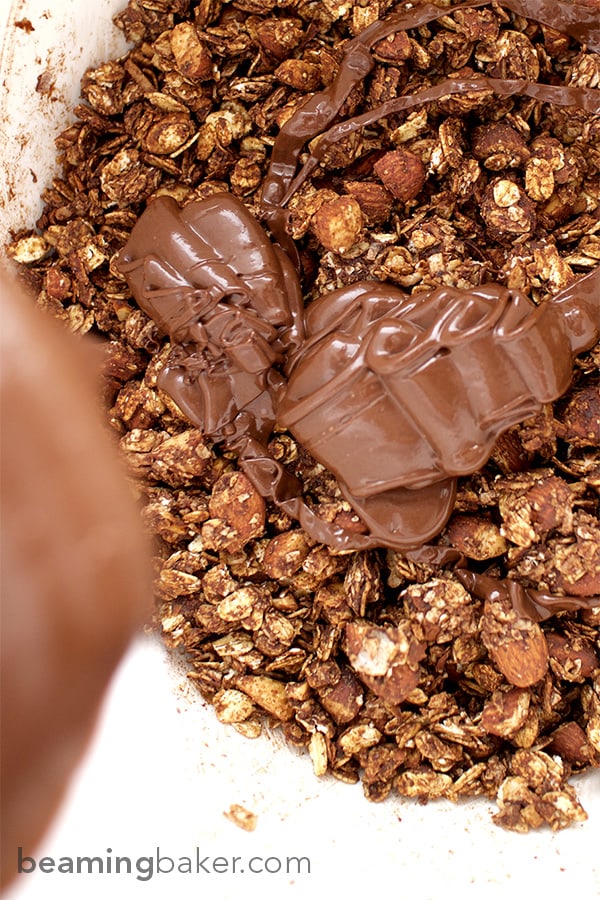 Question of the Day
What's your favorite cheer-up tactic on a bad morning?
<3, demeter