Chocolate Almond Coconut Granola
Simple, crunchy, sweet-tooth satisfying Chocolate Almond Coconut Granola. This wholesome recipe is perfect for an afternoon snack or dessert.
Chocolate Almond Coconut Granola, oh how I love thee. So much so that I felt the need to use Title Case for all of you. Lordie. Someone Hold Me Back.
The thing about granola is that it's a many nuanced, multi-faced… thing. You just never know what you're gonna get. Is it full of oils? All of the dried fruits (even the ones that are as hard as old shoes)? Three different kinds of peanuts (who in the handbag knew there was more than one)? Or is it just candy masquerading as a healthy snack? (Which I'm not totally against. Girl's allowed to have cravings. Ya know?)
In my many travels with granola, I've learned one thing: It can be whatever you want it to be.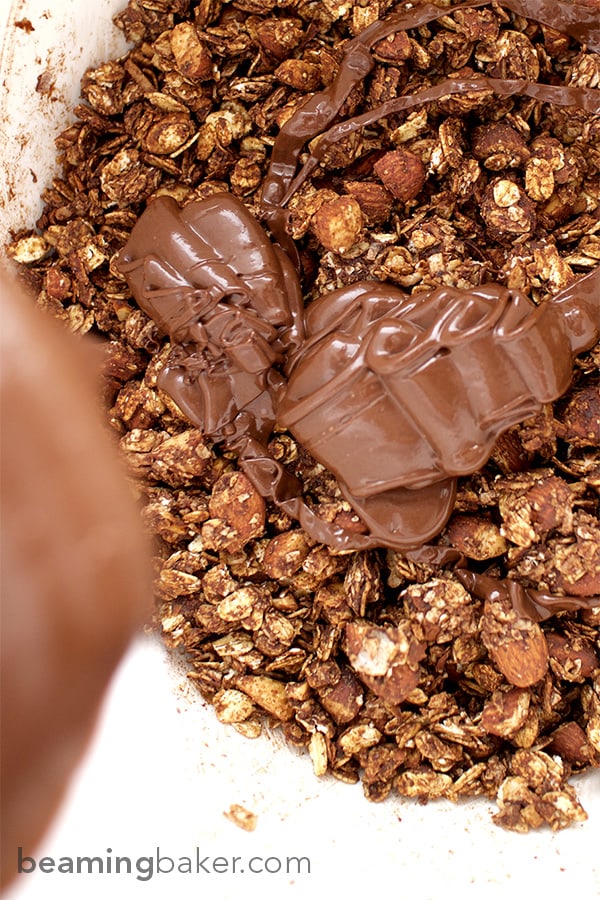 For me, granola's got to hit up the Big Five Factors:
Factor #1: delicious, drool-inducing taste
Factor #2: simple ingredients list
Factor #3: satisfying, just sa-tis-FYING
Factor #4: chameleon-like purposefulness (Huh? Well, I mean it can be an awesome snack or an emergency I'm-having-a-crappy-day-save-me pick-me-up)
Factor #5: easy to make
Friends, this granola's got all Five Factors. Ohhhhhh man! Go ahead and check those factors off like you're a boss and gimme a twirl. My Chocolate Almond Coconut Granola (Title Case, you da best) is so many levels of chocolate-y goodness, rolled oat/almond meal/crunchy almond awesomeness and just EVERYTHING.
Best of all, it's there when you really need it to be. Let's say, you're having the King Crappy of Crappy Days… sprinkle 1/4 cup of this granola on top of banana soft serve and BOOM! Your day just turned into the Queen Quixotic of Kwinning Days. Okay, I don't even know what the fudge 'kwinning' is… but at least I got to use quixotic!!! How's that for magic granola? Not only am I satisfied, I've also exercised my vocab. Cue second 'Ohhhhhh man!'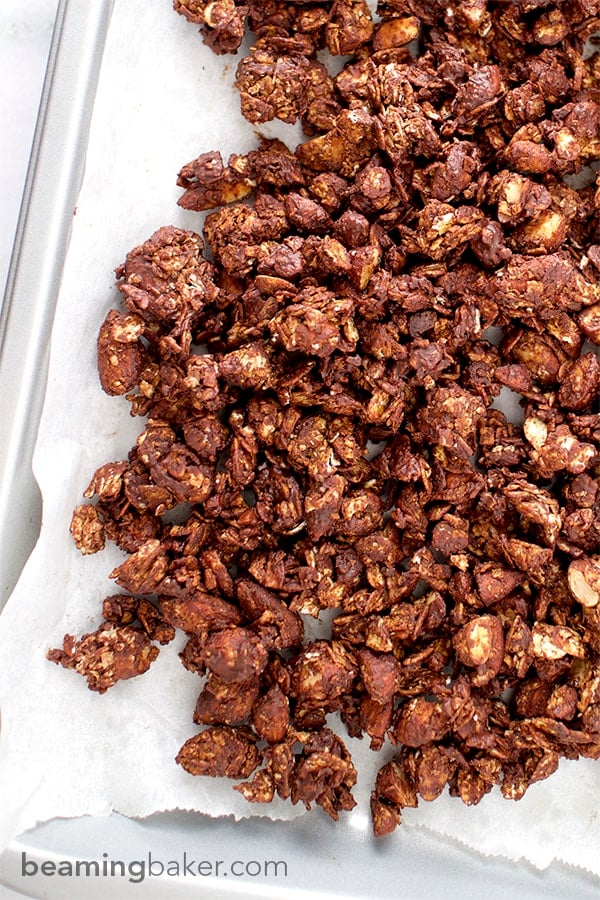 I love snacking on this granola when I'm Netflix-bingeing doing something wildly productive like saving the world/overanalyzing the pros and cons of baked donuts, wondering what's better: 'donuts' or 'doughnuts,' fueling up in the morning for a looooong day, or putting together some care packages for the sisters (hey Mon!).
Regardless of what you'll be using this granola for (saving the world, satisfying a snack attack, or debating food spelling), you'll love how easy it is to whip up. First, you turn on the oven. So far, so good. Then, you line that baking sheet like you've never lined something so well before.
Grab a large mixing bowl, and get ready to feel really, really good about yourself. You're gonna toss in rolled oats, chopped almonds, shredded coconut, flaxseed and a pinch of salt. Don't you just love the sound of those ingredients, all cozied up together in your big, beautiful mixing bowl? I do. They look good together, don't they?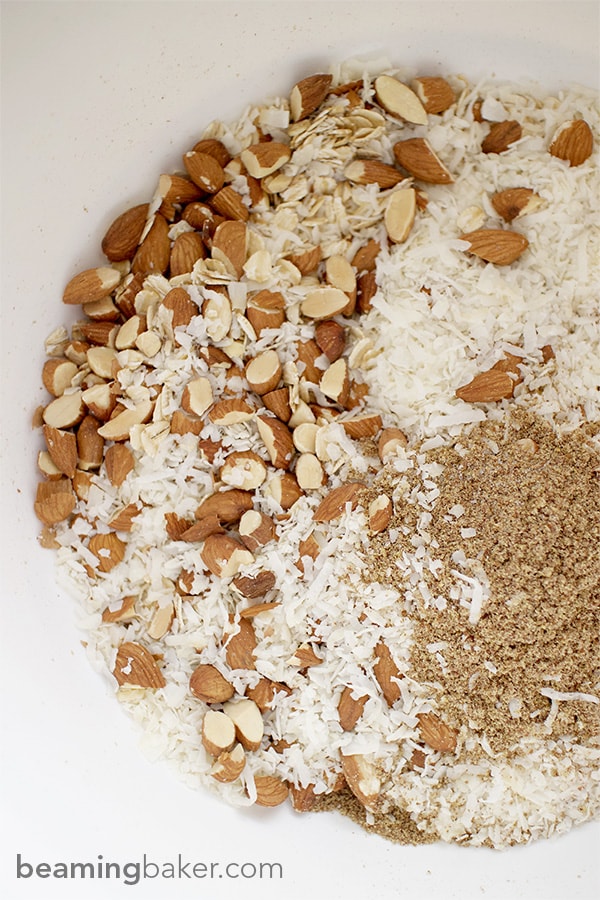 Stir together all of those harmonious, whole, simple ingredients until you feel like you've really made a difference in the world. That's not asking much, right?
Then, you grab a medium bowl and start mixing up the liquid love. Did I just say what I just said? ? Alright, scratch that. You're gonna first wipe your memory of what I just said, then, you grab a moderately-sized bowl and add in the following ingredients: almond butter (is there anything better?), melted coconut oil (that smell, tho), cocoa powder (the secret-not-so-secret ingredient), maple syrup and almond extract. Yep, I just said it, ALMOND EXTRACT. Boss. Okay, okay, if you insist, you may use vanilla extract. But, please, do try almond extract one day. It is better than… perhaps something you'd use liquid love for. ?
Whisk those wet ingredients together like a boss. And just try to quell the gasp that forms in your mouth when you see that beautiful liquid chocolate you've just made. Day-um.
Then, pour it. Doesn't that just feel right?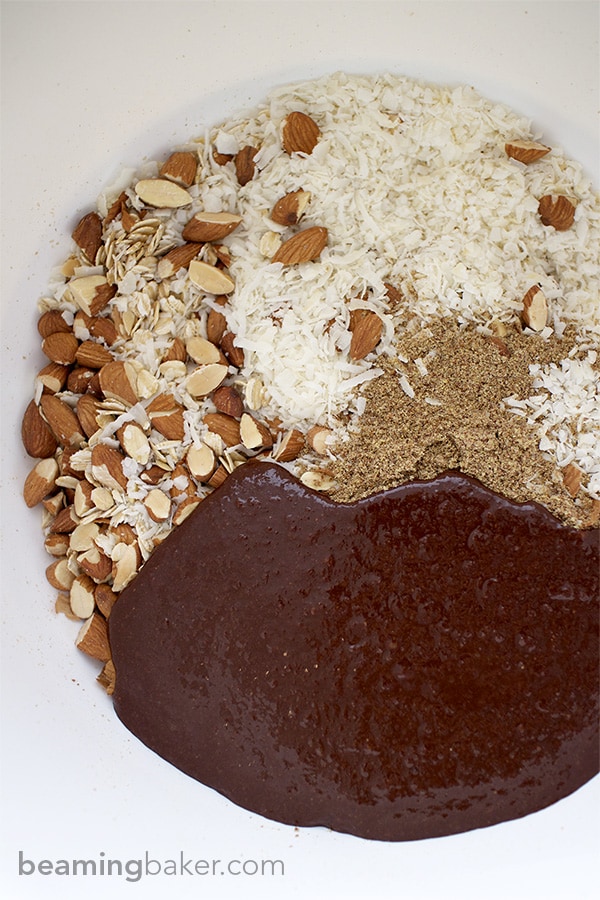 Now mix those world-changing dry ingredients and Willy Wonka-mystifying wet ingredients together. You just feel like a better person, dontcha? Dontcha? (Anyone else hearing Nicole Scherzinger right now?)
Grab that trusty, confidence-lined parchment-lined baking sheet from earlier and pour, then spread your granola out. Create a couple pockets of space between soon-to-be granola clusters, just to let 'em breathe. We all need a little room some time, right? Then, place that sheet quixotically into the oven. Idealism is a good thing!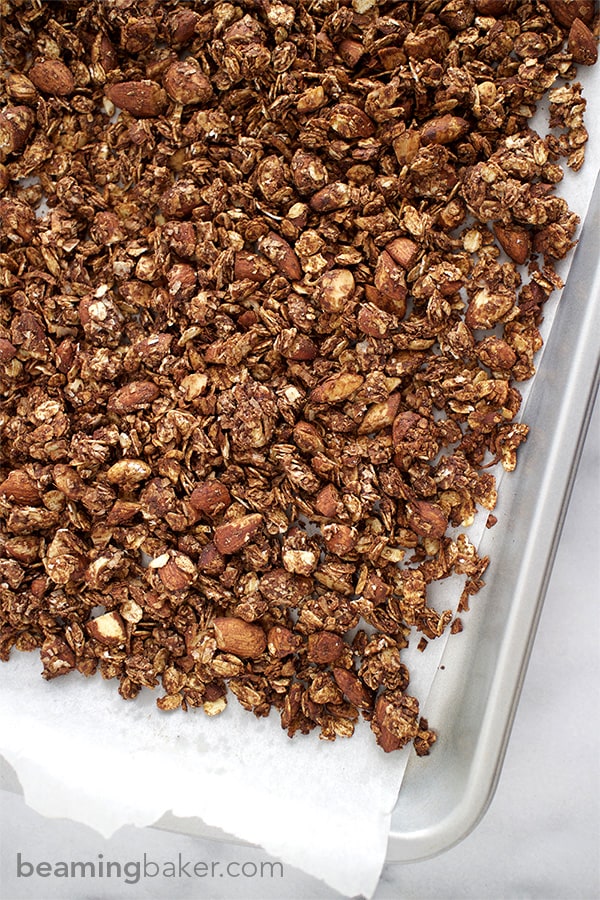 Bake, sit and dream.
Flip the granola.
Repeat baking, sitting and dreaming.
It's time. Remove the granola from the oven, with mitts and a big grin on your face. But wait, don't put oven mitts on your face. Um… Moving on!
Melt the chocolate. YAAAAAS. You can do this one of two ways: use a saucepan, or a microwave. (Gasp! I know, some people won't go near these things. Some people simply can't live without one. You do YOU.) But who cares, because the best part is pouring all of that gloriousness onto your granola. Duuuude.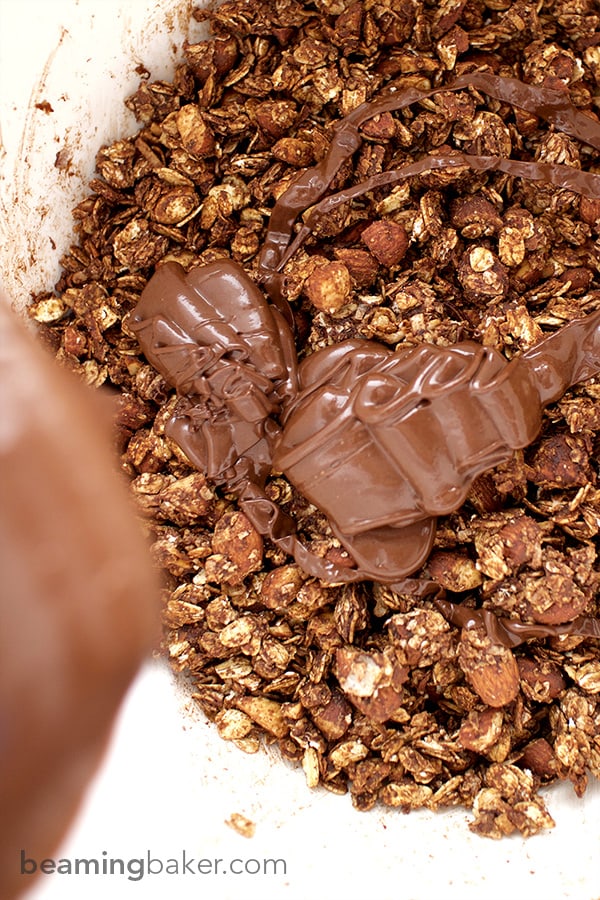 See what I mean?
Now fold and fold until every granola morsel is coated in chocolate. Fold until your entire kitchen/house/dorm room (wow, you're quite the ambitious one, aren't ya?) smells like that place Homer J. Simpson dreamt about with chocolate light posts. Heaven, I think they call it.
Spread that granola on a baking sheet, pop it into the freezer and wait. Patiently.
I know. Being patient is hard.
For realsies now, it's time. Remove your tray from the freezer, put your bib on and get ready to just start eating the entire tray as you pretend to pack some granola away for 'tomorrow.' (Yeah, right.)
Then, please, pat yourself on the back. You just made granola. From scratch. Better yet, you just made world-changing, title-case-deserving, five-factor, donut vs. doughnut debate fuel, homemade Chocolate Almond Coconut Granola.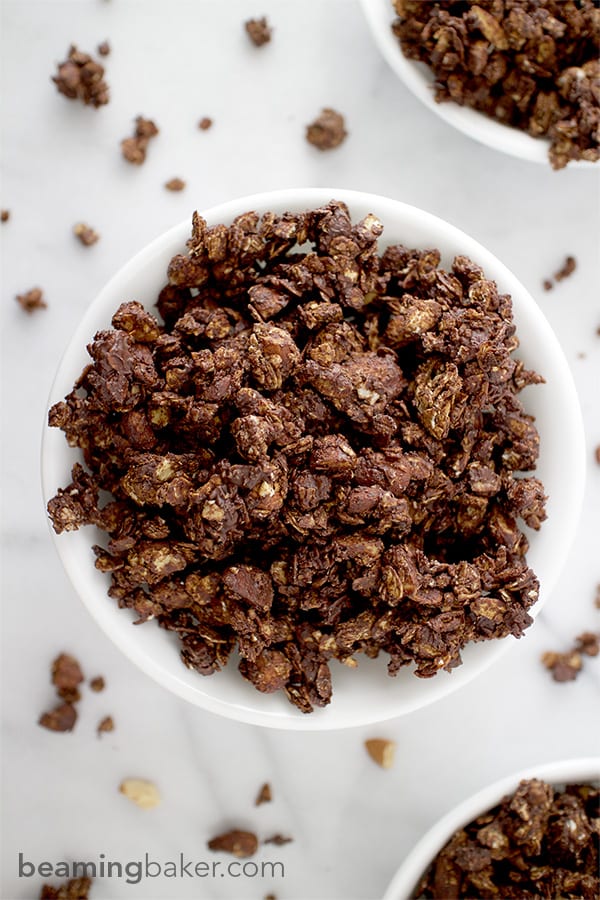 You are boss.
Print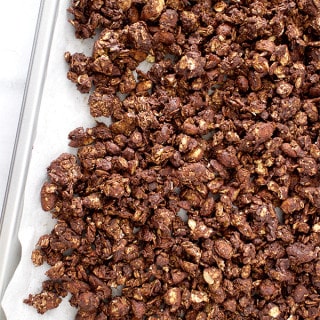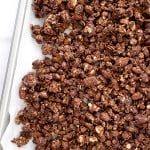 Chocolate Almond Coconut Granola
---
Description
Simple, crunchy, sweet-tooth satisfying Chocolate Almond Coconut Granola. This wholesome recipe is perfect for an afternoon snack or dessert.
---
Dry Ingredients
1 1/2 cups

rolled, old-fashioned oats

1 ¼ cups

coarsely chopped almonds

1 cup

unsweetened, shredded coconut or coconut flakes

¼ cup

ground flaxseed

¼ teaspoon

salt
Wet Ingredients
2 tablespoons

almond butter

¼ cup

melted coconut oil

¼ cup

cocoa powder

¼ cup

maple syrup or honey

1 teaspoon

almond extract (vanilla is okay)
Melting Fun Ingredients
¾ cup

chocolate chips

½ teaspoon

of coconut oil or nonstick spray
---
Instructions
Preheat the oven to 300°F. Line two medium baking sheets with parchment paper or foil (if using foil, coat with nonstick spray). Set aside.
In a large bowl, use a spatula to mix together the rolled oats, chopped almonds, coconut, ground flax and salt.
In a medium bowl, whisk together the almond butter, coconut oil, cocoa powder and maple syrup. Add almond extract and stir until very well incorporated and smooth.
Pour the wet mixture over the dry mixture and stir until well combined. Set your large mixing bowl aside for later. You'll need it after the granola is done baking.
Evenly spread the granola over your prepared baking sheets. Create pockets of space between clusters of granola so it can really crisp up.
Bake for 10-12 minutes on one side, then flip the granola over with a spatula. Bake for another 10 minutes. Monitor the granola closely so it doesn't burn. Don't worry if the granola is slightly soft. It will harden up as it cools.
Clear some space in your freezer for a large baking sheet. You'll need this space later.
In a small sauce pan over medium-low heat, melt chocolate chips and coconut oil (or spray chips with nonstick spray). Stir until chocolate is soft and just slightly melted. Quickly remove from heat, placing on a insulated surface. Continue stirring until smooth.
Remove granola from the oven and toss into the large mixing bowl. Pour melted chocolate over granola. Using your spatula, fold until granola is well coated.
Line a large baking sheet with wax paper. Pour the granola onto this sheet, in an even layer. Place the baking sheet, with an insulating cloth underneath, in the freezer for 15 minutes.
Remove from freezer. Break granola into clusters by hand, as desired. Enjoy!
Notes
Store in an airtight container for up to 4 weeks.
Prep Time:

10 mins

Cook Time:

25 mins

Category:

snacks
© beamingbaker.com. All content and images are protected by copyright. Please do not use my images without my permission. If you wish to republish this recipe, please re-write the entire recipe using your own words and include a link to this post for the recipe.
Try my Best Vegan Peanut Butter Coconut Cookies next.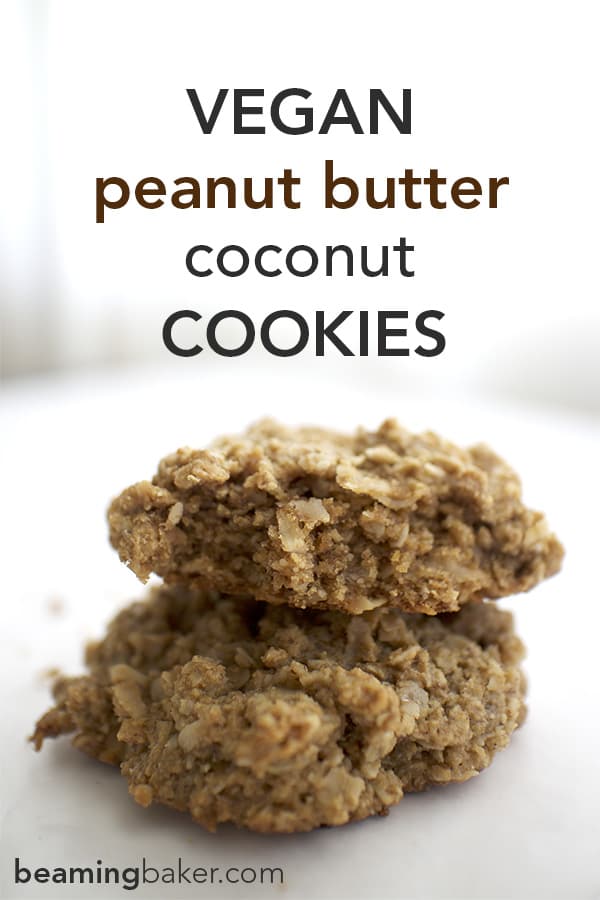 Fellow bosses, do you like to eat granola all by itself? Or on top of, let's say, ice cream?
Also, what do you think? Donut or doughnut? ?
<3, demeter