Chocolate Almond Butter Pretzel Bites (Vegan, Gluten Free)
Chocolate Almond Butter Pretzel Bites (V+GF): an easy 3 ingredient recipe for a sweet snack packed full of protein and chocolate flavor. Vegan and Gluten Free.
Do you ever get hit with a HUGE craving for snacks? Like, if you don't get to snack this instant, you'll go rabid bear on someone and their camping cooler full of goodies?
Show of hands? I see your hand and I throw it a high-five. 'Cause… that's me. All the time. Yeah, I'm hungry and I'm not ashamed. It's a sign of vitality, uh… or something. Let's not think too much about that one.
In any case, with my "condition," I'm always on the hunt for snacks. And since I'm not made of moola, or have a super fantastical snack vending machine in my living room (WOW), I'm always cooking up ideas for snacks. Especially ones I don't feel guilty about.
Ya feel me?
In college, this constant need for snacks put me in some… erm, interesting positions. I really didn't understand the people I hung out with. They could go for like 8 hours without eating. Like, seriously? To this day I still can't believe it.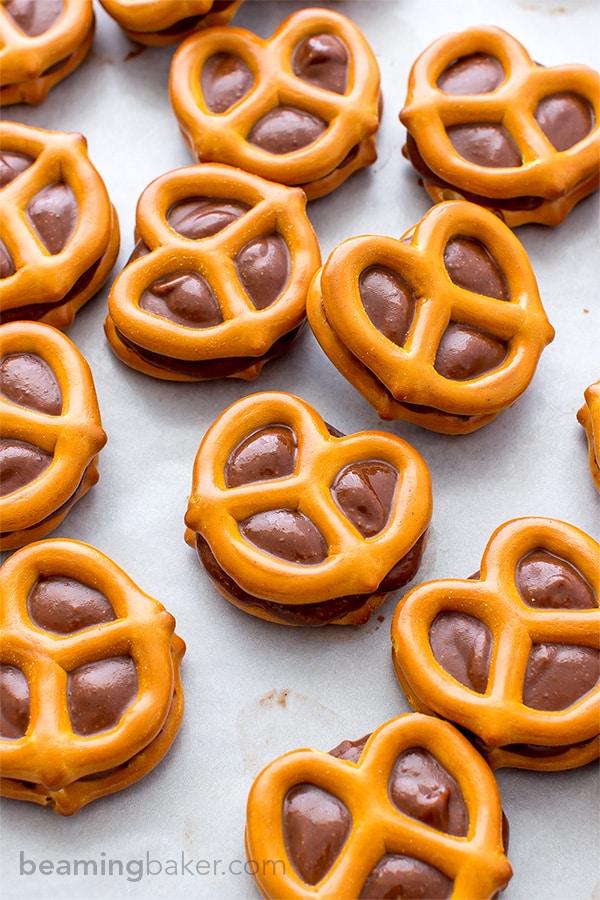 Anywho, oftentimes, I'd be napping studying at the library, barely able to focus on all of that super tiny font, high brow academic babble about… stuff (official college term). My eyes would be wandering around the library, searching for something interesting. My friends would be off, I dunno, not eating somewhere. And there I was, trying to plump up my backpack, doing my best to will it into a fluffy, nap-worthy travel pillow.
My only saving grace was snacks. Oh, the snacks! Honestly, what is college without snacks, coffee and the occasional libation?
Okay, but here's the thing. Truth time: you couldn't eat in the library. What the?!?
I know, I know. This isn't news. This isn't even old news. But folks were hungry. And folks really didn't want to sit in that one smelly area with all of the rabid bear (not me) snack-crazed people who were just goofing off in the food-allowed area. Ahem. I was, you know, serious about studying… not snacking!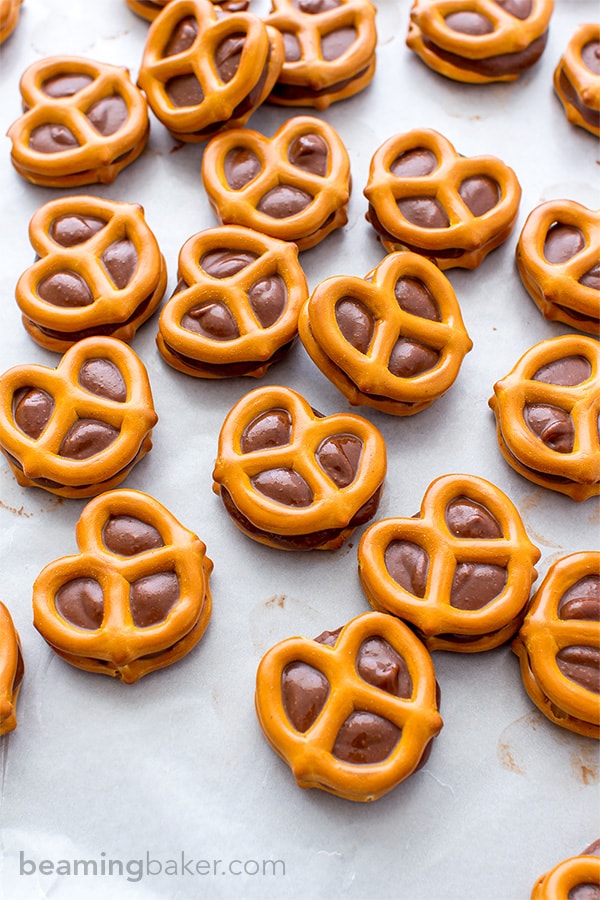 So what did I do, you ask? I energetically packed all of my snacks in my backpack/travel pillow. I made sure to pack each little grouping in quiet, low-rustling baggies. In the library, in between napping—I mean studying—I would elegantly open up my backpack. I'd rustle some important-looking papers, then casually duck my head into my backpack and quickly stuff my mouth full of snacks.
Because. I'm a rabid bear, apparently.
Literally, one time (or more, I don't like to recall), a friend would walk by, all ready to chat. Not hungry at all, of course. Said friend would walk up to me, whilst my head was in my snackpack, start asking all kinds of highly unnecessary questions requiring highly unnecessary elaborate responses, and I'd be like… a straight-up chipmunk with its cheeks full of acorns.
And just as attractive. Obviously.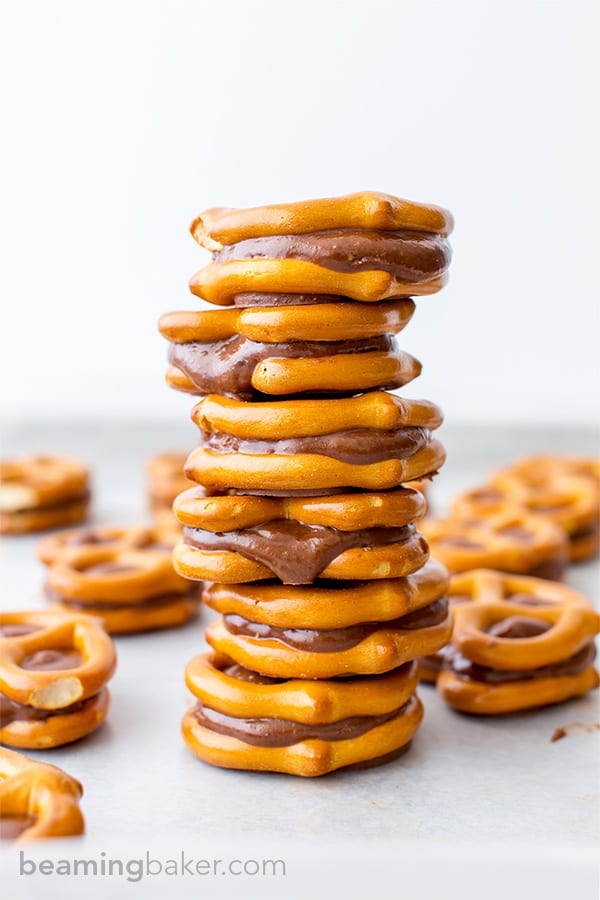 Needless to say, there were occasions where I just could not hold it in, and I burst out laughing. The clean up was not cute. This is why I do not recommend doing this. Ever. Because I've already embarrassed myself enough for the two of us. Don't you think?
And needless to say, people learned to never approach the crazy lady me at the library. Like ever.
The moral of this story? Enjoy these chocolate almond butter pretzel bites outside of the no-food library zones. OUTSIDE. Eat them joyously, freely and proudly in eating-appropriate areas. And just leave all of the embarrassing stuff to me.
Okay? 😉
Side note, how great would these snacks be using some of this Whipped Homemade Almond Butter from Food Faith Fitness. Just be sure to swap the honey for maple syrup to make it vegan. Also, I'm finding myself going all googly-eyed over this sunbutter mousse (no-bake, kid-approved) recipe from Allergylicious! Yep, they're totally calling to the kid in me!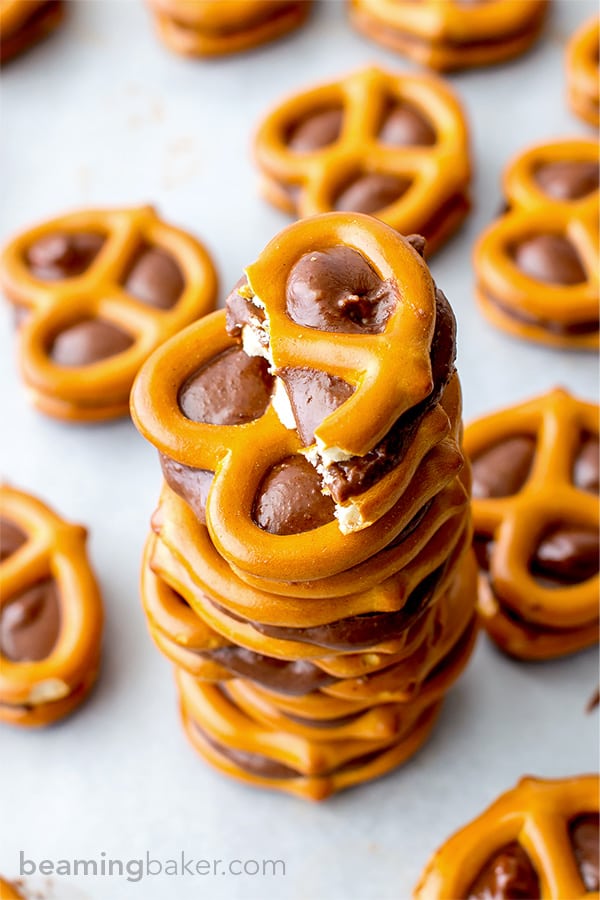 Check it out, these Chocolate Almond Butter Pretzel Bites are:
made with just 3 ingredients
so easy to make
perfect for snack attacks
vegan and gluten free
great for satisfying chocolate cravings
full of energy-boosting protein
crunchy and soft, all at once
appropriate for enjoying (not at the library)
This recipe is about as easy as it gets. Enjoy!
☀︎ Click below to Pin ☀︎

☀︎ Did you make this recipe? Take a pic and share it on Instagram with the hashtag #beamingbaker and tag @beamingbaker. I would love to see it! ☀︎
Print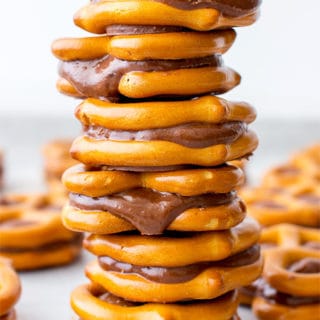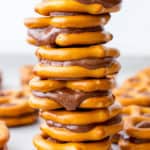 Chocolate Almond Butter Pretzel Bites (Vegan, Gluten Free)
---
Description
Chocolate Almond Butter Pretzel Bites (V+GF): an easy 3 ingredient recipe for a sweet snack packed full of protein and chocolate flavor. Vegan and Gluten Free.
---
70

gluten free pretzels

½ cup

vegan chocolate chips

½ cup

unsalted, creamy almond butter
---
Instructions
Line a large baking sheet with wax paper, parchment paper or greased foil. Lay half of the pretzels out on the prepared sheet, evenly spaced apart. Clear space in the freezer for the sheet.
Two methods for making filling: Use the double boiler method or the microwave method. For the microwave method: in a medium, microwave safe bowl, add chocolate chips and almond butter. Place in the microwave and heat for 30 seconds. Stir. Heat again in 20-30 second increments until the chocolate chips are just softened. Be careful not to overheat. Remove from the microwave and stir until smooth and well incorporated.
Using a small spoon, scoop the chocolate almond butter mixture onto one pretzel. Drop enough mixture to fill in the pretzel. The more you scoop, the thicker the filling will be. I like to add just enough for a thick filling, but not so much that there's overflow. Using the remaining pretzels, place one pretzel over the filling. Press down lightly to make a pretzel bite.
Repeat until you've made all of the pretzel bites. Place the sheet into your freezer for 1 hour.
Remove from the freezer. Enjoy!
Notes
– Store in an airtight container in the refrigerator for 1-2 weeks.
– Room temperature storage: the pretzel bites will be slightly soft, but still portable. Wrap in wax paper, parchment or plastic, then pack in a hard container to bring it on the go.
– Store in the freezer for 3-4 weeks.
Prep Time:

10 mins

Cook Time:

5 mins

Category:

No Bake, Vegan, Gluten Free, Snacks
© beamingbaker.com. All content and images are protected by copyright. Please do not use my images without my permission. If you wish to republish this recipe, please re-write the entire recipe using your own words and include a link to this post for the recipe.
Almond Butter Lovers alert: you'll love my No Bake Almond Butter Coconut Bites (Vegan, Gluten Free). So easy to make and simply delicious.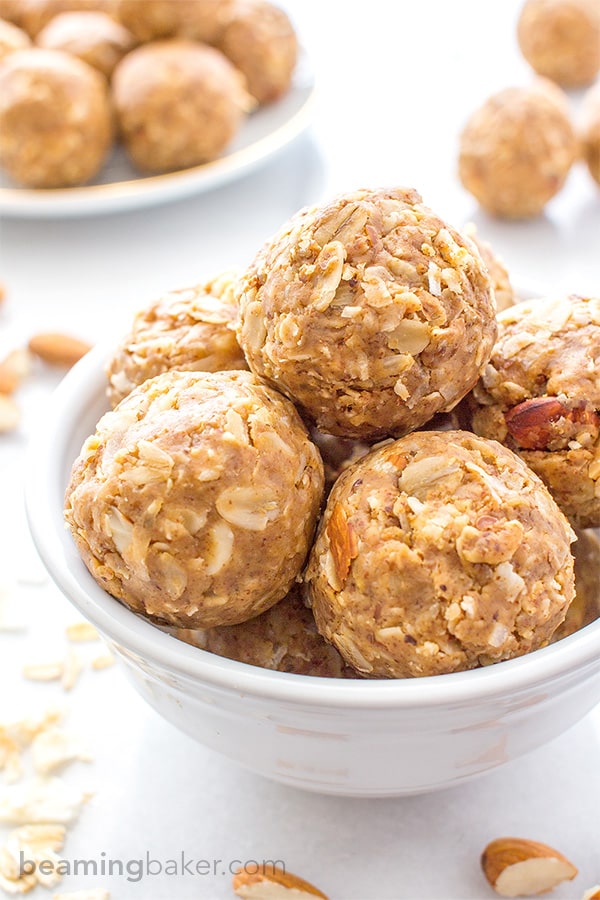 You're just 10 minutes away from glazed, crunchy snacktastic goodness. Try my Maple Sesame Almonds (Vegan, Gluten Free).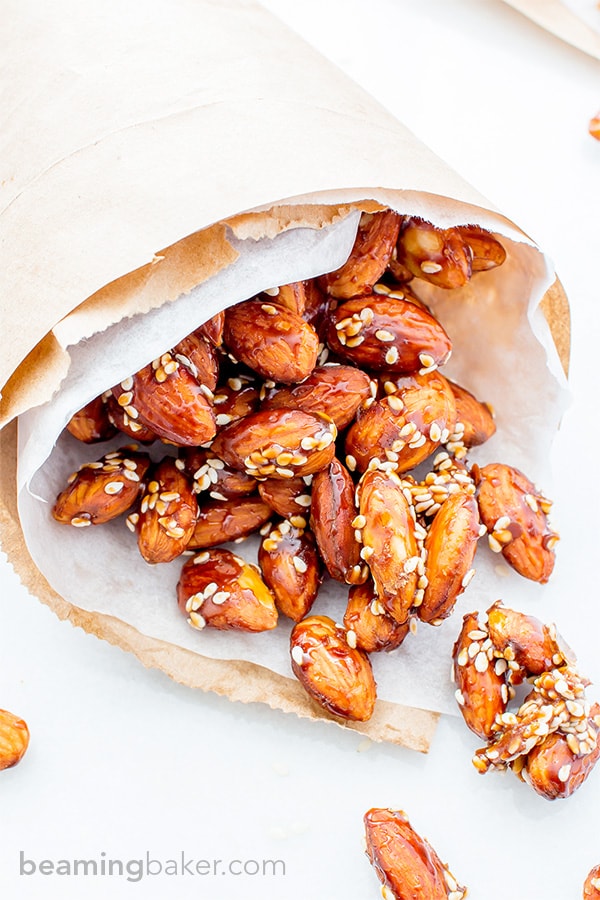 What's your most embarrassing snack attack story?
I can't wait to hear your responses.
Facebook ☀︎ Pinterest  ☀︎ Twitter ☀︎ Instagram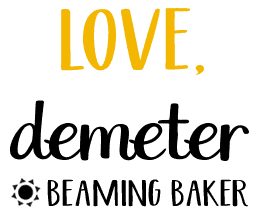 Save