No Bake Almond Butter Coconut Bites (Vegan, Gluten Free)
No Bake Almond Butter Coconut Bites (V+GF): Nutty, lightly sweet and satisfying energy bites made from just 6 simple ingredients. Vegan and Gluten Free.
May is such a beautiful month. But kinda just sneaks up on you though. One second, it's all erratic weather, with snowstorms, rain and sunny days all mixed up in a daze… You're getting whiplash from unpacking and repacking your warm weather clothes and thick winter gear. You've looked longingly at the super cute sunglasses you purchased at a steep discount at those Day After Christmas sales… considered, then put back that cherry red polka dot bikini (I know).
But then. But then, it all changes. Those thick, dark clouds go on sabbatical. You take out the vacuum-packing clothes thingy (official term) to put your scratchy wool cloaks away. Yup, cloaks.
And when that vacuum-packing thingamabob comes out, you mean BUSINESS. M'kay?
And, one of the coolest holidays comes up. Mother's Day. 🙂 Can you tell I'm a momma's girl? After all, this blog (i.e. me) and my sisters all exist because of that lovely woman. But I'll keep my big old sack of love (huh, that sounds kinda gross, which I'm sure my mom would appreciate) for Thursday's post.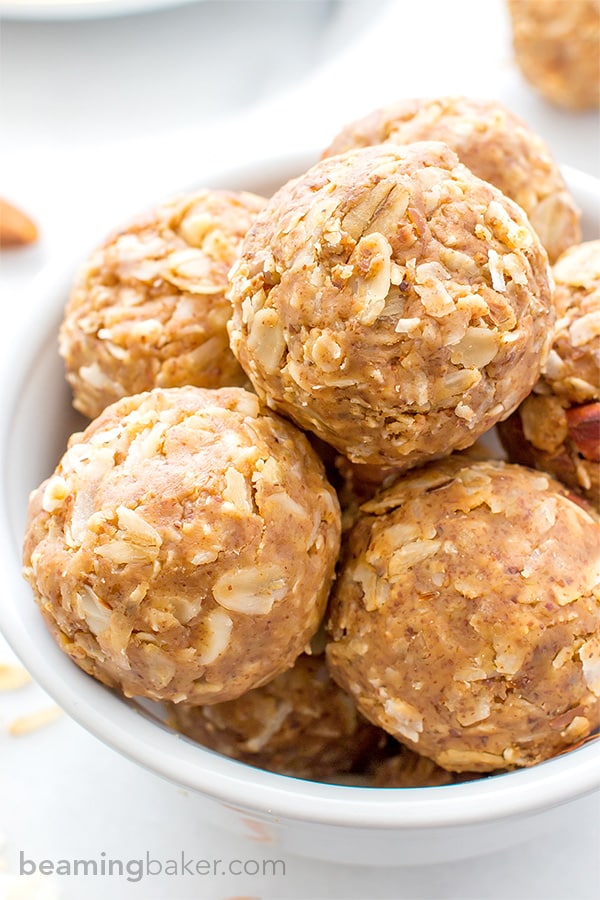 However, another cool holiday comes around as well. What holiday you say? Well, only one of the best, most important holidays there is: my sister Monica's birthday. I'm also a sister's girl. Is that a thing?
If you ever meet any of my sisters, you'll know exactly why I feel the way I do about them. Seriously, they are the most loyal, funny, hard-working, goofy (very important, guys), and All of the Things people you will ever, ever meet. And Monica… goodness gracious, she is one of the best people on earth. Yeah. Earth. And I only say earth because I've never been to space and I think it's kinda crazy that you have to slap down $150k for a seat on Mr. Virgin Galatic's future celebrity spacemobile thingy (another official term).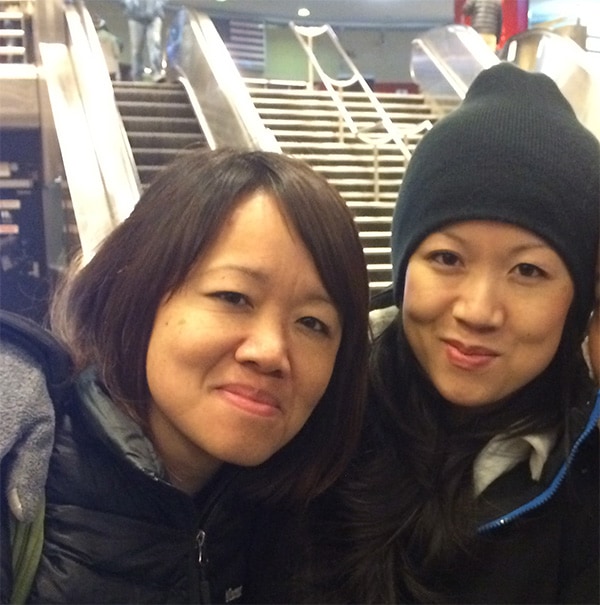 But anywho, Monica is the best big sister ever. She's the one I told you about, who worked at the Smithsonian. Okay, already how cool is she? She's super duper smart (has a PhD… like woah!), plays basketball and would totally be in the WNBA if she was just a few feet taller (#normalheightpeopleproblems), and has the biggest, kindest heart there is.
I could go on and on… but I'm pretty sure she's blushing and uncomfortable reading this right now (hi Mon!!). So I'll just delicately transition into the recipe. (How delicate was that?)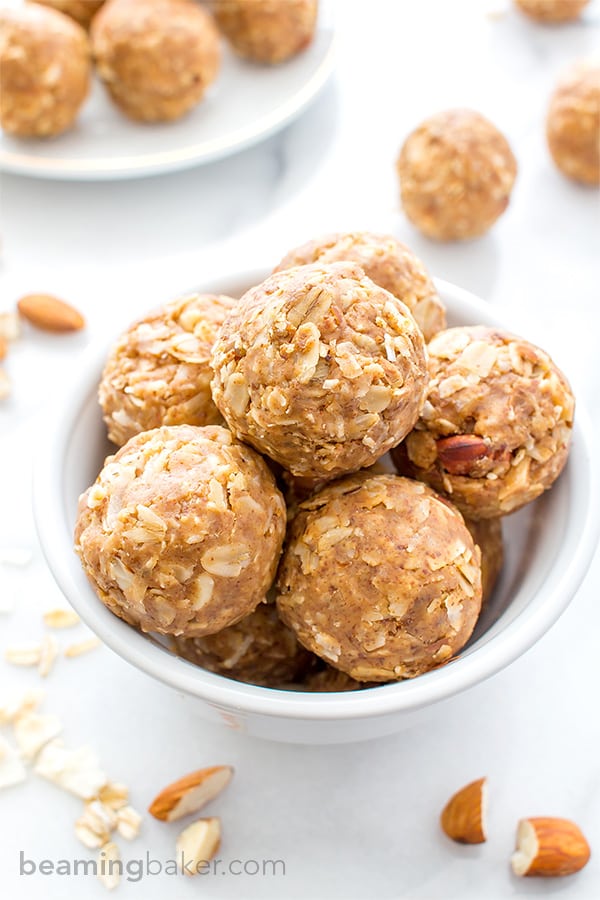 Well, what do no bake almond butter coconut bites have to do with my big sis? It's the origin point that'll explain it all. 🙂 The thing is, these almond butter bites were based off of my now most popular recipe on this blog, No Bake Peanut Butter Coconut Bites.
The whole reason why I made those bites is because I wanted to make something delicious and healthy that my mom could eat. Okay, Demeter, you're saying (I'm so rude, talking for you!), what does this have to do with Monica? Well, dear reader, my sisters taught me to care. Care about my mom's health, care about myself, care about others. Oh, the feels!! And apparently, they did not teach me how to be comfortable with the feels. Erm… 😉
Anyway, so here we are, staring at pictures of No Bake Almond Butter Coconut Bites, vegan and gluten free, thank you very much, feeling all the feels, getting squirmy… and kinda nice. Quick, someone make a joke!
Um, so, a peanut walks into a bar….
Oh, forget it!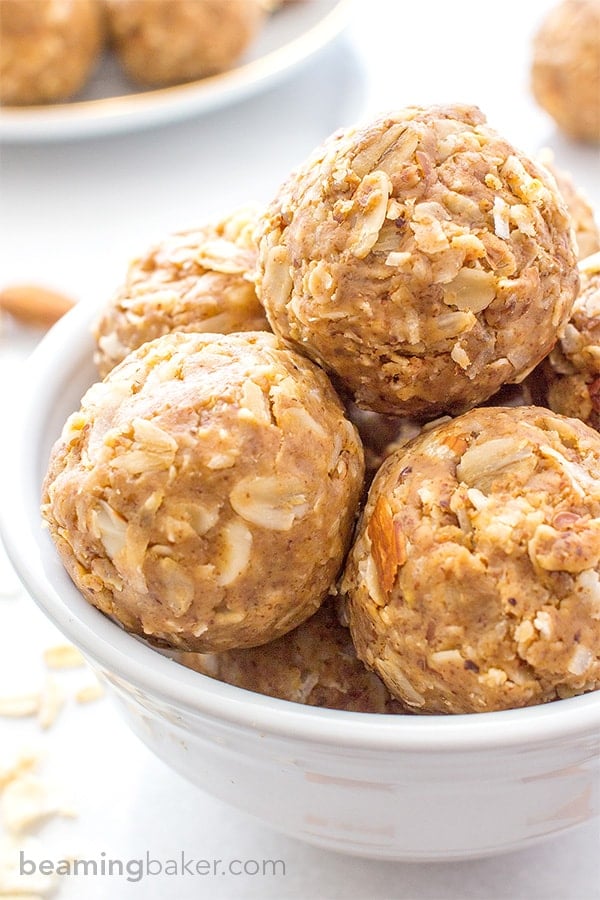 The cool thing is, my mom and my sisters, and you (yay!!!) can make these No Bake Almond Butter Coconut Bites really easily. Let me shower you with bullet points about it's awesomeness. Alright, let's just blow past the imagery there.
These No Bake Almond Butter Coconut Bites are:
nutty, lightly sweet and satisfying
super easy to make
made with just 6 ingredients
very portable, very delicious
vegan and gluten free
packed full of protein
and don't cost $150k to make
So grab your favorite almond butter and a sexy wooden spoon (um…), you're about to meet your favorite new snack.
☀︎ Click below to Pin ☀︎

No Bake Recipes We Love
Print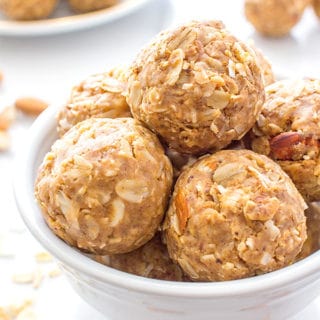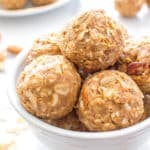 No Bake Almond Butter Coconut Bites (Vegan, Gluten Free)
---
Description
No Bake Almond Butter Coconut Bites (V+GF): Nutty, lightly sweet and satisfying energy bites made from just 6 simple ingredients. Vegan and Gluten Free.
---
Dry Ingredients
¾ cup

unsweetened coconut shreds or flakes

¾ cup

gluten-free rolled oats

¼ cup

ground flaxseed

¼ cup

finely chopped almonds or other gluten-free, vegan add-ins (chocolate chips, raisins, etc.)
Wet Ingredients
¾ cup

natural, unsalted almond butter (mine is very liquidy)

¼ cup

pure maple syrup
---
Instructions
In a large bowl, mix together all of the dry ingredients: coconut, oats, flax and almonds. Set aside.
In a medium bowl, whisk together the wet ingredients: almond butter and maple syrup.
Pour wet mixture over dry mixture. Using a sturdy spatula, fold together until well incorporated.
Scoop mixture into your hands. Roll and press into bites. If the mixture is a little dry, add in a little more almond butter or maple syrup. Enjoy!
© beamingbaker.com. All content and images are protected by copyright. Please do not use my images without my permission. If you wish to republish this recipe, please re-write the entire recipe using your own words and include a link to this post for the recipe.
☀︎ If you make this recipe, be sure to take a photo and share it on Instagram. Tag it #beamingbaker so I can see! 🙂 ☀︎
Oh, The Recipe that started it all. No Bake Peanut Butter Coconut Bites (Vegan, Gluten Free).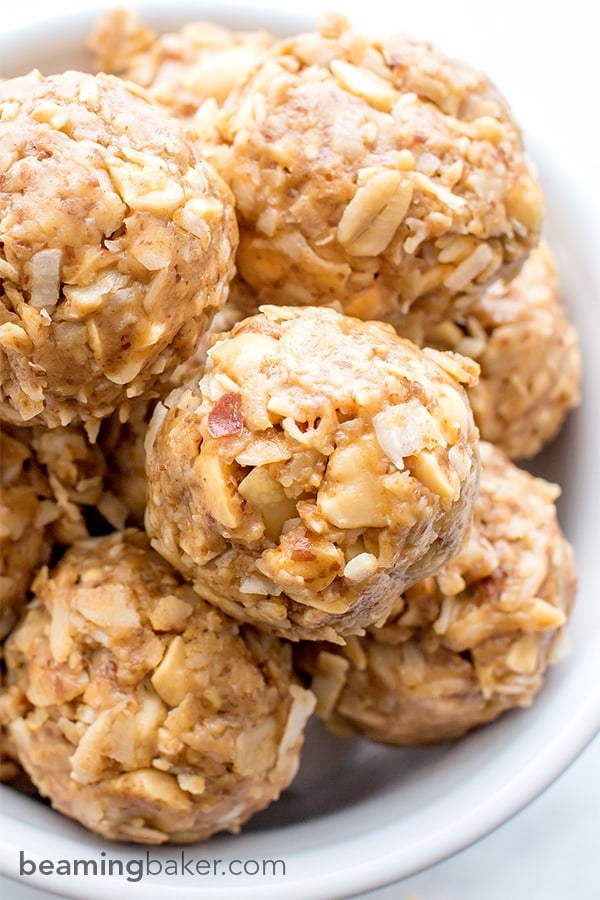 So you like No Bake? No Problem! Try my perfectly chewy, perfectly portable No Bake Oatmeal Raisin Granola Bars (Vegan, Gluten Free). Hint: they taste like oatmeal raisin cookies. 😉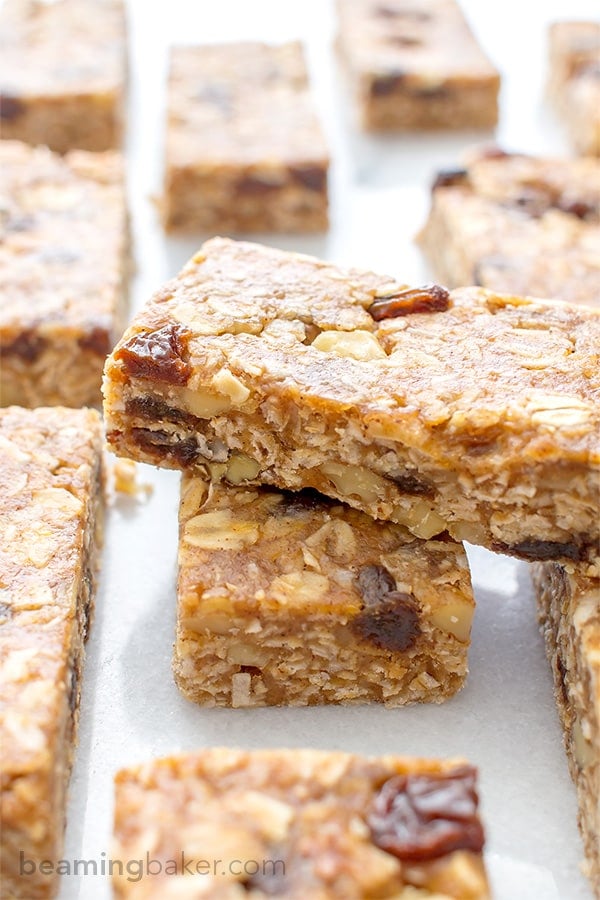 Who inspires you to be a better person?
I can't wait to hear your responses.
☀︎ Click here to Pin ☀︎