Quench your thirst with this super simple to make detoxifying cucumber mint water! Just a few minutes & simple ingredients for the best Cucumber Water.
Cucumber Water: A Refreshing, Thirst-Quenching Delight
What simple sorcery is this… this thirst-quenching treat called cucumber water? It's so easy to make, you won't believe it when you're done. You'll be looking around the kitchen for more things to do!
Just grab the freshest mint you can find, some just-right cucumbers and your favorite pitcher, because we're making easy cucumber mint water!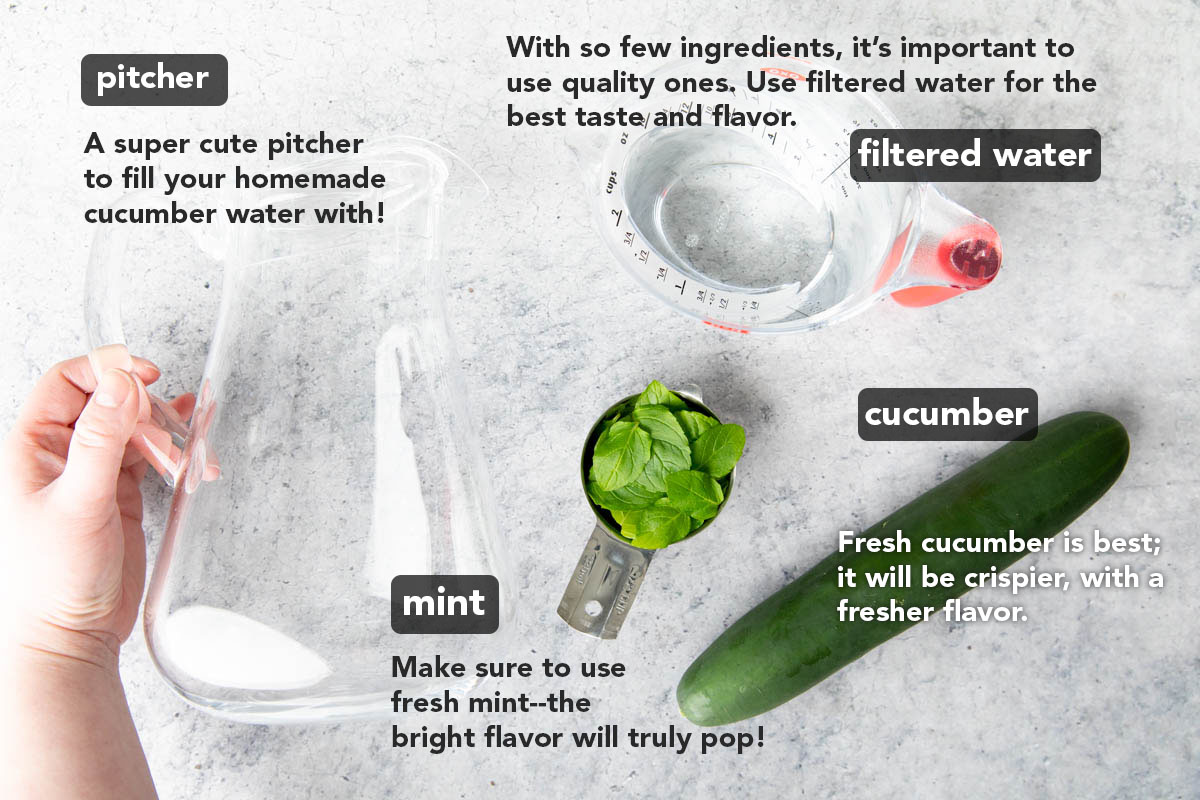 Simple Ingredients for Super Simple Cucumber Mint Water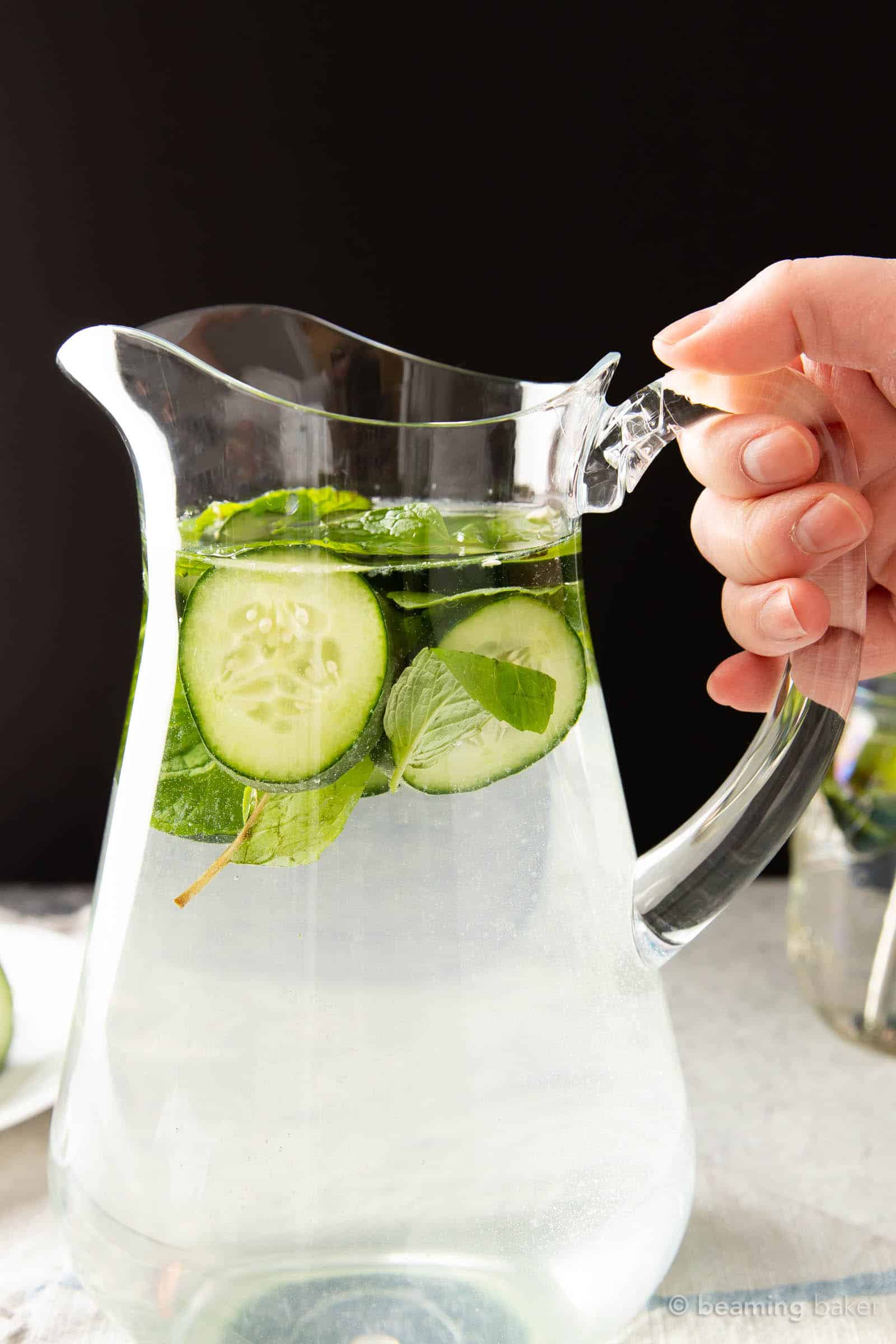 What's the Deal with Cucumber Water?
So, what are the benefits of drinking cucumber water, anywho? Here's are a few of them:
Hydrates
While this might seem like an obvious one, you might find it fascinating that cucumber mint water can help with hydration. But how is it different from any other water? Well, for one, it tastes better! It can be a struggle to get folks to drink the recommended 6 to 8 glasses of water per day. [1] But add some fresh cucumbers and cool mint? It can be a breeze!
Also, cucumbers are one of the juiciest fruits! Just one medium-sized cucumber contain 287g of water. [2] [3]
Lowers Blood Pressure
One source of high blood pressure is high intake of salt/sodium-rich foods and drinks. One way to combat high amounts of sodium? Potassium-rich foods like bananas and cucumbers! Potassium helps "regulate the amount of sodium retained by kidneys" because it's an electrolyte. [4] This cucumber water recipe is packed with potassium!
Antioxidants to Fight Disease & Chronic Conditions
Cucumbers are high in antioxidants such as beta carotene, vitamin C, manganese and more! [5] [6] Antioxidants are beneficial because they can help to slow or reduce the risk of diseases and cancers by "prevent[ing] or reduc[ing] the damage caused by oxidation." [7]
Great for Bone Health
Even better? Cucumbers are rich in vitamin K, with over 20% of your RDI (recommended daily intake) of vitamin K in just 1 cup. [8] It just so happens that vitamin K is a crucial nutrient for building strong bones and tissue, leading to good bone health and helping to prevent blood clots.
Cucumber Water Can Help with…
The promotion of healthy skin, weight loss and more! [9]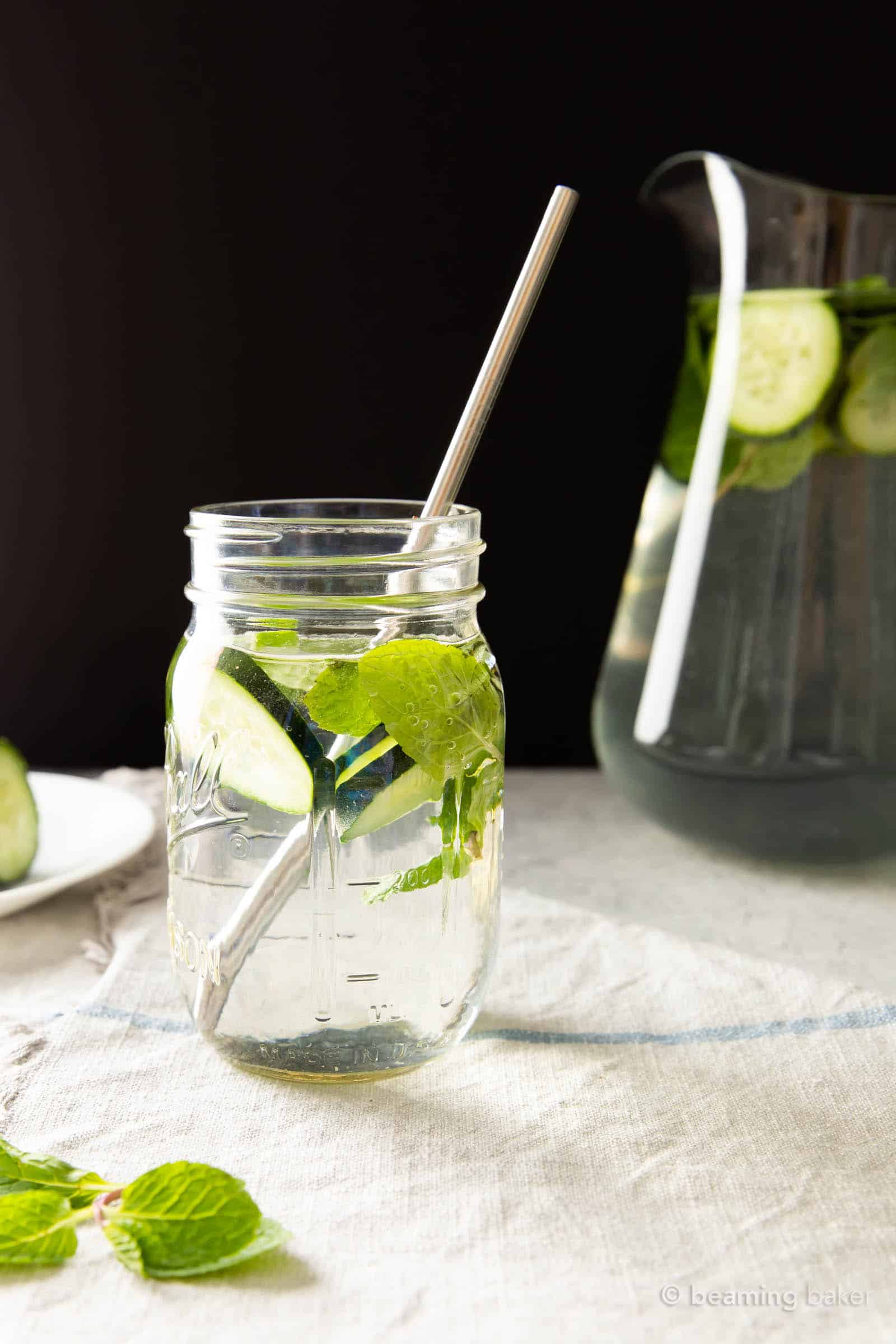 How to Make Cucumber Water
It is beyond easy to learn how to make cucumber mint water. Check out the steps below:
First, prep the cucumbers and mint leaves. I like to have these two ingredients ready to go for when they're called for in this cucumber water recipe.
Wash and slice the cucumber. Then, measure out fresh mint leaves–we'll wash these later.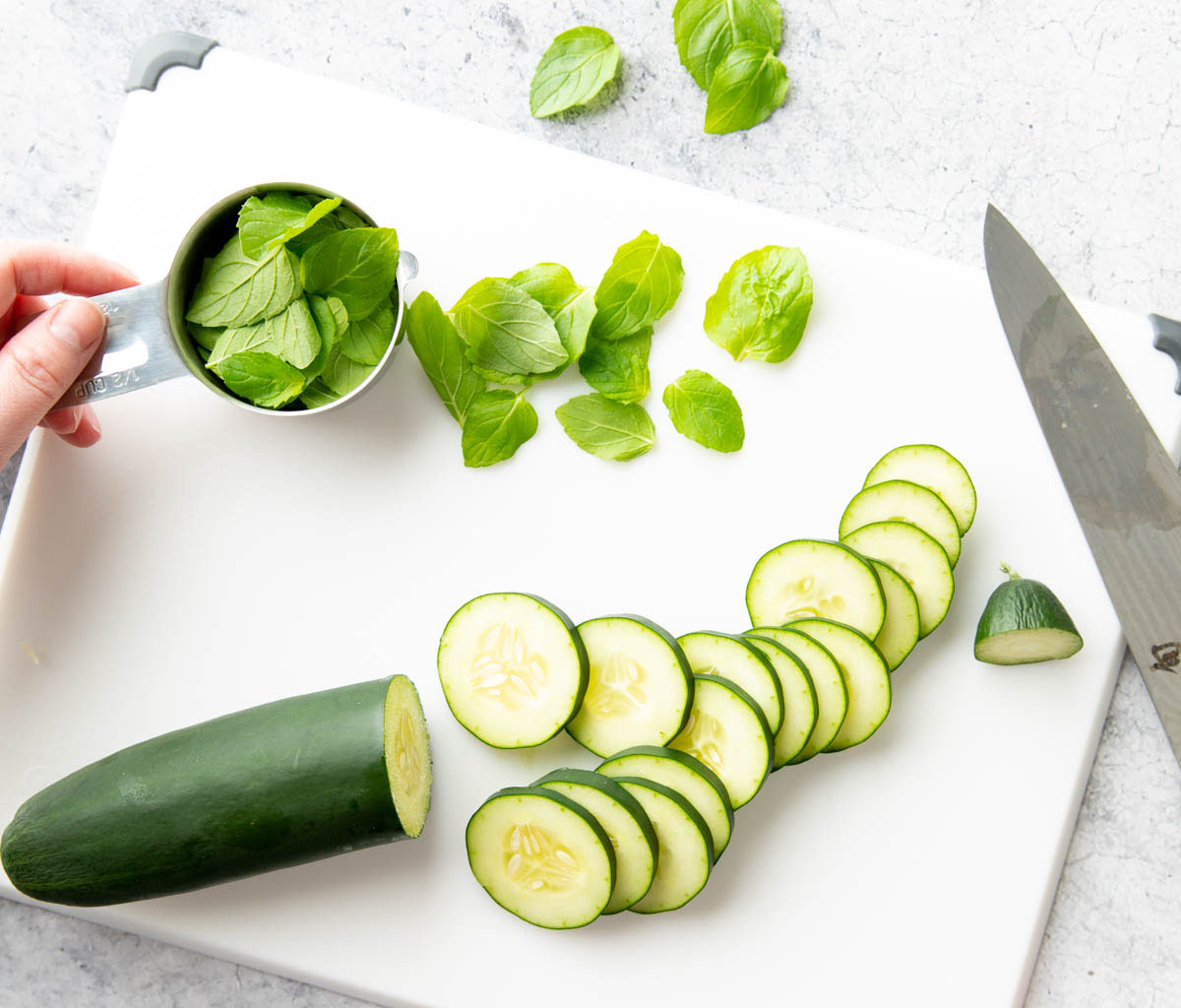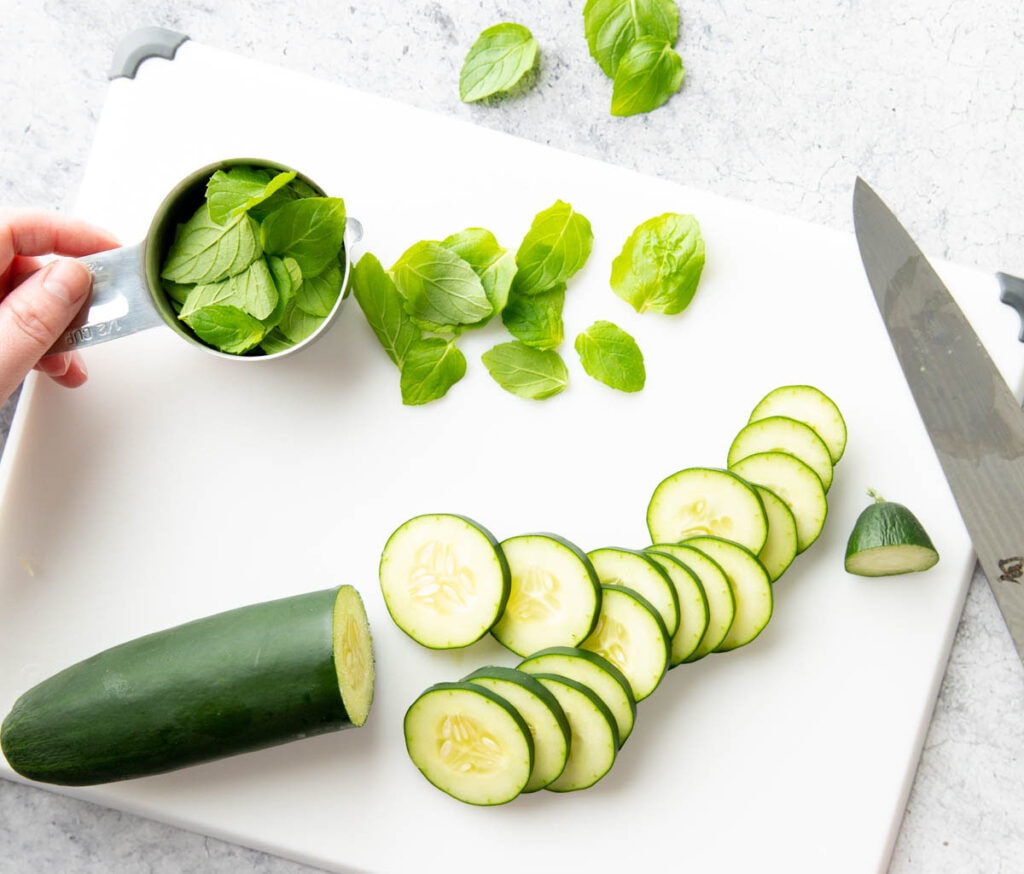 Grab your favorite medium-sized pitcher—here's mine. Give it a rinse to make sure it's nice and clean. Then, pour filtered water into the pitcher.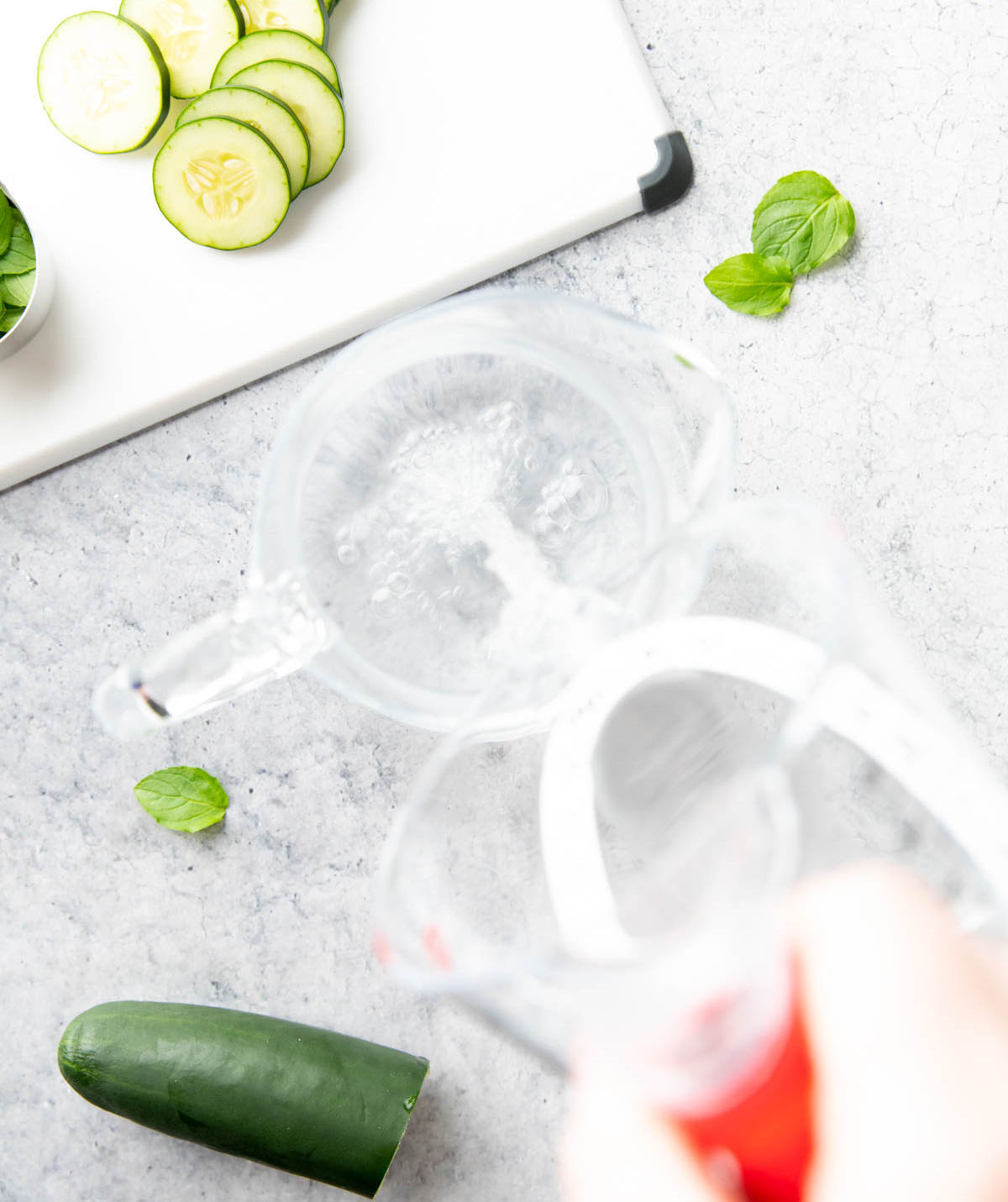 Now, add in cucumber slices and mint leaves (or lemon slices, if you prefer). Wash your fresh mint leaves, pat to dry, then drop into the pitcher.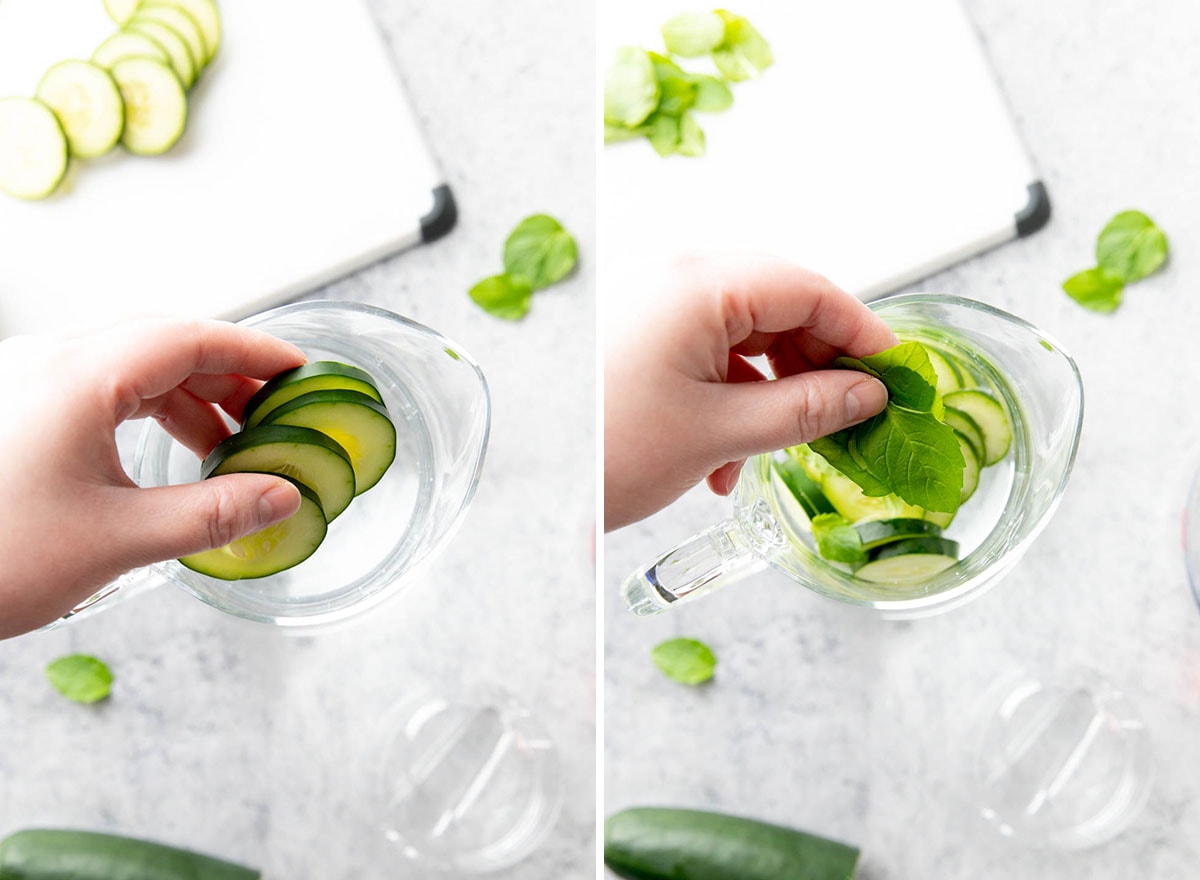 Using a big wooden spoon, stir everything together in the pitcher.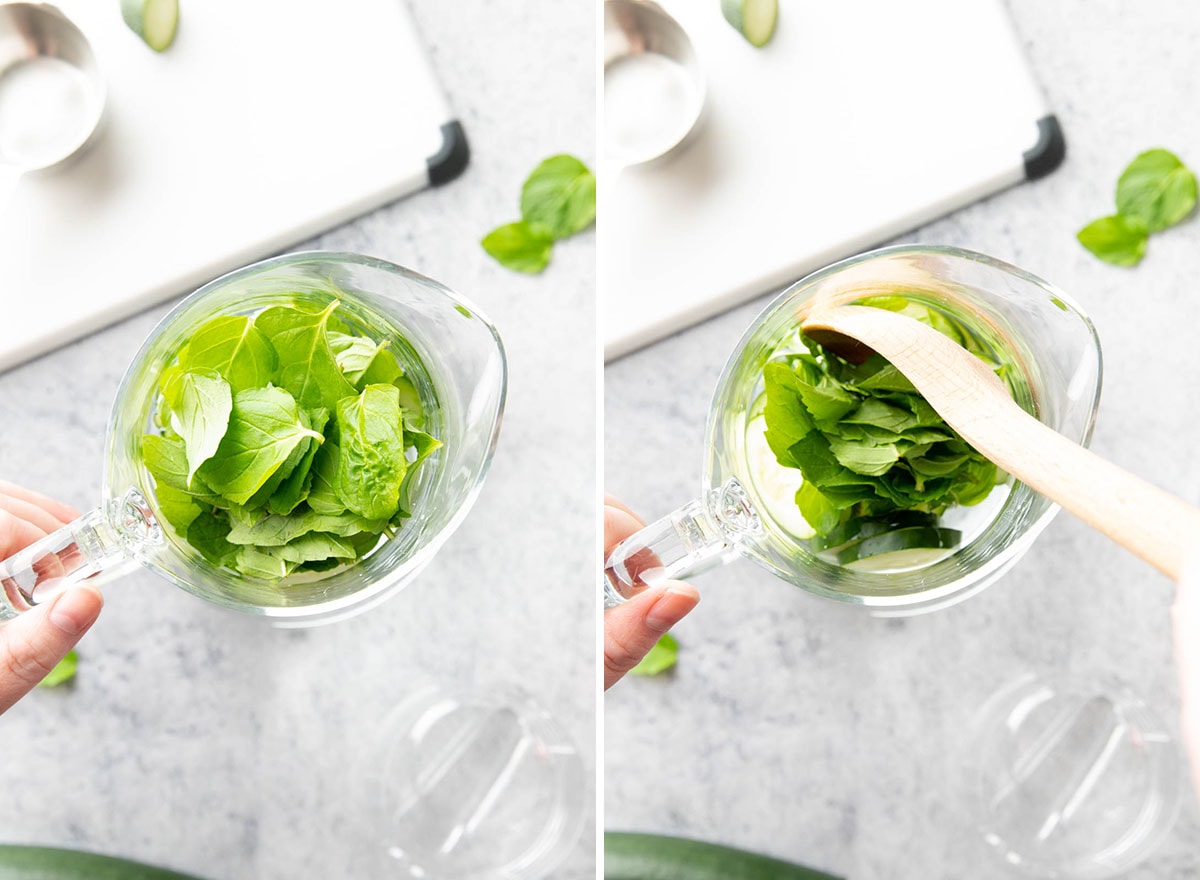 Make sure to gently stir the water, cucumber, and mint thoroughly together. Finish off with a last few stirs and you're almost done making the best cucumber water!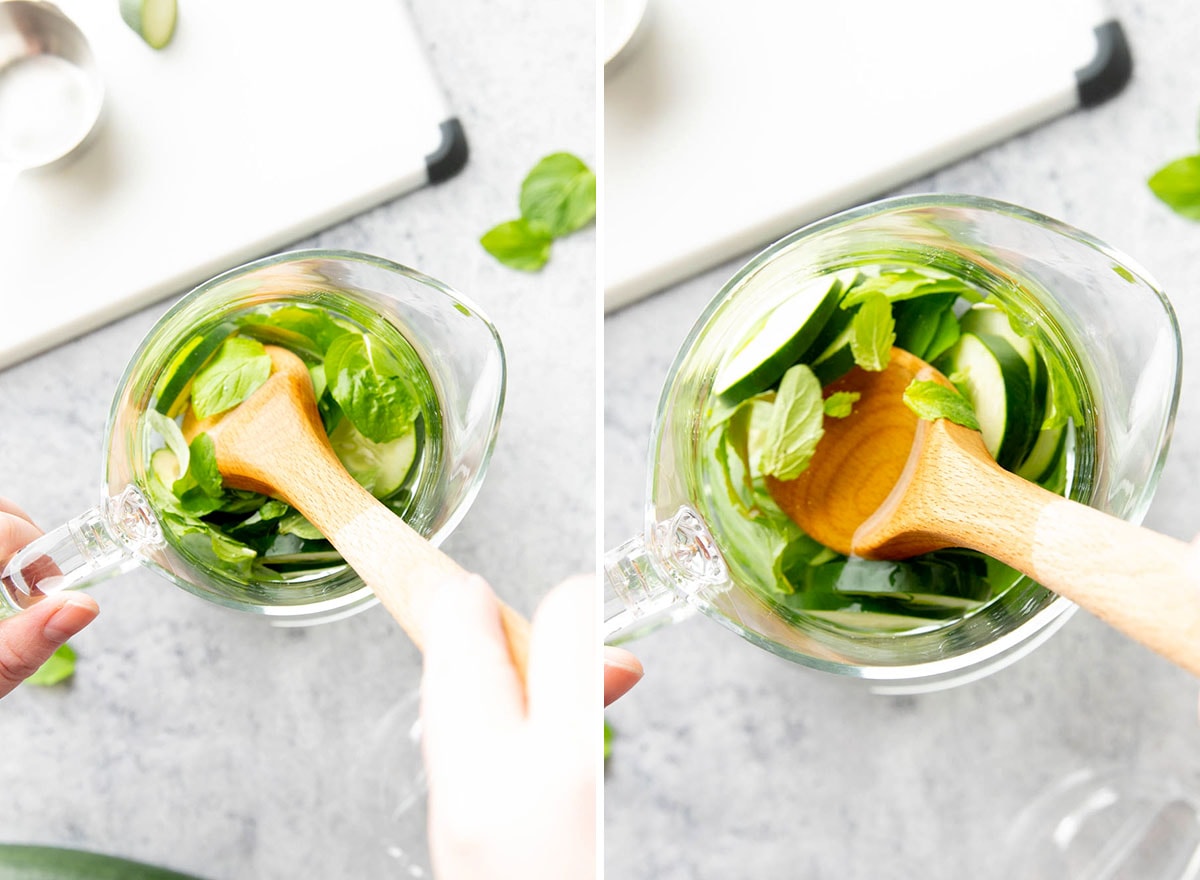 Pop the pitcher of cucumber and mint water into the refrigerator for at least 4 hours. It's best if you refrigerate the water overnight. Then, pour into glasses and enjoy!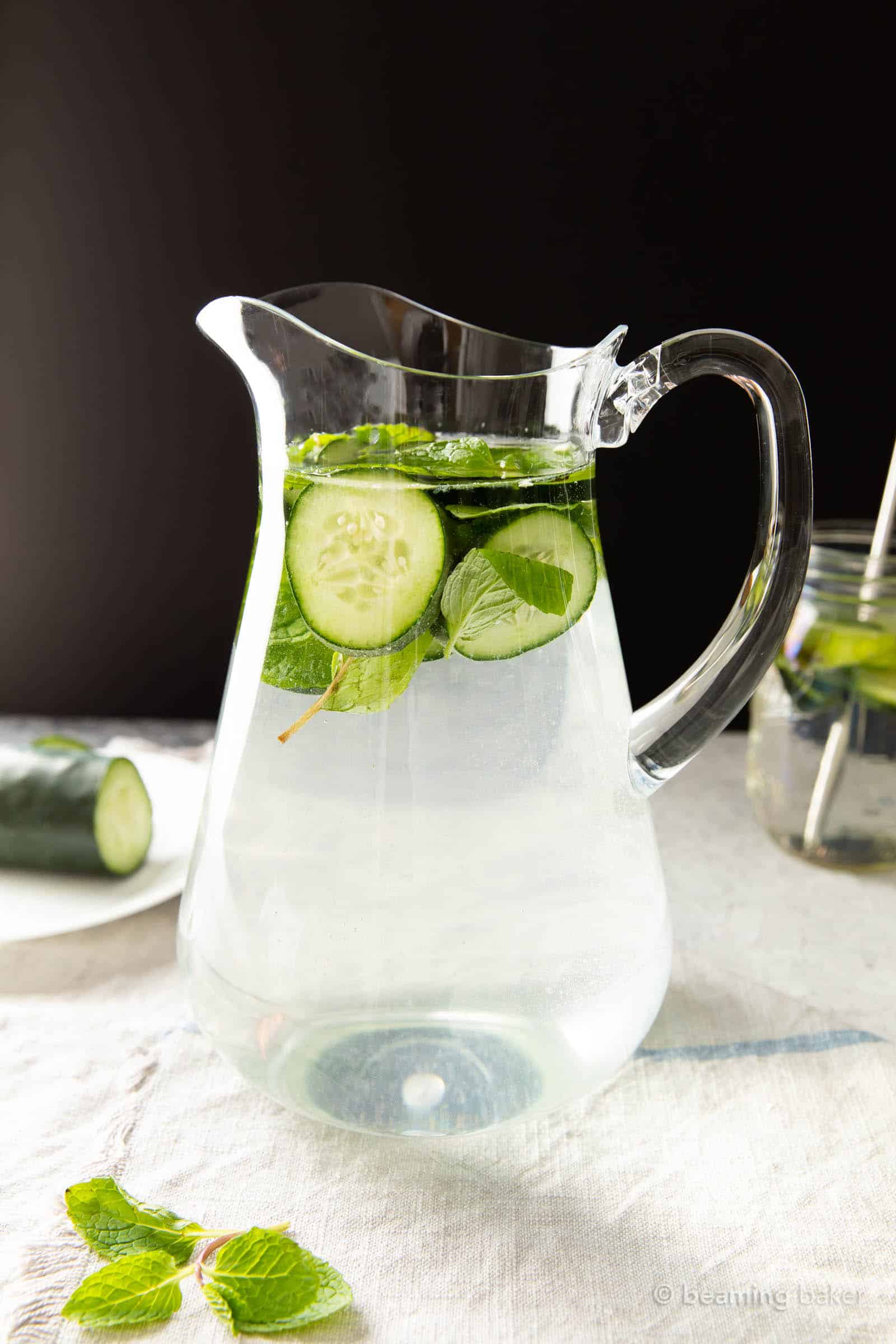 More Refreshing Drink Recipes
Tools You Need
Cucumbers on the Eyes, Cucumber in the Belly
Alright, that sounds kinda freaky… but at least I woke you up from you mid-afternoon work slump, right? Right?? Heehee. I hope you loved learning how to make this super easy drink with me today. I can't wait to see you on the next recipe! 'Til the next one…
Sending you all my love and maybe even a dove, xo Demeter ❤️
🥒 📸 🍃
📸 Did you make this cucumber mint water recipe? Take a pic and share it on Instagram with the hashtag #beamingbaker & tag @beamingbaker. I'd love to see it! 📸
Print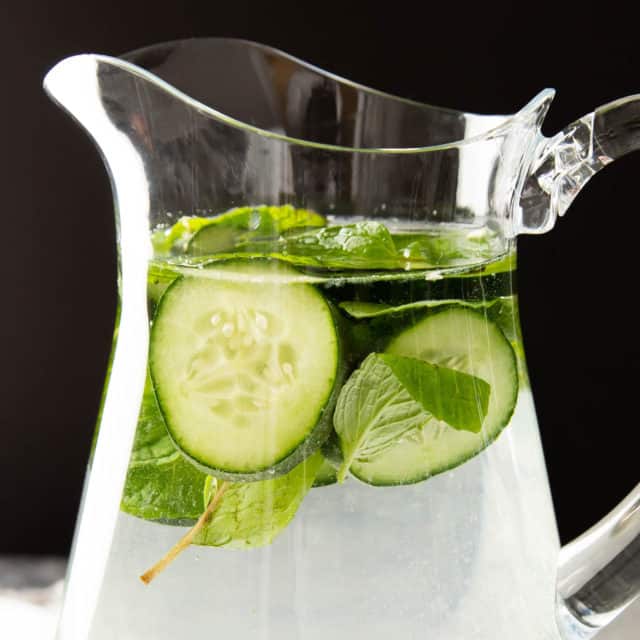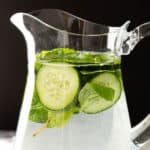 Cucumber Mint Water
---
Description
Quench your thirst with this super simple to make detoxifying cucumber mint water!
---
7 cups

cold, filtered water

1 cup

cucumber slices (about

½

medium cucumber)

½ cup

fresh mint leaves
---
Instructions
Add water and cucumber slices to a medium-sized pitcher.
Add fresh mint leaves to pitcher and stir until mixed.
Refrigerate for at least 4 hours, best if overnight.
Pour into glasses. Sip and enjoy.
Equipment
Prep Time:

3 minutes

Category:

Drinks

Method:

Chill

Cuisine:

American
Wanna help grow the Beaming Baker community? ☀️
You play such an important part in the livelihood of Beaming Baker–and just know that Erik and I truly appreciate it. 🧡 If you want to help grow the BB community, you can do the following:
This post may contain affiliate links, which allow me to make a small commission for my referral, at no additional cost to you.