Tart, lightly sweet and deliciously strong, this Gimlet cocktail recipe is a refreshing drink with a delicious punch.
From Sea to Thee, this Gimlet Cocktail Recipe Delivers
Today, we're gonna talk about the surprising origins of the Gimlet cocktail, learn how to make it with just a few simple ingredients, and whether vodka or gin is the way to go when partaking in this lime-juicy drink.
Who's ready to figure out whether a gimlet is a hand tool for boring holes or a cocktail that grew from the sea (kind of)? Let's get to it!
What is a Gimlet, Anyway?
A Gimlet is a cocktail drink that's comprised of gin or vodka, lime juice, simple syrup, and sometimes, soda. While there are debates about what a "real Gimlet" is made of, according to author Raymond Chandler in The Long Goodbye, "A real gimlet is half gin and half Rose's Lime Juice and nothing else." [1]
As such, some gimlet recipes are made with soda, other's say that Rose's sweetened, concentrated lime juice is a gimlet recipe requirement, while others call for fresh lime juice. Either way, once you find out the interesting history of a gimlet, you'll see why it *might* just be fresh lime juice instead of Rose's. 😉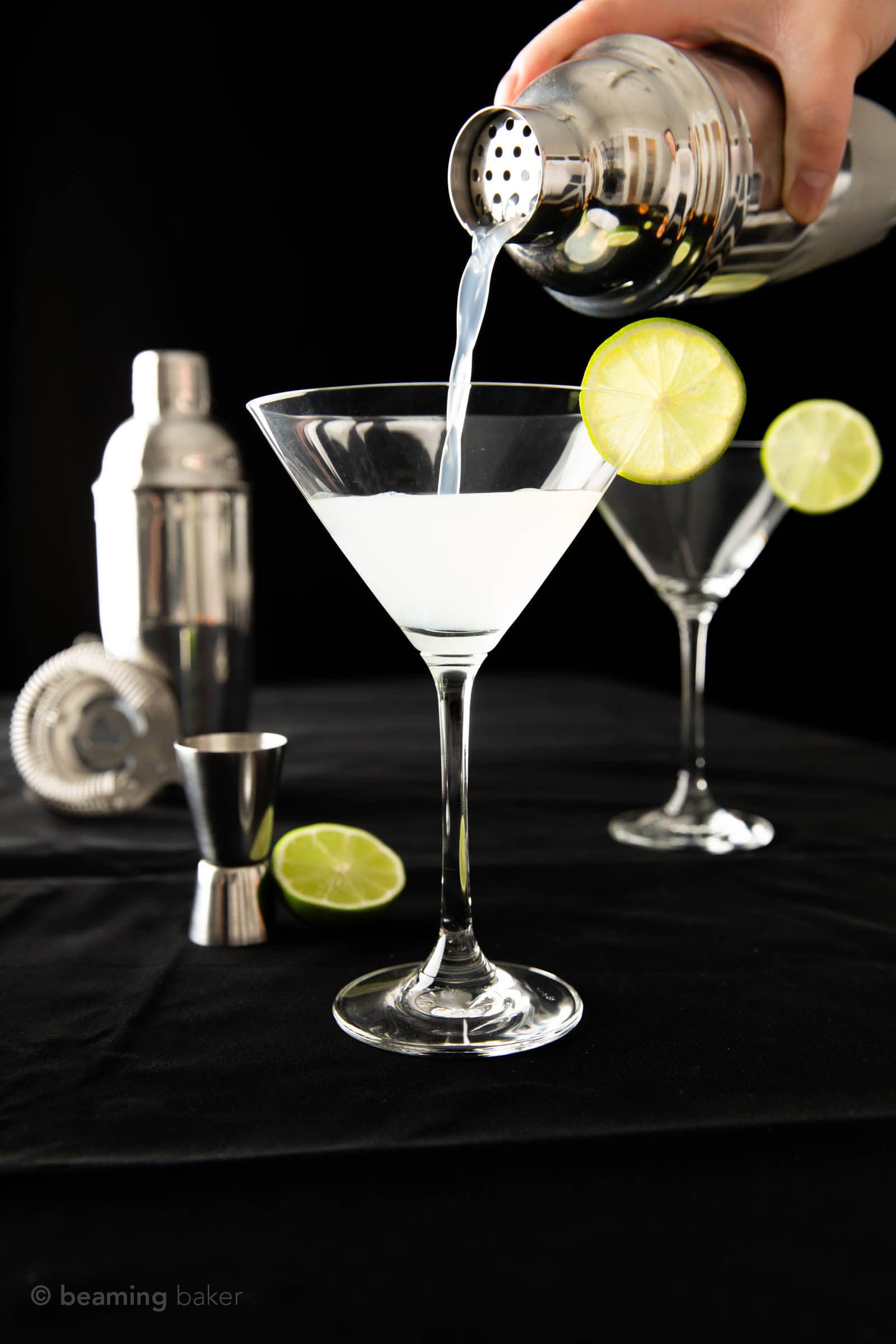 The Fascinating History of a Gimlet
If you've ever heard of a gimlet cocktail, you may have heard of its fascinating history… or maybe you haven't. The simple and refreshing cocktail drink started off as a way for the British Navy to fight off scurvy!
Although there are many version of the origin story of the gimlet drink, there's one that is cited as the most likely.
During the 19th century, officers and sailors in the British Navy were oft-diagnosed with scurvy, a painful and lethal disease caused by a vitamin C deficiency. [2] As a result, naval doctor Rear-Admiral Sir Thomas Desmond Gimlette prescribed a daily dose of vitamin C, in the form of lime juice, mixed with each naval officer's daily ration of gin ('cuz who doesn't have that?). [3] When mixed with gin, the lime juice was much easier to take. (I mean, can you imagine taking a straight shot of lime juice every morning at sea?)
Thus, the Gimlet cocktail was: 1) named after Sir Thomas Desmond Gimlette; 2) began as a mix of lime juice & gin for medicinal purposes to ward off scurvy; or 3)….
… the 3rd possibility:
That the Gimlet drink was actually named after a gimlet, "the hand tool that was used to bore into barrels of spirits on Navy ships." [4]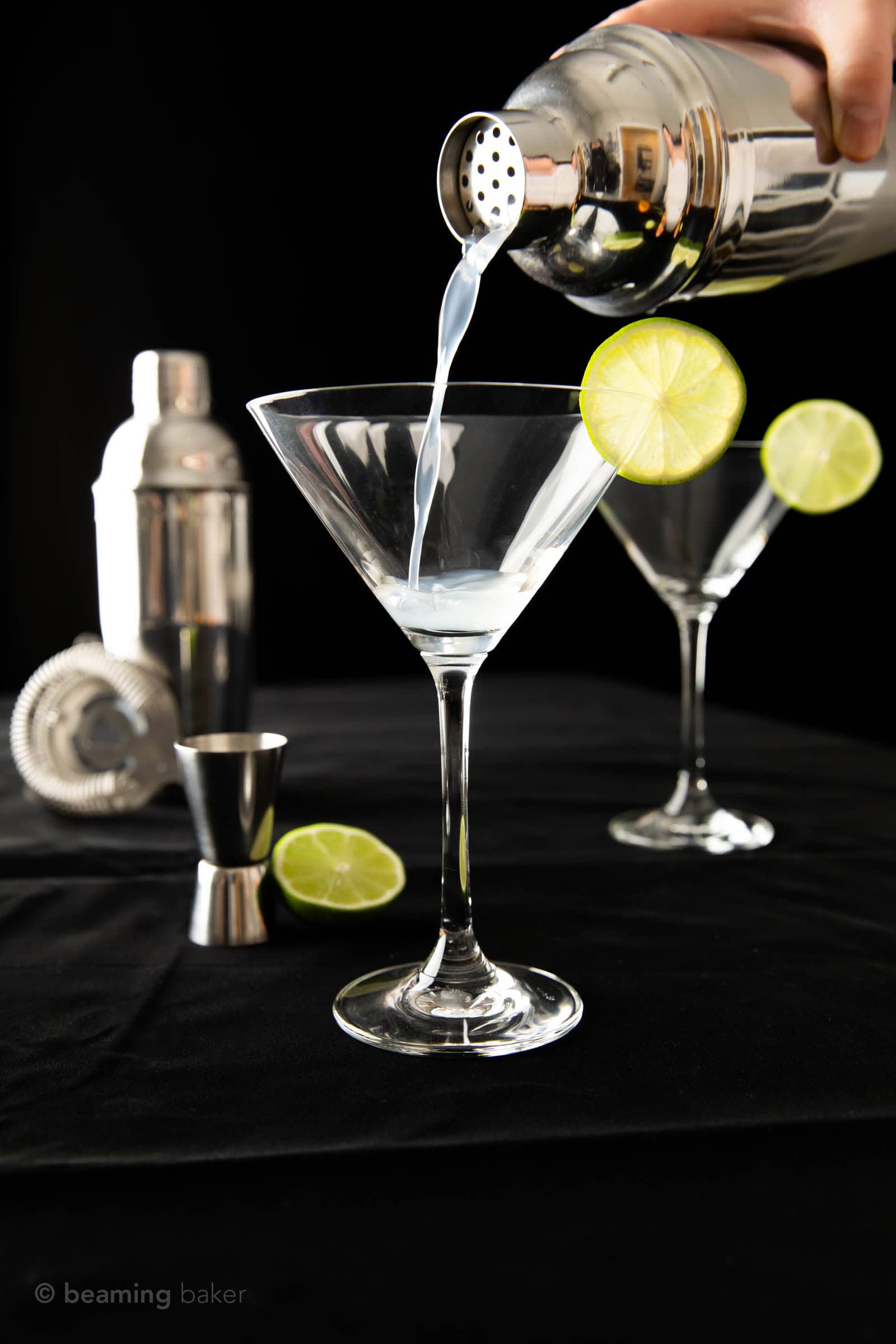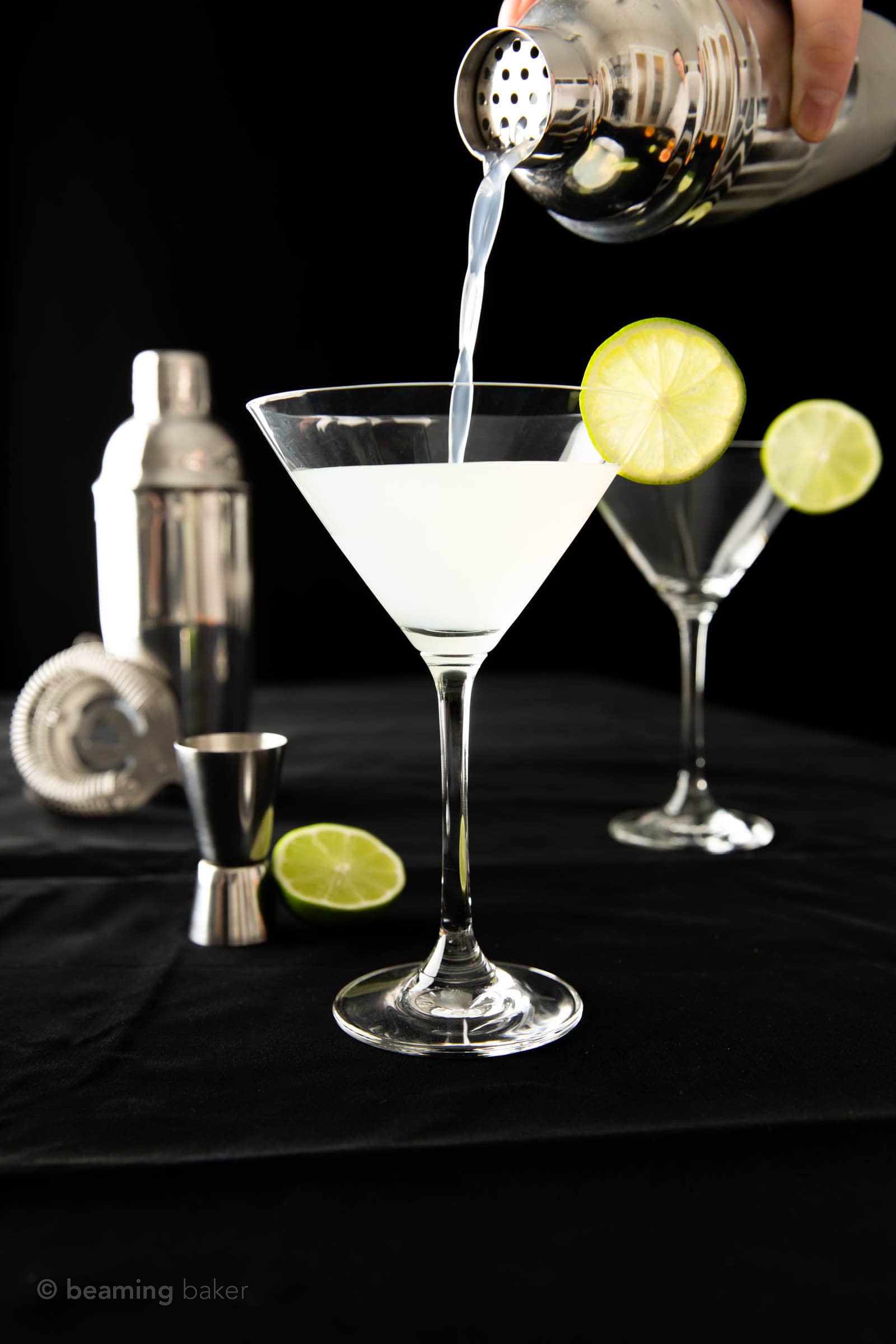 How to Make a Gimlet
Today, we're learning how to make a gimlet with three simple ingredients: gin, fresh-squeezed lime juice and simple syrup.
All three ingredients are shaken together in a cocktail shaker filled with ice, then strained into a cocktail or rocks glass filled with ice, or into a martini glass like you see in the pics today. [5]
Looking for a fun variation on the classic gimlet? Try my French Gimlet recipe!
What's the difference between a Vodka Gimlet and Gin Gimlet?
You might've guessed that the only difference between a vodka gimlet and a gin gimlet is…. The liquor! Yep. While Gimlet cocktails are traditionally known for being made with gin, you can easily swap the gin with an equal amount of vodka to create a vodka gimlet.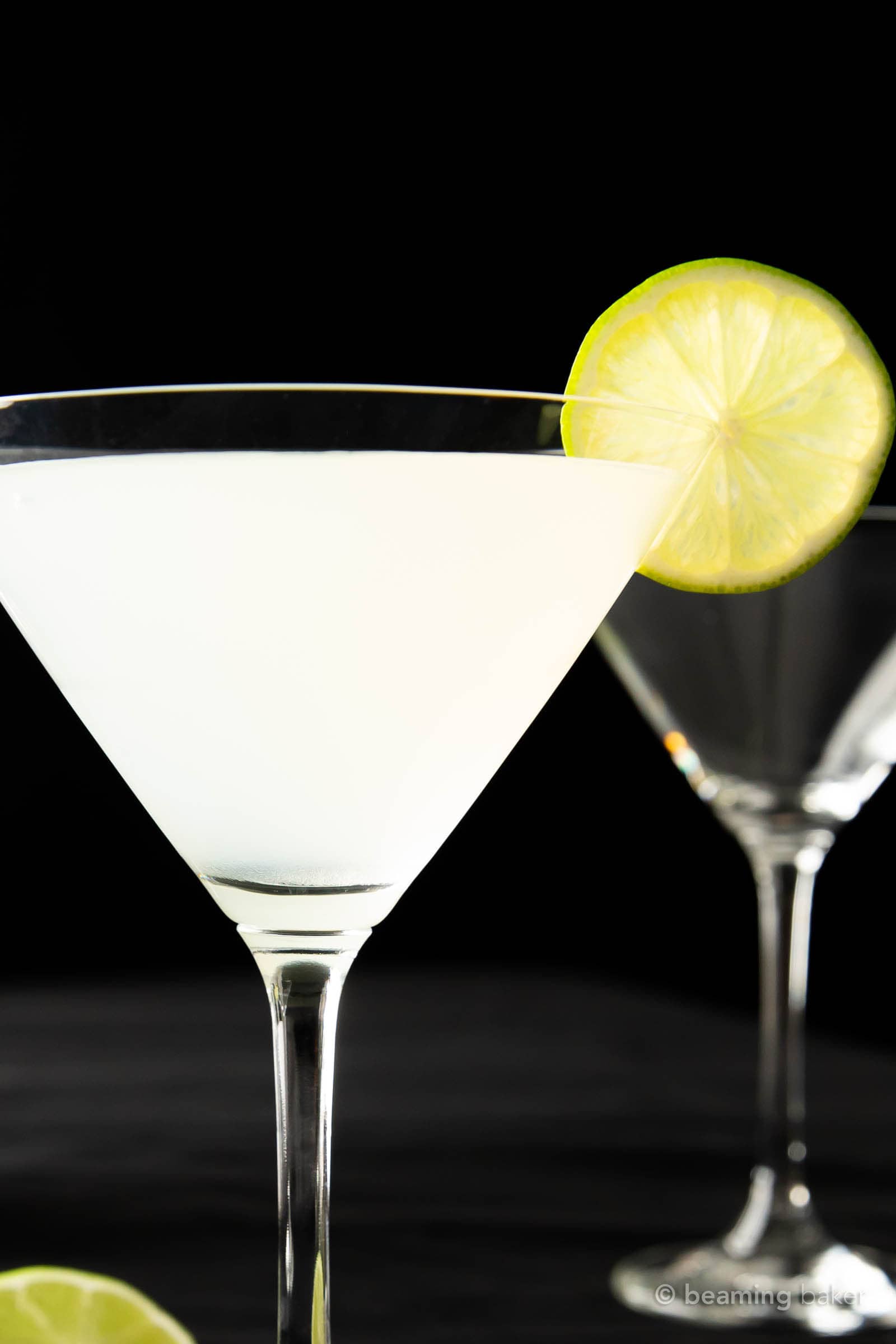 More Cocktail Recipes for Your Next Cocktail Soiree
Tools You Need
Let the Good Times Be… Gim-let!
I so hoped you enjoyed learning about this gimlet cocktail recipe. It was so much fun researching, testing (and testing again, you know, for educational purposes). I hope you've been loving our curious cocktail journey from start to well… we'll sea. 😉 Remember to take a pic & share it on Instagram by tagging me #beamingbaker, or comment below to chat with me. I can't wait to hear from you!
Sending you all my love and maybe even a dove, xo Demeter ❤️
  🍸 📸 🍸
📸 Did you make this gimlet recipe? Take a pic and share it on Instagram with the hashtag #beamingbaker & tag @beamingbaker. I'd love to see it! 📸
Print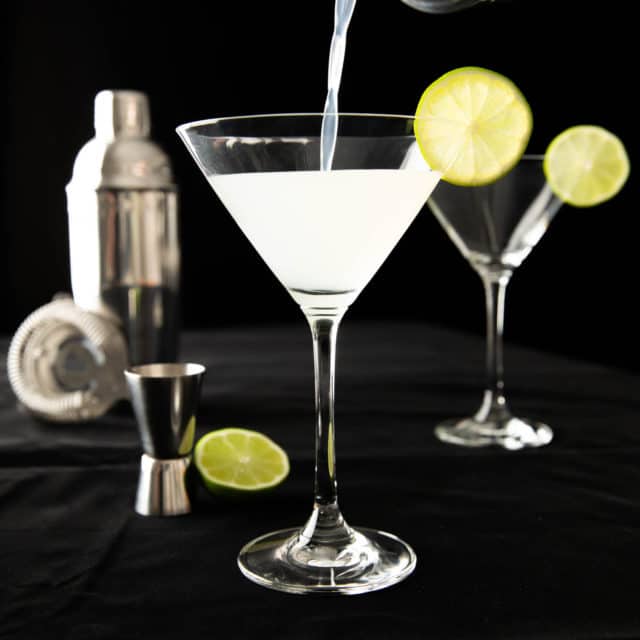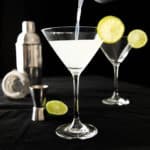 Gimlet Cocktail Recipe
---
Author:

Demeter | Beaming Baker

Total Time:

2 minutes

Yield:

1

small serving, make double for

1

large martini glass

1

x
Description
Tart, lightly sweet and deliciously strong, this Gimlet cocktail recipe is a refreshing drink with a delicious punch.
---
2 ½ oz

gin

½ oz

fresh-squeezed lime juice

½ oz

simple syrup
---
Instructions
Measure gin, lime juice and simple syrup into a shaker filled with ice. Here's a convenient measuring jigger that I use. Shake until thoroughly chilled.
Strain into a martini glass. Garnish the glass with a lime wheel.
To make the lime wheel stay on the edge of the glass: Lay the lime wheel flat on a cutting board. Slice into the center of the wheel and move outward, cutting only into the center point of the wheel and moving outward toward the edge—this will create an opening that you can wedge onto the rim of the martini glass.
Sip and enjoy!
Equipment
Prep Time:

2 minutes

Cook Time:

0 minutes

Category:

Cocktails, Drinks

Method:

Shaken
Keywords: gimlet recipe, gimlet cocktail recipe
© beamingbaker.com. All content and images are protected by copyright. Please do not use my images or recipe without my permission. Please do not republish this recipe, instead, include a link to this post for the recipe.
Wanna help grow the Beaming Baker community? ☀️
You play such an important part in the livelihood of Beaming Baker–and just know that Erik and I truly appreciate it. 🧡 If you want to help grow the BB community, you can do the following:
📝 Leave a comment & rating. When you try a recipe, leave a comment and star rating to let us know how you liked the recipe. It truly helps all of our readers discover which recipe works best–and keeps us going in the right direction.
📸 Instagram. Made a recipe? Take a photo and share it on Instagram with the tag #beamingbaker and tag us at @beamingbaker. It makes our day to see how the recipe turned out for you!
👭 Tell a friend. You know when you love something, you can't help but tell others about it? If you love any of the recipes on Beaming Baker, tell a friend. 🙂 It truly helps to grow the BB community. ☀️
This post may contain affiliate links, which allow me to make a small commission for my referral, at no additional cost to you.