Mini Heart-Shaped Chocolate Cakes with Coconut Oil Frosting (Vegan)
Adorable mini, heart-shaped, two-layer chocolate cakes topped with slightly sweet coconut oil frosting. An impressive and delightful treat to make for any occasion.
Cakes are a labor of love. Can I just say?
I feel like every time I'm even thinking about making a cake, I have to battle plan. Dude… if you've read my about page, you'll know about my history with cake. It's a such a sweet, yet cloyingly complicated and often unforgiving, dessert.
Like, when you were five, and stuffing your face with birthday cake and happily crunching on surprise birthday sprinkles, did you think for one second how hard it was to make that cake?
For me, that's a big, fat NO.
Now, in my sad, almost pathetic attempt at being a full-blown adult, I've got to worry about making things like cake. Cake, I'm giving you a dirty look right now. And, truth be told, if my only concern in life was making cake, then things are probably looking pretty good for me.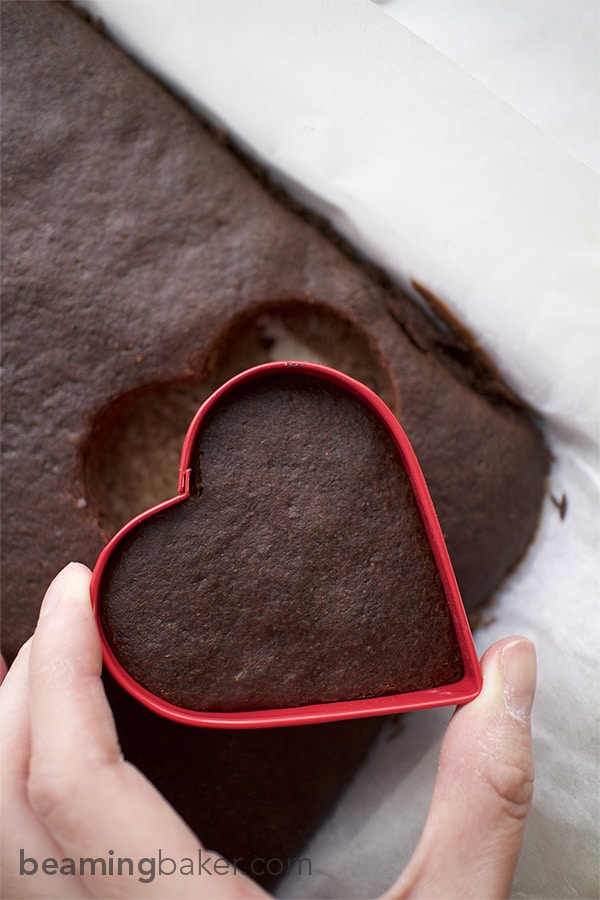 But, still!
So why am I babbling here, talking about the limitless wretchedness of making cake… um, for a CAKE post?
Well, my friends, there is one cake recipe that has not browbeaten me like all the others have. It's a little recipe (aka FAMOUS recipe) from the Interwebs called something like 'Best Chocolate Cake that happens to be vegan" or something.
Have you tried it? You should, bc… it's awesome!
Anywho, this wonderifically simple recipe gave me the courage, nay, the astounding audacity to plan out two-layered mini, wait for it, heart-shaped cakes. Guuuuuurl. Did I just say cake? Followed by a delusion-driven 'layers'??? And then add on a freaking ideogram-shaped cutting device?
Somebody, hold me back.
But. Why not?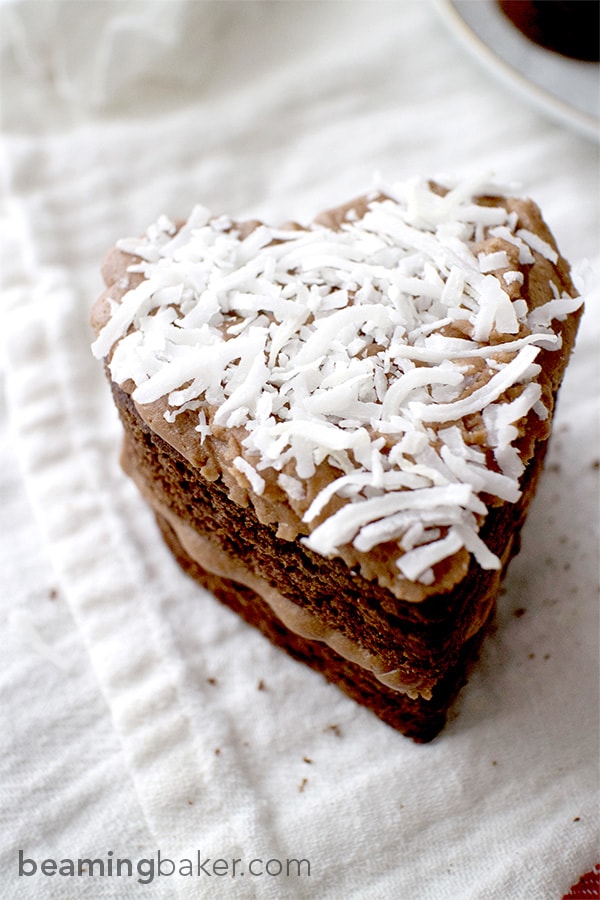 What's life about if not taking risks? Having ambitious ideas: whether for work, kitchen adventures or family stuff? Here at beaming baker, folks are allowed to dream. Then do.
What's up now, cake?
And now that I'm feeling especially brazen, I'll just admit that I made coconut oil frosting too. Awww, sh…..
Alright, alright, you're saying to yourself. But did it work out for this alleged 'beaming baker'? Yes, friend. It did.
Let me walk you through it, if I may.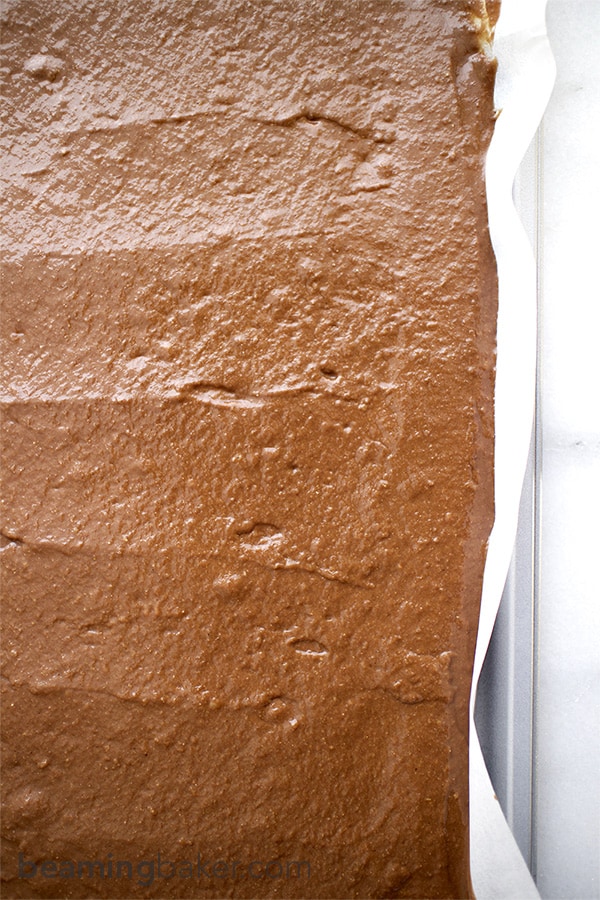 First, you put on Eye of the Tiger. The gray, sweaty sweatsuit is optional. The gray, sweaty headband is not. J/k! But that headband would really put steel in your spine, for courage purposes only, of course. Then, you preheat the oven and line a cookie sheet (yep, a cookie sheet) with parchment paper.
The cool thing about these mini cakes is that they bake fast. That's because I dialed down the thickness of the cake layers to make them suitable for the mini cake theme. Hence, you don't even need to use a deep cake pan/dish/sheet. It's called efficiency. And it's kawaii, ftw.
Now, go ahead and get your wet ingredient/dry ingredient groove on. Add all the dry ingredients together in a mixing bowl and whisk together. Add all the wet ingredients together in another bowl and whisk together. Easy as pie. I won't say cake… you know why.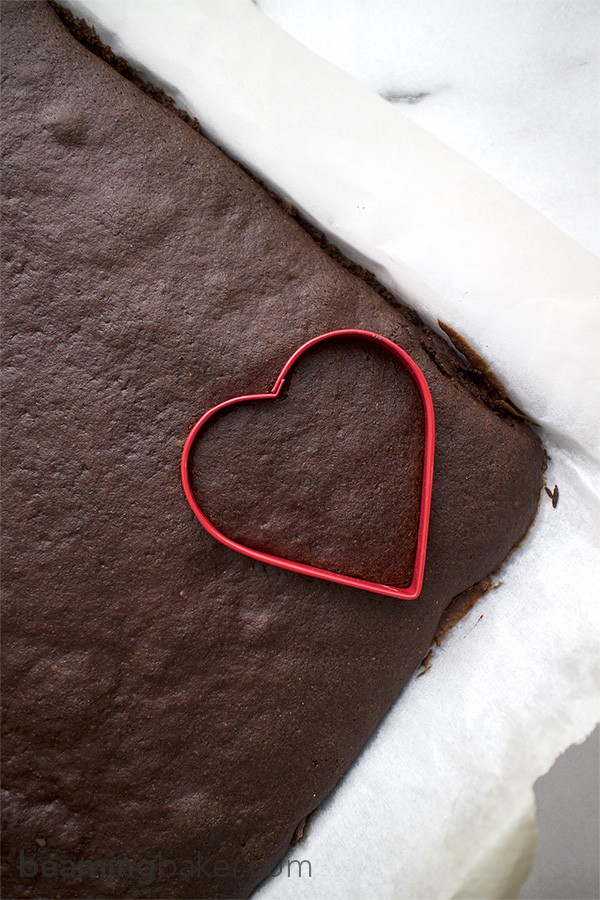 Then, make a swell well (couldn't help myself) in your dry ingredients. Pour the wet ingredients in and give it a good, confident whisking. Yep, you've got to watch out for overmixing. That means that you just whisk it until everything is integrated, but not smooth. If you're going for smooth, you're gonna go too far. And too far = tough cake. Not good, friends.
Now, for the fun part: pour the batter onto your cookie sheet. Use a rubber spatula to spread the cake into a layer of thickness that works best for you. I did about 1/2 to 2/3" since it bakes up a bit. Then, pop it into the oven and bake. Pat yourself on the back (or adjust your headband to victory position, whatever that means), you've done most of the work!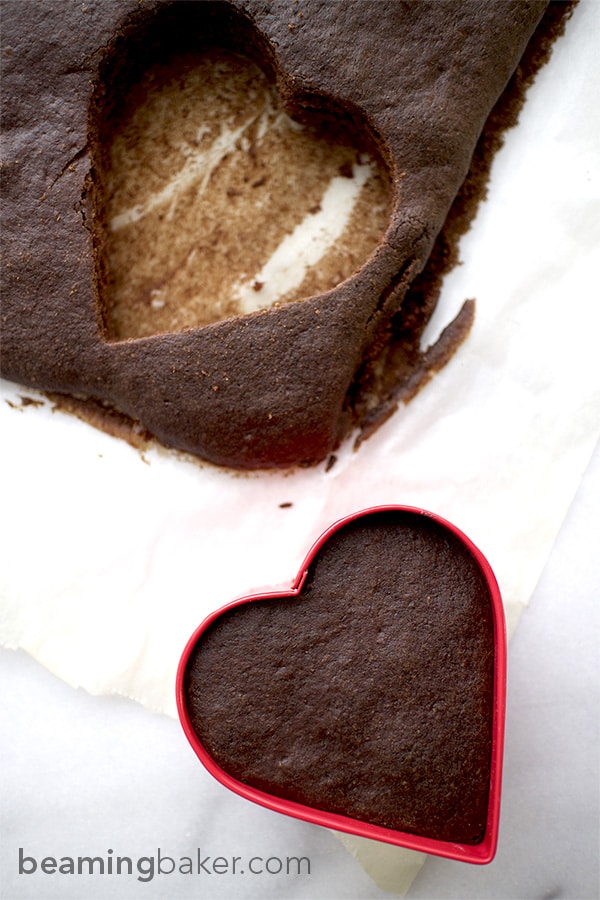 Then, you grab your trusty stand mixer. If you have a handheld mixer, this will work too. Pop in your coconut oil and mix until smooth. This is gonna take a few minutes. Then, add in your powdered sugar and cocoa powder. This part is the most experimental. You've got to go with what feels right or whatever tastes good. Nice. Then add in your vanilla extract and almond milk, as need.
Once the coconut oil frosting is all done, set it aside. We have big plans for that guy later.
Go ahead and hit repeat on your Rocky soundtrack. Check on your cake. Is it done? Cool. I mean that literally. Remove it and let it cool until it doesn't even have a hint of heat. This is a great time for taking a nap washing dishes. I know, no one wants to do them. But someone has to. Lame, I agree.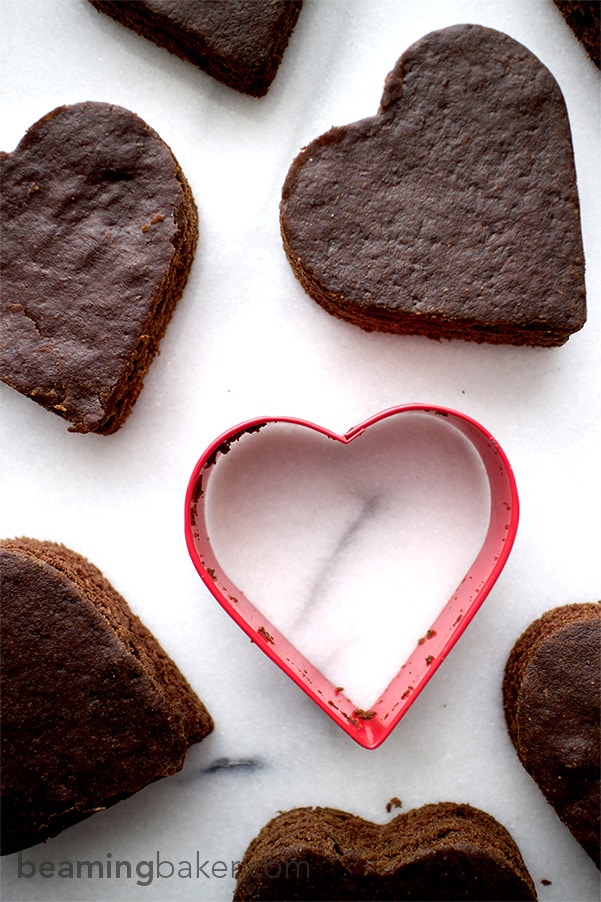 Once your cake is cool, it's time to make magic. Yup, magic. Grab your heart-shaped cookie cutters. Lift the cake carefully out of the sheet and set it on a legit-can-be-scuffed-or-at-least-cut-on-surface. Cut heart-y cake pieces out with the glee of a seven-year-old. Well done! Repeat, you winner, you.
With your truly applause-deserving pile of mini heart cakes sitting on a plate, you're ready to frost! Give your frosting a little stir and delicately (or not, that's up to you, my friend) frost one cake, then put another directly on top. Frost that top, then sprinkle with coconut. No, it isn't wrong that you feel like a more accomplished person. In fact, it's necessary.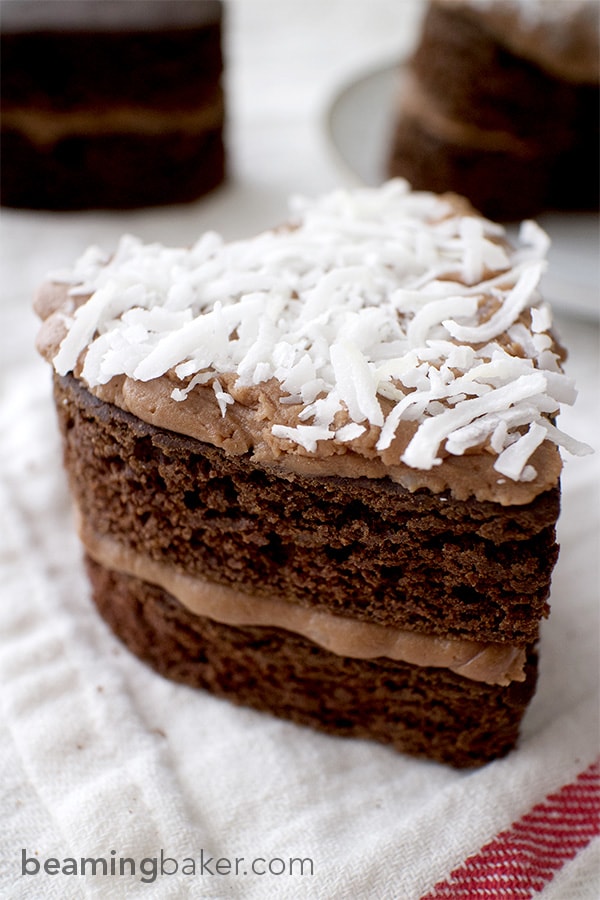 Now repeat, like three times. There's enough batter and frosting to make like 10 cakes, but dagnabit if you didn't mess up the first one, ate the next one from sheer excitement, then get winded after you made two perfect ones. O-kay?
Now, you may remove your chocolate-infused, sweat-painted, coconut-oil covered, legit Rocky Balboa-inspired sweat suit and treat yourself to a nice, long bath.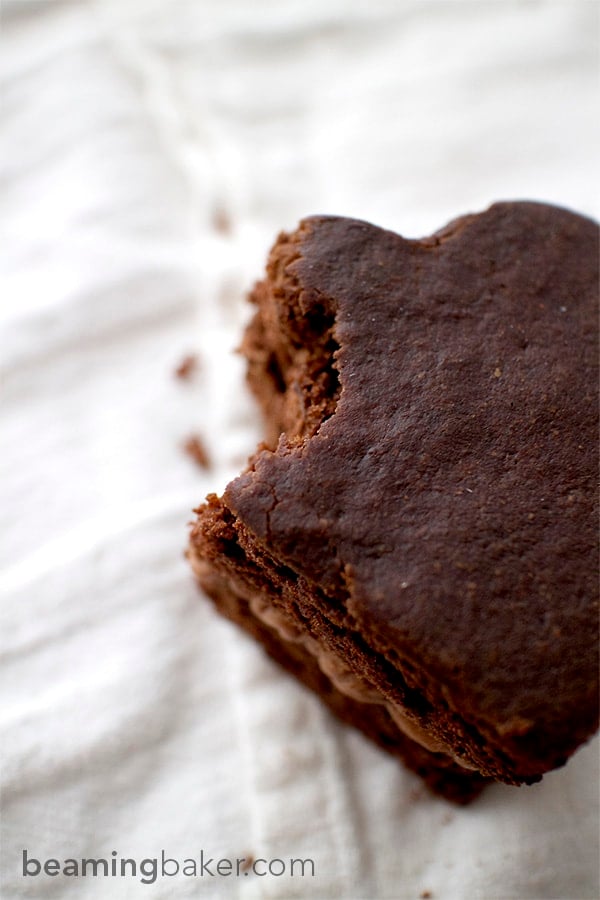 You so deserve it, Tiger.
Print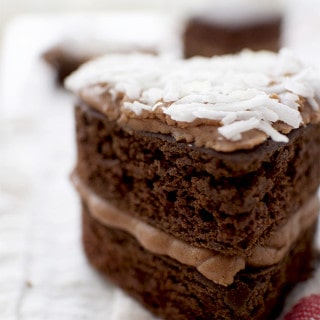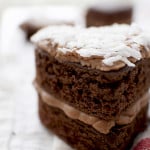 Vegan Chocolate Cakes with Coconut Oil Frosting (Vegan)
---
Description
Adorable mini, heart-shaped, two-layer chocolate cakes topped with slightly sweet coconut oil frosting. An impressive and delightul treat to make for any occasion.
---
Chocolate Cake
½ cup

+

3 tablespoons

white whole wheat flour

½ cup

unbleached, all-purpose flour

½ cup

sugar

1/3 cup

cocoa powder

1 teaspoon

baking soda

½ teaspoon

salt

1 cup

warm water

½ cup

unsweetened applesauce

1 teaspoon

vanilla extract

1/3 cup

melted coconut oil

1 teaspoon

apple cider vinegar*
Coconut Oil Frosting
½ cup

solid coconut oil

1 cup

+ 2 tablespoons confectioners sugar (more or less as needed)

2 tablespoons

cocoa powder

½ teaspoon

vanilla extract

2 tablespoons

unsweetened almond milk or any milk

½ cup

unsweetened coconut shreds (optional)
---
Instructions
Preheat oven to 350°F. Line a small cookie sheet with parchment paper or greased foil.
Make chocolate cake: In a large bowl, whisk together all the dry ingredients: white whole wheat flour, all purpose flour, sugar, cocoa powder, baking soda and salt.
In a medium bowl, whisk together all the wet ingredients: warm water, applesauce, vanilla extract, coconut oil and apple cider vinegar.
Make a well in the large bowl of dry ingredients. Pour wet ingredients into well. Mix until just combined (be careful not to overmix).
Pour batter onto the prepared cookie sheet. Use a rubber spatula to spread batter into an even layer. This layer is going to be between ½" to 2/3" thin. Bake for 10-15 mins.
Remove from oven. Allow to cool on a rack for 1 hour.
Make the frosting: In the bowl of a stand mixer, add solid coconut oil. Mix on low speed, with the whisk attachment until softened. Add in ¼ cup of confectioners sugar and 2 tablespoons cocoa powder. Mix in vanilla extract and 1 tablespoon almond milk. Scrape down the sides of the bowl and the whisk attachment as needed.
Slowly add ¼ cup increments of confectioners sugar until you reach the desired consistency. If the frosting is too thick, you can add in another tablespoon of milk. If the frosting is too runny, add in more confectioners sugar.
Assemble the cakes: Once the cake is completely cool to the touch, it's time to cut them into hearts! Gently lift the cake from the pan by grabbing the parchment or foil.
Lay on a flat surface, suitable for cutting. Using heart-shaped cookie cutters, cut heart-shaped pieces of cake. Spread frosting on one heart-shaped cake piece, then add another piece directly on top. Frost the top of the top of that cake, then garnish with coconut. Repeat.
Serve and enjoy!
Notes
*Distilled white vinegar is okay.
Store cakes in an airtight container for up to 1 week. Best enjoyed within a couple days.
Frosting is best used immediately.
Cake adapted from this recipe.
Prep Time:

20 mins

Cook Time:

10 mins

Category:

dessert
© beamingbaker.com. All content and images are protected by copyright. Please do not use my images without my permission. If you wish to republish this recipe, please re-write the entire recipe using your own words and include a link to this post for the recipe.
Try my insanely delicious Best Vegan Peanut Butter Coconut Cookies.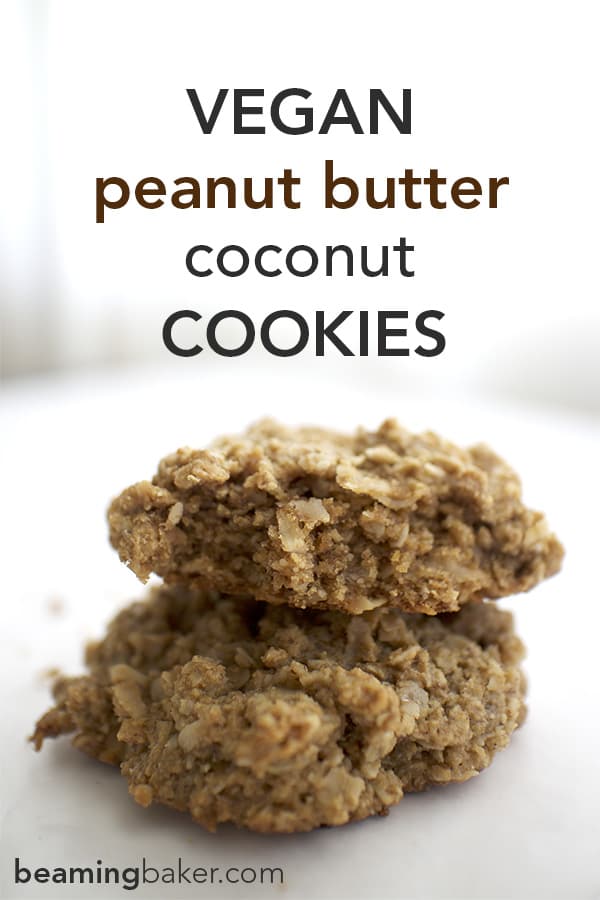 Question of the Day
What's your favorite motivational song?
I can't wait to hear your response. <3, demeter