Cheese Quesadilla Recipe + 5 Methods!
Perfectly crisped tortillas packed with oodles of melty cheese for the best Cheese Quesadilla. Easy to customize, quick 'n easy dinner!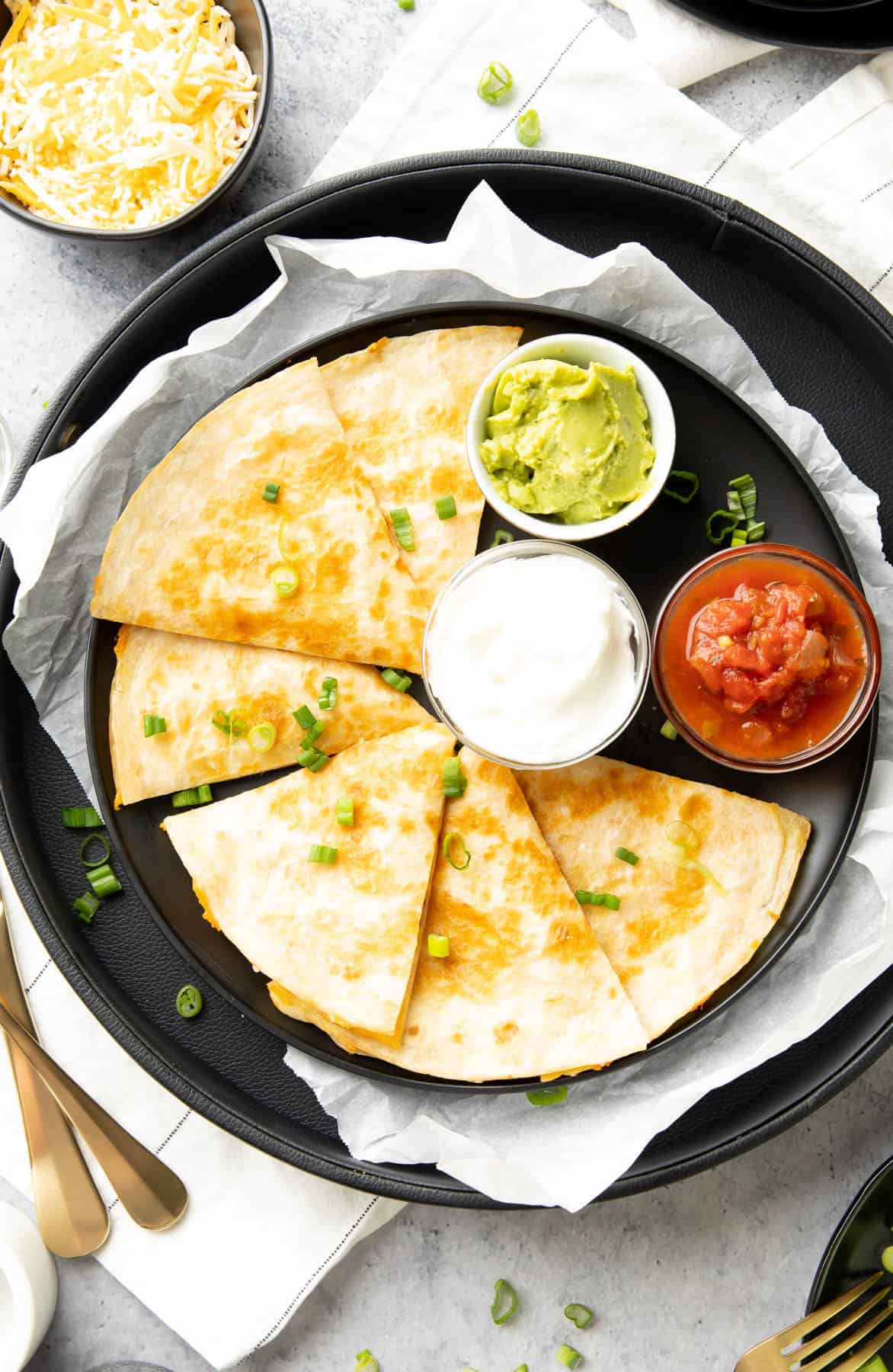 The Best Cheese Quesadilla Recipe
Crispy, cheesy, melty, delicious cheese quesadillas! With just the right amount of cheese, a sprinkle of salt, and well-timed flipping, we're going to make the best ever cheese quesadilla recipe!
We're going to learn how to make a cheese quesadilla, what cheese to use for quesadillas, and more.
Ready to make dinner so easy and tasty tonight? Let's cook this!
Cheese Quesadilla Ingredients
The ingredients for making a cheese quesadilla are simple. The best part? You'll be able to freely customize this recipe to add spicy or sweet ingredients, as well as oodles of veggies, and more!
Butter or cooking oil – use butter for an added buttery flavor, or extra virgin olive oil
Flour tortillas – I like flour tortillas best for this recipe, but you can also use whole wheat tortillas or corn tortillas
Shredded Mexican-style cheese – Mexican-style cheese usually includes a blend of cheddar cheeses, Queso quesadilla cheese, mozzarella and Asadero cheese.
Salt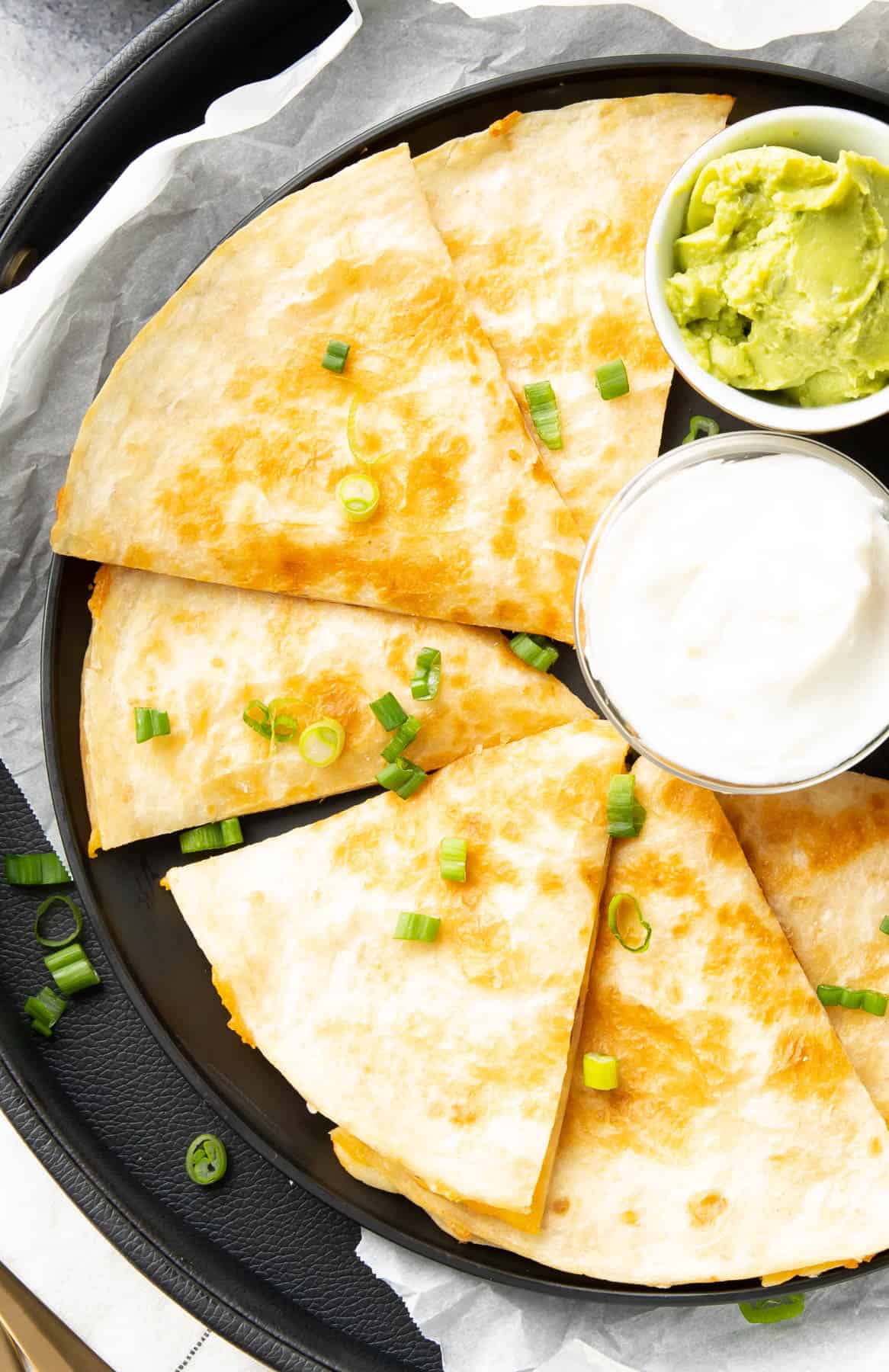 How to Make a Cheese Quesadilla
Today, we're learning how to make a good cheese quesadilla with a blend of quesadilla-perfect cheeses and the just-right crisp texture.
First, set a medium skillet over medium heat. Then, move around a pat of butter to coat the skillet.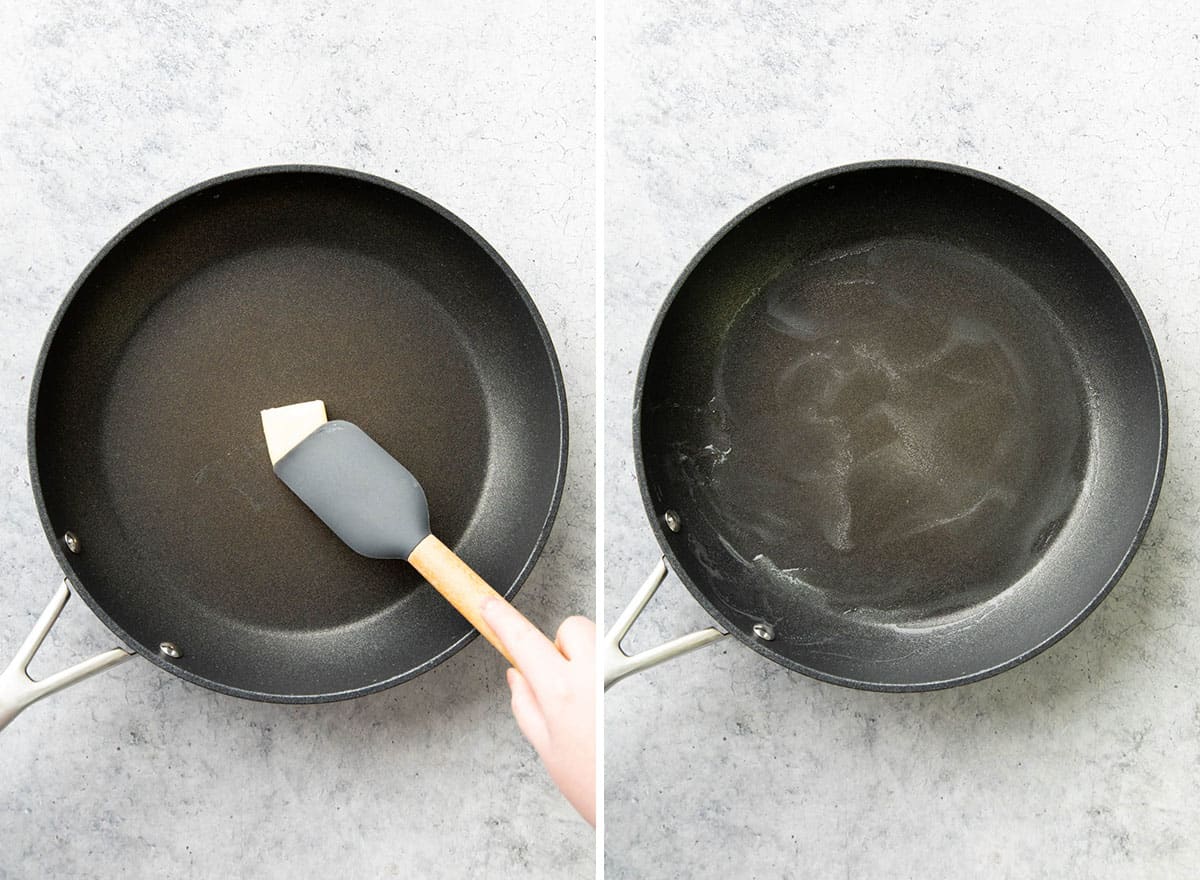 Second, lay one tortilla flat onto the skillet and sprinkle cheese in an even layer.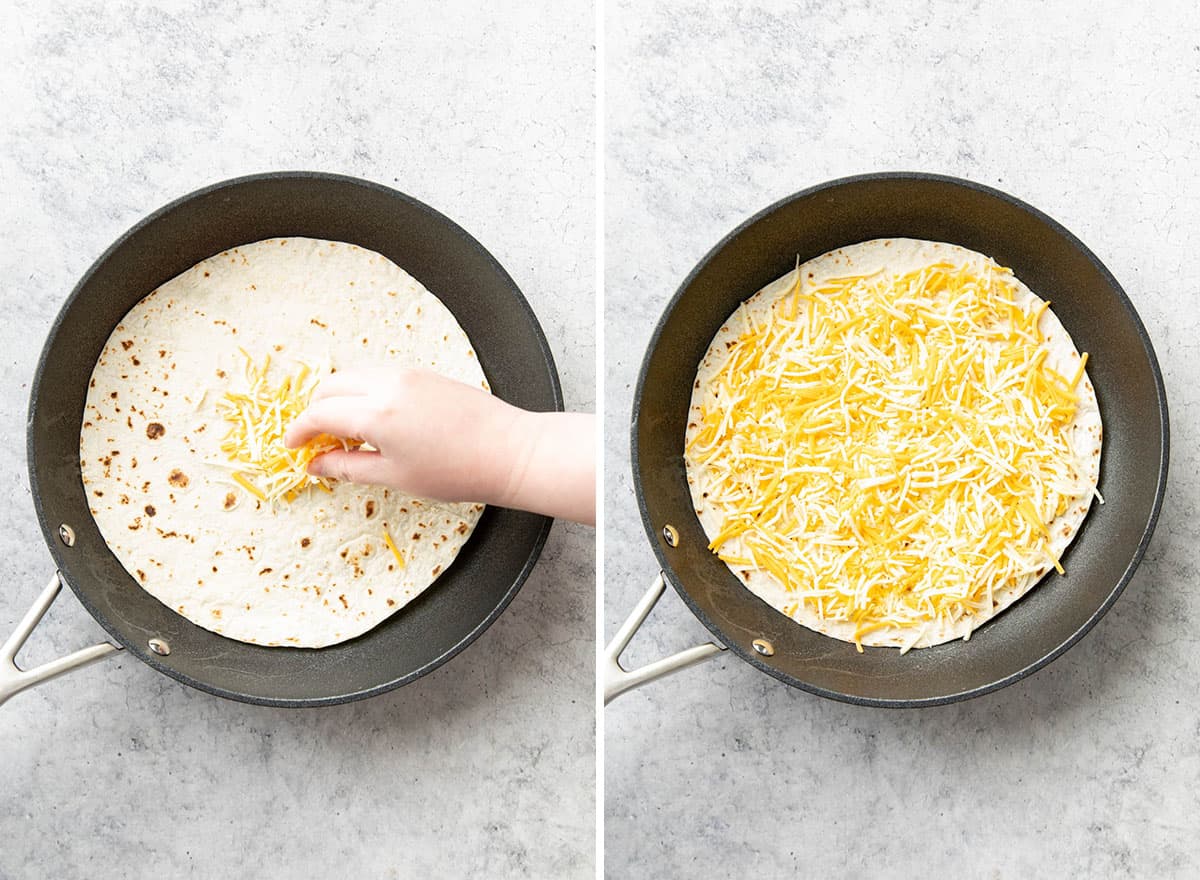 Cook until the cheese is melted, then add a second tortilla directly on top of the cheese.
Make sure to press down with a heatproof spatula to adhere the melted cheese to the top tortilla.
Once the underside of the tortilla (the part touching the pan) is golden, transfer the cheese quesadilla onto a plate.
Next, brush the remaining pat of butter to coat the skillet. Flip the quesadilla onto the skillet, ensuring the un-crisped side is down.
Then, add a sprinkle of salt to enhance the flavor of the cheese quesadilla.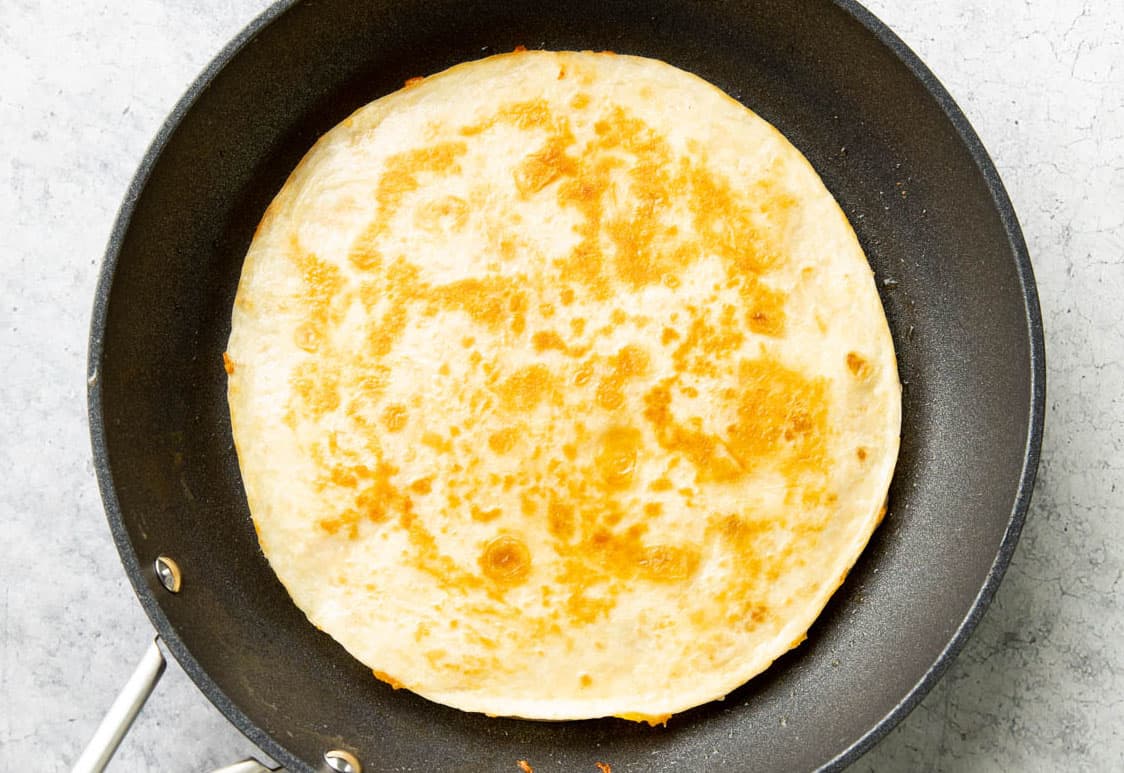 Lastly, transfer the golden-crisp cheese quesadilla onto a cutting board and slice into sixths.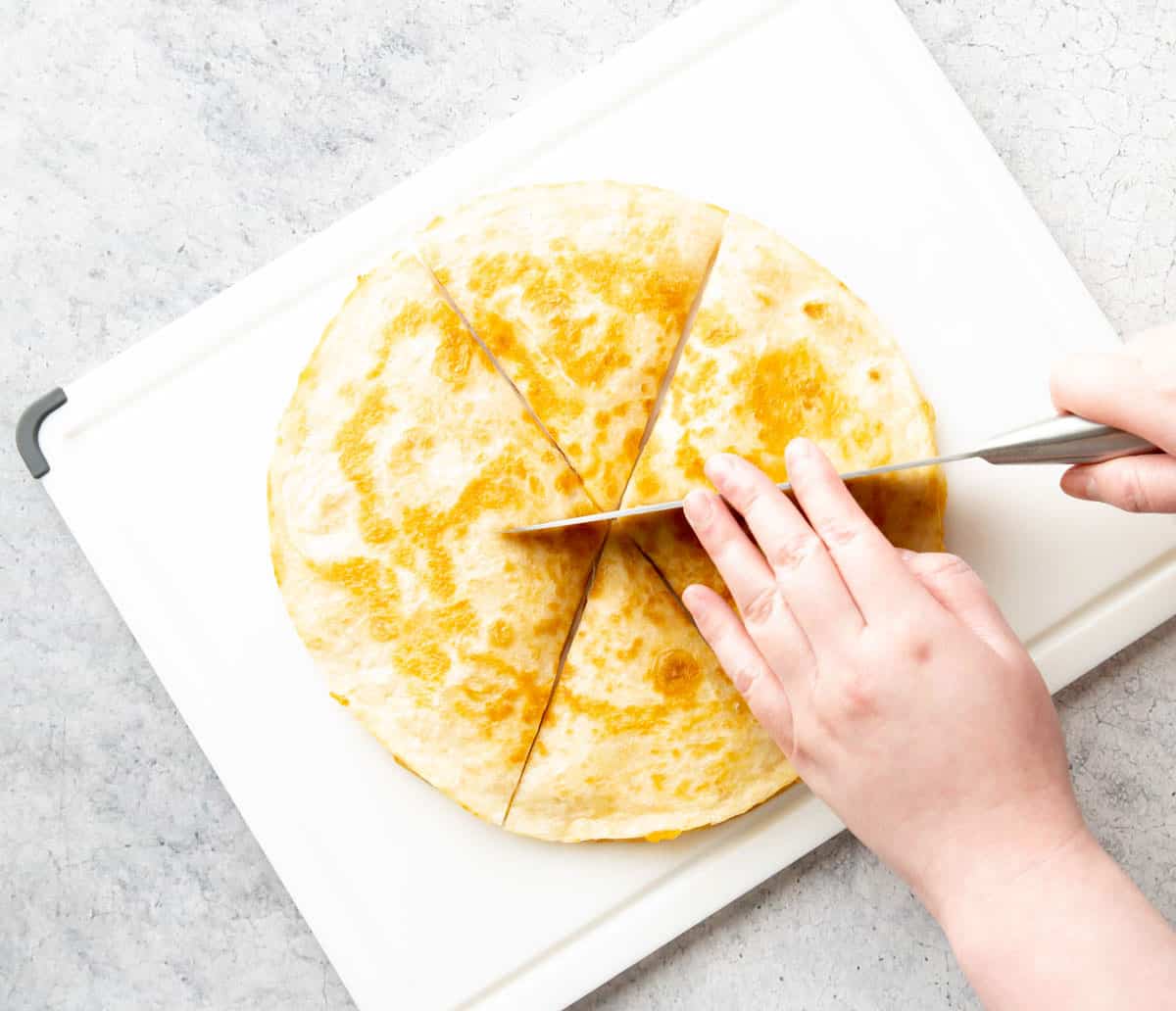 Repeat for the remaining ingredients, then serve and enjoy the best cheese quesadillas!
Best Cheese for Quesadillas
Before we get started, you might be champing at the bit to find out what is the best cheese for quesadillas.
The best cheese for quesadillas include: Asadero cheese, Oaxaca cheese, a combination of Mild and Sharp Cheddar cheese, Mozzarella, Monterey, and, for ease of use, Queso Quesadilla.
In a pinch, you can easily pick up a blend at the supermarket called Mexican-style shredded cheese. These usually include the best cheese for quesadillas, including Monterry Jack, Cheddar, Queso Quesadilla, and Asadero.
FAQs
How many calories in a cheese quesadilla?
Each serving of this cheese quesadilla recipe has approximately 398 calories. For the full nutritional profile, check out the recipe card below.
What is quesadilla cheese? What is queso quesadilla cheese?
Quesadilla cheese is a special kind of cheese cultivated especially for use in quesadillas. It melts easily, has a mild flavor, and is a semi-soft creamy cheese also known as Queso Quesadilla, a melting cheese. It was originally from Northern Mexico, in Sinaloa, and what's become Texas. [1] [2]
Can you use mozzarella cheese for quesadillas? Yes, you can use mozzarella cheese for quesadillas, as it melts well.
However, a combination of cheeses is best for a more complex and tastier flavor profile, with a tenderer melted cheese texture.
Is Oaxaca cheese good for quesadillas?
Yes. Oaxaca cheese is good for quesadillas because it's mildly sweet with a salty tang and melts beautifully in cheese quesadillas.
Oaxaca cheese is usually used in combination with a number of cheese to create the perfect melty cheese blend in a cheese quesadilla.
Are cheese quesadillas healthy?
That depends. All things in moderation, right? In order to amp up the health factor of these cheese quesadillas, you can use whole wheat, whole grain tortillas, which are minimally processed and boast more nutrients than flour tortillas.
As for the cheese, eaten in moderation, cheese can be part of a healthy diet. While cheese is high in sodium and saturated fat, it is also calcium-rich and protein-rich.
The add-ins can also boost or downgrade the health factor in these recipes. Fresh vegetables, fresh sides, and more can add to the health profile, while excess butter, sour cream, and heavier ingredients like bacon can detract from it.
As such, cheese quesadillas can be healthy if eaten in moderation and made with more whole, lighter ingredients, and less of the heavier, indulgent ingredients.
Can dogs eat cheese quesadillas? Short answer: no. Cheese is difficult for a dog to digest, and carb-packed tortillas aren't best for dogs, who are essentially on a low carb diet. Of course, any questions about your dog's diet are best answered by a veterinarian, so be sure to check with them! [3] [4]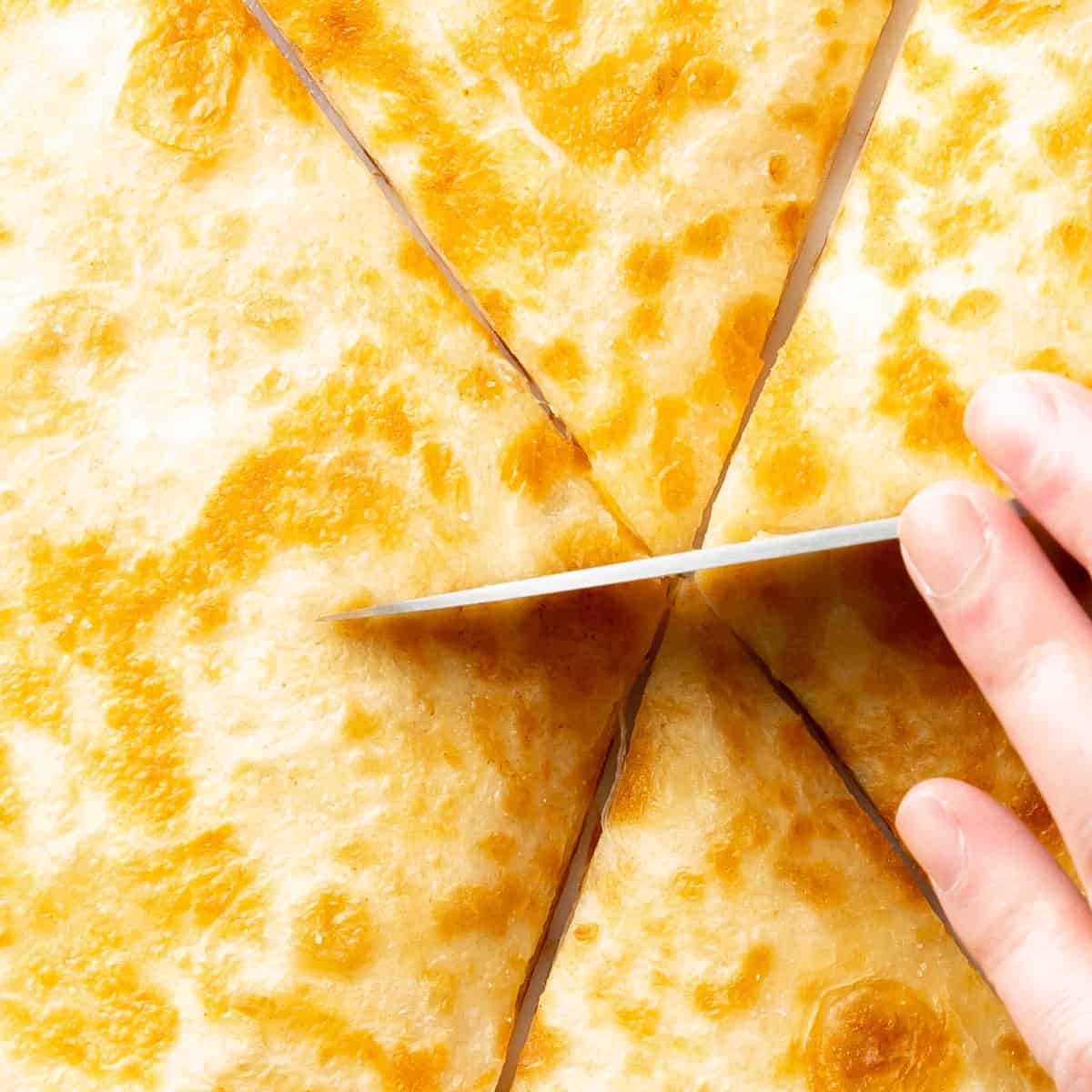 Ways to make a Cheese Quesadilla
There are many ways to make a cheese quesadilla, and I'm going to go over them all! Okay, fine, I'm not going to go over the car engine way. 😉
Check out how to make a cheese quesadilla on the stovetop and pan, with a toaster oven or oven, in the air fryer, and more!
Stovetop (Pan) Way: How to make cheese quesadillas on the stovetop (in a pan)?
Follow today's cheese quesadilla recipe!
Toaster Oven Way: How to make cheese quesadillas in the toaster oven? Add your favorite filling into the cheese quesadilla, including cheese! Top with an additional tortilla, or fold in half to lay flat. Bake in the toaster oven on the Toast setting for 6-10 minutes, until golden brown. Optionally flip halfway through. Slice and enjoy!
Oven-Baked Way: How to make cheese quesadillas in the oven? Fill tortillas with cheese and top with another tortilla on a lined baking sheet. Bake at 425°F for about 10-12 minutes, until crisped and browned, flipping once in between. Slice and serve.
Microwave Way: How to make a cheese quesadilla in the microwave? Like above, fill tortillas with cheese on a microwave-safe plate. Heat in 20-second increments until cheese is melted. Then, slice and serve.
Air Fryer Way: How to make a cheese quesadilla in the air fryer? Place one tortilla into a well-greased basket of an air fryer. Carefully sprinkle cheese into the center, then layer with a second tortilla. Bake at 350°F for about 2 minutes, until cheese has melted. Then, use a heatproof spatula to press firmly down on the top quesadilla to adhere the tortillas together. Bake for 6-8 more minutes, until golden. Slice and serve with salsa and guacamole.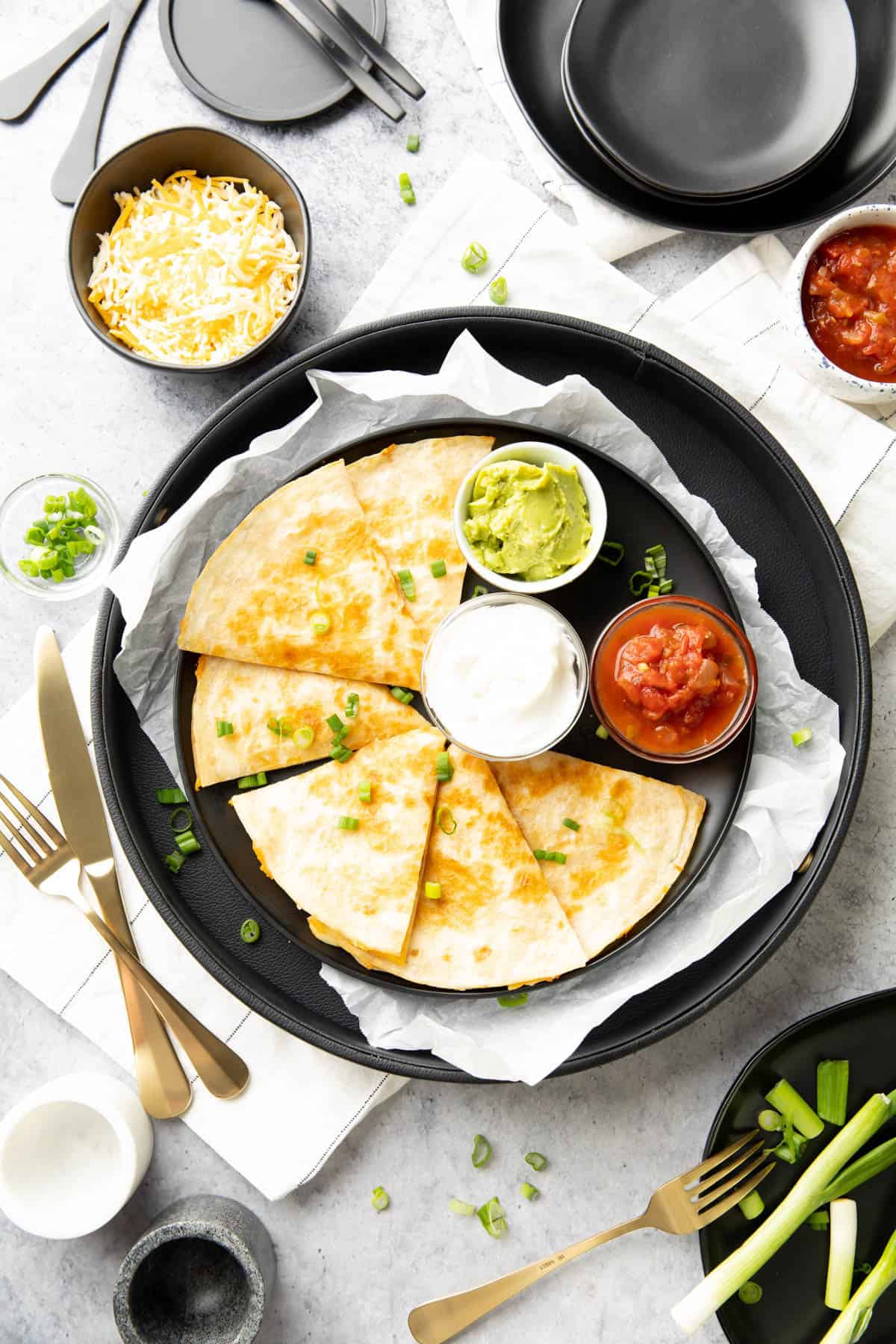 What to Put in a Quesadilla Besides Cheese?
If you're full blown loving this recipe, but already wondering what to put in a quesadilla besides, cheese, I've got you!
Mushrooms – I've already shared a super delicious mushroom quesadilla recipe that includes juicy mushrooms, a mix of your favorite veggies, and a touch of garlic.
Salsa – Since making homemade pineapple salsa, I've been putting it on everything. It goes especially well with these crispy cheese quesadillas!
Vegetables or Fruit – feel free to add in your favorite chopped veggies, like fresh spinach, crispy breakfast potatoes, or broccoli, or fruits like roasted bell peppers and tomatoes (I don't like calling them fruits either lol).
Protein – grill up your favorite protein and add them in with the cheese in your cheese quesadilla. I like adding in pan-seared tofu!
Flavor Power-ups – I love adding in a boost of garlic flavor with garlic salt and garlic confit, a spicy power-up with sriracha and/or sambal oelek, or an unexpected sweet touch with caramelized onions and a dash of maple syrup.
Tools You Need
The Big Cheese
You'll be the Big Cheese once you make this recipe for your loved ones! I can feel it! 😉 Be sure to comment below and share a pic when you make this recipe tagging me @beamingbaker and #beamingbaker on Instagram and Facebook. I can't wait to see it!
Sending you all my love and maybe even a dove, xo Demeter ❤️
Print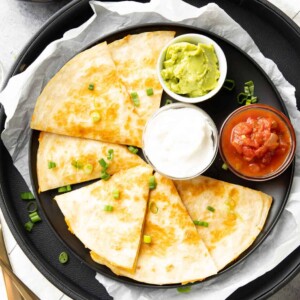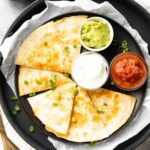 Cheese Quesadilla Recipe + 5 Methods!
---
Description
Perfectly crisped tortillas packed with oodles of melty cheese for the best Cheese Quesadilla. Easy to customize, quick 'n easy dinner!
---
Tools Needed
Ingredients
1 tablespoon

butter or cooking oil, divided

2

large flour tortillas

1

–

1 ½

cups shredded Mexican-style cheese – I used 1 ½ for a nice, thick layer of cheese
A sprinkle of salt (optional)
Serve with
Salsa
Sour cream
Guacamole
Optional Add-ins:
Chopped onions or tomatoes
Protein of choice
Or, check out my Mushroom Quesadilla recipe for perfectly juicy mushroom-filled quesadillas
---
Instructions
Stovetop method below. For 4 more methods, including Air-Fryer, Toaster Oven, Microwave, and more, check out the post above.
Heat a large skillet to medium heat. Spread half the butter across the surface of the skillet, allowing it to melt and thoroughly coat the skillet.
Place 1 large tortilla on the skillet. Sprinkle with cheese.
Once cheese is melted, add the second tortilla.
Cook for 2-4 minutes, pressing down with a heatproof spatula to adhere the top tortilla to the melting cheese, creating a quesadilla. Mine took 3 ½ minutes.
The quesadilla is ready for the next step when the cheese is melted and the bottom tortilla's underside is golden brown.
Transfer the quesadilla to a plate. Add the remaining half of the butter to the skillet, using a heatproof utensil to move it around and coat it thoroughly.
Place the quesadilla back onto the skillet, ensuring that it's flipped over to cook the un-crisped side.
Again, use the spatula to press down on the quesadilla to create an evenly golden brown surface. Cook until desired crisp-level is reached, about 1-2 minutes. Mine took just 1 more minute since the pan was nice and hot!
Sprinkle with salt to bring out the buttery and cheesy flavor.
Slice into sixths, then serve with salsa and guacamole. Enjoy!
Notes
Storing Instructions: Cool completely, then store cheese quesadillas in an airtight container in the refrigerator for 1-3 days. Before serving, reheat on the skillet or in the microwave until the cheese is re-melted.
Prep Time:

1 minute

Cook Time:

5 minutes

Category:

Main Dishes

Method:

Cook

Cuisine:

Mexican
More Mouthwatering Recipes