Mushroom Quesadilla – Crispy, Cheesy, & Delicious!
Perfectly crisped tortillas packed with sliced, sautéed mushrooms, a touch of garlic and ooey, gooey melted cheese in the best Mushroom Quesadilla! Ready in minutes!
The Very Best Mushroom Quesadilla
What's your favorite kind of tortilla? Corn? Whole wheat? Flour? Today, you can take your pick to make the very best mushroom quesadilla recipe.
What you can expect from this recipe: Crisp tortillas packed with melty cheese and juicy, tender mushrooms bursting with flavor that all combine for the best Mushroom Quesadilla!
Get ready to grab your favorite quesadilla toppings and sides, because they'll go beautifully with these delicious mushroom and cheese quesadillas!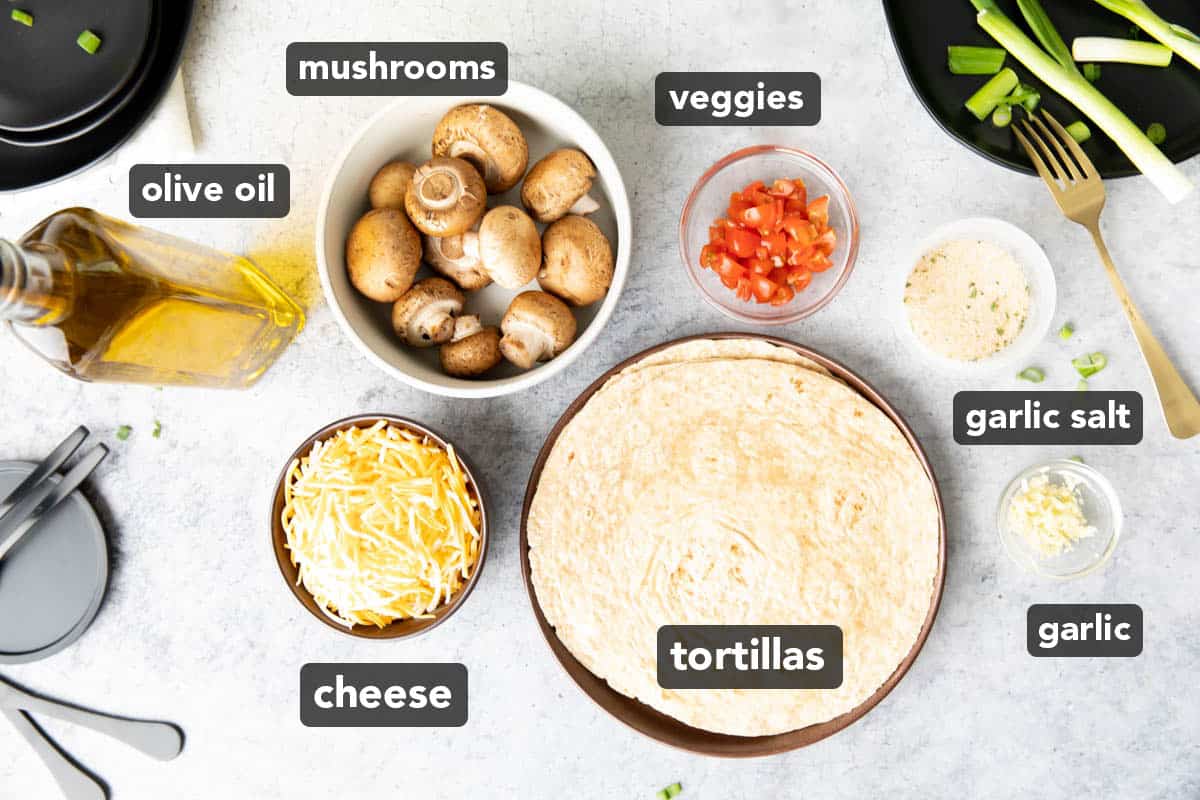 Mushroom Quesadilla Ingredients
One of my favorite things about this mushroom quesadilla recipe? The ease with which we can customize it *exactly* to our liking!
Mushrooms – white mushrooms, button mushrooms, any will do here.
Cheese – you can use dairy-free cheese, a Mexican blend, whatever you'd like.
Garlic – fresh is best, but jarred, minced garlic is fine.
Vegetables – pick your favorite veggies and find tips on when to add juicier, softer vegetables in the recipe!
Tortillas – corn tortillas are Erik's favorite, while I like to use whole wheat to shake things up.
Salt – ever since I made homemade garlic salt, I can't help but sprinkle it on everything—it's so tasty! You can also use table salt or sea salt.
Oil – for a truly decadent treat, use butter instead of oil. Or, use extra virgin olive oil for a guilt-free treat.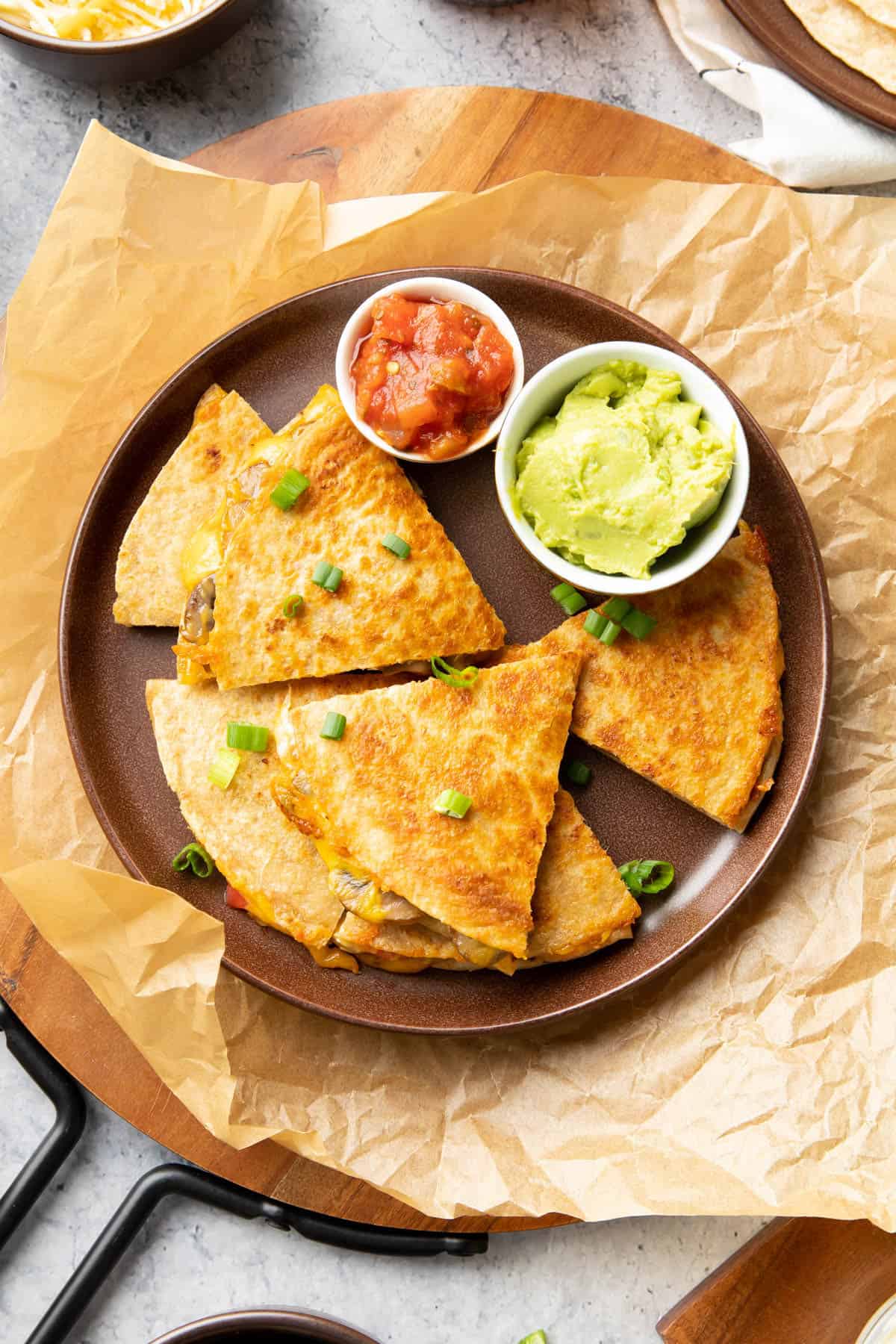 How to Make a Mushroom Quesadilla
I'm going to go over how to make a mushroom quesadilla in just a few steps.
Check out the step-by-step photos below, then scroll down to the recipe card for exact details!
Heat the skillet
Bring a skillet to medium-high heat, then coat with olive oil.
Prepare the mushroom quesadilla filling
Next, add mushrooms and garlic to the skillet. If using crisp vegetables like bell peppers, add in now. If using something juicier and softer like tomatoes, wait to add in.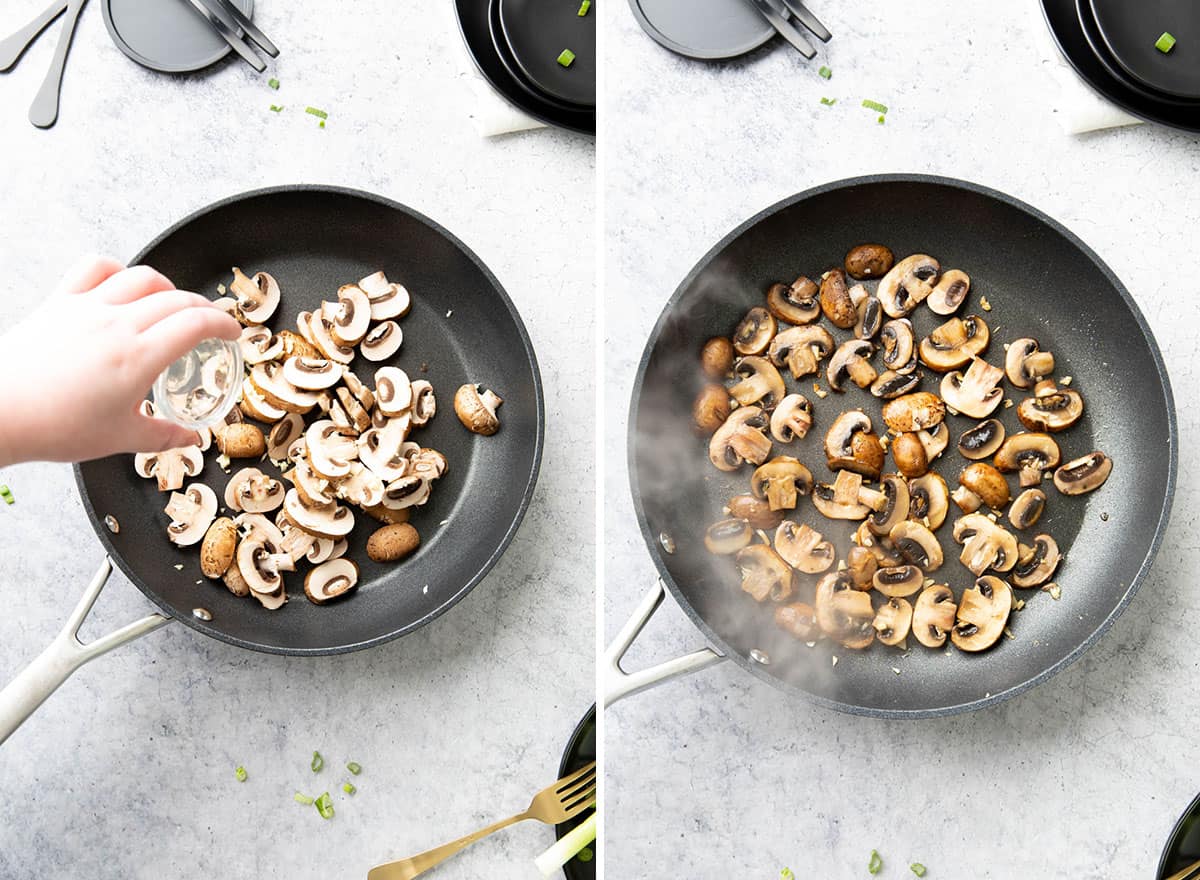 Now, sauté the mushroom quesadilla filling until tender and browned.
If using softer ingredients like tomatoes, turn off the heat and fold in tomatoes.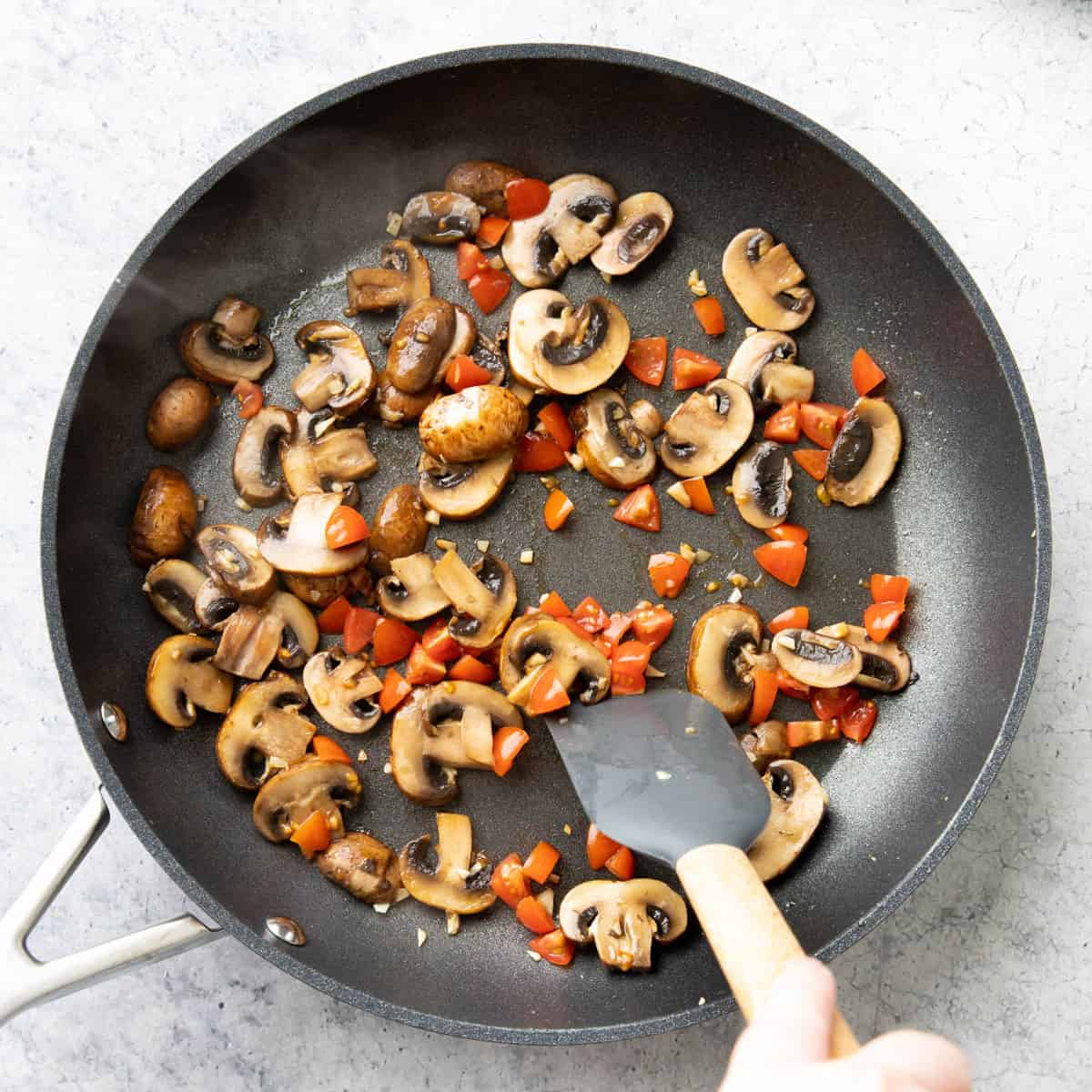 Then, transfer the mushroom filling onto a plate and wipe down the skillet carefully.
Melt the cheese
Here, you'll re-coat the skillet with oil and add a tortilla to the pan.
Next, sprinkle cheese onto the tortilla and spoon on the sautéed mushroom quesadilla filling.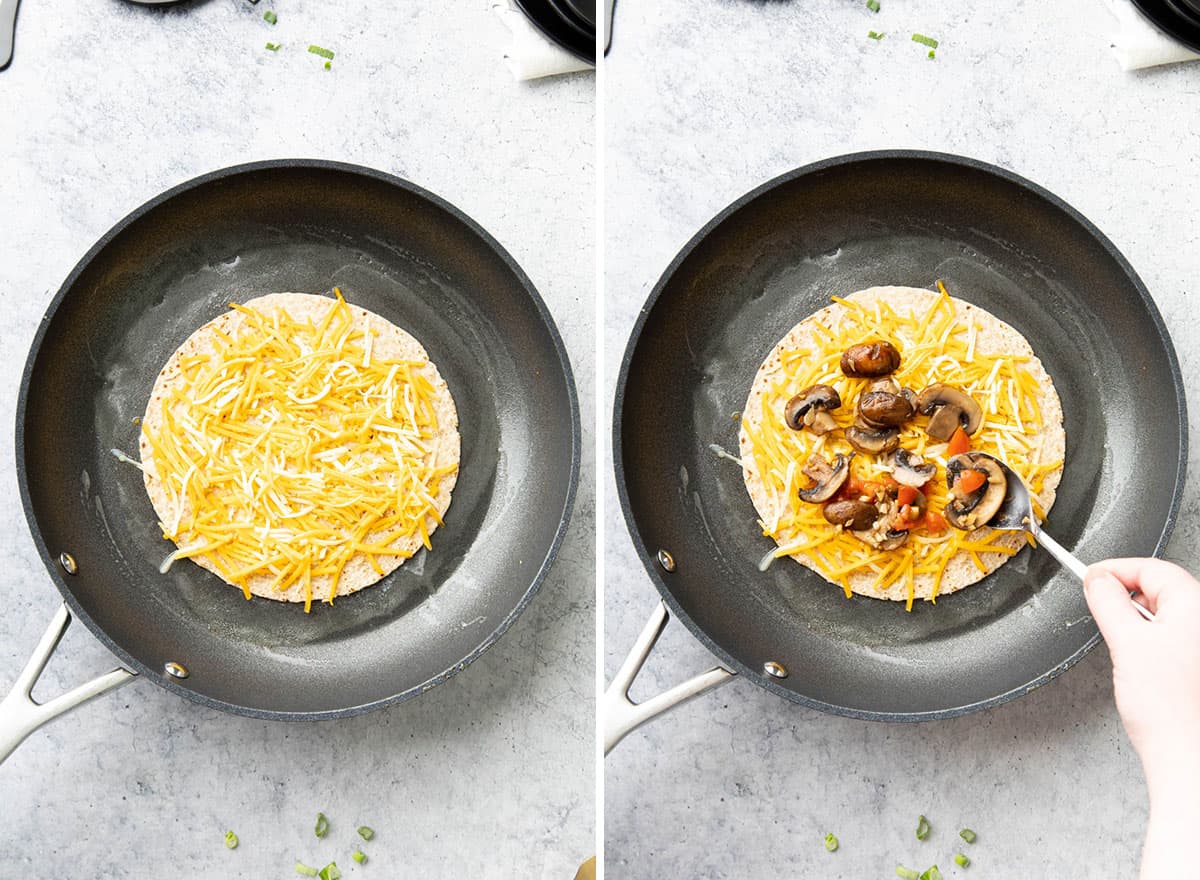 Make the mushroom quesadilla even cheesier!
Here, I like to add a second layer of cheese to amp up the cheesiness of my mushroom quesadillas.
Also, this second layer of cheese will allow the top tortilla to adhere better to the mushroom quesadilla.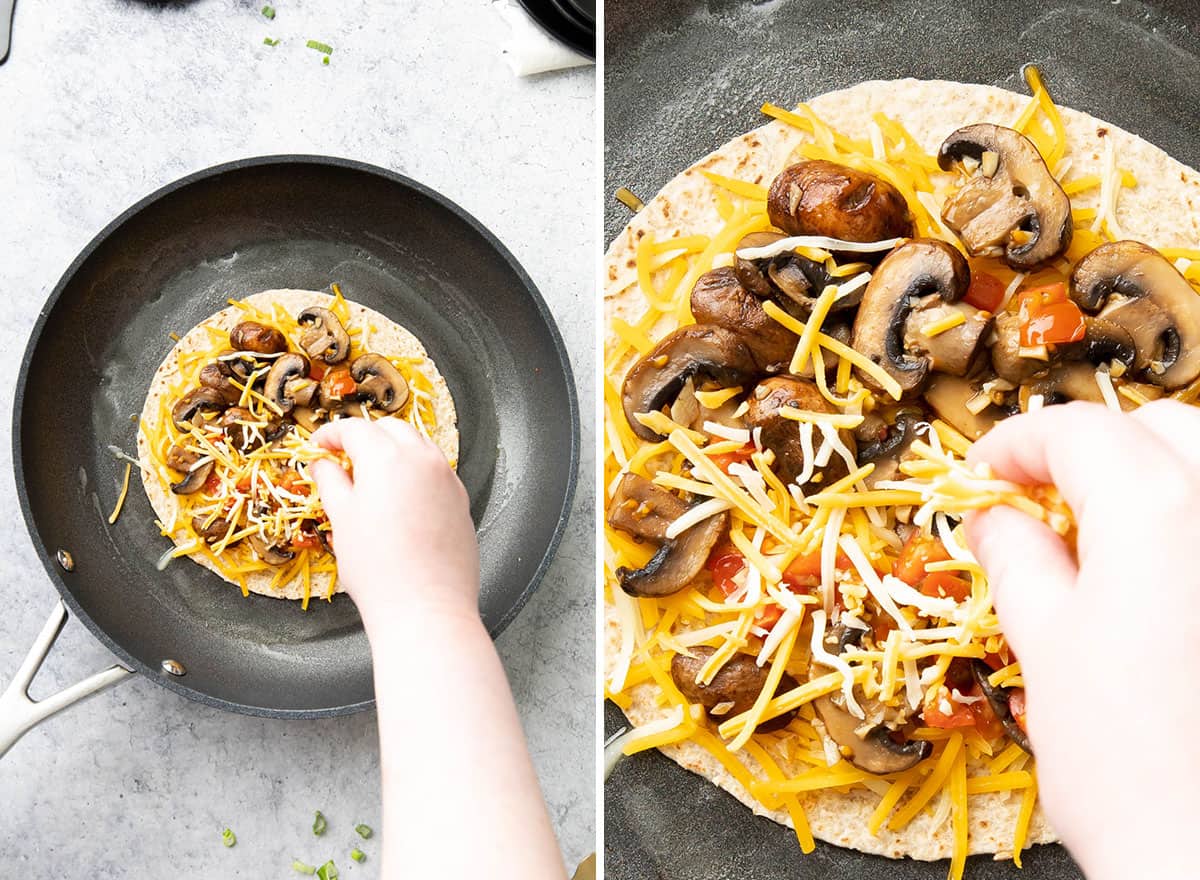 Top with a second tortilla
Once the cheese is melted in the filling, press an additional tortilla on top of the filling.
Press until the tortilla sticks to the filling, then brush with oil.
When the top tortilla is good and adhered to the filling, and the underside of the bottom tortilla is crisped, flip.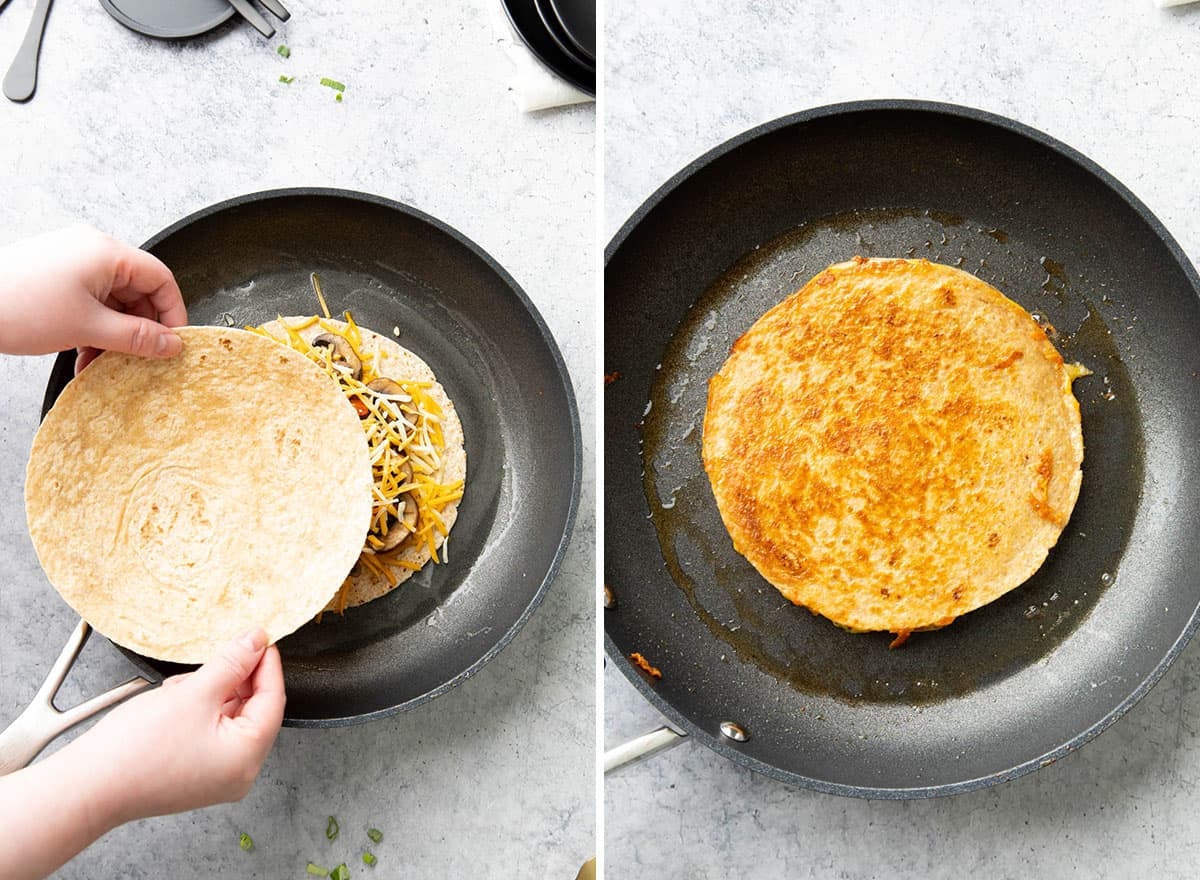 Slice and enjoy the best mushroom quesadilla!
Now, carefully transfer the mushroom quesadilla to a cutting board. Slice into 6 pieces.
Serve with your favorite toppings and enjoy the best mushroom quesadilla!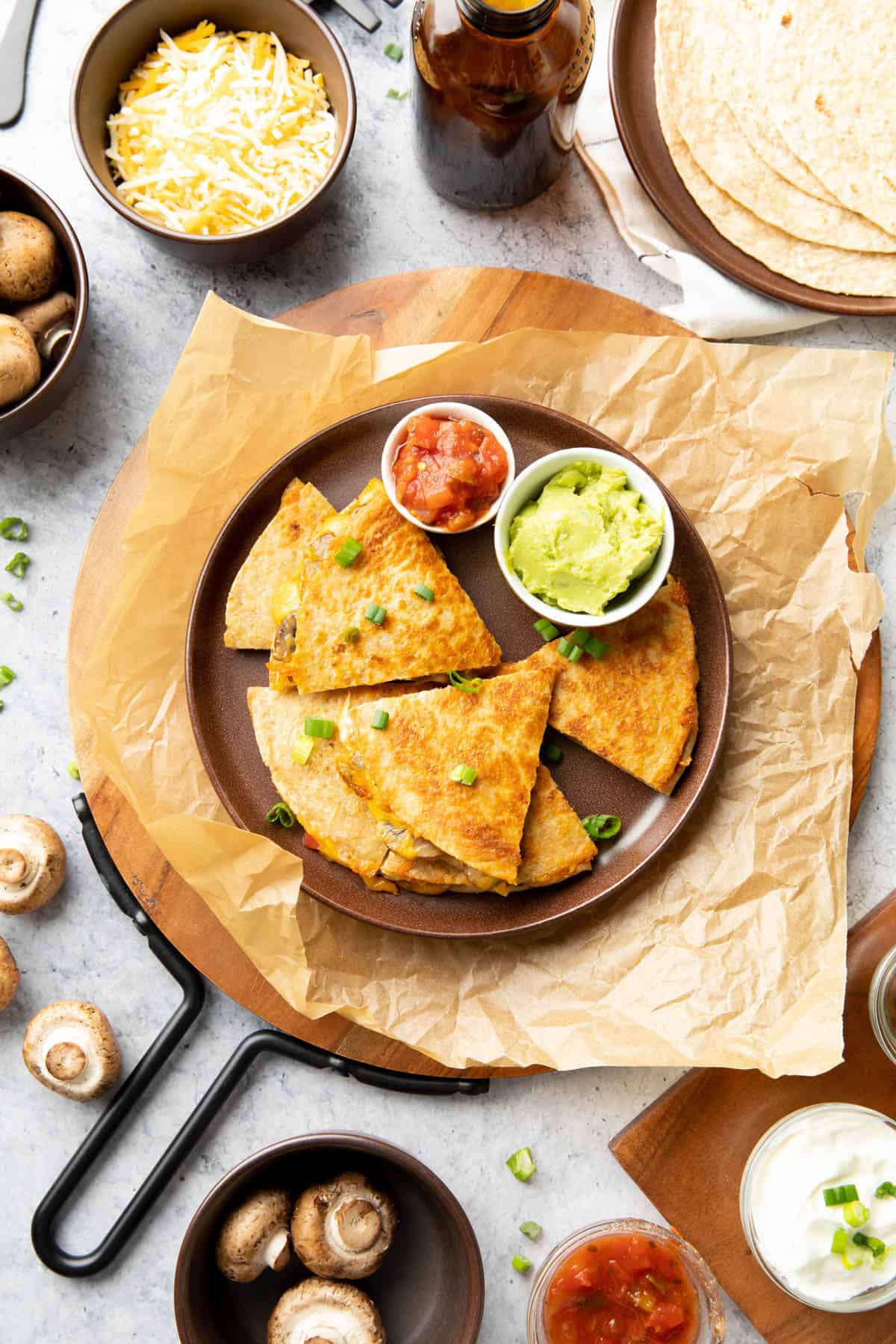 Tips for the best Mushroom Quesadilla
Choose your tortillas wisely.
Alright, it's not that serious—but it is a matter of yumminess! Flour tortillas are lighter and softer, while corn tortillas have a bit more grit to them.
If you have the time, get un-cooked tortillas that you can cook up right before starting this recipe—the fresh flavor is well worth the effort.
Use your favorite mushrooms.
A few options for tasty mushrooms in this recipe include white mushrooms, button mushrooms, and (my favorite) portabella mushrooms.
Portabella mushrooms are so incredibly juicy, stay larger throughout the cooking process (hello, incredible mushroom shrinkage!), and go so well with cheese.
When I'm feeling saucy, I even use my sister's favorite oyster mushrooms for an extra meaty-but-vegetarian treat.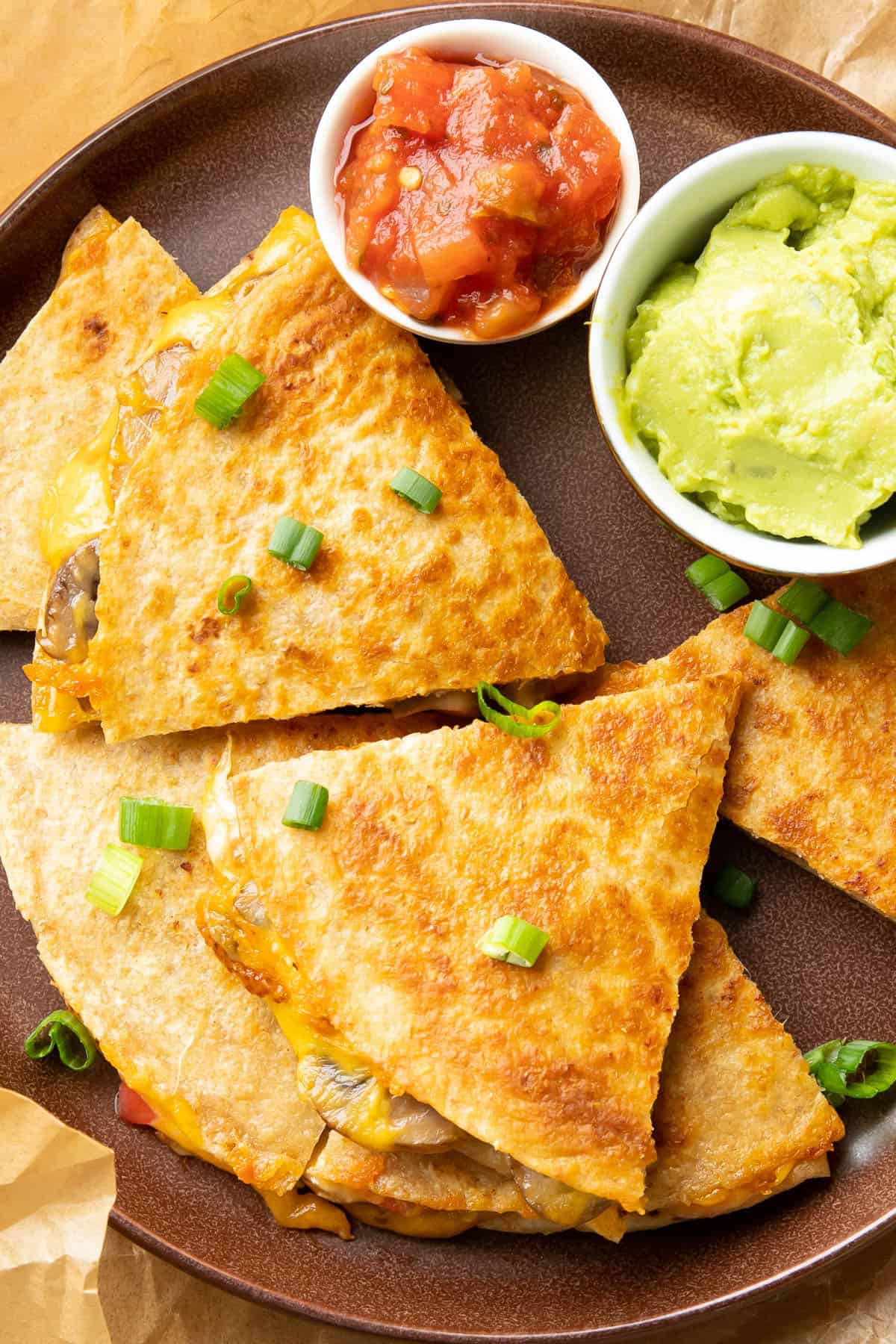 Avoid using vegetables that get soggy.
To make this mushroom quesadilla, you'll need ¼ cup chopped vegetables. Make sure to use a vegetable that stay crisp even after cooking.
My favorites include: bell peppers and onions!
For "soggy" veggies like tomatoes (technically a fruit, I know), I like to add them in last minute, after I've turned off the heat.
Have fun!
You don't have to get this mushroom and cheese quesadilla recipe *exactly* right the first time.
Try it out, have fun, and know that pretty much whatever happens, you'll have something deliciously cheesy to eat after!
More Delicious Recipes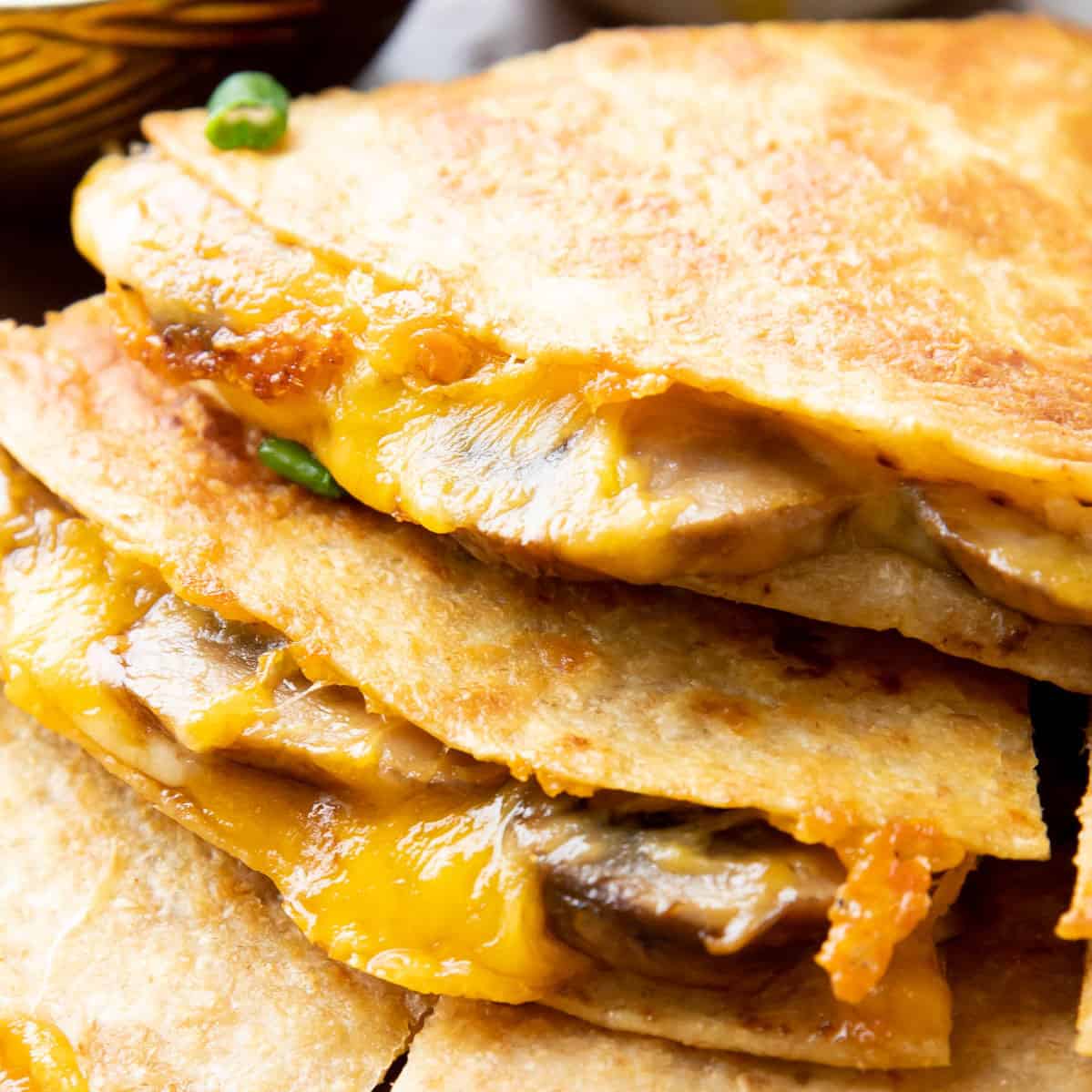 Tools You Need
Thank You Very Mush!
I'm always grateful for your lovely company in the kitchen. 🙂 Be sure to let me know what you think of this recipe by leaving a comment & rating below—this helps Erik and me to make better recipes that you and your loved ones will enjoy. 'Til our next tasty adventure…
Sending you all my love and maybe even a dove, xo Demeter ❤️
Print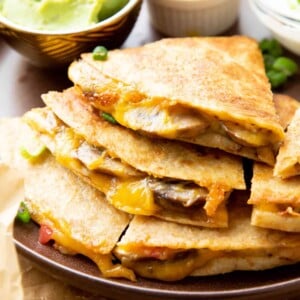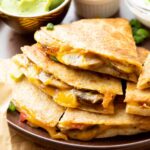 Mushroom Quesadilla – Crispy, Cheesy, & Delicious!
---
Description
Perfectly crisped tortillas packed with sliced, sautéed mushrooms, a touch of garlic and ooey, gooey melted cheese in the best Mushroom Quesadilla! Ready in minutes.
---
Ingredients
1

–

2

tablespoons olive oil or other cooking oil

6 ounces

mushrooms, medium sliced, ¼" inch thick

1 teaspoon

minced garlic, about

2

cloves, or serve with garlic confit

¼ cup

chopped vegetables of choice: bell peppers, deseeded jalapeños for spice, onions or shallots

4

flour or corn tortillas (I used whole wheat tortillas)

1 ½ cups

shredded cheese
Garlic salt or salt to taste
Serve with:
Guacamole
Salsa
Garlic confit for garlic lovers!
Chopped shallots
---
Instructions
Set a medium skillet over medium high heat. Coat with olive oil.
Add sliced mushrooms, garlic, and vegetables. If using tomatoes, wait until the mushrooms are cooked, turn off the heat, and fold them in.
Sauté until mushrooms are browned and vegetables are tender, but not overcooked and too shrunken, about 2-3 minutes. Mine took 2 ½ minutes.
Transfer this mushroom mixture to a plate. Using a paper towel, carefully wipe down the surface of the skillet for reuse.
Coat the skillet with oil and set over medium high heat.
Place a tortilla onto the skillet and sprinkle with ¼ cup of the cheese, ½ the mushroom mixture (leaving behind any excess juices), and a sprinkle of salt to taste.
Heat until the cheese starts melting, then place another tortilla on top. Press down until the top tortilla sticks to the cheese.
Brush or drizzle the un-crisped tortilla with oil, then flip to crisp the other side of the quesadilla.
Press down with a heatproof spatula to ensure even cooking on all sides. Cook until evenly golden on both sides. I like to flip the quesadilla and crisp it on both sides multiple times for extra crispiness.
Repeat for the next mushroom quesadilla.
Slice each quesadilla into 6-8 pieces, then serve with guacamole and salsa.
Notes
Storing Instructions: Cool completely uncovered in the refrigerator, then place in an airtight container. Keep for 1-3 days.
How to make Vegan: use dairy-free cheese.
How to make Gluten Free: use gluten free tortillas.
Prep Time:

5 minutes

Cook Time:

10 minutes

Category:

Main Dishes

Method:

Cook

Cuisine:

Mexican
This post may contain affiliate links, which allow me to make a small commission for my referral, at no additional cost to you.
LIKE THIS RECIPE? SHARE IT WITH FRIENDS!
Did you make this recipe? Take a pic and share it on Instagram with the hashtag #beamingbaker & tag @beamingbaker. I'd love to see it!