Mango Kiwi Chia Seed Smoothie Bowl (V+GF): a super easy recipe for a light, refreshing and filling smoothie bowl full of mangoes and topped with kiwis. Vegan and Gluten Free.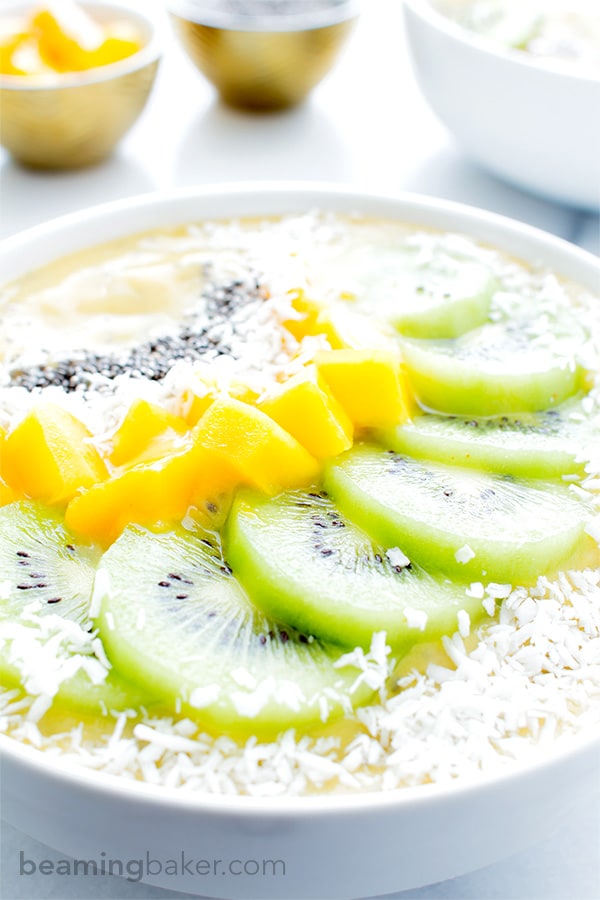 Have I ever told you guys that Erik and I dream about moving to Hawaii? Alright, some of you highly perceptive folks have seen the footer on my page. <– Did you just go look? Well, it's not just because Hawaii is, um, everything. And it's not just because of Hawaii Five-O. I mean, Daniel Dae Kim. Woah. Just woah. All due respect to Erik, of course. 😉
Anyway, so one of the reasons why we dream about moving to Hawaii is because we kinda botched our time in San Diego. I have to tell you guys about this on a different occasion. One thing links to the other, I swear! Suffice to say, we lived in San Diego for about three years and we didn't appreciate it at all. I know, I'm kicking myself, kicking Erik (not just for not being DDK), and then Erik's kicking me.
Gee, we sure do seem like such a lovely household, don't we?
Skipping ahead (not kicking ahead, for some unknown reason), we plan on moving to Hawaii. And we plan on doing it right. It's gonna take like a hundred more years til we can make it happen, but hey, there's cryogenic freezing and all of that other kinda creepy science to preserve us until then, right?
Right?!?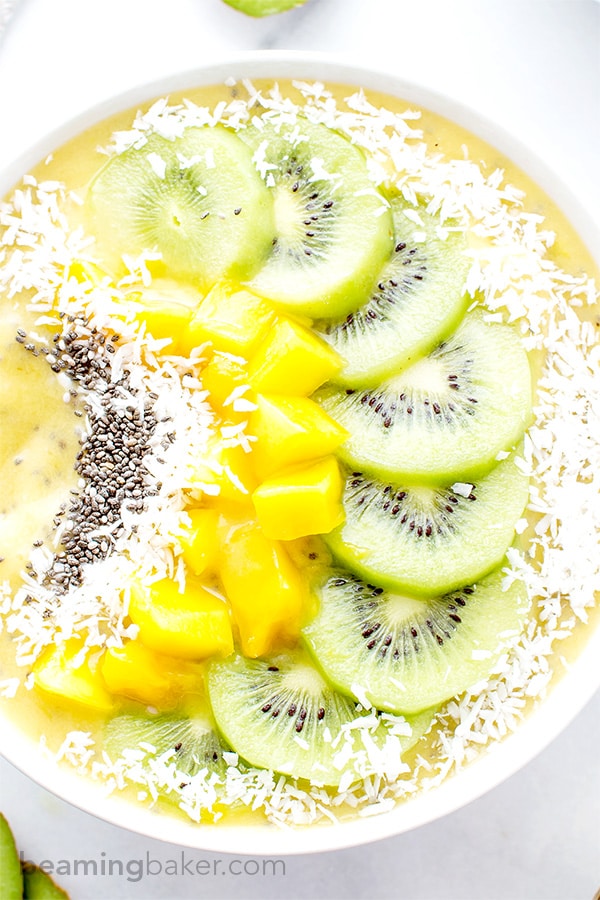 Until then, lemme share with you one of the reasons why Hawaii is everything to us. So, there's this story with my mom. (Isn't there always a story with these sassy moms?) 😉 Mom's been to Hawaii a couple times and she's LOVED it. Okay, I literally just fact-checked this with Erik (yes, he knows more about my mom than I do. Keeper, I tell ya. What's UP now, Daniel Dae Kim?!). He informed me that she's only been once. Hmm. Well, this just goes to show you how much she loved it and has told so many stories about it that the memories from one visit have morphed into, like, five visits.
Yep, five visits. Our family's not known for it's, erm, "stellar" memory. See: Erik the Fact Checker to confirm this.
Anywho, so one day during one visit, she heads out with my sister to walk around the lively street markets in Hawaii. She's gushing over all of the lush greenery, the nice people who are smiling as she walks by, the cool breeze + warm air. Everything is just as you'd expect it to be in paradise.
She walks by a few stalls, seeing hats for sale, sunglasses to try on, and so forth. She then sees a big box of gorgeous, perfectly yellow, red and orange mangoes. She walks closer to this tropical fruit bounty. She sticks a finger out and starts poking the mangoes, testing their firmness. She picks a few mangoes up, feeling the weight in her hands, gauging their purchase-worthiness.
She sets these mangoes down, steps back and nods. Yes. It's time. These mangoes have been deemed exceedingly buyable. She looks up, glances around, looking for the vendor to purchase these from. No one's in sight. She can't leave now, not without the mangoes, because: buyability, perfection, all of it.
Suddenly, she feels a breeze behind her. She turns and sees a man carrying another box of mangoes, nearly identical to the box in front of her.
"Sir, excuse me. Can I buy these mangoes? There's no sign about how much they cost."
"Um… Well… Eh…"
My mom, thinking this is some haggling game, suits up.
"I mean, they look okay. They could be better, but I'll buy them. How much?"
"Well… uh… the thing is…"
"How about 25 cents?"
"Um… See…"
"If I buy the whole box, it should be cheaper. How about two dollars for the whole box?" (I know… produce is dirt cheap in Hawaii).
"Oh, well…"
My mom, I like to think, winks at him. Smiles that smile of hers… both friendly, warm and just utterly convincing.
"What do you think?"
"Ohhhh, okay! Why not?"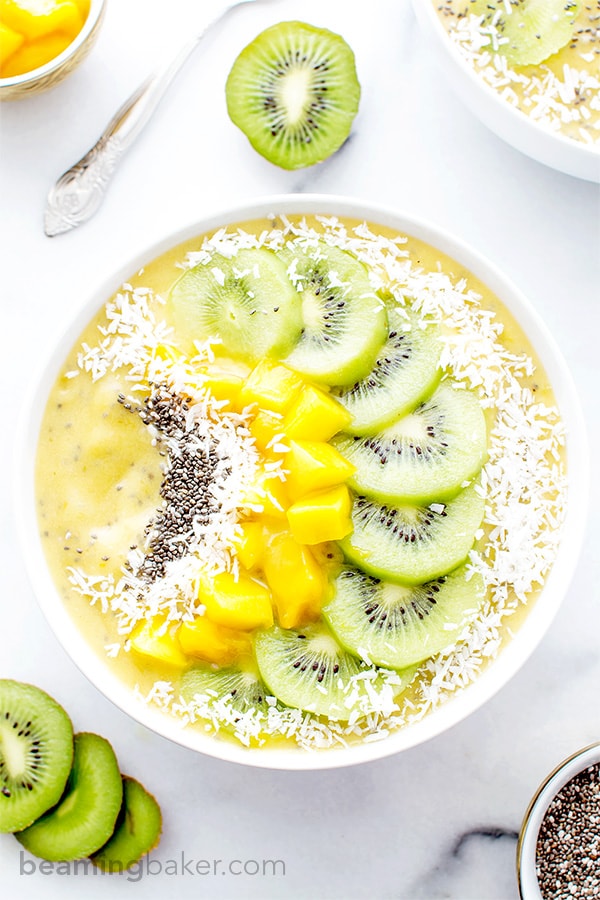 Mom struts away… well, grunts and struts because an entire box of mangoes is heavy. She walks up to my sister, relays the entire story with more excitement than a kid at Chuck E. Cheese on her birthday.
My sister, Jenny, glances over to the stall. Glances into my mom's hands. Glances back at the stall. And tells my mom,
"Mommy, that's a restaurant!! That was the back of the restaurant. You just bought their supply of mangoes for the day! Um… they can't sell any of their mango dishes now!"
My mom looks at Jenny. Jenny looks at my mom. And they both dissolve into giggles.
And that, my friends, is why I want to move to Hawaii. 🙂 People are kind, super laid back, and so good to my mom. One day, it's gonna be home.
Until then, you and I can whip up a mango kiwi chia seed smoothie bowl. And always, always think about how much fun the simple things are. 🙂 While you're at it, be sure to check out this Super Green Tea Antioxidant Smoothie from Healthy Seasonal Recipes!
This big, bright mango kiwi chia seed smoothie bowl is:
easy to make
full of the good stuff
vegan and gluten free
filling and refreshing
packed with vitamins and minerals
made with mangoes you don't have to buy from the back of a restaurant
(but you can)
Cheers to you, my friend. Here's to blending up a taste of Hawaii. May this recipe always bring a smile to you.
☀︎ Click below to Pin ☀︎

☀︎ Did you make this recipe? Take a pic and share it on Instagram with the hashtag #beamingbaker and tag @beamingbaker. I would love to see it! ☀︎
Print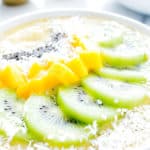 Mango Kiwi Chia Seed Smoothie Bowl (Vegan, Gluten Free)
---
Description
Mango Kiwi Chia Seed Smoothie Bowl (V+GF): a super easy recipe for a light, refreshing and filling smoothie bowl full of mangoes and topped with kiwis. Vegan and Gluten Free.
---
2 tablespoons

chia seeds

1 ½ cups

unsweetened almond milk, divided

2

medium bananas, sliced and frozen

2 cups

frozen mango chunks

2

kiwis, peeled and sliced
Optional Toppings

2 tablespoons

chia seeds, chopped nuts, coconut, other fruits and seeds
---
Instructions
In a small bowl, add chia seeds and ½ cup of almond milk. Give it a good whisk, until thoroughly combined. Cover and let set in the fridge for about 10 minutes.
Add bananas and the remaining 1 cup of almond milk to a blender. Blend until smooth, scraping down the sides of the blender as need. Add mangoes, blending until mostly smooth.
Take the chia seed mixture out of the fridge—it should have thickened to a gel-like consistency. Give it another good whisk. Using a rubber spatula or spoon, scrape the chia seed mixture out of the cup and into the blender. Blend until smooth.
Pour into two bowls. Top with kiwi slices. Add additional toppings as you'd like. Enjoy!
Prep Time:

10 mins

Category:

Smoothie, Vegan, Gluten Free
© beamingbaker.com. All content and images are protected by copyright. Please do not use my images without my permission. If you wish to republish this recipe, please re-write the entire recipe using your own words and include a link to this post for the recipe.
If you enjoyed this mango kiwi chia seed smoothie bowl, try my Mango Chia Seed Smoothie (Vegan, Gluten Free). Sunshine in a cup, my friends. 🙂
So I hear you like smoothie bowls. How about trying my Blueberry Coconut Smoothie Bowl (Vegan, Gluten Free). Nothing like a big bowl of yum. 😉
Do you have any funny stories about your family?
I can't wait to hear your responses.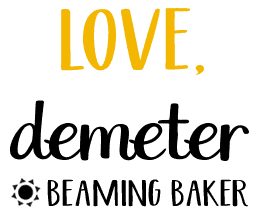 Save