Mango Chia Seed Smoothie: An easy recipe for a refreshing and delicious mango smoothie packed with chia seeds. Vegan and Gluten Free.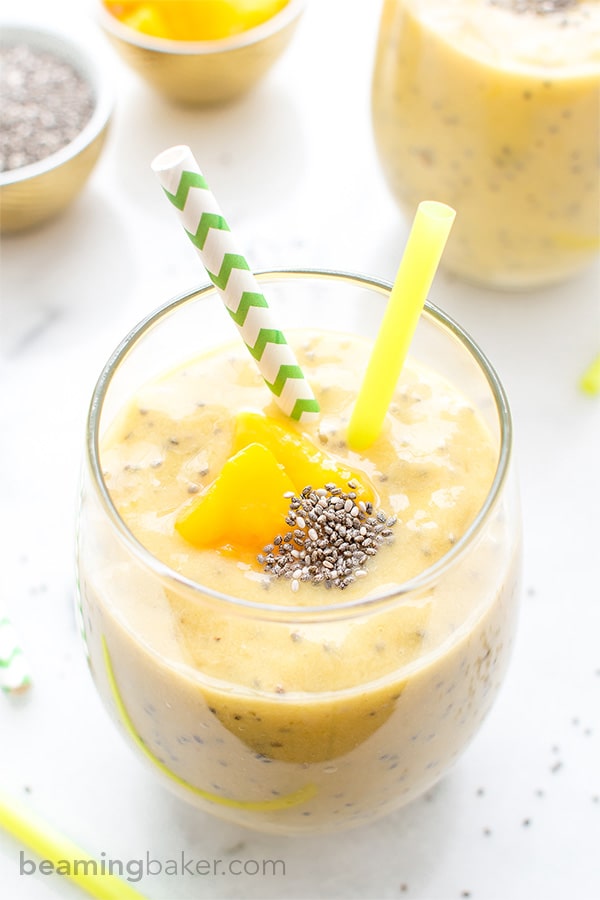 Anyone else feeling just so-over the endless wintry-vibes? Word on the street is that it's allegedly Spring already, and there are all manner of cutesy Spring colors and people (not in Maine) who are experiencing so-called "good weather."
Meanwhile, it's snowing like I'm in a giant, real-life snowglobe here. Ba-humbug!
Okay, enough of my… twitching.
Since I haven't yet learned how to control the weather (still working on it–don't give up on me!), I decided to do something a bit more reachable: make a smoothie!
So… how does this smoothie solve my twitching about the gloomy weather issues?
Well, friends, this smoothie is full of The Magical… The Sunny… and finally, The Smile-Inducing… Mangoes (ta-da!). Yep, mangoes with a capital 'M.' Anyone else just luuuurve this fruit? I mean, look at it, so happily sitting in this cup.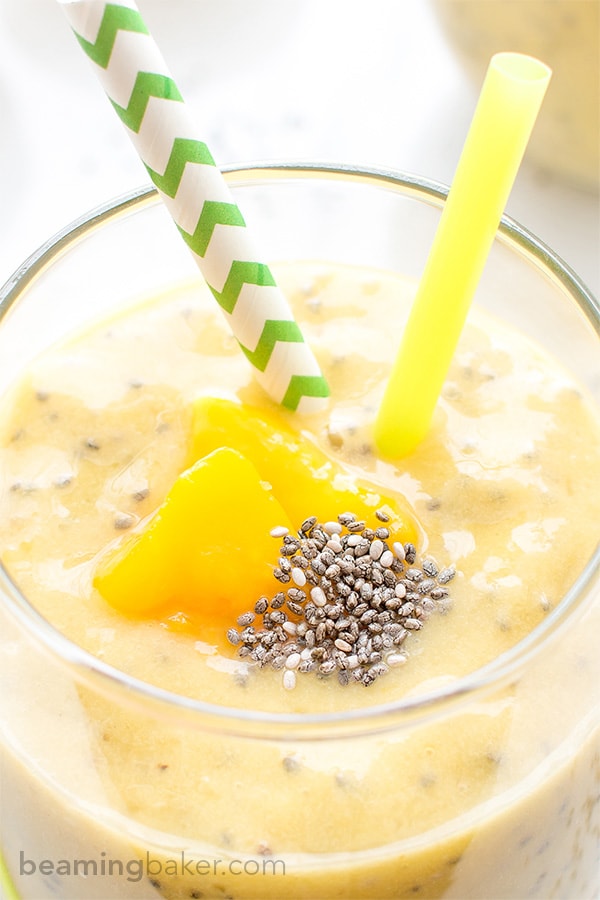 As a chocolate lover to the core, even I must admit that these magical mangoes rival even the pudding-iest pudding (not even sure what that means). Sometimes, you just need a bit of the tropics, even when it's practically the ­­­Arctic you're livin' in. Amiright?
One taste of this Mango Chia Seed Smoothie and all of your cold-weather grumpiness just disappears.
And for those of you already enjoying warm sunbeams, hey—why not have the perfectly sweet and refreshing smoothie in hand as you walk through paradise (i.e. not a real-life snowglobe)?
And if you're actually craving more of a scoopable mango vibe, you should most definitely try this 5-Minute Mango Sorbet from Perry's Plate! It's made with just 3 ingredients, and deliciously paleo, vegan, dairy-free and gluten-free! 🙂
This Mango Chia Seed Smoothie is:
vegan, gluten free, dairy free
super easy to make
chockfull of the good stuff: mangoes, bananas and almond milk
filling thanks to these lovely chia seeds
refreshing and cool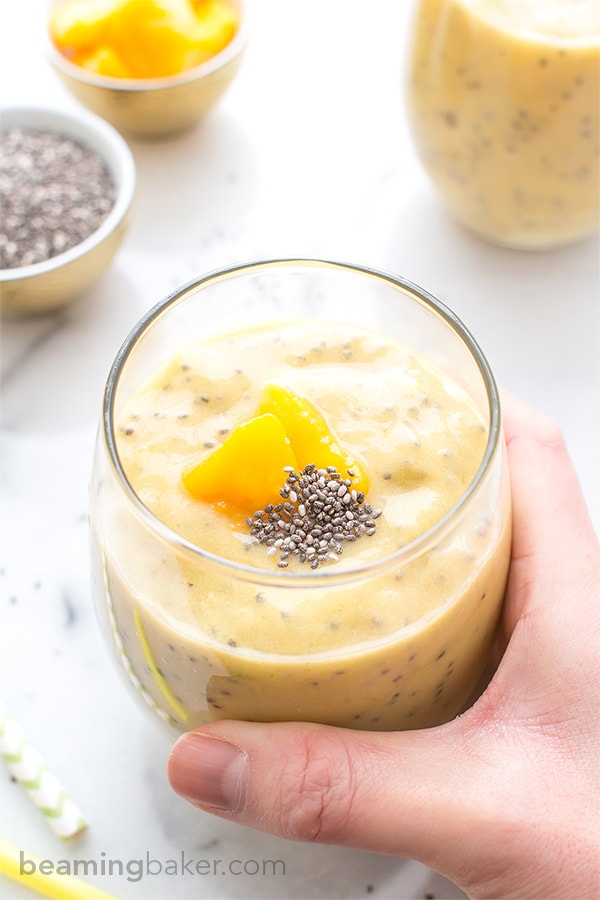 One sip of this bad boy and you'll be like, "um, am I in Barbados right now? I don't remember winning this dream vacay!" Or, "How did I get so lucky? What sparkly fairy deigned to gift me this cup of sunny delight?" (Side note: anyone remember Sunny D?)
Alriiiight, by now you know that I fancy a light helping of dramaticism in my writing—but isn't life more fun that way?
Take a sip of this Mango Chia Seed Smoothie and tell me you don't feel better. 🙂 But not, because I want you to feel warm and happy. 😉

☀︎ Did you make this recipe? Take a pic and share it on Instagram with the hashtag #beamingbaker and tag @beamingbaker. I would love to see it! ☀︎
Easy Smoothie Recipes
Print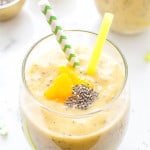 Mango Chia Seed Smoothie (Vegan, Gluten Free)
---
Description
Mango Chia Seed Smoothie: An easy recipe for a refreshing and delicious Mango Chia Seed Smoothie.
---
2 tablespoons

chia seeds

1 ½ cups

unsweetened almond milk, divided

2

medium bananas, sliced and frozen

2 cups

frozen mango chunks
---
Instructions
In a small bowl, add chia seeds and ½ cup of almond milk. Give it a good whisk, until thoroughly combined. Cover and let set in the fridge for about 10 minutes.
Add bananas and the remaining 1 cup of almond milk to a blender. Blend until smooth, scraping down the sides of the blender as need.
Add mangoes, blending until smooth.
Take the chia seed mixture out of the fridge—it should have thickened to a gel-like consistency. Give it another good whisk. Using a rubber spatula or spoon, scrape the chia seed mixture out of the cup and into the blender. Blend until smooth.
Pour into cups, and enjoy immediately!
Category:

smoothie, vegan, gluten free
© beamingbaker.com. All content and images are protected by copyright. Please do not use my images without my permission. If you wish to republish this recipe, please re-write the entire recipe using your own words and include a link to this post for the recipe.
Feeling berry hungry? (Yep, I just did that.) Try my Blueberry Coconut Smoothie Bowl (Vegan, Gluten Free).
Looking for the perfect chewy granola bar? Check out my No Bake Oatmeal Raisin Granola Bar (Vegan, Gluten Free). Psst… it tastes just like oatmeal raisin cookies. Oh, yeah!
Questions of the Day
How's the weather in your neck of the woods?
Do you like chia seeds?
I can't wait to hear your responses.