No Bake Chewy Chocolate Chip Granola Bars (Vegan, Gluten Free)
No Bake Chewy Chocolate Chip Granola Bars (V+GF): the perfect protein-rich, on-the-go snack that's super easy to make, full of simple ingredients and delicious. Vegan and Gluten Free.
So the thing about these no bake chewy chocolate chip granola bars is that I can't stop eating them. Every single bite just does it for me—a mouthful of texture, and a flavorful party of nutty, sweet, rich and all of the things deliciousness.
When I was a little kid—okay, I admit it, just a few short years ago—I was a granola bar-buying fanatic (oh man, what a tongue-twister). It was kind of like my lip-balm buying craze phase. I would go on all kinds of missions to buy lip balm in various colors, flavors, and packaging. I mean, these lip balms were like toys. But for adults. Oh my! ?
Well, after I stopped that lip-smacking wallet-burning hobby, (side note: did you ever try pink lemonade Lip Smackers? Those were the best!), I found something new to take its place. Yes, I know I need to get a life. But, hey, I have you guys! Riiiight? Um…
What was I saying? Okay, so after I kicked those glossy moisturizing lip aids to the curb, I found granola bars. Anyone else sensing a theme here? Everything is about the mouth and, let's face it, all surrounding acreage for eating. Woah, epiphany here, folks.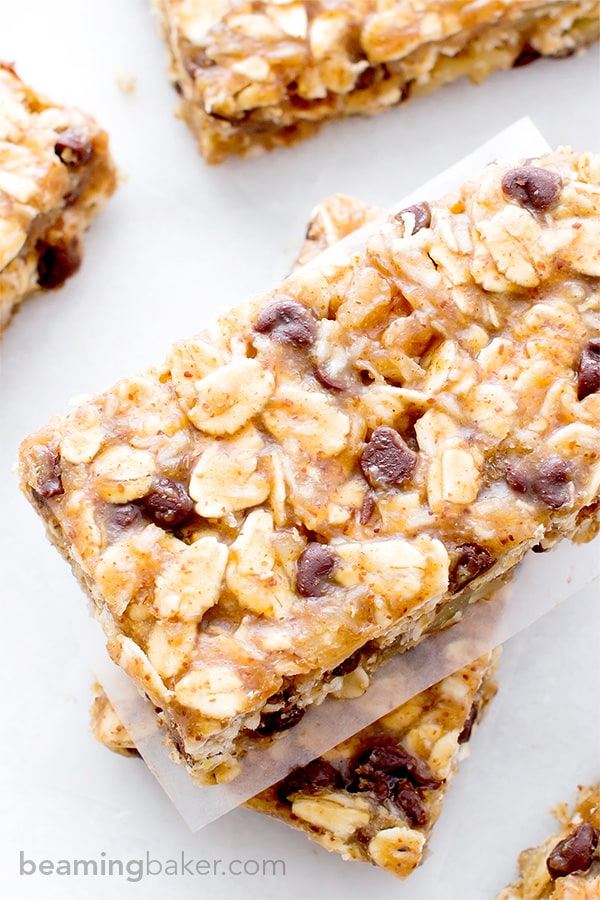 Anyway, granola bars were like the new toy, but I could eat it. Which reminds me, have you guys seen that episode of Friends where Monica reveals her favorite game when she was a kid? It was that toy, you know… the one where you could put in money and food would come out? 😉
Um, it was my favorite "game" too. And believe you me, I've got no shame in admitting it.
Let's call a spade a spade here folks. It was a vending machine.
Well, the hunt for the perfect granola bar always ended in lotsa good old-fashioned eating. My favorite hobby of all. There were so many flavors! Iced lemon bar, oatmeal cookie, dark chocolate lovers, pecan pie… the choices were endless.
But eventually, the good times stopped rolling. And all of those flavors started becoming kind of indistinguishable. Worse, I was growing up and actually looking at these labels. Fun: spoiled. Maturity: improved. Bright side, m'kay?
I was already baking so much and cooking up a storm… why not throw granola bar recipe testing into the mix?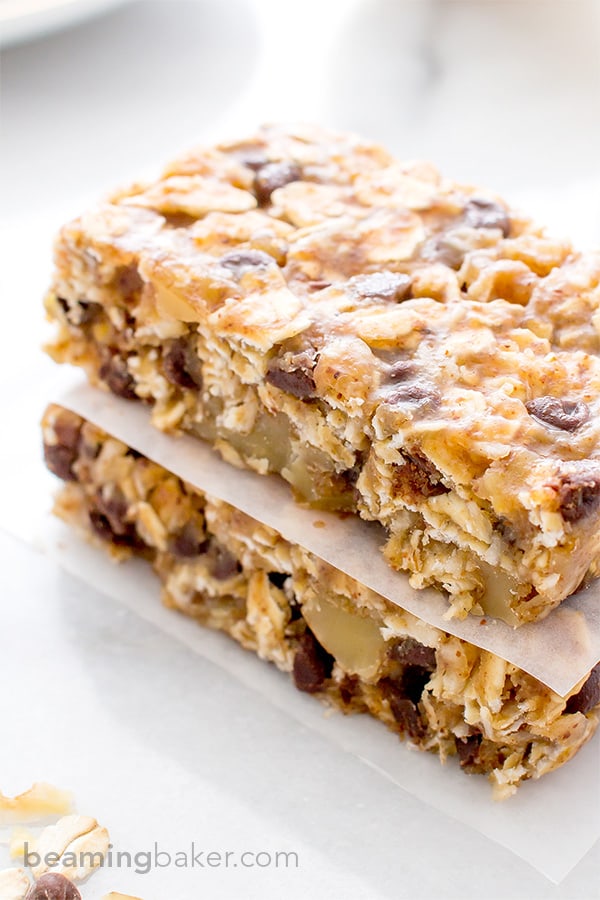 So as some of you know, I created my No Bake Oatmeal Raisin Granola Bars. And yup, they taste just like oatmeal raisin cookies. I loved that one so much, and so did the fam—clearly the much higher standard for taste-testing (what with my eating hobby and such). But let's face it, what really trumps an oatmeal raisin cookie?
A chocolate chip cookie.
And since we're in the habit of dreaming about cookies and rivers of chocolate around here, why not make a new no bake granola bar that's secretly good for you, but outwardly tastes like a chocolate chip cookie?
Winner!
Like, more winning then that one vending machine game. 😉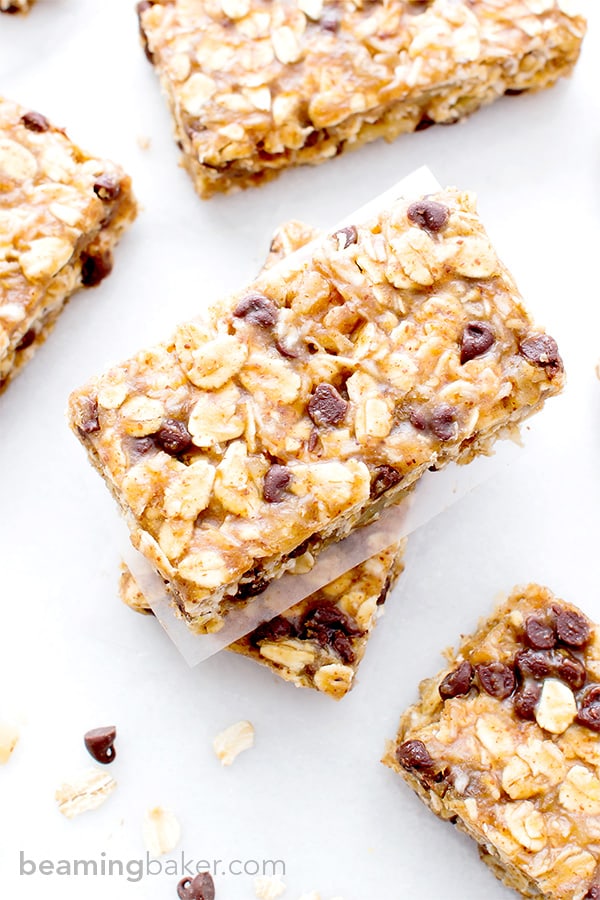 So sweep all of your eccentric hobbies aside (okay, I might be just talking to myself here), and check it out. These No Bake Chewy Chocolate Chip Granola Bars are:
super tasty AND super chewy
perfectly portable, even at room temperature
vegan and gluten free
packed full of nutritious ingredients
easy to make
protein-rich & filling
perfect for on-the-go snacking
don't require games or rules 😉
Treat yourself to these wonderfully homemade, wonderfully satisfying granola bars. You know you deserve it. 🙂
☀︎Click below to Pin☀︎


☀︎ If you make these No Bake Chewy Chocolate Chip Granola Bars, take a pic, tag it #beamingbaker and share it on Instagram. I'd love to see it!☀︎
Print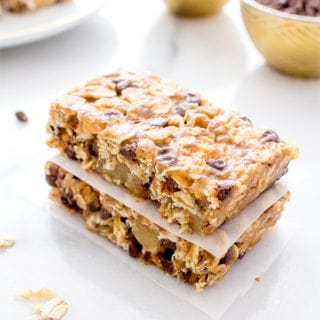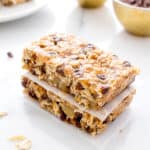 No Bake Chewy Chocolate Chip Granola Bars (Vegan, Gluten Free)
---
Description
No Bake Chewy Chocolate Chip Granola Bars (V+GF): the perfect protein-rich, on-the-go snack that's super easy to make, full of simple ingredients and delicious. Vegan and Gluten Free.
---
Dry Ingredients
1 ½ cups

gluten free rolled oats

½ cup

gluten free oat flour*

½ cup

unsweetened, shredded coconut

¼ teaspoon

salt
Wet Ingredients
2

flax eggs (whisk together

2 tablespoons

ground flax +

6 tablespoons

warm water, let set for 15 mins)

¼ cup

melted coconut oil

½ cup

natural, unsalted almond butter

1/3 cup

pure maple syrup

2 teaspoons

pure vanilla extract
Add-in Ingredients
---
Instructions
Line a 9×9 baking pan with parchment paper or wax paper. Set aside.
In a large bowl, whisk together all of the dry ingredients: oats, flour, coconut and salt.
In a medium bowl, whisk together all of the wet ingredients: flax eggs, coconut oil, almond butter, maple syrup and vanilla. Whisk until smooth.
Pour the wet mixture over the dry mixture. Use a rubber spatula or wooden spoon to stir ingredients together until well combined. Fold in chocolate chips and walnuts.
Pour into the prepared baking pan. Spread granola bar mixture into an even layer, pressing down until it's tightly packed and smooth.
Place baking pan in freezer for 15-20 minutes.
Remove from freezer. Lift bars out of the baking pan. Set onto an even surface and slice into 12-18 bars. Enjoy!
Notes
– Store in an airtight container in the refrigerator for 1-2 weeks. You may also freeze these for up to a month.
– Storing at room temperature: These bars will be slightly soft, but still keep together at room temperature. If you're bringing these as a snack, make sure to store them in a hard container, like a Tupperware.
– *To make homemade oat flour: place rolled oats into a blender. Blend until you get a just slightly grainy flour. Remember: 1 cup of rolled oats does not equal 1 cup of oat flour. You'll need to blend more rolled oats to create less flour- the oats decrease in volume as you turn it into a flour. It's easiest to blend up a big batch of oat flour, and just scoop out what's needed for any recipe.
– Adapted from my No Bake Oatmeal Raisin Granola Bars.
Prep Time:

15 mins

Category:

Vegan, Gluten Free, No Bake
© beamingbaker.com. All content and images are protected by copyright. Please do not use my images without my permission. If you wish to republish this recipe, please re-write the entire recipe using your own words and include a link to this post for the recipe.
If you love no bake granola bars, check out my No Bake Oatmeal Raisin Granola Bars (Vegan, Gluten Free). They're simply delicious.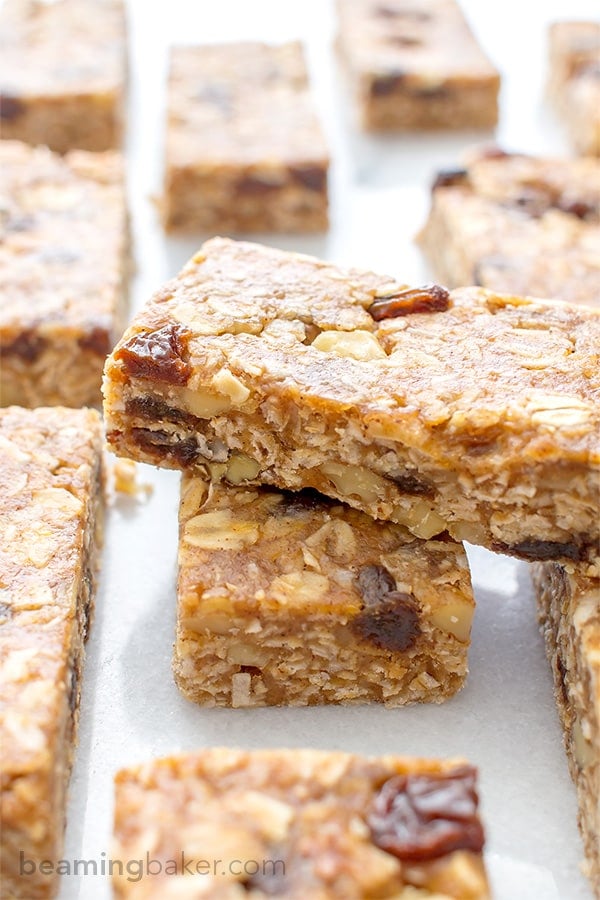 Healthy snacks are hard to find, I know! Try my No Bake Almond Butter Coconut Bites (Vegan, Gluten Free). Protein-rich, super simple to make, and YUM.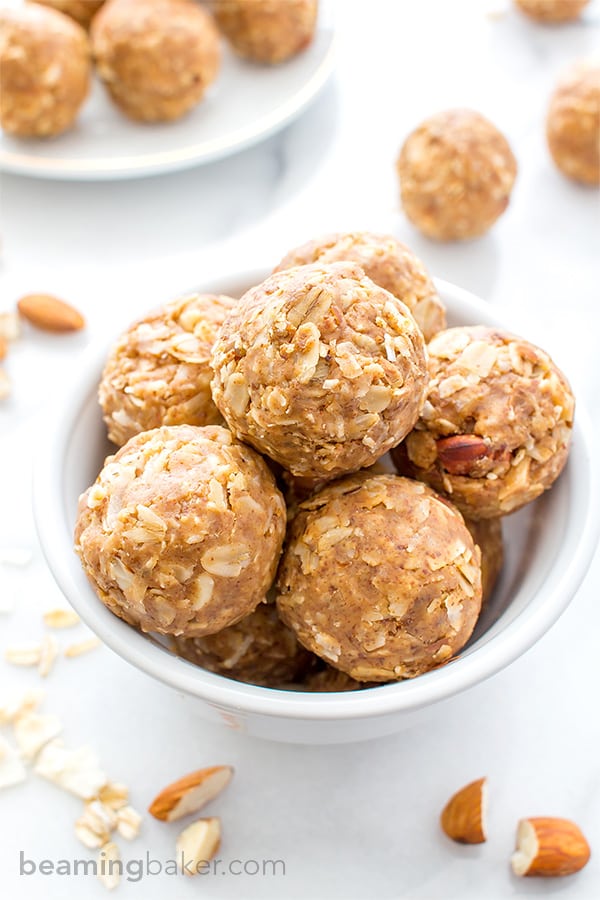 What's your favorite unusual hobby?
I can't wait to hear your responses.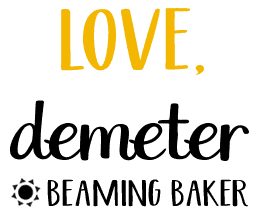 Save