No Bake Oatmeal Raisin Granola Bars (Vegan, Gluten Free)
No Bake Oatmeal Raisin Granola Bars (V+GF): Soft and chewy granola bars that taste just like an oatmeal raisin cookie. An easy Vegan and Gluten Free recipe made with whole ingredients.
Oh life, how did we get here? What culinary sorcery has led to these No Bake Oatmeal Raisin Granola Bars?
Well, there's a story. Isn't there always a story? 😉
Confession time: When I was a little kid, I thought oatmeal raisin cookies were made to trick us kids into eating healthy foods. In my young mind, these cookies were the equivalent of spinach muffins or, worse… carrot cake. Just–I know, I know, I was also wrong about the carrot cake. But, come on! If the word "carrot" was in there, how could it be a real dessert?
Anyway, it was during elementary school field trips that I was forced to encounter these so-called trick cookies. The teachers would get all of us kids lined up in a row, then point us towards a huge spread of semi-mysterious, crinkly brown paper bags that we were to choose from.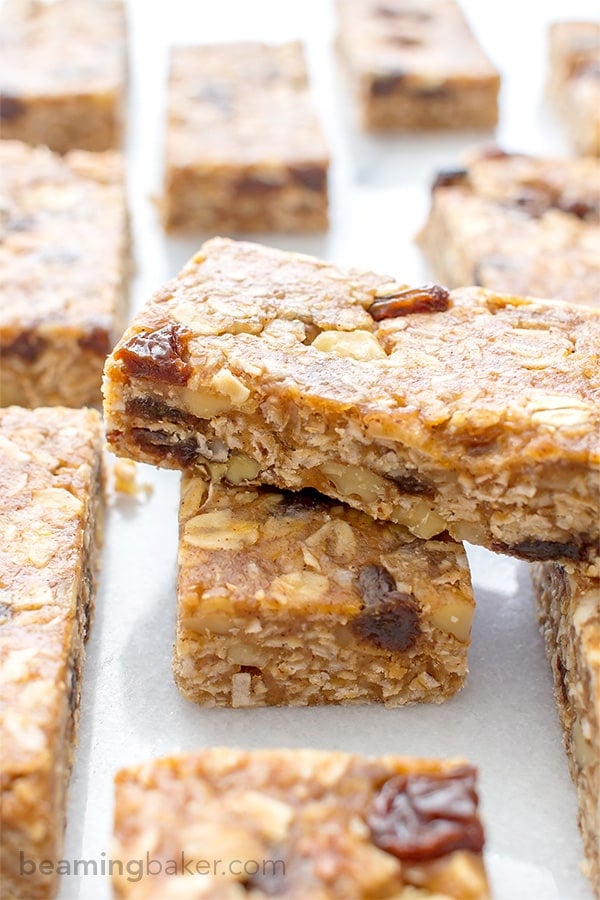 All I knew was that I really, really hoped I would get the "good" bag, which was filled with Cheetos, a grilled cheese sandwich and a chocolate chip cookie. I just hoped and wished as hard as I could that I wouldn't get the "bad" bag, which was filled with apple chips, a veggie sandwich and, wait for it…
An oatmeal cookie.
Guuuurl, those were the un-fun bags. The kind adults wanted to pick.
Yuck!
Well, one fateful day, I got stuck with one of these Healthy But Totally Gross lunch bags.
Sighing, but dutifully resigned, I sat down with one of these bags, pushed my sleeves up and wiped my fingers over my glasses to clear them out. After all, this was business. Healthy, non-fun business.
I ate the sando, because, well, what choice did I really have? I munched on the apple chips… which were surprisingly good (make that Item #3 on the list of Foods I Was Wrong About). And then, it was time for The Oatmeal Cookie.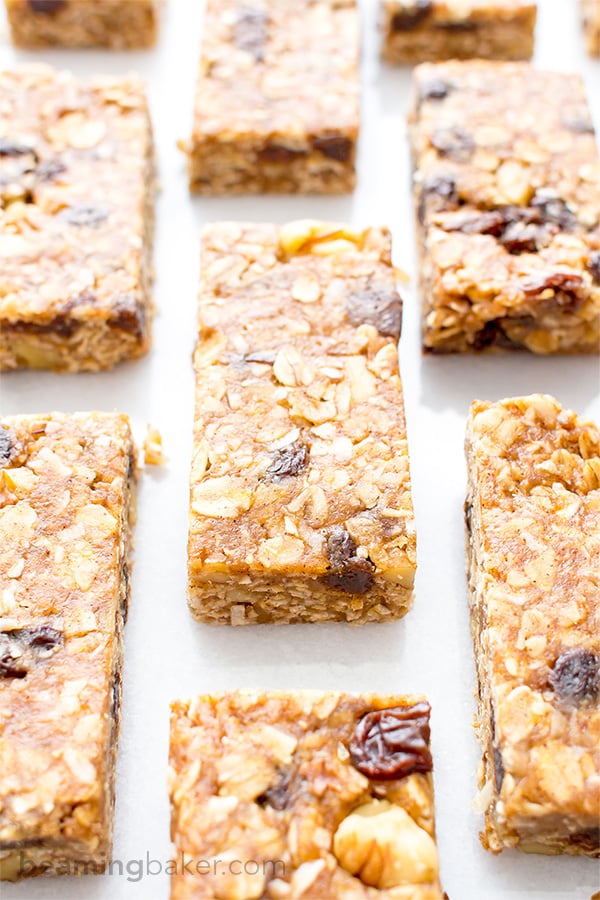 As I peeled the wax paper sleeve open, I caught a big whiff of something homey, something sweet.
The cookie stared at me. And I stared at the cookie.
I thought, why not? Kids like me were supposed to go on adventures and take big risks. What bigger risk could I take than to eat this trick cookie?
I took a bite. And immediately, the cinnamon, the sugar and all of those juicy raisins brought happiness to my mouth. With every chew, I became convinced that the real trick these adults were trying to pull was letting us kids believe these cookies weren't good. How rude! How deceiving! (I was not a trusting child.)
Well, I knew better now.
And to this day, I first decline, then double-back whenever I'm offered an oatmeal raisin cookie. After all, I'm a savvy adult now. I finally know better. 😉
When you bite into one of these no bake oatmeal raisin granola bars, you'll know immediately how incredibly wrong I was about those oatmeal raisin cookies. In fact, you probably already knew that, you smart cookie, you.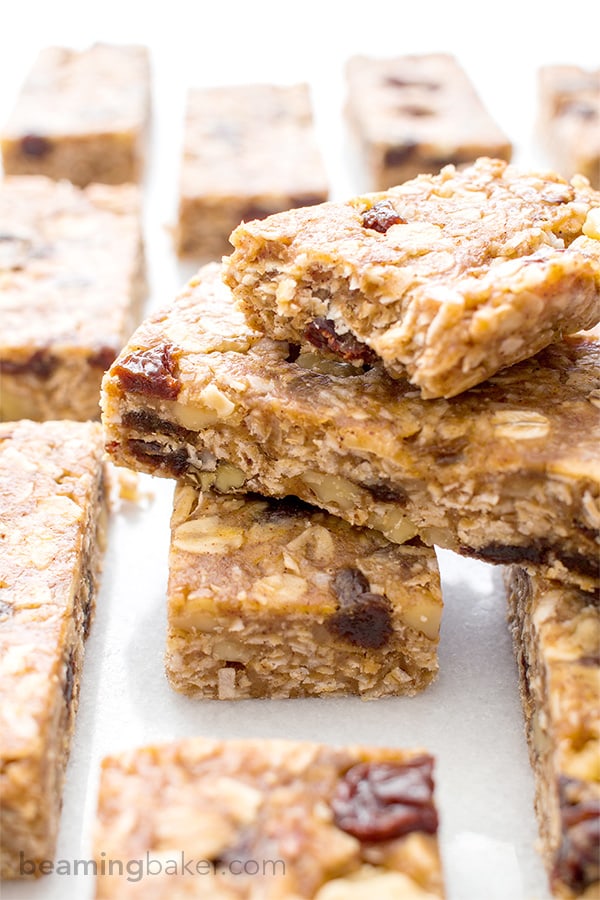 Now, don't tell any of the kids in your vicinity, but *whispers* I actually made this guy nice and healthy. But, shhhh! Let's not scare them off! After all, it's our duty as adults to trick them into eating better. Right?
Let me *quietly* tell you all about them. These No Bake Oatmeal Raisin Granola Bars are:
soft and chewy like

a trick cookie

an oatmeal raisin cookie
so incredibly easy to make
made with simple, whole ingredients
vegan and gluten free
nutritiously packed with protein and vitamins
a super convenient snack
If you already love oatmeal raisin cookies, you're probably already drooling over these. If you're like the little beaming baker, prepare to be blown away.
After all, who doesn't need a bit of culinary adventure in their lives?

Healthy Granola + Granola Bars We Love
Print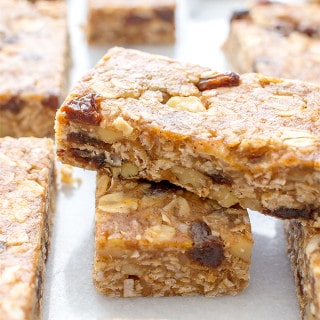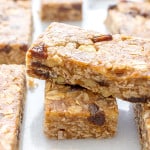 No Bake Oatmeal Raisin Granola Bars (Vegan, Gluten Free)
---
Description
No Bake Oatmeal Raisin Granola Bars (V+GF): Soft and chewy granola bars that taste just like an oatmeal raisin cookie. An easy Vegan and Gluten Free recipe made with whole ingredients.
---
Dry Ingredients
1 ½ cups

gluten free rolled oats

½ cup

homemade gluten free oat flour*

½ cup

unsweetened, shredded coconut

2 teaspoons

ground cinnamon

½ teaspoon

salt
Wet Ingredients
2

flax eggs (whisk together

2 tablespoons

ground flax +

6 tablespoons

warm water, let set for 15 mins)

¼ cup

melted coconut oil

½ cup

natural, unsalted almond butter or peanut butter

1/3 cup

pure maple syrup

2 teaspoons

pure vanilla extract
Add-in Ingredients
3/4 cup

raisins

½ cup

chopped walnuts (optional, or other toppings)
---
Instructions
Line a 9×9 baking pan with parchment paper or wax paper. Set aside.
In a large bowl, whisk together all of the dry ingredients: oats, flour, coconut, cinnamon and salt.
In a medium bowl, whisk together all of the wet ingredients: flax eggs, coconut oil, nut butter, maple syrup and vanilla. Whisk until smooth.
Pour the wet mixture over the dry mixture. Use a rubber spatula or wooden spoon to fold the ingredients together until well combined. Fold in raisins and walnuts.
Pour into the prepared baking pan. Spread granola bar mixture into an even layer, pressing down until tightly packed and smooth.
Place baking pan in freezer for 15-20 minutes, or in the refrigerator for 1 hour.
Remove from the freezer/refrigerator. Grab the paper liner and lift the bars out of the baking pan. Set onto an even surface and slice into 18 bars. Enjoy!
Notes
– Store in an airtight container in the refrigerator for 1-2 weeks. You may also freeze these for up to a month.
– Storing at room temperature: These bars will be slightly soft, but still firm at room temperature. If you're bringing these as a snack, make sure to store them in a hard container, like a Tupperware.
– *To make homemade oat flour: place rolled oats into a blender. Blend until you get a just slightly grainy flour. Remember: 1 cup of rolled oats does not equal 1 cup of oat flour. You'll need to blend more rolled oats to create less flour- the oats decrease in volume as you turn it into a flour. It's easiest to blend up a big batch of oat flour, and just scoop out what's needed for any recipe.
– Adapted from my Good Morning Breakfast Cookies.
Prep Time:

10 mins

Category:

snacks, vegan, gluten free, no bake
© beamingbaker.com. All content and images are protected by copyright. Please do not use my images without my permission. If you wish to republish this recipe, please re-write the entire recipe using your own words and include a link to this post for the recipe.
If you enjoy the ingredients in these no bake oatmeal raisin granola bars, you just might love my Good Morning Breakfast Cookies (Vegan + Gluten Free).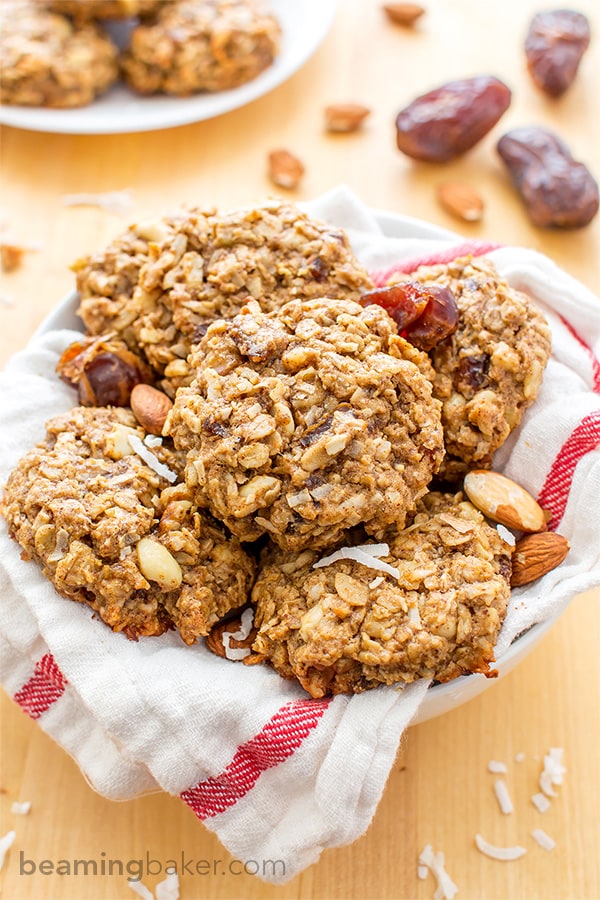 What better way to channel your inner kid than with this Protein-Rich Strawberry Peanut Butter Smoothie? 🙂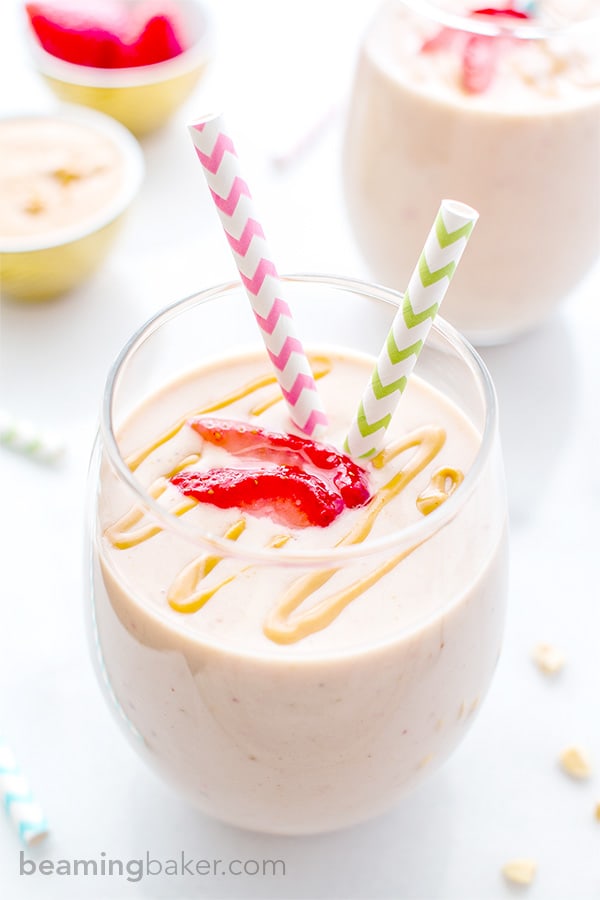 Question of the Day
What food did you dislike as a kid, but find yourself enjoying as an adult?
I can't wait to hear your responses.