Chocolate Coconut Granola Bark (Vegan, Gluten Free)
Chocolate Coconut Granola Bark (V+GF): Richly indulgent, heavenly chocolate covered coconut granola enrobed in a thick layer of chocolate.
Okay, so I'm pretty much just too excited about this recipe! (Note that it required A LOT of restraint to only include one exclamation point in the aforementioned sentence). Okay, what the heck: !!!!!!!
Alright, so if you've checked out Monday's post, you know that it's officially Beaming Baker Chocolate Week 'round these parts (nope, still haven't come up with a cleverer name. Cleverer is a weird word, isn't it?) Well, seeing as how you, charming you, is part of the inner BB circle, I've got to tell you all about the origin story of my Chocolate Coconut Granola Bark.
Once upon a time…
There was a very harried lady who found herself tossing and turning in bed all night. You see, she had just taken her chocolate coconut almond granola and revamped the jellybeans out of it into the Chocolate Lovers Lifetime Members Only approved Chocolate Covered Coconut Granola. Parades were had, chocolate lovers reunited.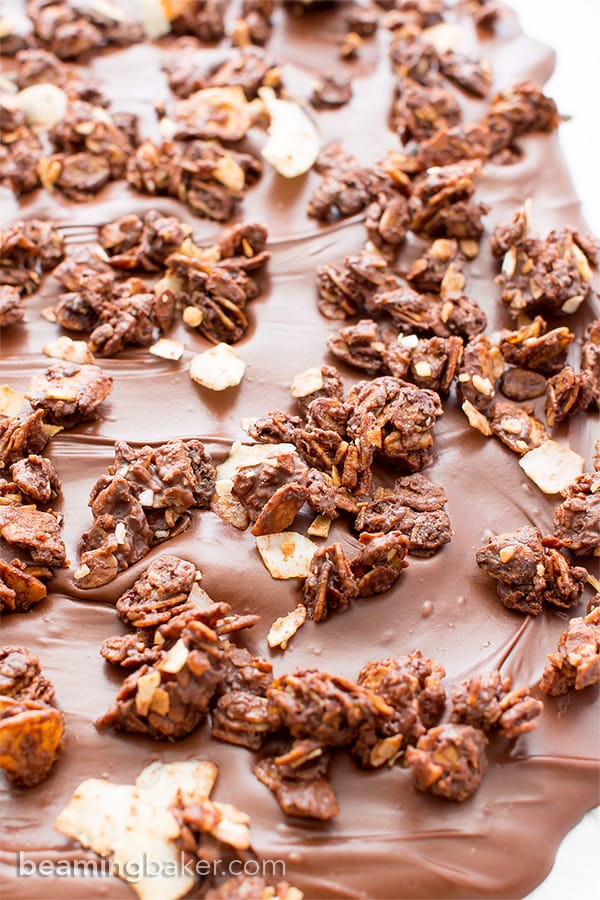 But, something was missing. Something even better.
So, between nightmares about burnt chocolate, mis-scheduled blogposts, and fistfights with scheduling apps, she dreamed something good. Oh, and it became apparent that scheduling was her worst enemy. EVER.
I mean, it was really good. The dream. Not the scheduling.
Suddenly, with a frantic toss of the covers (which startled her wrinkled, yet still knightly Erik), she jumped up and out of bed. The kindly Erik, used to these kinds of night movements/machinations, immediately waited and readied himself for said revelation.
She said, very smartly, "Why don't we pour the granola over a bunch of chocolate?!?!?"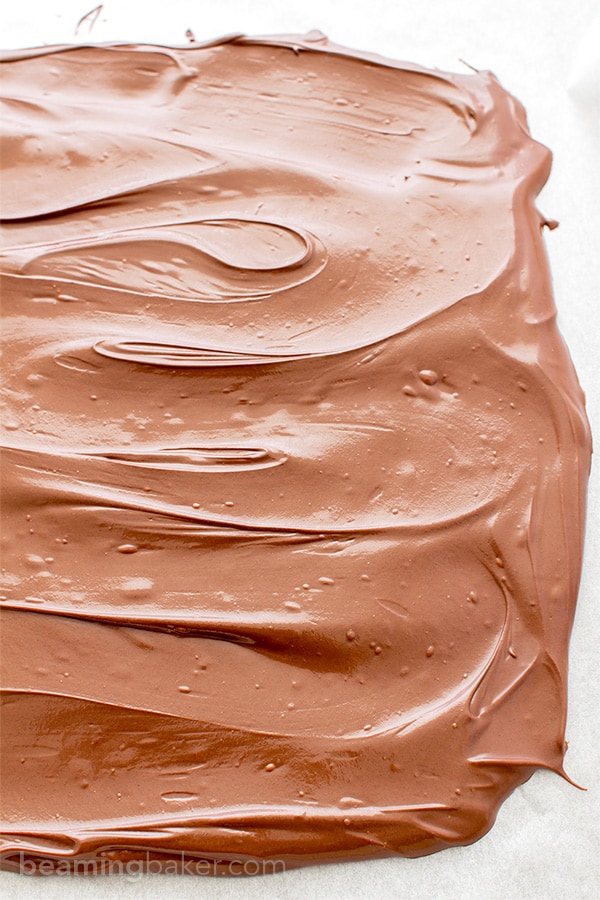 The beaming baker then eloquently added, "Like, just put in more chocolate! Wouldn't that be hella good???"
Erik immediately jumped up himself, rattling the already questionably stable/unstable bedframe purchased on discount off of Amazon, earning himself an otherwise useless in-the-dark glare from the beaming baker. He announced with even more eloquence, "YASSSSSSSSSSS!!!"
And a scholarly, "DUUUUUUUUDE!!!"
Then, almost immediately, these two crazy perfectly reasonable and rational "adults" fell like toppled Jenga pieces back into bed. And fast asleep.
Then dreamed of chocolate lampposts and rivers of candy… all night long.
The End.
Author's Note
I hereby dedicate this Chocolate Coconut Granola Bark to my wonderful readers, who are much less crazy than I and managed to make it this far down the post. Erik and I thank you for your non-judgmental ways. 😉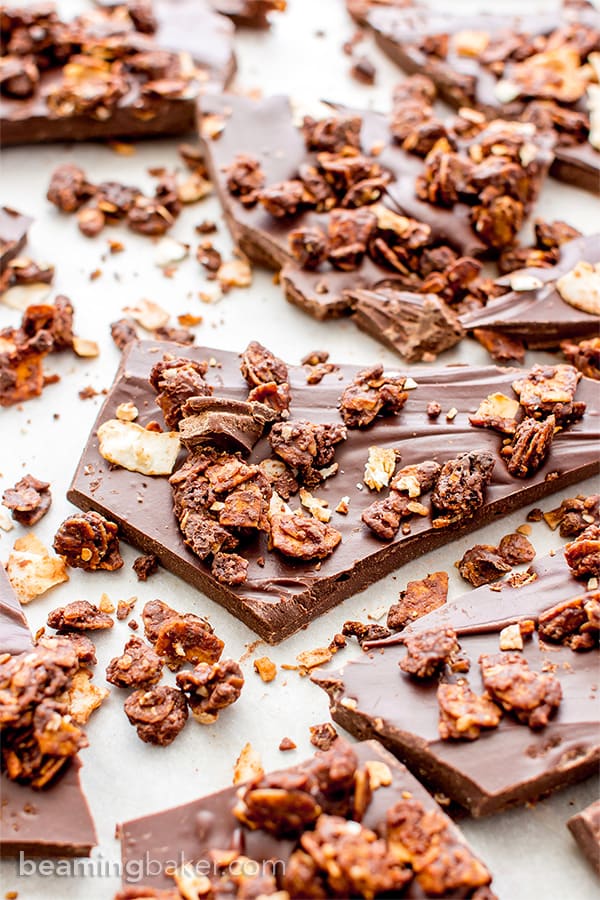 *Closes dusty fairytale book*
And with that my friends, the Chocolate Coconut Granola Bark was born. I mean, who doesn't want already chocolate covered granola to be taken to the next level with glossy, beautiful, Life Is Just Right chocolate bark?
This Chocolate Coconut Granola Bark is:
cool because it has a story
gonna satisfy so many chocolate cravings you didn't even know existed
vegan and gluten free
rich, and dance-in-your-seat crunchy
melt-in-your-mouth good
fun for people who like breaking things… 'cuz, ya know… bark
And just in case you're craving non-chocolate-ified granola, check out this amazingly simple and easy gluten free granola from my friend Cindy at Vegetarian Mamma. YUM!
So whatcha waitin' for? It's almost the weekend, you deserve something this good. Don't you think? 🙂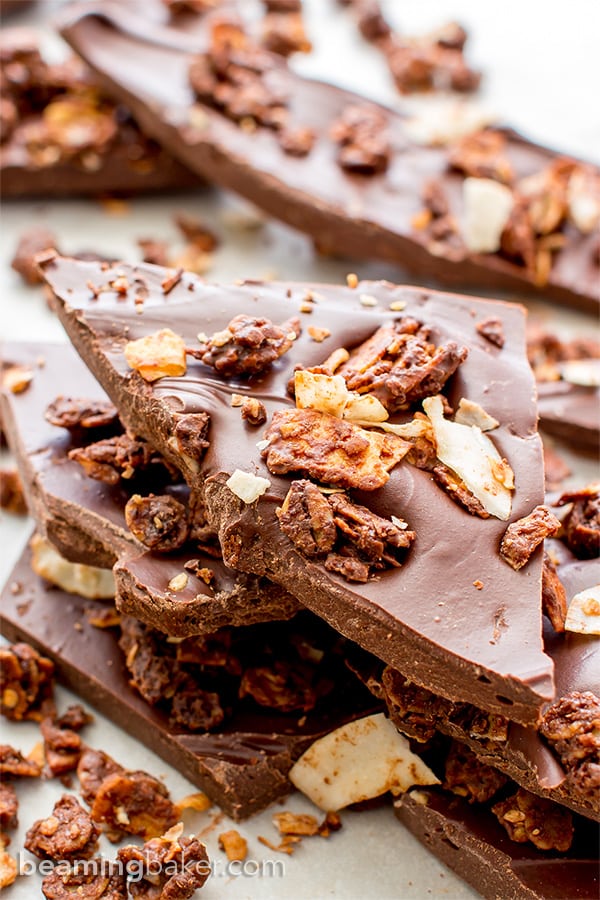 ☀︎ Dear friends, if you make this recipe, take a snap, load it up to our old friend Instagram and tag it #beamingbaker. I can't wait to see it! ☀︎

Print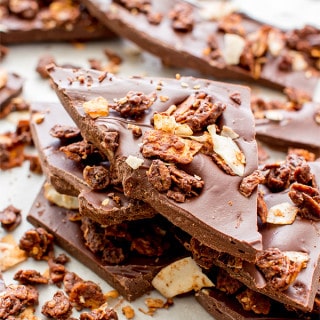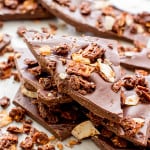 Chocolate Coconut Granola Bark (Vegan, Gluten Free)
---
Description
Chocolate Coconut Granola Bark (V+GF): Richly indulgent, heavenly chocolate covered coconut granola enrobed in a thick layer of chocolate. Vegan and Gluten Free.
---
2 cups

vegan chocolate chips (about

12 oz

)

½ teaspoon

coconut oil
---
Instructions
Make Chocolate Covered Coconut Granola. Set aside.
Line a baking sheet with parchment paper or a silicone baking sheet. Set aside.
Melt the chocolate one of two ways: Use the double-boiler method or use a microwave. For the microwave method, add chocolate chips and coconut oil to a medium bowl. Heat in 20 second increments, until the chocolate is just softened. Be careful not to overheat and burn the chocolate. It will continue to melt as you stir it. Stir until smooth.
Pour the melted chocolate onto the prepared baking sheet. Using a rubber spatula, spread the chocolate into an even layer. The thinner the layer, the thinner your bark will be and the more granola you'll be able to fit.
Sprinkle the granola evenly over the chocolate. Use more granola if you want chunkier bark. Use a clean spatula to press the granola lightly into the melted chocolate.
Place baking sheet into the freezer for 15-20 minutes. Remove from freezer and break apart with hands. Enjoy!
Notes
– Store in an airtight container for 1-2 weeks.
– You can also freeze the bark for up to 4-6 weeks. Wrap in parchment paper or wax paper and store in an airtight, freezer-friendly container.
Prep Time:

15 mins

Cook Time:

5 mins

Category:

Dessert, Vegan, Gluten Free
© beamingbaker.com. All content and images are protected by copyright. Please do not use my images without my permission. If you wish to republish this recipe, please re-write the entire recipe using your own words and include a link to this post for the recipe.
In case you required another teaser, here's the Chocolate Covered Coconut Granola (Vegan and Gluten Free) used in the above recipe. 🙂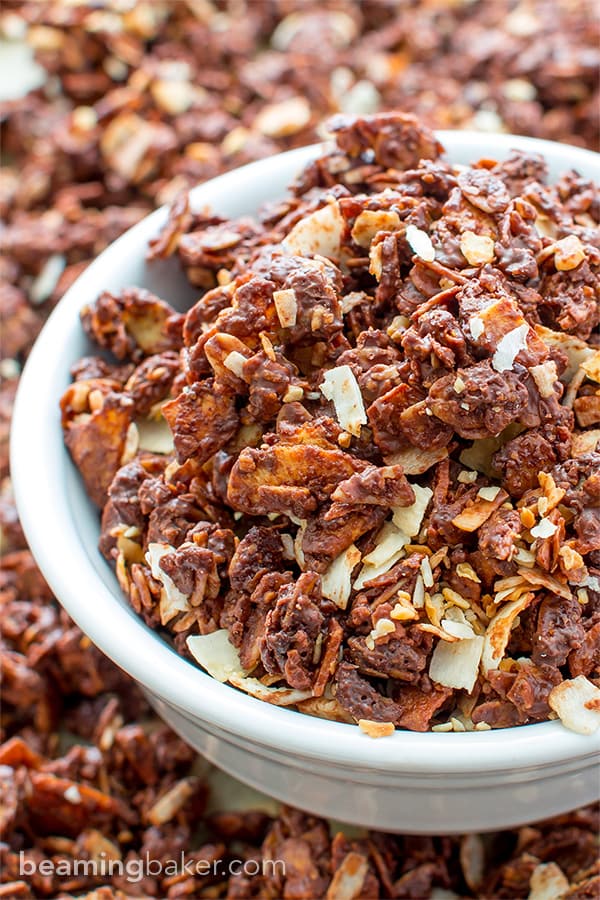 So, you're into chocolate. No worries, I've got you covered: Best Vegan Brownies.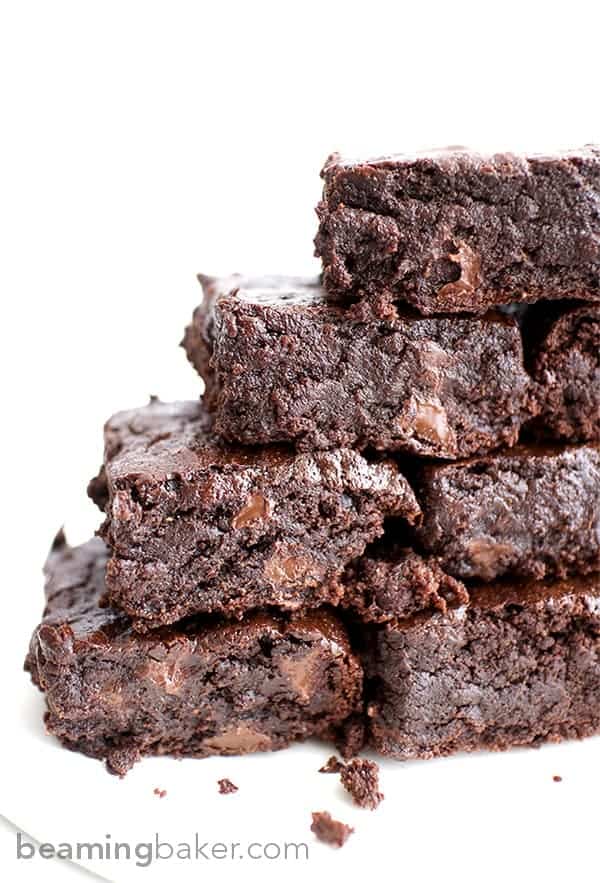 Question of the Day
When do you come up with your best ideas?
I can't wait to hear your responses.