Vegan Strawberry Chia Seed Popsicles (V, Dairy Free, Gluten Free, Paleo)
Vegan Strawberry Chia Seed Popsicles (V+GF): a 3 ingredient recipe for delicious, refreshing strawberry popsicles bursting with chia seeds. Vegan, Dairy Free, Gluten Free, Paleo.
Here in Maine, the summer's pretty mild. The cool breeze is a thoughtful friend; the rainy days still happen with some frequency. In fact, next week is predicted to be completely rainy. Wait, is it summer yet? For real? 😉
But it wasn't long ago that Erik and I were experiencing vastly different weather. It was a mere four summers back when we had moved into our little apartment in San Diego. We had just spent some time living in Boston (I know, we move a lot), and were craving some much needed Home Sweet Home.
So there we were, happy as clams, sweating like ice-cold drinks on a summer day, moving in box after box of stuff. Our sweet studio apartment had no bedrooms, but lots of books and lots of bakeware. Like, for realsies A LOT. Side note: who needs 3 bundt pans, anyway?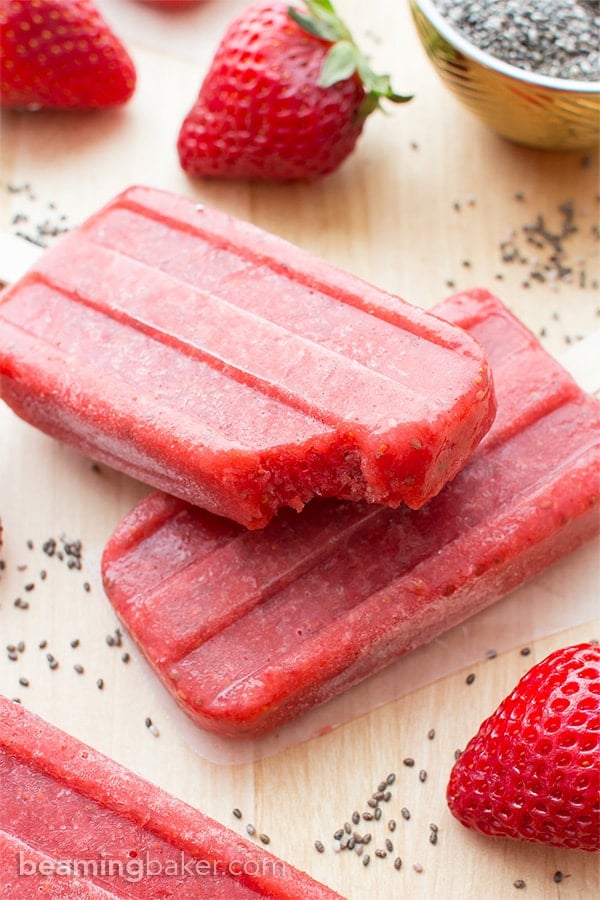 It was 95 degrees outside. The sun was high in the sky, and everywhere you looked, you saw people in shorts and sunglasses. I kinda think clouds might just be allergic to San Diego. They creep in for a day or two, then run away scared and deflated from the sun exposure. Or something.
My mom and my sisters were all there to help us move in. Well, my mom was there in her official capacity as Move-in Day Supervisor. That's an important and critical role, you know?
Anyway, all of us were moving things in and out of the apartment. On the THIRD floor, with no elevator (!!!!). Good stuff went in, things being deemed as "crap you don't need when you're a real adult" going back out. I don't think any of us noticed anything unusual as we did this move. We were all just trying to focus on not passing out on the staircase and wiping sweat out of our eyes (and not back in).
Someone had turned on the ceiling fan. No, there was no air conditioning. But that's okay, because soon, my sister Penny promised, we would go get ice cream and popsicles. That's the perfect big sis for you: offering you treats and rewards for helping you move your crap (let's be honest, it was crap).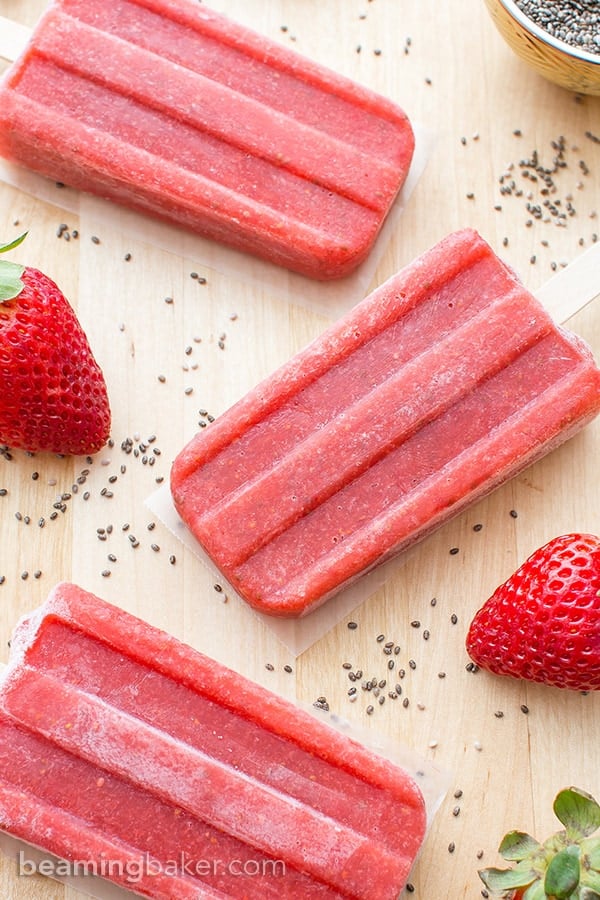 Eventually, everyone started looking real worse for wear. Penny and Jenny had determined (and slightly pissed off) looks on their dust-stained faces. Erik had exchanged his manly long shorts for skimpy swim shorts that may or may not have been passed along to him from my mom (hey, ventilation is key, ya know?). Monica, the only one foresight-y enough to wear moisture-wicking workout clothes, had resorted to tying her hoodie around her waist. Dude. Around her waist, 90s-style. I, myself, was sporting a particularly attractive raccoon-eye look from the simply delightful eyeliner I thought it'd be a good idea to put on that morning.
Basically, we all looked like sh… shampoo! Like we needed shampoo. Yes. That's what I was saying.
So we finally finished, giving those bootcamp workout folks something to feel ashamed about. We all retired on any non-pokey surface available. There's a futon mattress tossed slightly askance near the door (Monica and Penny). The floral couch had exactly 1.5 people's worth of seating (me and Erik). Some boxes may or may not have collapsed from sheer unsuitability as chairs (my mom… succeeding after smooshing like five boxes full of fragile crap). And… standing, for the very athletic Jenny.
Then something funny happened.
One second, we're talking about getting strawberry popsicles, chocolate chip ice cream, and a vacation to make up for this nonsense. The sun was shining ever so brightly. It's two o'clock in the afternoon. We're making plans for dinner.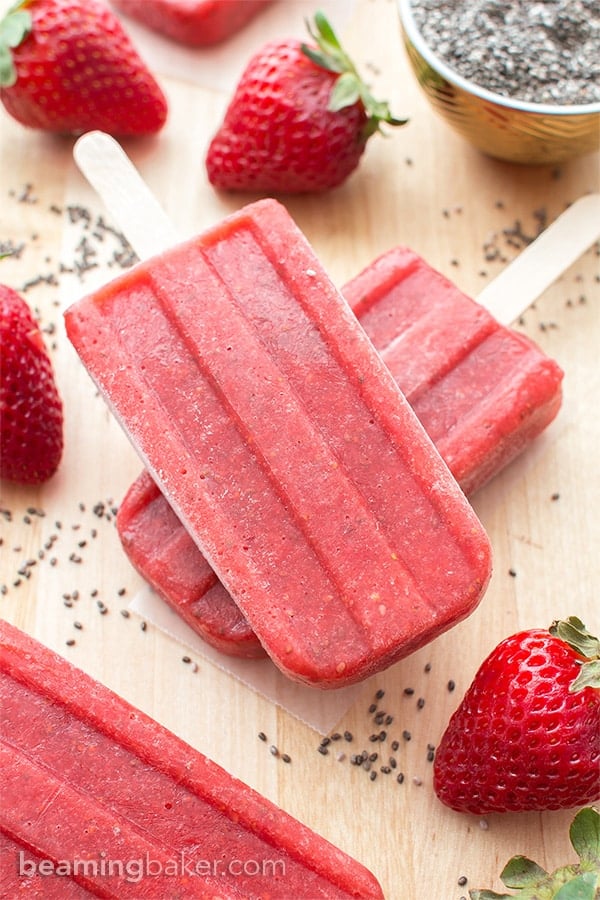 And the next… we're asleep.
Some time after, I blurrily open my eyes, searching the room for that digital red display. It's 8:04pm. It's… 8:04PM!!!!!! Monica and Penny are sound asleep on the edge of the futon. My mom has somehow joined them, and also managed to mostly overtake the futon. Erik is curled up, like a newborn kitten, snoozing pleasantly on a mattress he's fashioned out of all the smooshed boxes my mom thoughtfully "made" for him. I'm draped across the couch, over some books and hangers (ouch). Jenny, ever so athletic, has nodded off, but is still partially standing/propped up by some very strategically placed boxes.
It's pitch black outside. And the ceiling fan is lazily turning about. I pry the clothing hangers out of their carefully made grooves in my thighs, blow the hair out of my eyes and wobble my way to standing. One by one, I wake everyone up. They're disoriented, sleepy, confused. We get ourselves sorted. Lock up, and go for ice cream, of course. Then dinner. All is well, bellies are full.
☀︎ ☀︎ ☀︎
Months later, Erik and I are settled in. We got a good thing going with our studio-living routine. We know where all of the grocery stores are, and where to go to get good Chinese food.
But the same thing keeps happening. We're working at home, chatting about family stuff, or watching TV… when we fall asleep. We keep thinking it's because it's too hot. It's a 100 degrees, and we turn on the fan. The fan should help right? But there we are, sitting, working, chatting, and simultaneously covered in a pool of sweat. What gives?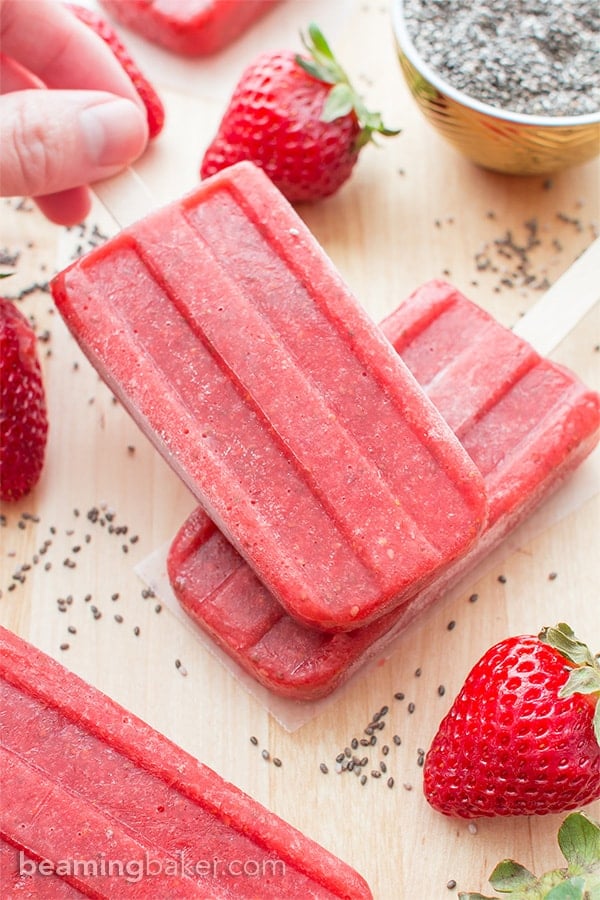 Almost a year later, Erik thinks something is wrong with the fan. He's standing precariously on a shaky plastic chair, dusting the sucker off. He pulls on all of the chains, pokes at assorted buttons. He thinks that there's a setting to make it go faster so we can stop fainting from heat.
Finally, I tell him, he's got to go online, look up the exact model and, yup: FIND INSTRUCTIONS. Go figure. Our lives are just like a 90s car commercial, where the dad refuses to look up directions.
Erik's looking online while I type away, doing work-y stuff.
*Gasp!
Erik: "What???"
Me: "What?"
Erik: "Uh…"
Me: "Yeah?"
Erik: "The thing is… the fan…"
Me: "Nice update. Can I go back to work now?" (I'm mean when I'm hot.)
Erik: "The fan…"
Me: "If I finish early, we can go get popsicles! How does that sound?? Then maybe we can go for a walk…"
Erik: "The fan!!!"
Me: "And pick up some Chinese food!! Oh, and let's go watch a movie too. Wouldn't that be awesome? But I gotta finish this first…"
Erik: "The fan is SET TO HEATER MODE!!!!!!"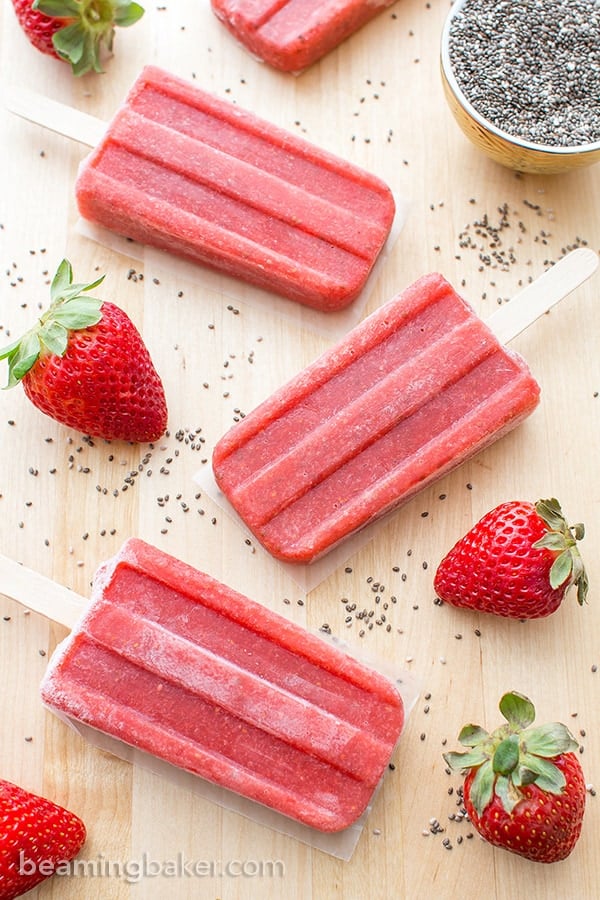 Me: "It's gonna take like a million years–WHAT.? What do you mean it's SET TO HEATER MODE. That's not a thing!! Is that a thing?"
Erik: "It's a thing. Dude. It's a thing!!!"
Me: "Are you serious?!?!? Why didn't you–you've heard of this? Why didn't you tell me???"
Erik: "I so did not know this was a thing. I mean, I might've heard about it before… but, you know."
Me: "Uh, clearly I don't. OMG, is that why we keep passing out???"
Erik: "Yes."
It was the fan all along. It's always the ones you least expect. After we changed the setting, we went out for popsicles and decided to never touch the fan again. And we went happily along, not passing out, the rest of the time we lived there.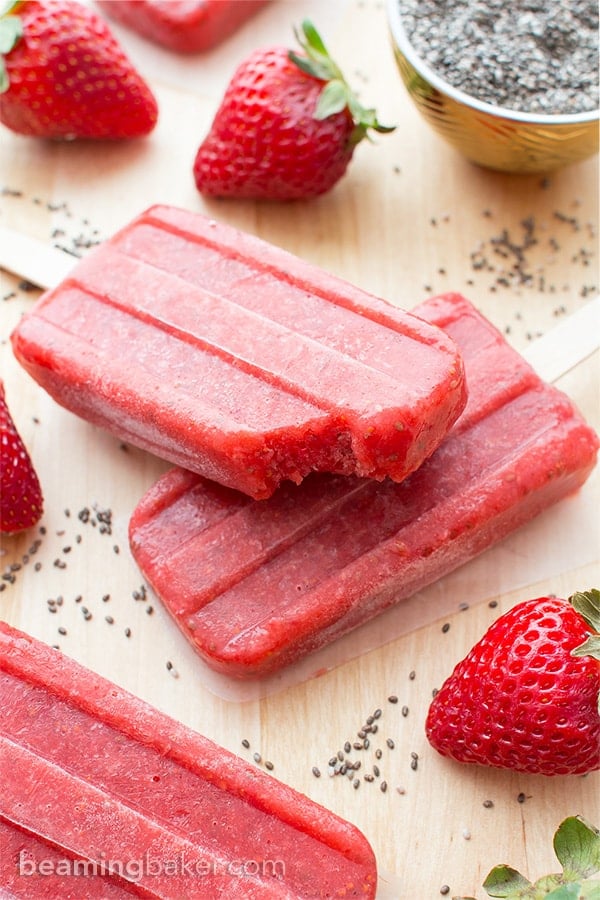 So, whether you've turned your fan to the heat setting or not, I invite you to enjoy these refreshing, non heat-mode attached, Vegan Strawberry Chia Seed Popsicles. They'll cool you off, even if you're not making it way hotter than it really is. 🙂
These Vegan Strawberry Chia Seed Popsicles are:
made with just 3 ingredients
cool, refreshing, and delicious
vegan, gluten free, dairy free
super easy to whip up in your blender
packed with strawberry flavor
boosted with chia seed goodness
free from heat-setting fans
So what do you think? Are you up for some strawberry, frozen-treat YUM this summer? Make a batch and enjoy the pleasure of homemade popsicles. I'll see ya at the beach.
☀︎ Click below to Pin ☀︎

☀︎ Did you make this recipe? Take a pic and share it on Instagram with the hashtag #beamingbaker. I would love to see it! ☀︎
Print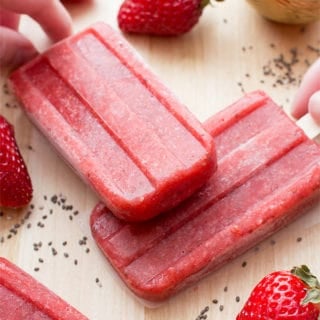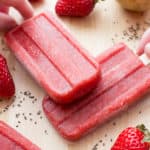 Vegan Strawberry Chia Seed Popsicles (Dairy Free, Gluten Free)
---
Description
Vegan Strawberry Chia Seed Popsicles (V+GF): a 3 ingredient recipe for delicious, refreshing strawberry popsicles bursting with chia seeds. Vegan, Dairy Free, Gluten Free.
---
5 cups

fresh ripened strawberries, sliced and packed*

2 tablespoons

pure maple syrup (optional)

1 tablespoon

chia seeds
---
Instructions
Add strawberries and maple syrup (if needed) into a blender. Blend until smooth, scraping down the sides of the blender as needed.
Pour strawberry mixture into a large mixing bowl. Add chia seeds. Whisk until just incorporated.
Pour the strawberry chia seed mixture into a popsicle mold. Make sure to leave about ¼" of space at the top of the mold to allow the popsicles to expand in the freezer. Insert popsicle sticks into the mold, or follow instructions for your mold.
Freeze for 6-8 hours.
Remove from freezer. Allow to thaw for a few minutes. If needed, run popsicle mold under a bit of lukewarm water to help the popsicles loosen.
Place the popsicle mold on a flat surface and wiggle the popsicles out. Enjoy!
Category:

Popsicles, Vegan, Dairy Free, Gluten Free
© beamingbaker.com. All content and images are protected by copyright. Please do not use my images without my permission. If you wish to republish this recipe, please re-write the entire recipe using your own words and include a link to this post for the recipe.
Chocolate + Peanut Butter = Love. Try my Chocolate Peanut Butter Banana Popsicles (Vegan, Gluten Free, Dairy Free).
Blueberries and coconut cream YUM! Try my Vegan Blueberry Coconut Popsicles (Gluten Free, Dairy Free).
What's your favorite popsicle flavor?
I can't wait to hear your responses.