Vegan Blueberry Coconut Popsicles (V, Gluten Free, Dairy Free, Paleo)
Vegan Blueberry Coconut Popsicles (V+GF): a 3 ingredient recipe for creamy popsicles packed with blueberries and coconut flavor. Vegan, Gluten Free, Dairy Free, Paleo, Refined Sugar-Free.
Hi friend! So, I didn't succeed in scaring you off in the last post… where I went all emo on you? *Pause* You're still here! Fantastic! This is the start of a great friendship. I foresee many sweet memories, both edible and inedible.
Scratch that. What's the point of inedible memories anyway?
In the spirit of kicking off summer and those old wintry/spring-that-acts-like-winter blues, I present to you: vegan blueberry coconut popsicles. There, don't you already feel better?
It's definitely popsicle season, and who better to usher you into the sweetest, coolest-but-not-'cause-it's-actually-friggin-hot, season? As a bonafide newbie popsicle fanatic, I've tried quite a few delicious combos of icy and creamy popsicle goodness.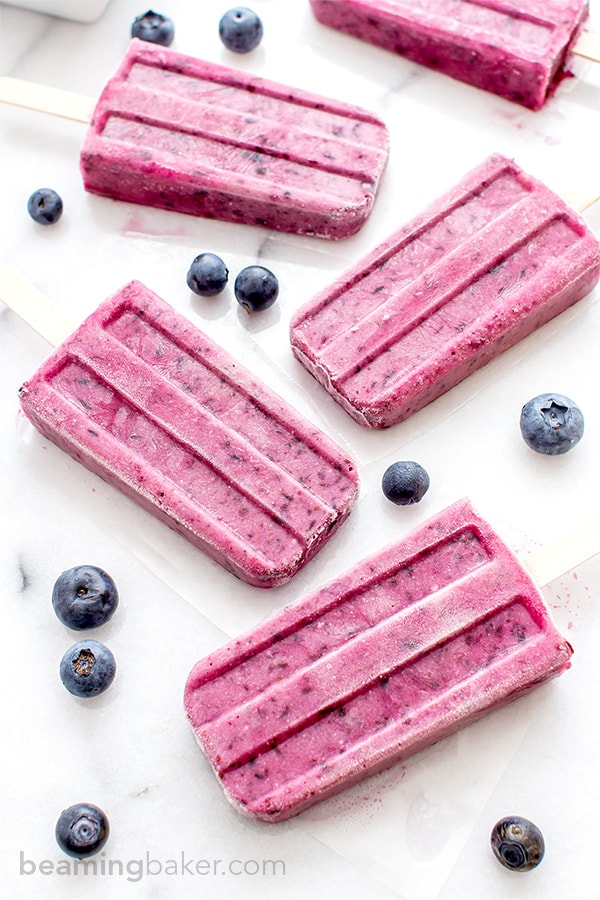 For instance, there was this chocolate peanut butter banana popsicle delight, an upcoming strawberry chia seed pop, maybe a few more top secret ones to come… and now these sweeeet (like, literally) vegan blueberry coconut popsicle goodies.
Oh, it's been so long since I've been able to say the word "goodies." Anyone else missing the days of 1,2 step and Ciara? 😉
Back on point… but who needs points anyway when it's summertime? Um, as I was saying… I actually thought that popsicles were a lot more tricky to make. But, alas, I am yet again proven wrong. In the most delicious way possible. Oh yeah!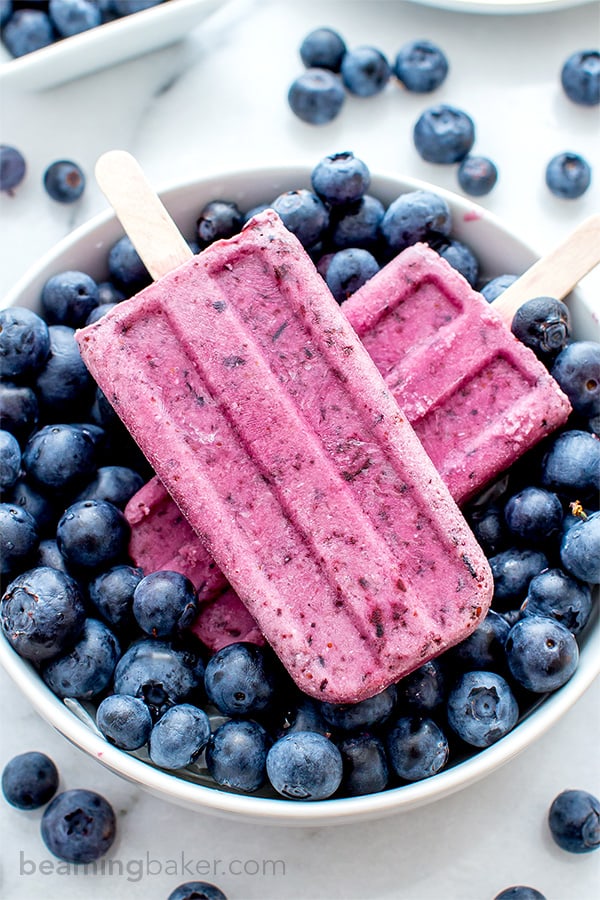 In this recipe, all you have to do is throw three simple, feel-good ingredients (blueberries, coconut milk and maple syrup) into a blender. Then, pour that delicious, coconutty, creamy mixture into your nifty popsicle mold. Then then, enjoy a lazy afternoon showing of The Sandlot, Stand by Me or… another coming of age movie that my sister Monica has suggested. Afterward, go for a late afternoon hike, followed by a supper of grilled burgers and roasted potatoes (man, I'm getting hungry).
Last then (I promise), take these frozen blueberry coconut yummy pops out of the ol' icebox and enjoy! Afterward, go for a weekend camping trip, with s'mores, hourlong gossip sessions and maybe a wine tour?
Oh. My. Gah. I'm excited about summer! Can you tell? And it's totally because the super fun aforementioned and… awesomely blueberry-infused recipes like Vegetarian Mamma's Frozen Blueberry Lemon Pie! Just prepare to drool is all I have to say. .
How about you? What are your plans this summer? Anyone planning a cruise, a trip to Disneyland or just like three one-hour long naps in ONE week? Duuuuuuude. Tell me all about your plans in the comments below. That way, I can live vicariously through you, and spend a good amount of time convincing Erik we should do all of them!
This is super perfect for us anyway, because we like to change our plans last minute for, um, optimal ADVENTURING. Yassss!!!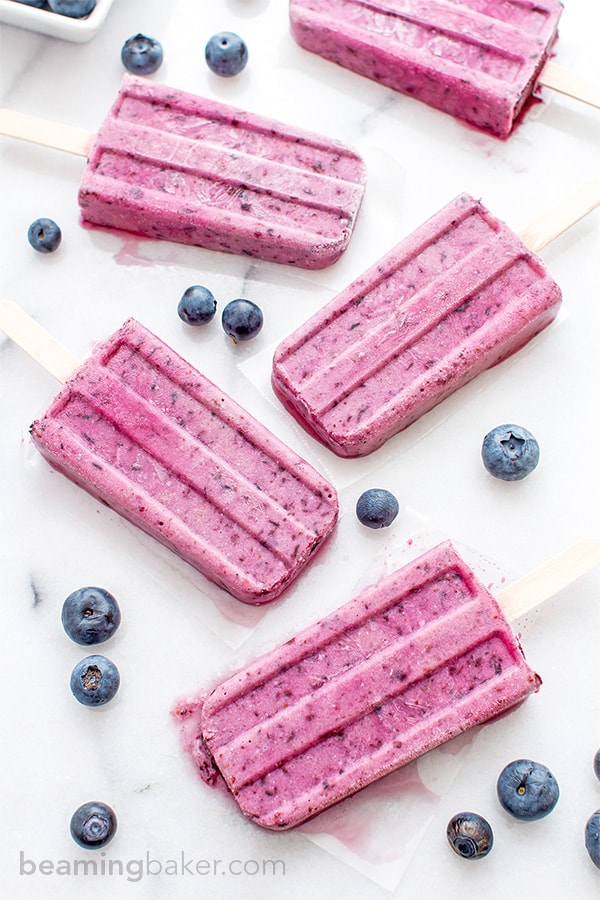 In the meantime, let me shower you with these refreshingly sweet frozen treat's best attributes. These Vegan Blueberry Coconut Popsicles are:
made of just 3 ingredients
vegan, gluten free and dairy free
prepped in just, like 5 minutes
full of creamy coconut goodness
just coincidentally packed full of blueberry antioxidants
great for enjoying during a summer movie marathon
refined-sugar free
the official, unofficial kickoff for the summer!
Treat yourself to some refreshing blueberry coconut goodness and kick off your heels (or work boots). It's summertime, friend!
☀︎ Click below to pin ☀︎

☀︎ Did you make this recipe? Take a pic and share it on Instagram with the hashtag #beamingbaker and tag @beamingbaker. I would love to see it! ☀︎
SHOP THIS RECIPE
Here are a few items I used in today's recipe. 🙂
Popsicle Mold | Coconut Milk | Popsicle Sticks | Food Processor | Blender | Maple Syrup
Print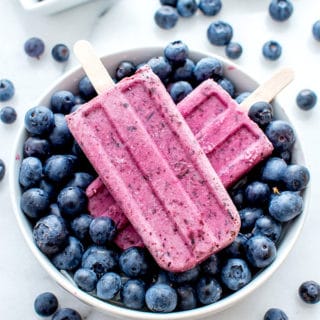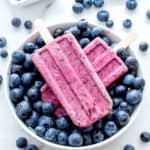 Vegan Blueberry Coconut Popsicles (Gluten Free, Dairy Free)
---
Description
Vegan Blueberry Coconut Popsicles (V+GF): a 3 ingredient recipe for creamy popsicles packed with blueberries and coconut flavor. Vegan, Gluten Free and Dairy Free.
---
---
Instructions
Add coconut milk, blueberries and maple syrup to a blender or food processor. Blend until smooth, scraping down the sides of the blender as needed.
Pour this mixture into a popsicle mold. Make sure to leave about ¼" of space at the top of the mold to allow the popsicles to expand in the freezer. Insert popsicle sticks into the mold, or follow instructions for your mold.
Freeze for 6-8 hours.
Remove from freezer. Allow to thaw for a minute or two. If needed, run popsicle mold under lukewarm water to help the popsicles loosen.
Place the popsicle mold on a flat surface and wiggle the popsicles out. Enjoy!
Equipment
Prep Time:

5 mins

Category:

Dessert, Snacks

Method:

Freeze

Cuisine:

American
© beamingbaker.com. All content and images are protected by copyright. Please do not use my images without my permission. If you wish to republish this recipe, please re-write the entire recipe using your own words and include a link to this post for the recipe.
Chocolate + Peanut Butter + Bananas = YES. Try my Chocolate Peanut Butter Banana Popsicles (Vegan, Gluten Free).
Cool off with my Mango Chia Seed Smoothie (Vegan, Gluten Free). Instant relaxation.
This post may contain affiliate links, which allow me to make a small commission for my referral, at no additional cost to you. Thank you for supporting Beaming Baker.