Vegan Chocolate Banana Nut Bread (Gluten Free, One Bowl)
Vegan Chocolate Banana Nut Bread (V+GF): A one bowl recipe for rich, moist and chocolatey banana bread with walnuts. Vegan, Gluten Free and Dairy Free.
Baking is not as easy as it seems. Okay, no one ever said it was easy. But I sometimes live in a world where I think everyone's a lot better at doing stuff than I am. In other words, things are harder for me because I'm not the sharpest, uh… whisk in the bowl. –> See what I mean?
I start thinking too much. (Danger, Will Robinson!!) And I get to the point where I'm pretty sure everyone else is a knife and I'm a lumpy, oddly-shaped spatula. With polka dots.
But then I realize, I'm just being extra hard on myself for no good reason. It's totally untrue that everyone else is perfect and I'm just a manufacturer's defect. Shoot, I've got to start inflating my balloons, not go around popping them. (I mean, what kind of popping can I do with my lumpy spatula anyway?)
I tell that little fruit-print jumpsuit wearing kid inside of me to chill. That all of the mess-ups and scraped knees of my adult life are good. They're badges of honor and all of that. Do you ever feel this way?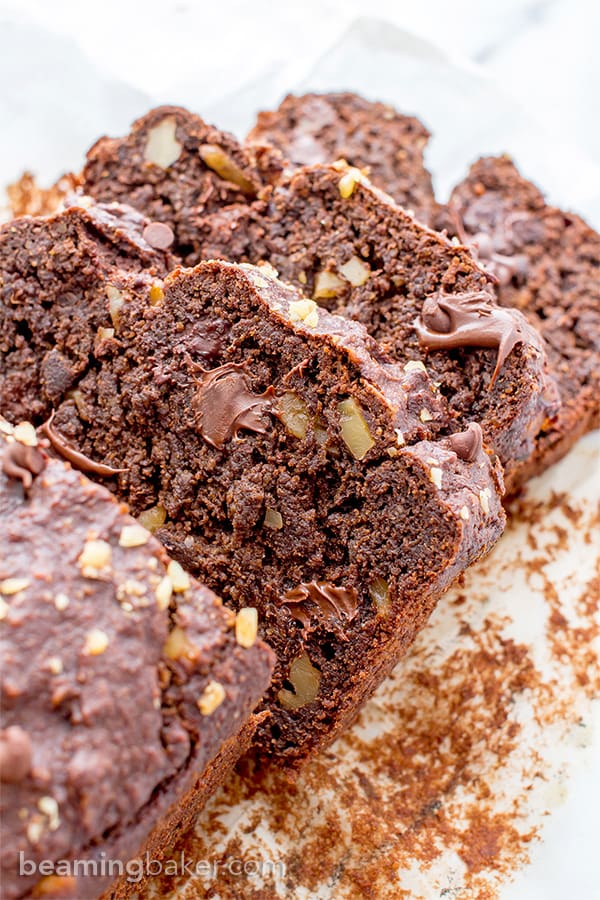 If you do, just know that you're not alone. I'm here to make mistakes with you. Hey, we can even swap stories about our biggest disasters (in the kitchen and outside). Case in point: everything that led to this vegan chocolate banana nut bread.
It all started on a Saturday morning. The sun was shining, birds were being their usual chirpy selves, and Erik and I were up working on the blog/baking/laundry/dreams about sleeping in. I had already been working on a recipe for double chocolate banana nut muffins prior to that cheerful morning.
In fact, if I can be honest, I already finished the recipe, shot it and then scrapped the whole thing because perfectionism/pressure/self-imposed madness can be a… well, mad thing. I had already decided that the muffins didn't rise enough, and if that recipe wasn't the best it could be (note to self: "best" means everything and nothing, all at once, so yeah), then I wasn't gonna publish it on the blog.
I had spent some time testing and retesting the recipe over and over again. I finally whittled the bugger to what I wanted it to be. This Saturday morning was supposed to be the final baking—these muffins were the ones I'd shoot.
All was going well. The muffins were busy baking. The oven had filled the kitchen with its warmth. Erik was happily, if not sleepy, typing away at his worky stuff. I was cleaning up after the cocoa powder tornado that had hit the counters.
Then, the timer went off.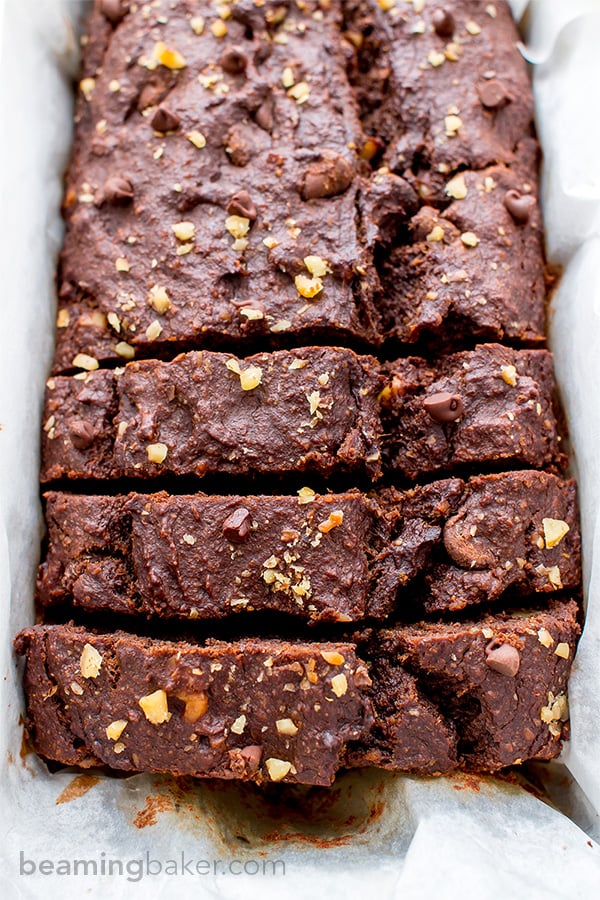 With cocoa-powdered cheeks, and to be honest, cocoa-powdered hair, I headed to the oven. I slipped on my bright red oven mitts, pulled the oven open and was immediately hit by a wave of just-baked warmth. There is nothing that can compare to this feeling, is there? All at once, you feel your heart lift, your face awash in the goodness that is homemade everything, and you know you can conquer the world.
Then, the scents. Oh, the scents! Melted chocolate, fresh-baked aroma swirling through the air, roasted walnuts, so much banana yum, and just everything you'd hope for in perfect double chocolate banana nut muffins.
I carefully lifted the muffin pan out of the oven. Nudged the oven door shut with my knee. Clicked off the oven temperature thingy.
The muffins were perfect. Perfectly round, perfectly lifted dome tops. Perfectly sprinkled chopped walnuts and chocolate chips dotting these perfect domes. Perfectly gorgeous, deeply rich color that is chocolate muffins. They were everything you'd hope for, everything you could pressure yourself into dreaming about.
I set them on the cooling rack on the counter. Erik hurriedly ran towards the muffin pan, eager as can be. We both crouched, wide-eyed, admiring the muffins. Drooling, of course.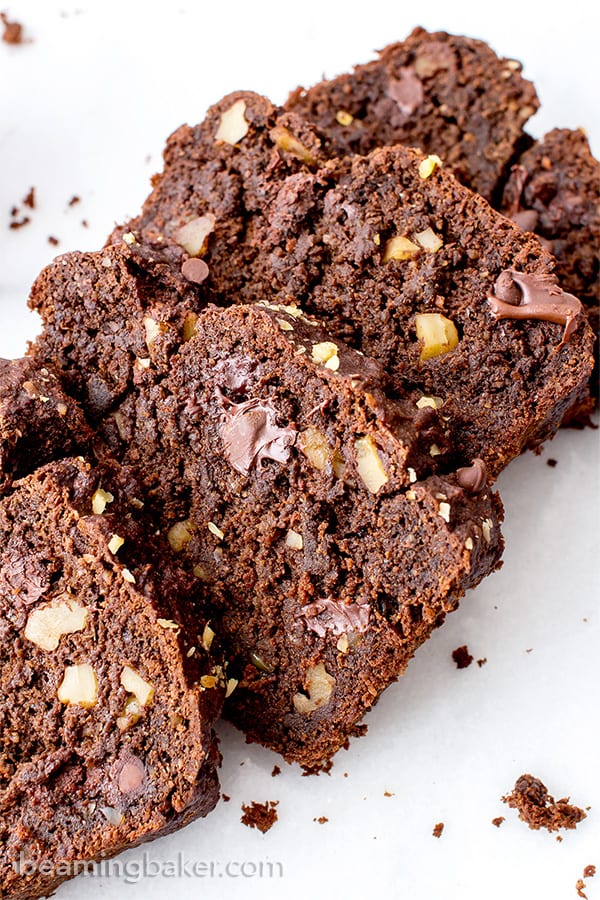 And then, because this kind of perfect thing doesn't happen very often, I decided, I really, really needed to shoot these muffins.
Cue: "Danger, Will Robinson!!!!"
Erik, being the amazing person that he is, saw the look in my eyes and immediately began helping me set up my shooting area. Foam board, tripod, the works.
Because I'm so smart the lumpiest spatula in the bowl, I decide to carry the still-hot muffin tray to the photoshoot area on the cooling rack. Danger—oh, you know where this is going.
In my rush to get everything done (no time was scheduled for a photoshoot on Saturday, and we had craptons of things to do), I hurried over to the photoshoot area. I was saying who even remembers what, thinking about the call I had to make to my mom, the no bake bites, peanut butter cookies, and chocolate popsicles I still had to make, dreaming about a vacation to Hawaii, and whether or not Erik remembered to throw my favorite sweatpants in the laundry, when it happened.
Swoosh.
Shoop.
Clank.
Splat.
One second, I was squeezing in a super-speedy photoshoot. The next, the entire tray of muffins…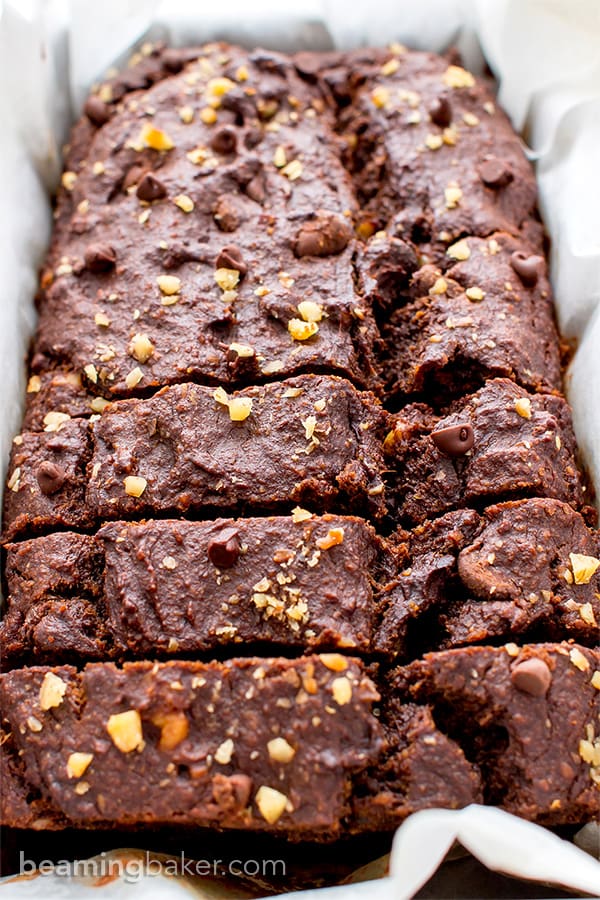 Were. On. The. Floor.
Upside down.
Perfect domes be damned.
Erik's mouth is agape. I freeze.
Then I crumple to the floor and dissolve in tears. I messed up. I broke the schedule. I broke the muffins. I ruined our chance to be able to relax tonight.
The tentative, jam-packed schedule of all the things we had to accomplish, all the check marks we'd planned to place on our to-do lists, the "maybe" we'd turn into a "yes" on the question of whether or not we could take a day off in June. All gone.
And I cried like a baby. And then I felt bad for crying like a baby because other people have much more problematic problems in the world. Then I cried harder for being so lame. So selfish. So lumpy. Then I cried some more because I was a crybaby. That's what we do.
Erik held me and helped me get up.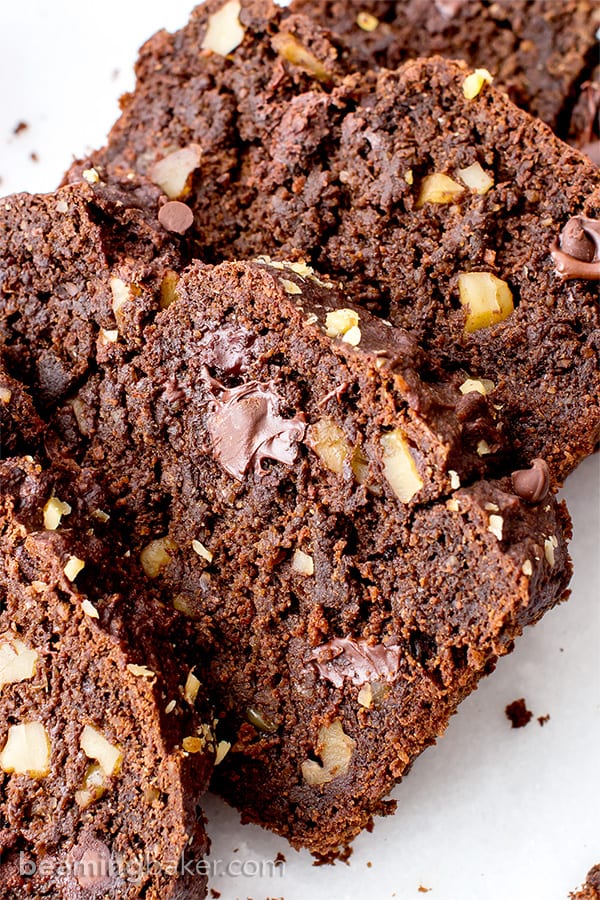 And after a time of indulging in my self-ugh, I realized: I need to relax. This, and everything that seems like, well, everything, is not that bad. It's not that serious. We all need to take a break. We have to give ourselves a break.
You know?
There's so much pressure to keep up, to be a certain thing, or to have certain accomplishments by whatever arbitrary date. But what about just stopping and taking the time to breathe? To smell those wonderful smells, to pat yourself on the back for being an awesome mother/friend/daughter/teacher, to take a risk, to embarrass yourself, to talk in a silly voice because it's fun?
And so we cleaned up the chocolate muffin mess, reminded ourselves that this shiz ain't that serious, finished up SOME of our chores, and went for bagels. Said, screw you to the rest of the chores list. Because. Life is what's happening when you're… and all of that.
A few weeks later, I put the muffin recipe aside, because it had an attitude that I'd like to teach a lesson. Then, I baked my first loaf ever. Then I baked it and tweaked it and tested it again. Once more covered in cocoa powder, once more wearing my bright red kitchen mitts, I took the loaf out of the oven.
And it was beautiful. (Plus delish).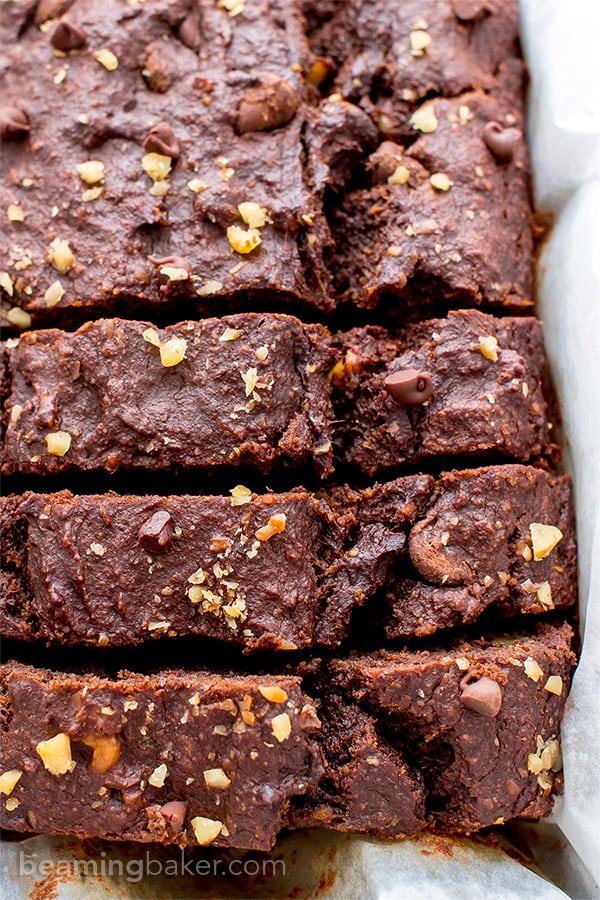 No spills, no crying, no babies. Just love, experiments and that little fruit-print jumpsuit kid in me, tinkering around. Having fun in the kitchen. Lumpy, polka-dotted spatula and all.
Won't you do the same? Because… this vegan chocolate banana nut bread is:
a one bowl recipe
incredibly easy to make
vegan and gluten free
refined-sugar free, dairy free
hearty, warm and satisfying
richly moist and chocolatey
made of simple ingredients
not in a muffin pan
And just remember to let yourself breathe sometimes. All the time.
☀︎ Click to pin below ☀︎

☀︎ Did you make this recipe? Take a pic and share it on Instagram with the hashtag #beamingbaker. I would love to see it! ☀︎
Related Vegan Banana Recipes
Print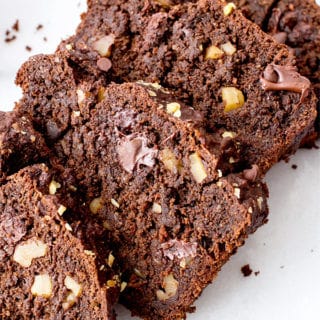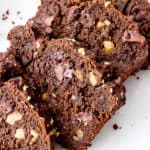 Vegan Chocolate Banana Nut Bread (Gluten Free, One Bowl)
---
Description
Vegan Chocolate Banana Nut Bread (V+GF): A one bowl recipe for rich, moist and chocolatey banana bread with walnuts. Vegan and Gluten Free.
---
Wet Ingredients
3

medium, very ripe bananas (a little over

1 cup

)

¼ cup

melted coconut oil

¼ cup

pure maple syrup

¼ cup

coconut sugar*

1

flax egg (

1 tablespoon

ground flax +

3 tablespoons

water, whisk together, set for 5 mins)

1 teaspoon

pure vanilla extract
Dry Ingredients
1 ¼ cups

gluten free oat flour

¾ cup

almond meal

½ cup

unsweetened cocoa powder or raw cacao powder

1 teaspoon

baking powder

½ teaspoon

baking soda

¼ teaspoon

salt
Add-ins
---
Instructions
Preheat the oven to 350°F. Line a loaf pan with parchment paper or greased foil. Set aside.
Peel bananas and add to a large mixing bowl. Using a sturdy whisk or fork, mash bananas until smooth. Add the coconut oil, maple syrup, sugar, flax egg and vanilla. Whisk until well incorporated.
Add oat flour, almond meal, cocoa powder, baking powder, baking soda and salt. Whisk together until just incorporated, making sure no flour patches remain. Gently fold in walnuts and chocolate chips.
Pour batter evenly into prepared loaf pan. Optional: lightly sprinkle with chopped walnuts and chocolate chips.
Bake for 65-80 minutes. (Mine took 75 minutes.) Test for doneness by sticking a toothpick into the center of the loaf. The toothpick will come out clean when the loaf is done.
Allow to cool on a cooling rack for about 1 hour. Lift out, slice and enjoy!
Equipment
Notes
– *You may substitute coconut sugar with dark brown sugar.
– Store in an airtight container for up to 1 week.
– This loaf freezes well. Wrap in parchment paper and store in an airtight container in the freezer for up to 1 month. Allow to thaw at room temperature for 30 minutes, or pop in the microwave for 30 seconds or more.
Prep Time:

5 mins

Cook Time:

65 mins

Category:

Breads, Vegan, Gluten Free, One Bowl
© beamingbaker.com. All content and images are protected by copyright. Please do not use my images without my permission. If you wish to republish this recipe, please re-write the entire recipe using your own words and include a link to this post for the recipe.
Chocolate + Bananas = <3. Try my Chocolate Peanut Butter Banana Popsicles (Vegan, Gluten Free).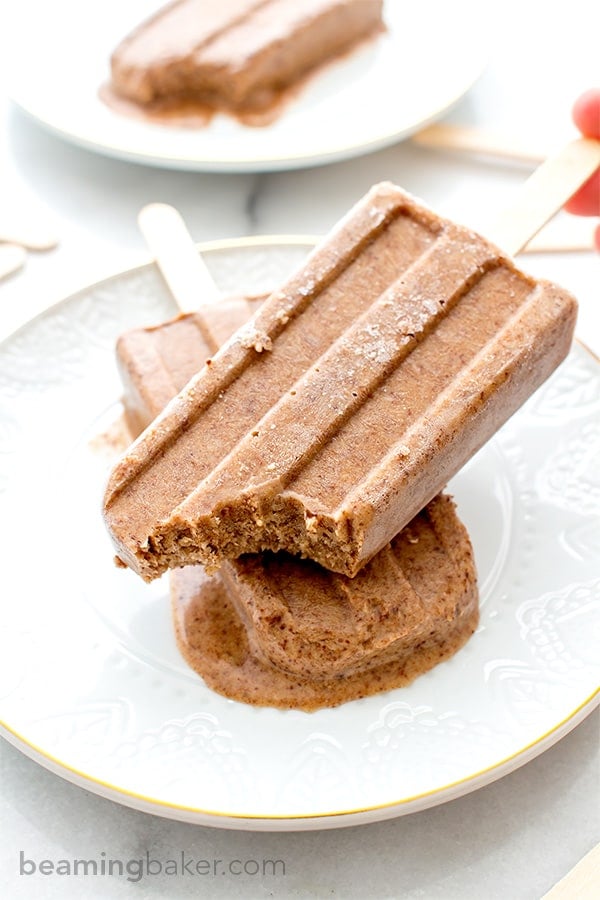 Satisfy your chocolate craving with my Best Vegan Brownies. Divine chocolate love.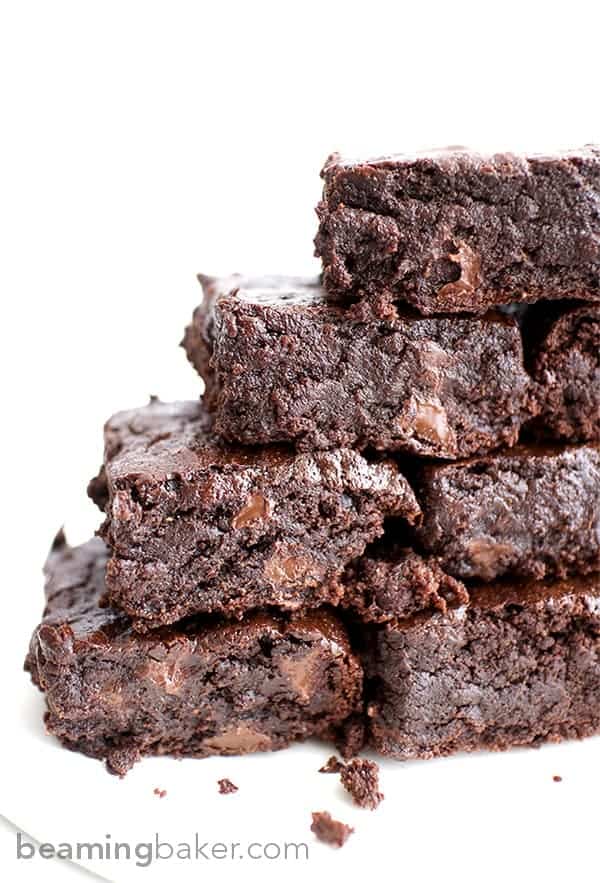 What makes you feel better when you're feeling overwhelmed?
I can't wait to hear your responses.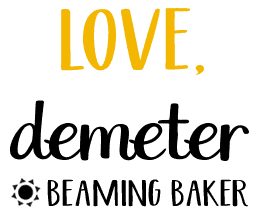 Save