Chocolate Chip Cookie Dough Cups (Vegan, Gluten Free)
Chocolate Chip Cookie Dough Cups (V+GF): thick, indulgent, homemade chocolate cups stuffed with chocolate chip cookie dough. Vegan, Gluten Free, Dairy Free.
When you're a kid, you do all kinds of funny things. You pick the red M&M's out of your M&M's stash. You make sure your feet are completely covered by your blankets so the monsters don't get you (they like feet, obviously). You might even eat all the crème filling out of your cookie sandos and then, thoughtfully, replace those crèmeless cookies back in the container for someone else to "enjoy."
Did you ever do anything like that?
I did. Like, A LOT. But don't tell my mom I said that.
One such incident occurred many years ago… an occasion that will heretofore be known as The Easter Basket incident. Of the 90s. Yeah, that makes it sound more official. (And for some reason this is good…?)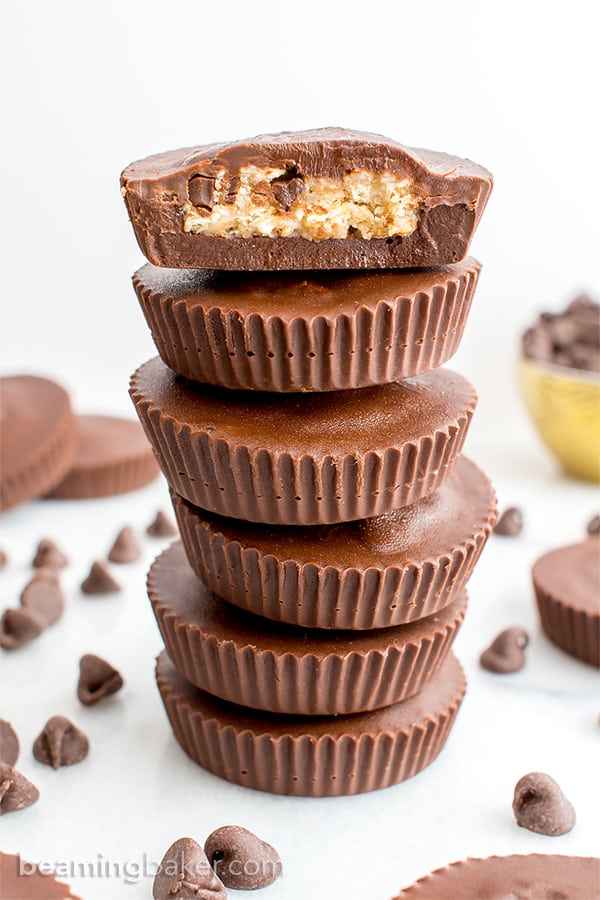 Well, when I was 8 years-old, I had just about outgrown Magic Eye books, retired my neon purple kaleidoscope and decided I was ready to take the training wheels off of my bike. Things were looking up. In fact, I had even grown half of an inch. So this was doubly true!
I was on to bigger and better things. Would one of these things be chocolate chip cookie dough stuffed cups? Nope. <– Unexpected plot twist!! Here's the thing. Every week, I'd be carted over to my grandma's house in Oakland.
It was big, dusty, and full of interesting things. Like, cookie tins that just weren't allowed in my house. Something hard like a rock, but wrapped like candy, called "protein bars." And everything was sitting atop a doily. Even the stereo. 'Cuz that's how my grandma rolled.
One of the most coveted things in that house, at least for me, was the Easter basket. It would sit proudly, glossily, practically sparkling with mystery and treats from its respected position atop the stereo, which was atop the doily. Which was sitting atop a different-colored doily. One to protect the stereo, one to protect the stand the stereo was on. Obviously.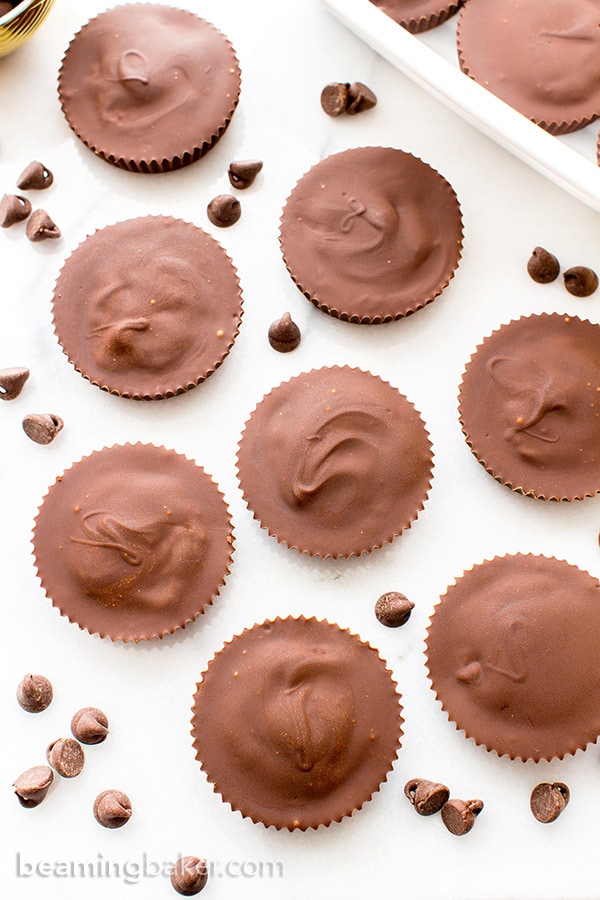 Well ya see, that doily-protected, stereo Easter basket layer cake would sit just to the left of the only TV in the house. Every time I went over, I was plopped right in front of the TV, keeping me busy and quiet until the adults finished their adult-y talks. After hours and hours of watching The Care Bears movie over and over again, my mind would start to wander. (And yes, that one scene freaked me out every. Single. Time.)
Shiny. Sparkly. Full of magical mystery. The Easter basket seemed to call to me. As the official stereo-companion accessory, it sat there. All year-round. It puffed its cellophane chest at me, I stared haughtily, apathetically back. I had Care Bears, it had what, jelly beans? Hyper-realistic bunny-shaped marshmallows? Crinkly green grass? Pfft. I had seen better.
Yeah, right.
I had soooooo not seen better. Not by a long shot. So I asked, and I was rejected, about opening this wondrous basket. Nosireebob. This basket was only for display. Not for eating.
And as the law-abiding mini citizen that I was, I obeyed.
For a little while at least. 😉
One day, while the Bears were being kidnapped again, I spied a tiny opening in the cellophane Keep Out wrapping. Woah. I glanced closer and saw that there was just enough space to stick my finger in.
So what do you think I did?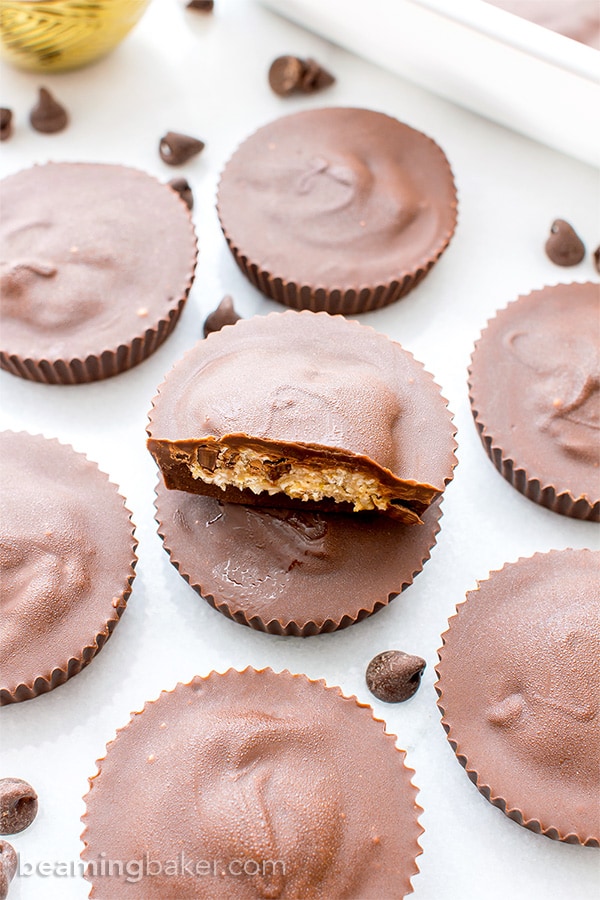 I stuck my finger in. Wiggled it around. And (!!!) touched the crinkly grass. It was as fluffy, as crinkly, and as green as I had imagined. Yes, colors could be touched. Duh. Then, I wiggled my finger in even more. I was just this close to reaching the fun-sized peanut butter cup.
I wiggled. Then wiggled some more. And maybe the tiny hole got just a bit bigger. And then I felt it. The peanut butter cup. Oh my goodness, the peanut butter cup. In the background, I could hear the adults talking about Mr. this and who'sitthat. The coast was clear.
I pushed forward just a bit more. And there it was. Pinched between two fingers, I held the ridged, foil wrapped, well, you know what. But if only the hole was bigger.
I had gone this far. It was too late to turn back. I grabbed that pb cup like the Care Bears' lives depended on it. I twisted and pulled, and froze when I heard noise, and twisted and pulled again.
Pop!
Crinkle.
Yes. So. Much. Yes. That tiny cup was in my tiny hand. Everything was right in the world. And everything was just as confused. I felt equal parts guilty and excited and scared and exhilarated. Should I put it back? What if someone caught me? But the deed was done. There was no way that fun-sized candy was going back in the basket. The hole, OMG, that hole… it had somehow shrunken down to just slightly bigger than its original size. Who knows how the mini PB cup even came out to begin with?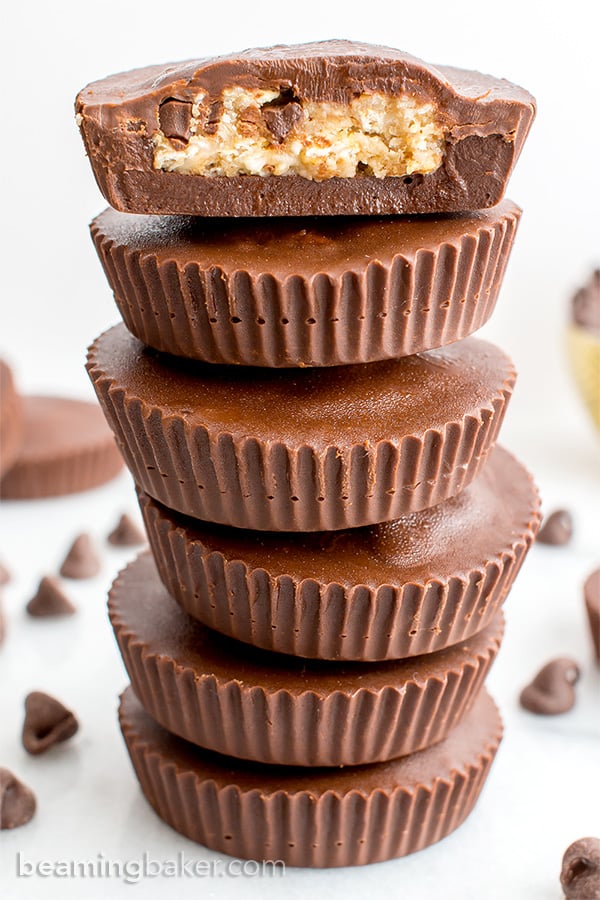 Hours later, after we got home, and after my mom thought I was asleep, I pulled my flashlight out. I threw my blankets over my head, flicked on the light, and pulled the now slightly melty peanut butter cup out of my pocket. I held it like it was treasure hidden by the Knights Templar.
It was beautiful, all wrapped up in it's shiny, speckled golden foil glory. And more importantly, it was delicious.
That night, I fell asleep with a big, guilty grin on my face. And chocolate everywhere. You'd be surprised about how much damage one mini pb cup can do.
And from that point on, whenever I visited my grandma's house… well, I'll leave that up to your imagination.
Years later, that basket was dumped and replaced by another basket. Then, finally, I got my own basket. Free to enjoy and everything. As an adult, I send treat baskets to my family every year—with no conditions, no cellophane and definitely no doilies.
After all, food is for enjoying. Not displaying. Right? 🙂
In honor of that mini pb cup, I've lovingly made something I think little me and little you would really like. And what adult you will LOVE: vegan chocolate chip cookie dough cups. Because, what would be better in chocolate cups than peanut butter?
COOKIE DOUGH.
If you've already devoted yourself to my chocolate chip cookie dough truffles, or you're just about to, you'll absolutely fall head over heels for these cookie dough cups.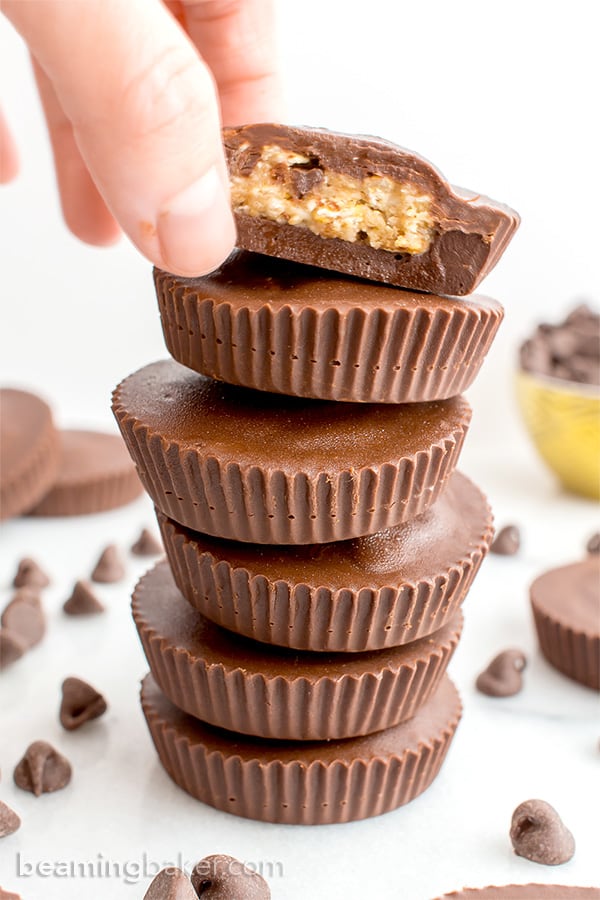 These chocolate chip cookie dough cups are:
made from simple ingredients
perfect for satisfying your chocolate cravings
vegan, gluten free, and dairy free
perfect for cookie dough lovers
practically guilt-free indulgence
not hidden by cellophane and protected by doilies
So whatcha waiting for? Try these homemade-delicious vegan chocolate chip cookie dough cups and smile… like you just made off with a mini PB cup.
☀︎ Click below to Pin ☀︎

☀︎ ☀︎ ☀︎
☀︎ Did you make this recipe? Take a pic and share it on Instagram with the hashtag #beamingbaker and tag @beamingbaker. I would love to see it! ☀︎
Print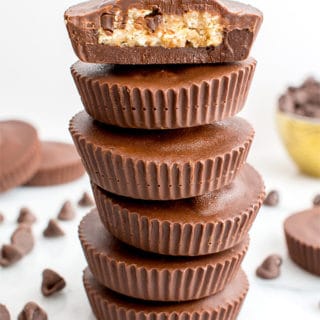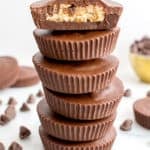 Chocolate Chip Cookie Dough Cups (Vegan, Gluten Free)
---
Description
Chocolate Chip Cookie Dough Cups (V+GF): thick, indulgent, homemade chocolate cups stuffed with chocolate chip cookie dough. Vegan and Gluten Free.
---
CHOCOLATE CHIP COOKIE DOUGH
Dry Ingredients

¼ cup

+

2 tablespoons

gluten free rolled oats

¼ cup

+

1 tablespoon

gluten free oat flour

3 tablespoons

unsweetened, shredded coconut
a pinch of salt
Wet Ingredients

1 tablespoon

melted coconut oil

2 tablespoons

pure maple syrup
Modified flax egg (2 teaspoons ground flax + 2 tablespoons water, whisk together, set for 5 mins)

½ teaspoon

pure vanilla extract
Add-in Ingredients

1/4 cup

vegan mini chocolate chips
CHOCOLATE COATING
2 cups

vegan chocolate chips

2 tablespoons

coconut oil
---
Instructions
Line a standard 12-cup muffin pan with cupcake liners. Set aside. Clear some space in the freezer for the muffin pan.
Make the cookie dough: In a medium bowl, whisk together all of the dry ingredients: oats, flour, coconut, and salt. In a small bowl, whisk together all of the wet ingredients: 1 tablespoon coconut oil, maple syrup, flax egg and vanilla. Whisk until smooth.
Pour the wet mixture over the dry mixture. Use a rubber spatula or wooden spoon to fold the ingredients together until well combined. Fold in 1/4 cup mini chocolate chips.
Cover the bowl and place into the freezer for 15 minutes—this will allow the dough to chill and harden for easier rolling.
Remove bowl from the freezer. Scoop about 2 teaspoons of cookie dough into your hands and roll and press into flat discs. These discs should resemble mini cookies.
Make the chocolate: Two methods for making the chocolate coating: Use the double boiler method or the microwave method. For the microwave method: in a medium, microwave safe bowl, add 2 cups chocolate chips and 2 tablespoons coconut oil. Place in the microwave and heat for 30 seconds. Stir. Heat again in 20-30 second increments until the chocolate chips are just softened. Be careful not to overheat. Remove from the microwave and stir until smooth and well incorporated.
Make the cookie dough cups: Scoop about 2 teaspoons of melted chocolate and drop into each muffin cup. Smooth into an even layer, filling the bottom of the cup. I like to tap the muffin pan repeatedly on a hard surface covered with some kitchen towels. Tap until you get a smooth layer of chocolate. Gently lay a cookie dough disc flat on top of the melted chocolate layer. Spoon 1 tablespoon of melted chocolate over the cookie dough disc. Gently spread until you get an even top. Repeat until you have finished making every cup. If your bowl of melted chocolate hardens while you're making these cups, place back into the microwave and reheat.
Place muffin pan into freezer. Freeze for 15-20 minutes.
Remove from the freezer. Peel off cupcake liners. Enjoy!
Prep Time:

30 mins

Category:

No Bake, Vegan, Gluten Free
© beamingbaker.com. All content and images are protected by copyright. Please do not use my images without my permission. If you wish to republish this recipe, please re-write the entire recipe using your own words and include a link to this post for the recipe.
Did someone say truffles? Try my Chocolate Chip Cookie Dough Truffles (Vegan, Gluten Free, Dairy Free). Chocolate love, indeed.
The Chocolate Chip Cookie Dough Bites (Vegan, Gluten Free) that started it all.
What was your favorite treat to eat as a kid?
I can't wait to hear your responses.