The easiest chocolate almond bark is made with 3 ingredients!
Thick pieces of indulgent almond bark packed with crunchy, roasted almonds and rich chocolate goodness. Vegan, Gluten Free.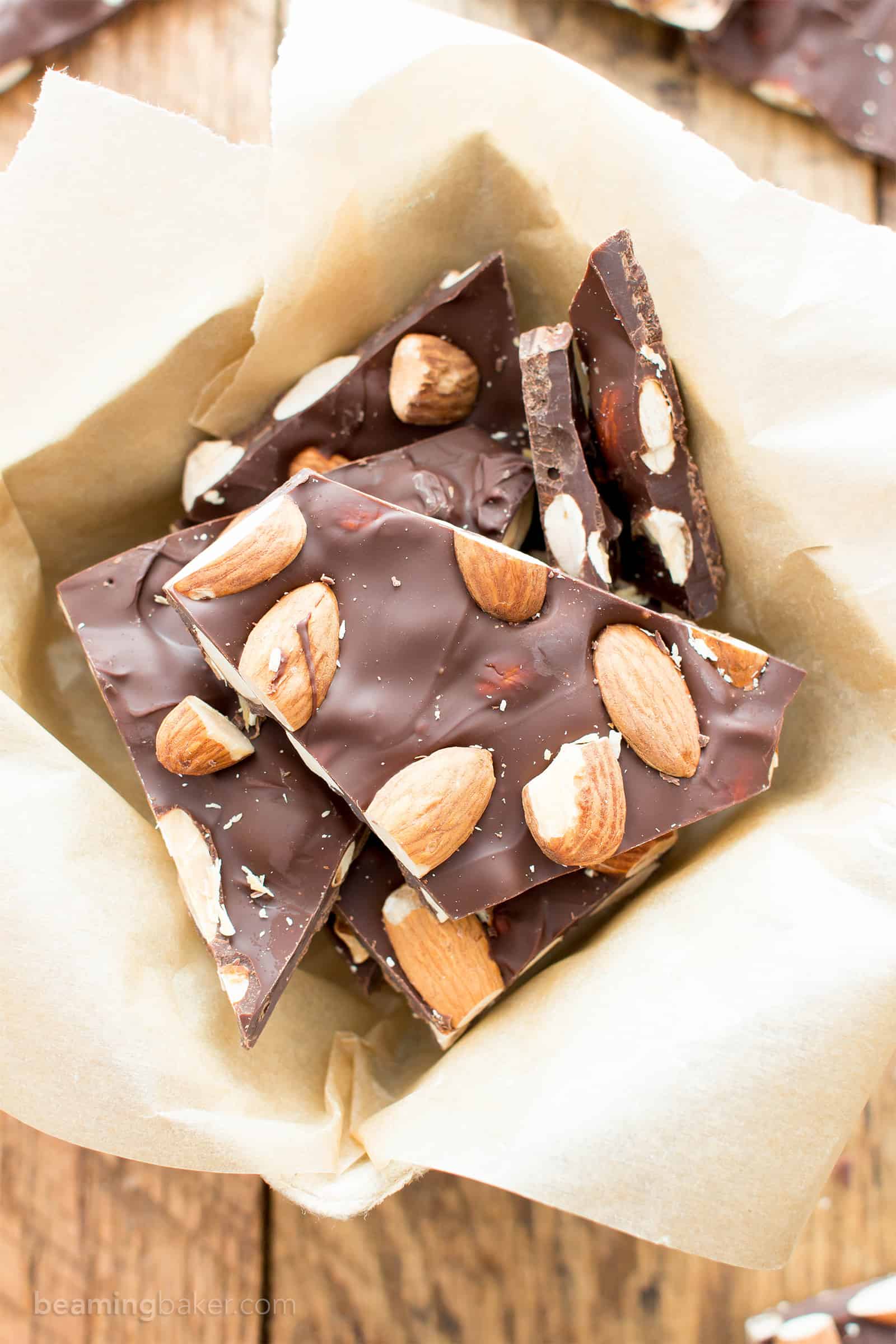 This 3 ingredient chocolate almond bark recipe has me in the best mood ever. Tell me, are you a fan of almonds in chocolate, or just nuts in general, in chocolate?
Some folks are seriously against it, others love the nuttiness that balances out the richness and sweetness of chocolate. Erik, for example, claims he doesn't like nuts in his sweets, but will happily consume my homemade KIND coconut almond bars by the dozen. 😉
If I could, I would babble on and on about today's seriously easy recipe for chocolate almond bark. But I know you're ready to get to the good stuff (aka ALL chocolate stuff is good stuff, amiright?).
Let's make almond bark!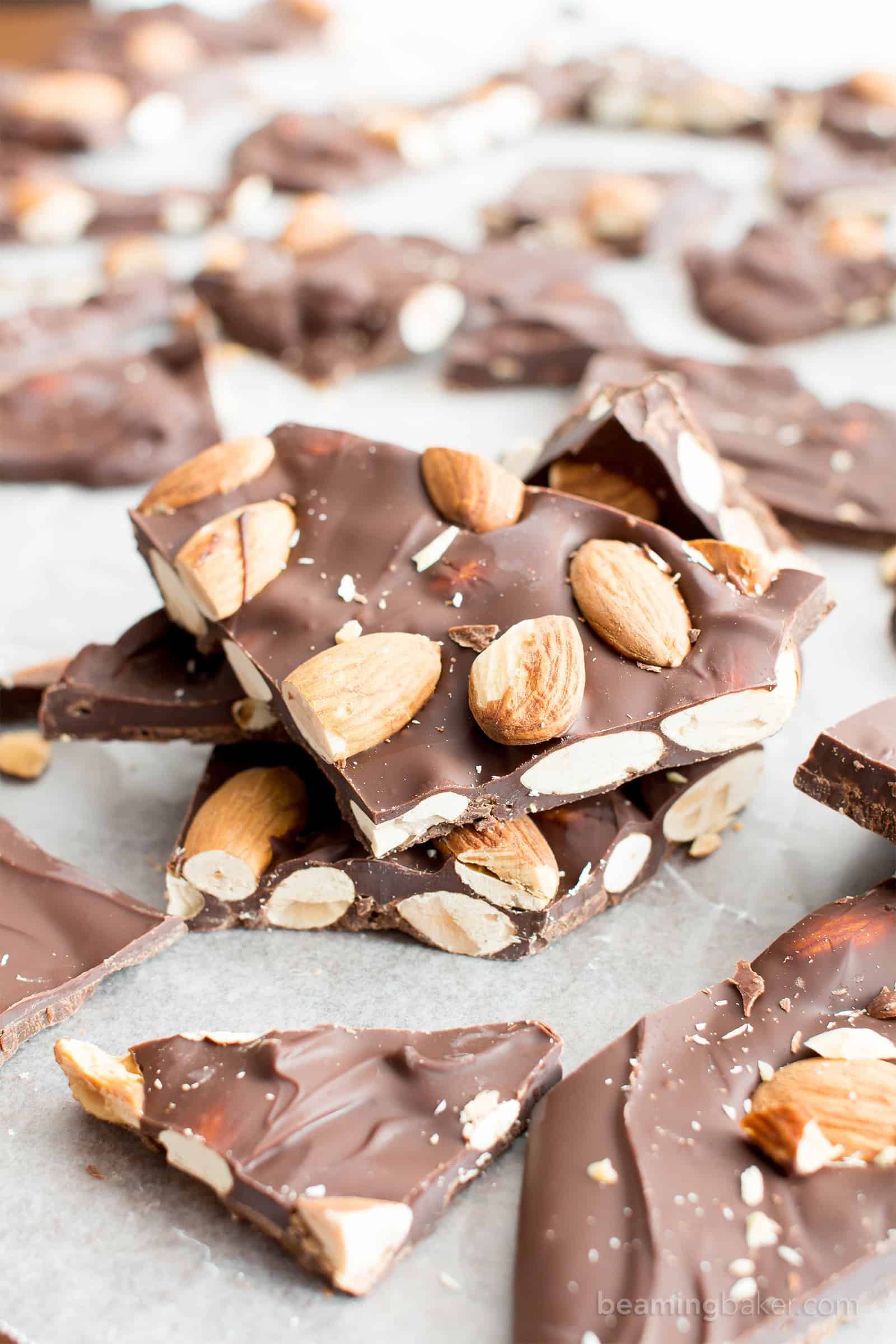 What is Chocolate Almond Bark?
Chocolate almond bark is a type of sweet candy that features a whole lotta almonds. It's made in one sheet of chocolate, then broken into smaller pieces for the just-right size of chocolate indulgence.
Almond Bark Ingredients
Chocolate Chips – if you want to make vegan almond bark, just make sure to use vegan chocolate chips. All other almond bark ingredients are good to go!
Coconut Oil – you can leave this one out, but I like how it gets your chocolate nice and smooth.
Almonds – I always use unsalted, roasted almonds because they have the best flavor without adding in any salt. If you'd like to add salt, I suggest sprinkling that on top of the almond bark once it's all cooled and chilled.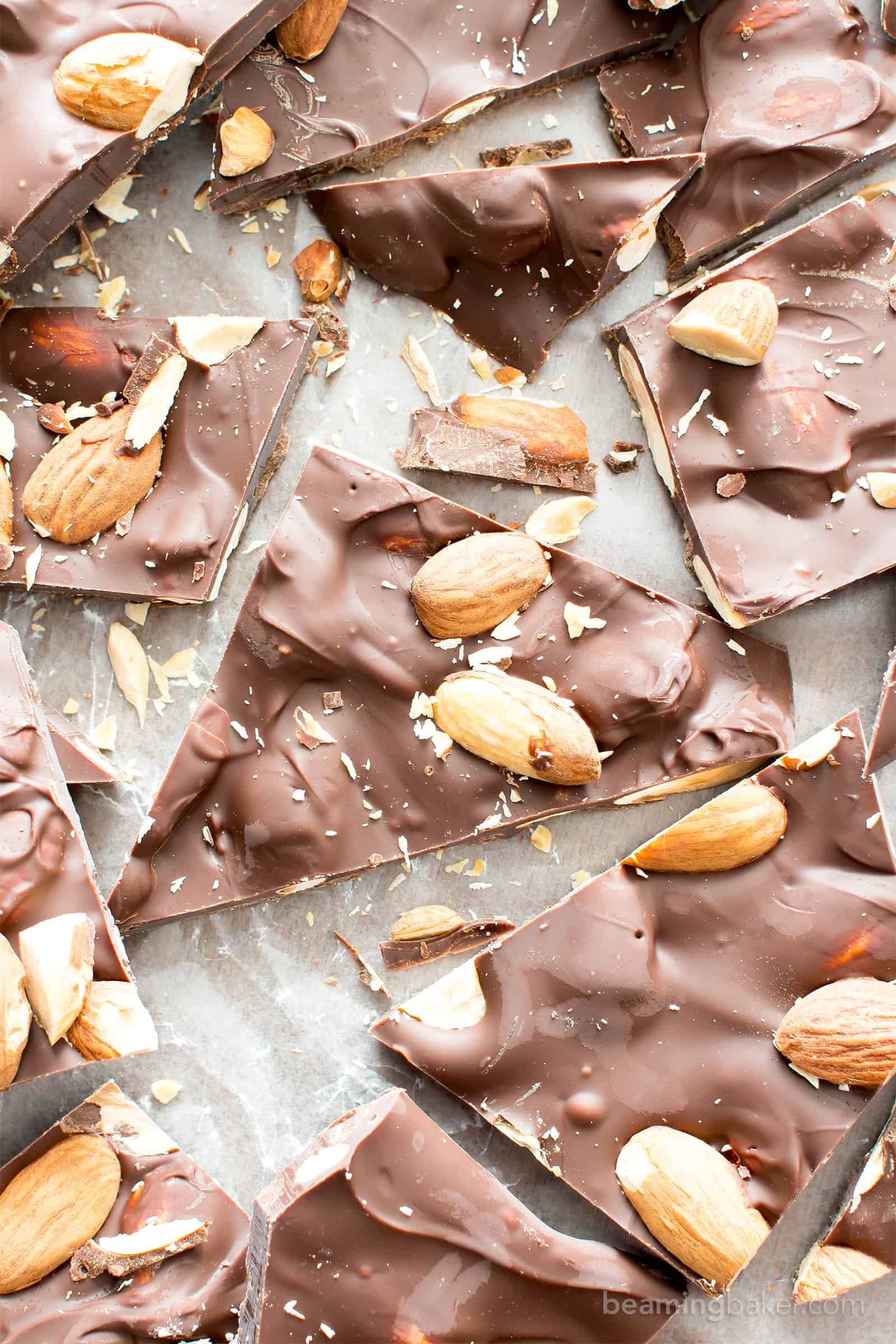 How to Make Chocolate Almond Bark
Wanna learn how to make the best chocolate almond bark ever? Have a seat and grab your favorite chocolate! (Might as well get some munching in while we learn, ya know?)
Line
First things first, grab your favorite small or medium baking sheet. Everyone has one, right? 😉 Then, line it with wax paper or parchment paper.
Melt
Melt your chocolate and coconut oil using the double boiler method or the microwave. Just make sure to stir it altogether until nice and smooth.
Fold & Pour
Now, it's almond time! Fold in roasted, unsalted almonds until all of the almonds are fully coated.
Pour your almond bark mixture onto the prepared sheet. Grab a clean spatula and spread it into an even layer. You can make your almond bark as thick or as thin as you'd like.
Refrigerate, Break and Enjoy!
Place your sheet of melty soon-to-be almond bark into the refrigerator until firm. Once firm, peel off the parchment or wax paper and slice that sheet of chocolate almond goodness! You're making the almond bark, baby!
Now enjoy the best chocolate almond bark!
Is almond bark vegan?
Not all almond bark recipes are created equal–some almond bark is vegan, some isn't. If you want to ensure that yours is, just make sure to use vegan-friendly chocolate chips! Also, follow today's recipe, as it does not have any non-vegan ingredients. 😉 Side note, today's almond bark recipe is also gluten free!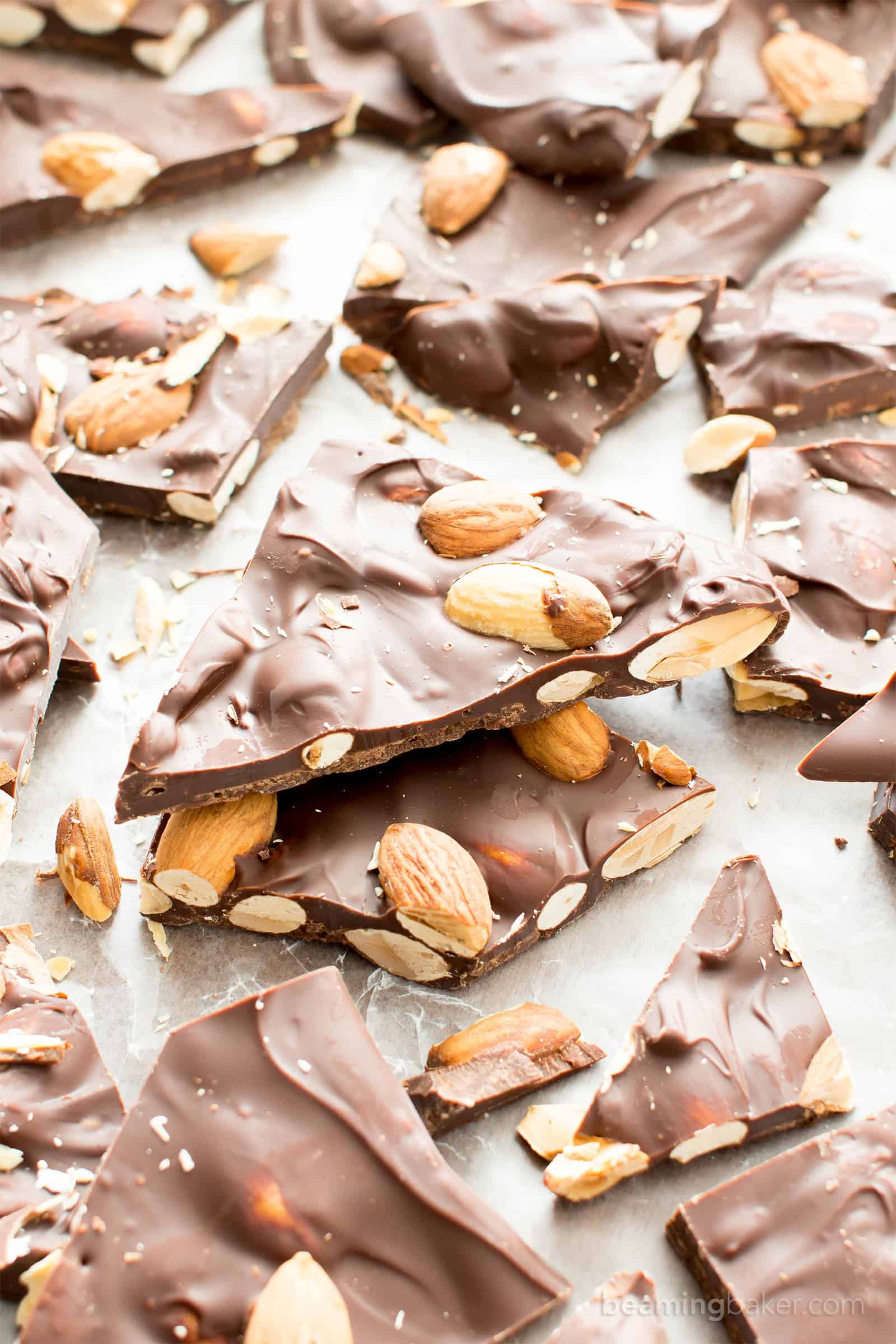 So that's my whole dissertation on why you need to make this 3 Ingredient Chocolate Almond Bark Recipe. Like right now. Not that you have to make it with dark chocolate or extra dark chocolate or anything you don't want to do, but that you should just try it!
The flavor of chocolate and the nutty presence of almonds—and that amazing crunch… happy sigh. 🙂
The best part?
It's made with just 3 simple ingredients. And the prep time is 5 minutes, or less! The other best part (yes, there must be more than one!!) is that this 3 ingredient chocolate almond bark recipe makes for such a great gift, just like my 3 Ingredient Chocolate Pecan Fudge. It looks so impressive and like you totally worked on it all day, while also earning your degree in professional chocolatierism.
Or something.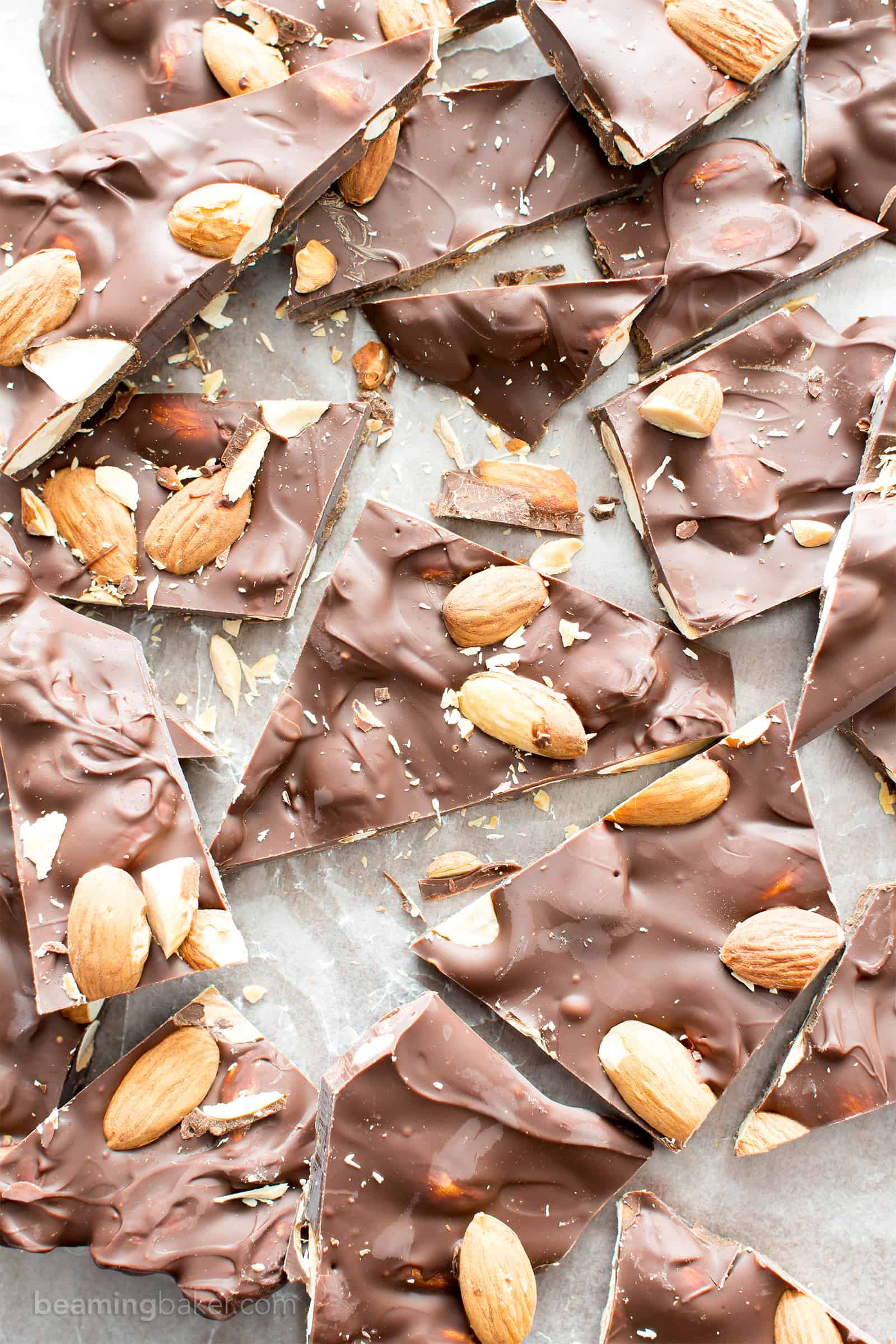 Recommended Tools for the Best Chocolate Almond Bark
If you're not convinced yet, let me tell you all about this chocolate almond bark. It's:
so easy to make
prep time is just 5 minutes
vegan, paleo, gluten-free, dairy-free
made with the whole, healthy ingredients you love
just the chocolate almond bark recipe you've been looking for
seriously delicious with this paleo vegan chocolate
totally the perfect time to learn how to make chocolate almond bark
a great paleo vegan homemade candy
Try your hand at homemade chocolate almond bark making! Or make that bark like the homemade bark boss you are! I just had to say that. It's truly so wonderful to make and share these fun allergy-friendly desserts with you. I can't wait to hear what you think. In the meantime, tell me:
What's your favorite kind of chocolate?
Sending you all my love and maybe even a dove, xo Demeter ❤
☀︎ Click below to Pin ☀︎

☀︎ Did you make this recipe? Take a pic and share it on Instagram with the hashtag #beamingbaker and tag @beamingbaker. I would love to see it! ☀︎
If you enjoyed this 3 Ingredient Chocolate Almond Bark Recipe, then you'll just love these delicious dessert recipes:
☀ More Chocolate & Nut Recipes ☀
Print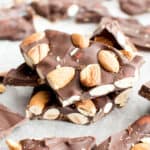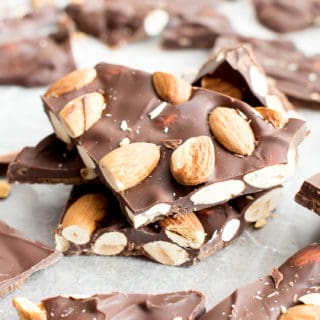 3 Ingredient Chocolate Almond Bark
---
Description
Thick pieces of indulgent chocolate bark packed with crunchy, roasted almonds. Vegan, Paleo, Gluten-Free, Dairy-Free.
---
Optional Topping
¼ cup

unsalted, roasted almonds
---
Instructions
Line a small or medium baking sheet with wax paper or parchment paper. Clear some room in the refrigerator for this sheet. Set aside.
To melt the chocolate, use the double boiler method or do the following. Add vegan or paleo chocolate and coconut oil to a medium, microwave-safe bowl. Heat in 20-second increments until melted. Stir in between heating increments, until smooth.
Fold in almonds. Pour onto prepared baking sheet. Using a rubber spatula, spread into an even layer of desired thickness. Optionally, sprinkle with more almonds.
Refrigerate until firm, about 20 mins. Immediately remove from refrigerator and allow to reach room temperature before cutting (to avoid leaving fingerprints/sweating). Separate chocolate from paper. Break or cut into pieces. Enjoy! Storing instructions below.
Equipment
Prep Time:

5 mins

Cook Time:

0 mins

Category:

Dessert, Candy, Paleo, Vegan, Gluten-Free, Dairy-Free

Method:

Chill

Cuisine:

American
© beamingbaker.com. All content and images are protected by copyright. Please do not use my images or recipe without my permission. Please do not republish this recipe, instead, include a link to this post for the recipe.
SHOP THE RECIPE
Here are a few items I used in today's recipe. 🙂
Coconut Oil | Cookie Sheet | Unbleached Parchment Paper | Glass Mixing Bowls | Silicone Spatulas | Paleo Vegan Dark Chocolate
This post may contain affiliate links, which allow me to make a small commission for my referral, at no additional cost to you. Thank you for supporting Beaming Baker.
Facebook ☀︎ Pinterest ☀︎ Twitter ☀︎ Instagram