Chocolate Espresso Martini
Sweet 'n creamy chocolate flavor with a kick of espresso in today's Chocolate Espresso Martini!
A delicious dessert cocktail indulgence that's easy to make, with just 4 ingredients! The perfect chocolate espresso martini recipe that combines chocolate and coffee flavors with creamy goodness.
Chocolate. Espresso. Martini. What could possibly be better?
Today, we're indulging in a simple and easy martini recipe that qualifies as dessert, a pre-dessert warm-up, or even just a sweet evening delight. 😉
Ready to learn how to make the easiest and tastiest chocolate espresso martini? Let's shake this!
What is a Chocolate Espresso Martini
To help define the chocolate espresso martini, let's rewind back to the basics. A martini is a very simple cocktail traditionally made with gin and vermouth. [1] No one's quite sure of its origins, but that's a whole other story. [2]
Over the decades, since the martini has become popularized, bartenders around the world have made so many flavorful twists on the traditional recipe.
One such twist is the chocolate espresso martini. There are a number of ways to make a chocolate espresso martini, some very complicated, others even more so.
Today, we're going to keep it simple and easy with a 4 ingredient chocolate espresso cocktail delight.
What Ingredients Do I Need?
There are four simple ingredients used to make today's chocolate espresso martini:
Whipped cream vodka
Espresso
Chocolate liqueur
Coffee Liqueur
Of course, you'll also need ice to chill this cocktail, and chocolate syrup for a delicious rim. But altogether, these simple cocktail ingredients make for a creamy, rich and dessert-worthy chocolate martini recipe with a satisfying boost of espresso.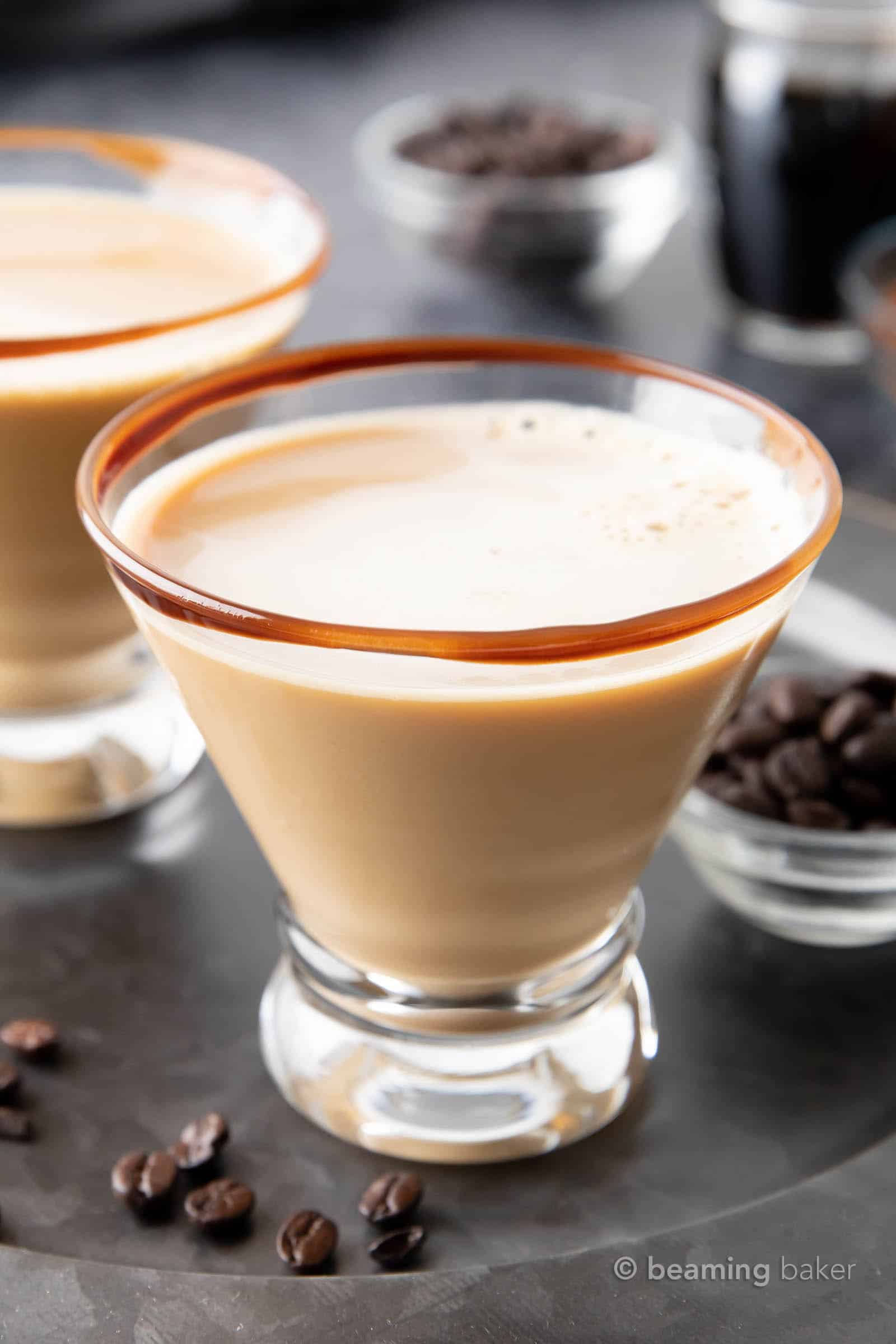 How to Make a Chocolate Espresso Martini
First, rim your favorite martini glass with chocolate syrup. Here are the stemless, super charming martini glasses I used today. Now, set aside this glass for later.
Fill a cocktail shaker with ice.
Add whipped cream vodka, espresso, chocolate liqueur, and coffee liqueur. Shake until the outside of your shaker shows condensation—that's how you know your martini is good and chilled.
Strain into the chocolate syrup rimmed martini glass. Sip and enjoy!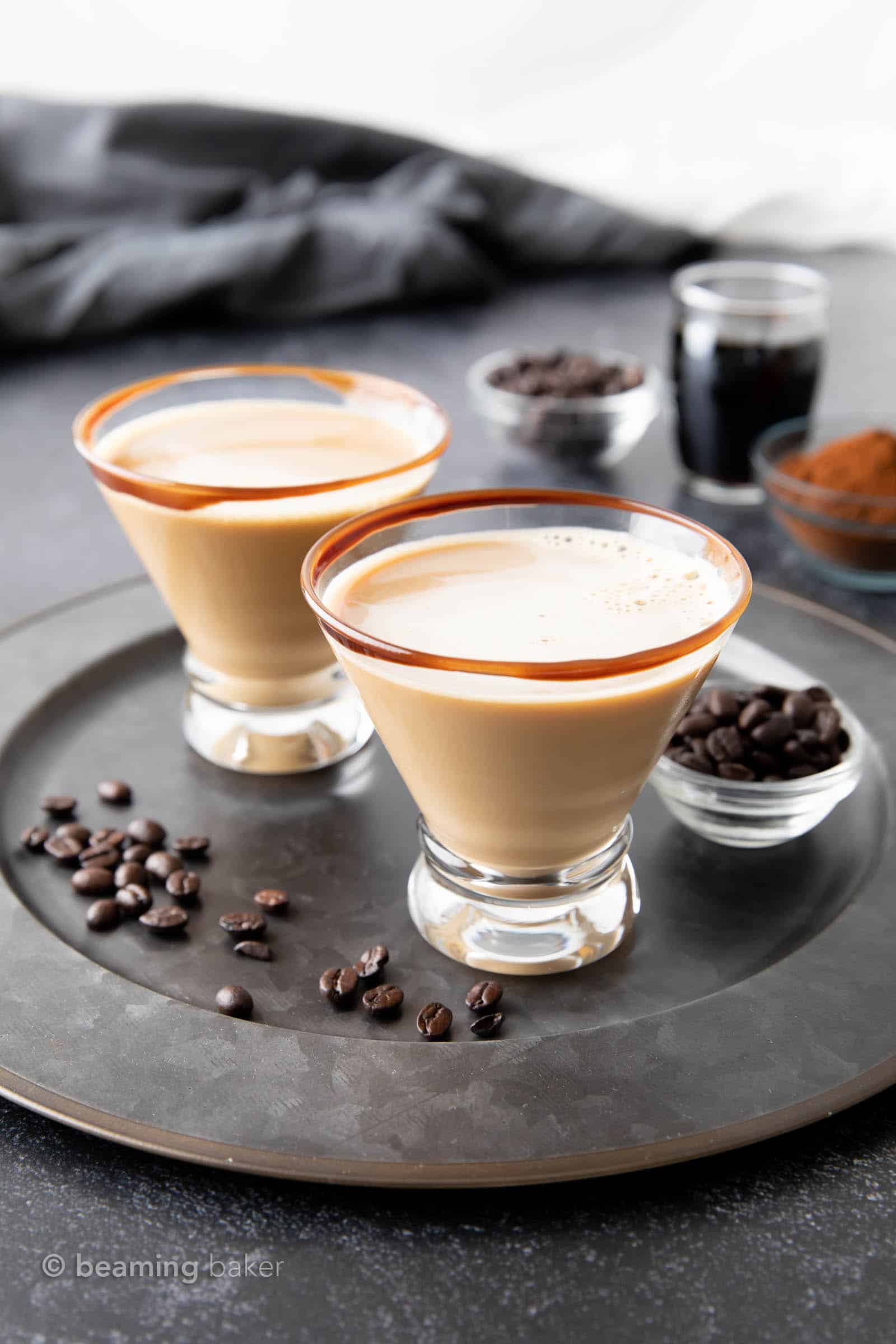 How to Serve a Chocolate Espresso Martini
Toppings: I kept today's chocolate martini pretty simple, but you can top yours with whipped cream, chocolate shavings, and perhaps (happy sigh), chocolate covered espresso beans.
Chocolate rim: For suresies, make sure to coat the rim of your martini glass in chocolate syrup. It's not only beautiful, but adds a wonderful sweetness to every sip of your chocolate espresso martini.
Chocolate curls or shavings on top: You can go extra bold and make chocolate curls to top your espresso martini. Using a wide fruit peeler, slowly run the blade along the side of a large bar of chocolate. The slower you go, the easier the glide, the more you can control how large of a curl you get. You can also grate small chocolate shavings right over this cocktail.
With a dessert, or for dessert: this chocolate martini is so good that it can be served for dessert. Still, there are times when you need a double-fisted dessert situation, if you know what I mean. Serve this chocolate espresso martini with a slice of dark chocolate cake, or even deep chocolate brownies. They go together deliciously.
Lemme guess, now you're wondering what other cocktails I've have shakin' up? 😉 If you have any requests, let a girl know! I can't wait to hear what you think. 'Til the next chocolate martini adventure…
Sending you all my love and maybe even a dove, xo Demeter ❤️
☀ Click below to Pin ☀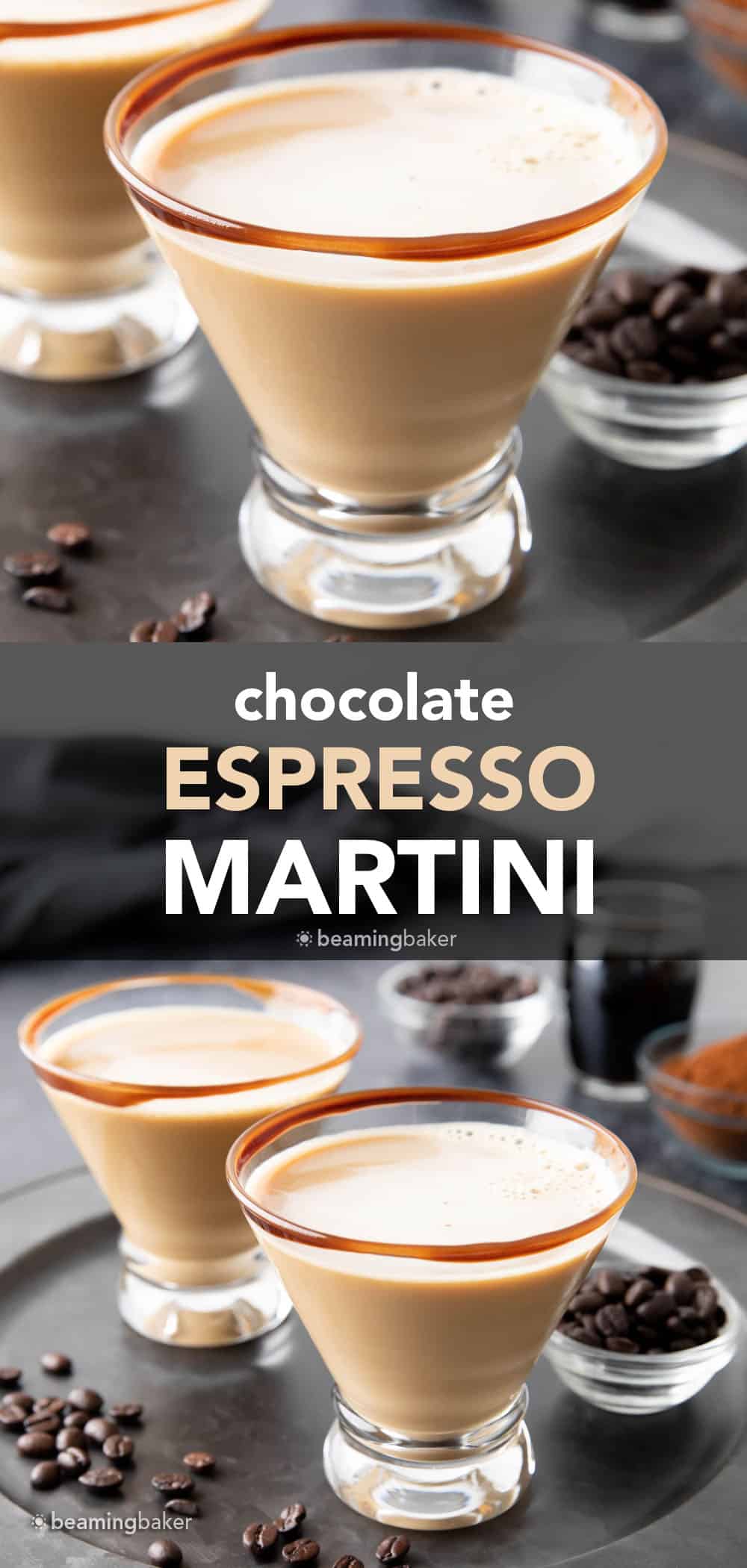 📸 Did you make this chocolate espresso martini recipe? Take a pic and share it on Instagram with the hashtag #beamingbaker & tag @beamingbaker. I'd love to see it! 📸
More Cocktails We Love
Print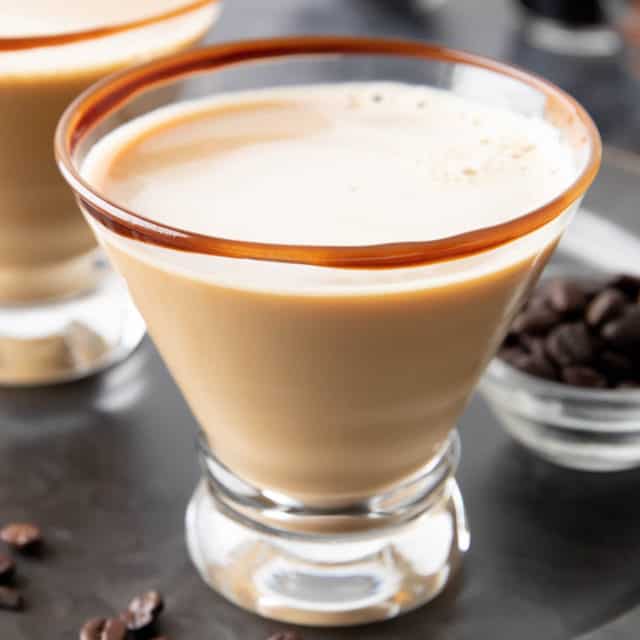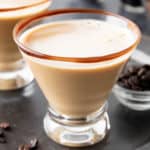 Chocolate Espresso Martini
---
Description
Sweet 'n creamy chocolate flavor with a kick of espresso in today's Chocolate Espresso Martini! A delicious dessert cocktail that's easy to make.
---
For rimming the glass
Chocolate Espresso Martini
1 oz

whipped cream vodka

1 oz

espresso

2 oz

chocolate liqueur

1 oz

coffee liqueur
ice
---
Instructions
Pour chocolate syrup onto a small, flat plate that's large enough to hold the entire rim of your martini glass.
Holding the martini glass by the stem, turn the glass upside down and gently dip the rim into the chocolate syrup. Twist the rim of the glass through the chocolate syrup, evenly coating it. Set aside while you make the chocolate espresso martini.
Add all Chocolate Espresso Martini ingredients into a cocktail shaker filled with ice.
Shake until well mixed and chilled. You'll know it's ready when the shaker is cold and condensation forms on it.
Strain chocolate espresso martini mixture into the chocolate syrup-rimmed martini glass. Sip and enjoy.
Notes
Some fun things to make cocktail time easy! –>
Cocktail Set: love this one and have been using it overtime. Full of all the tools you need to get your drink cart ready to rock! A stainless steel shaker, a muddler, mixing spoon, jigger and so much more. I love that it's so affordable and comes with a stylish stand to display everything.
Stemless Martini Glasses: something's just so charming about these modern martini glasses. The design makes your cocktail easier to hold. These are also affordable, so you won't have to break the bank for a fun take on martinis!
Large Martini Glasses: a nice quality martini glass that's usually my preferred glass for martini enjoyment. These have nice long stems, hold a good-sized martini and look so elegant at cocktail hour. I highly recommend.
Prep Time:

3 mins

Cook Time:

0 mins

Category:

Drinks

Method:

Shake

Cuisine:

American
Keywords: chocolate espresso martini
© beamingbaker.com. All content and images are protected by copyright. Please do not use my images or recipe without my permission. Please do not republish this recipe, instead, include a link to this post for the recipe.
This post may contain affiliate links, which allow me to make a small commission for my referral, at no additional cost to you.