Chocolate Chip Cookie Dough Truffles (Vegan, Gluten Free)
Chocolate Chip Cookie Dough Truffles (V+GF): Decadent chocolate chip cookie dough bites wrapped in a velvety blanket of rich, dark, indulgent chocolate. Vegan and Gluten Free.
☀︎ Click to Pin ☀︎
The thing about chocolate is, the more you eat it, the more you want it. Keyword here is MORE.
Like, it starts off all nice and innocent. You grab a chocolate chip, or two, from the little zip bag you store in your purse (for emergencies, of course). Later on in the day, you sit down at your desk and think, it's the afternoon, why not have a few chocolate-covered pretzels as a reward? Soon thereafter, you're heading home and thinking about the chocolate sauce you're gonna be pouring over the requisite, post-dinner ice cream sundae.
Then the next day, in the middle of giving a report about This Month's Fiscal Responsibility to Boringness, you start drifting off and dreaming that your pointer is actually made of chocolate. (Erik tells me that in this scenario, the bars in this report's bar graph are represented by bars of chocolate.)
Then, you're having dreams in Chocolate Technicolor. This should be a thing now, shouldn't it?
And suddenly, you're living the life of a chocolate lover. Ya feel me?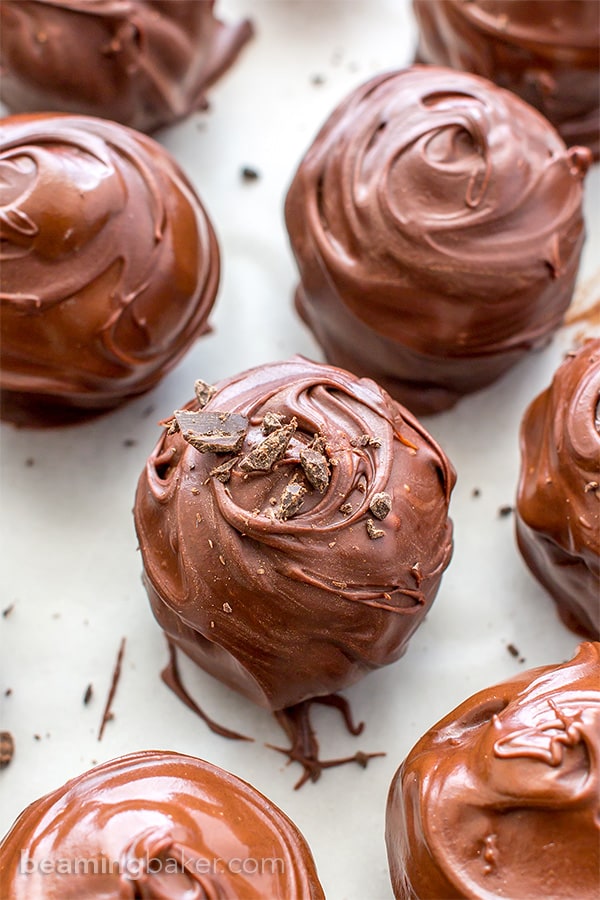 We spend our time dreaming, wishing and mysteriously smelling chocolate everywhere we go (this has nothing to do with the chocolate purses we carry).
But wait! How did we go from CT vision and delicious fiscal reports to these chocolate chip cookie dough truffles? Let's dial it back.
Remember those chocolate chip cookie dough bites I made a few weeks ago? Well, after I made a batch and got my arms all tired from swatting Erik away from the apparently hard-to-resist container of these cookie dough bites, I sat down and had myself a bite. It looked a little like this: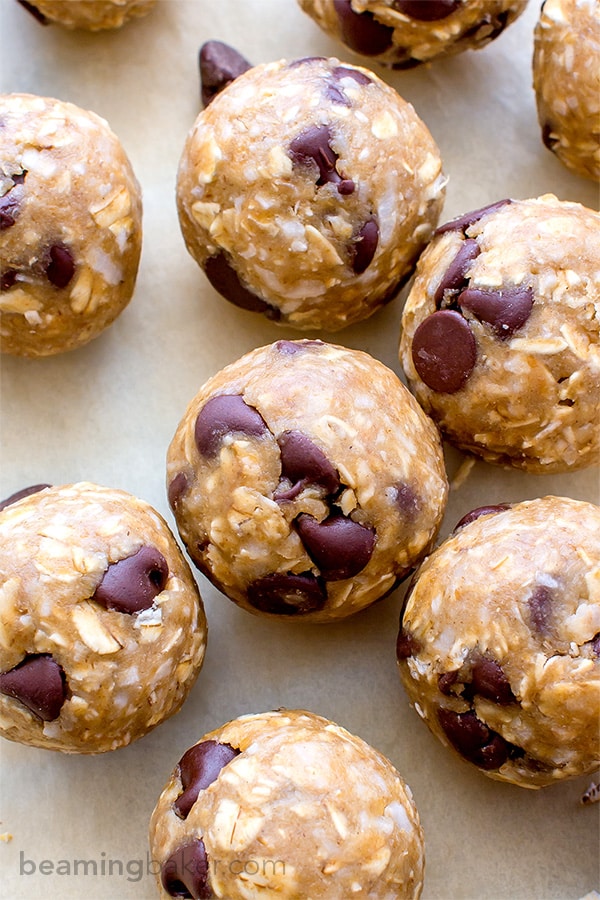 Okay, it looked a LOT like that.
Never having been a cookie dough lover myself, I sat there… not only making Erik jealous, but also slowly realizing that I really, really loved these. And if you're a fellow chocolate lover yourself, you know where this story is going.
The chocolate light bulb (which is very dark, by the way, but no one's complaining) went on in my mind. And I realized… Let's take the chocolate quotient up, like 10,000 notches. 'Cause, we're in the habit of dipping everything in chocolate 'round these parts. Just ask that poor apple that's still recovering from being coated, then simultaneously stripped of its chocolate coating. It looks a little bit like a deflated basketball… D'aww.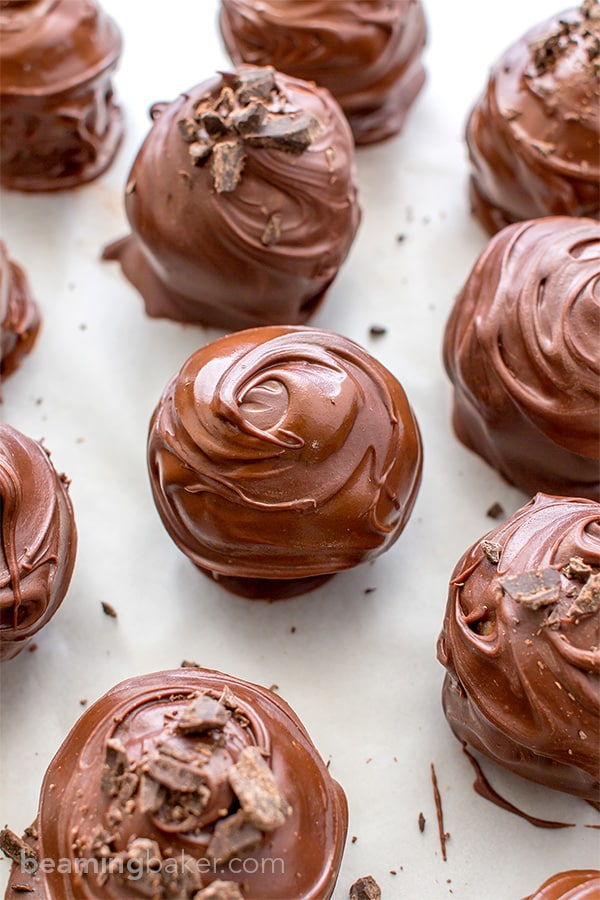 Ahem.
Anyway, the melty, smooth, rich and just heavenly process of coating my chocolate chip cookie dough bites in chocolate was… dream-like. Oh, and let's just say I was on a sugar-high for weeks afterward.
Yup, still on a sugar high.
And let me tell you, it's allll worth it. I mean, do you see these?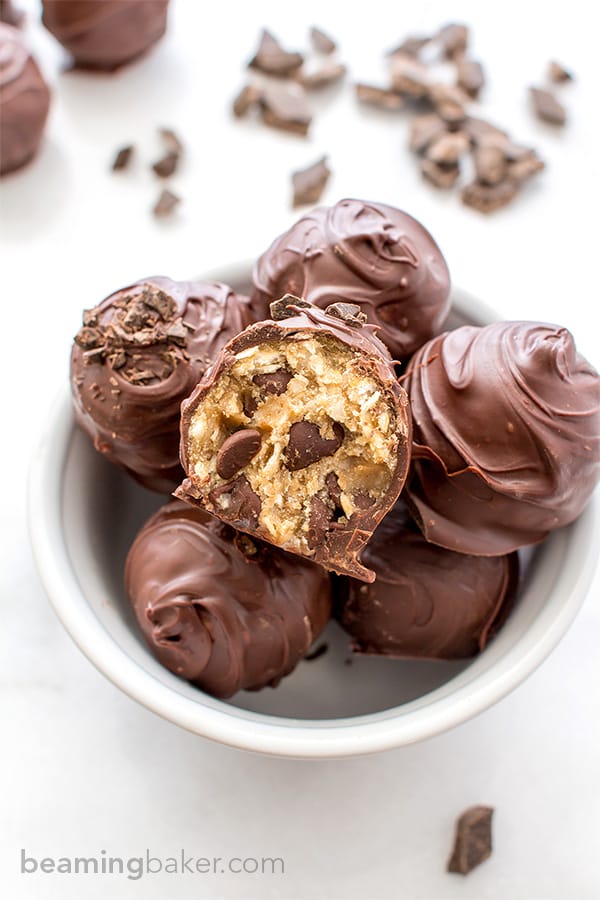 If you're still not convinced… let me tell you all about these little chocolate gems. My Chocolate Chip Cookie Dough Truffles are:
rich and deeply satisfying
made special, just for true chocolate lovers
Vegan and Gluten Free
stuffed full of chocolate chips
wrapped in a thick robe of chocolate (doesn't that sound nice?)
and best for those with Chocolate Technicolor vision
or at least chocolate bar graphs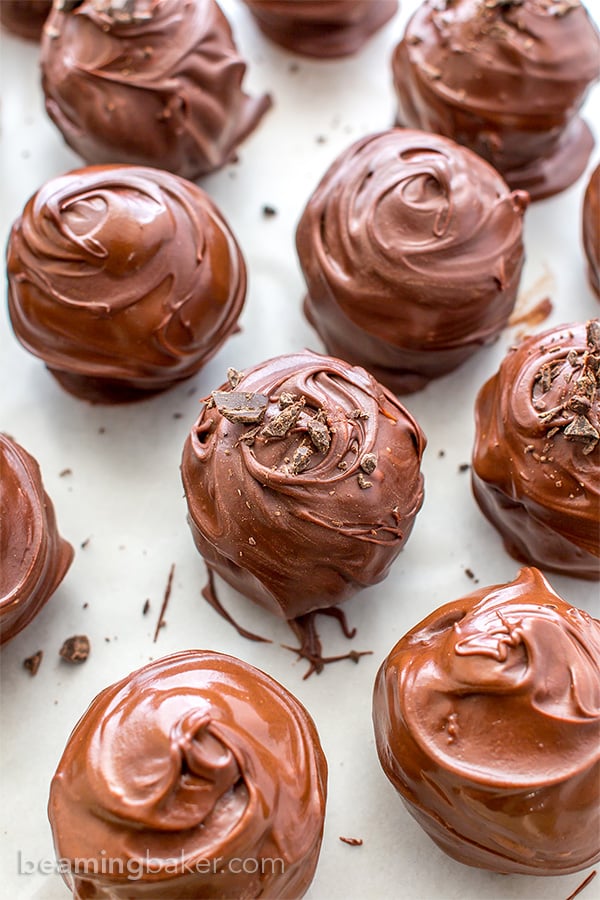 So go ahead and grab one… or two… or an even dozen of these Chocolate Chip Cookie Dough Truffles and prepare for all the good feels of chocolate bliss. Aw, yeah.
What are your favorite foods (or things… I'm not here to judge) to dip chocolate in? Cookies? Cake? Maybe even a hamburger bun? Like, woah!
Sending you all my love and maybe even a dove, xo Demeter. ❤️
☀︎ Click below to Pin ☀︎

☀︎ Did you make this recipe? Take a pic and share it on Instagram with the hashtag #beamingbaker and tag @beamingbaker. I would love to see it! ☀︎
Print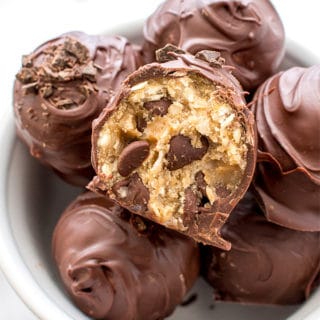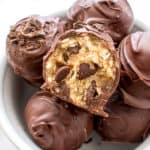 Chocolate Chip Cookie Dough Truffles (Vegan, Gluten Free)
---
Description
Chocolate Chip Cookie Dough Truffles (V+GF): Decadent chocolate chip cookie dough bites wrapped in a velvety blanket of rich, dark, indulgent chocolate. Vegan and Gluten Free.
---
1

batch of Chocolate Chip Cookie Dough Bites

1 ½ cups

vegan chocolate chips (

8

–

10

oz)

¼ teaspoon

coconut oil
Optional

2 tablespoons

vegan chocolate, chopped, for topping
---
Instructions
Make Chocolate Chip Cookie Dough Bites. Set aside.
Line a baking sheet with parchment paper, wax paper or a silicone baking sheet. Set aside.
Melt the chocolate one of two ways: Use the double-boiler method or use the microwave. For the microwave method: add chocolate chips and coconut oil to a microwave-safe bowl. Heat for 20 seconds, remove and stir. Repeat until chocolate is just softened–be careful not to burn it. Stop and stir frequently.
Dip the cookie dough balls: Roll cookie dough balls in chocolate and drop onto prepared baking sheet. I like to use one spoon and two forks for this step (or you could use a candy dipper). I use the spoon to roll the ball, and the two forks to pick up the truffle and roll off excess chocolate.
Place baking sheet into the freezer for 15-20 minutes. Remove from freezer and enjoy!
Notes
– Recipe includes my Chocolate Chip Cookie Dough Bites.
– Store in an airtight container in the refrigerator or at room temperature for 1-2 weeks.
– Store in the freezer for up to 4 weeks.
Prep Time:

25 mins

Cook Time:

5 mins

Category:

Vegan
© beamingbaker.com. All content and images are protected by copyright. Please do not use my images without my permission. If you wish to republish this recipe, please re-write the entire recipe using your own words and include a link to this post for the recipe.
Homemade candy is the BEST, don't you think? Try my Gluten Free Vegan Peanut Butter Cups (V, GF, DF). Simply amazing.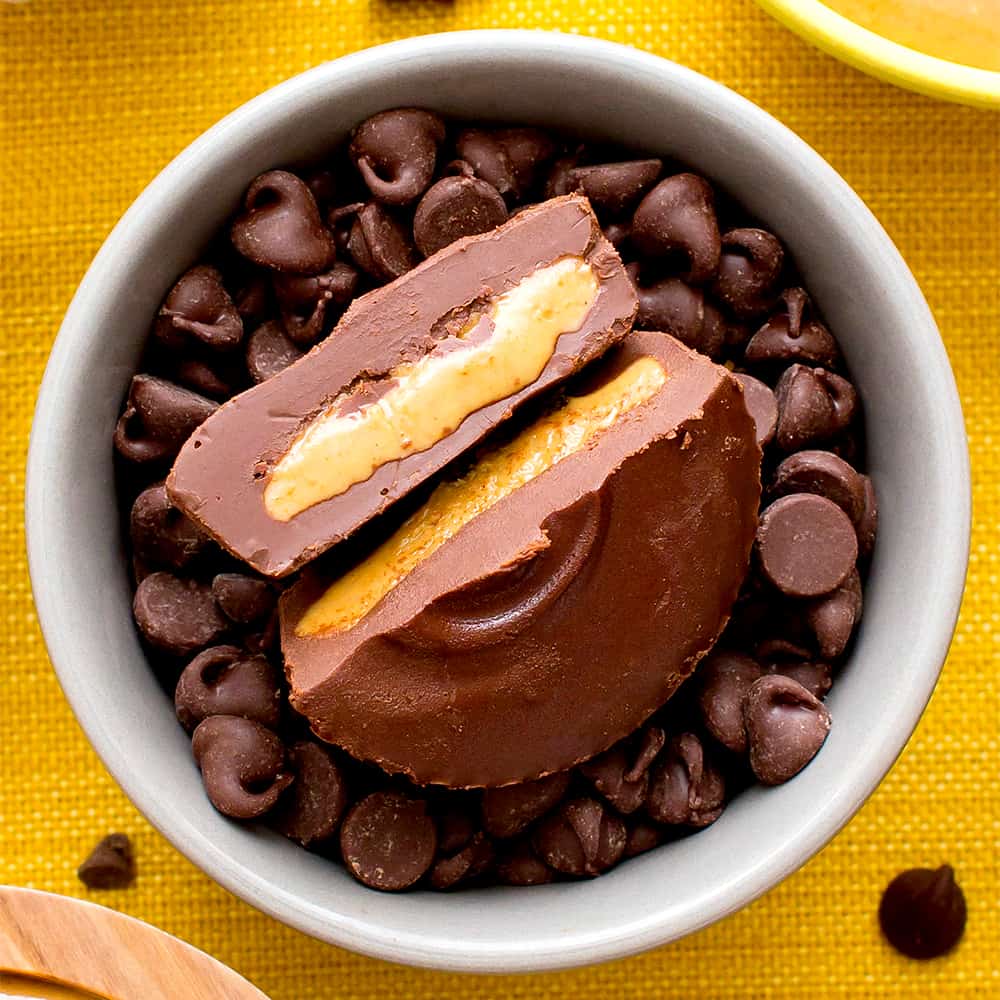 Fudgy, decadent and OH. SO. Amazing. You'll love this reader favorite: Gluten Free Vegan Brownies (V, GF, Dairy Free).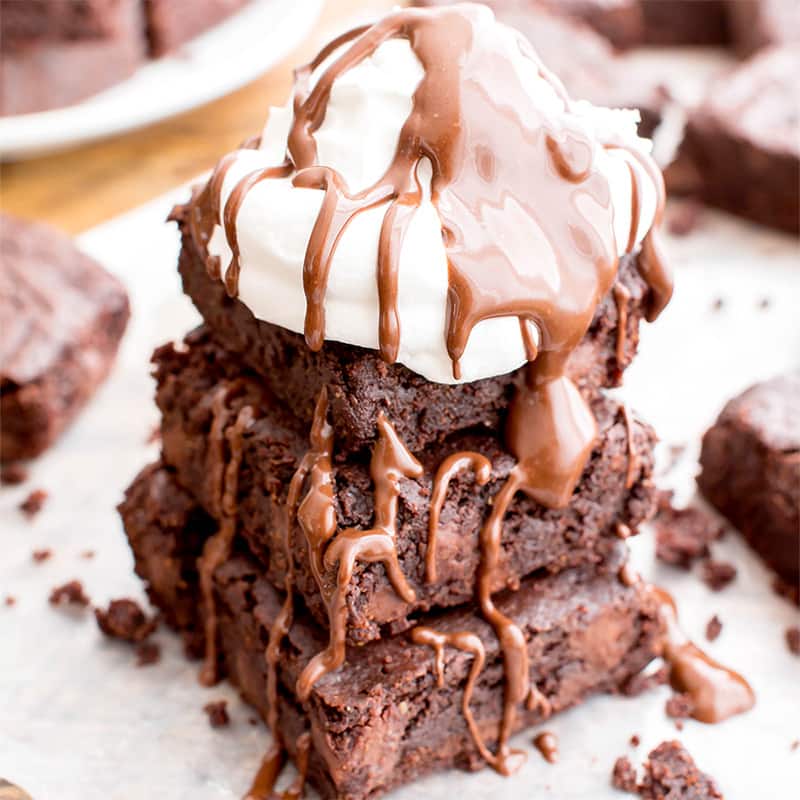 Just in case you need another COOKIE DOUGH fix. Try my Chocolate Chip Cookie Dough Cups (Vegan, Gluten Free, Dairy Free). Tested and loved by readers.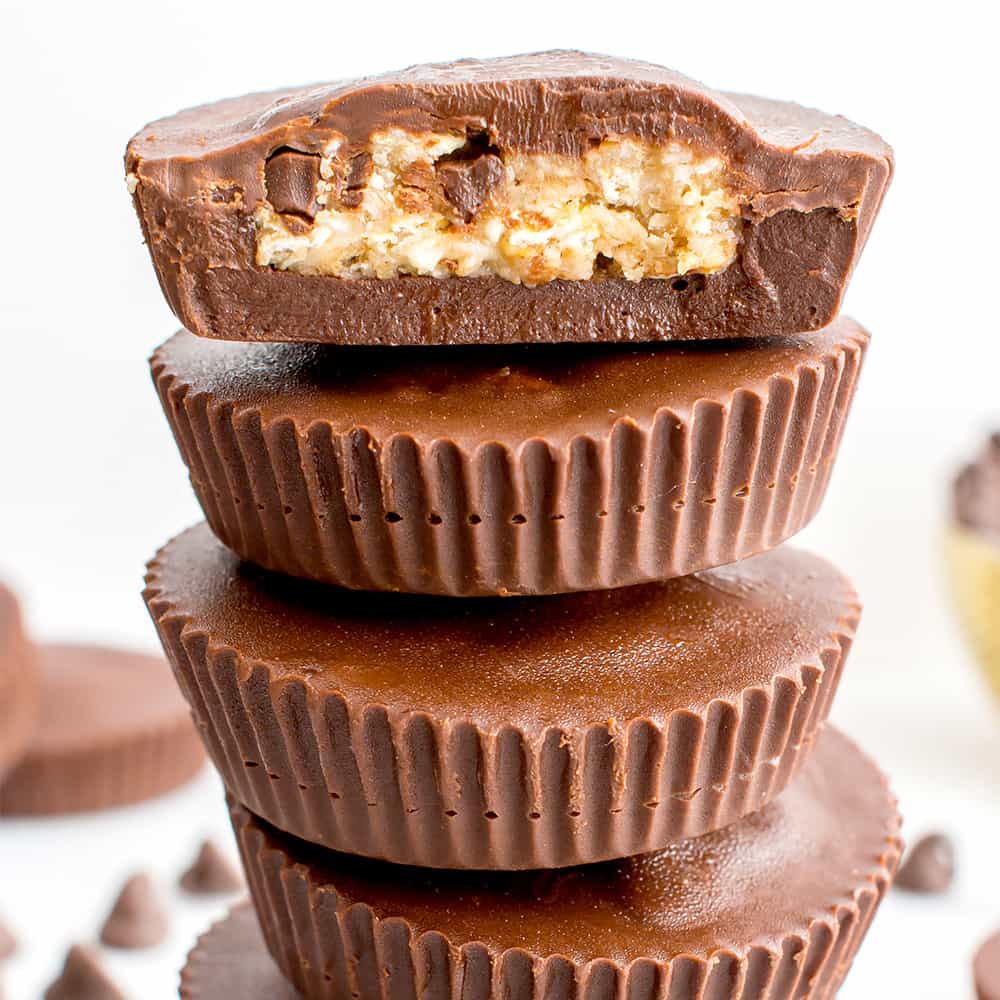 If you could dip anything in chocolate, what would it be?
☀︎ Click to Pin ☀︎