Favorite Garlic Toast – Super EASY!
Buttery, garlicky, delicious garlic toast with crisp edges, soft & chewy centers. My favorite garlic toast recipe is an easy side dish to serve with pasta, soups and so much more!
The Very Best Garlic Toast
Savory, flavorful, and such a showpiece for something so simple and easy to make—welcome to my favorite garlic toast recipe!
Ever wondered how hard it would be to make garlic toast from scratch? Or, to get just the right ratio of fresh garlic to salt to butter?
Well, I've got answers for all your questions and more as we make the best ever garlic toast recipe today! Let's go!
Garlic Toast Ingredients
This garlic toast recipe is one of my favorites because it calls for so few ingredients and packs a delicious punch. Here's all that you need to make it:
Baguette – I love using a French baguette, but Italian bread will do as well.
Garlic – I highly recommend fresh garlic, but you can use pre-minced garlic in a pinch.
Oil – Extra virgin olive oil is my preferred kind of cooking oil, but you can use avocado oil, butter—whatever tastes good to you.
Salt – In the recipe, I call for ¼ teaspoon, but you can adjust that as you'd like—more for saltier toast, less for less salty garlic toast.
Extras – I love sprinkling some homemade garlic salt onto my garlic toast for an extra garlicky delight. Also, add some chopped parsley for beautiful green color.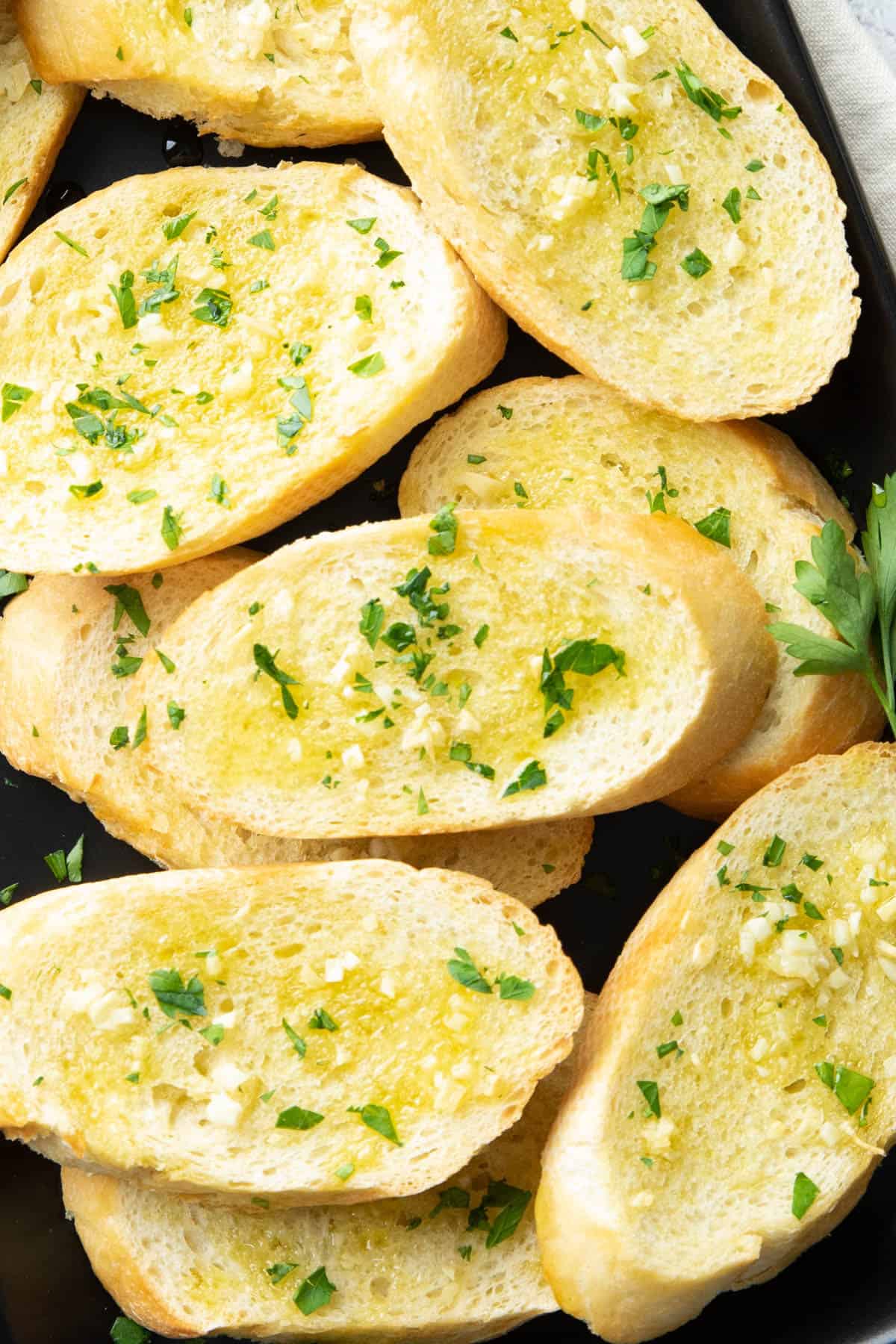 How to Make Garlic Toast
This garlic toast recipe yields perfect garlic toast with crispy edges, chewy centers, and buttery, fresh garlic filled tops.
Begin by preheating your oven to 350°F. Then, line a large baking sheet with parchment paper or foil.
To make this recipe, start by slicing about 1 foot of total baguette rounds.
Hint: You can easily double the recipe and slice 2 feet, if you prefer.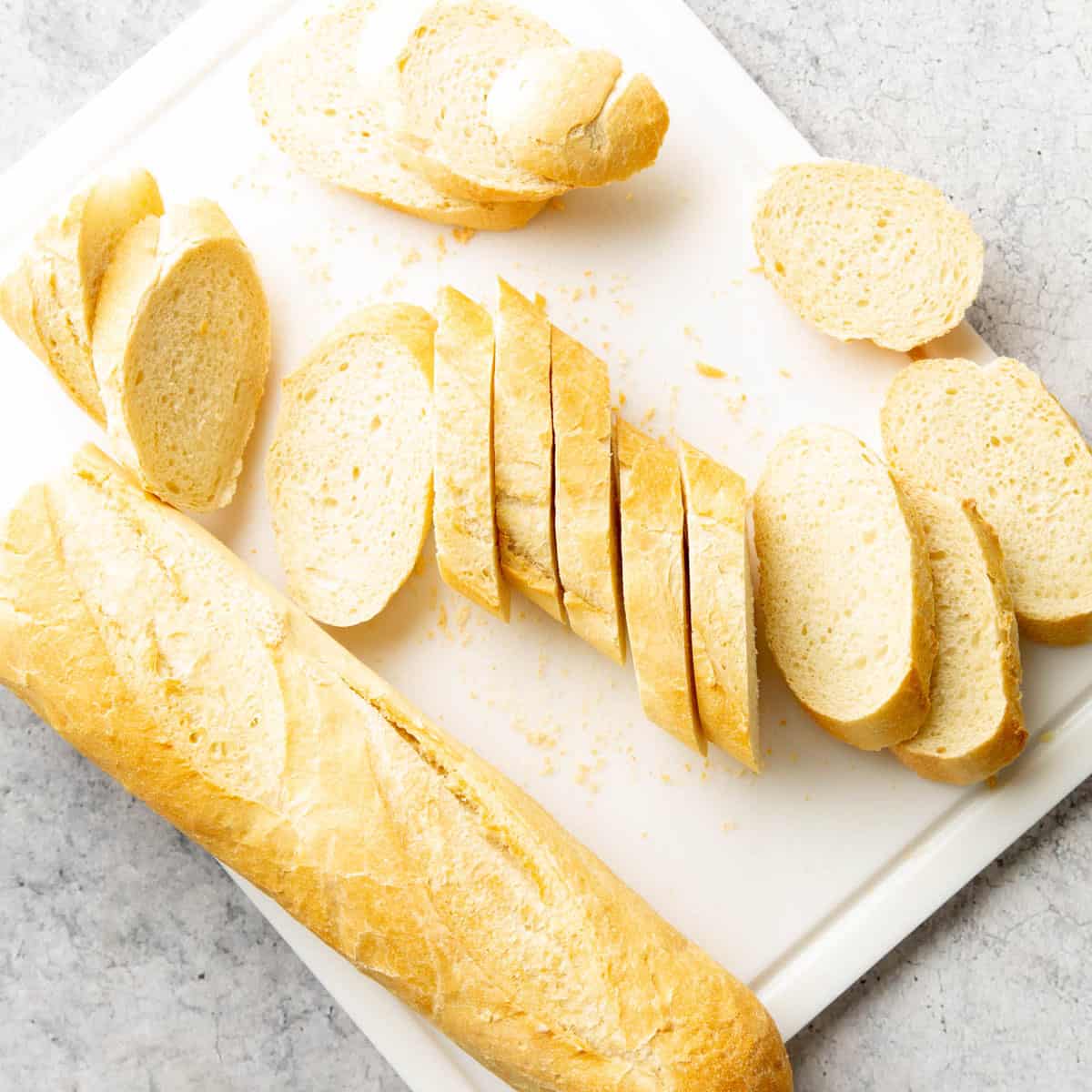 Once baguette rounds are ready, lay them out into one evenly spaced layer onto the lined baking sheet.
Next, you'll grab 2 cloves of garlic and chop until minced. You can chop the garlic roughly for larger chunks of garlic, or mince for smaller pieces that are evenly spread out.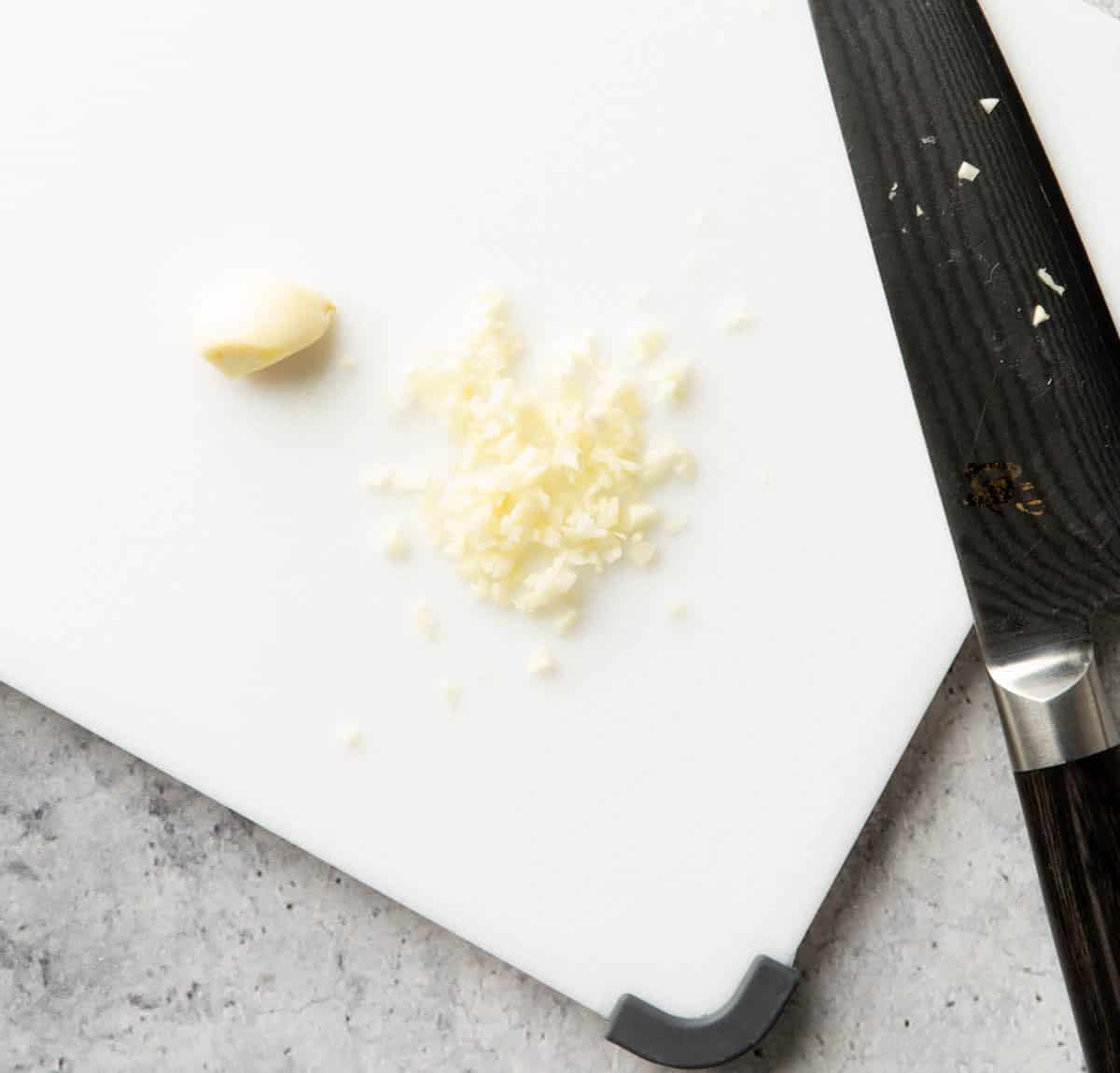 Then, add minced garlic, olive oil, and salt to a small mixing bowl.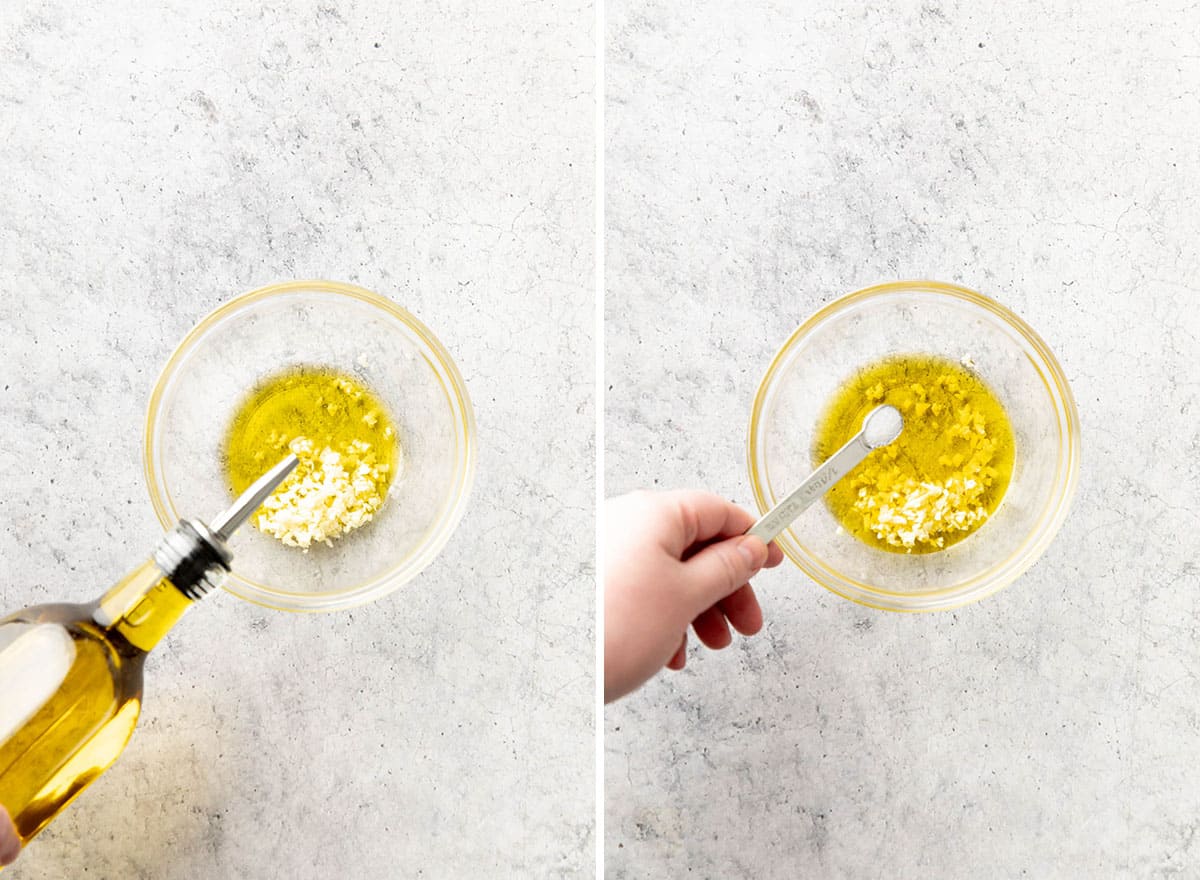 Whisk it all together until well mixed.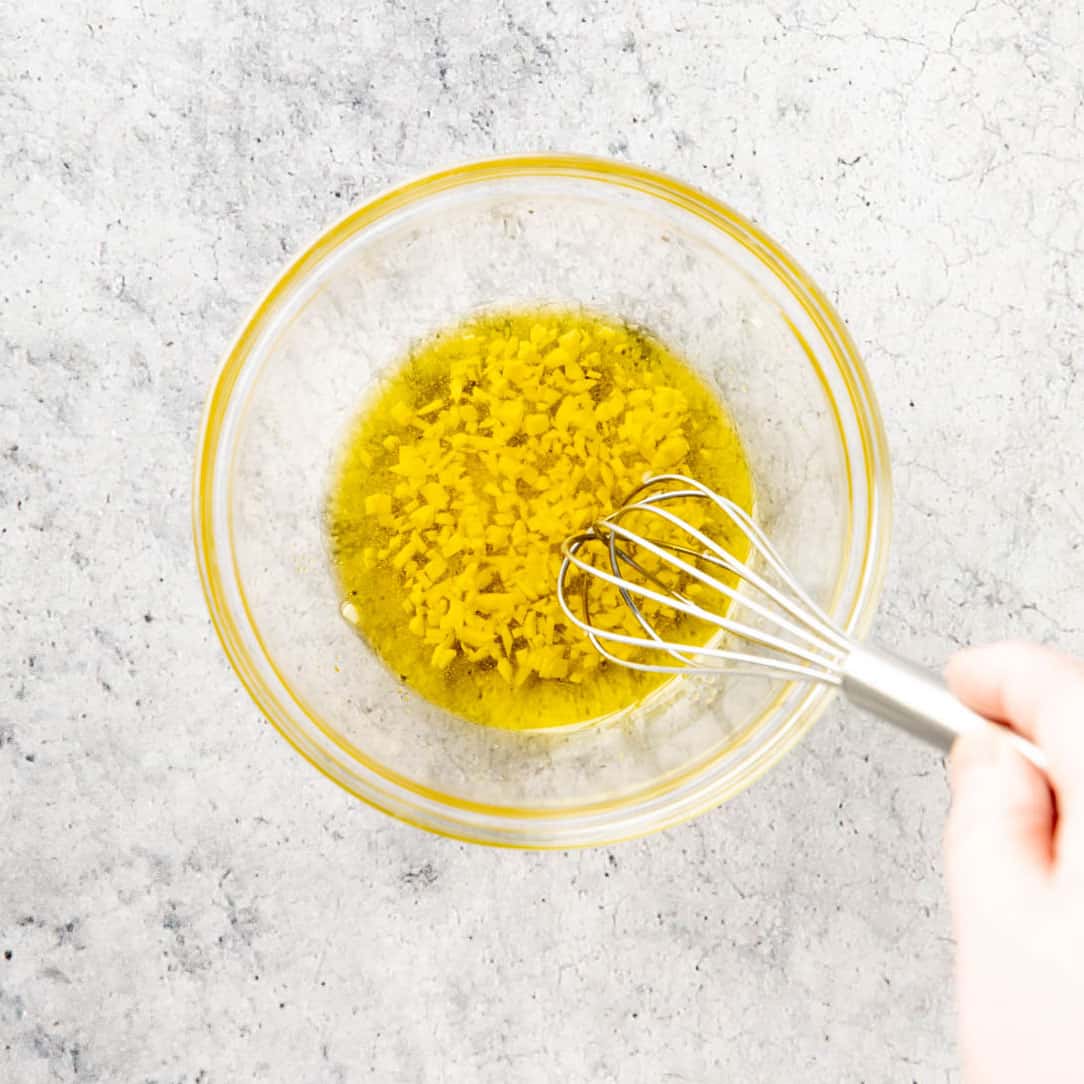 Now, grab a silicone pastry brush (one of my favorite kitchen tools) and brush the garlic oil mixture onto the baguette rounds.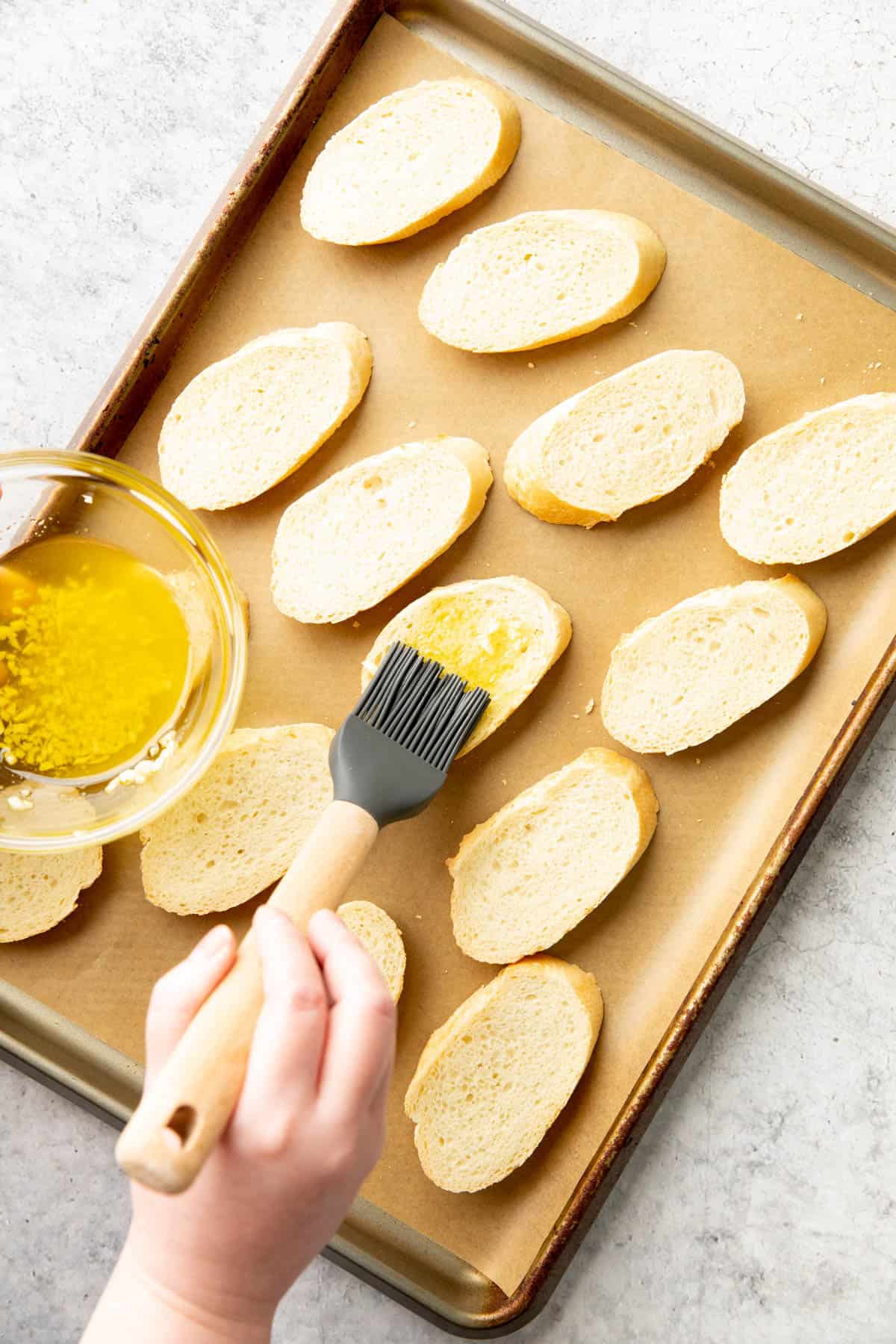 Hint: Make sure to use the brush to stir the minced garlic into the oil each time to ensure even distribution across your garlic toast.
Lastly, bake the sheet of garlic toast for 5-8 minutes, until golden and toasted.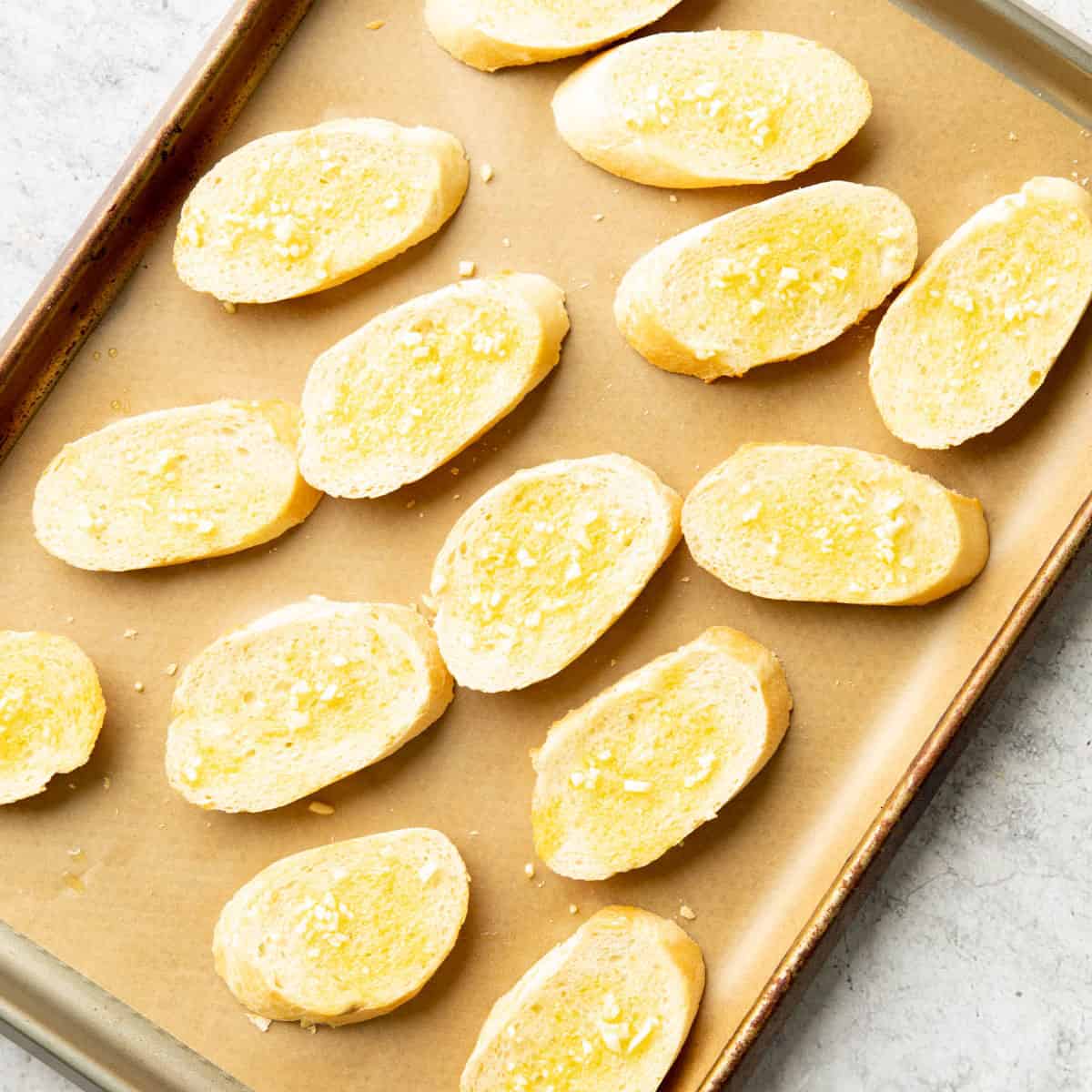 Serve the best garlic toast with pasta, soup, salads, and more!
Tips for the Best Garlic Toast
I'm a big believer in learning base recipes, then adjusting according to my personal preferences.
Here are some of my best tips for making the best garlic toast—according to you!
Use your favorite bread
I love, love, love French baguettes, but sometimes they're hard to find. A yummy alternative? Italian bread. Sliced potato bread. Cottage bread. Anything you think of, and think of fondly, you should try!
Adjust the bake time
Growing up, my sisters and I liked toasted foods so much that we ended up burning a few things. Lol! You can toast your bread on the lower end for just lightly warmed up garlic toast, or on the higher end (8 minutes) for Toast Lovers yumminess!
Hint: And remember, bake times always vary depending on your oven. If it runs hot, you could bake it less for extra toasted toast and vice versa.
Choose fresh garlic or prepared garlic
Fresh garlic is a lot of fun (or a total pain) to prepare, depending on your schedule. If you have the time, choose fresh garlic. If you don't, use prepared garlic—kitchen time should be enjoyable, not full of highfalutin obligation! Ha!
Use the type of oil or butter you prefer
I like using extra olive oil on my garlic toast for a guilt-free treat. But sometimes, you've got to have a bit of yummy butter! Try melted butter on your toast… or even avocado oil.
Get sassy with your garlic toast!
Remember that this is your garlic toast—so you can make it exactly the way you like. For instance, I love spicy foods, so I always sprinkle a bit of red chili peppers or a dash of sriracha onto my garlic toast.
You can add some dried oregano for a herby kick, a touch of paprika for some smoky flavor—have fun with this recipe!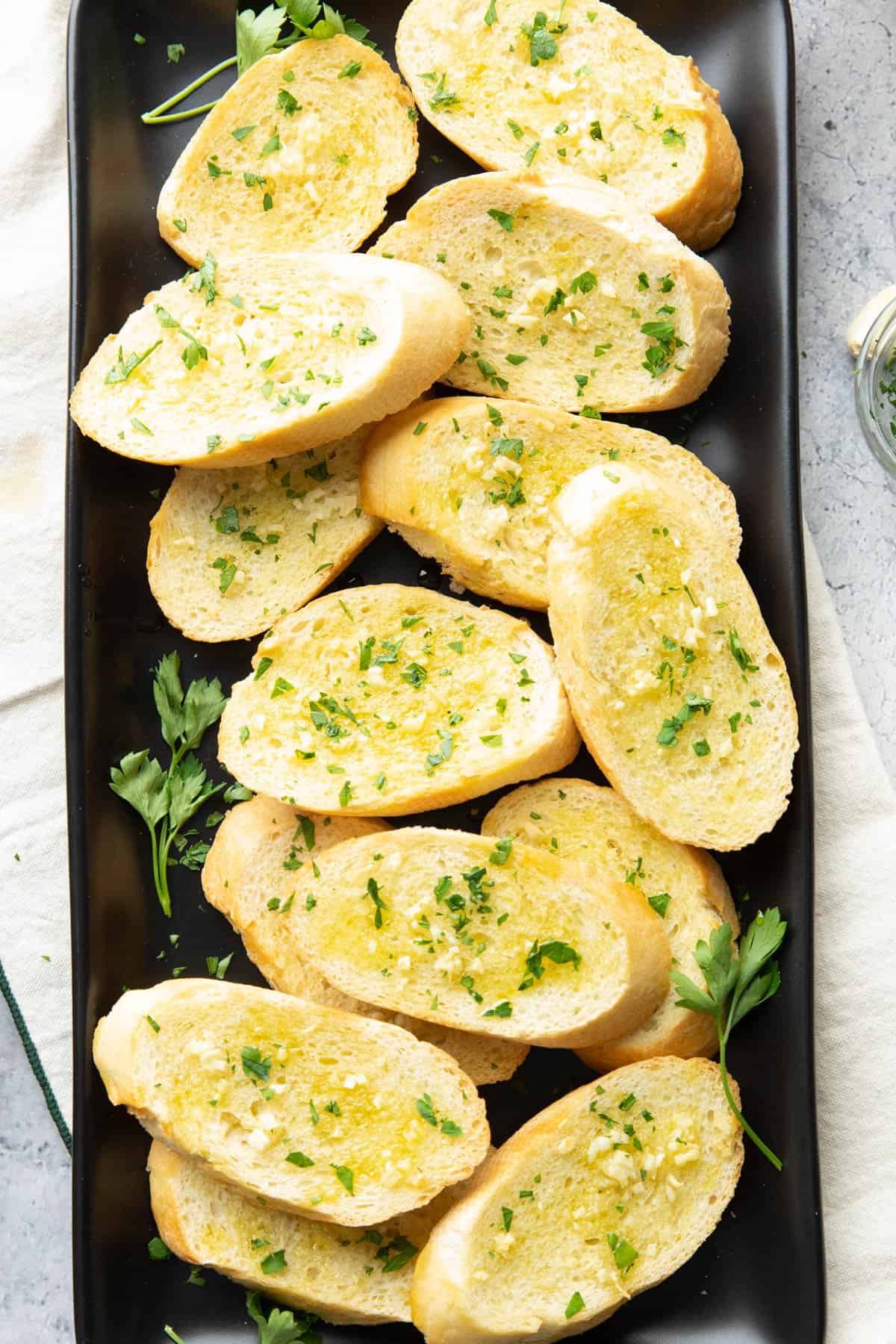 What to Serve with Garlic Toast
Pasta – I simply love a homemade meal that's comforting and satisfying. Make this garlic toast and pair it with a bowl of fresh pesto pasta and honey sriracha brussels sprouts for a spicy kick!
Soup & Salad – try a side of garlic toast with tomato soup, vegetable medley soup, and more.
Vegetable Side Dishes – If you're feeling like a plant-based meal, make a few comforting vegetable-based dishes like this maple brussels sprouts or roasted potatoes and carrots to go with your garlic toast!
Next Level: take your garlic toast to the next level by topping it with garlic confit—a staple recipe for every garlic lover.
Tasty Delights: try serving this recipe with homemade pesto. It's packed with fresh basil, a touch of garlic, and delicious creamy pine nuts.
Tools You Need
I Clove You. 😉
A little garlic clove humor for you. 😉 I truly appreciate you stopping by and sharing in these delicious kitchen adventures with me and your loved ones. 'Til our next one…
Sending you all my love and maybe even a dove, xo Demeter ❤️
Print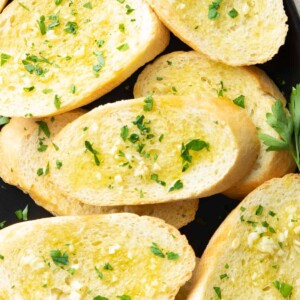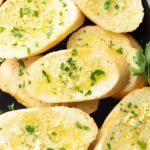 Favorite Garlic Toast – Super EASY!
---
Description
Buttery, garlicky, delicious garlic toast with crisp edges, soft & chewy centers. My favorite garlic toast recipe is an easy side dish to serve with pasta, soups and so much more!
---
Tools Needed
Garlic peeler
Silicone basting brush
Bread knife
Baking sheet
Ingredients
½

French baguette or Italian bread (

1

foot needed)

2

–

3

cloves of garlic, minced

2

–

3

tablespoons extra virgin olive oil – I used 2 tablespoons

¼ teaspoon

salt, or salt to taste
Optional Topping
a light sprinkling of garlic salt or coarse sea salt on each round
chopped parsley
---
Instructions
Preheat oven to 350°F. Line a medium or large baking sheet with lightly greased foil.
Slice baguette into 10-14 rounds. Lay baguette rounds onto the prepared baking sheet.
Peel garlic, then mince. Add minced garlic, olive oil, and salt to taste into a small mixing bowl. Whisk until well mixed.
Using a silicone basting brush, brush the garlic oil mixture onto each baguette round, ensuring minced garlic gets on every piece. Then, use a spoon or fork to scoop up any last bits of garlic.
Bake for 5-8 minutes (I did 8 for golden brown edges), until golden at the edges and fragrant.
Sprinkle with garlic salt and chopped parsley. Enjoy!
For an extra garlicky delight, serve with this super tasty garlic confit.
Notes
Storing Instructions: Cool completely, then store garlic toast in an airtight container in the refrigerator for 1-3 days. Heat before serving.
How to make Vegan: Keep recipe as is.
How to make Gluten Free: Use gluten free bread.
Prep Time:

5 minutes

Cook Time:

5 minutes

Category:

Side Dishes

Method:

Bake

Cuisine:

Italian
LIKE THIS RECIPE? SHARE IT WITH FRIENDS!
Did you make this recipe? Take a pic and share it on Instagram with the hashtag #beamingbaker & tag @beamingbaker. I'd love to see it!