Frozen Yogurt Bars – 3 Ingredient
Frozen Yogurt Bars: a thick layer of protein-rich yogurt topped with fresh fruits and nuts for a creamy, frosty, healthy snack that's made in just 5 minutes! Only 3 ingredients.
Easy Peasy Frozen Yogurt Bars
One of my biggest struggles with staying on track with a healthy diet is convenience. There are so many responsibilities to juggle, things to do, and foods to eat/avoid.
So what can I make easier? The food to eat. Welcome to today's yogurt bars—they're made in just 5 minutes with only 3 ingredients.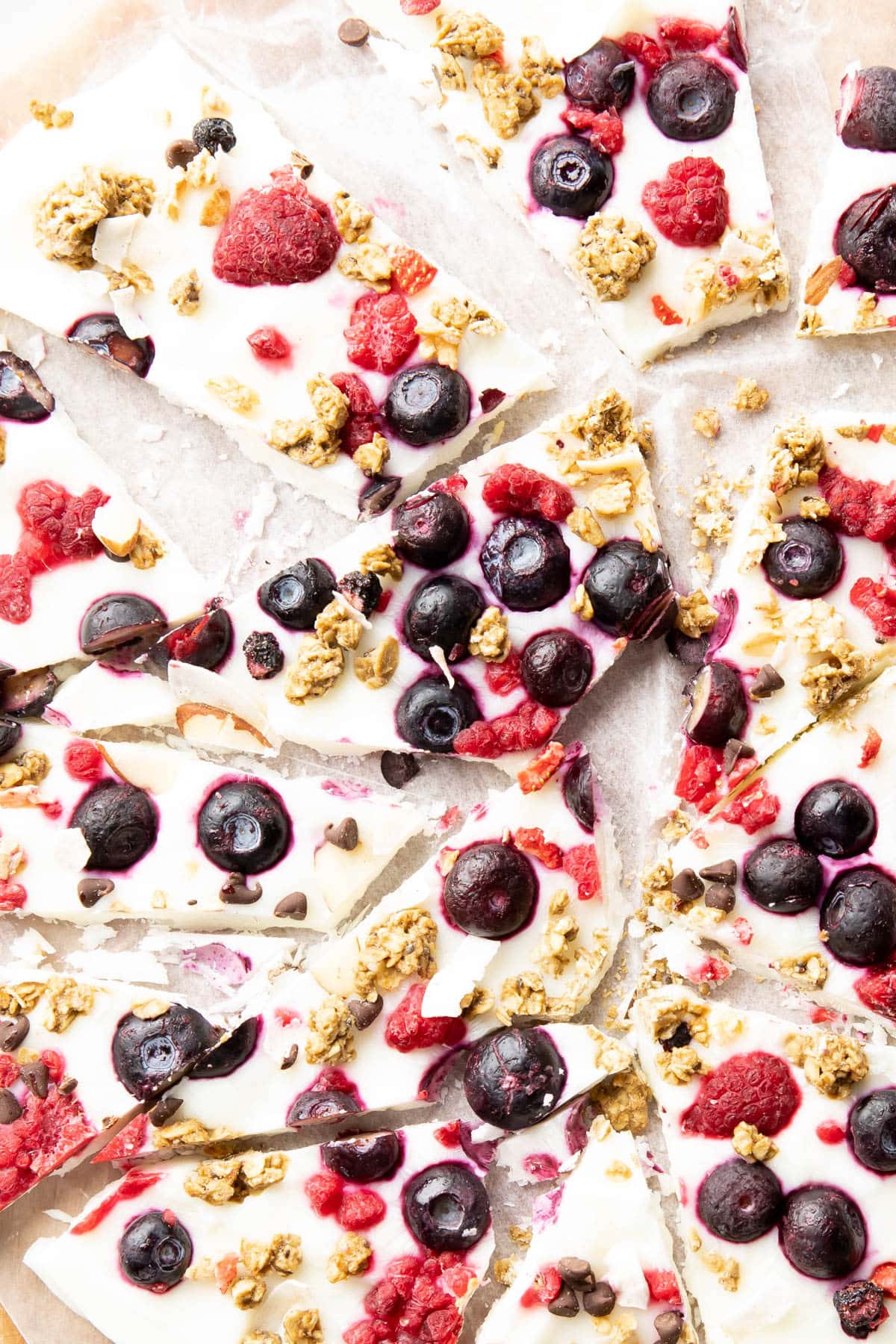 What are Yogurt Bars?
When you're craving something sweet and filling, grab this frozen yogurt bar—it's a thick layer of protein-rich yogurt topped with your favorite fruits, nuts, seeds… you name it.
These yogurt bars are an easy, healthy snack that's kept in the freezer for when you need a sweet and tasty boost that's also nutritious.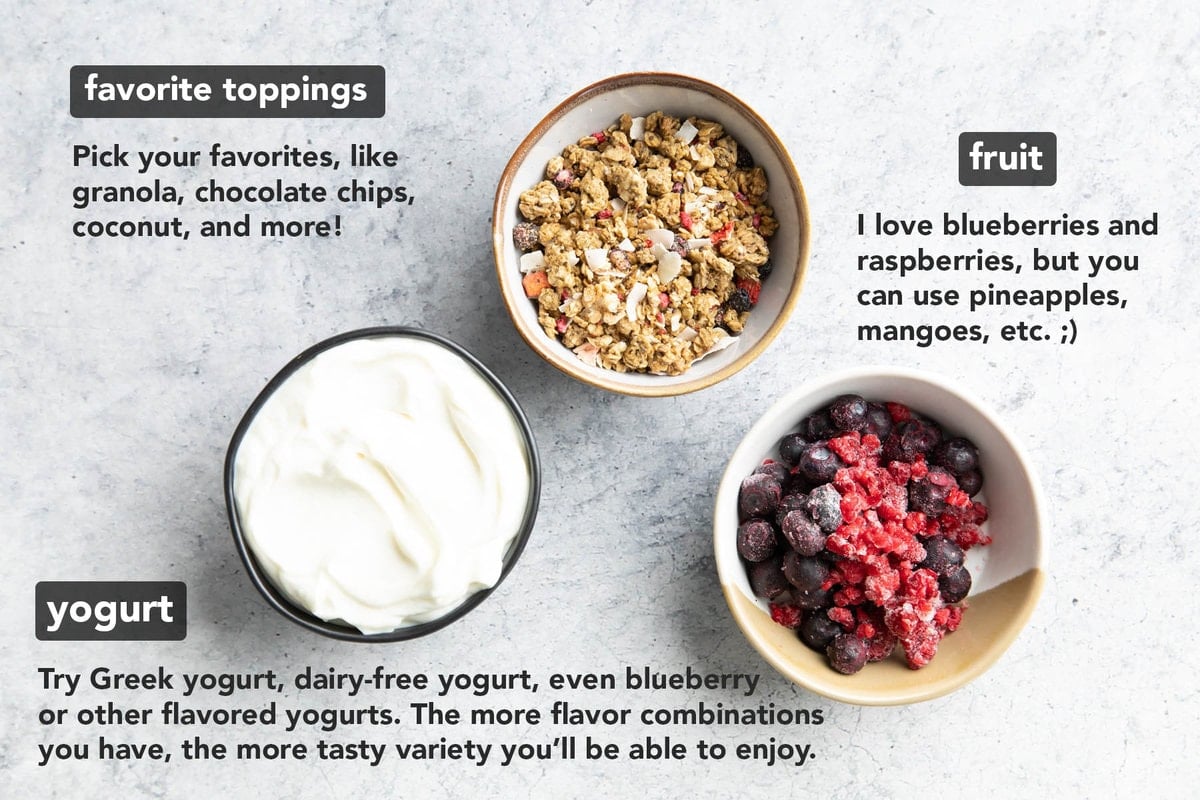 Frozen Yogurt Bars Ingredients
With just 3 simple ingredients, you're on your way to making creamy, dreamy yogurt bars that are customized *exactly* to your liking.
Yogurt – you can truly use the yogurt you prefer, whether it's dairy-free, blueberry flavored, or Greek-style!
Fruit – I love the convenience of using frozen fruits. Be sure to check the label to make sure nothing's been added. Try blueberries, strawberries, etc.
Toppings – use whatever you'd like: chia seeds, chocolate chips, granola, and more.
Here are a few of my favorite granola recipes to try as a topping:
How to Make Yogurt Bars
Line a small or medium baking sheet with wax paper or parchment paper.
Then, grab your favorite yogurt and silicone spatula.
Spread a thick layer of yogurt through the middle of the line baking sheet.
Make sure to create an even layer.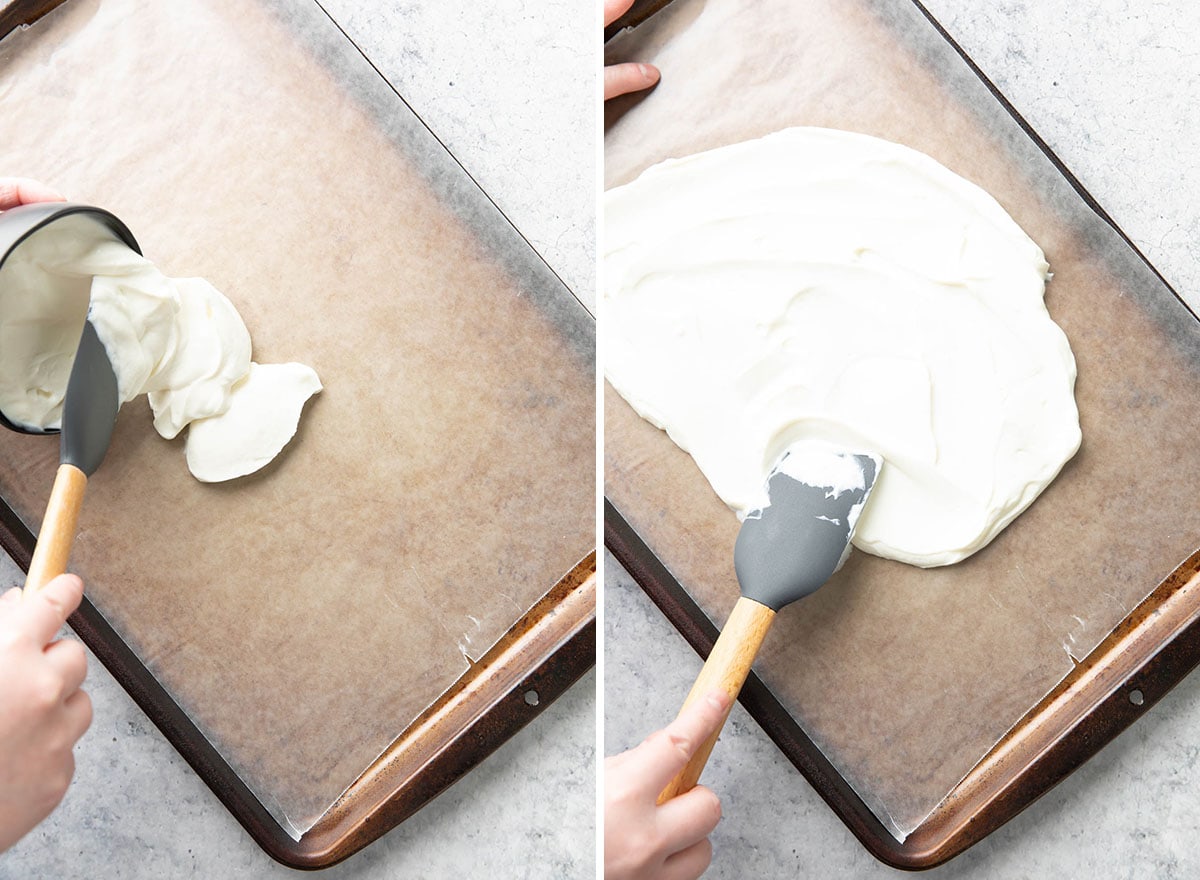 Next, grab your favorite fruits. Then, sprinkle those fruits into the yogurt layer.
Now, add your favorite toppings. I grabbed some homemade granola and sprinkled it over the yogurt.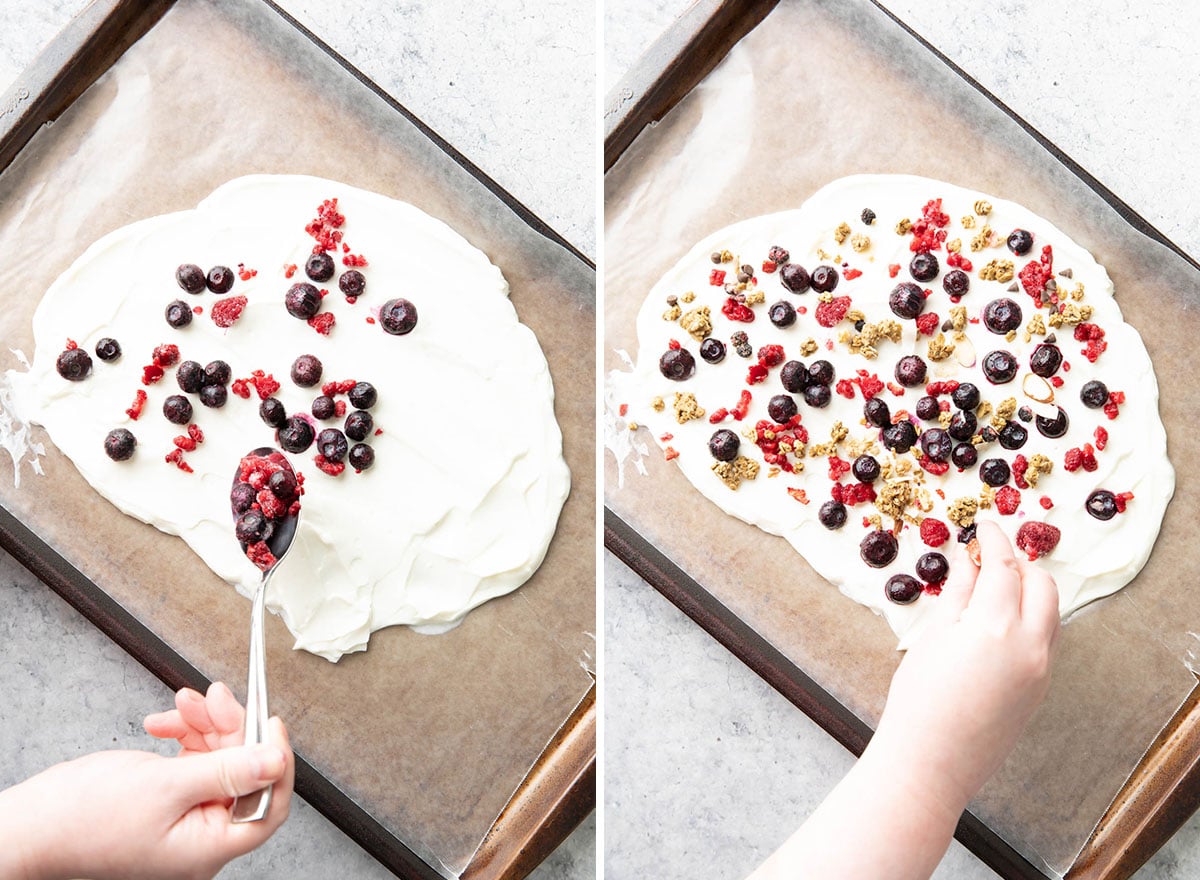 Using a spoon, press the toppings gently into the yogurt so your yogurt bars stay intact after freezing.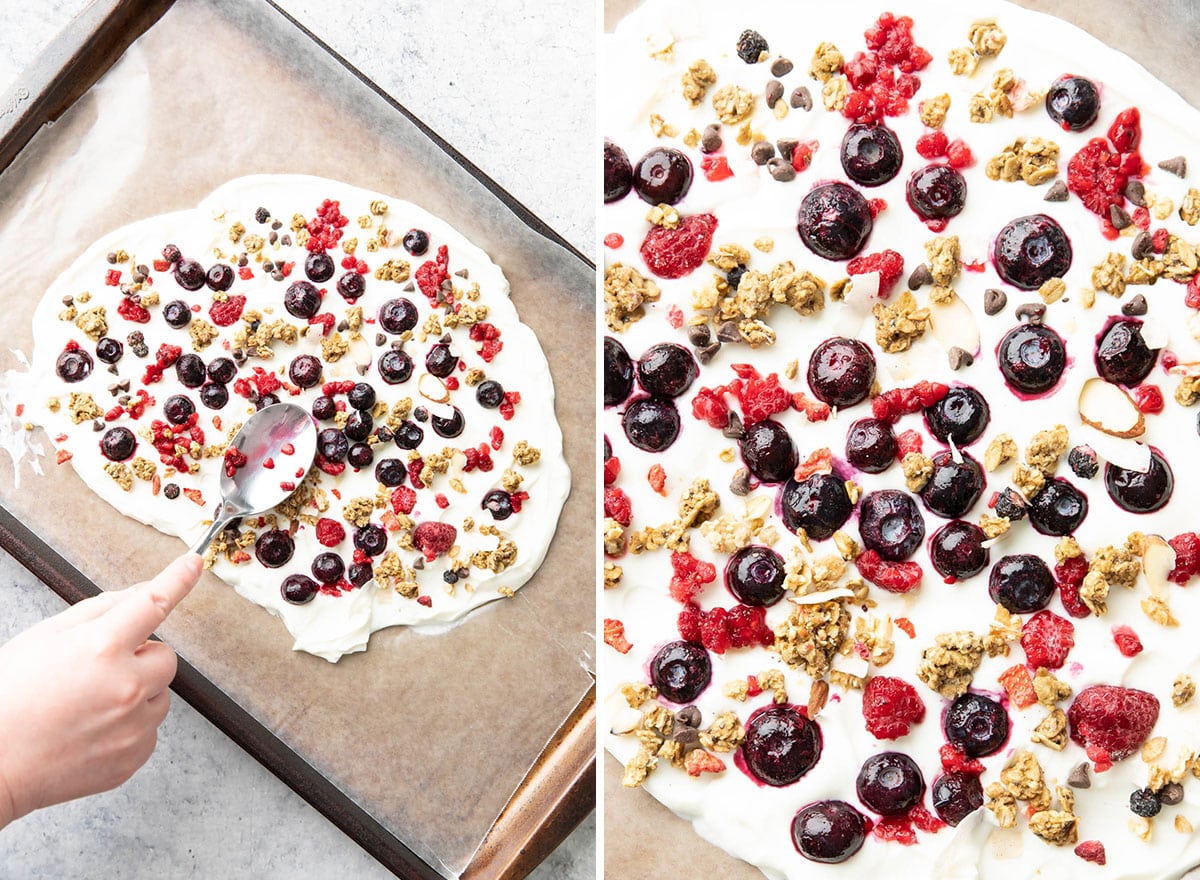 Slide the baking sheet into the freezer and chill until firm, about 2-4 hours.
Then, peel the paper off the bottom of the bars and gently set the sheet of bars back onto the paper.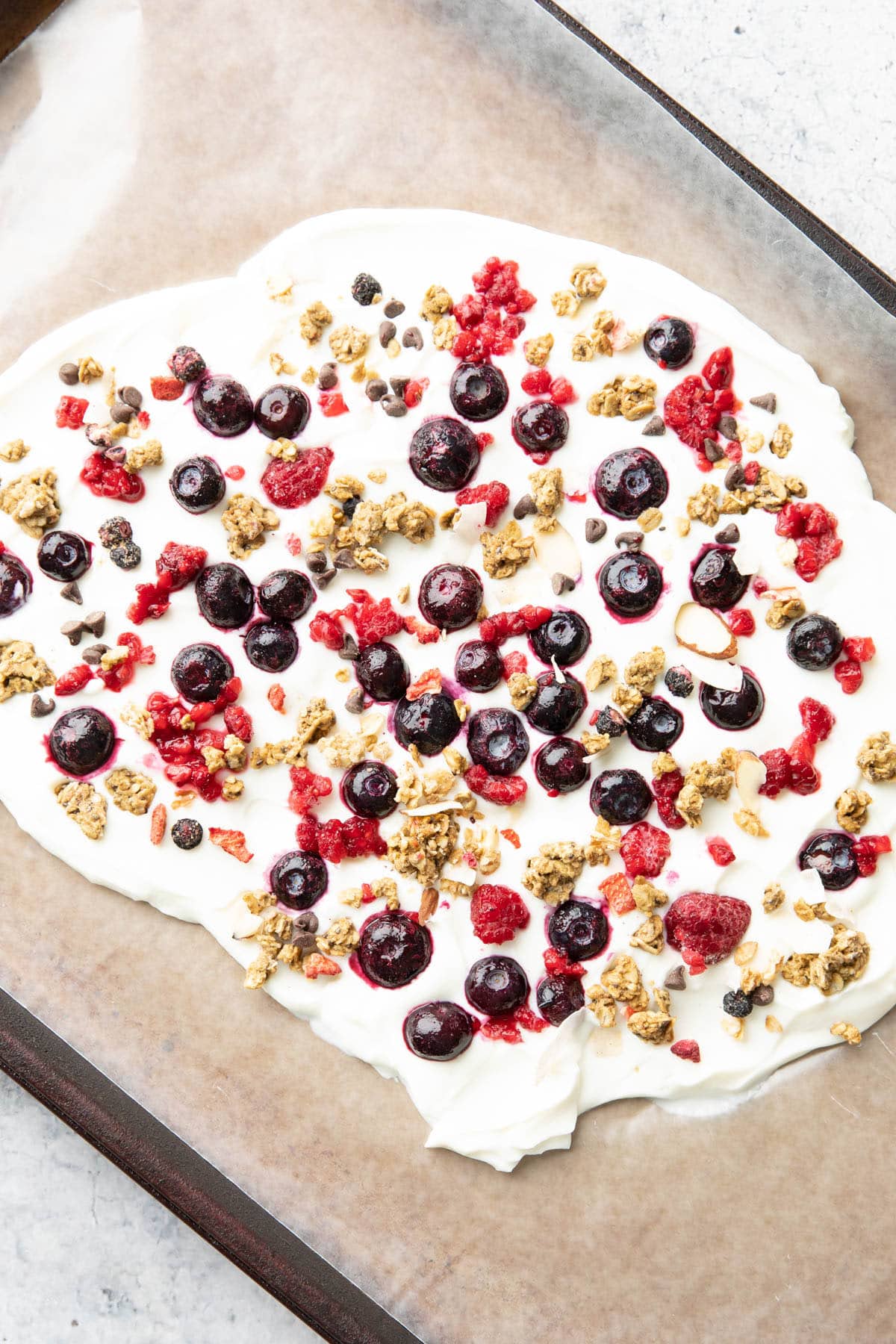 Transfer to a cutting board and slice into pieces. Enjoy the best yogurt bars!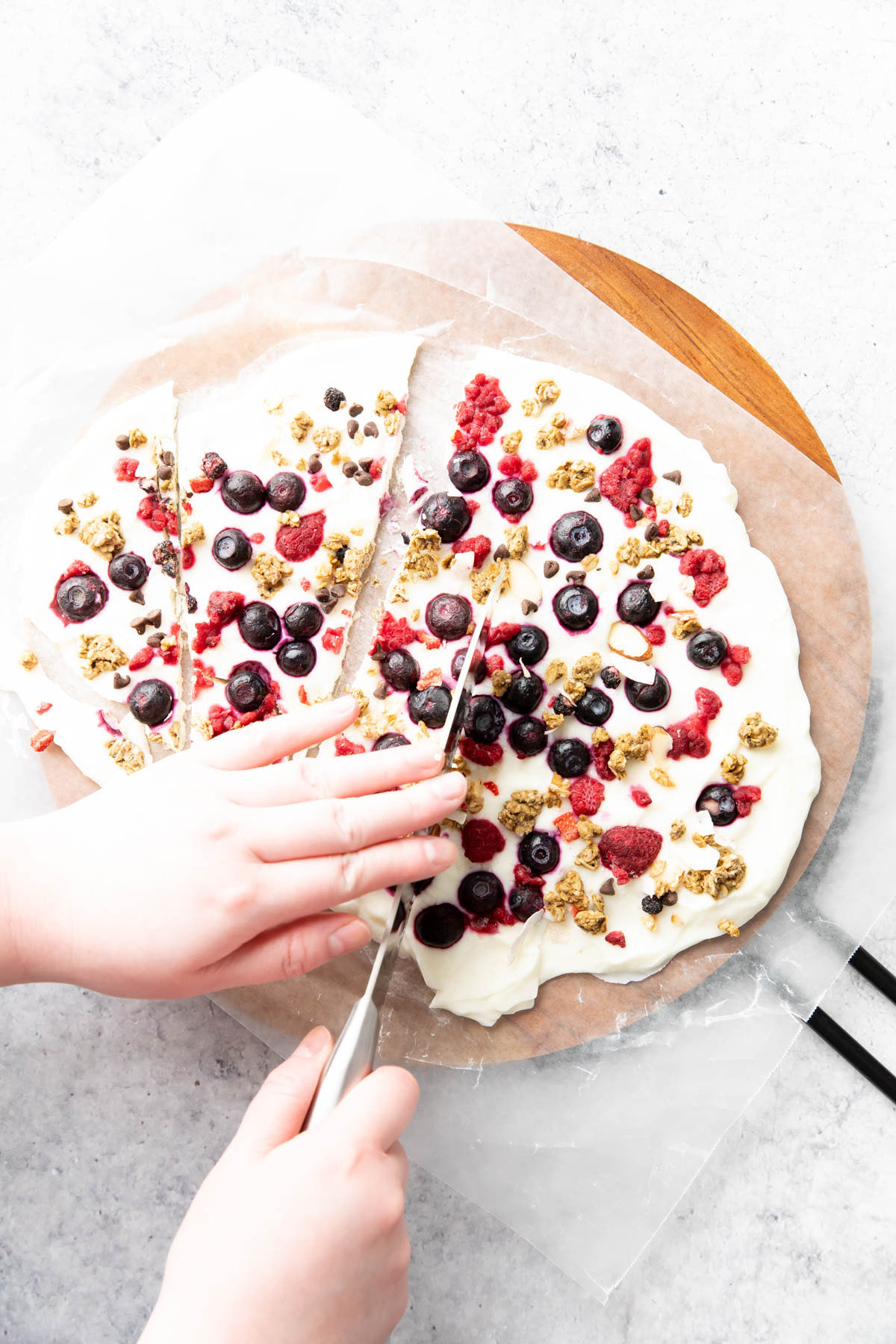 Storing and Freezing
How do you store these yogurt bars? Simply place bars into an airtight container and keep in the freezer for 1-3 months.
Remember to not store the bars in the refrigerator or at room temperature, as the bars will melt and fall apart.
Super Easy Recipes to Make Life Easier
Tools You Need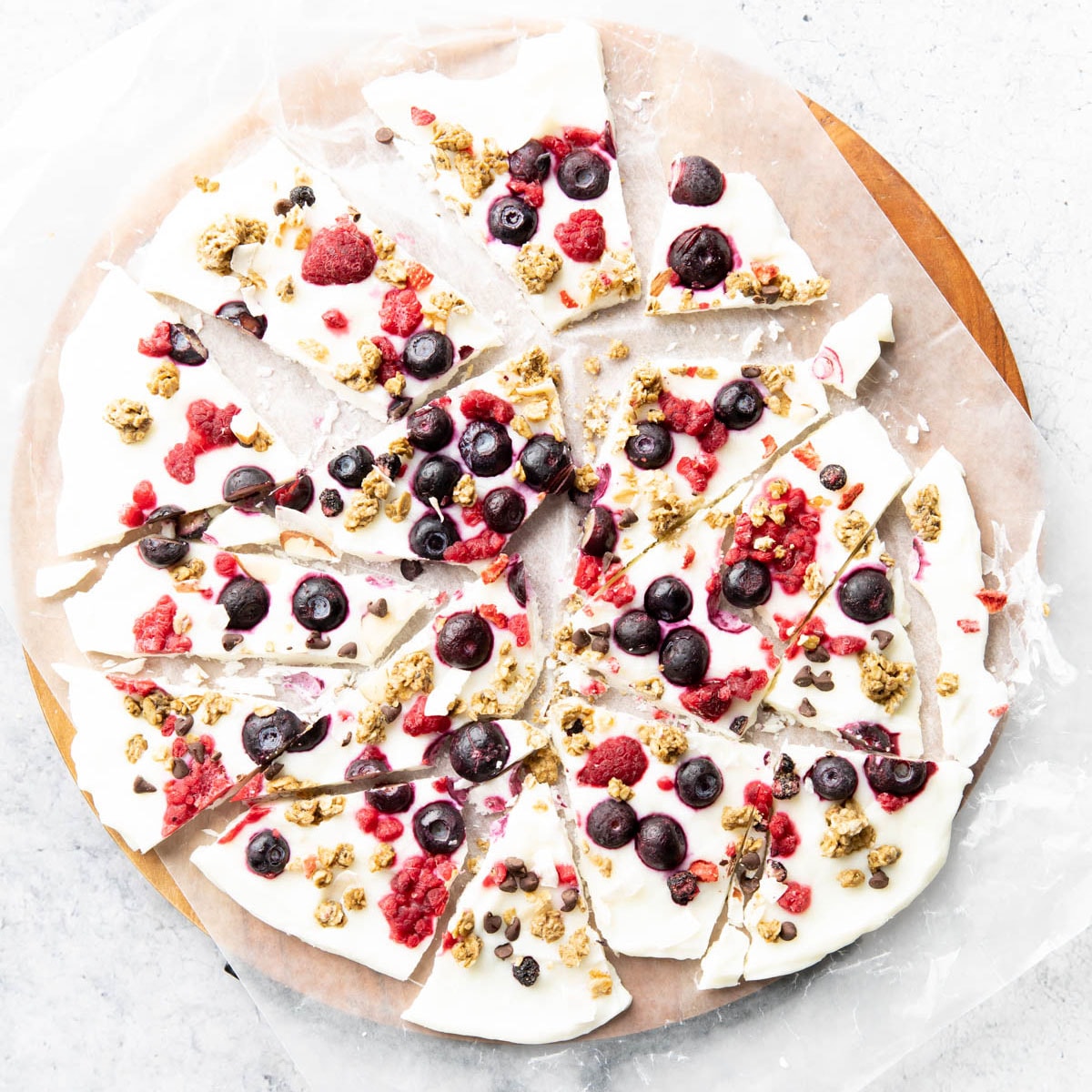 Hello, Love!
Just so you know, Erik and I are always so happy to have you here… creating delicious, joyful moments with us. We can't wait to hear what you think—be sure to let us know by taking a pic of your bb creation and tagging us @beamingbaker and #beamingbaker. 'Til our next sweet adventure…
Sending you all my love and maybe even a dove, xo Demeter ❤️
Print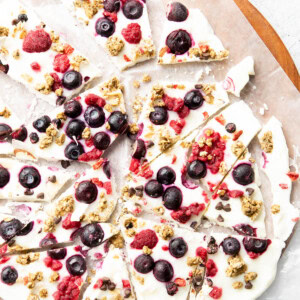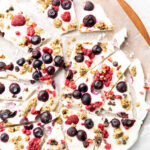 Frozen Yogurt Bars – 3 Ingredient
---
Description
Frozen Yogurt Bars: a thick layer of protein-rich yogurt topped with fresh fruits and nuts for a creamy, frosty, yogurt bar that's made in just 5 minutes! Only 3 ingredients.
---
Tools Needed
Sharp knife
Wax paper
Medium baking sheet
Ingredients
1 ½ cups

yogurt

¾ cup

fruit, frozen or fresh

2

–

4

tablespoons your favorite toppings: try granola, nuts, seeds, chocolate chips, and more
---
Instructions
Line a baking sheet with parchment paper or wax paper. Clear some room in the freezer for this sheet, you will need it later.
Place the baking sheet on a flat work surface.
Spread the yogurt into a thick, even layer, about 1/3-inch thick.
Sprinkle fruit and your favorite topping onto the yogurt.
Using your finger or a spoon, gently press the toppings into the yogurt so they're secure and won't fall off later.
Chill in the freezer for 2-4 hours, or until completely firm throughout. Mine took 2 hours.
Remove from freezer and carefully peel off the paper.
Slice into pieces. Enjoy! Storing instructions below.
Notes
Storing Instructions: Store in an airtight, freezer-friendly container in the freezer for 1-3 months.
Do not keep at room temperature or in the refrigerator, as the yogurt bars will thaw, soften, and fall apart.
Prep Time:

5 minutes

Cook Time:

0 minutes

Category:

Snacks, Dessert

Method:

Chill

Cuisine:

American
Healthy Snack Recipes to Satisfy
Like this recipe? Share it with friends!
Did you make this recipe? Take a pic and share it on Instagram with the hashtag #beamingbaker & tag @beamingbaker. I'd love to see it!
This post may contain affiliate links, which allow me to make a small commission for my referral, at no additional cost to you.