Bold coffee flavors combine with a secret twist for the best ever coffee martini, made with just 4 easy ingredients!
The Best Coffee Martini Recipe, Hands Down—or Up to Grab One!
Personally, I'd place a hand up so I could grab one of these delicious coffee martinis… 😉 Have you ever seen something look so elegant, yet be so simple and easy to make? Well, today's the day! We're mixing up the simplest coffee martini that's made with just 4 ingredients and mere minutes 'til Sip Time. You'll love the luxurious, creamy, yet deep coffee flavors that are just a hint sweet and still deliciously strong for the best ever coffee martini. Ready? Let's mix it!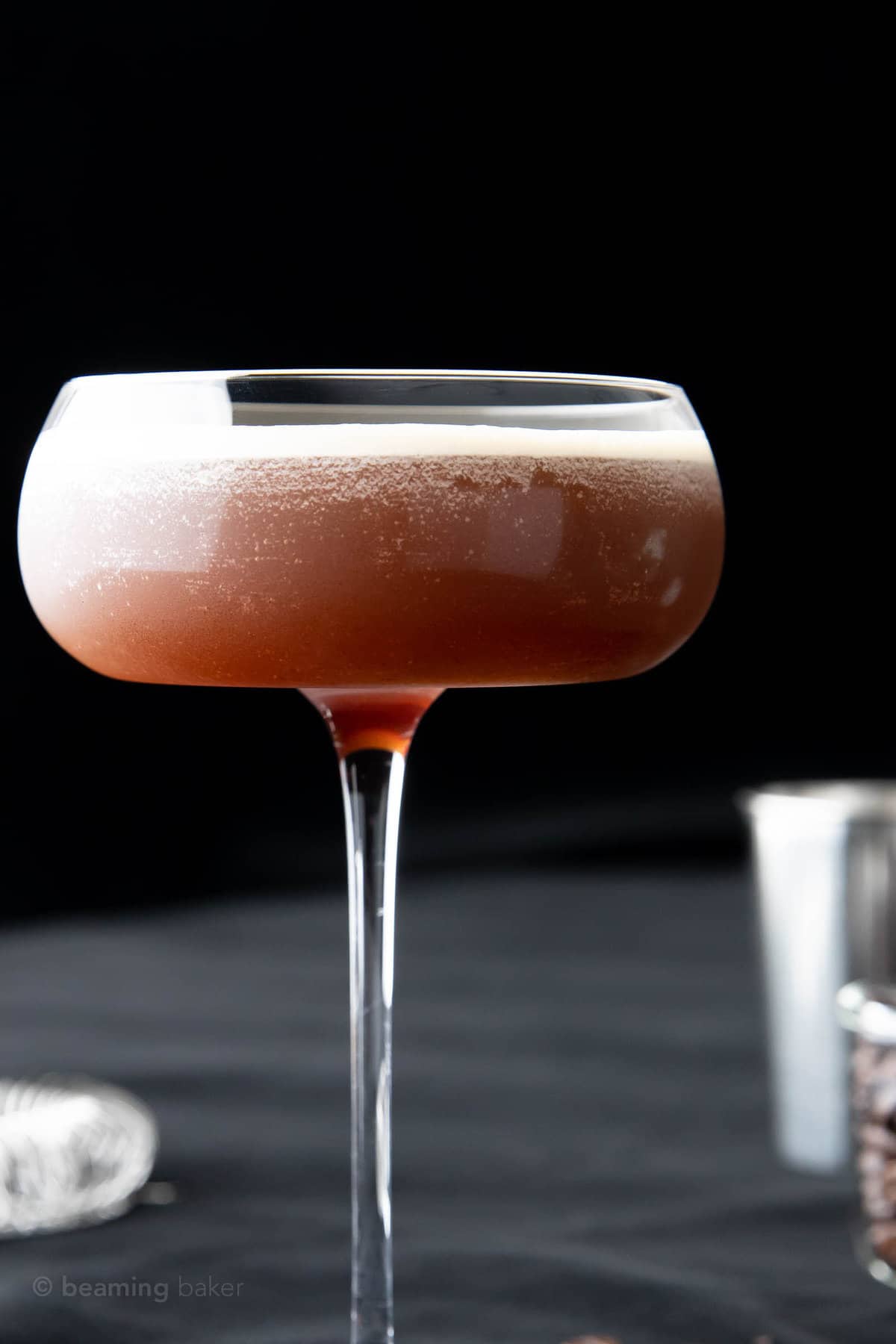 Coffee Martini Ingredients
Brewed coffee
Vodka
Coffee liqueur
Simple syrup
And one secret ingredient
1 Secret Ingredient to Make the Most Luxurious Coffee Martini
What's the secret ingredient to making the most luxurious, fine coffee martini? Ground cinnamon. You may have already heard of one way to make your morning brew taste better—adding cinnamon to the grounds. So you might be intrigued by the concept of adding cinnamon to your coffee martini.
Here, cinnamon does the same thing—it enhances the flavor of coffee in your martini by adding a light sweetness. That sweet spice factor does a little something special to your coffee martini—it makes it taste richer, more luxurious. Give it a try and see for yourself.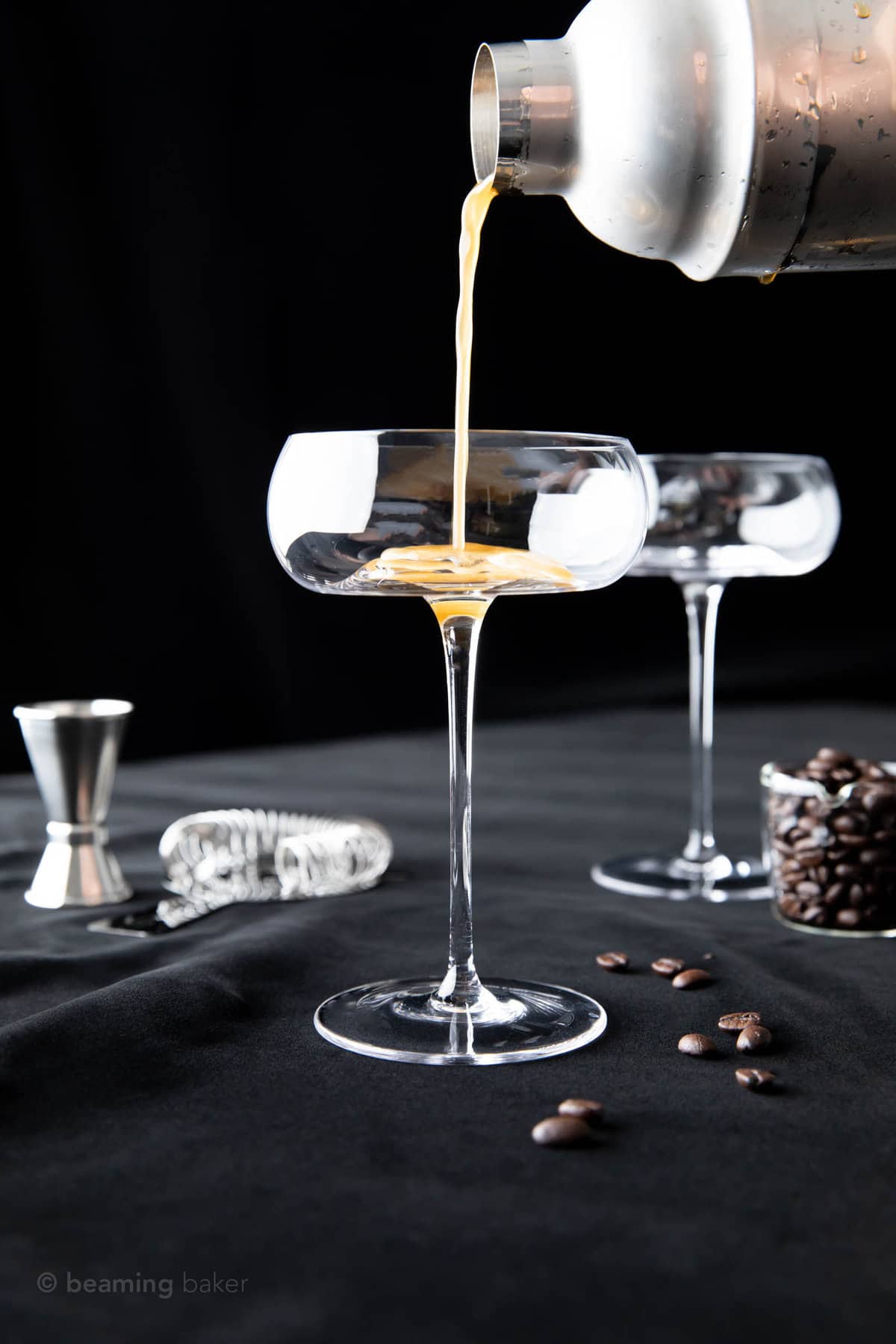 What is a Coffee Martini?
A classic martini is a cocktail that's made by shaking up or stirring chilled gin and vermouth, served in a martini glass. Over the years, gin has become interchangeably used with vodka. So when you see a martini recipe, it can be made with gin or vodka.
A coffee martini takes the basic premise of a martini and remixes it with a strong focus on one key ingredient: coffee. For today's coffee martini, we'll be shaking up coffee, vodka, coffee liqueur, simple syrup, and one secret ingredient.
How to Make a Coffee Martini
Before we begin, brew a batch of your favorite coffee and set it in the fridge to cool.
First things first, bring out your favorite cocktail shaker and fill it with ice.
Then, add the chilled coffee, vodka, coffee liqueur, simple syrup and cinnamon to the shaker.
Here's where things differ from the normal shaken martini: you'll shake the cocktail shaker for quite a bit—past the point of it being merely mixed. You'll shake and shake and shake vigorously to create a foam. This foam is what you see at the top of the coffee martini in each pic.
Next, strain the coffee martini mixture into a chilled martini glass. Make sure to get every last drop—the foam might be sitting at the very bottom of your shaker.
Carefully place three coffee beans on top of the foam. Sip and enjoy!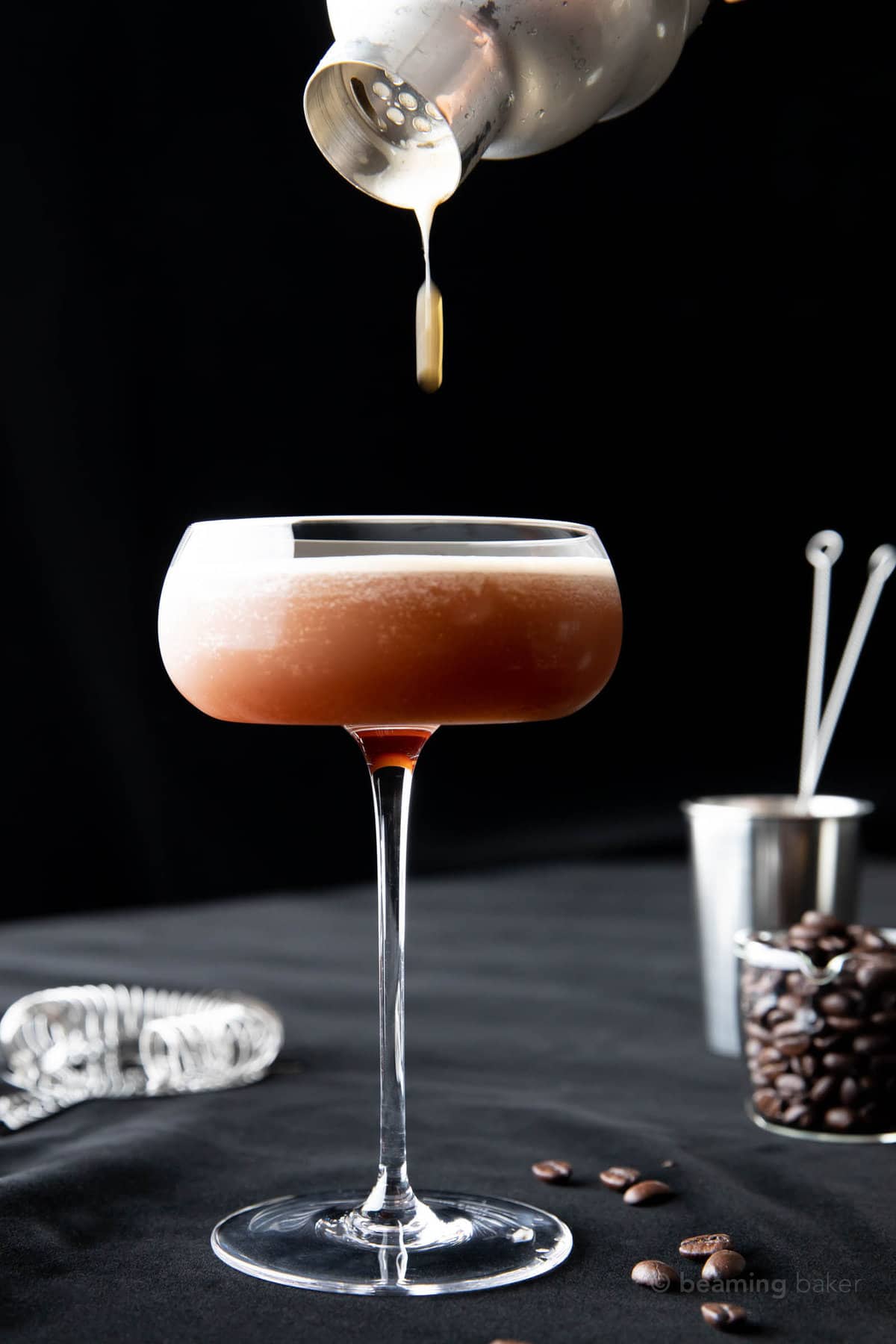 Tips for the Best Coffee Martini
Make sure to really shake the martini in the shaker, then while straining, make sure to get every last drop of the coffee martini mixture. The last few drops in the cocktail shaker can actually hold the delicious, light foam that adorns each coffee martini you see in these pics.
Use the cinnamon—but start with a tiny amount, so you can adjust to taste. And, if you don't like cinnamon, go ahead and leave it out.
Use your favorite coffee – the flavor of the coffee you use will shine through and make or break your coffee martini.
Make sure your favorite coffee tastes good chilled. Funny tip, I know… but have you noticed that some coffees taste so friggin' good piping hot, then the second it gets even just a bit lukewarm, it's nasty? Well, same applies to the kind of coffee you use for this coffee vodka martini. Make sure you use a coffee that tastes delicious when it's cold.
A hint of cinnamon for luxurious coffee flavor that's bold, a hint of sweet, and deliciously strong. One of Erik's favorites!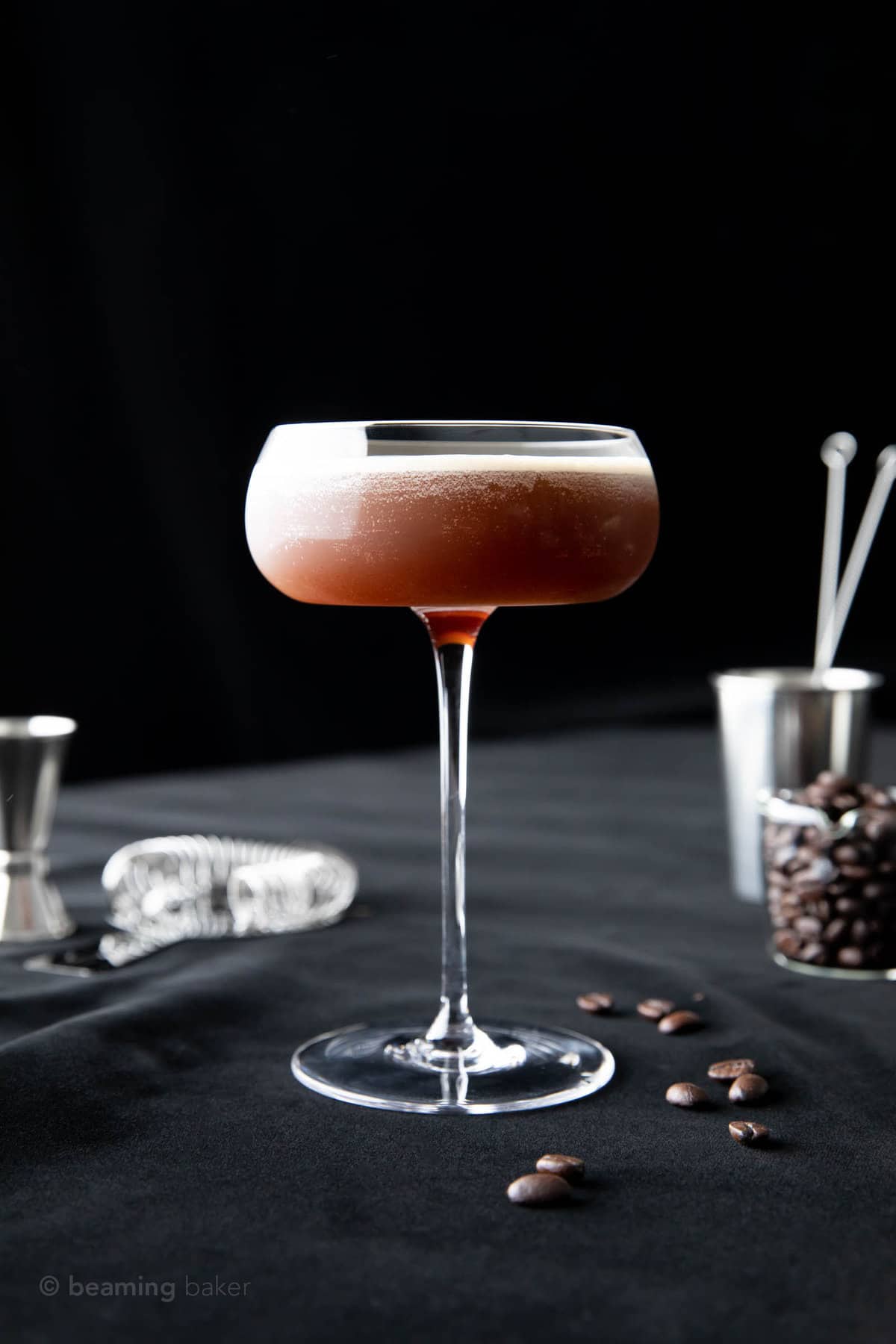 Tools You Need
You Mean a Latte to Me ☕️ 🤎
I hope I mean a latte to you. 🙂 And that you enjoyed today's coffee martini a latte! Okay, I'll stop… How are you enjoying all of these cocktail adventures on BB? Let me know if you'd like to see a specific drink in the comments below. Meanwhile, just know that I appreciate you stopping by and mixing up a few ingredients to create something truly special with me. Remember to take a pic of your BB creation and post it on Instagram using @beamingbaker and #beamingbaker. I can't wait to see it! 'Til our next sweet adventure…
Sending you all my love and maybe even a dove, xo Demeter ❤️
☕️ 📸 🍸
📸 Did you make this coffee martini recipe? Take a pic and share it on Instagram with the hashtag #beamingbaker & tag @beamingbaker. I'd love to see it! 📸
Curious Cocktail Recipes To Try 🤔 🥰
Print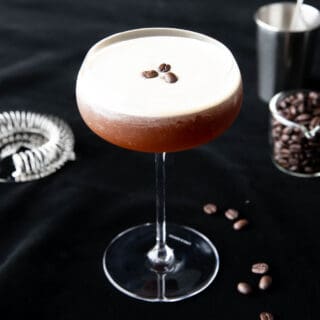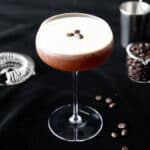 Coffee Martini
---
Description
Bold coffee flavors combine with a secret twist for the best ever coffee martini, made with just 4 easy ingredients!
---
Tools Needed
Coffee Martini
2 ounces

brewed coffee, chilled or room temperature

2 ounces

vodka

1 ounce

coffee liqueur

½ ounce

simple syrup
Dash of cinnamon (optional, great for cinnamon lovers & for a slight twist to complement the coffee flavors)
Garnish
---
Instructions
Fill a cocktail shaker with ice.
Add coffee, vodka, coffee liqueur, simple syrup, and a dash of cinnamon (if using).
Shake vigorously, past the cocktail mixture being chilled—extra shaking will create a delicious foam at the top of your coffee martini.
Strain into chilled coupe glass(es).
Garnish with coffee beans. Sip and enjoy.
Prep Time:

2 minutes

Cook Time:

0 minutes

Category:

Cocktails, Drinks

Method:

Chill
© beamingbaker.com. All content and images are protected by copyright. Please do not use my images or recipe without my permission. Please do not republish this recipe, instead, include a link to this post for the recipe.
Magnificent Martini Recipes ✨🍸
This post may contain affiliate links, which allow me to make a small commission for my referral, at no additional cost to you.