Hasselback Sweet Potatoes
The best Hasselback Sweet Potatoes: tender centers, crispy and caramelized edges, and lightly herby flavor with a subtle maple twist for a comforting side dish that'll impress!
Hasselback Sweet Potatoes
Looking for something super impressive, but secretly easy to make for your holiday table? I've got just the thing… Tender, buttery, herby, and just a bit sweet, these Hasselback Sweet Potatoes taste like the holidays in one comforting & cozy side dish.
What are Hasselback Potatoes?
Hasselback potatoes is a side dish consisting of potatoes that are thinly sliced to create a fanned look after baking.
Instead of using regular potatoes for this, we're going to be using sweet potatoes to create Hasselback sweet potatoes.
The origins of Hasselback potatoes are murky. Some sources state that the Hasselback potatoes dish was created by a trainee chef named Leif Elisson in Djurgården, Stockholm in 1953, while some believe the dish was created in the 1940s.
The restaurant Elisson worked at was named Restaurant Hasselbacken, so you can see where the namesake of this recipe would have been derived.
According to Swedish Spoon, Hasselback potatoes (hasselbackpotatis) were created as far back as 1934. A recipe for hasselback potatoes was found in the Prinsessornas kokbok by Jenny Åkerström.
Today, we're using this same technique to make Hasselback sweet potatoes for a deliciously sweet and comforting side dish!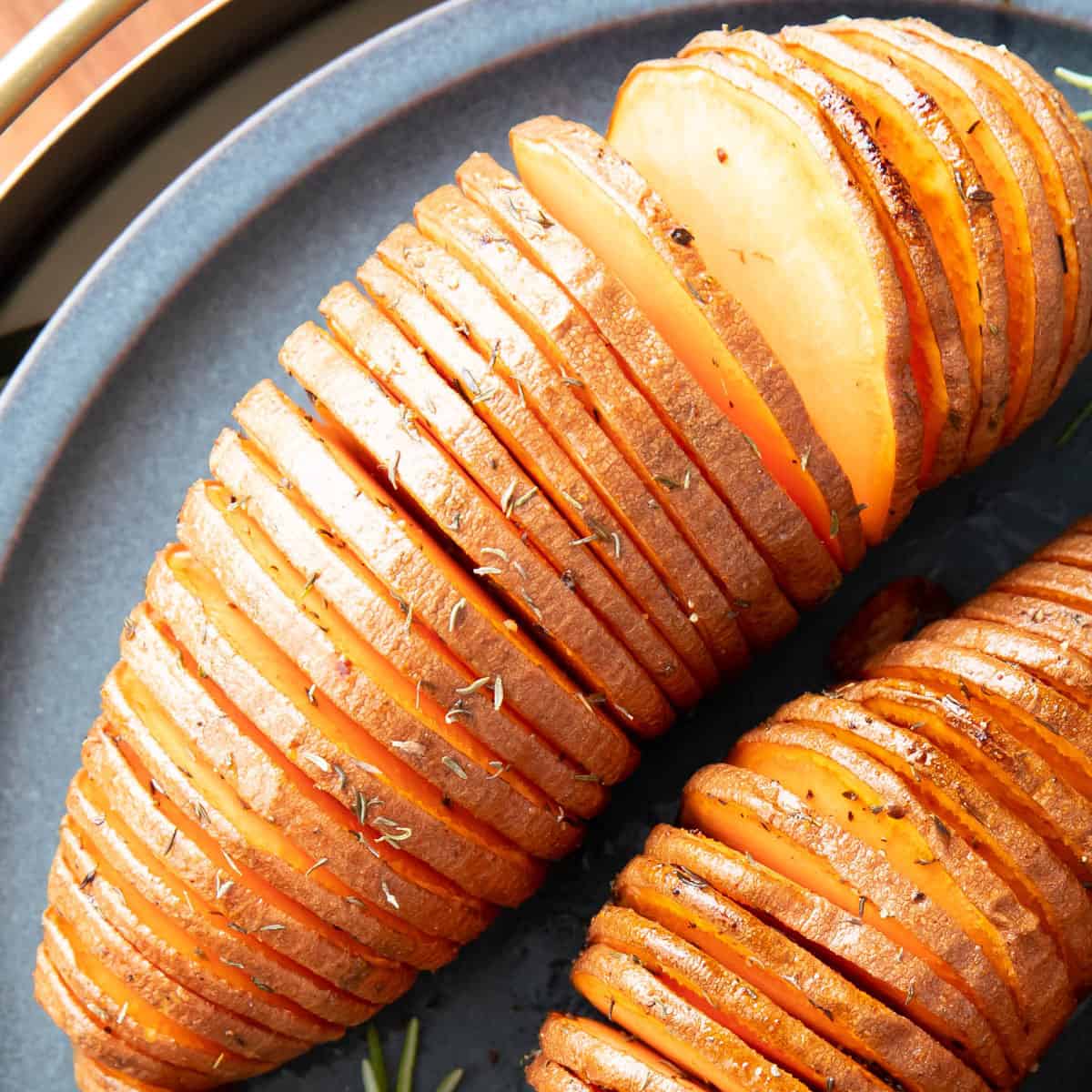 The Ingredients List
The ingredients you need to make Hasselback sweet potatoes are simple and can most likely be all found in your pantry. Feel free to adjust the spices to your liking.
How to Make Hasselback Sweet Potatoes
We're going to learn how to make Hasselback sweet potatoes by first learning how to create those beautifully sliced folds. Take a look at the photos below to help guide you.
How to Cut Hasselback Sweet Potatoes
Prepare the sweet potatoes: First, wash and pat dry sweet potatoes. Lay one sweet potato flat onto a cutting board. Place a chopstick on either side of the sweet potato.
Now, using a sharp knife, slice into the potato, being careful not to cut past the chopsticks.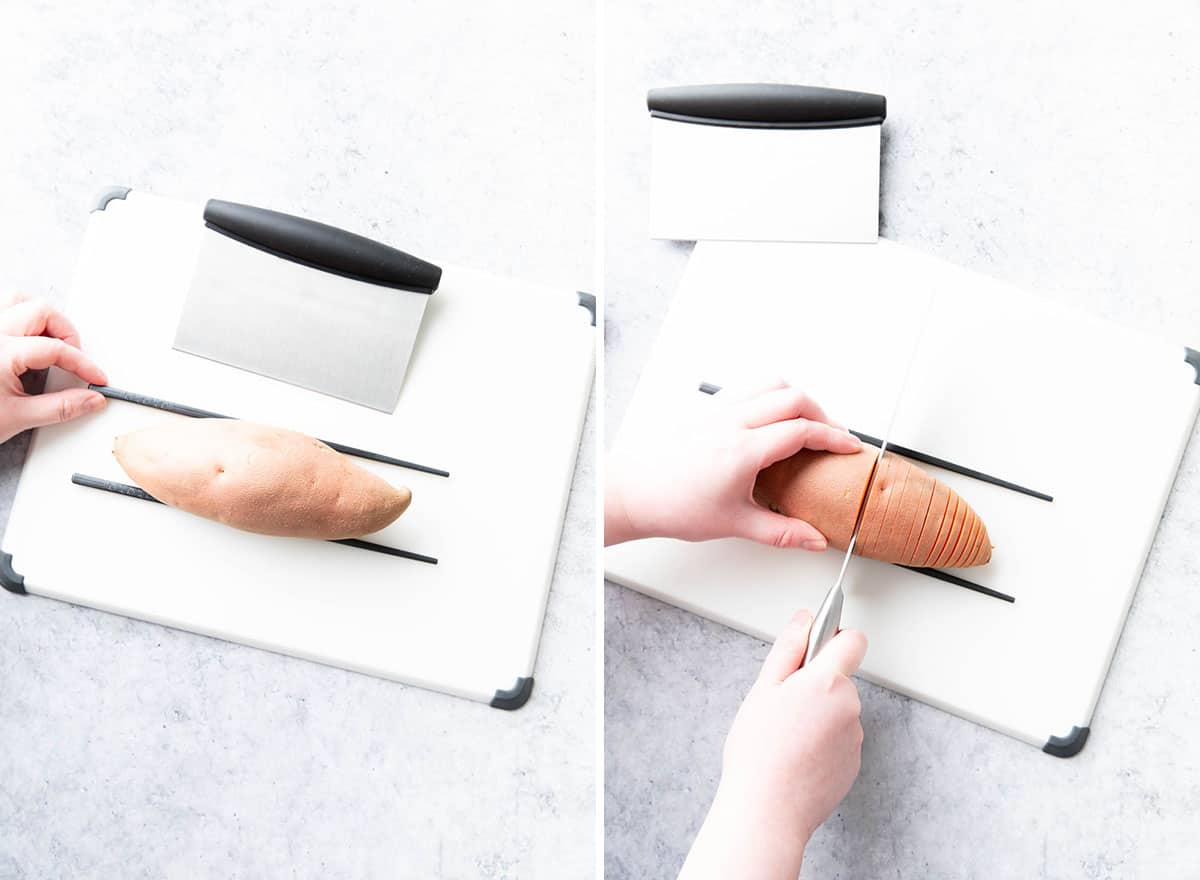 Slice into 1/8" to ¼" sections. The thinner the section, the faster the sweet potatoes will cook.
Next, holding the sweet potato carefully, bend to fan out the sections–this will create the signature look for Hasselback sweet potatoes.
Then, place the sweet potatoes onto a lightly greased, large baking sheet.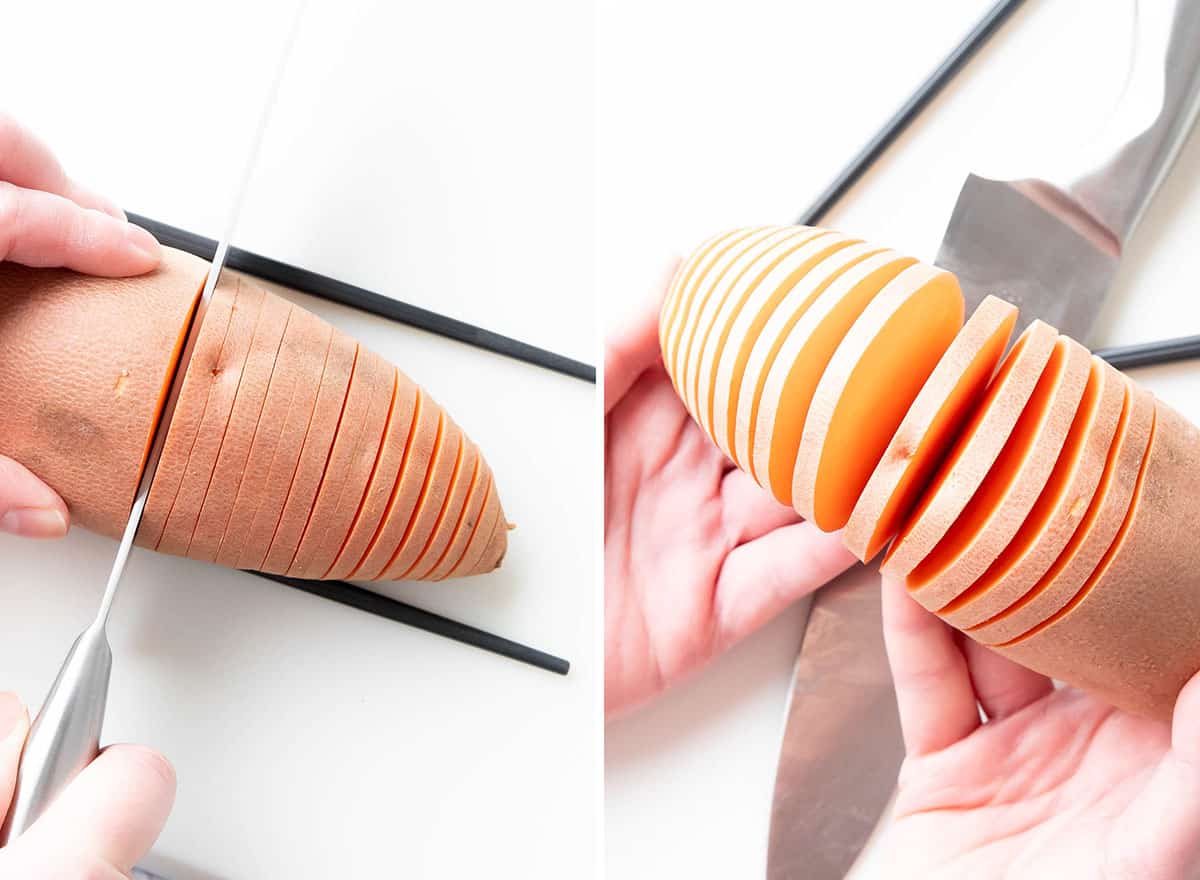 Prepare the Coating
To make the Hasselback sweet potatoes coating: add melted butter, olive oil, maple syrup, and all the spices to a small bowl. Whisk until well mixed.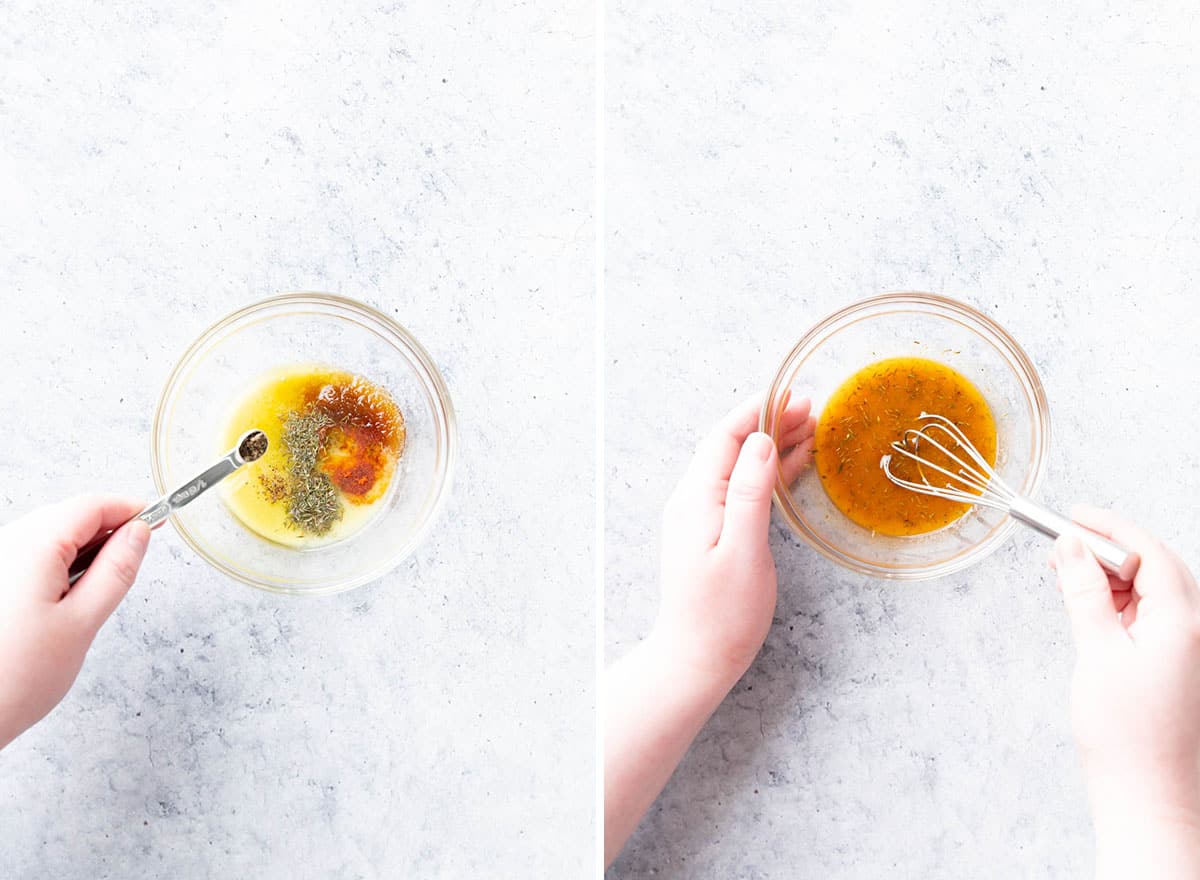 Brush the Hasselback Sweet Potatoes
Using a pastry brush, brush the sweet coating onto each sweet potato. Reserve half of the coating for later.
Then, using one hand to hold the sweet potato in place, nudge the brush in between each fold to evenly coat.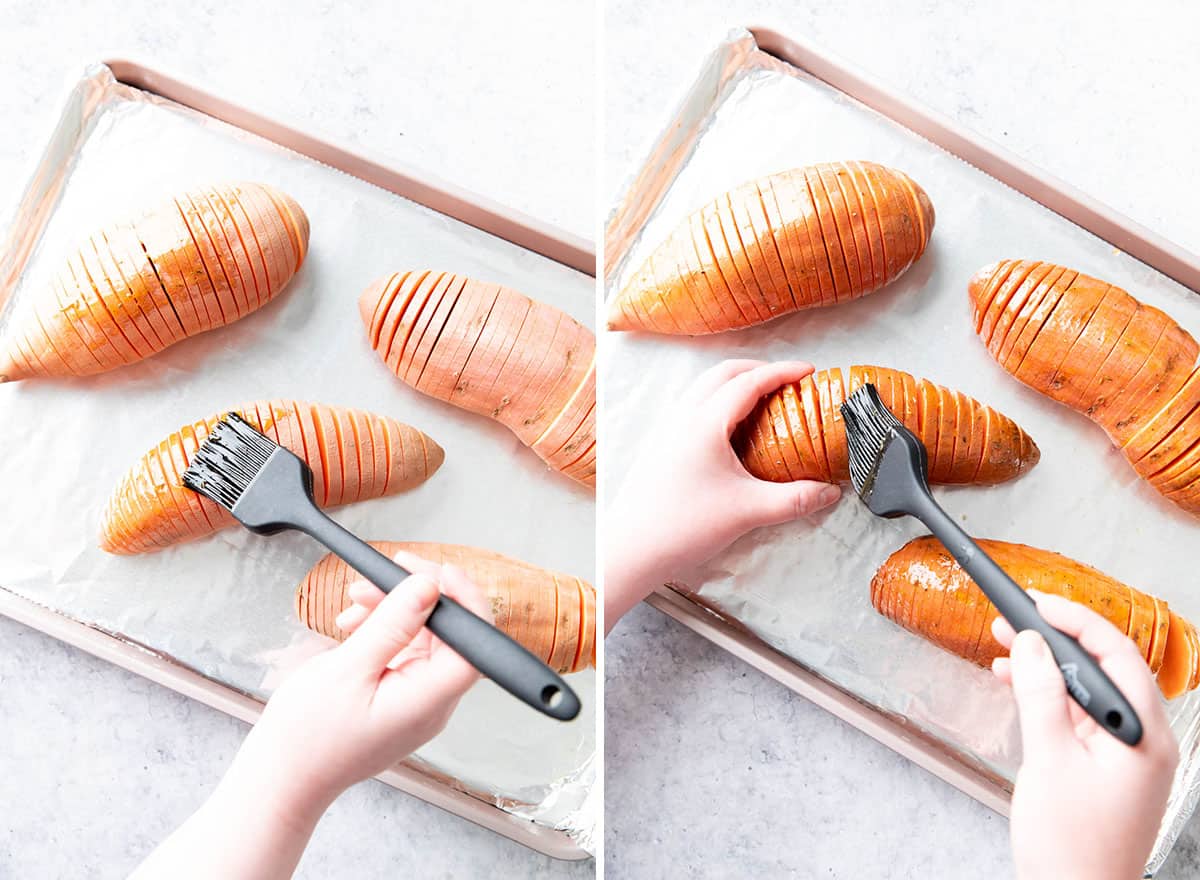 Bake and Enjoy Hasselback Sweet Potatoes
Now, place the baking sheet into the oven to bake for 30 minutes.
Then, carefully remove the sheet and brush Hasselback sweet potatoes with the remaining half of the coating.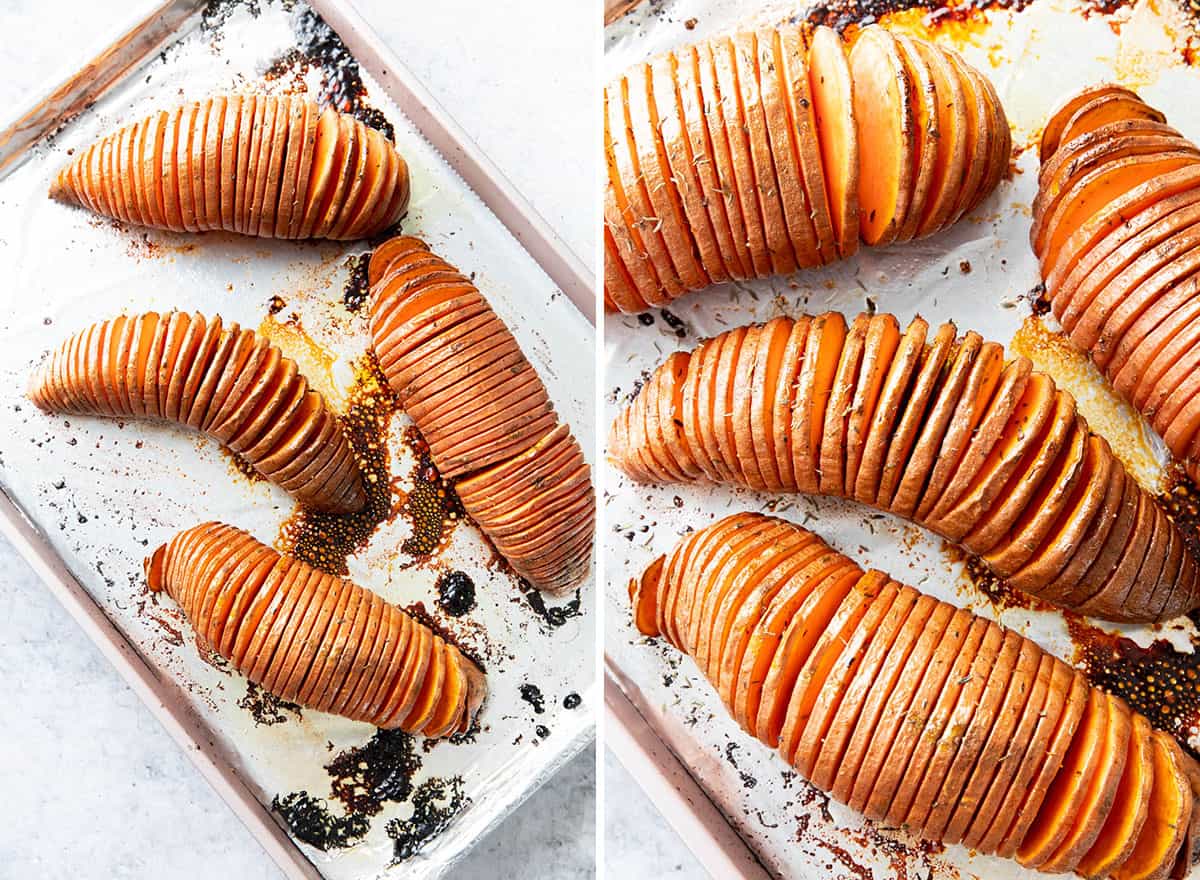 Bake for an additional 15-40 minutes, until tender on the inside and crispy on the outside.
Gently lift onto a serving dish and garnish with thyme and rosemary. Enjoy the best Hasselback sweet potatoes!
How do I choose the Best Sweet Potatoes for this recipe?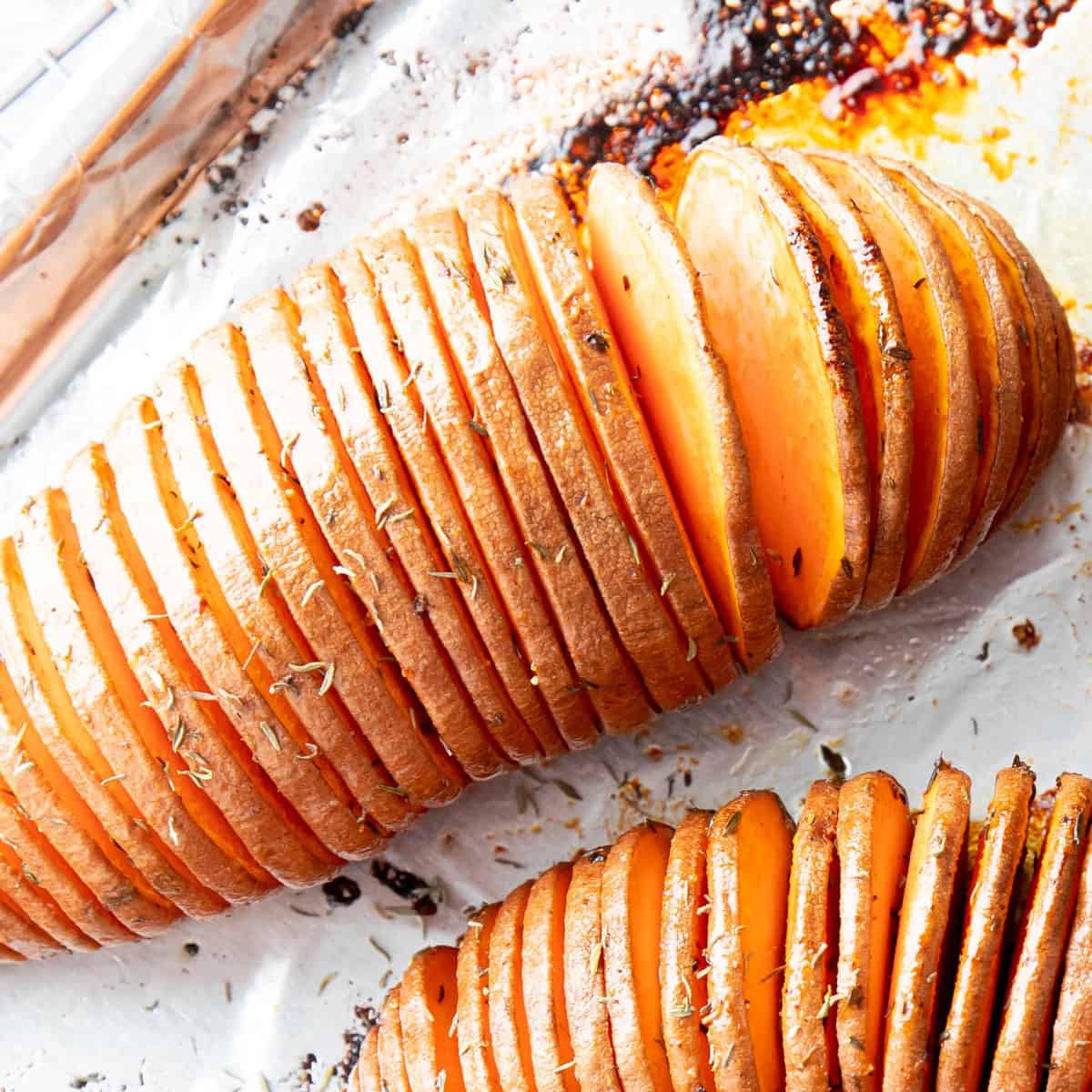 Demeter's Tips
Remember the tips on picking the best sweet potatoes above for the best Hasselback sweet potatoes.
All sweet potatoes cook differently and at different times.
Sweet potatoes can be tricky. Just remember that they don't all cook evenly and at the same rate. Keep an eye on the oven and periodically check the tenderness of each sweet potato.
Some Hasselback sweet potatoes may be ready to take out, others might need some additional cook time. Cook those until ready, then, add the already done ones in for the last few minutes to reheat.
Use a pastry brush. This silicone brush set has made almost every recipe prep easier. Use a pastry brush to get easily into each layer/fold of the Hasselback sweet potato. This ensures delicious flavor in every bite.
For an extra flavor punch: after baking, place the Hasselback sweet potatoes on a serving dish. Then, drizzle with maple syrup, a touch of cayenne, and an extra grind or two of fresh black pepper and salt.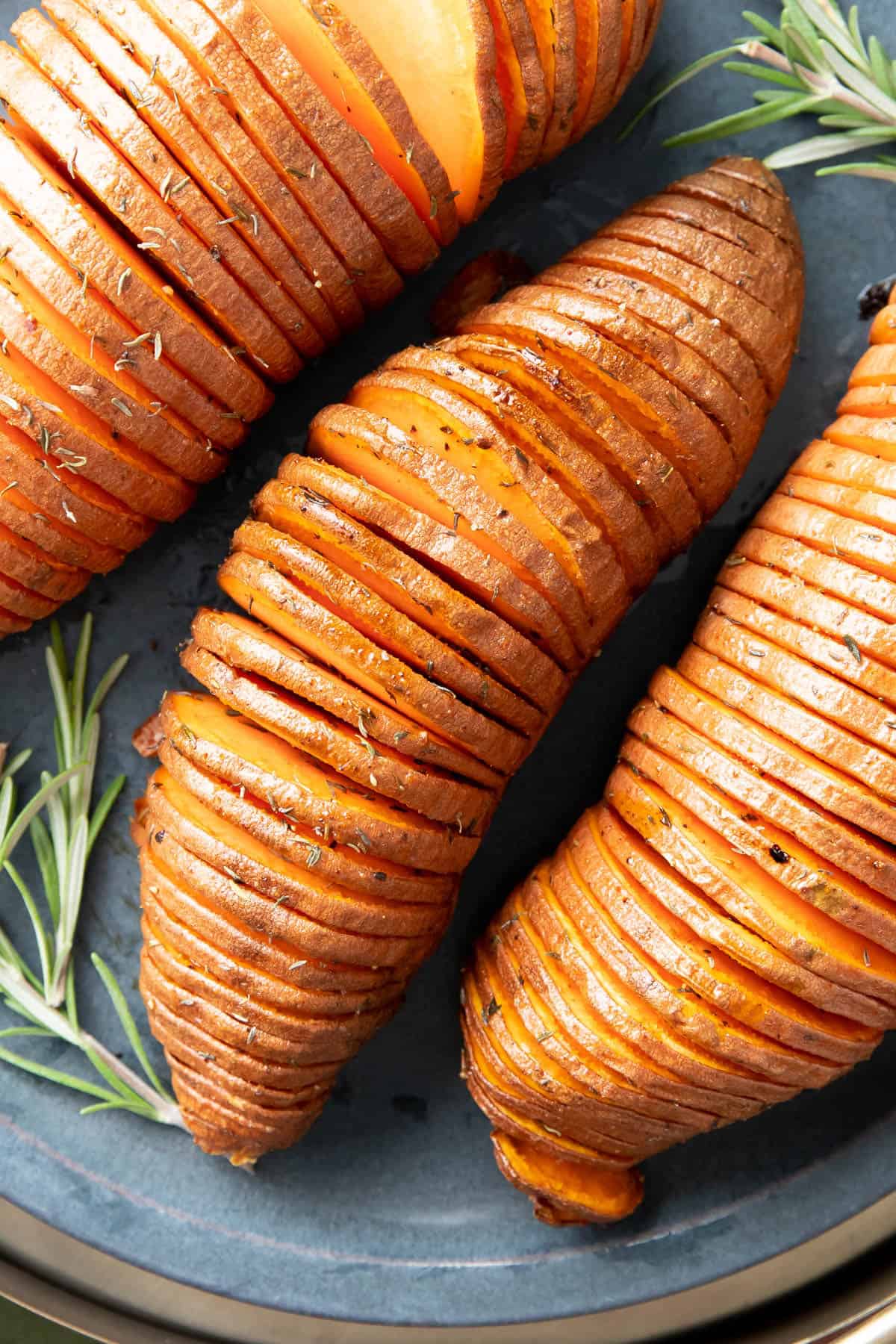 More Recipes
Tools You Need
Hasselback to the Future!
Alright, even I don't know what that means! Lol. Just know that I appreciate you, here, in the past, and in the future. <3 If you make this Hasselback sweet potatoes recipe, be sure to take a pic and share it on Instagram and Facebook using the tags @beamingbaker and #beamingbaker. I love seeing it! 'Til the next one…
Sending you all my love and maybe even a dove, xo Demeter ❤️
Print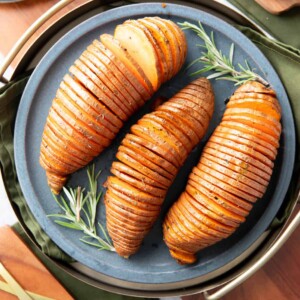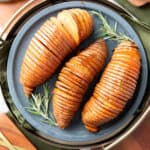 Hasselback Sweet Potatoes
---
Description
The best Hasselback Sweet Potatoes: tender centers, crispy and caramelized edges, and lightly herby flavor with a subtle maple twist for a comforting side dish that'll impress!
---
Tools Needed
Ingredients
4

medium sweet potatoes – less than 8 inches in diameter

1 ½ tablespoons

melted butter of choice

2 tablespoons

olive oil, more for drizzling

2 teaspoons

pure maple syrup

½ teaspoon

dried thyme

½ teaspoon

dried rosemary

1/3 teaspoon

paprika

1/8 teaspoon

cayenne (omit if sensitive to heat)

¼ teaspoon

salt, or to taste

1/8 teaspoon

pepper, or to taste
Topping
Thyme – fresh or dried
Sprigs of rosemary – fresh
Drizzle of maple syrup (optional, for added sweetness)
---
Instructions
Preheat the oven to 425°F. Line a baking sheet with lightly greased foil or parchment paper.
Make sure sweet potatoes are of equal size and length. Avoid sweet potatoes that are more than 8" in diameter, as they'll take a very, very long time to bake.
Wash and dry sweet potatoes.
The goal of this next step is to create sliced sections that fan out from the base of the sweet potato where they are attached.
Using a sharp knife, carefully slice about 2/3 of the way down the potato, creating 1/8″ to ¼" sliced sections that are still attached to the base of the potato. If you'd like, you can lay two wooden spoons or chopsticks along the sides of the sweet potato to use as a guide. This guide will prevent you from slicing all the way through the potato.
Holding the sweet potato at both ends, gently lay each sweet potato evenly spaced apart on the baking sheet—they'll be a bit fragile since they're sliced.
In a small bowl, whisk together melted butter, oil, maple syrup, thyme, rosemary, paprika, cayenne (if using), salt and pepper (or more to taste).
Brush sweet potatoes evenly with half of the mixture until all sliced sections are coated and the mixture is dripping into each section. Reserve half for later.
Bake for 30 minutes.
Using a fork, gently fan the sliced sections apart. Then, brush the rest of the mixture and any butter/oil that's dripped to the pan into each section.
Bake for an additional 15-40 minutes, until crispy on the edges and fork tender in the center/core of the potato. Mine took 35 minutes for this phase, for a grand total of 65 minutes from start to finish.
Remove from oven—don't worry if the sugar is a bit burnt on the pan, that's normal. You just want to avoid burning the sweet potatoes.
Using a heatproof spatula, carefully transfer sweet potatoes to a serving tray—they'll be tender and fragile, so go slowly to avoid breaking them apart. Sprinkle with thyme, then a drizzle of maple syrup if desired. Serve and enjoy!
Notes
Storing Instructions: Best served right away. If needed, cool completely, then store in an airtight container in the refrigerator. Keep for 1-3 days. Reheat before serving.
How to make Vegan: Use vegan butter.
How to make Gluten Free: Keep the recipe as-is.
Prep Time:

10 minutes

Cook Time:

65 minutes

Category:

Side Dishes

Method:

Bake

Cuisine:

Swedish
This post may contain affiliate links, which allow me to make a small commission for my referral, at no additional cost to you.
Wanna help grow the Beaming Baker community? ☀️
You play such an important part in the livelihood of Beaming Baker–and just know that Erik and I truly appreciate it. 🧡 If you want to help grow the BB community, you can do the following:
👭 Tell a friend.
📝 Leave a comment & rating. If you loved these Hasselback sweet potatoes, let a girl know! 😉
📸 Instagram. Take a photo and share it on Instagram with the tag #beamingbaker and tag us at @beamingbaker.
It makes our day to see how the recipe turned out for you!
More Seasonal Recipes