Maple Sesame Almonds (Vegan, Gluten Free)
Maple Sesame Almonds (V+GF): An easy recipe for skillet-roasted maple sesame almonds made with just 6 ingredients. Vegan and Gluten Free.
Anyone else dreaming of the good old days?
I'm talking about the days when your biggest concerns were: three fill-in-the-blank homework assignments being due, having to wash the dishes after mom made a huge, satisfying meal, whether or not your new top looked cool or kinda dorky… and whether or not you could go to the local carnival for four hours instead of two. Sigh. #KidProblems. Ya know?
Anywho… adulting is: all the bills, sweaty-palms meetings, family drama and all of that stuff. #AdultProblems. And I don't want to know! 😉
But when you come here, to this little corner of the food-loving, food-blogging world, I hope you forget all of that. Um, after you blow past the fact that I just mentioned it. Ahem.
Anyway, I know that life kinda sucks sometimes. That's just the truth. But when you come here, forgettaboutit. 😉 Here, things are simple. We can reminisce about our childhoods, happy sigh over our last amazing vacations, and swap stories and recipes that make life better.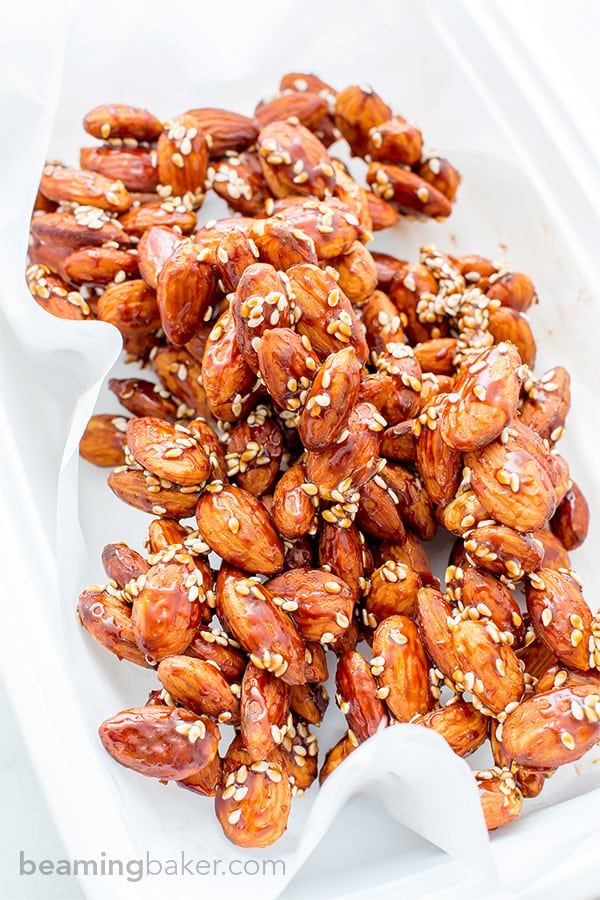 What do you think?
In the spirit of all this goodness, I'll tell you about one of my favorite vacays, ever. It was about 10 years ago—okay, that was awhile ago, but hear me out—I was in college (quit doing the math on my age!) I had moved from California to Massachusetts. I don't mind telling you that I was super sheltered. Seriously, I had hardly even crossed the street by myself. Feel free to pop your eyes back into their sockets over the shock.
Needless to say (funny phrase, I know), I was scared like nobody's business. I was actually scared to go into my dorm's basement to do laundry 'cuz… hello, Home Alone? Yeah. I didn't know more than three people in a five thousand mile radius. And two of those people were my roommates.
Fortunately, one of those three peeps was my sister Jenny. Hey, if you're gonna know three people, one of them might as well be a sister, right?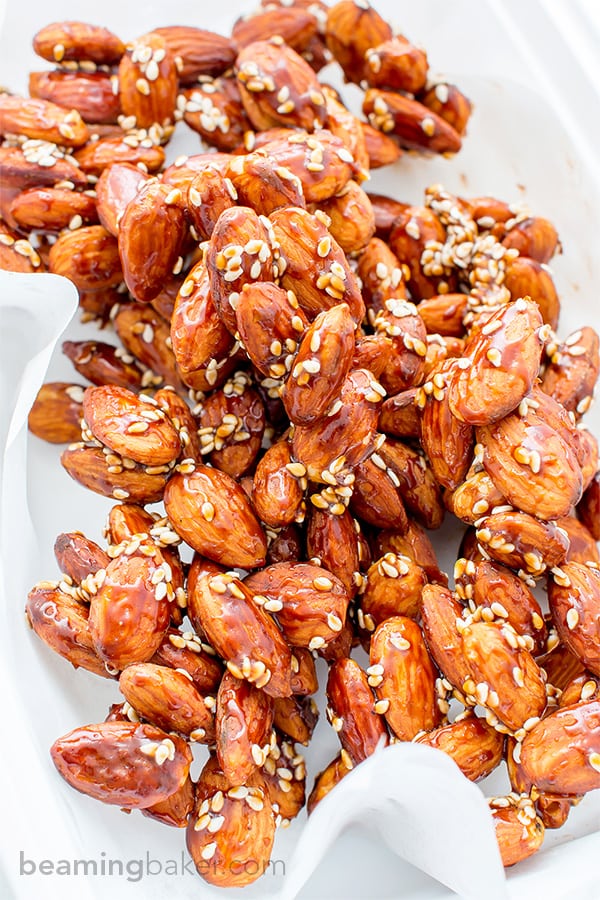 Anywho, Jenny lived a few cities away, in Boston. And I lived in the boonies. So naturally, whenever we met up, I greatly deterred her from visiting me. I mean, who's gonna go to the boonies when they can go to Boston?
We spent a lot of good times exploring Boston. Checking out Thai restaurants, walking along the Charles, heartily elbowing people on the T and counting how many CVS's and Starbucks there were in a two-block radius (like 100).
One of my favorite memories ever from those days was visiting Boston Common. Have you ever been? There's Frog Pond, which is a sort of kiddie pool in the summer, ice skating rink in the winter. There's a botanic garden across the way… plays and movies in the summer and ice sculpture competitions in the winter. It's really, really, wonderful.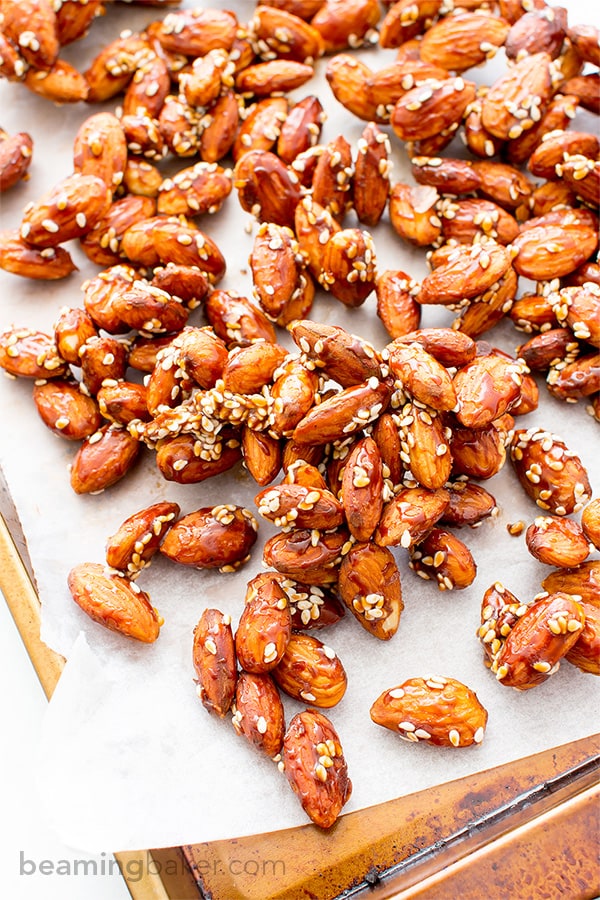 Thinking back, one of the most memorable things were the mouthwatering scents that were always wafting through the air in the Common. Strolling by kids climbing on monkey bars, locals chowing down on benches (well, eating on a bench… not eating the actual bench), and tourists spinning in circles, you could always smell fried dough, ice cream (oh, you know what I mean) and by far the BEST scent: roasted nuts.
I'm telling you, if heaven has a scent for roasting nuts, this is it. Nutty, warm, sweet, salty, cozy… it was just everything. Immediately upon catching this scent, you would feel happier about life. It didn't matter what was going on.
To this day, whenever I'm in Boston, I search for that scent. That and banh mi, of course.
Well, since I'm here in Maine… quite far from Boston, I can't just take the T to Boston Common (darn it). However, I do have my own roasting tools and some manner of cooking skillz in the kitch. Thus, let me humbly present to you, my Maple Sesame Almonds.
You see, I even fashioned a paper cone. Just like they used to in the Common. Lined with parchment paper and everything. 🙂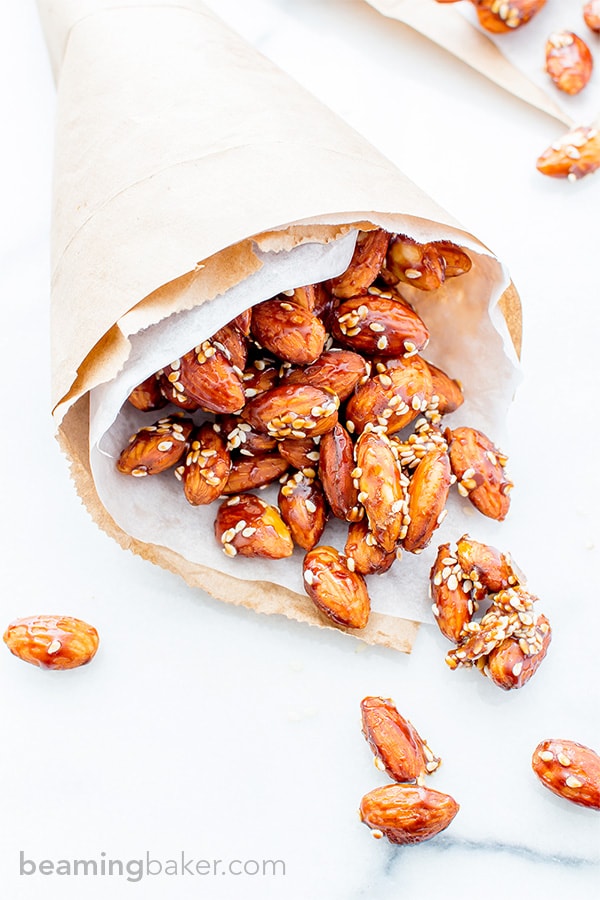 These maple sesame almonds are my vegan and gluten free ode to those wonderfully happiness-inducing roasted nuts from the Common.
My recipe for Maple Sesame Almonds is:
super quick, super easy to make
made with just 6 ingredients
lightly sweet, perfectly crunchy
vegan and gluten free
the perfect pick-me-up snack
This recipe is as easy as it gets. Once you start heating up the ingredients, you'll see what I mean about those Boston Common roasted nuts. Would you like to try a few?
☀︎ Click below to Pin ☀︎

☀︎ Did you make this recipe? Take a pic and share it on Instagram with the hashtag #beamingbaker. I would love to see it! ☀︎
Print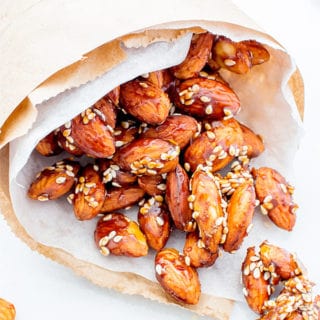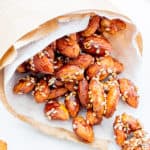 Maple Sesame Almonds (Vegan, Gluten Free)
---
Description
Maple Sesame Almonds (V+GF): An easy recipe for skillet-roasted maple sesame almonds made with just 6 ingredients. Vegan and Gluten Free.
---
1 tablespoon

coconut oil

2 tablespoons

pure maple syrup

2 tablespoons

coconut sugar

¼ teaspoon

salt

2 cups

unsalted, raw almonds

1 ½ tablespoons

sesame seeds
---
Instructions
Line a cookie sheet with parchment paper or greased foil. Set aside.
Place a large, nonstick skillet over medium-low heat. Add coconut oil, maple syrup, coconut sugar and salt. Stir until melted and smooth.
Add in almonds and increase heat to medium. Stir until almonds are thoroughly coated.
Stir occasionally (about once every few minutes), allowing almonds to soak in the sugar mixture. Watch the almonds closely. When the almonds become fragrant and smell roasted, you are close to being done. This will take 8-10 minutes. You'll know it's done when the sugar mixture is almost completely soaked up and the almonds are sticky like taffy.
Now, decrease the heat to low. Add in sesame seeds and stir until well incorporated. This will take 1-2 minutes.
Pour almonds onto the prepared baking sheet, creating an even, spread out layer. Set baking sheet on a cooling rack. Allow to cool for 1 hour. Enjoy!
Notes
– Store in an airtight container for up to 2 weeks.
Cook Time:

10 mins

Category:

Snacks, Vegan, Gluten Free
© beamingbaker.com. All content and images are protected by copyright. Please do not use my images without my permission. If you wish to republish this recipe, please re-write the entire recipe using your own words and include a link to this post for the recipe.
If you're craving more nutty snacks, try my No Bake Almond Butter Coconut Bites (Vegan, Gluten Free).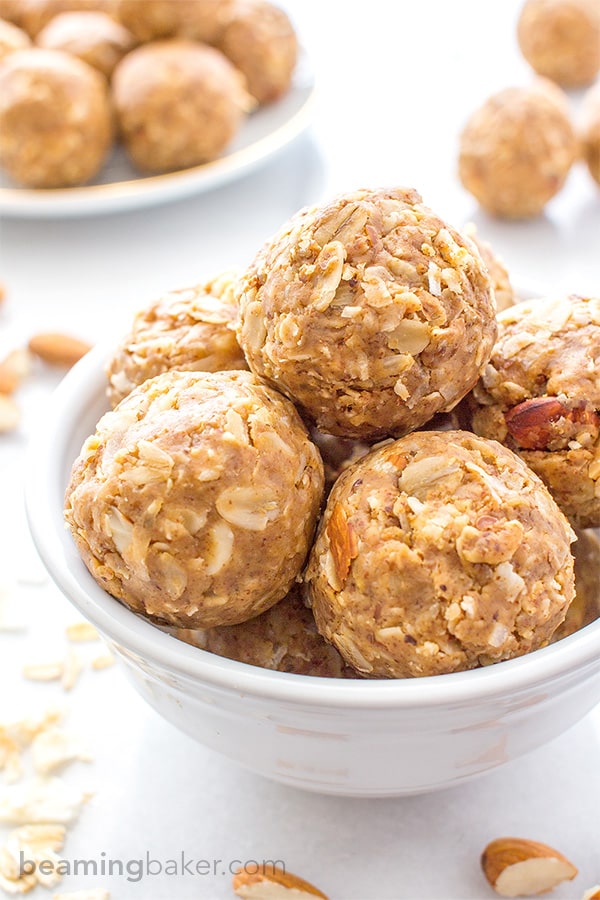 Less than 15 minutes to homemade granola bar bliss. Try my No Bake Chewy Chocolate Chip Granola Bars (Vegan, Gluten Free).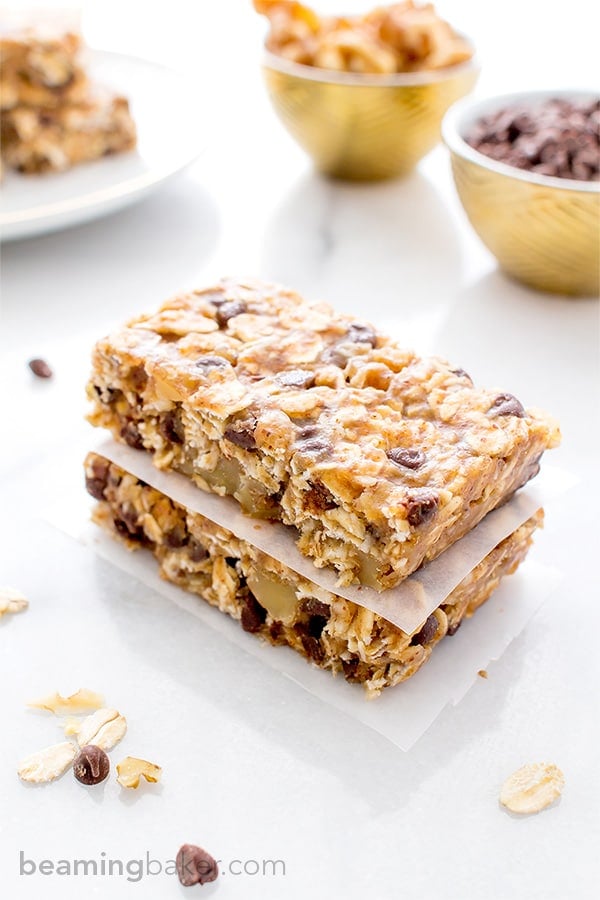 What's one of your favorite happy memories?
I can't wait to hear your responses.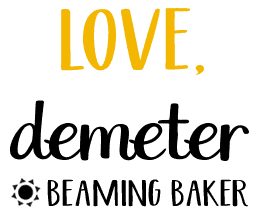 Save