Enjoy this surprisingly easy to make, beautiful sunrise mimosa cocktail that's tart 'n spritzy, finished with a delicious cherry sweetness.
Letting the Sunrise on Your Mimosa Morning
Watching the sunrise… *happy sigh* When's the last time you had a chance to do that? (Without running around, trying to get everything done?) Today, we're gonna create the easiest mimosa cocktail: made with orange juice, champagne and cherry grenadine. The second you drop the cherry grenadine in, take in a deep breath and enjoy the sunrise—that you created. 🙂 It's time to treat yourself to a beautiful sunrise mimosa. Sip it, stare at it, and just enjoy.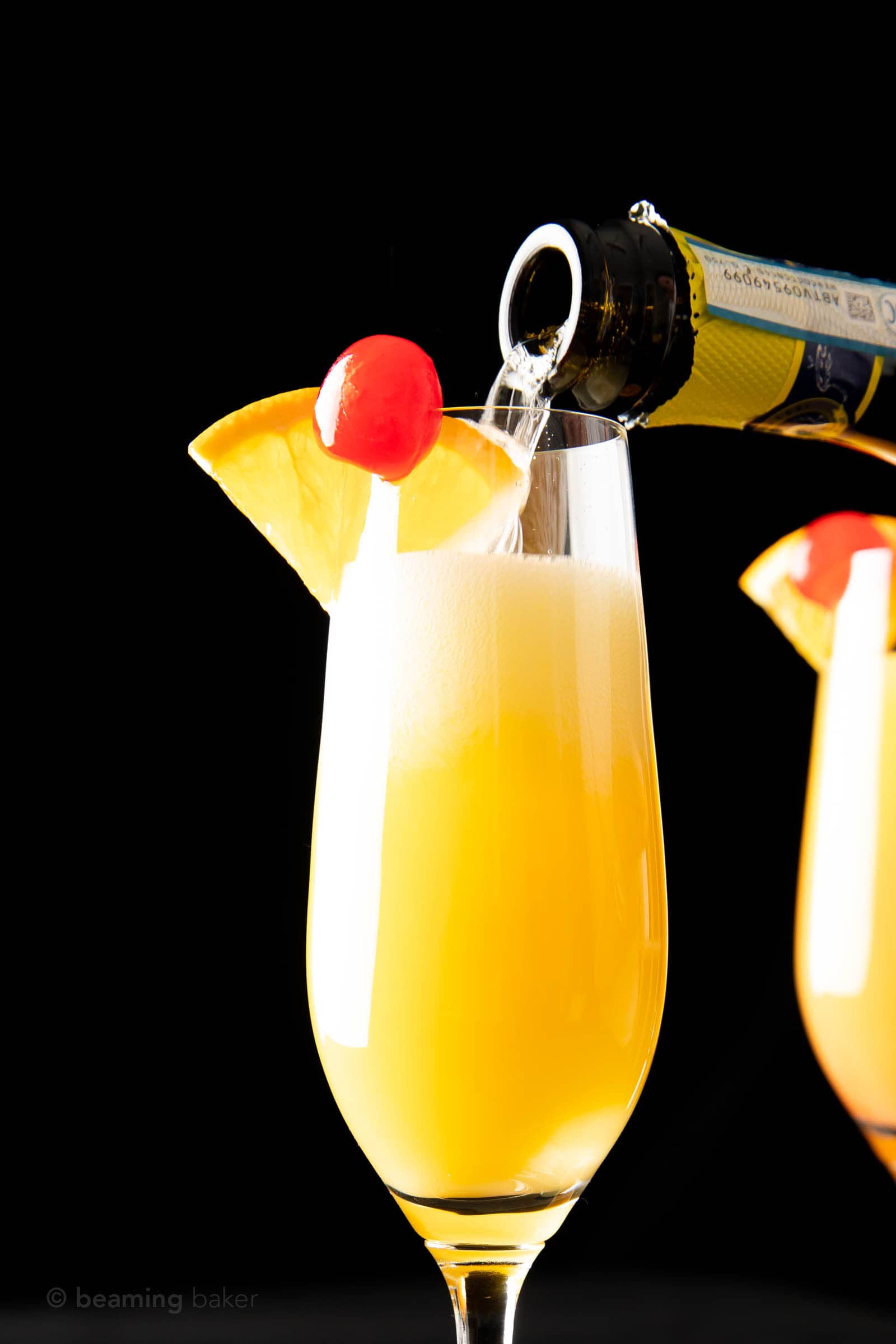 Sunrise Mimosa Ingredients
The sunrise mimosa is made with just 3 ingredients for one of the prettiest cocktails that also easy to make:
Orange Juice – some folks prefer fresh-squeezed orange juice, others prefer store-bought orange juice in their mimosa. It's up to your personal preference (and convenience, let's be real)
What is a Sunrise Mimosa?
The sunrise mimosa is a delightful twist on the classic mimosa, a cocktail usually enjoyed during brunch. The classic mimosa is made with 1 part champagne or Prosecco, and 1 part orange juice—this can change based on the personal preference of the cocktail sipper. The sunrise mimosa adds in a splash of cherry grenadine to create a beautiful sunrise gradient effect in the spritzy cocktail.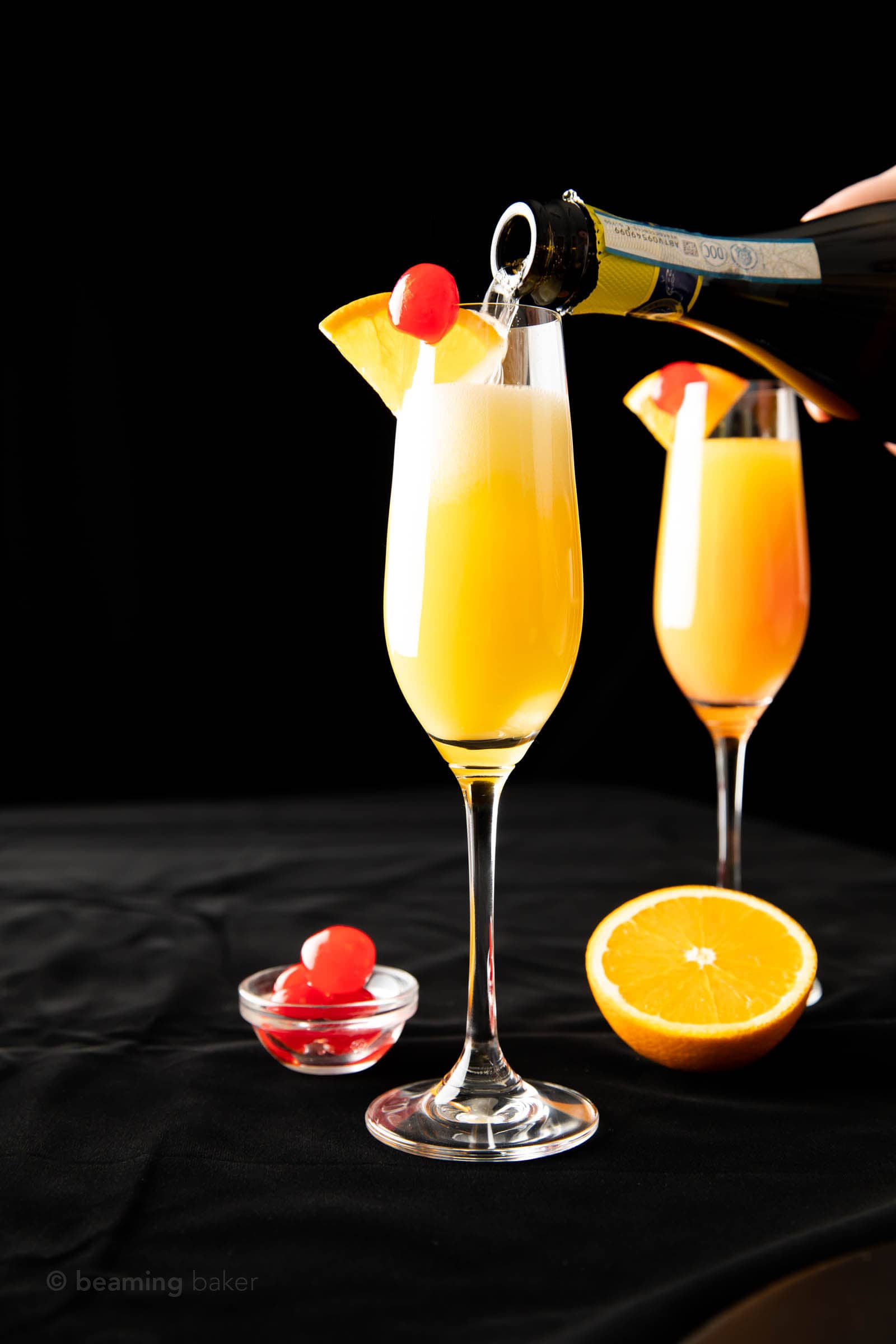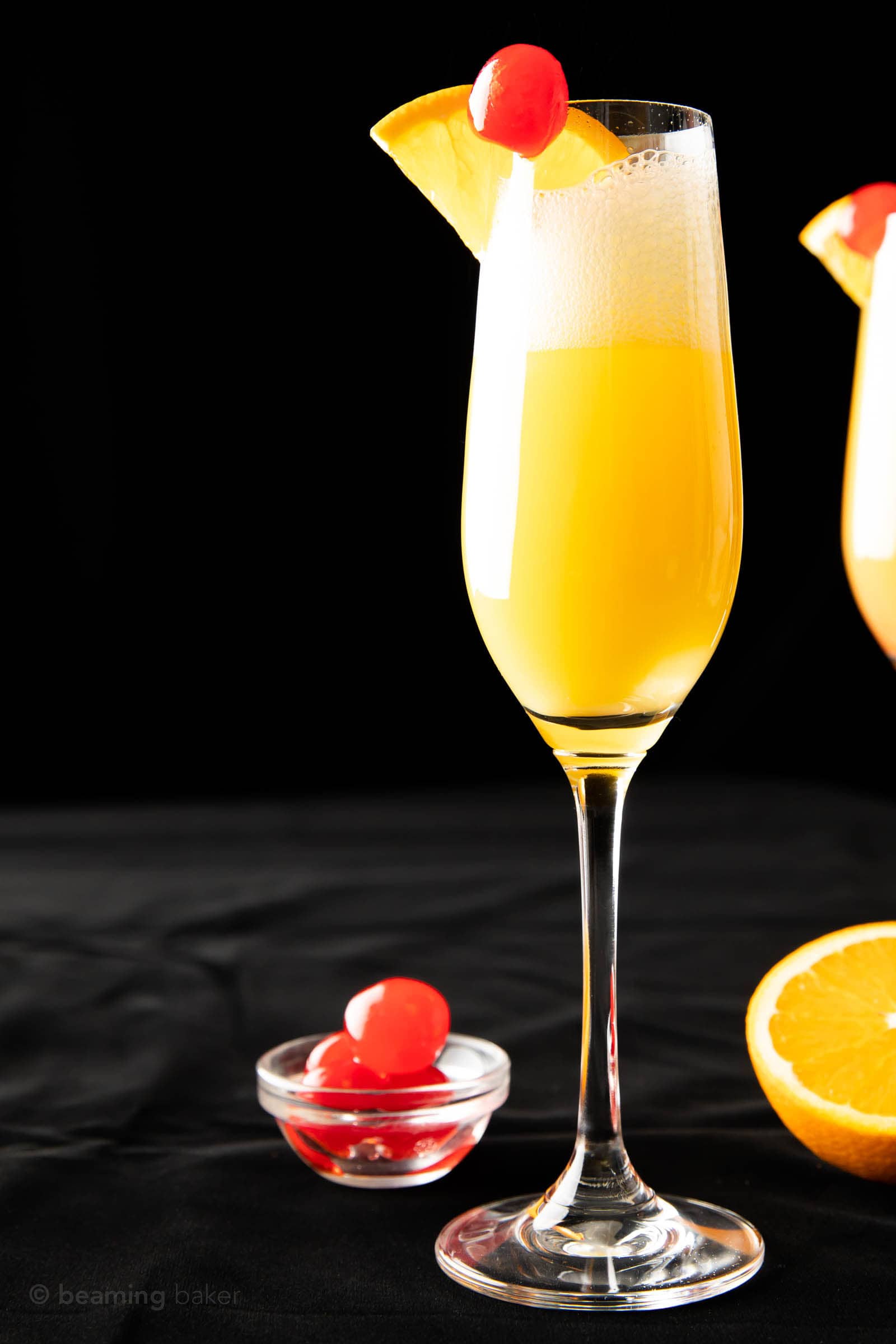 How to Make a Sunrise Mimosa
It's super simple to make a sunrise mimosa.
First, grab your champagne flutes.
Second, fill the flutes halfway with Prosecco.
Third, top the flutes off with orange juice.
Then, drop in a spoonful of cherry grenadine into each flute. As the grenadine drops to the bottom, you'll see it rise about halfway to the top of the glass, creating a gorgeous gradient of colors resembling a sunrise: yellow, orange and red.
Garnish with an orange slice and a maraschino cherry and enjoy!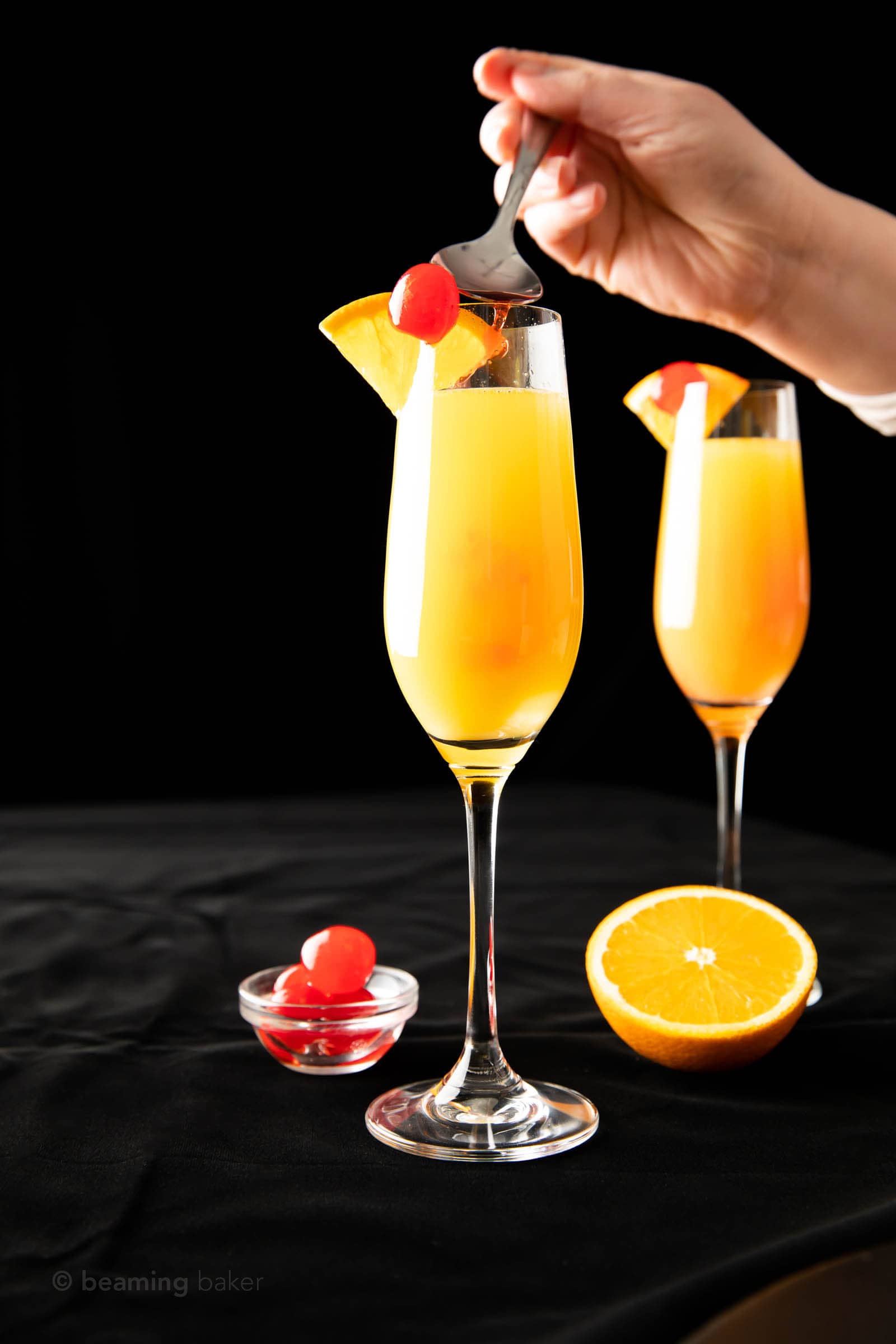 What's the Difference Between a Sunrise Mimosa and a Tequila Sunrise?
The difference between a Sunrise Mimosa and a Tequila Sunrise is pretty simple: the liquor component. In a sunrise mimosa, you have a combo of Prosecco, orange juice and grenadine. In a Tequila Sunrise, you have a combo of tequila, Prosecco or champagne, orange juice and grenadine. Usually, a tequila sunrise is a sunrise mimosa with just a splash (or an ounce) of tequila. However, the amount of tequila can increase based on your personal preference.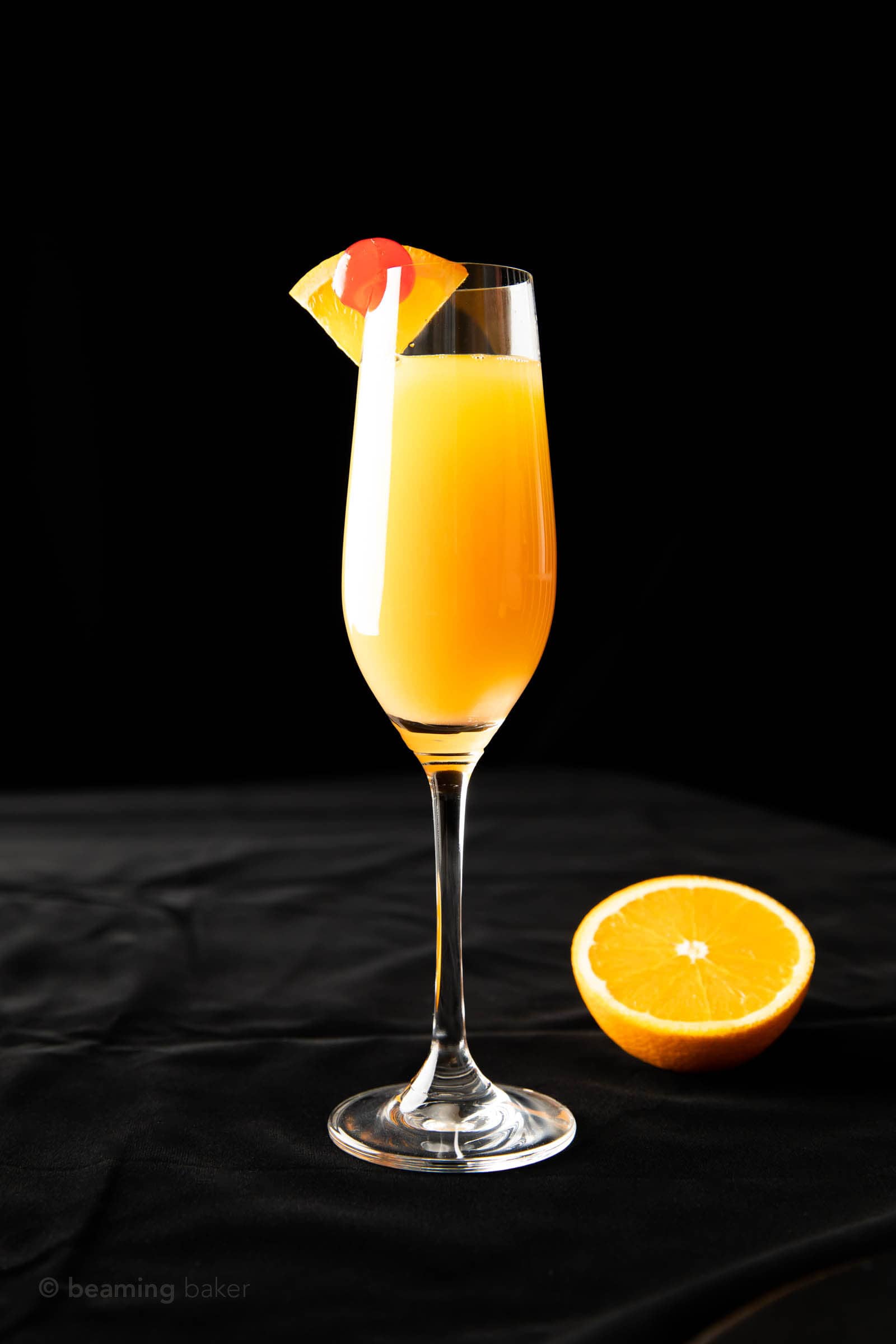 More Cocktail Recipes!
Tools You Need
Well, Hello There
Hello there, my friend. How are you liking our curious cocktails adventure? I have so much fun making and sharing these shaken and sometimes stirred delights with you. Just let me know if you have a cocktail recipe request below. I can't wait! 'Til our next one…
Sending you all my love and maybe even a dove, xo Demeter ❤️
🌅 📸 🍾
📸 Did you make this sunrise mimosa recipe? Take a pic and share it on Instagram with the hashtag #beamingbaker & tag @beamingbaker. I'd love to see it! 📸
Print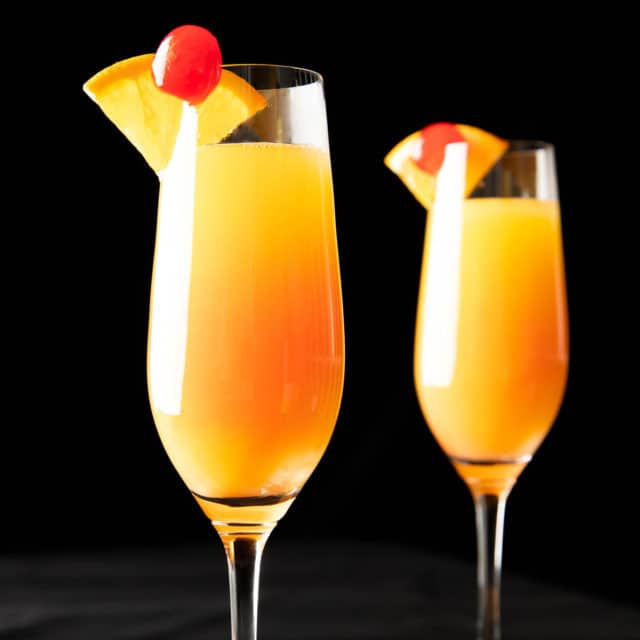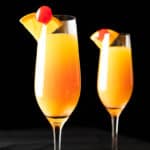 Sunrise Mimosa
---
Description
Enjoy this surprisingly easy to make, beautiful sunrise mimosa cocktail that's tart 'n spritzy, finished with a delicious cherry sweetness.
---
1

(750 ml) bottle of Prosecco

3 cups

orange juice
About

6

spoonfuls of grenadine – each spoonful is about

1 tablespoon

, but you can use more or less depending on your preference
---
Instructions
Set out champagne flutes.
Fill each glass about ½ way with Prosecco.
Add orange juice to the champagne glasses until you reach nearly to the top.
Drop in a spoonful of grenadine into each glass.
Garnish with a wedge of orange and a maraschino cherry. Sip and enjoy!
Notes
Tip: to get the orange wedge to stay on the glass, slice it nearly in half, creating an opening for the rim of the glass. Hold the orange wedge open over the rim of the glass then allow it to close over that rim, thereby creating a clamp. For the cherry, slice it nearly in half, then do the same as you did with the orange wedge.
Prep Time:

1 minute

Cook Time:

0 minute

Category:

Drinks, Cocktails

Method:

Pour
© beamingbaker.com. All content and images are protected by copyright. Please do not use my images or recipe without my permission. Please do not republish this recipe, instead, include a link to this post for the recipe.
Wanna help grow the Beaming Baker community? ☀️
You play such an important part in the livelihood of Beaming Baker–and just know that Erik and I truly appreciate it. 🧡 If you want to help grow the BB community, you can do the following:
📝 Leave a comment & rating. When you try a recipe, leave a comment and star rating to let us know how you liked the recipe. It truly helps all of our readers discover which recipe works best–and keeps us going in the right direction.
📸 Instagram. Made a recipe? Take a photo and share it on Instagram with the tag #beamingbaker and tag us at @beamingbaker. It makes our day to see how the recipe turned out for you!
👭 Tell a friend. You know when you love something, you can't help but tell others about it? If you love any of the recipes on Beaming Baker, tell a friend. 🙂 It truly helps to grow the BB community. ☀️
This post may contain affiliate links, which allow me to make a small commission for my referral, at no additional cost to you.