Vegan Peppermint Mocha Cupcakes (Gluten Free, Dairy-Free, V)
Vegan Peppermint Mocha Cupcakes (V, GF): a festive recipe for rich 'n moist chocolate cupcakes bursting with peppermint mocha flavors and topped with rich, smooth frosting. Vegan, Gluten-Free, Dairy-Free. This post is in partnership with and sponsored by Simple Mills.
Happy Tuesday! Today's a super special day for several reasons:
1) This is the first time ever that I've shared a post on a Tuesday. Okay, fine, that's not that interesting, but it is… something! Something, indeed… Quick, anyone totally disoriented or hopefully/actually pleasantly surprised about this Tuesday treat?
2) Today, I'm working with a very special brand, Simple Mills, to bring you one of the tastiest, allergy-friendly, super-fun-to-make festive desserts of the season: Vegan Peppermint Mocha Cupcakes, made with luscious Simple Mills Chocolate Frosting! .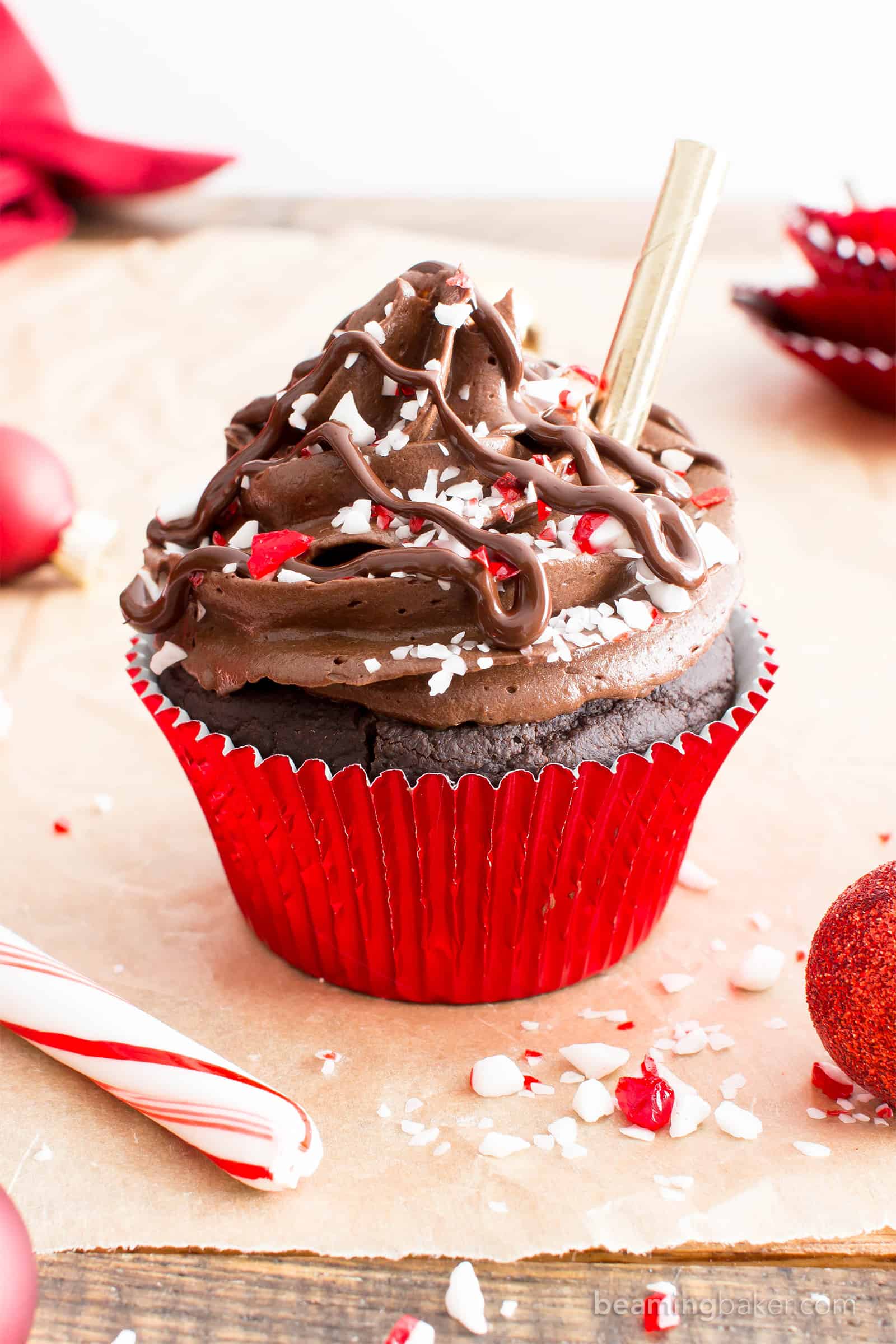 These incredible, minty, chocolatey, coffee-y, er… mocha-y-amazing cupcakes are Santa's Meow! (Be honest with me, did that work or no?? Santa might like a "meow," even if he isn't a cat… as far as we know.) They're so simple to make, at least twice as fun as making a gingerbread house (yes, I calculated this), and festive as all get out.
3) It's only 13 days 'til Christmas and just 14 days 'til National Candy Cane Day! High-five to you if you already knew this—about National Candy Cane Day and not Christmas. Ahem. This means that we have less than two weeks to prepare, menu-plan, bake, dry run bake, then finalize bake our elaborate dessert menus for the season.
Wait, is it just me that focuses solely on the dessert menu?
You just said "No way!!! That's all I think about, too!!!!" Right? 🙂
Well, every year, I focus mostly on making cookies and candy. All the while, I walk enviously by bakery cases, staring at (let's face it, drooling over) the gorgeous, show-stopping cupcakes sitting patiently there, waiting to be brought home. I end up wanting desperately to make cupcakes for the holidays, but feeling a tad hesitant about all the work that goes into it.
And every year, I'm like… "Once in a while, it would be really great if I could just have a little bit of help in the kitchen." Ya know? Sometimes, it's okay, nay—necessary, to skip having to make everything from scratch!
Like, whyyyyy can't I stop by the store and just pick up a teeny, tiny helper (i.e. pre-made frosting) to help a girl out? And then, I go to the store, look at all the non-vegan, non-gluten-free frostings and sigh. Then, then, I read the ingredient label for that one can of frosting way in the back of the health food store and wince because it's definitely made with ingredients no one's gonna feel good about.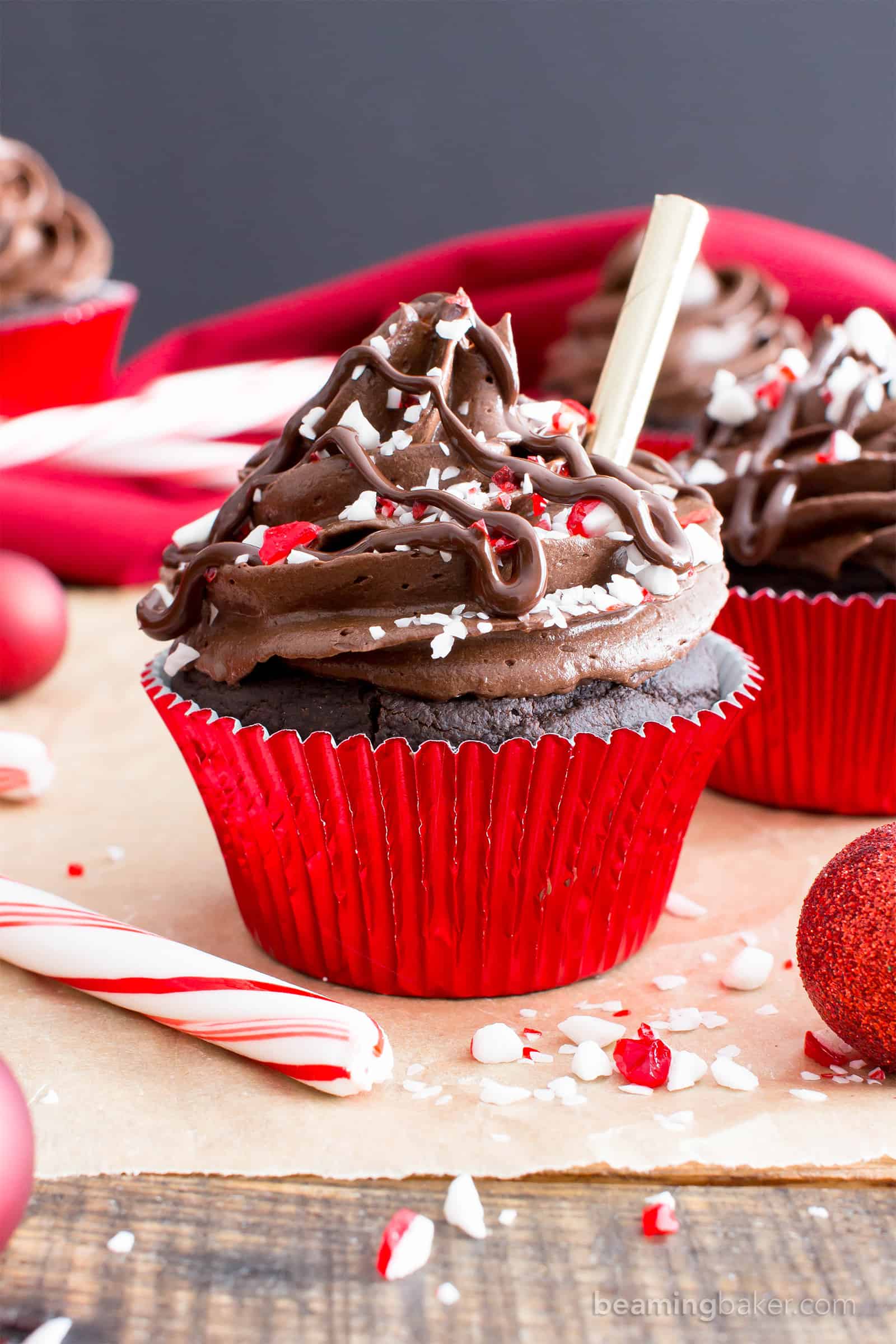 But this year, that's changing. Cue the celebratory horns!!
Enter: this year's answer to all of our problems: Simple Mills Chocolate Frosting with coconut oil. Come on, you totally just gasped when you read coconut oil! You love it as much as I do, right? 🙂 It's made with just 8 ingredients and absolutely the answer we've all been looking for to our hectic holiday baking schedules. It's sooooo good. I literally opened a can and was like, "oh, I'll just take the smallest taste of this…" And 5 seconds later, Erik and I are nudging each other aside for a bigger "taste."
And just when you thought it couldn't get easier? This happened: Simple Mills Chocolate Muffin & Cake Mix. Yep, I said it folks: there's even a delicious cake mix–which you've totally got to try with the frosting. Talk about a match made in dessert heaven. . Woot woot! It's made with just 7 simple ingredients that we can all feel good about. Super bonus: it's paleo, dairy-free, vegan and gluten-free. I seriously love that recipe variations are included on the back of the box, just in case you feel like turning them into brownies. (Um, who wouldn't?!?)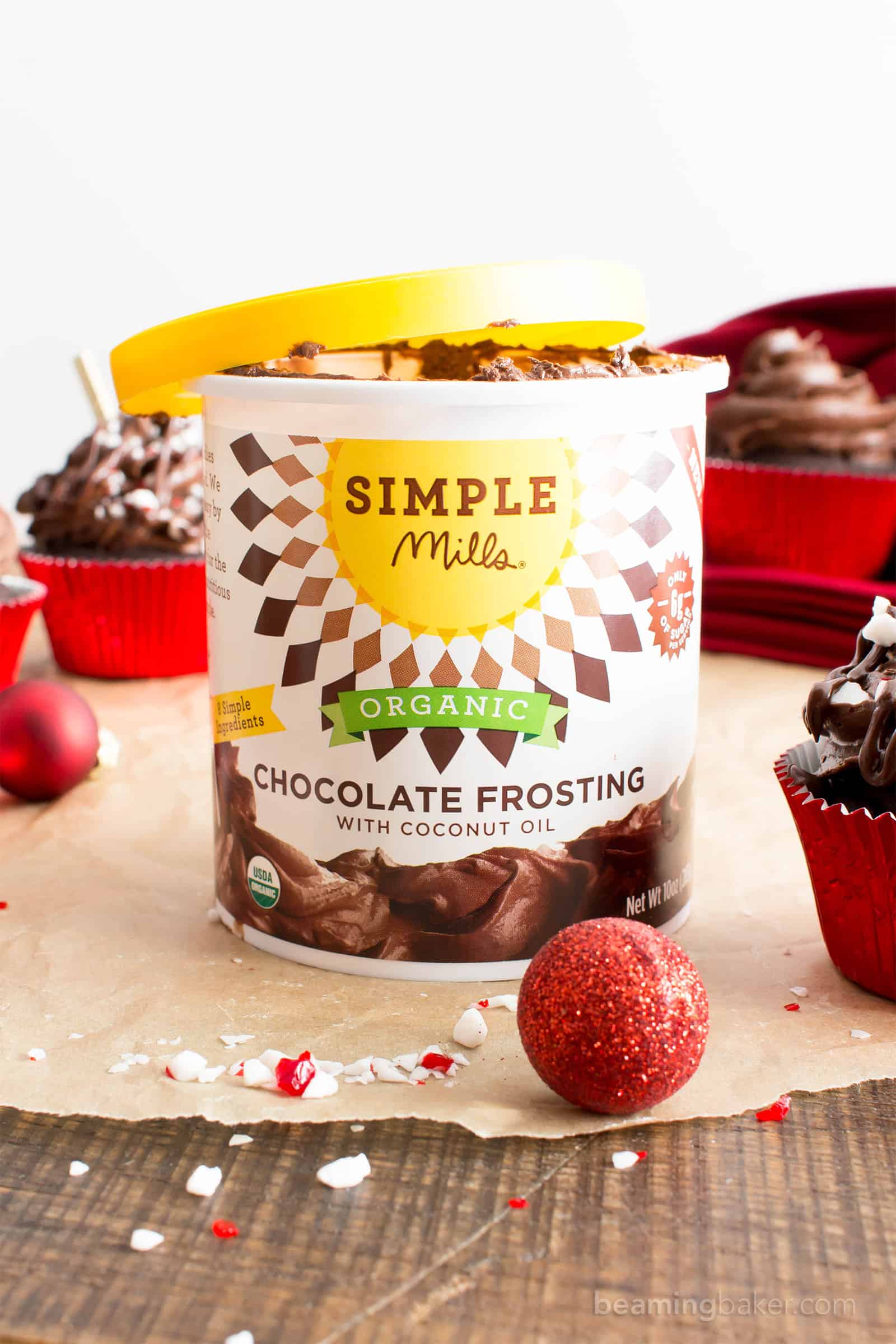 What's that I hear in the background? Oh yes, it's Santa high-fiving his elves and throwing out his super snazzy bake scheduler. Do you think his scheduler has multi-colored sticky notes and synchronized timers?
…Cuz mine does.
Before we get totally off-track discussing the best organizer for recipes/menu-planning/life-bossing, let's talk about the finest points of these Vegan Peppermint Mocha Cupcakes. Also, do tell about your beloved life planner! I'm all ears!
Make that elf ears!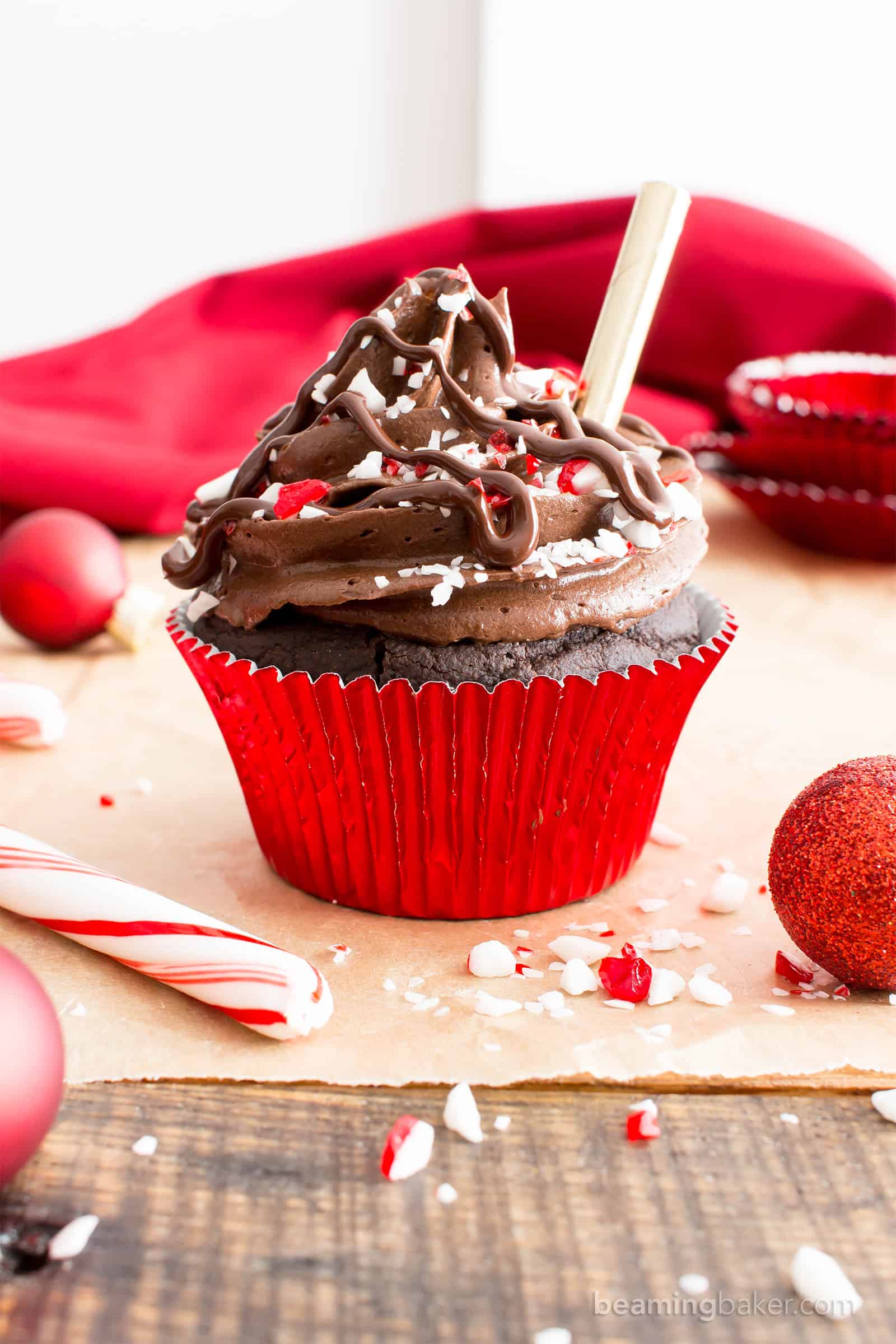 This Christmas, this National Candy Cane Day, you'll be pleased as a peach, or perhaps jolly as a reindeer, to learn that these Vegan Peppermint Mocha Cupcakes are:
made with moist, rich, deliciously chocolatey cake
topped with creamy, cool mint chocolate frosting
vegan, gluten-free and dairy-free
bursting with your favorite peppermint mocha flavors in every bite
wonderfully allergy-friendly
just the perfect gluten free Christmas dessert recipe you've been looking for
made so much easier with the help of Simple Mills
totally the healthy holiday dessert recipe to round out your bossin' holiday spread
seriously at least 3x as fun as building a gingerbread house, now that I think about it
So are you ready to surprise, please and awe-to-the-max all of your friends and loved ones? You grab the red foil cupcakes liners, I'll grab the cocoa powder! Let's do this! It's simply one of my greatest joys to share these feel-good recipes with you. This time of year is so much better when we're sharing and giving… especially sweet treats, don't you think?
While I wait to hear your thoughts on this recipe, tell me:
What's your favorite way to enjoy peppermint mocha?
Sending you all my love and maybe even a dove, xo Demeter ❤️
☀︎ Click below to Pin ☀︎

☀︎ Did you make this recipe? Take a pic and share it on Instagram with the hashtag #beamingbaker and tag @beamingbaker. I would love to see it! ☀︎
If you enjoyed these irresistibly festive Vegan Peppermint Mocha Cupcakes, then you'll just love these delicious healthy chocolate dessert recipes:
☀︎ More Gluten Free Vegan Chocolate Desserts ☀︎
Print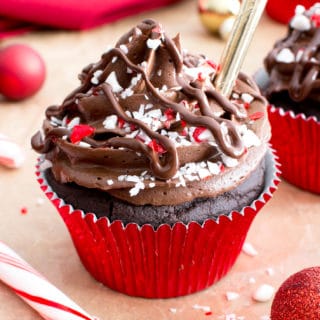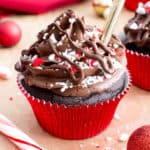 Vegan Peppermint Mocha Cupcakes (Gluten Free, Dairy-Free, V)
---
Description
Vegan Peppermint Mocha Cupcakes (V, GF): a festive recipe for rich 'n moist chocolate cupcakes bursting with peppermint mocha flavors and topped with rich, smooth frosting. Vegan, Gluten-Free, Dairy-Free.
---
Dry Ingredients
1 ½ cups

gluten free oat flour

2/3 cup

unsweetened cocoa powder

1 teaspoon

baking soda

½ teaspoon

instant coffee

¼ teaspoon

salt
Wet Ingredients
½ cup

+

2 tablespoons

hot or warm coffee

½ cup

non-dairy milk, room temperature

3 tablespoons

melted coconut oil

¼ cup

coconut sugar

¼ cup

pure maple syrup

1 teaspoon

pure vanilla extract

½ teaspoon

peppermint extract
Frosting
Topping
2 tablespoons

crushed vegan candy canes

¼ cup

vegan chocolate chips
---
Instructions
Preheat the oven to 350°F. Line a 12-cup muffin pan with cupcake liners. Set aside.
Make the cupcakes: In a large bowl, sift together the dry ingredients: oat flour, cocoa powder, baking soda, instant coffee and salt.
In a medium bowl, whisk together all the wet ingredients: coffee, milk, oil, sugar, maple syrup, vanilla and peppermint. Whisk until well incorporated.
Add wet ingredients to dry ingredients. Whisk until just incorporated, making sure no flour patches remain.
Pour batter evenly into prepared muffin pan—filling each cup about 3/4 of the way. Bake for 16-20 minutes. Mine took 18 minutes. Test for doneness with a toothpick. The toothpick should come out with a few moist bits of cake on it, but no liquidy batter.
Place muffin pan on a cooling rack to cool for 30 minutes. Remove cupcakes from muffin pan and continue cooling on rack for 1-3 hours. Cool completely before frosting.
Frost the cupcakes: In a large bowl, or the bowl of a stand mixer, add frosting and peppermint. Using a hand mixer or stand mixer with a whisk attachment, beat together until fluffy and well mixed.
Frost completely cooled cupcakes. Top with crushed candy canes. Melt the chocolate using the double boiler method or do the following. Add chocolate to a small, microwave-safe bowl. Heat in 20-second increments until melted. Stir in between increments, until smooth. Transfer melted chocolate to a small drizzling bottle or to a small zip bag with a tiny corner trimmed off. Drizzle cupcakes. Enjoy! Storing instructions below.
Cuisine:

Cupcakes, Dessert, Vegan, Gluten-Free, Dairy-Free
© beamingbaker.com. All content and images are protected by copyright. Please do not use my images or recipe without my permission. If you wish to republish this recipe, please re-write the entire recipe using your own words and include a link to this post for the recipe.
SHOP THE RECIPE
Simple Mills Chocolate Muffin & Cake Mix | Simple Mills Chocolate Frosting  | Peppermint Extract | KitchenAid Hand Mixer | Hand Mixer Whisk Attachment | Muffin Pans (2pk) | OXO Mixing Bowls | Coconut Oil | Silicone Spatulas | KitchenAid Stand Mixer
In partnership with Simple Mills. This post contains affiliate links, which allow me to make a small commission for my referral, at no additional cost to you. Thank you for supporting Beaming Baker.
Facebook ☀︎ Pinterest  ☀︎ Twitter ☀︎ Instagram