5 Minute Easy Peppermint Fudge (Paleo, Vegan, Gluten Free, Dairy-Free)
5 Minute Easy Peppermint Fudge Recipe (V, GF): a 3 ingredient recipe for creamy, thick, indulgent chocolatey fudge squares made with healthy ingredients! Takes just 5 minutes to prep, the rest is just freezing time! Paleo, Vegan, Gluten-Free, Dairy-Free.
Confession Time: I totally just last-minute swapped a top secret, extra special holiday gift-appropriate recipe with this recipe. Which just also happens to be extra special and holiday gift-appropriate.
Yes, I just won the award for Most Boring Confession Ever.
The thing is: there's gonna be PEPPERMINT. And lots of it! So I thought I'd flip a few recipes around so you don't get super peppermint overloaded.
As if there was such a thing.
Pfft!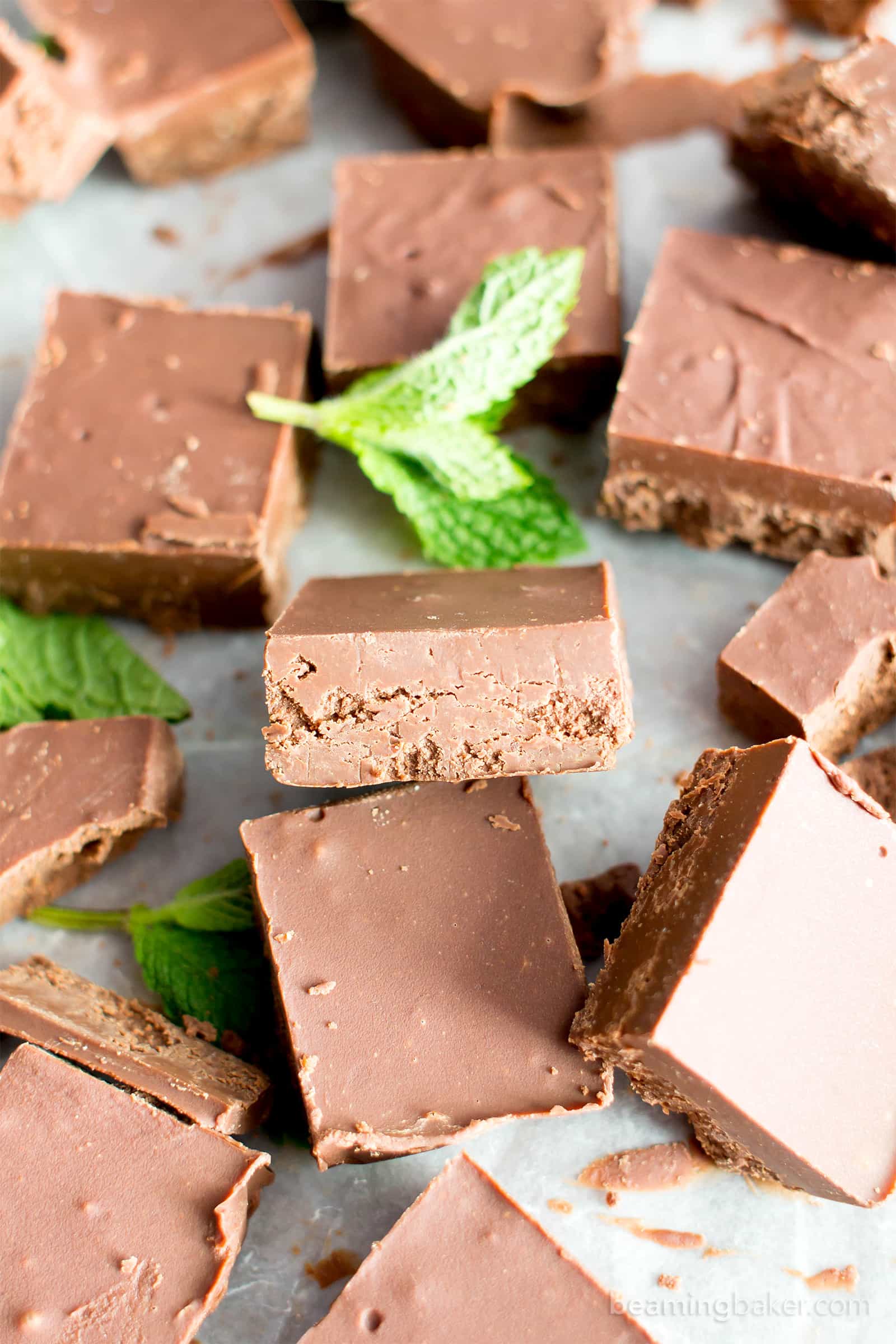 Tell me, are you a fan?
Peppermint's just one of those ingredients that fully captures the essence of Christmas. Try making a batch of triple chocolate peppermint cookies, two frosty glasses of peppermint mocha frappuccino (which pair excellently with my vegan peppermint mocha cupcakes, by the way), or perhaps a triple batch of peppermint crunch bars (I know), and you'll see what I mean. 😉
I'm even thinking about adding a HUGE peppermint upgrade to my Vegan Chocolate Cake Recipe or my Chocolate Ganache Cupcakes. Imagine how good that would be. Imagine, then totally let me know if you're interested, so I can whip them up!
One whiff and I'm like, woah, where's my gift wrap? Can I start saying "holly jolly" all day, every day now?
So, I hope you're super excited, because there are boatloads of decadent, indulgent and just perfect-for-gifting peppermint chocolate recipes comin' right up!
When I was a kid, Andes mints were one of my favorites. So was mint chocolate chip ice cream. But imagine… what if those two were put together?
Oh. Em. Gee.
Like how I just spelled that all out for ya?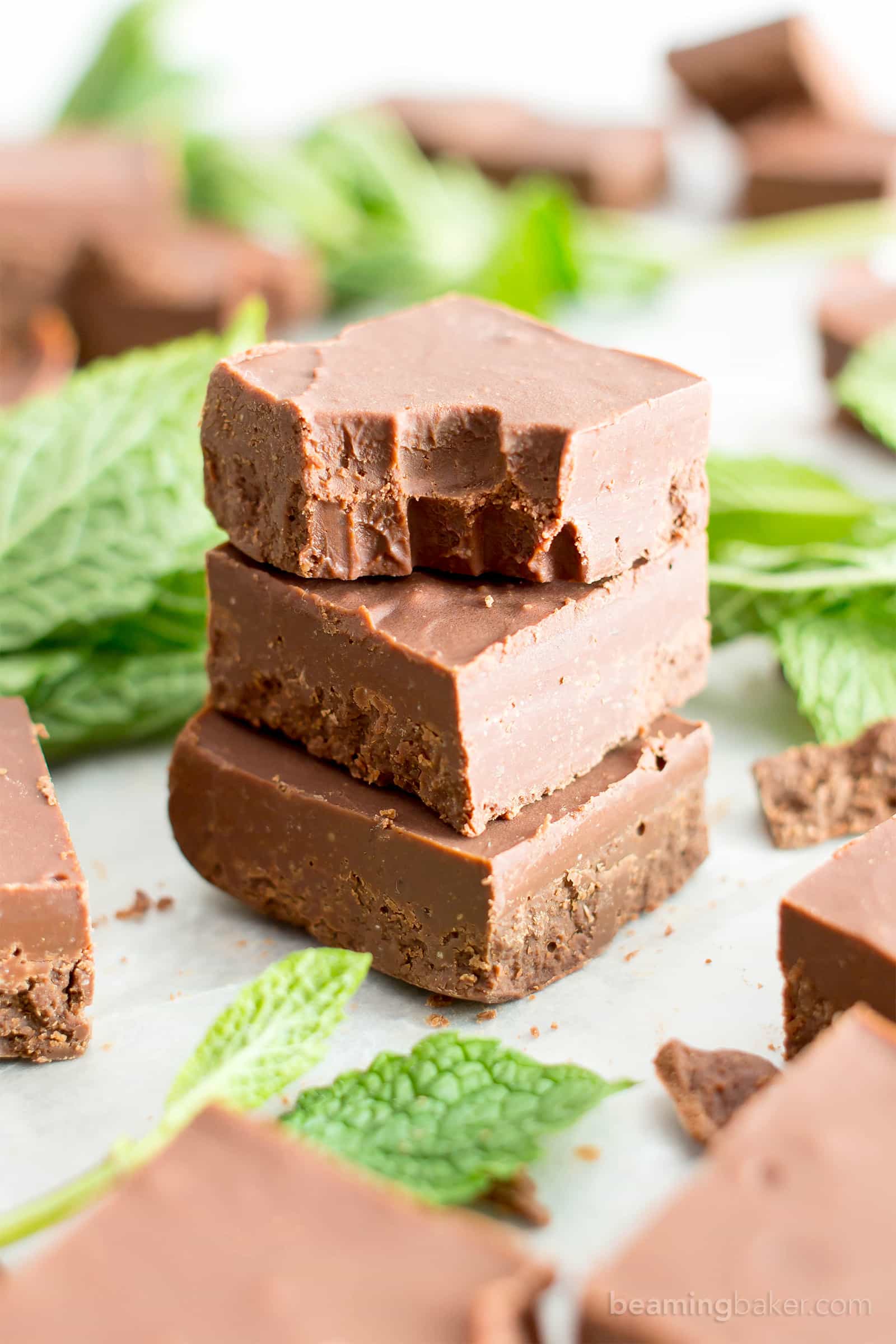 Now that I'm older and at least try to eat healthier, I'm not regularly buying bulk-sized candy and chopping them by the pound to top in my oversized bucket—excuse me—ice cream bowl. 😉
Most of the time.
So if you're like me and seriously get those I-need-chocolate-now-or-else-I'll-be-super-crabby-for-no-good-reason-and-someone's-gonna-need-to-hold-me-back, then this 5 Minute Easy Peppermint Fudge is PERFECT for you.
If you checked out my Chocolate Pecan Fudge, you might recall that I ever so proudly (probably a little too proudly) cracked a recipe for shelf-stable vegan fudge!!! Woot woot! Shoutout if you know how rare this is.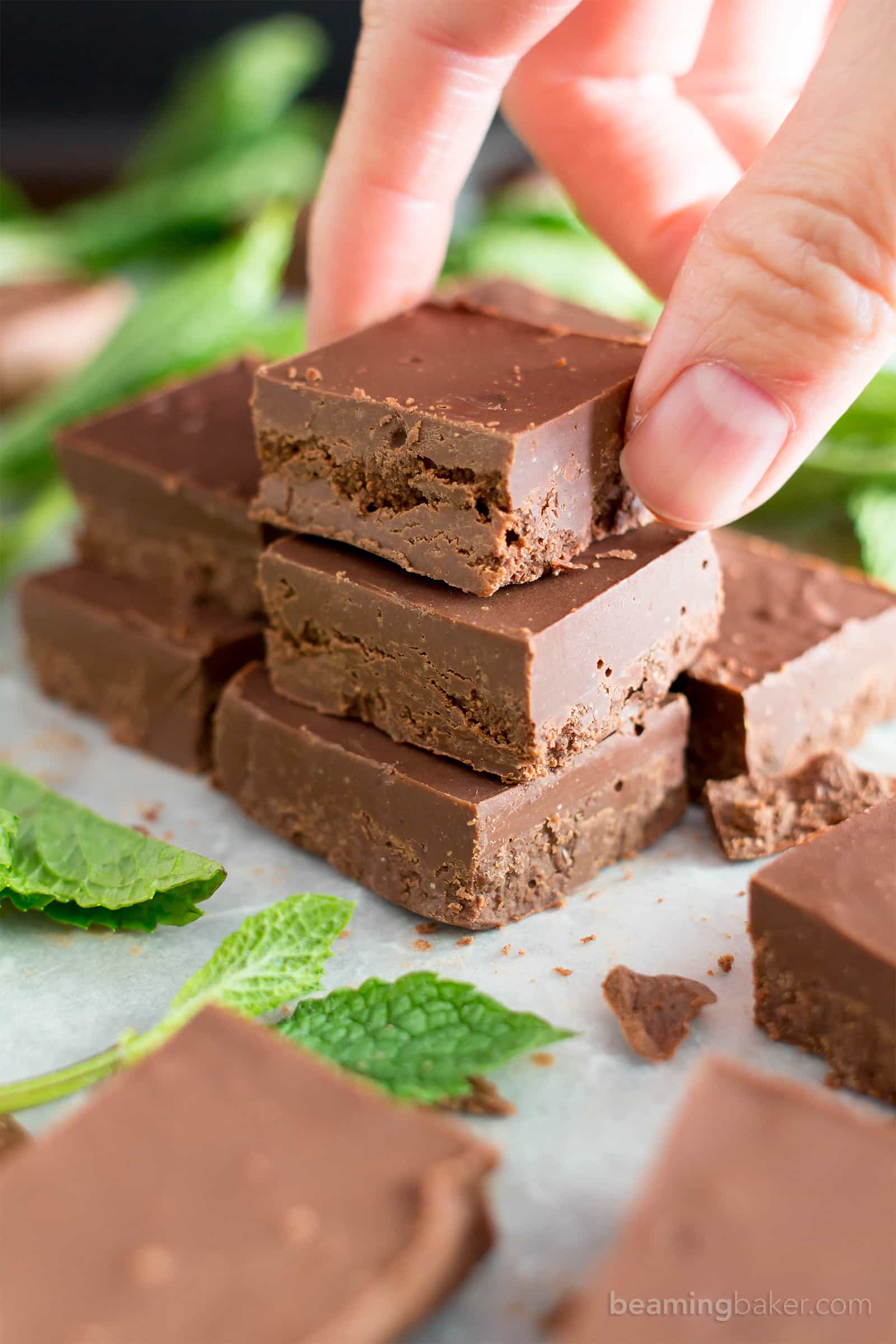 I've shared a couple freezer fudge recipes, and also this seriously amazing almond butter fudge cups recipe. It was fudge all day, every day. And while those recipes were fan favorites (and paleo, yay!!!), they weren't shelf stable.
Not shelf-stable = not readily gift-able
Now, allow me to present to you my Christmas spin on that no-refrigeration required fudge recipe: 5 Minute Easy Peppermint Fudge.
Was it just me or did Santa just high-five me?
Best of all, this peppermint fudge is insanely easy to make! Alls you gotta do (yep, I said that in my Rugrats voice) is add chocolate and almond butter to a bowl. And before you ask, you totally cannot taste the almond butter! 🙂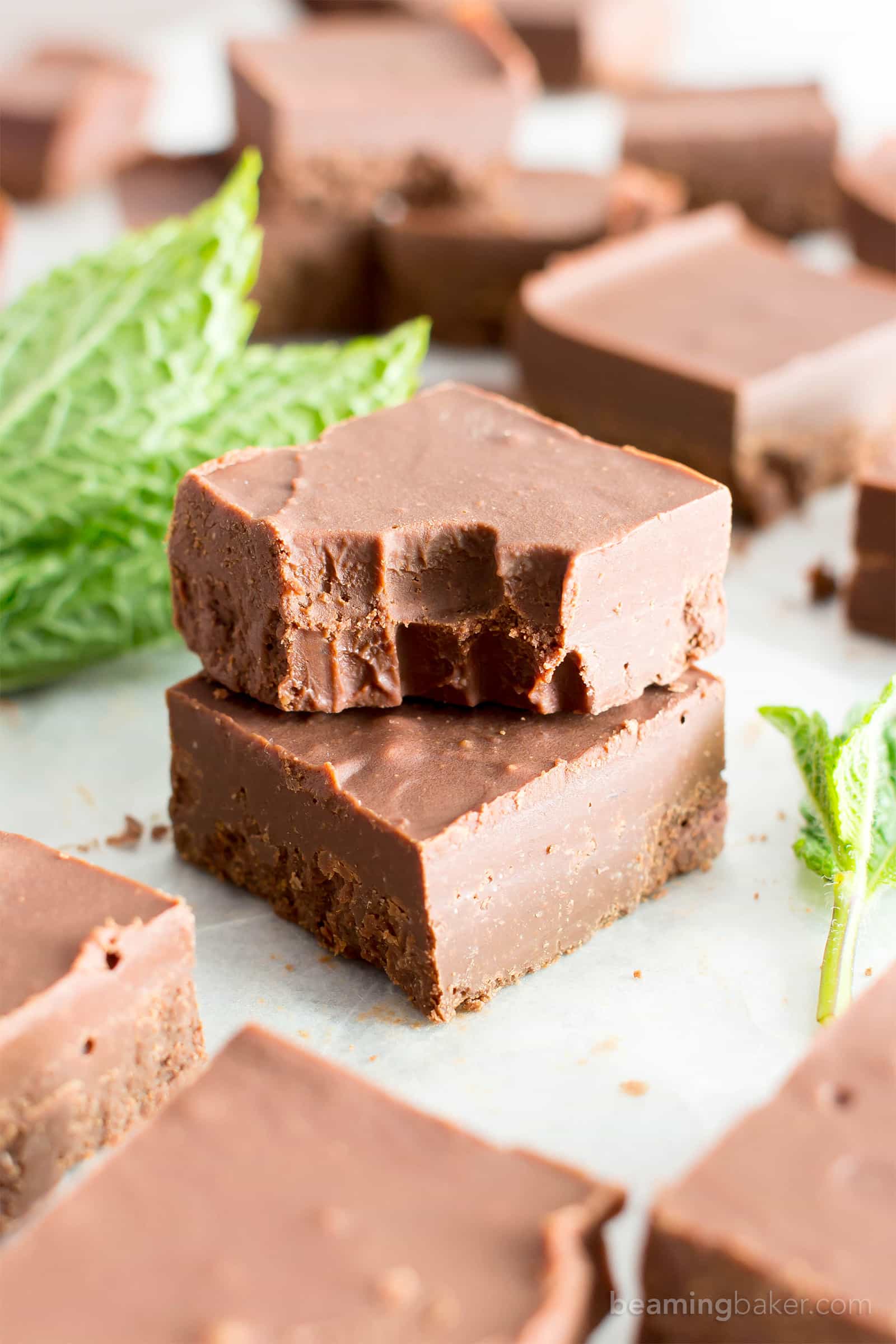 Warm the two up, stir until smooth like buttah. But not because there's no actual butter in this recipe.
Then, stir in that cool, minty (duh) and refreshingly festive peppermint extract. Pour and admire the gorgeous folds of velvety chocolate as they drape beautifully into your loaf pan. Freeze for 40-60 minutes, slice and voila!
It's FUDGE TIME! Make that 5 Minute Easy Peppermint Fudge TIME!
You'll be able to wrap your handmade, homemade fudge in parchment or wax paper, then store that in a glittery green gift box with the HUGEST gold ribbon on top. If you're so inclined. 🙂 Then, and THEN, you can actually place that fudge right below the tree for like 3 days!! (Alright, you could probably do it for longer, but fresh fudge sounds better than old fudge doesn't it?)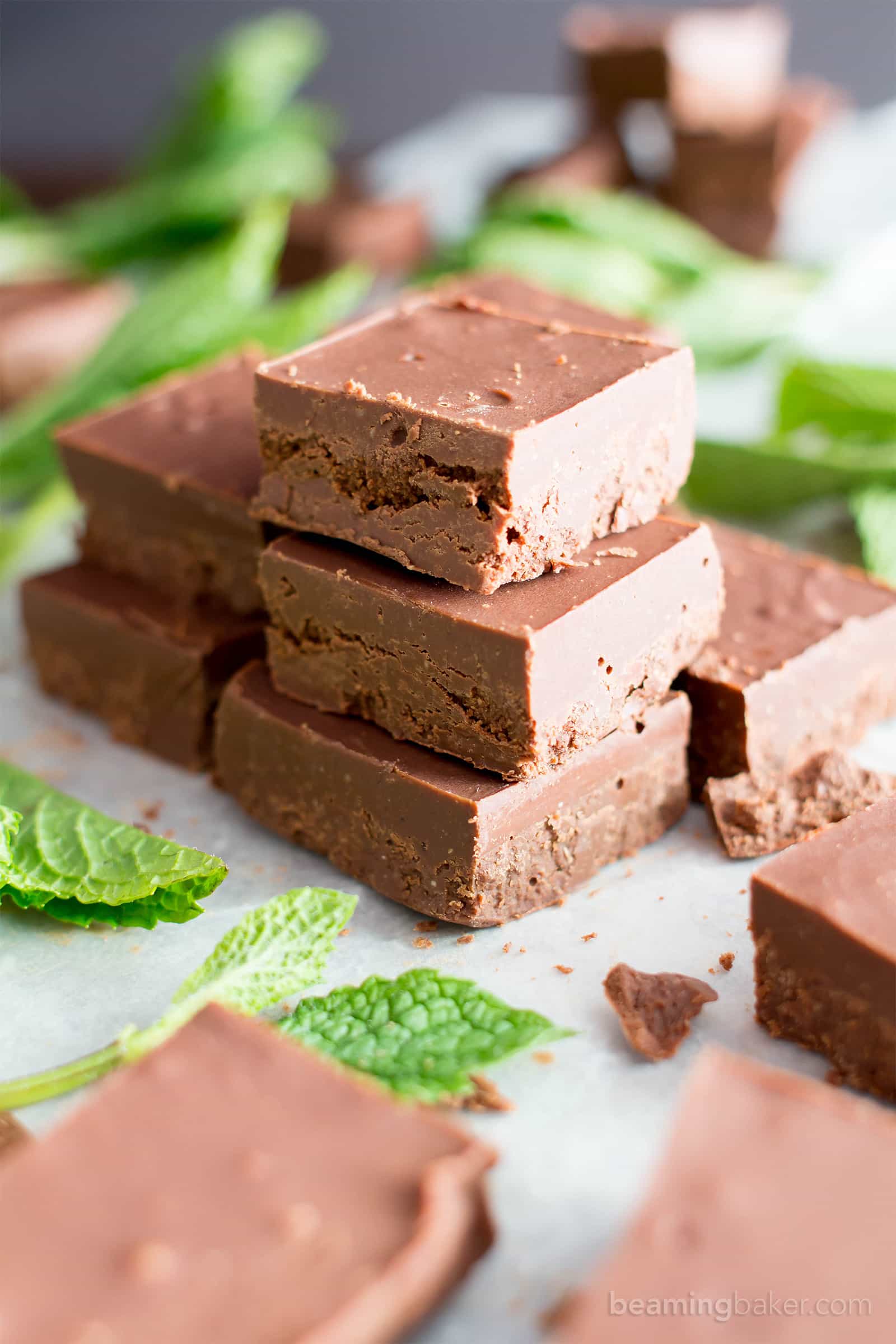 If you're still not convinced, check out the tastiest and most useful bulletpoints about this vegan holiday recipe! My 5 Minute Easy Peppermint Fudge is:
so easy to make
made with just 3 ingredients
silky, chocolatey, smooth
bursting with cool peppermint flavor
prepared in just 5 minutes, the rest is just freezing time!
okaaaaaaay, 4 minutes if you're a kitchen wizard
super easy to turn SF: to make sugar free peppermint fudge, swap the chocolate chips with sugar-free chocolate chips!
paleo, gluten-free, vegan, dairy-free
deliciously refined sugar-free
the perfect edible Christmas food gift to give
really, the perfect holiday gift to give (shoutout to Hannukah, Kwanzaa and more!)
allergy-friendly
just the healthy holiday dessert recipe you've been craving
the quintessential Christmas peppermint fudge recipe you've looking for!
no refrigeration required fudge awesomeness!
Santa just asked, "What time is it?" And to that I respond, "It's fudge time, hot stuff!!" Okay, I don't know what that was there… a holiday skit?? Moving on! I'll grab the paleo vegan chocolate chips, you grab the peppermint and almond butter! Ready to make this? I'm SO looking forward to spending the holidays with you, getting ready for all the food and fun! Thank you for being here with me. 🙂 I can't wait to hear what you think of this recipe. In the mean time, tell me:
What's your favorite peppermint treat?
Sending you all my love and maybe even a dove, xo Demeter ❤
☀︎ Click below to Pin ☀︎

☀︎ Did you make this recipe? Take a pic and share it on Instagram with the hashtag #beamingbaker and tag @beamingbaker. I would love to see it! ☀︎
If you enjoyed this utterly satisfying 5 Minute Easy Peppermint Fudge, then you'll just love these vegan holiday dessert recipes:
☀︎ More Holiday Desserts ☀︎
Find out just how EASY this Peppermint Fudge is to make!
Print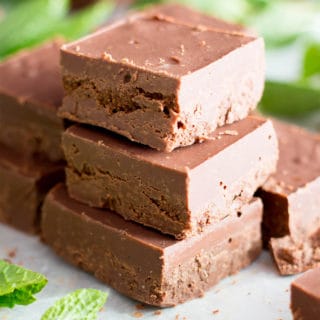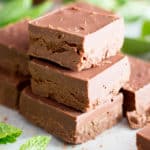 5 Minute Easy Peppermint Fudge (Paleo, Vegan, Gluten Free, Dairy-Free)
---
Description
5 Minute Easy Peppermint Fudge (V, GF): a 3 ingredient recipe for creamy, thick, indulgent chocolatey fudge squares made with healthy ingredients! Takes just 5 minutes to prep, the rest is just freezing time! Paleo, Vegan, Gluten-Free, Dairy-Free, Refined Sugar-Free.
---
---
Instructions
Line an 8-inch loaf pan with parchment paper or wax paper. Set aside. Clear some space in the freezer for this pan—you will need it later.
Use the double boiler method or do the following: Add chocolate chips and almond butter to a medium, microwave-safe bowl. Heat in 20-second increments until chocolate is softened and melty. Stir in between heating increments, until smooth and well incorporated. Stir in peppermint extract. Melted chocolate will begin to clump up. Stir until smooth, and no clumps remain.
Pour this mixture into the prepared loaf pan. Using a rubber spatula, smooth into an even layer. Tap the pan to help smooth it out.
Transfer pan to freezer. Freeze for 40-60 minutes or until completely firm. Remove from freezer and slice into 18 squares. Enjoy! Storing instructions below.
Equipment
Prep Time:

5 mins

Cook Time:

0 mins

Category:

Fudge, Dessert, Chocolate, Vegan, Gluten-Free, Paleo, Dairy-Free

Method:

Chill

Cuisine:

American
© beamingbaker.com. All content and images are protected by copyright. Please do not use my images or recipe without my permission. If you wish to republish this recipe, please re-write the entire recipe using your own words and include a link to this post for the recipe.
Here are a few items I used in today's recipe. .
9-inch Loaf Pan | Stainless Steel Measuring Cups | Glass Mixing Bowls | My Favorite Knife | Silicone Spatulas | 8-inch Loaf Pan | OXO Mixing Bowls
This post may contain affiliate links, which allow me to make a small commission for my referral, at no additional cost to you. Thank you for supporting Beaming Baker.
Facebook ☀︎ Pinterest ☀︎ Twitter ☀︎ Instagram