Vegan Gluten Free Chocolate Cupcakes (V, GF): an easy recipe for deliciously moist chocolate cupcakes topped with silky smooth chocolate frosting. Vegan, Gluten-Free, Dairy-Free.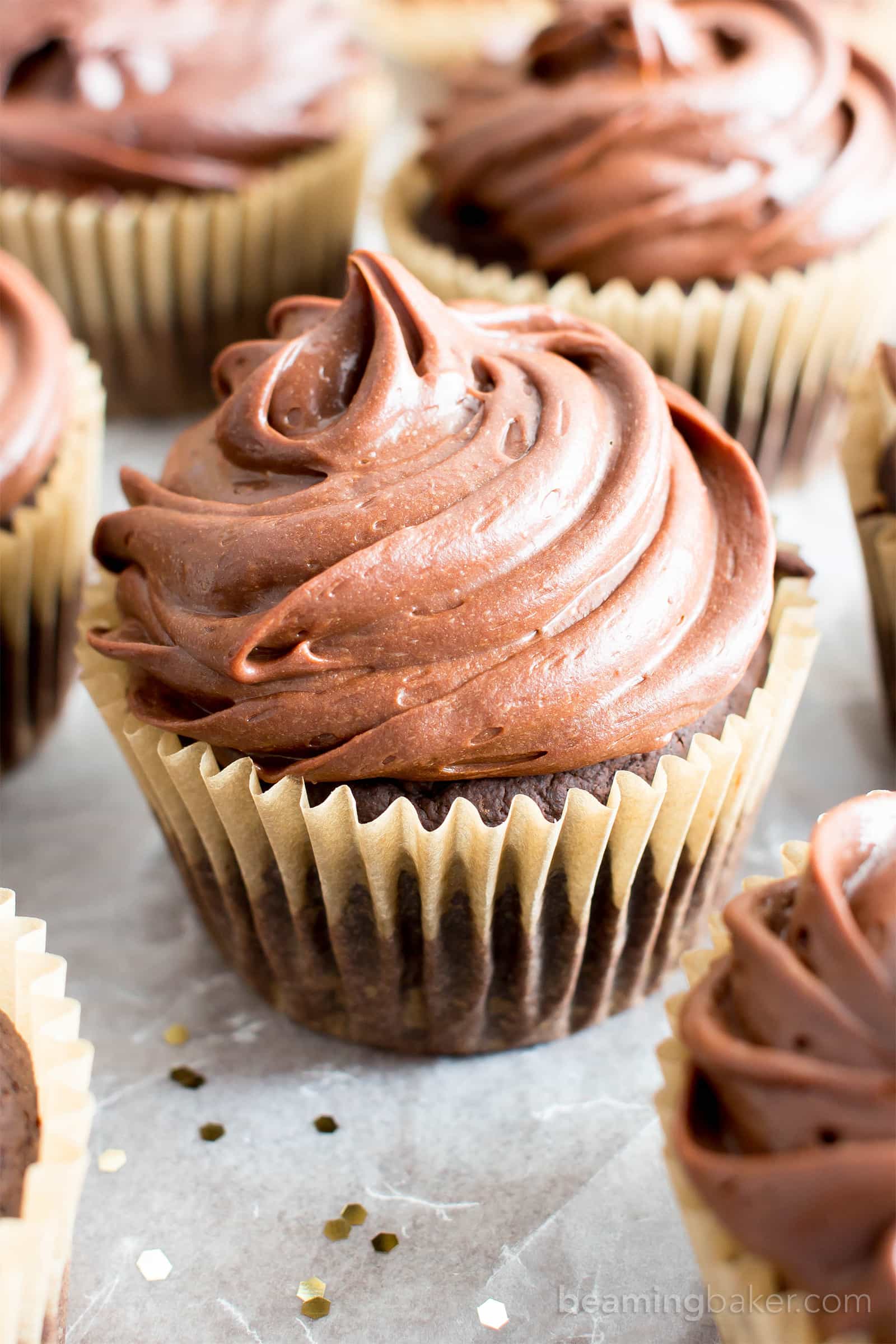 "Make one, eat one. Make one, eat one. It's the ideal work situation!" That's exactly what Erik said to me while "helping" me frost these cupcakes. Ahh… Erik. Without him, I'd have so much more leftover dessert in the house.
What can I say, Erik has his uses. 😉
So… it's my birthday!!! Okay, technically, it was my birthday a few days ago (but I wanted to share the incredible frosting recipe to this recipe first before these cupcakes… plus Mondays REQUIRE cupcakes, duh). I also apparently wanted to say recipe like 500 times in 1 sentence.
What can I say, the birthday girl gets what she wants!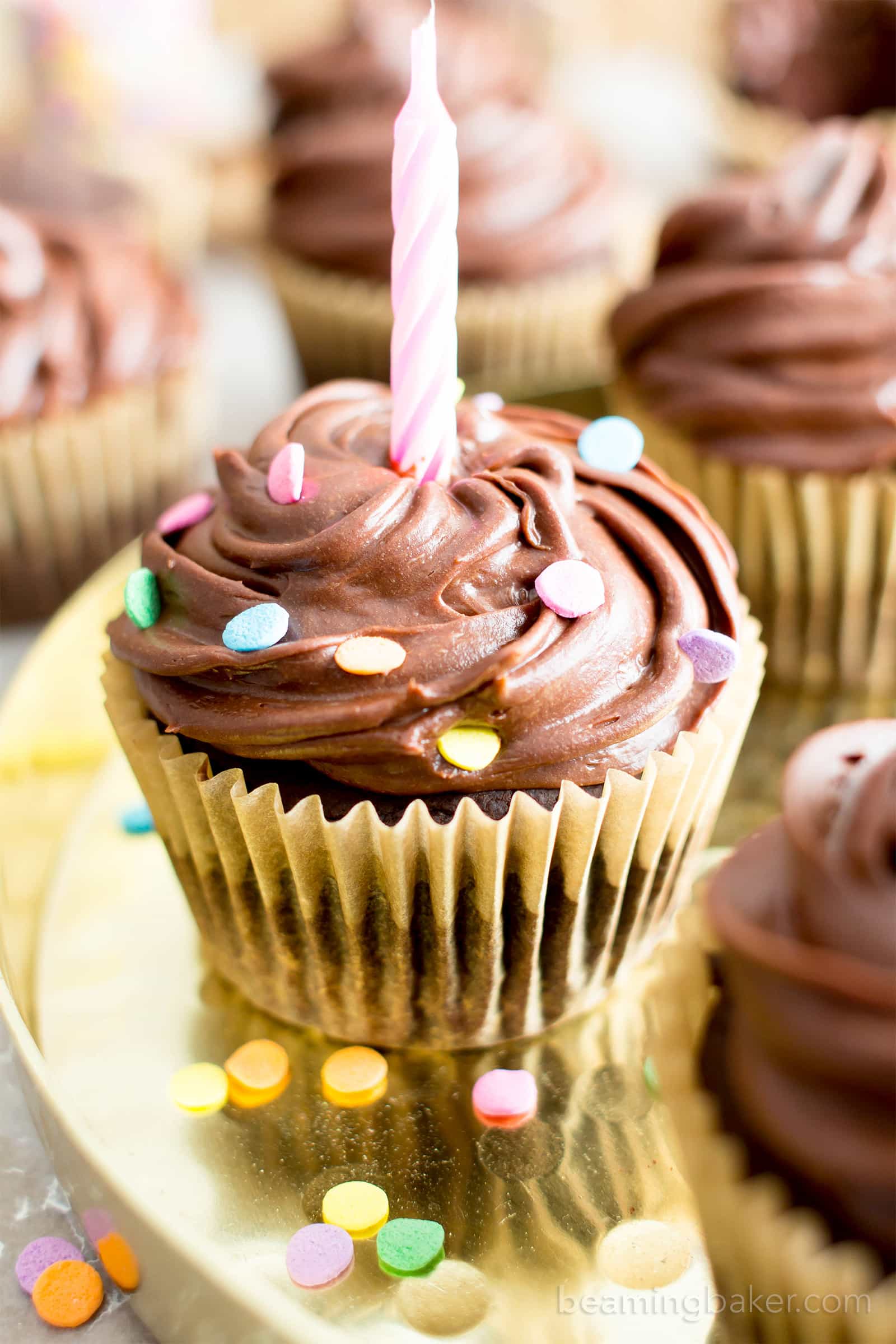 Am I still technically a "girl" since I'm safely nestled in my 30s? Eh, whatever!
Who's excited to celebrate with me? Just me? Dang it. No matter, I'm quite used to typing/talking to myself as I've been doing this whole blogging thing for a little while.
Erik would now say it's time to cue the tiniest violins. Bugger! Then I would be like, "no more chocolate cupcakes for you, dear sir!"
Take that, Erik!
Anywho, it's been my goal ALL year (plus last year) to share the ultimate vegan gluten free chocolate cupcakes with you on my birthday. But alas, I was never quite satisfied with how to even approach a birthday cake recipe. And I was also too busy sassin' Erik to apparently work in this recipe. 😉 Update: I've finally shared my Gluten Free Vegan Chocolate Cake Recipe! It's moist, easy to make, and has already received rave reviews from around the world!! Double Update: I've also got an amazing Paleo Chocolate Cupcakes recipe here!
Why, you may or may not be asking? (Not about Erik, but about the cupcakes.) A few reasons: refined sugar (ahhh!!), refined flour (flour-y ahhh!!), perfect dense/light/fluffy/not-too-fluffy cake texture (double ahhhh!)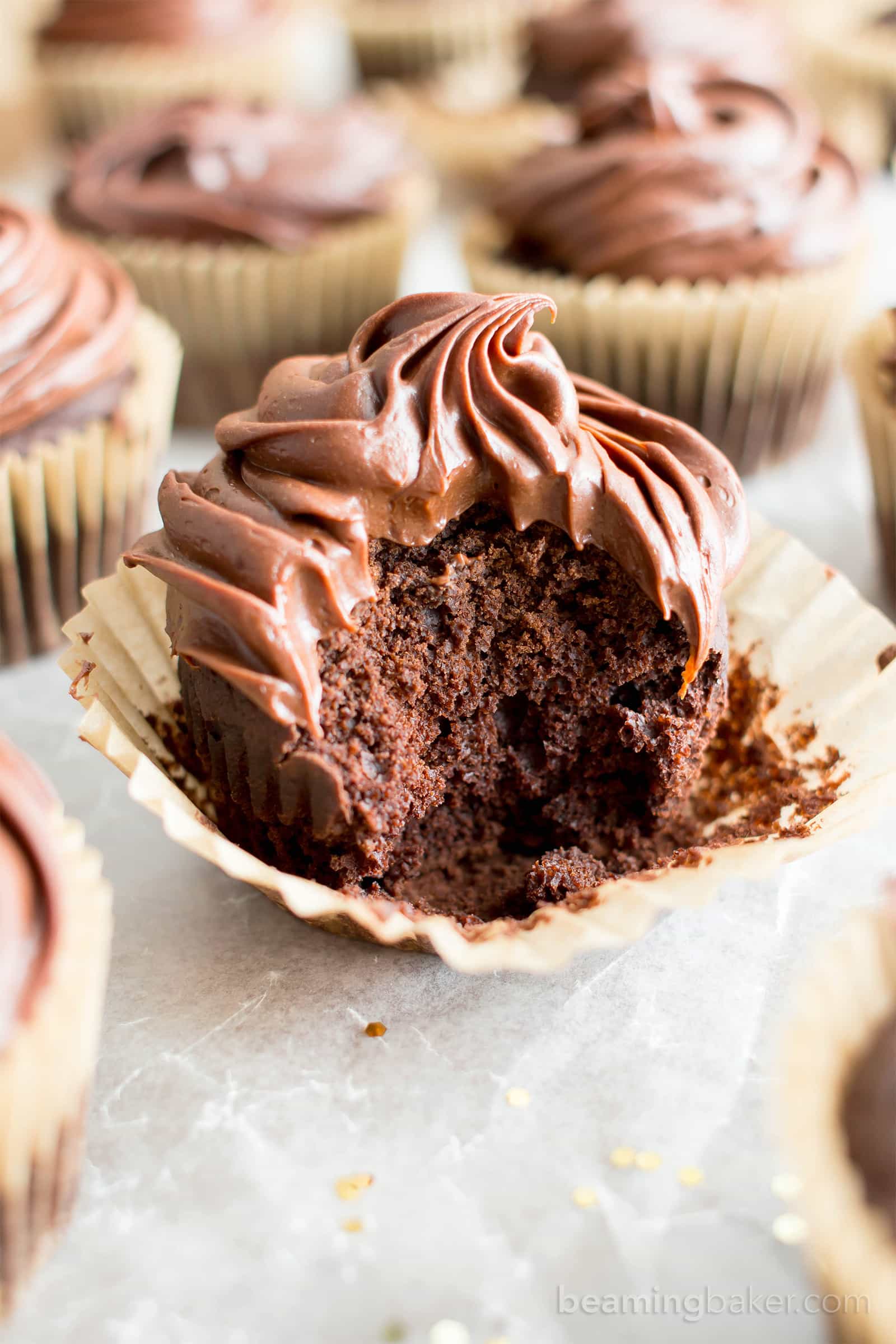 Even though those don't sound like actual, fully-formed reasons, I assure you, they were. Erm… basically, how could I make the perfect vegan chocolate cupcakes—nay, the perfect Vegan Gluten Free Chocolate Cupcakes, without refined sugar, without that fluffy refined flour… and without messing up the whole perfect-texture birthday cake thing?
Well, I started with the frosting. Why wouldn't we start with frosting, right? You can read all about the stunningly thrilling and shocking cliffhanger-ending process in my How to Make Homemade Chocolate Frosting post.
Ooooh, okaaaaay, the cliffhanger is these chocolate cupcakes!!! Did I just spoil that? 🙂
Anyway, as for the amazing, dessert-fantasy-worthy chocolate cake part of the cupcakes, I wanted to make sure it was as low on the sugar content as possible (will let you know if I somehow make a fruit-sweetened/zero-carb/space/science-fiction-only-existing cake.)
But this cake. THESE CUPCAKES. They are so perfectly fluffy and just the right amount of dense to hit that satisfying sweet spot. You know what I mean right? I've had cakes that are way too light… that I end up eating way too much of and feeling like I didn't eat much of anything at all.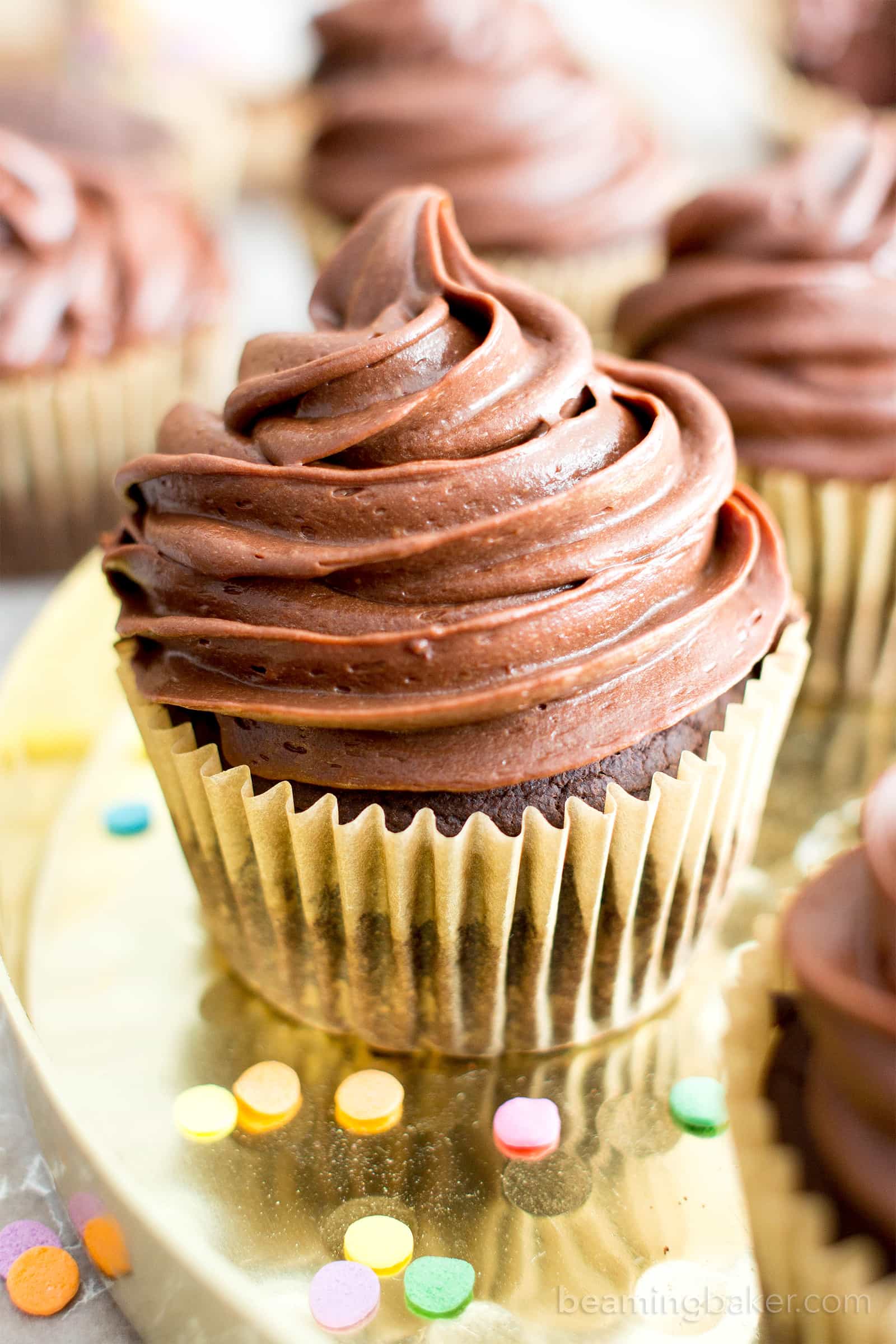 But then I've had cakes that've been way too dense and just feel… undeliciously heavy. That's right. Undelicously. You know what I mean. Like a heavy poundcake!
So I wanted to hit the right spot in between: just a bit fluffy, just a bit dense and rich. And it's just that. 🙂
The cake is just sweet enough, and deliciously chocolatey… but not too sweet that the frosting needs to be scooped off (yeah, I know some of you folks do that out there. No judgements!) 2nd totally relevant update… hehe: I've recently shared an amazingly easy recipe for chocolate ganache cupcakes that you'll absolutely love! (They're topped using the dreamy ganache from my How to Make Chocolate Ganache Recipe post.) .
The frosting + the cake: oh, SO good.
My four-year-old nephew Dylan aka "PB" happily ate a Vegan Gluten Free Chocolate Cupcake, stopped midway to give me a thumbs up on one hand, then precariously juggled said cupcake to other hand, then gave me another thumbs up on the other hand. Then, he said, "Mmmmm!! Frosting tastes like chocolate and ice cream!!!! Want more!!! Thank you Mama!!!"
*Throat clearing from me.*
Followed up a "Thank you E Mimi!!!" E = Vietnamese for Aunt (with our own special spelling lol). Mimi = my nickname because Demeter was too hard for him to say when he was itty bitty. 🙂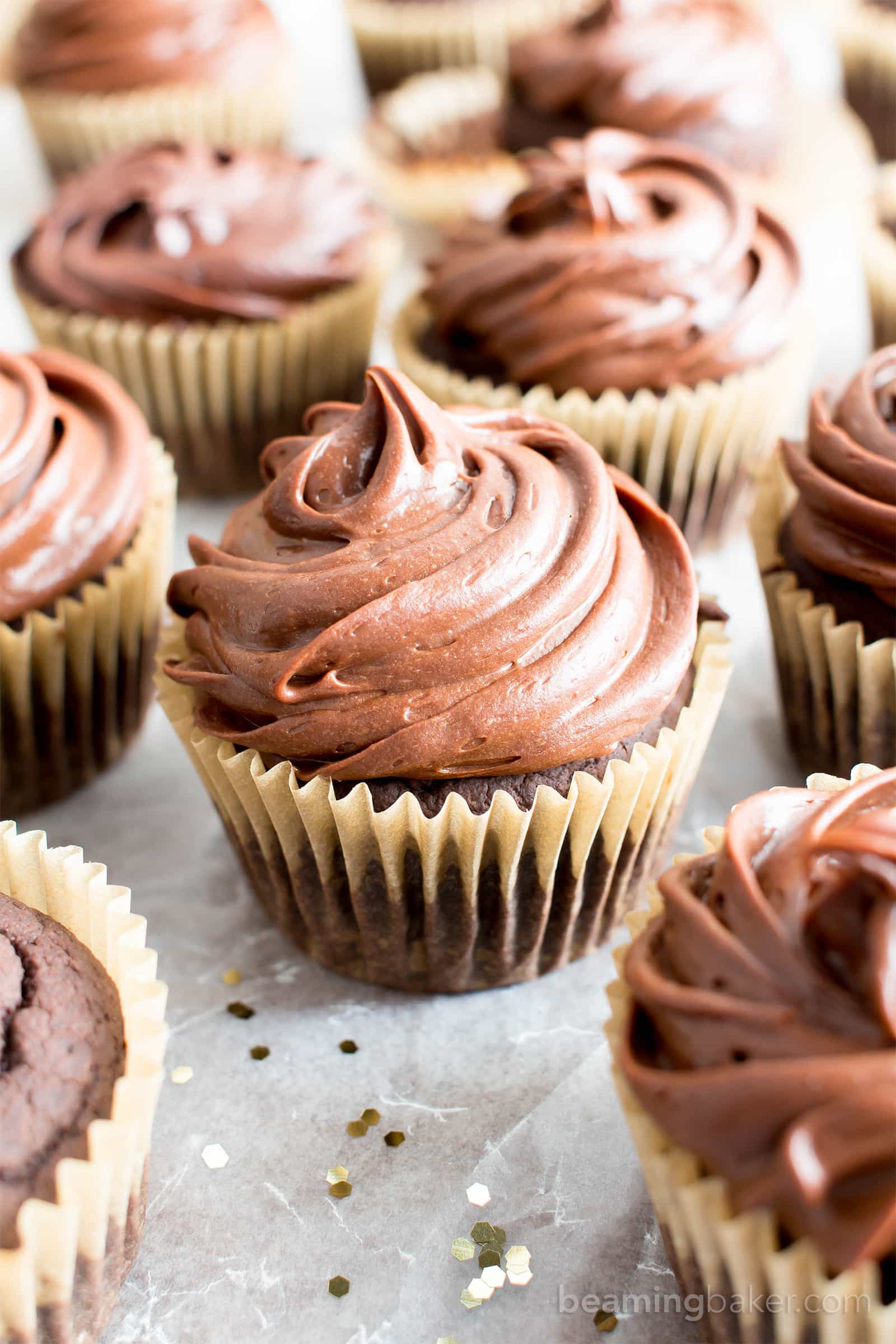 So whaddya say, are you ready to raise a cupcake? Toast and all celebrate our birthday?? 🙂 Regardless of whether or not it is today…because: CUPCAKES!!! Make that Vegan Gluten Free Chocolate Cupcakes! It's always fun to just celebrate a birthday (even if one is not actually happening, amiright??) Okay, maybe I'm just weird. Either way. 😉
And just in case you're not yet convinced, allow me to quickly bulletpoint the most awesome aspects of these Vegan Gluten Free Chocolate Cupcakes. They're:
perfectly moist and sweet
rich, decadent and satisfying
topped with silky smooth, room temperature-stable frosting (woot woot!)
in fact… they can be stored at room temperature for up to 3 days!
vegan, gluten-free, dairy-free, refined sugar-free
made with the simple, whole, healthy ingredients you love
just the perfect basically semi-healthy vegan gluten free chocolate cupcake recipe you've been looking for
great as a birthday cupcake recipe
… make that a plant-based and allergy-friendly chocolate birthday cupcake recipe
and also legit for any occasion (regardless of it being a birthday!! ;))
You grab the cocoa powder, I'll grab the vegan chocolate chips! U ready? Let's bake this! As always, I'm so happy that you're here, baking and experiencing all the kitchen adventures with me. 🙂 I can't wait to hear what you think of this recipe! In the meantime, tell me:
What's your favorite birthday dessert?
Sending you all my love and maybe even a dove, xo Demeter ❤
☀︎ Click below to Pin ☀︎
☀︎ Did you make this recipe? Take a pic and share it on Instagram with the hashtag #beamingbaker and tag @beamingbaker. I would love to see it! ☀︎
If you enjoyed these plant-based, allergy-friendly Vegan Gluten Free Chocolate Cupcakes, then you'll just love these chocolate dessert recipes:
☀︎ More ­­­­­­Gluten Free Vegan Chocolate Recipes ☀︎
Print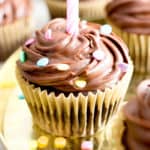 Vegan Gluten Free Chocolate Cupcakes (Vegan, Gluten Free, Dairy-Free, Refined Sugar-Free)
---
Author:

Demeter | Beaming Baker

Prep Time:

25 mins

Cook Time:

18 mins

Total Time:

43 minutes

Yield:

10

-

12

cupcakes

1

x
Description
Vegan Gluten Free Chocolate Cupcakes (V, GF): an easy recipe for deliciously moist chocolate cupcakes topped with silky smooth chocolate frosting. Vegan, Gluten-Free, Dairy-Free, Refined Sugar-Free.
---
Scale
Ingredients
Dry Ingredients
1 ½ cup

s gluten free oat flour

2/3 cup

unsweetened cocoa powder

1 teaspoon

baking soda

¼ teaspoon

salt
Wet Ingredients
½ cup

+

2 tablespoon

s water

½ cup

non-dairy milk

3 tablespoon

s melted coconut oil

¼ cup

coconut sugar

¼ cup

pure maple syrup

1 teaspoon

vanilla extract
Frosting
---
Instructions
Preheat the oven to 350°F. Line a 12-cup muffin pan with cupcake liners. Set aside.
In a large bowl, sift together the dry ingredients: oat flour, cocoa powder, baking soda and salt.
Add water and milk to a microwave-safe bowl. Heat in 10-second increments until just warm. This will prevent the melted coconut oil from solidifying once mixed with these liquids.
In a medium bowl, whisk together all wet ingredients: water, milk, coconut oil, sugar, maple syrup and vanilla. Whisk until well incorporated.
Add wet ingredients to dry ingredients. Whisk until just incorporated, making sure no flour patches remain.
Pour batter evenly into prepared muffin pan—filling each cup about 3/4 of the way. Bake for 16-20 minutes. Mine took 18 minutes. Test for doneness with a toothpick. The toothpick should come out with a few dry bits of cake on it, but no liquidy batter.
Place muffin pan on a cooling rack to cool for 30 minutes. Remove cupcakes from muffin pan and continue cooling on rack until completely cool before frosting.
Frost using this Chocolate Frosting recipe, or your preferred frosting. Enjoy! Storing instructions below.
Gluten Free Vegan Chocolate Desserts
---
Equipment
Notes
Storage notes: Store in an airtight container in the refrigerator for up to 1 week. Okay to keep at room temperature for up to 3 days, in a cool, dark environment.
Freezing Instructions: Store frosted cupcakes in an airtight, freezer-friendly container for up to 1 month. Allow to thaw at room temperature for 15-40 minutes before enjoying.
Category:

Dessert, Cupcakes, Chocolate, Vegan, Gluten-Free, Dairy-Free, Baking

Method:

Bake

Cuisine:

American
Keywords: vegan gluten free chocolate cupcakes, vegan cupcakes, healthy chocolate cupcakes recipe
Recipe Card powered by
© beamingbaker.com. All content and images are protected by copyright. Please do not use my images or recipe without my permission. If you wish to republish this recipe, please re-write the entire recipe using your own words and include a link to this post for the recipe.
SHOP THE RECIPE
Here are a few items I used in today's recipe. .
KitchenAid Hand Mixer | Wilton 1M Piping Tip | Parchment Cupcake Liners | Muffin Pan | Glass Mixing Bowls | Silicone Spatulas | Cooling Rack | OXO Mixing Bowls | Hand Mixer Whisk Attachment
This post may contain affiliate links, which allow me to make a small commission for my referral, at no additional cost to you. Thank you for supporting Beaming Baker.
Facebook ☀︎ Pinterest ☀︎ Twitter ☀︎ Instagram